SEC Network Finds Life Beyond Finebaum & Football
Thanksgiving week is a big one in the world of college football. It's rivalry week! The Iron Bowl, The Apple Cup, The Game. These are all names that mean something to college football fans, and they are all the names of games being played this week.
We're celebrating here at BSM with a series of three articles written by Demetri Ravanos, the company's resident college football fanatic. These articles highlight some of the interesting, "insider-y" aspects of following the sport.
For the second piece in our series, Demetri looks at the future of the SEC Network. He took a trip to the Charlotte, NC headquarters to talk with talent and executives about how the network has evolved since its inception and what they see as possibilities for its future.
—–
If you don't live within the geographical footprint or didn't attend a school that is a member of the Southeastern Conference, chances are you've never given the SEC Network much of a look. Maybe you think all the network has to offer is SEC football and replays of SEC football. Look, I get it. That's the stereotype and stereotypes don't just come from nowhere, but you're wrong about what the network is.
Sure, the programming is built around the conference's sports culture. Live events from every sport, replays of those events, the Paul Finebaum Show, documentaries about the conference's history. The network has plenty of all of it.
But in 2018 the SEC Network debuted a new show called TrueSouth. It's a travel show, but it's a travel show the way Anthony Bourdain used to do travel shows. Host John T. Edge visits some of the conference footprint's hotbeds of food and culture and asks people to feed him and tell him a story.
I love this show. I am a Greek kid that grew up in Alabama with a chef for a father, so the first episode, which told the story of Birmingham's Greek community and the restaurants they opened or inherited from their parents, had me in tears. My wife, who could care less about anything involving the University of Alabama, despite it being my alma matter, loves this show. It was something we could watch together every week.
TrueSouth may not have been the beginning of the SEC Network taking a look at the geography it primarily serves and saying "what can we do for these people that goes beyond sports?" but it is the furthest deviation from sports you'll ever see on a conference network. Even Big Ten Network's Campus Eats is built around the schools that make up the conference. TrueSouth visits multiple cities that are miles away from an SEC campus in its first season.
What the network is doing, or maybe trying to do, caught my attention, so I went down to Charlotte last month to chat with some of the talent and executives that made the network what it is. I wanted to know what their vision of the future was for the SEC Network. Did any of them see a day where SEC sports was just part of what they do?
Chris Turner, The SEC Network's Vice President of Programming, and I met in a conference room at the network's headquarters on a day that a new email system had just been implemented. Amanda Brooks, the network's head of PR and my guide for the day, along with Turner talked about how hard it has been to receive any office memos on their phones.
I told Chris about the idea behind my article and asked him how far the boundaries can be pushed in terms of what programming is appropriate for the SEC Network. We started at TrueSouth in particular.
"Last year, really as much as anything, after having a few years under our belt, we put a real emphasis on story telling. So (TrueSouth) is an extension of that and taking a look at…you know, you sample other networks. We sample other networks, and what resonates with you when you're sampling those other networks? What catches your attention? What do you lock in on? Great storytelling," he says.
I asked him if anything with a good story and a Southern accent would be fair game. Turner's answer seemed like a long way of saying "maybe."
"I think at some level you still have to understand what your fan base is, and ultimately that's how we view it, as how we do anything at ESPN and the SEC Network, is how are we serving our fans? That's really how we measure everything.
And so whatever it might be, whatever the next big idea might be it's going to be measured up against that. This is who are fans. This is who we see our fan group to be and how are we serving them."
When I asked him if that meant we could see reruns of Designing Women or another sitcom set in the Southeast show up in the middle of the day on his network he laughed. "That one's a new one. I don't know that we've ever had that idea for something that just distinctly fits the Southern Culture like that."
Turner then looked at Brooks as if to silently say "make a note of that just in case" and then told me that something like that is probably too much of a culture shock to the SEC Network's most loyal viewers. Reruns will probably always be best left to TV land.
If there is a face of the SEC Network, it is almost certainly Paul Finebaum. The radio host and ringmaster of the circus of college football absurdity that is his radio and TV simulcast was the first person hired to be a part of the SEC Network. He moved from Birmingham to be a part of the network, but not without needing some coaxing. "Well, I really didn't know what was going to happen when they came to me," he tells me between sips of his pumpkin spice smoothie. "The reason that I didn't immediately say yes was because I really wondered if you could move what we have now in Alabama, which was pretty special and try to broaden it and specialize it to so many different schools and interests. I had a lot of people that said that I was making a mistake."
There is no doubt that Finebaum's style has changed since making the move to Charlotte. You might not know this if you didn't live in a particular corner of the Southeast in the early part of this century, but there was a time when no one was hated more intensely by Alabama fans than Paul Finebaum. The version of the show that airs now features Finebaum curating the opinions. Paul isn't afraid to share what he knows or thinks, but for the most part he is trying to move from one entertaining caller to the next. His own opinions, most of which were about the absolute disarray Alabama football was in the ten years between Gene Stallings left Tuscaloosa and Nick Saban came to town, drove the show when he was based in Birmingham. In hindsight, many of those opinions were more than fair, but try being the guy based in Birmingham telling Alabama fans that their beloved football team wasn't the be-all-end-all of the college football universe.
"I got death threats early in my career. My phone has been tapped. Probably the scariest wasn't that long ago, maybe about ten years ago, someone posted on Twitter a Google Earth photo of my house. We were living in Birmingham at the time. Underneath it they wrote 'You will die Saturday night.' So I turned it over to the state. Law enforcement got involved and they were able to trace it. They asked if I wanted to press charges and I said no. That's the last thing I need is to tick this guy off even more and then have the charges not stick."
He seemed to notice my look of disbelief and simply responded with "I mean, those things happen." He then quickly followed that up by noting that moving to a national platform has probably made him safer. "As expansive as the show has become I probably think about those things less and less."
Finebaum has played a roll in the SEC Network branching out beyond sports. In September, the network debuted his interview series Homecoming. The show features captains of industry, the arts, and politics returning to their SEC alma matters to talk about their careers and their future. The first episode featured Auburn alum and Apple CEO Tim Cook. The second episode featured author John Grisham, who has a BS from Mississippi State and a law degree from Ole Miss.
"The concept started with Stephanie Druley, who is a Senior VP at ESPN. She had the idea for the show. Originally it was broader and then we narrowed it to the SEC," he tells me of Homecoming's genesis. "She said 'well, anyone in the world that you could interview, who would it be?' and I thought 'probably Pope Francis.' Then we realized he didn't go to an SEC school."
Another of the network's initial hires was Greg McElroy. The former Alabama quarterback was on the bench in Cincinnati when the network was forming. McElroy, who was 25 at the time, was already thinking about ending his playing career.
"I'm just more fulfilled by discussing [college football] than chasing something that might be unattainable," he says of his decision to walk away from the NFL and head to the broadcast booth. "I want to do this forever, you know? I wanted this for a long time and I felt like this had more longevity and it was actually a really easy decision for me to make."
McElroy calls games for ABC and ESPN, but during the week you'll find him wandering the halls in Charlotte between taping segments of Thinking Out Loud, the show he hosts with former LSU defensive tackle Marcus Spears and SEC Network newcomer Alyssa Lang. The show spun off from McElroy's and Spears's appearances on the first year of SEC Now.
"They just they saw the chemistry. Me and Gregg are idiots," Spears says. "That's really what it boils down to. We love college football. We know a lot about what we're talking about. But at the same time, our personalities kind of are so different that it works perfectly."
Thinking Out Loud is a hard show to describe. There are real hard core breakdowns of the games that happened just 48 hours before taping, but there is also a sense of humor to it. I visited during the week of Halloween and caught the entire cast in costume as KISS – makeup and all. Earlier in the day, Spears and McElroy put on fake mustaches and taped a bit where they played HR directors.
It's the kind of show that may live in the SEC world for now, but McElroy hopes he and Spears get the chance to spread their wings. He tells me that he is a die hard Dodgers fan and has always loved the NBA and he would love to bring that to the show someday. I asked him if he could ever see Thinking Out Loud becoming a part of the weekday afternoon block on ESPN.
"Well, I don't think any of us would ever do a show that we didn't have high hopes for, and you know, I don't think any of us would ever go halfway into a show," he says. "We're all the way in on Thinking Out Loud and the SEC Network is too." He chooses his words carefully before he realizes that he isn't saying anything that can get him into trouble. "We are so grateful to everyone at SEC Network for the resources and the platform that they give us and we'll always be true to our roots. No denying that, but I think we'd all like to see this show grow as high as it can grow."
Staying true to their roots seems to play an important role for everyone involved with Thinking Out Loud. Marcus Spears didn't just play football at LSU. He grew up in Baton Rouge. It isn't lost on him how much having something like the SEC Network means to the kids that make it onto an SEC field or court after years of dreaming about it.
"It gives them their own. It's like the NFL Network for the Southeast, because before all of these teams had to force coverage, or you had to have a story before ESPN would talk about you day in and day out. Now we do features on Vanderbilt. We do spring tour stops in Kentucky and Tennessee…It's a reciprocating thing. They provide the games and we tell their stories."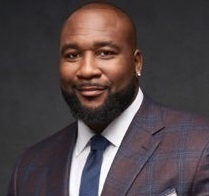 For Alyssa Lang, an alum of the University of South Carolina, this is a dream job. "I mean, I remember when the network launched and I was just like 'Wow, there's a building that you can go work at and talk nothing but SEC football and SEC sports? I absolutely want to be there,'" she tells me. "I mean it's still kind of surreal to me sometimes when I walk in here."
I tell Lang about TrueSouth sort of sparking my interest to come down and visit and write about the network. Her eyes light up. I ask her if I have discovered a dream job within a dream job for her. "Oh my God! If they asked me to be on TrueSouth and help with eating food from the South, are you kidding?" she responds.
If you're looking for a show that may capture what the SEC Network can be in the future, look no further than Marty & McGee. Marty Smith and Ryan McGee are about as Southern as you can get. The set for their show looks like a man cave straight out of the Deep South. They call it The Wilderness Lodge after the hotel in Disney World. The faux wood cabin set was a hit with coaches at SEC Media Days in Atlanta this summer.
Beyond just the decorations, which Smith describes as "a bunch of roosters and American flags," the show is built around stories from Smith's and McGee's travels, jokes about their past covering NASCAR, and their signature bit "Hillbilly Headlines." The day I am on set, we watch a video of a man falling shirtless through the roof of a Waffle House and looking for someone to fight. Georgia quarterback Jake Fromm is a guest on the show that day.
There's range there, and McGee tells me it is no mistake. "Maybe you're watching for Hillbilly Headlines and you learn a little something about Jake Fromm or maybe you're watching for Jake Fromm and you learn a little something about how to sculpt things out of moose turds."
Marty & McGee isn't so much a show as it is a party that plays out in front of cameras. These are two best friends that started out by making each other laugh on the road to NASCAR events. That turned into a podcast, which turned into a radio show, which is now a TV show. The show's production crew is encouraged to hoot, holler, and shout things out while the show is taping.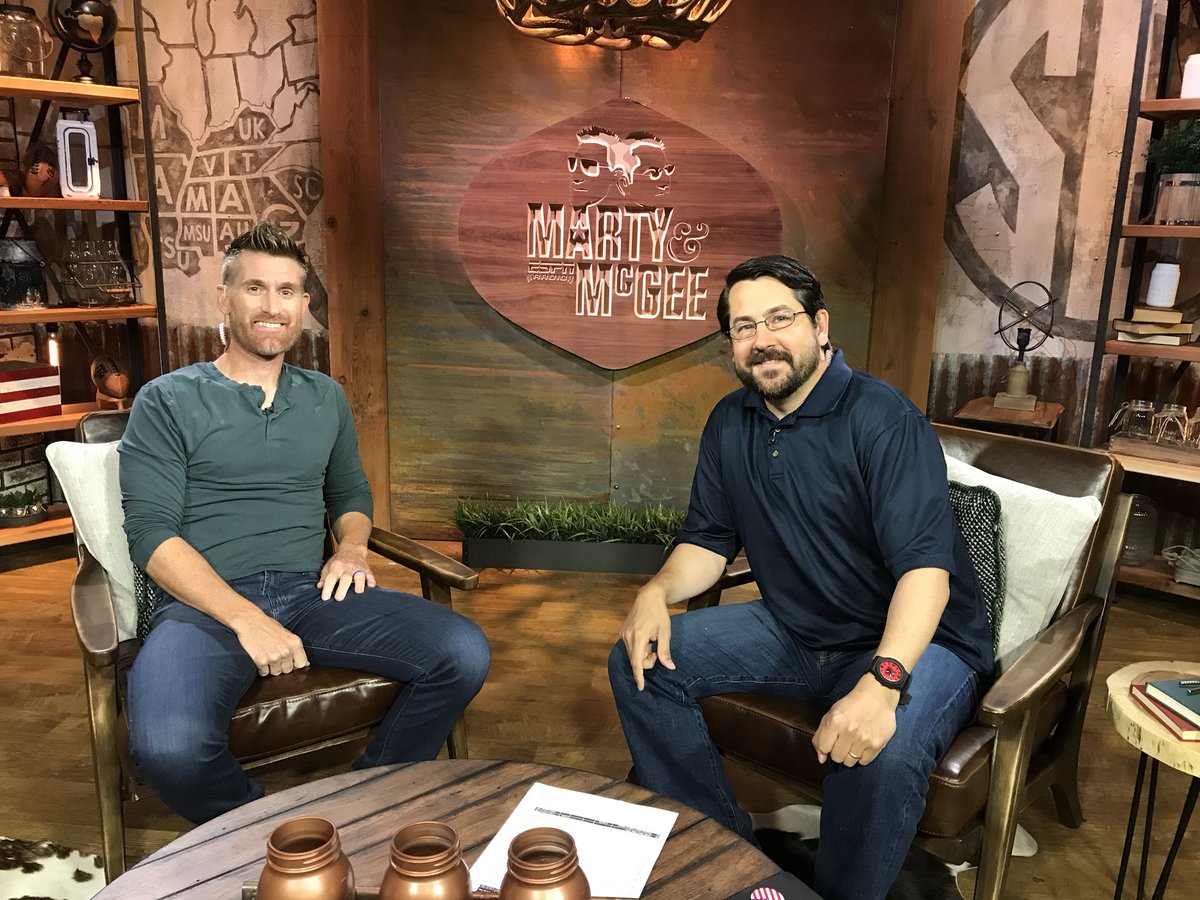 As I'm visiting (or "fellowshipping" as Smith calls it) with the duo, they talk about the disappointing state of NASCAR media. These two were motorsports reporters long before SEC football came into their professional lives. Now, they lament the sport's inability to garner the coverage they feel it deserves. I ask them if given the crossover of fan bases, they could ever see themselves talking NASCAR in a serious way on the SEC Network.
"I think if we wanted to right now you could talk about NASCAR on this show," Smith says confidently. "And I say that for a couple reasons. Number one, the demo absolutely works and number two, (SEC Commissioner Greg Sankey) is a huge race fan."
Smith and McGee are huge fans of the direction the SEC Network is moving. Smith calls TrueSouth "a beautiful show." McGee is clearly in awe of what Finebaum does on Homecoming.
"I love that series that Paul did where he's doing these kind of Barbara Walters interviews with you know, Tim Cook," he says as he takes out his iPhone. "I don't think people understood that the guy that you know is in charge of all of this is War Eagle, right? I don't think people know Tennessee's got like a half a dozen astronauts. I like the fact that they're branching out into the culture of it."
Smith adds "I think it's important to do that because it's an avenue, and this is feedback that (Ryan) and I get everywhere we go now because of this show. It's an avenue for folks who grew up in the South, and most notably the rural South, to feel like they have a voice. I'm so proud to be someone they consider to be a voice."
McGee agrees. "And we also have an opportunity to portray those people for what they actually are and they're not cartoon characters."
So what is the next step in the evolution of the SEC Network? I told Chris Turner that it seemed like the next TrueSouth should probably tackle the ever changing music scene of the region. After all, three of the most buzzed about music acts around right now – Jason Isbell, The Alabama Shakes, and St. Paul and the Broken Bones are all Alabama fans. One of the biggest country music stars in the world, Kenny Chesney is a Tennessee die hard. Jack White, who is from Detroit originally now lives in Nashville and was a huge fan of Cam Newton while he was at Auburn.
"Music has been an important part of our network from the beginning with our 'Take it All in' campaign," Turner says. "Our marketing team has done a fantastic job day in and day out with the music theme across the board. Every spot we run, every promo has a unique musical footprint to it, so that will continue to be important to us. Can we develop that into a show like TrueSouth? I don't know. It remains to be seen, but I don't disagree with you. It seems like the natural extension."
Marty and McGee joke about the old days of Turner South and TNN and how those networks would go from a morning show produced by Southern Living magazine to professional wrestling to NASCAR in the same day. It doesn't seem like that kind of extreme variety is on the horizon for the SEC Network, but Turner and his staff are thinking beyond college sports, and in the world of conference networks, that makes them an outlier and a trendsetter.
Demetri Ravanos is the Assistant Content Director for Barrett Sports Media. He hosts the Chewing Clock and Media Noise podcasts. He occasionally fills in on stations across the Carolinas. Previous stops include WAVH and WZEW in Mobile, AL, WBPT in Birmingham, AL and WBBB, WPTK and WDNC in Raleigh, NC. You can find him on Twitter @DemetriRavanos and reach him by email at DemetriTheGreek@gmail.com.
BSM's Black Friday SALE on BSM Summit Tickets is Underway!
Each year I'm asked if there are ways to save money on tickets to the 2023 BSM Summit. I always answer yes but not everyone takes advantage of it. For those interested in doing so, here's your shot.
For TODAY ONLY, individual tickets to the 2023 BSM Summit are reduced by $50.00. Two ticket and four ticket packages are also lowered at $50 per ticket. To secure your seat at a discounted price, just log on to BSMSummit.com. This sale ends tonight at 11:59pm ET.
If you're flying to Los Angeles for the event, be sure to reserve your hotel room. Our hotel partner this year is the USC Hotel. It's walking distance of our venue. Full details on hotel rooms can also be found via the conference website.
Jason Barrett is the owner and operator of Barrett Sports Media. Prior to launching BSM he served as a sports radio programmer, launching brands such as 95.7 The Game in San Francisco and 101 ESPN in St. Louis. He has also produced national shows for ESPN Radio including GameNight and the Dan Patrick Show. You can find him on Twitter @SportsRadioPD or reach him by email at JBarrett@sportsradiopd.com.
Media Noise: What Does The Return of Bob Iger Mean to ESPN?
Podcast: Play in new window | Download
Subscribe: RSS
Demetri Ravanos is the Assistant Content Director for Barrett Sports Media. He hosts the Chewing Clock and Media Noise podcasts. He occasionally fills in on stations across the Carolinas. Previous stops include WAVH and WZEW in Mobile, AL, WBPT in Birmingham, AL and WBBB, WPTK and WDNC in Raleigh, NC. You can find him on Twitter @DemetriRavanos and reach him by email at DemetriTheGreek@gmail.com.
Media Noise: What Is Realistic For FOX at the World Cup?
Podcast: Play in new window | Download
Subscribe: RSS
Demetri Ravanos is the Assistant Content Director for Barrett Sports Media. He hosts the Chewing Clock and Media Noise podcasts. He occasionally fills in on stations across the Carolinas. Previous stops include WAVH and WZEW in Mobile, AL, WBPT in Birmingham, AL and WBBB, WPTK and WDNC in Raleigh, NC. You can find him on Twitter @DemetriRavanos and reach him by email at DemetriTheGreek@gmail.com.