Tips From Fox Sports Radio's Don Martin & Scott Shapiro
"In order to come up with unique talking points, you have to generally be curious in the topics and read as much as you can get your hands on and seek viewpoints from as many people as you can in order to craft your own unique argument."
Many people believe that FOX Sports Radio has the best lineup in sports talk today. Don Martin and Scott Shapiro are two of these people. Both men have played key roles in positioning FSR to have major success. The network reaches 11 million monthly listeners on more than 400 radio stations. That doesn't happen with weak leadership. It takes strong management and a vision to achieve this level of success.
I sat down with Don and Scott a few years ago for lunch. They offered to provide their feedback, coaching, and support. They've always followed through by taking the time to share their knowledge. The funny thing is that I was literally eating salmon during that lunch. Don coincidentally mentions why broadcasters need to act like salmon in this industry. It's a tremendous comparison that appears below.
The two kingpins continued the trend of offering their time — this recent occasion was to take part in a roundtable discussion. Both men have assessed a lot of talent over the years. They discuss the qualities of show hosts that they value most. It's also fascinating to hear about the doubts they had early in their distinguished careers — something that many people can relate to. There are some great stories and tremendous viewpoints in this piece. I hope you enjoy it.
Noe: What initially got you interested in the radio business?
Don: I went to college originally to be a computer programmer because that's what everybody was doing back in the days in which a computer was the size of a building. I was an athlete all my life. I blew my knee out, so I knew I couldn't play. I said to my mother, "I need to get in the sports business." I got into the game in Denver as an intern on the TV side. Then I was dubbing Christmas music from album to cart.
While I was doing that for a two-week period, the sports guy on that morning show got sick. Jerry Castro asked me if I would do the sports. I was still in school. I said absolutely. He then hired me two weeks later after I did the sports for a couple of weeks in morning drive. I was doing sports there. I was interning on television. I was doing metro traffic.
Then Irv Brown started one of the first sports stations in the country KMVP 1600. He put a midday show together with me, Dave Logan, Rich Goins, and a guy named John Marvel. Later on in life I worked with Billy Van Heusen, a former Bronco, from 9 to noon. A consultant took us off the air after two years saying we were too much like the afternoon show. I thought my career was over.
I became Irv and Joe's producer. I found out that, "Wow, I liked that role," and I did it well. While I was doing that, I was the TV play-by-play voice of the then Colorado Athletic Conference. Then a guy named Sam Pagano — a legendary high school coach in Denver out of Fairview High School in Boulder, Colorado — we bought our own time and we were doing high school games on television on Prime Ticket.
We did anywhere from three to four games a week between football and basketball while I was doing the college stuff on the CAC and doing the talk with Irv. I had to balance a lot at one time. Sam Pagano's boys you know — Chuck Pagano was the former coach of the Indianapolis Colts. John was the other son and he was my analyst. It just kept growing and growing and growing. Then one day I got a call from KOA and I became the sports guy on KOA as far as producing everything — Rockies, Broncos, Buffs. Then they asked me to program the station. That's how I came off of the air and got into management.

Noe: What about radio initially appealed to you, Scott?

Scott: There's something about radio that's truly special and unique. Hosts on the radio build such an intimate relationship with the audience. Ultimately, it's that storytelling ability where in other platforms you really don't get that luxury to expand, to show personality, and to truly tell stories. That's a lot of the connective fiber that drives a very unique connection with hosts and their audience because it's long form. It's your true personality coming out over the radio. You can't fake it. You have to be your genuine self and the audience usually are tough critics.
This day and age, so much of the audience has ADD. They only want to listen to somebody who's very compelling and that has something special to offer. In radio, like I said you can't fake it. It's your true self and people are deciding whether to spend their very valuable time with you. It's an investment that the audience makes. When they do make that investment, it's an emotional connection that's made.
There's really something special on the radio where the goal is to make people think. You want to make people react. It brings out a lot of emotions in people and when you're doing it right you really build that relationship with your audience. Yeah, at times it can be a one-way relationship, but it's truly a special relationship. I feel like I know the folks that I listen to on the radio. I feel like I know them well. Really it's just me typically listening to their product. It's such a special medium where you have the ability to truly connect with your audience and be genuine at the same time.

Noe: What would you say was your first major breakthrough in radio?
Don: Irv Brown putting me in middays on one of the first all sports stations in the country. I was able to work with — then brand new into the game — Dave Logan who is now the voice of the Broncos for three Super Bowl championships. A guy named Rich Goins who's got a huge name in Denver as the guy that sat on the billboard for all those days and Bob Costas kept using him. Rich has got a big name in Denver. And John Marvel, when we were doing that midday show, it launched all of this. The key was I was doing TV and radio and everything all at the same time, so when you say what launched it, being platform-agnostic and trying to do everything. I was young and hungry so I tried doing everything. Then it kind of just settled into its own space.

Noe: When you were dubbing Christmas music did you have a favorite and a least favorite song?

Don: (laughs) I'll tell you what. It was one of the most boring, mundane things I'd ever done in my life. I said, "Did you make the right decision saying you're going to go from computer programming to do this because that was boring?"
I mean I'm dubbing down Nat King Cole. It was the oldies too because it was an oldies station. I was a young guy. I was going, "What the heck am I doing?"
By the grace of God, the sports guy got sick and then he quit. It was awesome. You never know when and where you're going to get your break. That's what I always tell young people — I say be a salmon. Just get in the stream. Be where it's going to take you. I still believe a lot of this business is 90 percent what beats in your chest and 10 percent what's in your head. You've got to have passion, man.

Noe: What has your career path been like, Scott, that's led to you being the Vice President of FOX Sports Radio?

Scott: My first job in radio was producing morning radio in Atlanta. At the time it was a FOX Sports Radio affiliate. That's where I really learned radio. I was a 23-year-old kid with zero radio experience and I was producing three guys who all had 15 years more experience than me and they were all 15 years older. I had no idea what I was doing. There were many times where I wondered, "My goodness, is this for me? Am I going to be able to add value to the show and to these personalities who are all pros?"
I busted my butt. I basically dove head first into the product really to try to prove myself more than anything else. Let's try to make the show better. I'm competitive and I put my heart into everything I do. It was really just producing content and trying to produce the best possible show in the country. I did that in Atlanta for two and a half years.
Then I was hired to produce Mike & Mike up in Bristol in 2006. With that it was the same mentality — come in and just make that show the best show in the country. We had a great team in place, obviously very talented people on and off the air. We set all sorts of records on Mike & Mike on multiple platforms. I produced that show for three years and then moved up into the managerial ranks at ESPN Radio where I was up until four years ago when I came here.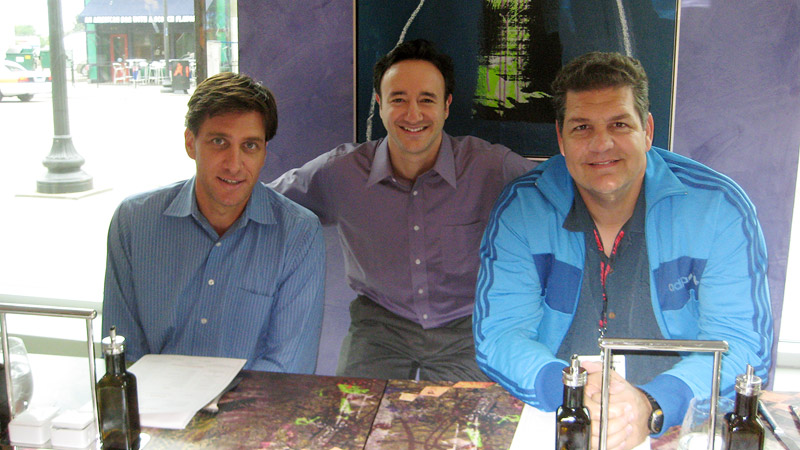 Noe: What are a couple of the qualities that show hosts possess that either cause you to tune in or tune out?
Scott: Hosts that are compelling — that's the difference. You have to be such a great storyteller and you have to be compelling. Like I said earlier people have so many options for their entertainment value. Hell, in a car they can make phone calls to their family and friends. That's competition. We are trying to garner people's attention. Ultimately you have to be so interesting on the radio to keep people's attention. That's a very hard thing to do.
It's rare when someone devotes more than five or 10 minutes to listening to one or two people speak uninterrupted. Somebody who is able to capture people's attention, keep them interested, it's a very difficult skill. You have to be thought-provoking on the air. You need to be well-researched, but obviously present in a style that's entertaining, and you need to keep people's attention while making them think and making them react.

The things that I think are tune outs are somebody who is dry, somebody who lacks credibility on a topic, and somebody who's not presenting a unique perspective on a topic. Another thing is talking about something that I'm not interested in. That's why playing the hits is very important to appeal to the broadest set of the audience possible. You need to bring a unique presentation to the table that's different from what everyone else is offering. There is a wilderness of people out there offering opinions whether it's live shows or podcasts. What we look for are hosts who present something entirely different and can do so in an entertaining fashion.

Noe: What qualities of a sports radio host appeal to you the most?

Don: When you do this long enough there's an "it" factor that you can't coach. There is an "it" factor that you can't teach. You either have it or you don't. Everybody gets into this game because they want to be on the air. I know you've got the anomaly that says, "No, I've always wanted to be behind the scenes." God bless you, I love those people too. But everybody gets in because they want to do this because this is fun. There's a special few that can. But when they can, they are dynamite.
It's an ingredient only given by God. It's a wiring. You have to have a certain somethin' somethin' to get it done. As a host — I don't care if you're talking sports or if you're talking news — you work your tail off to get to the top.
You're hustling 4-5 jobs. Then when you make it, all you can do is fail. On the way up that ladder, you've got to be a little arrogant, you've got to be a little cocky and have a little somethin' somethin' in you because it's what drives you to be that performer every day.
Then when you get there all you can do is fall so you become insecure. Those aren't traits that live naturally together — cocky, arrogant, insecure, what? So we had to give them a name — we called them talent. It's a special somebody though. There are a lot of people that try to do this and they work their tail off for a long time and they're good, but they're never great. You know great from the beginning. You don't teach great. You don't grow into great. You know it from the beginning.
Noe: Can you put your finger on what "it" is — what separates good from great?

Don: Yeah, what "it" is — it's a magic that draws people to you. You're a magnet for people. You give them an escape from reality. People work hard. People are beat up over politics. They're beat up over their bills. They're beat up over traffic and oh my God the stresses of raising your kids and your boss yelling at you. Our guys give them and escape.
Great for us is no different than — I just watched Bohemian Rhapsody — the lead guy in a band. You've got that magnetic thing that draws people to you so that when you're performing whether you're singing, you're talking, you're giving your opinion, they need to listen because you're entertaining them. You're teaching them, but you're giving them some sort of solace and some sort of entertainment along the way that allows them to escape reality.
Noe: When you think about sports radio in general what could the industry use more of?
Scott: I would say the biggest thing in the industry is just creating great content no matter where it airs. Whether it's live on the radio, whether it's streaming, whether it's podcasts, we're in the content business and all we're trying to do is create wonderful content.
I think people overthink it at times in terms of whether this is going to play to certain people, whether it's going to play on certain platforms or not. Really it just gets in the way of creating great content.
I believe if you're creating great content it really doesn't matter what type of platform it's on. It's going to be unique. It's going to be thought-provoking. It's going to be fascinating for an audience.
Audio consumption is growing like crazy. There's never been a time where audio consumption is really being utilized like the current day. Whether it's live, terrestrial, streaming, or on-demand, there are more people creating audio than ever before. The ones that create excellent content are going to be the ones that are going to win and survive. I think at times people need to stop overthinking whether, "Oh boy, terrestrial radio is not going to work," because every bit of evidence is showing that it is. Audio consumption as a whole no matter where you're doing it is growing rapidly.
Noe: The BSM Summit is right around the corner February 21-22. What does the industry gain from having an annual event that focuses on issues related to the actual job?
Scott: I think when you put all of these brilliant minds together, not only are there new ideas created, but I think everyone at a summit like this really should lean on each other to help grow the platform.
It's not just competing in a local market station X versus station Y. When you put all of these minds together you're going to learn key things that are going to help your individual station or network. But I really think when we're able to think bigger picture about growing the industry and growing what sports talk radio is and figure out ways to really capitalize on that no matter what market you're in, I think that's the biggest thing.
Everyone's in their silos working on their own objectives in each of their local markets, but when you put all of these brains together I think there's so much to gain for the industry as a whole to really become that much more of an urgent product for the audience all over the country.
Noe: Why do you think it's important for programmers to get outside of their radio stations and attend events like the BSM Summit?
Don: I think the biggest part about it is just camaraderie. If we're going to win as a platform, we've got to quit taking shots at each other. We've got to go and get our audience from our sister stations, the news talk stations, the music stations. We've got to aim our guns out there and bring in a new cume that allows all of our sports radio boats to float higher.
It's more of a camaraderie thing for me. We all talk anyway. There's not a new thing that all of a sudden pops up that teaches you to do this with talent, or that with a podcast. We're all talking all the time anyway within our companies. Everybody has their secret sauce. Summits like this are more for camaraderie. The Super Bowl is what we've been using lately. You go to the Super Bowl and everybody gets to see everybody for the one time all year — whether it's talent or other programmers.
I think it's a come together, join arms as a platform, and raise the sports platform together. That's the most important part of this. And then you know what, if you can gain a nugget here or there because of podcasting being able to drive this, or streaming being able to drive that, or helping change what Nielsen is doing on the ratings, God bless us all. But the main thing is so that we all join hands together, no different than an NFL or an NBA, and say, "Okay, how do we keep growing this platform?"
Noe: Speaking of camaraderie, who are some of the people in the business that have helped you the most during your career?
Don: Irv Brown basically gave me my start in this business. He just died by the way last week at 86 years old. He's legendary in Denver. Greg Ashlock and Julie Talbott have been incredibly important in my career. Bob Martin got me in to cut my first tape. Bob Martin was the voice of the Broncos back then. I'll never forget it. I said, "Bob, how can I repay you?" He said, "The only thing I want from you, Don, when you make it, the first young guy that comes to you and asks you for help, you help them." I've done that my entire career because of what Bob did for me.
There's one other person I need to bring up, Lee Larson in Denver at KOA. I'll never forget it. The greatest thing anybody has ever done for me in this business or said for me outside of Irv Brown getting me started — Lee Larson calls me into his office and says, "I want to mentor you." I was the PD of the station at the time. I said, "Wow." That was one of the coolest things anybody had ever said to me. It just blew my mind.
I never forgot that because I was a 38-year-old guy at the time. When we went looking for somebody to help me on the network side, I always kept that in mind. I said I need a young 30 something that's going to keep me cool. The greatest thing that ever happened to me was when Scott Shapiro walked in the door. That's why we're doing what we're doing today. All I'm trying to show you is everything that we do and our lives, is because of something somebody did for you in a nice way in yours back in your day.
Noe: When you're the one doing the mentoring and showing hosts a formula for success, what are the key things that you point toward?
Scott: I would say for any host — they have to be incredibly passionate about the subject matter on the air. If somebody's not a big sports fan, there's no way they're going to be able to fake it. You need to be so deeply and inherently interested in the topics you're talking about. You need to be so curious about it that you're reading stories that come up during the day. It's not something where you can just come in before a show, cram, and be able to deliver it right.
You need to have so many different areas of knowledge that's based off of the curiosity. When you're curious, you follow people on social media who provide depth to these stories. You read articles to be able to provide different insights. In order to come up with unique talking points, you have to generally be curious in the topics and read as much as you can get your hands on and seek viewpoints from as many people as you can in order to craft your own unique argument. To me it's that curiosity.
The prep work shouldn't be considered prep work. It should be what you're already doing because you're so engulfed and impassioned in the subject matter of what you're discussing. To me that's a very important thing.
Another thing too, clearly without question anybody who does this well, they need a lot of reps. It's very difficult to be able to talk on the radio for that long. Even somebody, if you go to a bar, somebody talking to you for seven minutes. It's a very difficult thing for them to be interesting and compelling for that long. Then you throw in that you need to be interesting to thousands of people and you're measured by ratings.
You have to be well researched and well prepped. You have to nail the PPM formatics and make sure there's a takeaway for everything you're doing. You're never wasting time on the air. It's basically valuing the audience's time. I think that's a very important thing.
The delivery is very important as well. You can't be somebody who is monotone and sleepwalking through a segment. You've got to deliver a sense of urgency on the air. You need to have a certain energy level and strong pacing to take all of your great insight and make it presentable to the audience where they think they're listening along to a buddy or eavesdropping on a conversation and not being lectured to the whole time.
Noe: I think that's really interesting when you say have a takeaway for everything. There's so much digressing that goes on in sports radio these days. Some discussions outside of sports are valuable, others not so much.
How do you gauge what is wasting time and what is valuable if the conversation goes beyond sports?

Scott: Listen there's always room, but I think the biggest thing is when you do veer off you know how to get back. You're not going too far down a path where you've taken so many left turns and then the audience is lost as well. You have to know what your mission is each segment. Yes, clearly you're allowed to veer off. This is radio and we want people to be free without handcuffs because sometimes the best stuff is created that way.
I think also you are guiding the ship when you're hosting a show. Sometimes that off-sports humor or story, there can be takeaways in that. But you've got to know if you've delivered on that, won people's attention, and created something memorable, you do need to know how to steer the ship back and then get back to the meat and potatoes as well.
Noe: What's your best advice for broadcasters that want to improve?
Don: What you do is you pick 20 minutes of a show. That's all. What I suggest you do for yourself once a week — and you've got to be honest with yourself — sit down with your producer and you've got to take an arbitrary 20 minutes and just listen to it. When you listen to it, be honest. There are five questions you're asking yourself.
Do they know my name because I said it?
Do they know the call letters of the station that I'm on?
In that 20 minutes now, did the topic — if I were a listener — grab me and hold me?
Did I promote something forward coming up?
Did I reset if I had a guest?
Those are the only five things you need to know. If there's any given 20 minutes within your show and you can't answer those five, it lets you know what you need to work on.
Our average listener comes in for 10 minutes. That's where you can help yourself too. You're in a popularity game because of Nielsen. They can always go across the street. Don't get confused — I can't tell you how many times someone says to me, "Yeah, I listen to Petros [Papadakis] on ESPN." What? Petros has never been on ESPN. Make damn sure they know where they get you.

Brian Noe is a columnist for BSM and an on-air host heard nationwide on FOX Sports Radio's Countdown To Kickoff. Previous roles include stops in Portland, OR, Albany, NY and Fresno, CA. You can follow him on Twitter @TheNoeShow or email him at bnoe@premierenetworks.com.
NBC Must Develop a Real No. 2 NFL Crew for Playoffs
Is the network's only other option Jac Collinsworth and Jason Garrett?
Several years ago, the NFL objected to NBC wanting to employ Mike Tirico as the lead play-by-play voice for its Thursday Night Football broadcasts. The league preferred Al Michaels because he was NBC's No. 1 NFL play-by-play announcer and wanted the TNF telecasts to carry the same prestige as Sunday Night Football.
Following the network's heavily-criticized broadcast of Saturday's Wild Card playoff game between the Los Angeles Chargers and Jacksonville Jaguars, the NFL may want to impose its authority again and insist that a top-tier broadcast team call the action of an important postseason game.
The consensus among fans and media watching Saturday's broadcast was that Michaels and analyst Tony Dungy were surprisingly low-energy for an NFL playoff game, let alone one that became so exciting with Jacksonville rallying from a 27-0 deficit for a 31-30 victory on a last-second field goal.
Such a lackluster broadcast led to questions of whether or not Michaels was now past his prime after a season of calling subpar TNF games for Amazon and what initially appeared to be another snoozer when the Jaguars fell behind by 27 points. Pairing him with Dungy, who was a studio analyst all season, certainly didn't help.
Dungy was as basic as a game analyst could be, typically narrating replays viewers could see for themselves while adding little insight. Worst of all, he demonstrated no enthusiasm for the action, leaving Michaels to fill most of the airtime. The veteran broadcaster showed that he can no longer carry a broadcast by himself. He needs the energy and back-and-forth that Cris Collinsworth or Kirk Herbstreit provide.
So how did NBC get here?
Most football fans know that the network's top broadcast team is Tirico on play-by-play alongside analyst Cris Collinsworth. But they had their own assignment during Super Wild Card Weekend, calling Sunday night's Ravens-Bengals match-up. With the postseason field expanding from 12 to 14 teams, resulting in six games being played on Wild Card weekend, NBC was awarded one of the additional playoff broadcasts.
Thus, another broadcast team was needed for that second Wild Card game. Fortunately, NBC had a renowned play-by-play man already in place. Michaels finished out his final season as SNF's lead voice by calling Super Bowl LVI, part of a powerful one-two combination for NBC Sports coming toward the end of its 2022 Beijing Winter Olympics coverage.
Ending his legendary career with a Super Bowl broadcast would've been a wonderful final note for Michaels. That appeared to be a natural path when Tirico moved from ESPN to NBC in 2016. Network executives admitted that a succession plan was in mind for Tirico to take over SNF eventually. At the time, Michaels also likely thought he would retire by then.
But when confronted with the possibility of retirement, Michaels realized he wasn't interested. He was still enjoying broadcasting the NFL. His skills were still sharp. And perhaps most importantly, he was in demand. Amazon wanted Michaels as the lead voice for its Thursday Night Football broadcasts, bringing instant credibility to a streaming venture that drew some skepticism. ESPN considered him as its Monday Night Football play-by-play man.
As it turned out, ESPN made a bold move for MNF, swiping Fox's No. 1 NFL crew of Joe Buck and Troy Aikman. That left Amazon for Michaels, and the streaming giant paid him a commensurate salary with the top broadcasters in the industry as part of his three-year contract.
Yet Michaels wasn't done with NBC either. After his agreement with Amazon became official, NBC announced that its relationship with Michaels would continue in an "emeritus" role allowing him to broadcast the network's Olympics coverage and that additional Wild Card playoff telecast.
NBC can't have been happy that most of the social media chatter afterward focused on the broadcast, rather than the game result. Especially when the discussion centered on how poorly Michaels and Dungy performed in what turned out to be a thrilling playoff game. That's a pairing that the NFL probably doesn't want to see again.
Michaels will likely call at least one more Wild Card playoff game for NBC since he intends to work on the 2024 Paris Summer Olympics. He's also under contract with Amazon for another two seasons unless he decides to retire before that deal expires. So perhaps the simple solution is keeping Dungy out of the broadcast booth and giving Michaels a better partner.
But can NBC drop in another analyst who hasn't worked with Michaels all season? Anyone would arguably be an improvement over Dungy. Is it at all possible for Herbstreit to be hired on for a one-off playoff broadcast, thus ensuring that the broadcast team will have some on-air familiarity and chemistry?
Otherwise, NBC's only other option may be its Notre Dame broadcast team of Jac Collinsworth and Jason Garrett. (The network tried that last season with Tirico and Drew Brees, only for Brees to wilt under the harsher NFL playoff spotlight.)
The pair also called USFL broadcasts for the network, so at least there would be familiarity rather than trying to figure each other out during a telecast. Yet Collinsworth and Garrett aren't terribly popular with viewers. And as with Brees, that crew will face intense scrutiny with a larger playoff audience.
Unfortunately, NBC appears to be stuck here. Unless the new Big Ten broadcast team of Noah Eagle and Todd Blackledge gets a shot. That might be the best option! Other than Notre Dame or USFL games, where are the other opportunities for NBC to develop a No. 2 NFL broadcast team? No one wants to put Al Michaels through Chris Simms in the broadcast booth, right?
Ian Casselberry is a sports media columnist for BSM. He has previously written and edited for Awful Announcing, The Comeback, Sports Illustrated, Yahoo Sports, MLive, Bleacher Report, and SB Nation. You can find him on Twitter @iancass or reach him by email at iancass@gmail.com.
Al Michaels Has Options But He Has To Make a Choice
"It does all of us in the sports industry well to remember 99% of our audience would gladly trade places with us."
I don't ask much out of game announcers; get excited when appropriate, get the simple information correct, don't get so caught up in your shtick you put yourself above the game. Al Michaels has been doing all those things well for the better part of half a century and few would argue that he's not one of the best to ever do it. That doesn't mean he can't lose his fastball.
Before you read any longer, I am not here to say Al Michaels has lost his fastball. What I am here to say is Michaels has all too often this season seemed upset with and disinterested in the game he is calling. That isn't entirely surprising when you consider some of the Thursday night action he called on Amazon Prime where the average margin of victory was almost nine points per game.
On top of that, the Amazon schedule had a dreadful two week stretch with Colts 12-9 win over the Broncos in Week Five and the Commanders 12-7 win over the Bears the next Thursday. It was in that Broncos-Colts game Michaels asked Herbstreit if a game "can be so bad it is good?" Herbstreit's answer was "No", by the way. It was the full 15 game schedule that Michaels told The Athletic's media critic Richard Deitsch was like trying to sell a used car.
All of that is fine, the inaugural Amazon Prime season was not a smashing success. The streaming giant missed audience projections and will lose advertising revenue because of it. The lackluster schedule did not help that. But Michaels was given a second life; he was the NBC play-by-play announcer for the Saturday Night Wildcard Playoff game between the Chargers and Jaguars. It initially looked like Michaels might be the problem as five first half Jags turnovers had them in a 27-0 hole. But the home team staged a nearly unprecedented comeback for the win.
It was the performance by Michaels and, to a lesser degree, his analyst Tony Dungy that has led to criticism. Criticism might be too soft of a word, Michaels was roundly dragged for his lack of enthusiasm during the comeback and specifically on his call of the Jacksonville game winning field goal. The enthusiasm of the call of the game winner had a mid-3rd quarter of week four feel to it.
Me telling Al Michaels how to do play-by-play of an NFL game would be the equivalent of me telling a physicist how to split an atom. So, this isn't just a Michaels criticism, few things bother me more than hearing a game announcer complain about the length or quality of a game as if he'd rather be anywhere else. It does all of us in the sports industry well to remember 99% of our audience would gladly trade places with us.
How many NFL viewers would sit in the seat Michaels, or any NFL announcer occupies, for free? They'd feel like they won the lottery if they also were getting the money those announcers are getting paid to be there. The guy that works a 12-hour Thursday construction shift just to get home and crack a beer for the NFL game probably doesn't want to hear how tough that game is to announce.
On top of all of that, Michaels was given the gift of one of the wildest NFL Playoff comebacks you'll ever see and, at times, sounded as if he was completely disinterested in being there. Pro tip: the best NFL announcer in those moments is Kevin Harlan (see: Miami at Baltimore from earlier this season. That has nothing to do with my lifelong Dolphins fandom). Michaels' lack of enthusiasm was compounded by the exact opposite from Mike Tirico on the very same network for the Bengals-Ravens Wildcard game Sunday night.
Tirico, like Michaels, has a sterling resume of play-by-play accomplishments. The difference is Tirico sounded like he was having the time of his life on Sunday night.
To be fair, their two styles are different. Michaels has a very old school, Pat Summerall approach. Summerall, Vin Scully and Dick Enberg came along at a time when announcers were far more likely to let the pictures tell the story. More new school guys like Harlan and Tirico approach it differently.
Look, Al Michaels helped us believe in miracles. His place in the Sports Broadcaster's Hall of Fame has long since been cemented. Being a hall of fame inductee doesn't mean your style will forever be accepted by the masses. That leaves you with a few options; you can continue your style and accept or ignore the criticism or you can ride off into the sunset and enjoy the fruits of your decades of labor.
Al Michaels has what we all want; great options. He can choose any of them and be a winner in the game of life. It doesn't matter if he enthusiastically embraces them, or not.
Ryan Brown is a columnist for Barrett Sports Media, and a co-host of the popular sports audio/video show 'The Next Round' formerly known as JOX Roundtable, which previously aired on WJOX in Birmingham. You can find him on Twitter @RyanBrownLive and follow his show @NextRoundLive.
Bernie Kosar Was the Victim of a Policy That Doesn't Work Anymore
"The NFL has bigger fish to fry than Bernie Kosar. Hell, it has more pressing issues in Cleveland alone."
One week ago, Bernie Kosar lost his job on the Browns Radio Network for placing the first legal sports bet in the state of Ohio. Kosar, just like Jets coach Miles Austin weeks earlier and Calvin Ridley last year, violated a league policy that forbids team employees from placing a bet on any NFL game.
The integrity of the games still matters. The belief that what we are all seeing is being fairly contested is what gives those of us that like to have a little vested interest in the outcome the desire to lay our money down in the first place. I get the league's discomfort with a coach on the staff of a team in the middle of the playoff hunt making bets. I get its fear of the message it sends to have players making bets.
Roger Goodell and the 32 team owners are well within their rights to object to men that can potentially control the outcome of a game or postseason seeding doing anything that even appears to jeopardize its fairness. Even perceived impropriety can compromise the league's tremendous value.
But Bernie Kosar doesn't have that kind of influence on the outcome of a game. He is just a broadcaster and not even a game analyst. He is part of studio coverage.
I am far from the first to point this out, but in 2023, the NFL has three official sports betting partners. Just last week, it approved the first ever in-stadium sportsbook, which Fanatics is set to open inside of FedEx Field. If the NFL is comfortable enough with the reality that its fans like to bet to make those things a reality, then Kosar losing his gig is absurd. It is the result of nothing other than "well, that's the way we've always done it" thinking.
Maybe Kosar was terrible on the radio and the team was looking for a reason to move on. I don't live in Cleveland and I am not a Browns fan, so I have no idea.
How many times have we heard that NFL owners hired Goodell to "protect the shield"? I'm not even really sure what it means or when it applies anymore. If I had a vested interest in the public perception of the league, I know that I would want someone to do the PR math on this situation.
Bernie Kosar isn't an addict that can't watch a game without the high of winning or the emotional distress of losing everything at stake, at least not as far as we know. This was a bet made through an advertising partner, to benefit charity. He even said on his podcast this week that the purpose of making the bet was to generate some money for former players in need of help.
This is like Disney threatening daycare centers with lawsuits for painting Mickey Mouse on a classroom wall. The NFL has bigger fish to fry than Bernie Kosar. Hell, it has more pressing issues in Cleveland alone.
Surely you have seen Garrett Bush's impassioned rant on the Ultimate Cleveland Sports Show about the obstacles facing Damar Hamlin because of how many hoops the NFL makes former players jump through in order to get some kind of pension.
On January 2, we were all united in our concern for a guy that hadn't even completed his second full NFL season. We didn't know if he was going to live, but if he did, we all knew that the NFL had done everything it needed to in order to protect itself from ever having to pay a dime for his medical care. Less than a week later, Bernie Kosar was fired for what amounted to a charity stunt that was meant to raise money and attention to very similar issues.
At both the league level and the team level, there was incompetence that lead to a man unnecessarily losing a gig and to the Browns and the NFL looking horribly out of touch with reality.
Are we acknowledging that people gamble or not? Are we acknowledging there are responsible ways to bet on football and are interested in generating revenue off of it or not? Because it doesn't seem to me that the same league that just gave the thumbs up to open a sportsbook inside of a stadium is really that concerned with people that cannot affect the outcome of games betting on those games.
Has the NFL come out and said that it is going to cover every medical bill for everyone that has ever played the game? We know that this is a brutal game that leaves a physical and physiological impact on the men that played it. Why would we make it harder for someone that knows that pain to help others do something about it?
I feel awful for Bernie Kosar. Whether he needs the money or not, it is embarassing to be at the center of a controversy like this, particularly because in the NFL in 2023, there is no reason for a controversy like this to exist.
Demetri Ravanos is the Assistant Content Director for Barrett Sports Media. He hosts the Chewing Clock and Media Noise podcasts. He occasionally fills in on stations across the Carolinas. Previous stops include WAVH and WZEW in Mobile, AL, WBPT in Birmingham, AL and WBBB, WPTK and WDNC in Raleigh, NC. You can find him on Twitter @DemetriRavanos and reach him by email at DemetriTheGreek@gmail.com.