How 101 ESPN Created a Decade of Dominance
"There was some thought in the past that someone would step up and try to take the station on. I think that speaks to the power of this brand."
There aren't a lot of stations quite like 101 ESPN. From the on air product to the station's digital offerings, to management's willingness to embrace emerging trends like covering gambling and hosting eSports events, Hubbard Broadcasting has never been afraid to let its St. Louis sports talker innovate. Listeners are on board too.
The reason for that is probably best explained in a simple sentence from mid day host Anthony Stalter. "St. Louis is a sports city through and through."
101 ESPN is a station anchored in both the morning and afternoon by a definitive local sports voice. The station's PD is a lifelong resident of the city. It's strange that the best explanation for 101's success comes from a guy that hasn't lived his whole life in St. Louis, but then again, Stalter's explanation is dead on, because it isn't overthought. In a town full of sports fans, the sports radio brand that has been dominant is the one giving listeners the most local sports conversations surrounded by the least bullshit.
"Nobody was doing it on FM with a big signal," Hubbard St. Louis' VP and Market Manager John Kijowski told me when I asked why he thought there was an opening to launch the station ten years ago. The city had two sports stations, both on smaller AM signals, and according to Kijowski, neither of them catered to the city's hardcore sports fans.
"They were doing a lot of – how do I clean this up? 'T&A'? Guy humor? And then some serious sports talk. I just didn't think it had to be that way. I thought it can be fun and entertaining. Certainly there are parts that should make you mad and make you laugh. Sports is all about emotion, right? I felt like what I was hearing over there was more T&A and political than good sports talk."
Bonneville, who owned the cluster at the time, had a struggling Rhythmic AC station on the 101.1 frequency. That is where Kijowski was going to put his new sports station.
"When Bonneville decided to go down that path, they thought that from a company standpoint, they had a stronger ability to sustain some of the early battles if it took some time to get the thing going," Jason Barrett told me. Before he was the president of Barrett Sports Media, Jason was the program director that launched 101 ESPN.
Barrett had been unemployed for nearly six months when Kijowski reached out to him. Prior to that he had programmed another sports station in town, 590 The Fan. The environment at 590 according to Barrett wasn't great due in part to financial pressures facing the station.
"The two years of market turmoil at 590 wasn't exactly what everybody wanted," said Barrett. "The ownership group had big plans and a successful model in Atlanta but it just didn't translate the same in St. Louis."
It made Kijowski's choice of a guy that had been trashed in local papers and blamed for the station's failures as his very first sports PD curious to say the least. Barrett says if you were sitting in the room for his and Kijowski's first meeting, it wouldn't seem so strange that they ended up working together.
"Having some market experience helped," Barrett told me. "I had learned firsthand what not to do at 590 and gained a few relationships in the process. Then, on top of it, John and I, the first time we met we just clicked. Our philosophies on radio and vision for the brand was an instant match. I think he liked that I had something to prove and my arrival would create some instant chatter. That just drove me more to make sure I rewarded his faith in me. To this day he's one of the best people I've ever worked with."
To make the station a serious ratings contender Barrett felt a major play-by-play partner (which 101 ESPN landed when it acquired the St. Louis Rams broadcasts prior to launch) was important. So too was adding regular contributors that could break news about the local teams. To help set the tone he hired the city's top three newsmakers, Joe Strauss, Jim Thomas and Derrick Goold from The St. Louis Post Dispatch and added Brian Stull and Brian Feldman as station reporters.
The key to success though would come from featuring live and local programming throughout most of the day. The long-term goal was to be local M-F 6a-7p but Barrett knew 101 ESPN would have to carry at least one show from ESPN Radio at launch. He planned on it being The Herd with Collin Cowherd, but that wasn't the national show that ended up on air.
"It's about two months to launch and we were in a big meeting," Barrett says. "Keep in mind I had just been out of work for six months after a rough two-year run. If there were things that they wanted to do, I was willing to go along with it because I didn't feel I had earned the right yet to influence any key decisions. I was just happy to have a chance to build the brand."
Kijowski was passionate about launching with a local morning show. Barrett made plans to put Cowherd in the middle of 101 ESPN's lineup, and that was what was pitched to Bonneville executives during a fall meeting. But Greg Solk, who was the company's Senior VP of Programming and Operations at the time, called Barrett's bluff.
"He said 'so that's the plan, right?' and I said 'Yeah, local in the morning with Cowherd in the mid days,'" Barrett told me. "'And you believe in that plan?' he asked. I said I did, but he saw it on my face and said 'I don't think you believe that.' I was uncomfortable for a moment but so glad he said that because it gave me the confidence to turn to John and say 'He's right. It should be Mike & Mike in the morning and then we start with local at 10am. I loved Colin's show but Greeny and Golic just fit the market better."
That was how the initial lineup was built. Mike and Mike wound up producing good results for the station until August 2015 when Bernie Miklasz announced he was leaving the St. Louis Post-Dispatch to take over 101 ESPN's morning show. Since then 101 has featured local hosts on the air from 7 am to 7 pm.
"They trusted us and we've served them well with our output. If we were going to make this move it was going to strengthen what we had," program director Hoss Neupert said of ESPN.
Neupert never had second thoughts about the move. St. Louis is a town that loves sports, but its devotion is to the local teams.
"During football season Mike & Mike did really well because they talked a lot about the NFL, but sometimes a big baseball game would be missed or there was no talk about a Blues game that ended in controversy," he told me. "Mike & Mike may have mentioned that or Golic & Wingo may mention it, but St. Louis sports fans now know it will be there."
Miklasz had a previous relationship with the station. He joined the station a few months after it launched, hosting a mid day show, and was at the station until 2014. When he agreed to return in 2015, it was in part because he saw 101 ESPN as a multi-platform brand where he could write, broadcast, and do a podcast under the same umbrella.
"I always wondered in my mind wondered what it would be like if I went all in on radio," Bernie told me. "I never had the guts to take the plunge, because all over I see radio stations changing formats and people coming and going."
For Miklasz, it came down to the people he would be working with and for that made him comfortable enough to commit to leaving the newspaper and making radio his primary focus.
"Kijowski had the vision. I appreciated and respected Jason Barrett's aggressive attitude and desire to always go for it. Then, Hoss Neupert had that same type of attitude. It just got to the point where it was like I like these people. I respect them and what they've done.
"Look, I wanted to be a part of this team, so it was time for me to take this leap. It's like any other job. There are good days and bad, but I took the jump and haven't looked back once."
Michelle Smallmon produced Bernie Miklasz's show when she was at 101 ESPN the first time around. After that she left for Bristol to work on ESPN Radio's Jorge and Jen and the Ryen Russillo Show. She returned to St. Louis in January of 2018 to become Bernie's co-host on the morning show.
"The primary difference now is that I am talking on the air for three hours, and not sitting in a producers booth monitoring the show!" Smallmon told me in an email. Still, she says she approaches each show with that same producer's mindset.
"As I approach each show and topic, I still look at it from a producer's perspective. What's the story? What are the secondary angles? Why does this matter to our audience? How can we find an informative and entertaining way to discuss the story? I had to shift from worrying about booking guests and finding sound to compliment a topic, to developing my opinion, anticipating Bernie's take on it, and thinking about how we want to structure our conversations."
Does the switch to a local morning show mean 101 ESPN listeners will never hear Bernie and Michelle talking about the kind of national topics covered on Mike & Mike or now Golic & Wingo?
"It depends on the time of year," Miklasz says noting that the day we spoke the St. Louis Blues were still in the NHL's Western Conference Finals. He calls the Cardinals "absolutely a foundation" of his shows in the Summer.
There is one area where Miklasz treads lightly and still hasn't figured out a definitive strategy for national sports talk. "Sometimes I wonder whether people, because there was so much animosity about the way the Rams left and the way the league allowed it to happen, whether we're turning people off when we talk too much NFL."
One of the constants through every iteration of the 101 ESPN lineup has been the afternoon show The Fast Lane and the man steering that ship, Randy Karraker. Even as his partners have changed throughout the years, Randy has continued to be viewed as the voice of the St. Louis sports fan. With Karraker at the helm the afternoon show has been a consistent ratings success for the past decade.
"It's interesting. I didn't feel pressure," Karraker told me of his hire in August of 2009. Despite casting a long shadow with fans in the city, he knew that his first partners on The Fast Lane, former Ram D'Marco Farr and long time St. Louis Bilikins play-by-play man Bob Ramsey, were the right people to build a three man collaborative effort with.
"JB had the vision," Ramsey told me in an email. "He hired the best talent in the market in Randy Karraker (the best I've ever worked with), found an ex jock who could handle himself in the very capable D'Marco Farr and found a decent third man in me who would morph to fit a given situation: analytic when needed, a foil to challenge partners and guests, and quite frankly a real smart ass who could make you laugh. "Ramsey said the show's strength was in Barrett's demand for "formatics excellence and detail."
Karraker and Farr had a relationship before the show began, and each said they knew they could rely on the other for great content. Farr took it a step further, saying that if Karraker was involved, he knew the majority of St. Louis's sports fans would be tuning in.
"If you could boil down St. Louis, and I mean everything about St. Louis, into one person, you would get Randy," Farr told me. "I mean, he defends St. Louis fiercely and he'll also call out the warts at the same time."
The Fast Lane has gone through multiple lineup changes since 101 ESPN launched in 2009. The current crew includes former Cardinals pitcher Brad Thompson and Chris Rongey alongside Karraker. Rongey, the latest addition came in the wake of Farr heading back to the West Coast.
That move may have coincided with the Rams leaving St. Louis for Los Angeles, but Farr insists that he didn't leave St. Louis intending to follow the Rams.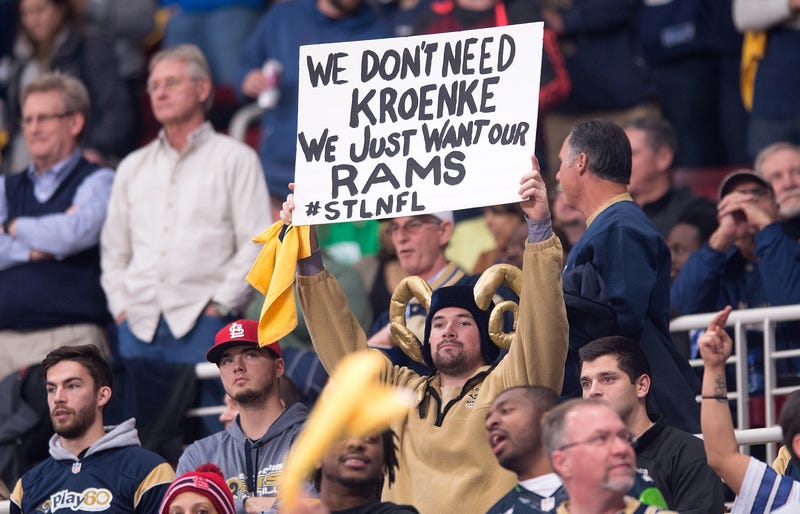 "Regardless of what happened, my family decided it was time to go back West," he said. "We had some aging and ill family members, so our presence was needed (in California). I think I said this on my last show. If the Rams had stayed in St. Louis forever, we would still be going back west. That is just where our lives took us at the time."
Ramsey credits the foundation Barrett and Neupert built for some of the afternoon show's success despite lineup changes, but he is blunt about where the real credit should go. "The key for relevance and continuity is Randy Karraker, period."
Former PD Kent Sterling told me in an email that the writing was on the wall for the Rams as soon as rumblings of a move to LA began. In his estimation, those started in 2011. "The combination of bad football and distrust for owner Stan Kroenke drove interest south. The staff did a great job of covering the team, but St. Louis will always be a Cardinals town. In a research project, we found that St. Louisans were more likely to be NFL fans than Rams-specific fans."
Farr was in an interesting position the day the Rams officially announced their move in 2016. "The day it was announced, I am driving the show. So that means I am the one telling St. Louis that the team is moving to Los Angeles," he says. It was strange, here's a former Ram telling St. Louis that the team is moving to Los Angeles. It was hard. It's still hard when I think about it."
Bernie Miklasz saw the Rams leaving as a shot to his credibility. He had been on the radio for months saying the team was not leaving. That wasn't just an opinion. In Bernie's mind, it was a fact based on a conversation he had had with NFL Commissioner Roger Goodell.
"I've told this story on the air, and I don't feel like I'm breaking any confidences now. Frankly, I don't care if I am. I actually had dinner with Goodell before the Super Bowl in Indianapolis. He invited me out during Super Bowl week because he wanted to sort of get the lay of the land in St. Louis.
"He looked me straight in the eye, in fact it sort of hurt my reputation. He looked me straight in the eyes and said 'We don't want that team to go anywhere. We don't want to leave St. Louis,' and he seemed very passionate about it.
"I even said 'Hang on, don't you want to put a team in LA? Kroenke does have his escape clause and he can probably get a stadium built." I'll use his words literally. He looked me in the eye, almost pissed off and said 'Why the f*** do we need LA?'".
Miklasz also received a phone call from Rams owner Stan Kroenke around the same time. Kroenke told Miklasz he didn't like the coverage he was receiving. He brought the team to St. Louis and was a Missouri native after all. Why would he want to hurt fans and a city that are so important to him?
Despite those conversations, Stan Kroenke revealed plans to build his new stadium in Inglewood, California in 2015 and then on January 20, 2016, NFL owners voted 30-2 to move the Rams back to Los Angeles.
St. Louis took the exit hard. To this day, Randy Karraker's show during the football season still focuses on hating the Rams, and he has no trouble defending doing the show that way. The way the Rams left was an insult to the city.
"I honestly think that if the league and the team would have been more honest about it, I think we would feel better about it, but for the league to tell the people that wanted to build a stadium 'keep doing what you're doing' and for the Rams' CEO Kevin Demoff to say 'we want to be here' was totally disingenuous," he says. "They had no intention of being here. If they would have just said that this was a business decision and the team saw a chance to be in the country's second biggest market, I think St. Louis fans would have felt maybe not good about it, but better about it."
Stalter actually has a positive view on the Rams leaving. It's not to say that he is glad the team is gone, but he notes that the idea of St. Louis fans only caring about the Cardinals seems to have changed when the NFL team left town.
"There's still a large contingent that just wants to hear Cardinals content, but the fact that the Blues have a winner now coupled with the fact that the Rams are no longer here, you have a lot of people that are just St. Louis fans now."
Smallmon said the love the people of St. Louis have for their city and its teams was never more evident than on June 13 of this year. That was the morning after the St. Louis Blues won the Stanley Cup.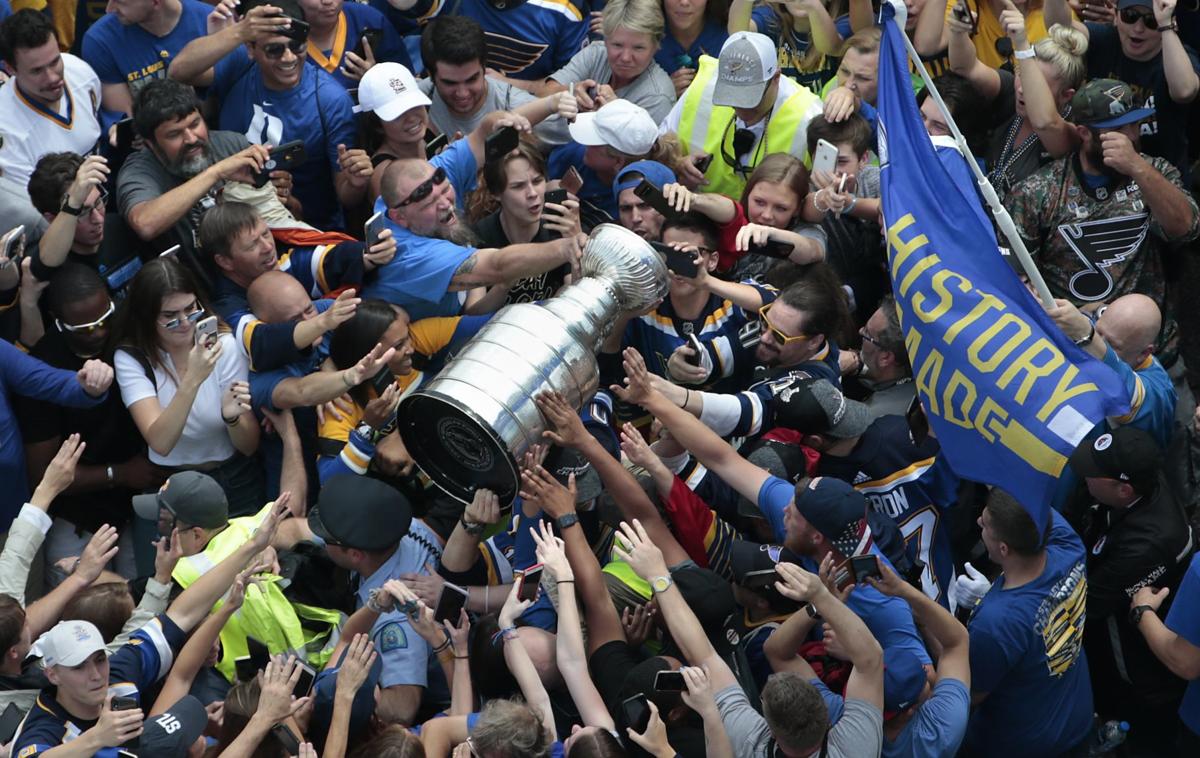 "Because this team took us on such a wild ride, the main challenge we faced was being able to accurately convey what this meant, not only to us personally but to the city," she said. "We were all a little delirious that morning, but I think that was the beauty of it. We often use a feature on our show called 'mic drops', where listeners can leave us audio messages. That was my favorite part of that show in the hours after the final horn sounded. Hearing St. Louisans expressing pure joy and celebrating their team and their city. It was a really special day, and one I'll never forget."
The Blues will call 101 ESPN their radio home next season, and Kijowski and Neupert are exploring all kinds of ways to take advantage of the relationship.
"We're talking about a side channel for the farm team and a dedicated all Blues channel," Kijowski tells me. When I ask him about any concerns he has about something special getting lost on the HD spectrum he insists that if it is promoted right, NHL fans have the dedication to their favorite sport to go and find it.
"Sales as you can imagine is crazy excited," Neupert says. He has been meeting with PD's of other stations in the Hubbard cluster in St. Louis since the station and the team made an official announcement. "They realize the bigness of having a major play-by-play and the advantages of utilizing it. Each one looks at their shows and thinks about the different things they can do."
Neupert even says talent from other stations in the building have discussed the affiliation with the team as a way to dip their toes into the sports radio waters.
"KSHE (101's classic rock sister station) and the Point (101's alternative sister station) have on-air talent that came to me right after we made the announcement to say 'Anything we can do?' and trust me, they will! I know we have untapped talent that can contribute, and the Blues are open to being creative with anything we want to do."
For as welcoming as the Hubbard staff can be to people moving to St. Louis to work there, it is still a city built on the idea that most folks that were born there will raise their own families and then die there. Barrett and Kijowski were willing to consider outsiders when they were building the station's first on air staff, but never lost sight of the parochial nature of the city.
"We had the anchors of Randy Karraker and Bernie Miklasz, so the outsiders could filter in," Kijowski said. He also points out that having guys like D'Marco Farr, Chris Duncan and Brad Thompson on the station have helped hammer home the local identity the station is so proud of. "Having loved, and truly beloved, St. Louis athletes makes this St. Louis! St. Louis! St. Louis! That lets you sprinkle in some new voices and outside guys."
Two such outsiders that got sprinkled in during the station's history were Zach McCrite, who came to St. Louis from Louisville, and Bob Stelton, who is from Seattle but just like the Rams, moved to town following a stint in LA.
Rather than having McCrite come to St. Louis, Barrett went to Louisville to meet the man that wanted to work for him. It was one day at an area bar that McCrite learned just how important it would be to know St. Louis if he wanted to thrive in the job.
"So, we go to a local restaurant and he throws a piece of paper in front of me. It's a 'how well do you know St. Louis' test," McCrite told me in an email. "And it was stuff like 'What's Albert Pujols' jersey number?' Five. Okay, I got that. Another one was something like 'St. Louis is called the Gateway To The what?' West. Okay. Got that. But then there's this word association part of the test. He throws a St. Louis-derived word or phrase and I write down the first word or phrase that comes to mind. I only remember one of those and it was the one I had no idea on at the time. The word he gave me was Oshie. I knew I had heard the name, but I couldn't place it.
"So, I'm sweating and I'm thinking 'what do I write here? I can't leave it blank, but I also don't want to guess wrong.' So, I just put 'Oh Shit.' Turns out, TJ Oshie was, at the time, a third-year player for the St. Louis Blues. He certainly found my blind spot."
Stelton had the parochial nature of St. Louis sports fans impressed upon him the second he got to town. He heard it from Barrett. He heard it from his partner Bryan Burwell. "I had two very clear thoughts: I was going to consume as much as I could as quickly as I could about the local teams. I was going to watch every moment of every game and give my honest take on what was happening. I moved downtown (despite it not being a great area) so that I was in walking distance to all three arenas/stadiums. And I wasn't going to try and pretend that I knew something that I didn't."
According to Stelton, that honesty and openly asking listeners to fill in the gaps in his knowledge is part of what helped him get over with fans. The other part was being paired with a guy listeners viewed as a heel.
"A large majority of the listeners didn't like Bryan for whatever reason, so, they seemed to automatically gravitate to my opinion or thoughts, even when he and I had the same exact take on something. When Bryan was let go and it became a solo show, that's when the ratings took off and the listeners seemed to fully accept me despite me being a guy from the West Coast."
Stalter says it isn't hard to win over St. Louis fans. "Once you say 'this is my home,' people will embrace you," the Illinois native, who came to 101 ESPN from Detroit told me.
Stalter is one of those outsiders Kijowski talked about benefiting from being paired with a beloved St. Louis athlete. After being moved from producer of The Fast Lane to hosting The Turn in mid-days, Stalter was paired with Chris Duncan, a member of the 2006 World Series champion Cardinals and the son of former Cardinals catcher and pitching coach Dave Duncan.
"When Hoss first paired me and Chris together, he gave me the best piece of advice. He said if you have to play it a little bit slow at first, and be likable as opposed to overly opinionated, that's okay," Stalter shared.
Chris Duncan is no longer a member of The Turn. It's not something anyone is happy about, but Duncan is battling an aggressive form of brain cancer called glioblastoma. In January of 2019, it was announced that Duncan, who had already been on indefinite leave, would not be returning to the station. Stalter fought back tears as he made the announcement on air.
"Show-wise, it didn't matter," Neupert said of trying to figure out the show's next step while Duncan's leave was still indefinite. "The poor guy had seizures during the show at times. Stalter was great about being a pro and picking up the slack. It's easy not to worry about ratings or sales when you're dealing with real life. So, for us it was always about let's do things the right way and be supportive. Yeah we gotta take care of the business side, but let's be human first."
Now that it is time to figure out what happens next, Neupert says he won't rush anything. "We've been thinking behind the scenes about what we're going to do. We have to find the right fit and there's no real timeline on it."
Stalter says he and Neupert have been grappling with the idea of what the show will be going forward. As Neupert said, they can take the time to find the right person. Stalter just wants to make sure the next iteration of The Turn keeps "the vibe of informing and entertaining."
101 ESPN has always been local and forward thinking. The approach has earned them strong ratings and a couple of Marconi nominations as the best sports station in the country. For example, they cut back on live phone calls in favor of the more compact mic drops. The website has served as a platform for original video, written, and podcasting content. The promotions and programming departments have taken chances too by creating live events around eSports.
The current approach to new strategies and ideas remains consistent with what Barrett introduced in 2009. He made sure the people he wanted to hire knew he wanted them. He invited Bob Stelton to sit in on a staff meeting the first time he visited St. Louis to get an idea of the working environment. He met with McCrite in Louisville to make sure he knew what he was in for, and he didn't object to having to win over Bernie Miklasz, who was wary of what he had heard about him following two tough years at 590 the Fan.
Stelton echoed a sentiment about the environment Barrett and Kijowski created that I heard from a number of people. The staff was professional, but also behaved like a family. More importantly, nothing was sugarcoated.
"He's absolutely my kind of PD. Very invested, very passionate and creative. But most importantly, very honest. I have huge respect for that."
Barrett left the station in May of 2011 to join Entercom and launch 95.7 the Game in San Francisco. Now, Barrett serves as a consultant for a number of sports radio stations across the country.
"They are the unstoppable machine in the market right now," Barrett says of 101 ESPN. "There has been talk over the years about someone trying to take them on but it hasn't happened because it's a well run brand by an excellent radio company and it'd take a lot to slow them down. John, Hoss and Hubbard's executive team deserve a lot of credit for taking what we started in 2009 and lifting it to even greater heights."
Sterling, another former PD, also acknowledges that the station is thriving today and isn't surprised to see Neupert at the helm of a winning product.
"I'm very pleased for Hoss Neupert's success as the PD. It's a better station today than the one I left, and it was a pretty damn good station then, so Hoss has done a hell of a job."
"The one thing I hope you take away from this is that we are a family here. That matters to us," Neupert told me. "We want to succeed for each other."
Randy Karraker echoed that sentiment. He told me that between being asked for input, not just on who he wanted to work with, but on what personalities could thrive with the support structure set up by management, he felt valued. He had a personal stake in 101 ESPN's success.
"It felt like home," he told me. "I told John Kijowski that early on. I said "I've never been at a place where I'm walking down the hall and it feels like home.' Everybody to work with here is great. The facilities are great. They want you to feel comfortable. I think that is part of the reason for the success. Everybody here feels that way."
John Kijowski also wants to succeed for St. Louis. He and the higher-ups at Hubbard know the best way to do that is to talk as much about St. Louis as possible.
"This thing has changed everything," JK says as he picks up my phone. "People don't go to the 10:20 news on TV in St. Louis to find out the score of the Cardinals game. They have the score right on their phone. The reason you have to have live and local shows between 6a and 7p is because it's not about the score. It's about opinion. It's about perspective. And you have to have strong personalities. That is why people still believe in sports talk radio."
Asking The Right Questions Helps Create Interesting Content
Asking questions that can get a subject to talk about their feelings is a much better way to get an interesting answer.
When ESPN's Mike Greenberg interviewed Paolo Banchero in the lead-up to the NBA lottery on Tuesday, he asked what I've concluded is the single most maddening question that can be asked of any athlete preparing for any draft.
"Why do you believe you should be No. 1 pick in the NBA Draft?" Greenberg said.
Before I point out exactly why I have such a visceral reaction to such a harmless question, I want to point out the positives because Greenberg's question avoids some of the most common pitfalls:
1) It is an actual question. That's not as automatic as you think given the number of poor souls who are handed a microphone and say to their subject, "Talk about (whatever issue they want a quote or a sound bite on)." This is the mark of an amateur, creating the opening for an uncooperative subject to slam the door by saying, "What do you want me to say?"
2) Greenberg's question can not be answered with a yes or a no. Questions that start with the word "Can you …" or "Did you …" may sound like they're tough questions for the subject, but they're actually fairly easy if the subject wants to offer an answer. Now, most interview subjects won't take that one-word exit, but some will in a touchy situation.
The problem with Greenberg's question has to do with the result. Why do we ask questions of the athletes we cover? Seriously. That's not rhetorical. What's the goal? It's to get interesting answers. At least that's the hope whether it's for a quote that will be included in a story, a sound bite to be replayed later or — like in this situation — during an interview that is airing live. The question should be engineered to elicit interesting content, and there was very little chance that the question Greenberg asked Banchero was going to produce anything close to that.
I know that because I have heard some version of this question asked hundreds of times. That's not an exaggeration. I attended the NFL scouting combine annually for a number of years, and if a player wasn't asked why he should be the first overall pick, he'd get asked why he should be a first-round pick or why he should be one of the first players chosen at his position. Never — in all that time — have I ever heard what would be considered an interesting or informative answer. In my experience, players tend to talk in incredibly general terms about their own abilities and then seek to compliment their peers in an effort to avoid coming off as cocky.
Here's how Banchero answered Greenberg's question: "Yeah, thank you all for having me, first off., I feel like I'm the number one pick in the draft because I'm the best overall player. I feel like I check all the boxes whether it's being a great teammate, being the star player or doing whatever the coach needs. I've been a winner my whole life. Won everywhere I've went, and when I get to the NBA, that's going to be the same goal for me. So just combining all those things, and knowing what I have to work on to be better is a formula for me."
There's nothing wrong with answer just as there was nothing wrong with the question. It's just that both are really, really forgettable. ESPN did put a clip on YouTube with the headline "Paolo Banchero: I'm the best overall player in the NBA Draft | NBA Countdown" but I think I'm the only who will remember it and that's only because I'm flapping my arms and squawking not because there was anything bad per se, but because there was nothing really good, either.
First of all, I'm not sure why it matters if Banchero thinks he should be the number one overall pick. He's not going to be making that decision. The team that holds the top draft pick — in this case Orlando — is. Here's a much better question: "How important is it for you to be the number one overall pick?" This would actually give an idea of the stakes for Banchero. What does this actually mean to him? Asking him why he should go number one is asking Banchero to tell us how others should see him. Asking Banchero how important it would be go number one is asking him to tell us about his feelings, something that's much more likely to produce an interesting answer.
The point here isn't to question Greenberg's overall competence because I don't. He's as versatile a host as there is in the game, and anyone else in the industry has something to learn from the way he teases ahead to content. What I want to point out not just how we fail to maximize opportunities to generate interesting content, but why. Interviews are a staple of the sports-media industry. We rely on these interviews as both primary content that will be consumed directly, and as the genesis for our own opinions and reaction yet for all that importance we spend very little time thinking about the kind of answer this question is likely to produce.
The Client Just Said YES, Now What?
We should spend as much time on what we will do after the client says YES.
One of the most significant moments in radio sales is when the client agrees to your proposal and says YES. But, when they do say YES, do you know what's next? We better have an answer!
We spend a lot of time getting ready for clients with research, spec spots (thank you, radio sales trainer Chris Lytle-go to 22:30), proposals, and meetings. All of our focus is on getting the client to say YES. We should spend as much time on what we will do after the client says YES. For example, getting newer sales reps to sell annual advertising contracts would be ideal for building a list. They would have less pressure, more job security, and could spend more time making the advertising work for their clients. But, since most newer reps don't know the business yet, they don't bite off more than they can chew and sell a package of the month.
When a client says yes to the weight loss promotion, it's pretty clear how to write the ads, what the promos will say, etc. BUT, if a newer sales rep starts selling annual contracts to a direct local client who needs a resource, how will that work? Let's make sure we paint the picture right upfront. More experienced reps know that they need to assume the client will say YES to the weight loss promo and have a plan accordingly.
They have the next steps to building copy and promos, a credit app or credit card payment form, and any other detail the client must provide. But, when we ask a direct local client for an annual advertising contract, watch out! You have just made a partnership. Why not lay out, upfront, what that will look like. And I understand not every local client needs the same level of service.
A car dealer has the factories pushing quarterly promotions, agencies producing ads, and in-house marketing directors pulling it all together sometimes. Other clients need your help in promotions, copywriting, or idea generation. Make a plan upfront with your client about when you will meet to discuss the next quarter's ad program. Include your station's promotions or inventory for football and basketball season, a summer NTR event, digital testimonials with on-air talent, etc., in your annual proposal. Go out as far as you can and show what you have to offer to the client and how you can execute it. This exercise is good for you and, once mastered, guides the client on how you will take care of them after the sale. It also opens your eyes to what it takes to have a successful client partnership inside and outside the station.
This week, Demetri is joined by Ian Casselberry and Ryan Brown. Demetri talks about the NBA Draft getting an ABC simulcast, Ian talks about Patrick Beverley's breakout week on TV, and Ryan reminds us that Tom Brady may be the star, but Kevin Burkhardt is the story we shouldn't forget.
Podcast: Play in new window | Download
Subscribe: RSS