The Reasons For Five Reasons' Success In Miami
"The arrogance of traditional media, which has always been the case, has been really good for us. We're just building, building, building, and eventually as they regress the advertising money will start to come to us."
Ethan Skolnick knows what the Miami sports fan wants. Even better, he knows the most effective way to get it to them. To have that strong of a belief, takes a whole lot of experience and a vision that nobody else has. Luckily, he has both.
To truly understand why Skolnick feels so strongly about what the Miami sports fan wants, you have to know about both his present and his past.
For 20 years, Skolnick was one of the best sports media talents in South Florida. Whether it was stops at the Miami Herald, Palm Beach Post, Sun Sentinel or even 790 The Ticket where he replaced Dan Le Batard, he's always seemed to have a direct pulse on what content the sports fans in the city want to consume. Along with that experience, plus the tireless work of many others, Skolnick is brining Miami sports on demand in the form of podcasts, videos, news stories, etc. to the city like it's never seen before.
The Five Reasons Sports Network has taken Miami by storm.
The Climb
In 2018, Skolnick was out of sports media. After a successful career that saw him have, at one time, the highest rated radio show in South Florida behind Dan Le Batard, he was looking for his next venture. Then, Chris Wittyngham, a former host with Skolnick at 790 The Ticket, came with the idea to start a podcast. The duo started with one to try and get into the swing of things. It was a success. Soon enough, people were all over the idea of hearing the two back together talking sports. Then, things started to expand more once Skolnick took his new product to Twitter.
"I had built up over 75,000 followers at one point," said Skolnick. "I'm at like 72,000 now, but I always engaged with people, because I thought it was a big part of my job. Basically I just started using my Twitter account again, created a Five Reasons Sports account, then retweeted a bunch of stuff on that page from my personal account to accelerate the growth and build a following."
It worked. Shortly after, people who had built a social media following with the Dolphins and Heat started to reach out. But out of everyone that reached out, there was one in particular that stood out.
"Alfredo Arteaga, "said Skolnick. "He basically said that he and his two buddies, one of them living in England and one of them living in Tampa Bay, they had all this info about the Dolphins, it was incredible, but Alfredo came to me and said he and his two friends were thinking of starting a podcast and asked how I did it. I said I had a better idea, why don't we work together?"
With that conversation, Three Yards per Carry was born. It took off instantly. Today, it's one of the most successful podcasts in the Five Reasons Sports Network and considered as the possibly the best podcast when it comes to the Miami Dolphins.
"Those guys nailed 5 of the 7 draft picks a year ago," Skolnick said "They're just on top of everything and I don't touch them. They have this chemistry that's totally organic. It just works."
Soon after, others in the social media space reached out to get a better understanding how Skolnick and his new team were creating an in-demand product. The people asking, quickly became a part of the Five Reasons Sports Network. The growth was happening.
The Secret
Skolnick isn't shy about his vision of winning Miami in the next two years. That's not winning in just the podcast space, that's winning over every single newspaper and sports radio station in the city. He wants to be the destination for every sports fan in Miami. But what's his plan to get there?
Social media is a massive component with Five Reasons Sports Network. It's probably even fair to say it's the livelihood of the brand with how much emphasis is put on it.
"We generate anywhere between 5-10 million impressions a month off our Twitter account," Skolnick said. "Basically by posting polls throughout the day, retweeting everybody's episodes and posting other content."
The Five Reasons Sports Network Twitter account has a little over 12,000 followers. With that page, as well as the other podcaster's pages, Skolnick feels he's captured every South Florida sports fan who's on Twitter. The goal isn't just to bombard the internet with local sports content, it's to capture the audience in a way the other outlets in the city are failing to reach. That's by owning Twitter, Instagram, Facebook and every other social media platform that's out there.
"We want South Florida content that's quick-hitting and draws people in," said Skolnick. "That's what I want and I also think that's what people want these days. I know who we're competing with, because I worked at all of them and they haven't taken us seriously yet. We completely out-work them on Twitter and they don't engage, just post.
"I'm a little stunned they've watched us do this, because everyone knows about us here now. We're credentialed with all the teams. The arrogance of traditional media, which has always been the case, has been really good for us. We're just building, building, building, and eventually as they regress the advertising money will start to come to us. That's when things start to really happen."
The Podcasts
12 total podcasts can be found on the Five Reasons Sports Network. From covering the Heat with the Five on the Floor podcast to A Canes Thing that covers the Miami Hurricanes to even a few podcasts that focus more on culture, South Florida coverage is locked up with multiple podcasts. With Skolnick and other hosts having big connections in the sports world, you'll often hear riveting content as well as big name guests that both play and cover a respective sport.
Five Reasons will put its ability to pump podcasts on social media against anyone. But, more importantly, it will put its content against anyone else, too.
"The consumers want content on demand," said Skolnick. "They want content that's tailored to them, on their schedule and they want to be able to stop it and go back to it later. The biggest thing I always tell people about podcasting, literally, if you're in the car and you have your GPS on, the podcast will stop for you until the GPS is done talking. The radio doesn't do that.
"Honestly there's no reason to listen to radio over podcast anymore. I don't listen to radio anymore and most people who have switched over to us don't listen to radio anymore either. We studied the numbers on this. 40% of people leave when you go to a seven minute break. I won't have a break that's more than one minute on our podcast."
More than Just Podcasts
Videos, quick-hitting local stories, there's a lot you'll find outside of the 12 podcasts featured on Five Reasons Sports Network. For instance, during halftime of last Saturday's Miami vs. Florida game, two staff members posted a quick video on Twitter with instant thoughts of the first 30 minutes of action. That was met with 10,000 views and 50 retweets. All from a simple video that featured the quick, halftime thoughts of two fans.
Skolnick even brought in writers that have no podcast duties to write stories on the front page of the website that pertain to local teams. On the front page of fivereasonssports.com you'll see several local stories with headlines that pop and catch the reader. This isn't just about audio, the goal is to be the ultimate destination for south Florida sports fans.
"I brought in all these people and I'm not even paying them a salary," Skolnick said. "It's just people who want a platform. Now, I have more than 70 contributors total if you include the website folks. I'm not paying salary to anybody, it's all self-generated and it's all people believing in it. The people we have here are incredible."
Last night on Twitter, a video was put up on the company's official page that creatively highlighted the brand, along with all the podcasts the network has to offer. From the music, to the highlights, it truly had a professional look and feel to it. Most of the time, there's money and resources that go into making a video like that but Skolnick revealed it was made by a newly hired intern who did it for free. Though it's just one video, it's the tireless work of free help that's put the network in the situation it's in. 
Expansion
Though the goal is to win Miami, that doesn't mean the dream stops there. In fact, the end goal might be to win all of Florida. Initially, Skolnick wanted to be in Tampa Bay, Orlando, Tallahassee, Gainesville and Jacksonville by the fall. However, time ran out with so many things happening across the network.
That desire only grew deeper after Skolnick was recently approached by a member of the PR staff of the Atlanta Hawks. While he was inside the Hawks' locker room, the PR man came up to Skolnick and asked when Five Reasons was coming to Atlanta. The thought behind the question, is that the team could use more coverage and the ever-growing network based in south Florida might be just the thing to help.
But whereas several other podcasts networks have chosen to go national with several different podcasts in several different markets, Five Reasons believes in a localized product.
"I think we're the only localized podcast network in the country," said Skolnick. "There's a lot of national ones, but what I found with those, is that, and this is no disrespect to any of them, I'm friends with a lot of people who run them, but it's very difficult to understand what the local podcast needs."
Though expansion is in the cards for Five Reasons, don't expect a move to a market considerably bigger than Miami. Why? Skolnick is adamant about not going to Boston, Chicago, New York, Philadelphia or Los Angeles because it's too competitive and the other media outlets in those cities are still relatively healthy.
"To me, this only works from the ground up in places like South Florida, north central Florida or Atlanta," said Skolnick. "Places that don't have the healthiest or most competitive media operations."
Merchandise
If you're able to sell merchandise in the sports media world, it's a sure sign you have a pretty healthy audience. Almost always a profitable venture, Five Reasons Sports Network has ventured into selling merchandise such as shirts, hats, jackets and even socks on its website.
"It's really done well and that's an easy play for us," said Skolnick. "I'm very lucky, because a lot of the guys we have are really talented in doing other things. One of the producers of our podcasts, happens to be an extraordinarily good designer that works really fast. When something happens in sports or Miami sports, he literally sends me a T-shirt in the next hour."
Talk about a potential money making venture. With the cheap cost of making a T-shirt combined with a designer that's already on staff and puts out creations at a given notice, Five Reasons has found a source of revenue that most in its spot strive for. 
"Some of the stuff we do is for giveaways at watch parties to help with our name building," Skolnick said. "But when we have a player who's hot like Preston Williams for the Dolphins, who has taken off as an undrafted free agent, my guy will just send me a design in an hour and we get it up. We just react to trends. Some people may regret buying a shirt if he doesn't make the team but we're just trying to have fun with it and be current."
Monetizing
Ahh, the real question, right?
Everything might sound good up to this point, but how do you make money with it. Well, for starters, Five Reasons Sports Network is already off to a great start with the merchandise sales it has. No, that probably can't fund the entire network's ambitious plans, but it's a steady stream of revenue that can be used. But as for finding money for podcasts, there's many out there wondering how they can be profitable, even if the download rates are high.
"Well, this has been the hardest part right?" said Skolnick. "It always is, the monetizing. We've kind of gone about it a couple of different ways. I had an ad firm and it didn't really work out, they just weren't in position to sell us properly. We didn't have the numbers at that point to really make it worth their while and drop their other business.
But what I did, was I went to Twitter and found people with sales experience who are already engaging with us and I've been giving them commission to sell us, so they reach out to the companies for me."
Five Reasons' plan to sell has landed with good reception. Bigger companies such as AutoNation and BetDSI have signed on, as well as local car dealerships and several south Florida restaurants. Combine that with ads soon coming on the website and the network just might have a solid path to carving out a nice pay day. 
"Are we where we need to be, no, but that is the big push," Skolnick said. "But my point is that we're not just selling podcasts, we're selling content. That means video, tweets, podcasts, it means several things. There's a lot of different ways you can make money off this."
Final Word from Skolnick
Though Skolnick might be the face of the company, he strives to make it very clear it's not just about him. In fact, he says it's very little about him.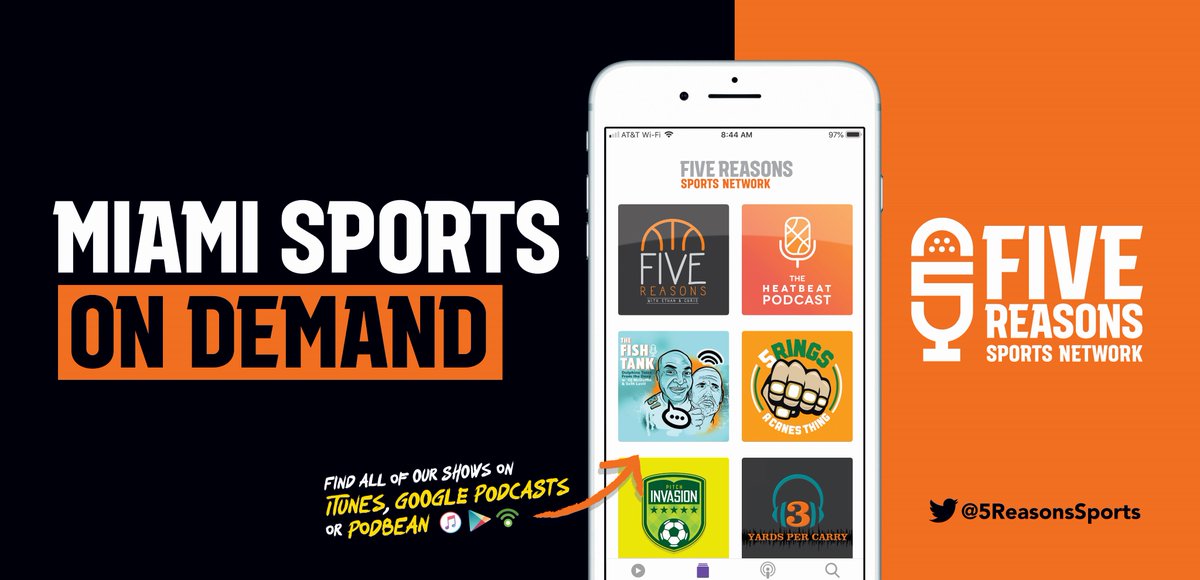 "There are so many people who are devoting a lot of their time, a lot of it for free, this is about having really talented contributors that should have been snapped up by other outlets. And we're so fortunate to have them. It amazes me the work they put in."
The journey is just beginning and nowhere near being completed, but thanks are still in order to the people who helped get the company off the ground.
"Chris Wittyngham is no longer with us," Skolnick said. "He was my original partner and he did incredible work to get us started he just decided to pursue soccer play-by-play full-time, which he's really good at. He's a really talented person. His role was really major."

Tyler McComas is a columnist for BSM and a sports radio talk show host in Norman, OK where he hosts afternoon drive for SportsTalk 1400. You can find him on Twitter @Tyler_McComas or you can email him at TylerMcComas08@yahoo.com.
Drew Deener & ESPN Louisville Showed The Cardinals They Cared
"I don't think iHeart ever took us seriously, because they thought there was no way."
Red and white M&M's filled a bowl and the sound of Teddy Bridgewater throwing a touchdown pass in the 2013 Sugar Bowl filled the room. This wasn't a random occurrence. Every single detail of what was in the room that November day in 2021 was carefully planned out by Drew Deener and the staff at ESPN Louisville. They knew it was their big moment and everyone was on board to give the best presentation possible to Learfield and The University of Louisville
The presentation was for the rights agreement to U of L athletics, a deal the station had longed for. For the first time in several years, ESPN Louisville, which comprises of ESPN 680 and 93.9 The Ville, thought it might have a puncher's chance in acquiring the new rights, even though the station was trying to get them away from 840 WHAS, who had the 50,000 watt signal across town. That's why strategic planning was so important. Deener and ESPN Louisville wanted to show how much they valued U of L athletics.
"We made a formal presentation and had everyone on our staff here," said Deener. "We even had Bob Valvano in on Zoom from New York. Basically, we showed how much we cared. We made the presentation and I knew we had just nailed it. We had the Sugar Bowl game playing on the TV and we only had red and white M&M's, we were just showing how much we cared about the whole deal."
There was no question how much ESPN Louisville valued the potential opportunity of being the flagship for U of L, but there was one stiff disadvantage working against them. At the time, the flagship belonged to 840 WHAS, just like it did for many years. That station boasted a 50,000-watt signal ESPN Louisville and 93.9 The Ville didn't have. It was the biggest hurdle for ESPN Louisville. 
"I knew the thing we needed was a second strong radio station to get this done," said Deener. "We've got two (93.9 FM and 680 AM) but our AM 680 we weren't going to have a chance. At one point I said to Dugan Ryan 'Man, I wish I knew somebody at 970 because they probably have the second strongest signal in town'. Dugan said 'I talk to those guys every day'. He set up a conference call and they're privately owned — like we're privately owned — and that's when we started to say 'Ok, their signal, plus the FM of ours would work'."
ESPN Louisville seemingly had a solution to its biggest issue. There could be an agreement with Troy Miles and Word Media Group — who owned the 970 AM signal — to team up and submit a proposal for the U of L flagship rights. 
"Drew and I have a common friend by the name of Dugan Ryan, who was the owner of WXVW," said Troy Miles, GM of Word Media Group. "He did a lot of work with Drew through clearing games back in the day. Drew was made aware of U of L the week before we were made aware of U of L. Dugan basically introduced us to Drew.
"Drew called Dugan and said 'Hey man, U of L is coming up. Do you know the guys over at Word Media Group?' and he said 'Yes, do you want to meet him?' Dugan made the introduction to Drew and that's how it all came together. Drew had received a proposal from U of L and the following week we received one. I guess U of L was shopping it at that time and they didn't know that we were talking with Drew, so it's kind of like we formed an alliance together and went to U of L as a group, versus individually."
The biggest disadvantage was addressed. Now it was time to showcase the biggest advantage ESPN Louisville had.
"We knew the No. 1 thing that was going to be in our favor is that U of L would never be knocked off the air by Kentucky," said Deener. "Like, they had all the inherent advantages, 30-plus years, 50,000 watts and all that, the one thing we can say is, absolutely the only thing that will ever knock off the U of L event is another U of L event."
That was a huge plus for the Louisville administration. For several years, there was frustration that U of L games would be knocked off the air for UK games, the in-state rival. That wouldn't be the case with ESPN Louisville.
"When I would talk to people in the athletic department, and I would definitely talk to fans, it was always a talking point," said Deener. "I remember somebody pretty high in the athletic department just told me 'I just want to know where the damn game is'. That's the biggest thing for U of L. It's more of a deal with Learfield, that's who we made the proposal to. U of L had to just sign off on it and be ok with it, once they saw what we were offering and were willing to do."
The deal came together in the most unique of circumstances. Deener can't think of another situation where two local stations have teamed together to take on something such as a flagship rights agreement. 
Word Media Group even helped Deener get connected with several independent stations across the state to help facilitate affiliate deals. It truly was the work of teamwork.
"It was so much work,' laughed Deener. "I knew we could outwork them and put together a plan that showed how much we cared about it, but I didn't know in the end if 50,000 watts was going to be the one thing keeping us from it because it's the one thing we can't do. We couldn't have found a better crew than the crew over at 970. It's the best teamwork you've ever seen. This is going to sound corny, but when we were putting together a group text, at some point, somebody made a point about us trying to take down the Evil Empire or Thanos so our group text was called The Avengers."
"I was actually the creator of the name Avengers in the text group," laughed Miles.
There's no doubt teaming up with 970 AM and Word Media Group was huge for the deal. It may have sealed things. There are a few big takeaways from this story, but number one is the fact two locally-owned stations came together to better their situation. 
"Somebody that was involved in the process I know and trust said getting 970 was a game changer," Deener said. "You just don't see two different radio stations from two different groups combining on a proposal. It's just a great tale of two private companies coming together."
"Drew had the sports coverage but we had the signal strength," said Miles. "You were able to get both worlds in there together."
Another big takeaway is the larger radio signal not winning out in the end. Does it mean teams aren't as interested in watts for their radio partner as they were 20 years ago? There may not be a definite answer. But even with a signal disadvantage, ESPN Louisville found the right path to acquire the U of L rights.
"I think 50,000 watts doesn't mean today what it meant 5-10 years ago because of the phone," said Deener. "You stream games on your phone or Alexa, or wherever."
It's been a year since Deener got the call that his station would be the new flagship for U of L. He still remembers the exact moment and probably will for many years to come. 
"I got the call and the only other person that knew was our sales manager," said Deener. "We found out we got it and we high-fived so hard I hurt my hand. We had to keep it a secret for like a week. I don't think iHeart ever took us seriously because they thought there was no way. I always worried if it got out we had a chance, that they would unleash the power of the Death Star, and that iHeart could offer assets that we just don't have. We had to keep it a secret and the staff didn't even know until the morning of. That was a celebration."
Tyler McComas is a columnist for BSM and a sports radio talk show host in Norman, OK where he hosts afternoon drive for SportsTalk 1400. You can find him on Twitter @Tyler_McComas or you can email him at TylerMcComas08@yahoo.com.
Will Tom Brady Make 3 a Crowd In the Broadcast Booth?
"Bottom line – will either analyst thrive in a crowded booth?"
What will Fox do now? Tom Brady is the heir apparent to the network's top booth alongside Kevin Burkhardt. This week we learned that his television career won't start until 2024, but there is a decision to make now. Where will Greg Olsen end up?
Olsen upped his game to the extreme this season. He'll have one more chance to make a name for himself, on the Super Bowl broadcast. It's a good problem for network executives, too many good options. But what is the best option?
Keeping Olsen on the top crew would mean a three-man booth. The third guy, is a high-priced rookie, coming into an established team, which can cause problems. How will Brady mesh? Will he try to dominate or will he be passive early in his second career? Either way, the breaking in of Tom Brady, if you will, won't be successful overnight. It may take some time.
I see Fox keeping Olsen around Burkhardt as a 'security blanket' to cover their rear ends if Brady struggles out of the gates. The line of thinking though, should be meritorious. The two (Burkhardt and Olsen) have developed great chemistry. They have fun and, as mentioned, Olsen has been receiving rave reviews from many credible sources. It's hard to justify such a move based on performance only. But as we all know, money talks, and apparently very loudly.
Bottom line – will either analyst thrive in a crowded booth? It's hard to say, but there is an inherent challenge for all involved when you put three people in a broadcast booth. They're all fighting for air time. Even with a two-person crew there isn't a lot to divvy up.
The three-man booth was popularized by ABC's Monday Night Football starting in the 70's and lasting until 2011. That second crew was mightily popular, with Frank Gifford taking on the role of play-by-play, working with Don Meredith and Howard Cosell. It was a unique trio, each excelling at what they were there to do. That trio had chemistry and worked well together.
As the franchise of MNF continued, Gifford switched to analysis in the mid 1980's, working with Al Michaels and Dan Dierdorf. That triumvirate lasted a decade, but it was missing something. It got worse, as MNF had a bit of a downturn in the 90's. ABC brought in comedian Dennis Miller and the result was disastrous. It didn't work. 2 years was enough for that experiment. After they slimmed the booth down to just two, when Michaels was paired with John Madden. They were around for 3 seasons before the franchise moved to cable and back to a trio in the booth.
It took an incredibly special group to make a crowded booth work. It is not easy. But even when it does work, there seems to be a sigh of relief uttered when a booth slims down again. 
Case in point, Troy Aikman. His first three seasons at Fox the booth was Joe Buck, Cris Collinsworth and Aikman. When Collinsworth moved over the NBC, Aikman seemed more than fine with it. While he missed talking football with Collinsworth, the adjustment wasn't a hard one for him.
"It's been a lot easier, to be quite honest with you," Aikman told The Oklahoman back in 2005. "You're not wondering, OK, who's gonna talk now? Or who's gonna respond first to this play?
In a three-man booth and it's not just our three-man booth, it's any three-man booth the game really goes all over the place. One guy wants to talk about this play in this way and then the other guy has his own ideas as to where he wants to go with it, so there's not a lot of conversation per se between the people involved."
Plus, there isn't much time in between plays. Maybe 25-30 seconds? It is hard enough for one analyst to make a point and get out of the play-by-play announcer's way, let alone two analysts.
The viewer gets cheated out of football knowledge if both color commentators can't be themselves and provide information that is useful and informative.
Brady is walking into a top job as an unproven commodity. If you are to judge him by his press conferences, man we are going to be in for a long year come 2024. He never offered much in the way of information or personality. Perhaps that came from years of playing for Bill Belichick.
You can't argue the credibility though. He's alone atop many quarterbacking mountains in NFL history. He's won 7 Super Bowls and the list goes on and on, but that doesn't mean he'll be able to carry himself as a top analyst on a major network. It doesn't mean he can't either. Only Brady knows what he'll bring to the booth.
Greg Olsen has a very practical outlook on what could happen. It's a testament to his professionalism and good character. He's not looking to become a broadcast martyr if he gets bumped down the food chain.
"In regard to Tom, if he comes in and he takes it, I get it. I don't ask anyone to feel bad for me. And I'm not going to feel bad for myself." Olsen told The Athletic. "Will I be disappointed? Would I rather sit next to Kevin for the next 20 years? Of course. I'm not going to sit here and sound stupid and be like, 'You know, just doing this for one year was plenty.' Like, no, screw that. I'd like to do this for 20 years. I'd like to call 10 Super Bowls. Whether that happens or not, I don't know. I don't control it. But the second I spend all my energy worrying about what Tom does and worrying about my job security and who's going to be in my seat, then I'm not going to be very effective. I just don't know how else to describe it. I've come to grips with it, and I'm going to make it hard as hell on them to try to replace me."
Just like a player, you show your skills for your own team and the other clubs in the league as well. Olsen did himself proud this season and who knows, if things don't work out at Fox for him, there are other networks that would surely knock on his door. He's worth it.
Andy Masur is a columnist for BSM and works for WGN Radio as an anchor and play-by-play announcer. He also teaches broadcasting at the Illinois Media School. During his career he has called games for the Chicago Cubs, San Diego Padres and Chicago White Sox. He can be found on Twitter @Andy_Masur1 or you can reach him by email at Andy@Andy-Masur.com.
Jonathan Vilma Went To the Super Bowl As a Player, He Wants To Go Back as a Broadcaster
"The players obviously want to play their best; and then you have the media and FOX who wants to put out the best production, and so that I can really appreciate."
From training camp to preseason action; then an 18-week regular season followed by a string of pressurized, single-elimination playoff action, the journey to the Super Bowl is long and arduous. That is part of what makes the conclusion of it all exhilarating for the winning team and, conversely, gut wrenching for its opponent. Jonathan Vilma knows firsthand just what this journey entails and now articulates it to football fans on a weekly basis.
Vilma also knows how it feels to be a world champion, starring on the New Orleans Saints' 2009 Super Bowl championship team's defensive line as a middle linebacker. As a three-time Pro Bowl selection and defensive captain, he always made sure he was ready to take the field, proved when he made a critical pass deflection that helped secure the Super Bowl victory. Yet he is not satisfied just winning the game, as he aspires to one day call the nation's largest, most complex sporting event from the broadcast booth.
"This is no different than football for me," Vilma said. "[I am] very competitive, so I would want to make sure that [in] each performance [and] each game that I do, I prepare and act as if it is a playoff game; a Super Bowl game. It's the best game that I'm ever going to call."
Vilma enjoyed a decade-long career in the NFL and was inducted into the New Orleans Saints' Hall of Fame in 2017 even though he did not play in New Orleans for the first several years of his career. Instead, Vilma's career started in East Rutherford, N.J. as a member of the New York Jets, an organization to which he was drafted with the 12th overall pick out of the University of Miami. Following his 2004 rookie season, he was recognized as the NFL defensive rookie of the year by the Associated Press and went on to lead the NFL in tackles the next season.
Aside from all of the accolades, suiting up in the New York-metropolitan area meant facing a deluge of media on a regular basis, aggrandized because of his abilities on the field. Vilma always sought to give 110% effort as a player and did the same when giving interviews by being truthful with journalists – no matter the situation.
"I notice that a lot of the beat writers [and] a lot of regional writers appreciate when you're just very honest about the good and the bad," Vilma said, "and they appreciate more when you're the same person during the bad times as you are during the good times. If I lost a game, whether it was with the Jets or the Saints, beat writers come in and you handle it the same way."
In February 2008, Vilma was traded to the New Orleans Saints and proceeded to sign a five-year contract with the team approximately one year later. After winning the Super Bowl championship in February 2010 just past the midpoint of his career, he began thinking about what he would do next and eventually decided to give sports media a try.
Despite being an active player, Vilma appeared on a local television postgame show to give his thoughts and analysis on the action, affording him early repetitions in the industry. Once his contract expired with the Saints, he joined Bleacher Report as a guest analyst, but then moved back to college football to cover the Notre Dame Fighting Irish with NBC Sports.
The transition from playing in the NFL to working as a media member in college football on pregame and halftime shows was facile since he remained informed about the NCAA and the various conferences. In his preparation, he examined Notre Dame and its opponent, organically forming cogent opinions conducive to his role and the matchup at hand.
"I was following it prior to when I went to NBC," he said. "Then it was just a matter of dialing in. When I say dialing in, I just reverted back to what I did when I was playing – and that was watching film [and] getting an understanding of the players, the teams, the coaches [and] the schemes. Once you do that, everything else outside of that is kind of free-flowing because I already know what the players are going to do or the coaches or the teams and how they operate."
After a year where Vilma exclusively worked on Notre Dame football broadcasts, he began a four-year stint with The Walt Disney Company where he contributed to programming on both ESPN and ABC. With both linear television networks, Vilma was covering college football in its entirety, meaning that he needed to know information about every team. It resulted in a shift in his in-studio preparation for his role on ESPN2's Saturday studio coverage to ensure he would be ready for any situation presented to him over the course of a broadcast.
"During the week, it would really be about watching [one] half of a team but not watching the whole game or not watching two to three games," Vilma said. "Then, being very aware of what the media is saying about particular teams to see if it matches up with whatever I believe [about] that team."
Upon signing a multi-year contract with ESPN in 2018, Vilma was moved to ABC's Saturday college football studio coverage, working as an analyst during the day and at night on ESPN Saturday Night Football on ABC. Vilma joined the show to replace Booger McFarland, who had been added as a new analyst on ESPN's presentation of Monday Night Football, collaborating with host Kevin Negandhi and analyst Mack Brown to prepare fans for the weekend primetime matchup.
Over his time with ESPN, Vilma had also been placed into the broadcast booth on occasion, including for its broadcast of the 2018 Cheribundi Boca Raton Bowl between the University of Alabama at Birmingham Blazers and Northern Illinois University Huskies. Through the experience of being on the call for live games, Vilma was eager to explore an opportunity to progress into doing it regularly. It relates to his competitive mindset fostered from his time as a player, and one that he continues to carry with him in sports media.
"It allows me to, for three hours, do what I did mentally when I played – which was [to] break down the opponent; anticipate what they're going to do; look at their strengths or weaknesses; talk about it and really be able to go in-depth," Vilma recalls telling his broadcast agent leading into contract negotiations. "….It really lets me feel like I'm a master of this game this week and I really enjoy that."
The only problem was an opportunity to make the move into a broadcast booth was not available at ESPN in 2020, as the Monday Night Football booth was filled by Steve Levy, Brian Griese and Louis Riddick and its college broadcasters were relatively in place. As a result, Vilma decided to interview for an NFL broadcasting position with FOX Sports, despite initially being hesitant because of the various nuances in the league and having the ability to adopt a parlance applicable for both defensive and offensive analysis.
Recognizing his passion for the game of football and enjoyment of calling games, Vilma chose to join FOX Sports where he was paired with versatile play-by-play announcer Kenny Albert.
The decision by the network to form this particular duo was auspicious for Vilma's development since Albert had demonstrated experience working with an array of analysts and partially engendering their success. The impact of Albert, who joined the NFL on FOX in 1994, was even more apparent when Vilma had to work his first few NFL games without him since Albert had to complete a mandatory two-week quarantine period upon returning from the NHL Bubble in Toronto.
"Kenny has been in it for so long that he's a guy [who] doesn't want the spotlight [or] the limelight – he just wants to make you look good; 'you' as in obviously me," Vilma said. "….I could see the difference in Kenny and how he likes to call games because I had watched about five of his games prior to my first season. I was like, 'Okay, I'll wait until Kenny comes back and we'll kind of go from there.'"
Albert and Vilma just completed their third season together in the booth and worked in tandem with sideline reporter Shannon Spake, who provided reports from the field. The congeniality within the broadcast team comes from having an understanding of optimizing each other's roles and effectively supplementing them.
"I mess with him all the time; I call him a nerd all the time," Vilma remarked of Albert, "but he's actually really, really cool so we go to dinner a lot [and] we hang out a lot. Because of that, it shows through our body language [and] through our rapport when we call games."
As an analyst, Vilma aims to present the 'why' and the 'how' of each play while Albert's play-by-play responsibilities center around his accurate and concise description of the 'who,' 'what,' and 'where.' In order to perform their jobs to the highest standard, they take different approaches when it comes to preparation.
While Albert meticulously researches the rosters, creates detailed charts and talks to coaches and team personnel to elucidate storylines and set up his colleagues, much of Vilma's preparation relies on watching film. Even though he is not taking the field as a player, the methodology corresponds to his participating in as many facets of the team as possible to gather quality film.
In fact, that practice was advised to him as an NFL rookie by Baltimore Ravens linebacker and Pro Football Hall of Fame member, Ray Lewis – and it had a part in shaping the trajectory of his career. Instantiating that wisdom into media, Vilma tries to formulate comprehensive and coherent points on which to expand and implement in his analysis of a play – unimpeded by other sources of information.
"I don't want the media to influence anything I say on Sunday when I'm calling that game," Vilma said. "I want to make sure that whatever I say is because of what I saw on film and what I watched of those teams, and then what I'm seeing Sunday as a game is going on."
Vilma officially retired from playing football in 2015, meaning he is not very far removed from the NFL. He remains immersed in the football community as a former player and maintains relationships with players, coaches and personnel in the league. His job as an analyst though is predicated on straightforward objectivity; therefore, it is his obligation and that of other analysts to critique individuals and teams as necessary.
"I've always felt that if I'm calling the game based on what I see and there's no hidden agenda [and] there's no sugarcoating it, then you'll be fine," Vilma said. "Just in the same light that I'll talk about a player who's inaccurate or whatever it is, I'll also speak very glowingly about a person if they're having a great game."
Playing professional football generates ethos in terms of commentary and the editorializing thereof whether that be during live game broadcasts, shoulder programming or studio shows. Despite making the ostensibly inscrutable parts of the game understood, it is impractical to carry an expectation of pleasing everyone. With the advent of social media, viewers with minimal credibility can suddenly become boisterous critics and build a legitimate following, lending them exposure and a megaphone to project their voices en masse.
One example of such an instance came following a game between the Atlanta Falcons and Vilma's former team, the New Orleans Saints. As a Super Bowl champion with the team, some fans of the Saints expected him to be inherently biased throughout the game; however, they were flabbergasted when he lambasted their play amid a substantial defeat.
After the game, Vilma opened his Instagram account on which he received direct messages where afflicted fans expressed disbelief that they ever cheered him on as a player. Those types of excoriating messages can unnerve typical social media users and beget demoralization, but for Vilma, it was the epitome of a successful week in the booth.
"After each game, I want to have the fans from both teams saying I was biased for the other team," Vilma said. "That means that my passion is coming through; it means that the emotions of the game – I'm expressing it as I call the game."
Throughout the game, Vilma has chances to infuse his personality within his analysis and display his synergy with Albert. He genuinely enjoys his work and is not afraid to divulge how he feels about certain situations, including replay reviews during which he has a 50-50 chance of getting the ruling correct.
"You can't be right for three hours," Vilma said. "Nobody is perfect, and I'm not trying to be perfect. [I just] try to make sure that I talk about what I see, have fun and then let my personality come out when the moment presents itself."
Similar to studio programming across professional sports, Vilma is looking to find a way to incorporate interactive elements into a live game broadcast so viewers can feel engaged and entertained. He has thought about implementing tweets over the course of the broadcast directed at him and Albert, potentially to guide their commentary or to implore them to hone in on a certain player or situational tendency. They would then sometimes choose to respond to the viewers while on air, akin to a point-to-mass communication system occasionally exhibited by alternate-style broadcasts.
In this manner, the user is able to gain control over what they are watching, a critical element of appealing to consumers in the 21st-century amid advances in streaming technology and an active proliferation of OTT content providers. Overall, broadcasting across the NFL is a means through which to promulgate the sport and attract viewers – and Vilma, as a live game broadcast analyst, is a fundamental part of that process. The challenge for him and other analysts is to resist allowing pundits on social media to regularly sway them in a certain direction, which would actualize capriciousness and render entropy in some of their viewpoints.
"If you try too hard to appeal to everyone that is going to comment negatively or positively about your performance, you can find yourself not knowing who you are when it comes to calling games," Vilma said. "That's very important because you have to establish yourself in some regard."
Vilma aspires to call a Super Bowl at some point in his career; however, the next time FOX Sports will have the broadcast rights to the game is in Feb. 2025, the culmination of what Tom Brady expects to be his debut season in the network's lead broadcast booth alongside Kevin Burkhardt. With other lead broadcast booths around the league being cemented over the last few years on CBS, ESPN/ABC, NBC, it is unclear how that opportunity may come on linear television, but it remains a future goal he looks to attain.
"It's very eye-opening for me how much media surrounds the game," Vilma said. "….With FOX [and] being on this side now, I'm still kind of just amazed at how much time, effort and investment goes into the production of the game. It's very interesting to see how it's really two different kinds of industries – the athletics and the media – but very similar in the sense that everyone is locked in to putting out the best product. The players obviously want to play their best; and then you have the media and FOX who wants to put out the best production, and so that I can really appreciate."
An effective way to be considered for an opportunity of that magnitude may just come from following Ray Lewis' advice he received early on as an NFL player of amassing a library of film. In that practice, Vilma demonstrated a persistent, indefatigable effort to continue to grow – and sees the parallels between his time on the field and current endeavors in sports media.
"I did local TV; I did NBC; any interview I could do at that time, I would do," Vilma said. "It was now to be able to have as much film as possible – at that time, enough good film – that someone could look and say, 'You know, I can respect him. This guy is really trying to perfect his craft. He's been on film; he's got a lot of good tape,' and then go from there."
For former athletes, moving up in sports media, aside from notoriety or expertise, often derives from putting one's ego aside and evoking a sense of humility. It comes from adopting a hard-working attitude while taking chances that others may perceive as being demeaning or beneath them.
In many ways, it is what any entry-level employee usually does early in their career, generating a sense of respect and collaboration through their work ethic and, in turn, making enduring connections. As the adage goes, "It's not what you know, but who you know," and it seemingly holds true across various industries, making relationship-building and versatility integral to experience sustained success.
It all begins with repetitions and focused practice, and Vilma shows no signs of slowing down.
"A lot of the guys don't want to do the local [or] regional stuff, and that's the only way to get film," Vilma expressed. "Unless you're just going to go off of your name – which few can; most cannot – you've got to get on film."
Derek Futterman is a features reporter for Barrett Sports Media. In addition, he serves as the production manager for the New York Islanders Radio Network and lead sports producer at NY2C. He has also worked on live game broadcasts for the Long Island Nets and New York Riptide. He previously interned for Paramount within Showtime Networks and wrote for The Long Island Herald. To get in touch, find him on Twitter @derekfutterman.