Jason Benetti Wants New Perspectives In The Booth
"I do want people to know that watching baseball through a different prism is a good thing. It's always a good thing. Let different people comment on the game every once in a while."
People claim that baseball is boring – that there's no fun in the game and it's tough to watch. Well, the folks at NBC Sports Chicago dare you to say that now after several "guest analysts" joined Jason Benetti in the White Sox TV booth for a recent series in Anaheim. Steve Stone was off for the series so the network and its play-by-play man put their collective heads together to come up with some outside the box ideas.
It started with a game in Maui. Benetti and Basketball Hall of Famer, Bill Walton were paired together for the Maui Invitational around Christmas time. A few weeks later Benetti thought how cool it would be to have Walton join him on a baseball broadcast and extended an invitation. It was accepted and the rest was history.
Walton, television producer Michael Schur and Saturday Night Live's Mike O'Brien were tabbed to fill the analyst role during the three game series against the Angels. I recently sat down with Benetti to get his thoughts on the experience and some behind the scenes stories from the broadcasts. 
ANDY MASUR: What are your thoughts after the Bill Walton experience?
JASON BENETTI: It was like if the animals could talk. (laughs) I love Bill dearly.
What it was like is everything that you saw, but it was also just the understanding this guy wants to do a great job every night.  He was locked in energy wise for three hours. He had loads of stuff he wanted to talk about and loads of things he didn't know he wanted to talk about and he did both and we did. And by the way what you didn't see a whole lot of on the air was, he gave a rousing speech to the Sox pregame.
He was in the clubhouse at 4:40 and he gave about a 15-20-minute speech to the Sox that the coaches were still talking about the next day, without prompting. He was that good and that motivating and that interesting. His story, all of the injuries and sadness, and the mental darkness that comes with it and his ability to thrust himself out of that by seeking joy is something we all could use some of. I know he is blindingly crazy sometimes to the naked eye and to the well-trained Bill Walton eye, both.
He is also a wonderful soul, and I'm glad to be around him whenever I get the chance to, but on the air (pauses) buckle up! 
AM: Did the broadcast put any extra pressure on you? Some were tuned in for the experience and yet some still were interested in the game. Can't please everyone I guess, right? 
JB: No. People are going to hate stuff. I don't even like talking about them because if they don't understand Bill Walton, they kind of just…they don't really care. They're never going to care. They're never going to have joy out of him. They'll get their joy from somewhere else, and generally the joy will come from getting angry about something. 
Some people just derive joy from getting angry so you know what, frankly because Bill made them a little mad, I'm sure they got some joy out of sniping. So cool, have fun. But there's a level of happy that he reaches that I would hope that everybody who has never been at that level of joy gets to attain at some point. 
AM:  If you had a blueprint as to how things would go, did it meet what you thought it would be, or did it go beyond your wildest expectations?
JB: The blueprint for Bill Walton is there is no blueprint. I mean if you try and build any specific house on that lot it will be haunted. The doors will swing open and start to creak. The rattling of the China in the cabinet will begin at about one in the morning, when you know, no one is down there (laughs). That's how it works. That's the fun of it.
Sports is supposed to be different every time you watch it, he is different every time you encounter him, except for one constant he has a gloriously kind heart. I want that. I want that in the person next to me, following the paces of the game with me, whatever that is. That's a key component. 
AM: What about the two days following Bill Walton night? Any drop off over the weekend? Both guys displayed some great knowledge of the White Sox and baseball in general. 
JB: I'll start with Sunday. Mike O'Brien is a big Sox fan. He's a really really funny guy. He's like obliquely funny. His bit about Jay-Z on SNL is so funny, where he's just like a white guy, who's generic and he's posing as Jay-Z and it's pretty funny.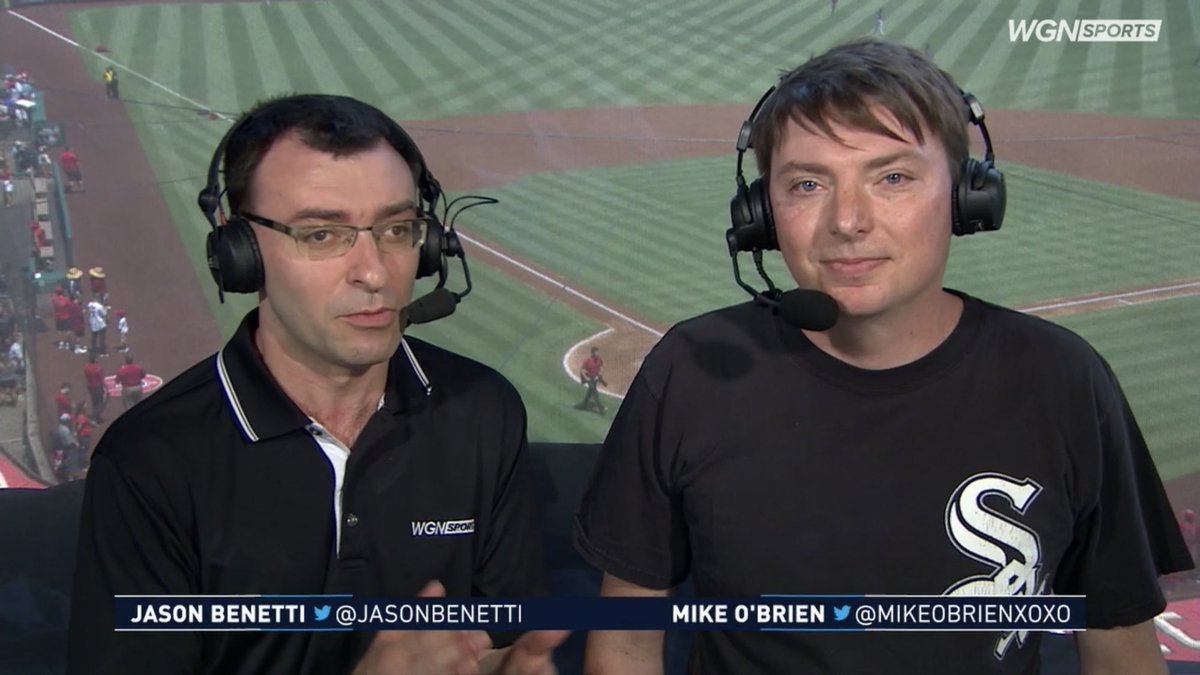 Michael Schur is such a big baseball fan and such a creative genius. I mean he created Parks and Rec and Brooklyn 99 and the Good Place out of whole cloth. He just came up with these environments. The shows are so clever and so witty and so full of mirth, that I was thrilled to share a booth with him. I watched a little of it back and I laughed, quite hard, because by inning three he was just doing things that analysts typically do, like he's watched so much baseball he was gliding from a story to an observation back to that story. I was like man, he is just such a smart dude, I cannot believe that was called a drop off.
Bill Walton is a high wire entertainer, Mike Schur is as creative of a human being as you're possibly going to find in America right now, and Mike O'Brien is a really funny guy who evidently hates Betty White. Who knew?
AM: I enjoyed the Detwiler references when Mike Schur was with you. How did you discover that the White Sox pitcher's name was in an episode of Parks and Rec? 
JB: So evidently, I found out via email, because I had emailed Mike Schur and I was like "hey Detwiler might pitch" (he ended up not pitching that day) so get your Missouri State anecdotes ready. He wrote me back saying, "well I actually named a place in Parks and Recs after Ross Detwiler." So, my old college roommates and I scrambled to figure out where that was in the show, and one of them finally came up with it. My buddy David texted me and said "Season 4, Episode 21, The Bus Tour" and so I went back and watched it. Right at the beginning Leslie (one of the main characters in the show) is giving a stump speech and she says "I want to get rid of all the violent geese in Detwiler Square."
It's the only mention of the place, I believe, in the series. Ross was so excited about it he and Mike ended up having like an 8-minute conversation in the clubhouse because Mike named a thing, a place after him.  
AM: Tell me about the experience as a whole, put it into perspective about how much fun you had and how successful it was? 
JB: It's up to the audience (how successful it was), but I do want people to know that watching baseball through a different prism is a good thing. It's always a good thing. Let different people comment on the game every once in a while. Let them be experts in observation, because that's what we got, right?
We got some questions that the average fan never would ask because they'd be too afraid to ask because they'd be seen as dumb. But Bill Walton's first question to James McCann (White Sox catcher) was "what's that makeup you're wearing under your eyes?". Well it's eye black. "How long does it take you to wipe it off?". Well it's pretty quick actually. If I'm a kid at home, I want to know that! I'm going to school and I'm like guess what I learned from crazy Bill Walton? 
NBC Sports Chicago put together a montage of some of Walton's greatest lines from the game. I'll share a few of them with you here.
Walton to Jason Benetti, "I apologize to your family for ruining your career"
Yolmer Sanchez laid down a squeeze bunt to score Castillo, Walton exclaimed, "What offense! Brilliant," Walton said. "This is a strategic victory."
Mike Trout took Lucas Giolito deep, "That's Trout? Swimming upstream, avoiding all the flies and sending one ricocheting through the universe."
Some of his comments were just a stream of words, "Woodstock. 50 years. '79. Full moon. Waterfall. Exploding volcanoes. Baseball. White Sox. Angels. Summertime. No rain on the horizon. Greg Gumbel. Sam Smith. David Axelrod. Wow."
It was a unique approach and seemed to be, with a few exceptions, received very well. It was a win for NBC Sports Chicago and a huge victory for Benetti, showing all who watched what tremendous talent he has. It couldn't have been this good without him. 

Andy Masur is a columnist for BSM and works for WGN Radio as an anchor and play-by-play announcer. He also teaches broadcasting at the Illinois Media School. During his career he has called games for the Chicago Cubs, San Diego Padres and Chicago White Sox. He can be found on Twitter @Andy_Masur1 or you can reach him by email at Andy@Andy-Masur.com.
AM Radio Advocates Aren't Fighting the Right Fight
"Remember what we are fighting here. No one wants to outlaw AM radio."
There is still value in AM radio. That has been made tremendously clear over the last few months as Congress has rallied to fight against automakers eliminating the band from the dashboard in 2024 models. 
The arguments were effective for at least one company, as Ford has decided to reverse course and preserve AM radio in their cars. The same cannot be said though for the other seven car manufacturers. They aren't interested in being in the amplitude modulation business anymore.
Our industry is taking up a worthwhile cause, but the arguments being made on Capitol Hill and in open letters ring hollow. Even though I am not rooting for cars to be manufactured in a way that makes it harder for any listener to hear their favorite station, I can see the carmakers' point of view. I get why they wouldn't be swayed by these arguments.
Remember what we are fighting here. No one wants to outlaw AM radio. No one is trying to pass a bill to make it illegal to carry legal advice and gardening shows.
Carmakers are making a business decision. Electric vehicles' engines interfere with AM signals. Making the necessary changes in order to keep that from happening costs money that they don't see as a necessary expense. How do we combat that?
Instead, we are talking about EAS systems. That has nothing to do with the fight we are fighting. I have worked at AM stations. I have worked at FM stations. We carry those alerts on both bands. In the event of severe weather or national emergency, both bands go to wall-to-wall coverage.
If we aren't trying to fight a bill that makes AM radio illegal, then this argument is irrelevant. Even if stations go out of business, if AM is imperative for distributing emergency information, the government has a responsibility to find ways to keep that distribution system operational.
We talk about how important the band is for sports fans. We romanticize listening to a game on the radio. Nostalgia is great if your audience has the nostalgia, but what if they don't?
I grew up having to listen to Alabama games on AM radio. Guess what? It sounded like shit. I'm not eager to experience it again.
Some of right-wing talk radio's biggest stars have made the argument that this is another step in silencing conservative voices. That can easily be disproven by the fact that Elon Musk's Tesla was the first automaker to announce the removal of the AM band. You can also simply pointing to the number of FM talk stations that carry those very same programs.
"No one is loyal to amplitude modulation or frequency modulation," Larry Rosin told me before this year's BSM Summit. Our audience chooses content 100% of the time. They are not loyal to AM or FM. They aren't even loyal to a particular station. They are loyal to themselves, and that is perfectly understandable.
The one time I tried to watch an episode of Yellowstone, I was positive the people that call it the best thing on TV were playing a prank on me. I didn't give it a second chance because it didn't entertain me in the least. It had nothing to do with preferring streaming to cable or a vendetta against Paramount Network.
Seriously, there's a joke I'm not in on, right? Yellowstone is bad.
Again, I am not advocating for the end of AM radio. I am advocating for making smarter arguments and fighting the right fight.
If AM radio is harder to access, stations will lose money and that means that they will likely cut staff. Job losses are not good for people being able to make ends meet, let alone buy new cars. That is an argument to make to elected officials who want to win future elections and to carmakers that want to sell new cars.
Yes, people can find the information they need on an FM station in the event of an emergency. Doesn't it make sense to preserve all choices in a car though? If an AM radio listener switches to streaming music or podcasts because the content they want isn't readily available, they could miss that emergency information.
Now, it sucks, but there is one more thing to consider here.
Maybe this is a war AM radio cannot win. Maybe the best we can do is win some individual battles and buy ourselves a little time.
Technology is ever-evolving and that isn't going to change. We have already seen it. Newspapers struggle in the age of the internet. Tape decks are replaced in cars by CD players. Even when you go to the movies, it is rare that you are watching film being projected onto the screen. Now it is digital video.
Better ways of delivering information and entertainment come along all the time and slowly replace what we have always relied on. NAB and radio groups are fighting to preserve AM radio. They should also be making sure that their listeners and advertisers are well-acquainted with all of the ways to access their content. 
Fighting to keep AM radio on the car dashboard is worthwhile, but when you're fighting technical innovation, any victory is temporary. Let's not be so narrowly focused that we forget that the ultimate goal for the stations on AM is that the content survives.
Demetri Ravanos is the Assistant Content Director for Barrett Sports Media. He hosts the Chewing Clock and Media Noise podcasts. He occasionally fills in on stations across the Carolinas. Previous stops include WAVH and WZEW in Mobile, AL, WBPT in Birmingham, AL and WBBB, WPTK and WDNC in Raleigh, NC. You can find him on Twitter @DemetriRavanos and reach him by email at DemetriTheGreek@gmail.com.
Eddie Olczyk is Jacked Up For the Stanley Cup
"Pucks and ponies are a big part of my life, and I'm very passionate about it."
Entering the broadcast booth before a game, Eddie Olczyk can be doing any number of things. Whether it is watching warmups, interacting with his colleagues or simply taking in the environment, he recognizes how fortunate he is to still call his workplace. Another recurring setting, albeit outdoors, are horse racing tracks, the venues from which Olczyk has not only broadcast, but also competed as an owner in marquee events.
"Pucks and ponies are a big part of my life, and I'm very passionate about it and handicapping and I have always been a horse player and horse owner," said Olczyk, who just returned from working for NBC as part of the network's Kentucky Derby coverage. "I think it's really helped my ability to communicate a little bit more for hockey because a lot of that is more the one-on-one and the verbalization and has to do with storytelling."
Olczyk played hockey for 16 seasons with the Stanley Cup at the forefront of his mind. He eventually achieved his goal during the 1993-94 season, helping the New York Rangers capture their first championship in 54 years. A few months after the ticker tape parade, the world of hockey came to a standstill.
The league was in a lockout, meaning Olczyk, at least for the short term, was out of a job. One of the locations he had brought the Stanley Cup was the Meadowlands Racetrack in East Rutherford, NJ. He became friendly with some of its regular spectators and owners.
"The people at the Meadowlands said, 'Hey, you love horse racing [and] you love to handicap,'" Olczyk recalled. "'You're not working. Would you like to come and handicap the races at the racetrack and do our wrap up show? Kind of just dabble in the media?'
Stunned to receive an offer to be paid to show up to the racetrack, Olczyk did not hesitate. He quickly began working with commentator Barbara Foster and absorbed a profusion of information about being a professional in sports media. Olczyk served as her sidekick during the proceedings over the ensuing three months and returned to professional hockey once the dispute between the league and its players was resolved. He was dealt to the Winnipeg Jets later that season, and then played with the Los Angeles Kings, Pittsburgh Penguins and hometown Chicago Blackhawks before hanging up the skates.
Growing up in Chicago, the voices of sports media were firmly ingrained into Eddie Olczyk's subconscious. He eventually had the privilege to meet some of them and call them his colleagues. They served as inspiration for him to refine his craft and work to become a viable broadcast partner for play-by-play announcers, producers, directors and other personnel.
"I don't think anyone could ever shoreside me for not aligning myself or getting a chance to work with some of the greatest voices in NHL history," Olczyk said. "I'm very lucky and I'm sure their shoulders are probably a little sore from carrying me for all those years, but it was very educational. They were obviously very instrumental."
Once he exited the game though, Olczyk signed on with Fox Sports Net Pittsburgh to become the color commentator for Penguins games. He was paired with play-by-play announcer Mike Lange, his first bonafide partner when it came to working in sports media.
That job did not last very long, because he became the head coach of the Penguins for the next two seasons. After a slow start to the 2005-06 season, Olczyk was relieved of his head coaching duties, but still wanted to remain around the game of hockey.
The very next season, he joined the local television broadcasting team for the Chicago Blackhawks, the team he grew up watching and played for during two separate stints. He worked with an announcer he listened to in his youth: Pat Foley.
Foley wasn't his only partner for very long. Eddie Olczyk quickly jumped into the national spotlight. His previous experience on NHL Radio taught him the subtle, yet essential differences in those broadcasts, and he ultimately earned a chance to work with Mike "Doc" Emrick on Versus/NBC Sports.
At the end of the 2006-07 season, Olczyk called his first Stanley Cup Finals with Emrick. He would do that for the next 13 seasons, watching the greatest players of a generation such as Penguins forward Sidney Crosby and Washington Capitals forward Alexander Ovechkin get their names etched on the trophy. As he balanced the national job with his role calling Blackhawks games locally, Olczyk felt like he had made it to the highest level sports media had to offer – but only after earnest recognition from his esteemed colleague.
"Doc was doing an article of some sort and they asked him about our relationship," Olczyk remembered. "I'm paraphrasing, but Doc said, 'I hope that when Edzo is 65, he has somebody that takes care of him as he has taken care of me.' I just thought that was obviously very humbling, but when you can get the stamp of approval from Doc Emrick, you've done something right, and that I will take with me the rest of my life."
Whether it was calling the Cup Finals, featured regular season matchups or the Olympic Games, Olczyk's time working with Emrick was special both while at the game and on the road. He misses going out to dinner, attending meetings before each broadcast and the camaraderie between him and the rest of the NBC Sports crew.
Emrick called it a career in 2021, after broadcasting hockey for more than four decades. Kenny Albert slotted in as the new lead voice of hockey for NBC Sports. While Albert is a skilled and versatile commentator having called baseball, basketball, football and hockey both locally and nationally, Emrick and his direct association with this magnificent game on ice is indisputable.
"When you heard his voice, you knew it was an important game, and he just had that incredible ability in the fastest game in the world to be able to stickhandle and weave a story while play is going on and never break stride," Olczyk said of Emrick. "That, to me, was something that was just really incredible."
The National Hockey League inked a seven-year media rights agreement with The Walt Disney Company and Warner Bros. Discovery to begin the 2021-22 season. When Olczyk signed with the latter outlet, he knew he would not be on the broadcast for the Stanley Cup Final. Instead, he would have that duty every other year.
"Obviously it was an incredible relationship there with TNT and ESPN on the NBA side, so this isn't two major entities just all of a sudden coming together," Olczyk stated. "The more eyes that we can have on our sport, the better it is short term and long term."
On the local front, Eddie Olczyk departed Chicago Blackhawks broadcasts after 15 seasons. He quickly found a new home with familiar faces and a young NHL team with a bright future – the Seattle Kraken. The move was very much a family affair since Olczyk's brother, Ricky, is the team's assistant general manager. In addition to that, Olczyk's oldest son of the same name is an amateur scout, and his other son, Nick, is a studio host on the television broadcasts.
"New is always scary. Without a doubt, there's always trepidation," Olczyk said. "It was an incredible opportunity to be there and work with so many talented people and see the improvement for the team…It was an incredible first year."
The Stanley Cup Finals will be on TNT for the first time in the network's history this season. It is a seminal occasion for Warner Bros. Discovery, highlighted by the presence of the Stanley Cup at its Upfront event at Madison Square Garden: the arena in which Olczyk hoisted the trophy in jubilation on a summer night 29 years ago.
"I'm excited for everybody because coming together two hockey seasons ago, [there were] a lot of unknowns but a lot of us obviously knew each other," Olczyk said. "The leadership at the top has just been incredible and reminds me a lot of my journey at NBC. Everything is first class; every day is first class. It's awesome."
Albert last called the Finals with Olczyk on NBC Sports, but they were not paired together for the entire series. This time around, they will be the primary booth for the NHL on TNT, and Liam McHugh will anchor studio coverage with a cast of analysts including Paul Bissonnette and Wayne Gretzky.
"We're here to entertain [and] we're here to talk about the greatest game in the world and showcase the greatest athletes and sell the game," Olczyk said. "I don't think any of that will stop, but I think knowing the room and having a feel and letting everything else take care of itself [is important]."
It will be Albert who will announce to the world that a team has just claimed the sport's ultimate prize and Olczyk is excited to listen to how he will punctuate the call. Yet he knows the craft is very much a team effort. Now, he is ready to demonstrate his shrewd ability to break down the game on its biggest stage.
"It's not hard to be jacked up for a Stanley Cup Final, but I think it's, again, knowing the room, having a feel and knowing when to go ahead and be elongated – and at other times, know when you've just got to get in and get out and let Kenny do his thing. At some point in the Cup Finals, it's going to be Kenny's time, and he's going to have to take it. When the time presents itself, we'll jump in."
During the hockey season, Olczyk is constantly traveling, following teams and fully immersed in the sport. When he made the move from Chicago to Seattle, there was a time when he thought it may just be better to do one game per week, but he determined that he was not ready to step back just yet. He remains motivated by the competitive aspect of the work and trying to be the very best analyst in the business, and does everything in his power to put himself in the best position to succeed.
Derek Futterman is a contributing editor and sports media reporter for Barrett Sports Media. Additionally, he has worked in a broad array of roles in multimedia production – including on live game broadcasts and audiovisual platforms – and in digital content development and management. He previously interned for Paramount within Showtime Networks, wrote for the Long Island Herald and served as lead sports producer at NY2C. To get in touch, find him on Twitter @derekfutterman.
There's Never Been a Better Time To Take AM Radio To Market
"Nobody can argue that mobile phones aren't more convenient and can stream or provide pods, but your AM radio station stands out in a digital crowd."
Your AM radio station really is better than your mobile phone. Now is the time to make that case. Thanks to Ford's decision to NOT drop AM radio from its 2024 lineup of vehicles, many of your clients have an awareness of AM that they have not had for a while. Streaming and mobile dominate the conversation, so this is a chance to make critical points about your AM station.
The fight over the Emergency Broadcast System being partly delivered by AM radio and not replaced by mobile phone streaming was made in Congress, and Ford listened. The NAB rallied.
Nobody can argue that mobile phones aren't more convenient and can stream or provide pods, but your AM radio station stands out in a digital crowd. Be proud. Here is why we should let the AM force be with us and why it's an invaluable tool for businesses to reach a target market. 
WIDE AND LOCAL
AM radio can carry a powerful signal that allows for wide geographic coverage. Local businesses looking to connect with their entire community can benefit from such a wide net. By buying a local ad schedule on AM radio, businesses will promote trust and loyalty and increase brand awareness. This is especially true of legacy local businesses that have been in service for 25 years or more.
RELIABILITY AND ACCESSIBILITY
AM radio is reliable and easy to get to. Just turn on your car radio. Mobile phones need a good connection, and that can be tricky. Big AM radio stations have multiple towers to transmit over the air, even during power outages or when cell phone towers are knocked over. Dependability is vital when the chips are down, and an emergency or natural disaster has hit your area. Mobile phone networks can get too much traffic and jam up. The ability of AM radio to provide critical information and updates is huge!
NICHE AND TARGETED AUDIENCES
There is no arguing that streaming off a mobile phone opens a world of choices. But AM radio hits sports fans, political nerds, religious folks, or news hounds. Los Angeles has prominent sports radio stations on AM. AM advertisers can tap into these audiences, so the right people hear their message. It is much easier to navigate buying radio from you than streaming from a website.
PERSONAL AND DOWN THE STREET
AM radio stations often have deep roots within their communities and provide a real personal connection with their listeners. Local play-by-play programming, talk shows, and news updates are often fodder for locals to debate and share their opinions. How does a mobile phone stream do that? It would be hard to call into your favorite show off a delayed stream with your device to listen to it. Businesses can enhance their credibility and build strong customer relationships when swimming in AM radio waters.
For sure mobile phone streams are convenient and accessible. But AM radio has reach, loyalty, local connection, reliability, and target audiences. And AM radios will be available in Fords for the foreseeable future.
Jeff Caves is a sales columnist for BSM working in radio, digital, hyper-local magazine, and sports sponsorship sales in DFW. He is credited with helping launch, build, and develop SPORTS RADIO The Ticket in Boise, Idaho, into the market's top sports radio station. During his 26 year stay at KTIK, Caves hosted drive time, programmed the station, and excelled as a top seller. You can reach him by email at jeffcaves54@gmail.com or find him on Twitter @jeffcaves.