Sports Media Vs. The Social Media Mob
"If I agree with the consensus on social media, I check my sanity. Social media is a stage where people perform."
Social media is a blessing and a curse for the sports media world. So many of us check out what is trending on Twitter as we're putting together our rundowns. We use comments from Twitter and Facebook in place of phone calls. ESPN and FS1 routinely use Instagram and Snapchat videos to spur discussions on their various debate shows. It has become every bit as important to our professional lives as it is in some people's social lives.
That is the blessing side. The curse is that with social media comes constant access. People that don't like you always have a way of reaching you. There are block and mute buttons, and I think anyone in this industry would highly recommend making use of them.
What about when the barrage is constant though? This column isn't about the art of a good hot take. That is a different discussion for a different day.
Over the last couple of weeks, I have been talking to people that have found themselves on the wrong side of the social media mob. Some of the names might surprise you. Others probably won't. Your opinions of them (hell, mine too really) don't matter. What I want to know is what it's like to live on the wrong side of the hive mind.
There are a lot of ways to earn yourself a public shaming on social media. Sometimes it's as simple as being downright offensive and ignorant. Remember when Mike Bell referred to ESPN's Jessica Mendoza as Tits McGee? That was ignorant and inexcusable. Any public shaming he received was warranted.
The people I wanted to talk to have found themselves in the same position as bell for far more minor offenses. Sometimes, it has just been the result of being who they are. Take Dan Dakich for example. The ESPN college basketball analyst and midday host on 1070/107.5 the Fan in Indianapolis is very aware that anything he Tweets will be met with at least some scorn.
"Look, I totally understand who I am to people on social media," he told me. "There are some of us that are like a cancer on social media and people are going to say what a jackass I am, and that's probably self-inflicted I would think."
Recently a Tweet about Andrew Luck's sudden retirement was met with more than just some scorn. Dakich didn't hold back. Whether or not he intended to imply Luck was soft, it certainly read that way.
According to Dakich, this wasn't a hot take. He was at a wedding with his wife, who is a former coach, and one of his best friends from childhood, who is a longtime Colts season ticket holder, and this is what he was hearing them say. Dan agreed and wanted to use his platform to express that sentiment from people in Indianapolis.
"What I say on social media I do believe," Dakich says. "Like, I've always said this and I have been very consistent. I never thought Andrew Luck was the guy that was all encompassed in football like Peyton Manning or Drew Brees, and good for him that he has other interests. Any scout that has scouted him will tell you the same thing. All I've ever said is he is not the guy that everyone is saying he is, because in his offseason Luck is going to head to Prague instead of Zionsville High School's practice field."
Dakich wasn't afraid to double down on his point as countless people fired back at him on social media. Whether you agreed or not, Dakich thought he was right. He also swears his intention wasn't to imply Andrew Luck was soft.
"I've always said he plays football as a tough guy. I was stunned at how so many people took that [Tweet] and said I was saying Andrew Luck was soft. That wasn't what I was saying. I literally sent another Tweet out that said 'Look, if you don't love football anymore and you've got enough money and you wanna walk away, just tell us that. That's cool.' I put that in a Tweet after, but no one paid attention to that."
There was only one comment Dan Dakich was taken aback by. ESPN Radio morning man Trey Wingo referenced Dakich's abrupt exit as West Virginia University's men's basketball coach and said that Dakich should "clean up his own backyard" before commenting on anyone else.
Dakich Tweeted his objections.
He told me that it actually lead to phone calls with Trey Wingo and ESPN's Executive Senior Vice President of Studio and Event Production, Norby Williamson.
"Trey was great. ESPN was fantastic with it. I made my opinion known to the higher-ups. Trey and I had a long conversation, then Trey apologized on air…He was great. He was really, really good with it. Norby Williamson was great with it. We got it resolved once we were able to get on the phone, Trey and I, and it was very nice of him to apologize."
Sometimes hosts can find themselves the focus of a social media mob because the local fanbase isn't ready to hear anything negative about the home team.
Lauren Rew of 1010XL in Jacksonville had just come to town from Tulsa in July of last year. The Jaguars were just coming off of a trip to the AFC Championship Game, and fans and fellow hosts were confident the team would go further in 2018. Rew didn't buy it.
"I said on-air the Jaguars wouldn't go to the Super Bowl and probably wouldn't make the playoffs, my main reason: Blake Bortles," Rew told me in an email.
The Jags finished 5-11, traded for Nick Foles and let Bortles go to LA where he is now backing up Jared Goff. Rew says that didn't change the way listeners in her new home town reacted to her.
"Let's just say, I didn't make a whole lot of 'friends' early on and I 100% felt the mob mentality of social media throughout the season. But! I want to make this very clear, I didn't (and still don't) come up with 'hot takes' or go against the grain to be controversial or a contrarian. If I'm passionate or strongly agree/disagree with something, you'll know it and I will say it because I genuinely feel that way."
Rew adds, "Thank the Twitter Gods for the mute and block options."
Josh Parcell co-hosts Wilson & Parcell on WFNZ in Charlotte. While he also insists that he never goes out of his way to spout a hot take (a common theme in all these conversations you'll notice) he makes no qualms about being one of the few hosts on his station to point out the failings and flaws of the Carolina Panthers, namely the team's franchise quarterback Cam Newton.
That has drawn some fire from co-workers and listeners alike. I had lunch with Josh a few months ago and he told me that he had been called "Little Cowherd" and "Danny Kannel Jr" with regularity.
In an email this week, he told me that he doesn't shrink from any criticism of the Panthers or their biggest star. He also isn't surprised that Panthers fans don't want to hear any of it.
"For the first 15 years of the franchise, they watched Kerry Collins, Chris Weinke, Steve Buerlein, Jake Delhomme and Jimmy Clausen lead the team through a ton of ups and downs," Josh says. "Cam is the biggest star and brightest personality the franchise has ever had. He's made them relevant outside of the Carolinas.
"Because he came into the league after one of the greatest single seasons we've ever seen in college football and claimed to want to be an "icon" before ever playing a down in the NFL, Cam set the bar incredibly high for himself when he joined the Panthers. And let's face it, Cam isn't perfect — as a player or as a person. His ceiling as a player is as high as anyone we've ever seen. No one in the league is as athletically gifted as Cam. Whenever he fails to live up to that lofty standard, he's easy to criticize.
"Panthers fans can't stand the thought of going back to the Clausen era, or even a guy like Delhomme, so they'll do everything they can to defend Cam against the negative criticism that comes his way."
I live in North Carolina, and really there is no reason I should like Cam Newton. He plays for the Panthers and I grew up a fan of the division rival Buccaneers. I went to the University of Alabama and he played college football at Auburn, the team that I would openly root against even if they were playing Taliban A&M.
Still, I can't help but be charmed by Cam and his unflinching devotion to being himself. I mean the guy once wore a fox tail to a press conference just because he wanted to. How can the thought of an NFL quarterback dressing like Raccoon Mario not make you smile?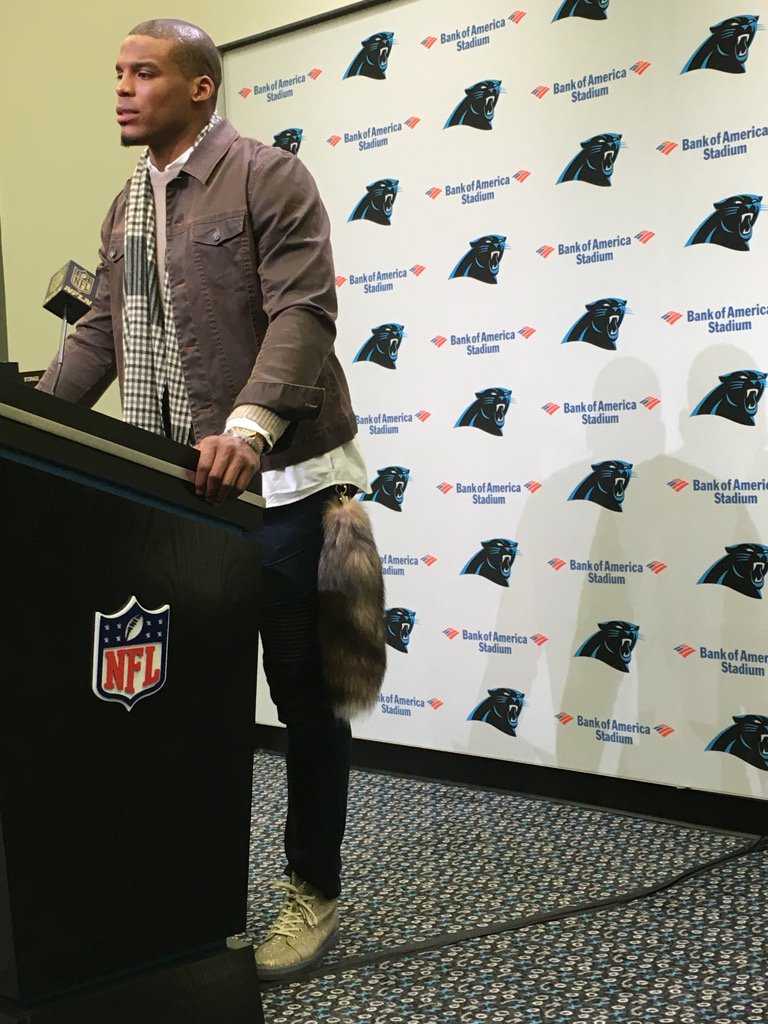 That devotion to self-expression has drawn plenty of criticism of Newton, some of it fair, some of it insane, and some of it clearly racially motivated. I asked Josh if he thought that some of the coded critiques of Cam have made his fans even more dogged in their defense of him. He didn't disagree exactly, but Josh doesn't think Cam Newton's detractors have been as motivated by his race as his fans think they are.
"I think we judge quarterbacks based on their behavior much more than their skin color. Deshaun Watson is a quiet guy, doesn't wear flashy outfits, doesn't generally draw attention to himself on the field like Cam does. and no one seems to have a problem with him, right? In fact, the only time anyone had a problem was when he was celebrating first downs in a blowout loss in the Playoffs. That's a behavioral criticism, not a racial one.
"Baker Mayfield, on the other hand, was arrested for a fairly trivial crime in college, won a Heisman Trophy, was the #1 pick, is very outspoken and doesn't lack for confidence. Baker's been criticized (and lauded) for a lot of what he says and does. Sound familiar? Most people expect quarterbacks to be boring. When they're not, it's interesting. Cam is interesting. Baker Mayfield is interesting. Some people love it, others hate it. I'm not altogether dismissing the idea that there are people out there who have a racial bias towards Cam Newton, but I think the racial element of the Cam Newton criticism is wildly overstated."
A guy that is more than comfortable with detractors coming after him on social media is FS1's Jason Whitlock. The Speak For Yourself co-host doesn't mind people disagreeing with him. He just hopes that when they do, they are speaking for themselves (pardon the pun) and not trying to score points by regurgitating a popular opinion.
"There's good information and insight on social media as long as you dig beneath the surface and ignore the trolls and Artificial Intelligence," Whitlock told me in an email. "It's a good way to engage with authentic fans and critics. I like engaging with my critics. Keeps my perspective sharp. Helps me avoid complacency. You just have to dig beneath the pile of shit Twitter and its algorithms try to stuff down your throat."
Sometimes, what people that are ready to pile on Whitlock at a moment's notice see as controversial, he sees as merely pointing out logical fallacies. Recently, he tweeted about an ESPN segment about USWNT star Carli Lloyd's plans to work toward an NFL tryout after kicking a 55-yard field goal at a training camp practice with the Philadelphia Eagles.
Now, to be honest, I tend to think Carli Lloyd showed the ability to kick in the NFL and the idea of "What is she going to do if a kick is blocked and she has to play defense?" is kinda bullshit. No NFL team has ever taken that into consideration when evaluating any other kicker.
That being said, I don't think Whitlock's point is wrong here. Four guys all agreeing on any point, let alone one that some people very passionately disagree on, is boring television done in the name of playing it safe. I asked him if his Tweet was a comment on Carli Lloyd or on the ESPN panel.
"They all said the same thing, which I just don't think is reflective of reality," Whitlock responded. "Four guys, two of them being high-level former football players, won't all agree that Carli Lloyd or any woman could kick in the NFL. It makes no sense. One person should've expressed some skepticism. Hell, all four should've expressed some skepticism. But it's not worth it because they're smart enough to realize the blowback they would receive via social media."
How does a guy like Jason Whitlock view social media? I wondered if he looked at it as something of a sparring partner. Does he digest the popular opinion and try to see how he can challenge it, and are there ever times where he finds himself arguing that the popular talking points on social media are the right ones?
"If I agree with the consensus on social media, I check my sanity. Social media is a stage where people perform. That's what you do on a stage. You act. You perform. Social media is a platform for inauthentic thought."
So how do the people that find themselves in the crosshairs of the social media mob view social media? Well, all four of the people I talked to gave different answers. Most of them wanted to make it clear that they don't ever form an opinion just to be controversial.
And then there's Dakich, who when I ask if knowing his reputation, is there a part of him that enjoys needling people on social media responds with an enthusiastic "OH GOD, YEAH!".
He tells me a story about driving home with his wife after calling a game. She is in the driver's seat. He is checking Twitter and seeing people ripping the job he just did. Dan says it is the element of him that is still a fan that makes him want to interact with even the people calling him names.
"I'll respond to them. I would have thought it would have been cool when I was in high school or when I was in grade school to watch Al Maguire and then have him respond to me immediately after a game."
There is a great line from the original Men in Black where Agents J (Will Smith) and K (Tommy Lee Jones) are discussing what would happen if people ever found out aliens not only existed but were here on Earth. J asks why not just put the truth out there. "People are smart. They can handle it," he says.
"A person is smart," K responds. "People are dumb, panicky, dangerous animals, and you know it."
I tell Rew about this line and ask her if that sentiment could be applied to social media as well.
"I honestly think that's the first time I've seen/heard anyone reference a line from Men In Black, but damn it's a good one. And yes, I completely agree that part of the mob mentality on social media stems from people not being able to think for themselves. All it takes is a 'leader' from ANY group (sports, politics, music, etc.) to make a claim about what someone said/did and usually his/her followers will jump at the opportunity to pile on; usually doing so without doing any research themselves or in the case of something a radio host has said, having heard it themselves."
I'm going to close with a quote from Whitlock here. I asked him how he viewed being branded as "controversial." What even is controversy when small pockets of people get loud voices because of the reach of social media?
His response was unfiltered and very…is Whitlockian a word? If not, I am making it one right now.
"Twitter has made common sense 'controversial.' If I say LeBron James shouldn't celebrate on the court during his son's AAU game, that's basic common sense. The overreaction to my common-sense statement is controversial. My opinion wasn't. People like the NFL Network's Nate Burleson went to Twitter and performed like my LeBron comment was controversial. Think about it. I said a parent shouldn't be on the court during a game and people acted like I said LeBron James is the worst parent on the planet.
"Twitter is a platform operating as a marketing/public relations tool for elite celebrities and athletes, particularly the celebrities and athletes who promote far left ideology. Much of the Twitter lynch mob is Artificial Intelligence bots/algorithms that agencies and PR firms buy for their top clients. We act like only the Russians manipulate social media. People with money and an interest in controlling public perception or protecting a brand manipulate social media.
"Painting me as 'controversial' and spamming me with Twitter criticism are ways to tell other people in the sports media to avoid criticizing LeBron. If you're black, you'll be labeled a sellout. If you're white, you'll be labeled racist. Don't criticize LeBron!!! Celebrate Taco Tuesday! Criticize Carli Lloyd's NFL publicity stunt and Twitter will paint you as sexist. If Joseph McCarthy and Joseph Stalin had a baby, they'd name it Twitter."
Demetri Ravanos is the Assistant Content Director for Barrett Sports Media. He hosts the Chewing Clock and Media Noise podcasts. He occasionally fills in on stations across the Carolinas. Previous stops include WAVH and WZEW in Mobile, AL, WBPT in Birmingham, AL and WBBB, WPTK and WDNC in Raleigh, NC. You can find him on Twitter @DemetriRavanos and reach him by email at DemetriTheGreek@gmail.com.
Jonathan Vilma Went To the Super Bowl As a Player, He Wants To Go Back as a Broadcaster
"The players obviously want to play their best; and then you have the media and FOX who wants to put out the best production, and so that I can really appreciate."
From training camp to preseason action; then an 18-week regular season followed by a string of pressurized, single-elimination playoff action, the journey to the Super Bowl is long and arduous. That is part of what makes the conclusion of it all exhilarating for the winning team and, conversely, gut wrenching for its opponent. Jonathan Vilma knows firsthand just what this journey entails and now articulates it to football fans on a weekly basis.
Vilma also knows how it feels to be a world champion, starring on the New Orleans Saints' 2009 Super Bowl championship team's defensive line as a middle linebacker. As a three-time Pro Bowl selection and defensive captain, he always made sure he was ready to take the field, proved when he made a critical pass deflection that helped secure the Super Bowl victory. Yet he is not satisfied just winning the game, as he aspires to one day call the nation's largest, most complex sporting event from the broadcast booth.
"This is no different than football for me," Vilma said. "[I am] very competitive, so I would want to make sure that [in] each performance [and] each game that I do, I prepare and act as if it is a playoff game; a Super Bowl game. It's the best game that I'm ever going to call."
Vilma enjoyed a decade-long career in the NFL and was inducted into the New Orleans Saints' Hall of Fame in 2017 even though he did not play in New Orleans for the first several years of his career. Instead, Vilma's career started in East Rutherford, N.J. as a member of the New York Jets, an organization to which he was drafted with the 12th overall pick out of the University of Miami. Following his 2004 rookie season, he was recognized as the NFL defensive rookie of the year by the Associated Press and went on to lead the NFL in tackles the next season.
Aside from all of the accolades, suiting up in the New York-metropolitan area meant facing a deluge of media on a regular basis, aggrandized because of his abilities on the field. Vilma always sought to give 110% effort as a player and did the same when giving interviews by being truthful with journalists – no matter the situation.
"I notice that a lot of the beat writers [and] a lot of regional writers appreciate when you're just very honest about the good and the bad," Vilma said, "and they appreciate more when you're the same person during the bad times as you are during the good times. If I lost a game, whether it was with the Jets or the Saints, beat writers come in and you handle it the same way."
In February 2008, Vilma was traded to the New Orleans Saints and proceeded to sign a five-year contract with the team approximately one year later. After winning the Super Bowl championship in February 2010 just past the midpoint of his career, he began thinking about what he would do next and eventually decided to give sports media a try.
Despite being an active player, Vilma appeared on a local television postgame show to give his thoughts and analysis on the action, affording him early repetitions in the industry. Once his contract expired with the Saints, he joined Bleacher Report as a guest analyst, but then moved back to college football to cover the Notre Dame Fighting Irish with NBC Sports.
The transition from playing in the NFL to working as a media member in college football on pregame and halftime shows was facile since he remained informed about the NCAA and the various conferences. In his preparation, he examined Notre Dame and its opponent, organically forming cogent opinions conducive to his role and the matchup at hand.
"I was following it prior to when I went to NBC," he said. "Then it was just a matter of dialing in. When I say dialing in, I just reverted back to what I did when I was playing – and that was watching film [and] getting an understanding of the players, the teams, the coaches [and] the schemes. Once you do that, everything else outside of that is kind of free-flowing because I already know what the players are going to do or the coaches or the teams and how they operate."
After a year where Vilma exclusively worked on Notre Dame football broadcasts, he began a four-year stint with The Walt Disney Company where he contributed to programming on both ESPN and ABC. With both linear television networks, Vilma was covering college football in its entirety, meaning that he needed to know information about every team. It resulted in a shift in his in-studio preparation for his role on ESPN2's Saturday studio coverage to ensure he would be ready for any situation presented to him over the course of a broadcast.
"During the week, it would really be about watching [one] half of a team but not watching the whole game or not watching two to three games," Vilma said. "Then, being very aware of what the media is saying about particular teams to see if it matches up with whatever I believe [about] that team."
Upon signing a multi-year contract with ESPN in 2018, Vilma was moved to ABC's Saturday college football studio coverage, working as an analyst during the day and at night on ESPN Saturday Night Football on ABC. Vilma joined the show to replace Booger McFarland, who had been added as a new analyst on ESPN's presentation of Monday Night Football, collaborating with host Kevin Negandhi and analyst Mack Brown to prepare fans for the weekend primetime matchup.
Over his time with ESPN, Vilma had also been placed into the broadcast booth on occasion, including for its broadcast of the 2018 Cheribundi Boca Raton Bowl between the University of Alabama at Birmingham Blazers and Northern Illinois University Huskies. Through the experience of being on the call for live games, Vilma was eager to explore an opportunity to progress into doing it regularly. It relates to his competitive mindset fostered from his time as a player, and one that he continues to carry with him in sports media.
"It allows me to, for three hours, do what I did mentally when I played – which was [to] break down the opponent; anticipate what they're going to do; look at their strengths or weaknesses; talk about it and really be able to go in-depth," Vilma recalls telling his broadcast agent leading into contract negotiations. "….It really lets me feel like I'm a master of this game this week and I really enjoy that."
The only problem was an opportunity to make the move into a broadcast booth was not available at ESPN in 2020, as the Monday Night Football booth was filled by Steve Levy, Brian Griese and Louis Riddick and its college broadcasters were relatively in place. As a result, Vilma decided to interview for an NFL broadcasting position with FOX Sports, despite initially being hesitant because of the various nuances in the league and having the ability to adopt a parlance applicable for both defensive and offensive analysis.
Recognizing his passion for the game of football and enjoyment of calling games, Vilma chose to join FOX Sports where he was paired with versatile play-by-play announcer Kenny Albert.
The decision by the network to form this particular duo was auspicious for Vilma's development since Albert had demonstrated experience working with an array of analysts and partially engendering their success. The impact of Albert, who joined the NFL on FOX in 1994, was even more apparent when Vilma had to work his first few NFL games without him since Albert had to complete a mandatory two-week quarantine period upon returning from the NHL Bubble in Toronto.
"Kenny has been in it for so long that he's a guy [who] doesn't want the spotlight [or] the limelight – he just wants to make you look good; 'you' as in obviously me," Vilma said. "….I could see the difference in Kenny and how he likes to call games because I had watched about five of his games prior to my first season. I was like, 'Okay, I'll wait until Kenny comes back and we'll kind of go from there.'"
Albert and Vilma just completed their third season together in the booth and worked in tandem with sideline reporter Shannon Spake, who provided reports from the field. The congeniality within the broadcast team comes from having an understanding of optimizing each other's roles and effectively supplementing them.
"I mess with him all the time; I call him a nerd all the time," Vilma remarked of Albert, "but he's actually really, really cool so we go to dinner a lot [and] we hang out a lot. Because of that, it shows through our body language [and] through our rapport when we call games."
As an analyst, Vilma aims to present the 'why' and the 'how' of each play while Albert's play-by-play responsibilities center around his accurate and concise description of the 'who,' 'what,' and 'where.' In order to perform their jobs to the highest standard, they take different approaches when it comes to preparation.
While Albert meticulously researches the rosters, creates detailed charts and talks to coaches and team personnel to elucidate storylines and set up his colleagues, much of Vilma's preparation relies on watching film. Even though he is not taking the field as a player, the methodology corresponds to his participating in as many facets of the team as possible to gather quality film.
In fact, that practice was advised to him as an NFL rookie by Baltimore Ravens linebacker and Pro Football Hall of Fame member, Ray Lewis – and it had a part in shaping the trajectory of his career. Instantiating that wisdom into media, Vilma tries to formulate comprehensive and coherent points on which to expand and implement in his analysis of a play – unimpeded by other sources of information.
"I don't want the media to influence anything I say on Sunday when I'm calling that game," Vilma said. "I want to make sure that whatever I say is because of what I saw on film and what I watched of those teams, and then what I'm seeing Sunday as a game is going on."
Vilma officially retired from playing football in 2015, meaning he is not very far removed from the NFL. He remains immersed in the football community as a former player and maintains relationships with players, coaches and personnel in the league. His job as an analyst though is predicated on straightforward objectivity; therefore, it is his obligation and that of other analysts to critique individuals and teams as necessary.
"I've always felt that if I'm calling the game based on what I see and there's no hidden agenda [and] there's no sugarcoating it, then you'll be fine," Vilma said. "Just in the same light that I'll talk about a player who's inaccurate or whatever it is, I'll also speak very glowingly about a person if they're having a great game."
Playing professional football generates ethos in terms of commentary and the editorializing thereof whether that be during live game broadcasts, shoulder programming or studio shows. Despite making the ostensibly inscrutable parts of the game understood, it is impractical to carry an expectation of pleasing everyone. With the advent of social media, viewers with minimal credibility can suddenly become boisterous critics and build a legitimate following, lending them exposure and a megaphone to project their voices en masse.
One example of such an instance came following a game between the Atlanta Falcons and Vilma's former team, the New Orleans Saints. As a Super Bowl champion with the team, some fans of the Saints expected him to be inherently biased throughout the game; however, they were flabbergasted when he lambasted their play amid a substantial defeat.
After the game, Vilma opened his Instagram account on which he received direct messages where afflicted fans expressed disbelief that they ever cheered him on as a player. Those types of excoriating messages can unnerve typical social media users and beget demoralization, but for Vilma, it was the epitome of a successful week in the booth.
"After each game, I want to have the fans from both teams saying I was biased for the other team," Vilma said. "That means that my passion is coming through; it means that the emotions of the game – I'm expressing it as I call the game."
Throughout the game, Vilma has chances to infuse his personality within his analysis and display his synergy with Albert. He genuinely enjoys his work and is not afraid to divulge how he feels about certain situations, including replay reviews during which he has a 50-50 chance of getting the ruling correct.
"You can't be right for three hours," Vilma said. "Nobody is perfect, and I'm not trying to be perfect. [I just] try to make sure that I talk about what I see, have fun and then let my personality come out when the moment presents itself."
Similar to studio programming across professional sports, Vilma is looking to find a way to incorporate interactive elements into a live game broadcast so viewers can feel engaged and entertained. He has thought about implementing tweets over the course of the broadcast directed at him and Albert, potentially to guide their commentary or to implore them to hone in on a certain player or situational tendency. They would then sometimes choose to respond to the viewers while on air, akin to a point-to-mass communication system occasionally exhibited by alternate-style broadcasts.
In this manner, the user is able to gain control over what they are watching, a critical element of appealing to consumers in the 21st-century amid advances in streaming technology and an active proliferation of OTT content providers. Overall, broadcasting across the NFL is a means through which to promulgate the sport and attract viewers – and Vilma, as a live game broadcast analyst, is a fundamental part of that process. The challenge for him and other analysts is to resist allowing pundits on social media to regularly sway them in a certain direction, which would actualize capriciousness and render entropy in some of their viewpoints.
"If you try too hard to appeal to everyone that is going to comment negatively or positively about your performance, you can find yourself not knowing who you are when it comes to calling games," Vilma said. "That's very important because you have to establish yourself in some regard."
Vilma aspires to call a Super Bowl at some point in his career; however, the next time FOX Sports will have the broadcast rights to the game is in Feb. 2025, the culmination of what Tom Brady expects to be his debut season in the network's lead broadcast booth alongside Kevin Burkhardt. With other lead broadcast booths around the league being cemented over the last few years on CBS, ESPN/ABC, NBC, it is unclear how that opportunity may come on linear television, but it remains a future goal he looks to attain.
"It's very eye-opening for me how much media surrounds the game," Vilma said. "….With FOX [and] being on this side now, I'm still kind of just amazed at how much time, effort and investment goes into the production of the game. It's very interesting to see how it's really two different kinds of industries – the athletics and the media – but very similar in the sense that everyone is locked in to putting out the best product. The players obviously want to play their best; and then you have the media and FOX who wants to put out the best production, and so that I can really appreciate."
An effective way to be considered for an opportunity of that magnitude may just come from following Ray Lewis' advice he received early on as an NFL player of amassing a library of film. In that practice, Vilma demonstrated a persistent, indefatigable effort to continue to grow – and sees the parallels between his time on the field and current endeavors in sports media.
"I did local TV; I did NBC; any interview I could do at that time, I would do," Vilma said. "It was now to be able to have as much film as possible – at that time, enough good film – that someone could look and say, 'You know, I can respect him. This guy is really trying to perfect his craft. He's been on film; he's got a lot of good tape,' and then go from there."
For former athletes, moving up in sports media, aside from notoriety or expertise, often derives from putting one's ego aside and evoking a sense of humility. It comes from adopting a hard-working attitude while taking chances that others may perceive as being demeaning or beneath them.
In many ways, it is what any entry-level employee usually does early in their career, generating a sense of respect and collaboration through their work ethic and, in turn, making enduring connections. As the adage goes, "It's not what you know, but who you know," and it seemingly holds true across various industries, making relationship-building and versatility integral to experience sustained success.
It all begins with repetitions and focused practice, and Vilma shows no signs of slowing down.
"A lot of the guys don't want to do the local [or] regional stuff, and that's the only way to get film," Vilma expressed. "Unless you're just going to go off of your name – which few can; most cannot – you've got to get on film."
Derek Futterman is a features reporter for Barrett Sports Media. In addition, he serves as the production manager for the New York Islanders Radio Network and lead sports producer at NY2C. He has also worked on live game broadcasts for the Long Island Nets and New York Riptide. He previously interned for Paramount within Showtime Networks and wrote for The Long Island Herald. To get in touch, find him on Twitter @derekfutterman.
Gabe Kuhn Isn't Worried About Filling Gary Parrish's Shoes
"I would say I'm a prideful person. I'm not foolishly prideful, but I'm prideful in the work that I put out."
In the movie Bull Durham, Kevin Costner's character, Crash, says, "Yeah, I was in the show. I was in the show for 21 days once. Twenty-one greatest days of my life." That quote popped in my head because of a sports radio host that recently got called up. Gabe Kuhn is now the host of a brand new drive-time afternoon show on 92.9 ESPN in Memphis.
This is a major opportunity for Gabe, and the smart money is on him lasting much, much longer in Memphis than Crash Davis did in the majors.
Gabe is a former offensive lineman at the University of Memphis. He obviously knows the Memphis area well and has risen quickly in the industry. Some say that love is the universal language. I would argue it's ball, and Gabe definitely knows his stuff when it comes to football.
We chat about finding the balance of talking football on a deeper level but not too deep. Gabe also talks about filling big shoes, St. Louis Cardinal face tats and being motivated by fear. We even sneak in a little Super Bowl talk. Enjoy!
Brian Noe: You basically just got called up to the big leagues. What does it mean to you to get this opportunity?
Gabe Kuhn: It means a whole lot. It means a lot of people have the confidence in me that I can get this job done. It also means that the city of Memphis has embraced me to the point where people believe that I'm worth listening to from 4:00-7:00 PM. But overall, man, I feel like the job itself — the confidence I have in myself in getting it done — it means a bunch. I just want to make sure I can reciprocate the love the city has given me to this point from 4:00-7:00 PM every day.
BN: What were the sports radio gigs you had before this latest opportunity?
GK: Four years ago, I was let go by the Memphis Express of the AAF. Obviously, the AAF ended up folding. But I decided to just move on from there. I really started about as ground floor as you could get. I just hit up a connection I knew from Sports 56 in Eli Savoie. Eli was great. He told me that they didn't have any spots open there. I basically stayed there in the morning, checked out the afternoon, learned some things for free. I wouldn't even call myself an intern; I was just sort of looking, watching and trying to figure out the whole radio thing. This was four years ago.
Then about three weeks into it my guy, Johnny Radio – Johnny Hardin, knew the new producer. Right place, right time, hired me. Wasn't making anything for two and a half years really, but obviously enjoyed it and learned a whole lot. Started producing middays for Eli Savoie and Greg Gaston. Then made the jump about two and a half years in when the station decided to rearrange their show. Dave Woloshin, voice of the Tigers, wanted to take a step back in workload. Brett Norsworthy needed a co-host with him. I ended up getting the 3-6 show Sportstime with Gabe and Stats. It really was interesting. It was from $9 an hour to salary in about two and a half years. Now I'm where I'm at.
BN: What was it about sports radio that got you interested right after your football career, and what was it about sports radio that maintained your interest when you weren't making any money for a couple of years?
GK: Well, first of all, I love talking ball. I always had the confidence in myself that I would eventually get where I needed to go with it. I would say I'm a prideful person. I'm not foolishly prideful, but I'm prideful in the work that I put out. I feel like that always shines through. That's just the confidence I have in myself. And honestly, when it comes down to it, I appreciate the art of it. I know how cliché, corny that may sound, but I appreciate being able to have contrary thoughts and show my personality through. That's one of the perks of the job that I do appreciate.
BN: You're from the St. Louis area, right?
GK: Yes, sir.
BN: That's cool. My dad is originally from Alton, Illinois.
GK: About an hour away. I'm in West County. Wildwood, Chesterfield if you've ever heard of that.
BN: Nice. Are you a St. Louis Cardinals fan?
GK: Of course, absolutely. 100%.
BN: There ya go. It almost sounds like you've got Cardinals ink. Like, yeah, of course, I've got an Ozzie Smith back mural.
GK: I don't have the full Cardinals face tat yet. But it's coming soon.
BN: [Laughs] That's great. Taking over for Gary Parrish, who as you know is big deal in Memphis, pulling huge shares, what's your approach when it comes to filling big shoes like that?
GK: First of all, I do want to give a shout-out to Gary. Gary was very nice through the process and congratulated me and reached out. I thought that was really cool of him. But as far as filling those shoes, just be as informative, as entertaining as he is. I know that's simple. I know that's an easy way of putting it, but Gary was so popular for a reason; he put out good content and people enjoyed it. He had a genuine back and forth with his audience. His audience latched on to what he was putting out. I guess that's as best as I can put it. That's what I plan to get done as well. And also, I think that Gary has a love for this city that I have as well. I think that we're similar in that way.
BN: The cliché of you never want to be the guy who follows the guy. I've always thought that's total BS; I don't want to be the guy who never gets an opportunity. What is your thought process when you hear someone say you never want to be the guy following the guy, because in your situation, you're the guy following the guy?
GK: I would say that I don't think about that in the grand scheme of things. I'm not going to lose sleep over opportunities I get. I know that it's tough at times to follow a guy who has been so successful in whatever industry it may be. But I tell those people, I'm going to do a fantastic job as well. I guess that's where I'll go with it.
BN: What do you want your show to sound like?
GK: First of all, genuine. That's where you have to start with this thing. I think there's a lot of people coming up through the ranks that try to find their voice. I feel like that's something I've done a good job of, I've found my voice. I have a personality that will absolutely shine through. I don't want to be overly serious, but I love just talking ball.
But also, as far as the sound day-to-day, I love more so than a lot of people in the city, talking with players, with coaches, people inside the locker rooms, people that are connected still to whatever sport they're in. I certainly feel like I have some good connections there. I feel like I can break down some barriers in talking with those guys that a lot of people can't. I feel like that's something that people will really like as far as my sound is concerned.
BN: You played ball. You know it very, very well. You could get really intricate with it if you wanted to. How do you balance not getting too crazy with the details, but also not being basic to a fault?
GK: I think the biggest equalizer there is if I'm going to dive into some deep ball talk, if I'm talking about the Philadelphia Eagles run game for example, I'll say what I'm going to say and then I'll explain it. I'll try to bring people in there with me. I try not to get carried away when it comes to blocking schemes and who had a down block here, who was pulling there. I try to stay away from stuff like that. But I feel that listeners are a lot more moldable and understanding than some people think.
BN: Who do you like in the Super Bowl, Eagles or Chiefs?
GK: The Chiefs looked very good in the AFC Championship against the Bengals, but when I just sit back for a half second and think about the situation, Patrick Mahomes has a bum ankle. The Eagles pass rush got after Brock Purdy to the point that he got knocked out of that game. They got after Josh Johnson to the point that he got knocked out against the Eagles.
I just feel like the Eagles pass rush mixed with the rest of that defense, they've done a good job of building that secondary. They have a MVP-caliber quarterback this year, who will finish in the top five in MVP voting. Their offensive line is great. They're just so complete. I don't know if the Chiefs are as complete a team. I feel like the Eagles will be able to get after Patrick Mahomes and bother him in ways that he hasn't been bothered through the playoffs. But we will have to see. This is definitely going to be an interesting back and forth.
BN: What do you think are the top-3 most popular teams or sports in Memphis?
GK: We have a very, very passionate audience, and certainly I think the Grizzlies audience has grown a lot. It's catching up and it might be there right now. But we have a very passionate audience when it comes to Memphis Tiger basketball. That's the truth of the matter. The city loves following recruiting. The city loves the AAU circuit. The city loves everything like that.
Since we're in the Southeast, since we have a footprint of a lot of different college football teams, and obviously the University of Memphis in town, I'd put college football up there. But really close, as it always is, is the NFL. The NFL is a year-round topic as well just because of how national it is. We don't really have a defined fan base here. I guess Cowboys, Steelers, maybe a little bit of Titans sprinkled in there. I'd say those are really at the top.
BN: Going back to your playing days at Memphis, what was your experience like playing on the team?
GK: When I came in, there were 29 guys in my recruiting class, I was easily the 29th. Granted I did get a scholarship. Obviously, I had to pay for my first summer. That was a little bit different. I came in and I had to really, really grind for everything. I came in at 260 pounds. I had to get myself up to 310. I had to play different positions. I played left tackle in high school. I had to move myself to center and then eventually guard. It was an uphill grind the entire time. I learned a whole lot and honestly, it gave me the pride in my work and the work ethic in general that I have today. I'm glad for that time, no question.
BN: Who are a couple of the big name players from Memphis that went on to the NFL while you were still there?
GK: Oh, how much time you got? I'm just kidding. Jake Elliott. Bobby McCain. Anthony Miller, Darrell Henderson, Patrick Taylor Jr. Tony Pollard. There's more where that came from. There's a few more that got through, Wynton McManis spent some time in the NFL. We had some really good talent on those teams, '13 to '17. That's why we won as much as we did.
BN: How about Tony Pollard, man? It's really cool to see how his career keeps growing and growing.
GK: He was a guy — Mike Norvell was my second head coach. We always had some questions, 'Why is he not getting as many totes?' Obviously, we had Darrell Henderson Jr. in that backfield, Patrick Taylor Jr. in that backfield, so we had to sort of balance that out. But we always knew what he was capable of. The fact that he can get out there, play in the slot, catch some balls, run outside, get into that sort of zone scheme that the Cowboys can run, get him out on the edge into space. We always saw that. But honestly, it's probably a good thing that he didn't have all of those body blows in college, because that tends to help out running backs these days.
BN: Yeah, that's a great point. It's a random question, but I just have to know, your Twitter background picture where it's a guy and a girl at a baseball game or something. If you know what I'm talking about, I have to know the backstory of that.
GK: [Laughs] Well, honestly, I find it to be a funny picture, first of all. That's the background story in general. But I have a lovely fiancée, and I find myself explaining a lot of sports situations to her, discussing my day-to-day life with her. I just feel like that's me, I guess. I feel like it's just a funny representation of what I go through with my fiancée day-to-day.
BN: [Laughs] I love it, man. That's great. Do you have a marriage date?
GK: September 30 is the marriage date. I told her, try to stay away from fall weddings and she came back to me five minutes later and asked if September 30 was okay. It looks like the first battle I've lost.
BN: [Laughs] Ahh man, that's funny. I also need to know the name of the dog in the background of your Twitter picture there.
GK: So I have two dogs now. I have about 185 pounds worth of dog at my house, both Great Pyrenees. One is named Nola. She's the girl, and then Motley is the boy.
BN: Are you a Mötley Crüe fan? Where does Motley come from?
GK: He's actually a rescue. He was named previous to us rescuing him.
BN: Oh, gotcha. It might be a weird time to ask about your future when you just got a big opportunity, but when you think about the next five years or so, what do you want it to look like?
GK: As far as the gig I have, 4:00-7:00 PM, that's just going to be a massive part of my life and obviously going to be my A-priority the next five years. But also within that, I really do think that some opportunities as far as maybe college football games, color analyst, those type of things. Helping out in the community in general away from the studio, that type of thing. But I feel like the professional opportunities will widen a tad bit and I'm looking forward to it.
BN: When you were transitioning from football to sports radio, who were a couple of the sports radio hosts or TV personalities that you enjoyed?
GK: What's interesting and kind of funny is I know a lot of people will smack him down, but over the years, especially earlier, probably a little bit less now, but I think Colin Cowherd is a guy that I always watched growing up that I had some appreciation for. And yes, he's wrong. And yes, there's a lot of people that go after him for various things. But I feel like the engagement that he has is pretty nice. But also in town, let's be honest, the truth of it is the guy I'm following. When I didn't have my 3-6 show, I listened to Gary a lot. I thought he did a fantastic job. He was the guy in town that I certainly appreciated and thought the world of as far as the show was concerned.
BN: What are some of the things that get you to listen to a show if you're driving around, and what gets you to turn away from a show?
GK: That's tough because I'm kind of a fanatic when it comes to sports radio. I generally give people a longer shot. I think when we're just speaking generally, someone who's informative and engaging, no matter what content they're putting out. I know a lot of people will say they like the bits, they like segmented items that bring them back every day. I think there's something to that as well. But if you're informative, engaging, I'll listen to anything you have to put out there.
On the flip side of that, if you hear a bunch of errors. If you hear a bunch of people slipping up. If there's no point to the conversation being had, if there's no sort of end goal — and that goes with the engaging part of this whole thing — I feel like that would be the time where you may switch stations. I feel like that's a pretty long-winded way of saying you stay around if it's informative, engaging. You don't if it's not informative and engaging.
BN: Going back to your football days after college, what was it like in the AAF? Just that year and how the league was shut down, what was that like, man?
GK: It was interesting to say the least. I got cut right after minicamp. That's the truth of the matter. I got signed to the inaugural team, and then was cut directly after minicamp. I guess I wasn't big enough, whatever it may be. But it was not a good experience. To be completely frank with you, it was bad for most everybody involved. They didn't have a practice field all figured out. Everything was pretty spur of the moment. After I got done, they sent me a bill for the physical I took previous to minicamp. It was just a bunch of errors stacked on top of it.
Obviously, I got cut early and moved on and found my role, but there's a lot of good guys I know that got cut from that league and couldn't really land on their feet for a while. Didn't get paid, didn't have anywhere to go for a moment. Obviously, some of them found their way, some didn't. I just thought that that operation in general, and I know this is getting serious and a little tough, but that operation in general was very disappointing to see about how ill-prepared they were.
BN: I just thought of Mark Schlereth, a former offensive lineman. He once talked about being scared during his NFL career. He was a guy that wasn't highly recruited, wasn't highly drafted and he was just scared that he was going to get replaced or get cut. I think about your football career and how you explained it where at Memphis you're one of the last guys on scholarship. You go to the AAF, you're cut. I don't know if that builds a fear that might be a good thing with what you have now in sports radio, where it's like, I got to prepare or the next guy is going to take my spot. Do you feel like that at all?
GK: Yes, I do. I think I would relate it to my fiancée is always telling me you never give yourself credit. You never sit back and enjoy and give yourself credit for what you've accomplished. I say I don't think there's time for that. If you're giving yourself credit that means you're patting yourself on the back for a job well done. I hate to say it like this, but the job's not finished, right? You have to move forward day to day like the job's not finished. I would relate it to that. I think there's absolutely a part of me that feels that way.
Brian Noe is a columnist for BSM and an on-air host heard nationwide on FOX Sports Radio's Countdown To Kickoff. Previous roles include stops in Portland, OR, Albany, NY and Fresno, CA. You can follow him on Twitter @TheNoeShow or email him at bnoe@premierenetworks.com.
The Chiefs & Eagles Have Super Bowl Game Plans, How About You?
"The Super Bowl is the biggest event in sports, no team would go in without a solid plan, your show shouldn't either."
When it comes to preparation, I usually hold off. I'm a procrastinator's procrastinator. It sounds better if I say; "I'm driven by deadlines," but the truth is, I just generally put things off until they absolutely have to be checked off the list. If your goal as a producer is to have a great post-Super Bowl show, don't be me, you best start working now.
There are many things that complicate booking guests for a Super Bowl reaction show. The obvious is that you have no idea who is winning the game. But, beyond that, you have no way of predicting what will be the biggest story coming out of the game. It could be anything from overtime to a blowout, halftime show debacle, officiating blunder, or even a surprise retirement announcement.
With that in mind, there are some strategies for targeting guests. With these, though, working ahead is paramount. Most anyone that is going to have enough insight to improve your show will be slammed in the hours following the end of the game.
Strategy 1: The Game Participant
This is a big risk, big reward strategy. It is also one that is only available to a select group of shows. If your show is nationally syndicated, in a very large market, or home market for one of the teams, you have a shot here. If not, the odds are not in your favor. The team's media departments are as busy as anyone during a Super Bowl run. They aren't likely to help a show they've never dealt with during that whirlwind of action.
I am reminded of a friend of mine who worked as the media relations director for a mid-major basketball team that sprung a huge round two upset and advanced to the Sweet 16. Needless to say, he was swamped overnight with interview requests for his coach. He told me every station led with "ESPN Radio" then mumbled the part about being in Puyallup, Washington. It never hurts to ask, but understand it is a long shot.
Strategy Two: Local Player Not In The Game
This can be a really solid idea for both previewing the Super Bowl and the Monday after the game. If you are in a local NFL market, or if a local college or high school star is in the NFL, consider him as an analyst. Who better knows what happens in an NFL game than an NFL player? Bonus points if he has been a Super Bowl participant in the past.
Don't underestimate how many NFL players are thinking about life after football. One of the dozens of roles as NFL analyst at a major network is an excellent retirement plan. You don't have to have a Hall of Fame jacket for those gigs, but you do need to be good on air. You might be surprised by how many players will agree to an interview with that in mind.
Strategy Three: The Trusted Analyst
Every network has all their biggest voices either In Phoenix or in the studio for the game. These are people that know the interview game and have plenty of experience. This strategy comes with some obvious hurdles; it turns out the networks paying the analysts to be on site keep them rather busy. While they might have been happy to join your show the Monday after Week Three, this is a different animal.
One other factor you should consider in this strategy is the fact that Sky Harbor airport will be one of the busiest in the world Monday morning. Many of the analysts will be scrambling home to start their off season as well. If your analyst is on the move, travel delays can wreck your whole plan.
Strategy Four: The Pop Culture Angle
Oftentimes the biggest talking point coming out of the game is one of the things happening outside the actual play on the field. If you watch Super Bowl Twitter, the biggest traffic moments are people joking about a slow starting Star Spangled Banner "hitting the over" or how bad the halftime show is. Regardless of the act, it has become the default position that the halftime show is awful, even when we all think they are pretty good. 50 Cent hanging upside down will forever be a meme.
Commercials are going to be a massive talking point after a game, especially if the game doesn't quite deliver. Who is the voice that can talk to your audience about everything from Rihanna to a Taco Bell commercial? There is the inherent risk of alienating the "talk more sports" guy with this type of guest so, as you should with any guest, make certain they are entertaining.
The Super Bowl is the biggest event in sports, no team would go in without a solid plan, your show shouldn't either. Communication between hosts and producers is critical. Have a plan, work ahead and be on the same page.
Most of all, try to enjoy the game – and take the Chiefs and the points.
Ryan Brown is a columnist for Barrett Sports Media, and a co-host of the popular sports audio/video show 'The Next Round' formerly known as JOX Roundtable, which previously aired on WJOX in Birmingham. You can find him on Twitter @RyanBrownLive and follow his show @NextRoundLive.