WWL Investigating Offensive Tweet From Its Account
"According to WWLTV.com, Dunlap did not directly respond to the offensive tweet during his Tuesday evening radio show, but the host did open the program with a message of unity."
The Twitter account for Entercom's WWL in New Orleans, posted a homophobic slur in reference to one of their own hosts on Tuesday. The offensive tweet directed at WWL radio host Seth Dunlap was deleted, but not before it was already seen, shared and screengrabbed by many.
Dunlap is a longtime sports broadcaster from Washington State. The NOLA transplant hosts The Last Lap on WWL, Monday – Friday from 8 – 11pm. In addition to his weeknight show, Dunlap also hosts pregame for the Saints Radio Network. WWL is the flagship radio network of the New Orleans Saints.
Tuesday afternoon, Dunlap tweeted , "Which of these 5 "overreactions" isn't actually an overreaction? You tell me…" while sharing an article he wrote for WWL's website, presenting "overreactions" from the Saints week 1 victory.
Soon after, the radio station Dunlap works for shockingly responded with a homophobic slur that would be offensive when directed toward anyone, let alone an openly gay employee.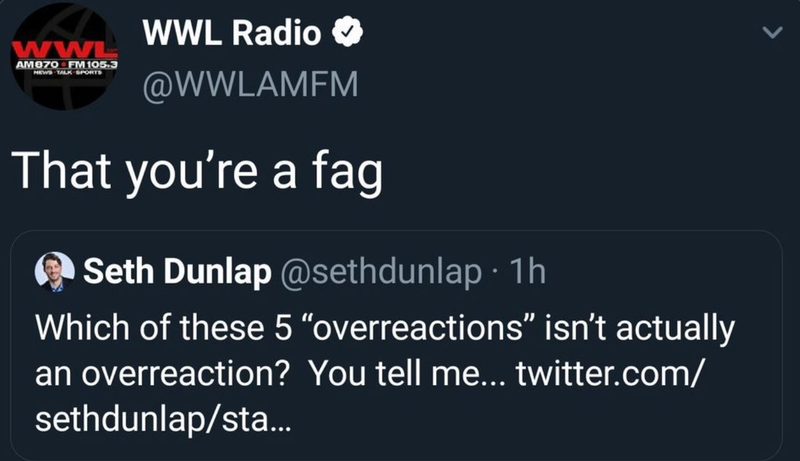 LGBT equality was a topic highlighted in New Orleans recently after Saints quarterback Drew Brees partnered with Focus on the Family and released a video to promote "Bring Your Bible to School Day." Brees received backlash over the video as Focus on the Family is a fundamentalist Christian organization that has historically opposed LGBT rights. Brees then posted a second video in response to the criticism he received.

Dunlap, an openly gay man, wrote a public letter to Brees in response to the quarterback's second video and his partnership with Focus on the Family.
"I am a gay man who has worked nearly two decades in the sports media industry. My personal experience, not headlines or Twitter innuendo, caused me to recoil at your initial video, and become even further flummoxed at your response today," Dunlap wrote.
Dunlap's full letter to Brees can be read via his Facebook page.
According to WWLTV.com, Dunlap did not directly respond to the offensive tweet during his Tuesday evening radio show, but the host did open the program with a message of unity.
"White, black, Latino, men, women, straight, gay, nobody cared," Dunlap said referring to the Superdome's Monday Night Football crowd. "That camaraderie, that togetherness, it what makes sports so special. To me, it's what makes sports so important to modern society. We can set everything aside and just be ourselves."
The Entercom owned radio station acknowledged they were aware of the offensive tweet that was sent from the WWL social media account and were investigating the incident.
Brandon Contes is a freelance writer for BSM. He can be found on Twitter @BrandonContes. To reach him by email click here.
Brandon Contes is a former reporter for BSM, now working for Awful Announcing. You can find him on Twitter @BrandonContes or reach him by email at Brandon.Contes@gmail.com.
Tobin and Leroy Debut on WQAM Middays
"This is a big change for us," Tobin said. "I've been doing morning drive, producing or hosting now, for the last decade. Now it's to middays we go."
After a brief hiatus and the closure of 790 The Ticket, Brendan Tobin and Leroy Hoard officially returned to the Miami airwaves on Monday on 560 WQAM.
Tobin and Leroy debuted in its new midday timeslot of 10 a.m.-2 p.m. on the station.
"This is a big change for us," Tobin said. "I've been doing morning drive, producing or hosting now, for the last decade. Now it's to middays we go."
Tobin added that the timing between when they made their exit from The Ticket and returned on WQAM was a bit off.
"It was a very weird week for us to take off last week. Because they were like, 'Hey, you're change times, you're gonna change stations, and also it's gonna be the busiest sports week of the year,'" he said. "So now we're back, and nothing will happen this week."
"There has been less action on days we thought we had to be here than what happened last week," Hoard added.
Hoard actually arrived to the show late, citing traffic issues getting to the station. That was something even Tobin noted is an adjustment they have to make from when they were doing morning drive.
"We've all discovered here today is traffic is not the same at 8 a.m. as it is at 4 a.m.," he said. "Very different."
Tobin made sure WQAM listeners knew that even though they switched stations, the show isn't changing. They continued with all the usual segments that fans know and love on Monday.
Jordan Bondurant is a features reporter for Barrett Sports Media. He works full-time as a multimedia specialist at the Virginia State Corporation Commission, while also putting in part-time work for News Radio WRVA and 910 The Fan in Richmond. Additionally, you can find Jordan contributing coverage of the Washington Capitals for the blog NoVa Caps. His prior media experiences include working for the Richmond Times-Dispatch, the Danville Register & Bee, Virginia Lawyers Weekly and ABC 8News. He can be reached by email at jordan.e.bondurant@gmail.com or follow him on Twitter @J__Bondurant.
Chick Hearn Headlines Radio Hall of Fame Legends Inductees
Amongst other accolades, he is credited with broadcast 3,338 consecutive Lakers game from November 21, 1965 to December 16, 2001.
The Museum of Broadcast Communications announced today the selection of 10 new Legends inductees into the Radio Hall of Fame for 2022. This distinction honors those in the industry who have contributed greatly to it and have since passed away.
Chick Hearn, the longtime voice of the Los Angeles Lakers, will be amongst those inducted in Chicago next month. Hearn was the voice of the Lakers for 41 years (1961-2002). Amongst other accolades, he is credited with broadcast 3,338 consecutive Lakers game from November 21, 1965 to December 16, 2001.  
The full list of those to be inducted as part of the Legends class are:
Mr. Doug Banks– Nationally syndicated on-air personality;
Mr. James Brown– Legendary singer, to be inducted as a radio station owner of WJBE Knoxville, TN;
Mr. Bob Coburn– Host of the syndicated Rockline show;
Mr. Chick Hearn– Play-by-play announcer/voice of the Los Angeles Lakers;
Ms. Bernice Judis– Owner and General Manager, WNEW-AM, 1930's–1950's;
Mr. Sid Mark– Host of syndicated program, Sounds of Sinatra show for 60+ years;
Mr. Bobby O'Jay– On-air personality, WDIA-AM/Memphis;
Mr. Pervis Spann– On-air personality, WVON-AM/Chicago;
Mr. James Thompson– Group W Broadcasting President and President of the Broadcasters Foundation;
Ms. Rosalie Trombley– Music Director of CKLW-AM/Detroit in the 1960's–1970's.
"The Radio Hall of Fame is dedicated to recognizing the individuals who have made the greatest impact on our 100+ year old industry," Kraig T. Kitchin, Co-Chairman, Radio Hall of Fame said. "I'm thrilled to see the Nominating Committee confirm the induction of these 10 individuals who each made such an impact on our industry in their time."    
The Radio Hall of Fame will recognize its 2022 class of inductees, including the class announced in July, during a ceremony on Tuesday, November 1st.
Mike Rhyner Introduces Dallas to 97.1 The Freak
"So, where were we?" began Rhyner.
There's a new radio station in Dallas which features a number of personalities familiar to local sports radio listeners. 97.1 The Freak made its much anticipated debut and the first voice to be heard belonged to the "Old Grey Wolf" Mike Rhyner.
97.1 The Eagle stopped regular programming late Monday morning and began stunting, a technique radio stations use to separate listeners from old programming and prepare them for new content. The station began by playing songs with the word "freak" in them before transitioning into a continuous loop of "The Waiting is the Hardest Part" by Tom Petty until 3p CT. Then, a voiceover detailing the Eagle's history switched into the voice that Dallas-Forth Worth residents have gotten to know so well, Mike Rhyner.
"So, where were we?" began Rhyner.
Rhyner went on to relive his final moments at The Ticket in Dallas. He said he was getting his "head around being a Paw Paw" before getting a call from Ben Rogers of the Ben and Skin Show and thus an idea for The Freak began to take shape.
After that, the show's intro music played and Rhyner welcomed in Mike Sirois and before you knew it, the guys were wondering about a quarterback controversy in Dallas.
97.1 The Freak is off and running with a lineup that includes "The Speakeasy," with Jeff Cavanaugh, Kevin "KT' Turner, Julie Dobbs, and Matt Cather in mornings (7-11am), "Ben & Skin Show" in middays (11am-3pm) and "The Downbeat" in afternoons (3p-7p) featuring Mike Rhyner alongside Mike Sirois and Michael "Grubes" Gruber.
The station is positioning itself as a lifestyle brand but given its talent connection to local sports radio and the strong interest in Dallas sports, it's likely the talent will weave sports talk into their on-air discussions. Sports Radio 1310/96.7 The Ticket and 105.3 The Fan have enjoyed good ratings with the male 25-54 demographic and The Freak is expected to challenge them and every other brand that produces spoken word content.
"We're beyond excited to introduce 97-1 the Freak – the level of talent is insurmountable, and we're thrilled for the opportunity to further connect with Dallas Fort Worth," Patrick Davis, Regional Senior Vice President of Programming Dallas, shared in an announcement.