A Day Spent With The Mets Broadcast Booth
"If they're losing and McNeil or Rosario are up to bat, you're talking about projecting the future, but when the team is in the playoff race, you're talking about what's happening right now and how important each game is."
Between TV and radio, the New York Mets have two of the best local broadcast teams in sports. On Friday, September 6th, I spent time with Mets radio announcers, Howie Rose and Wayne Randazzo to watch them call a game. Over the air, the broadcast sounds effortless, but behind the scenes there are plenty of moving parts, with Rose and Randazzo arriving more than four hours before first pitch.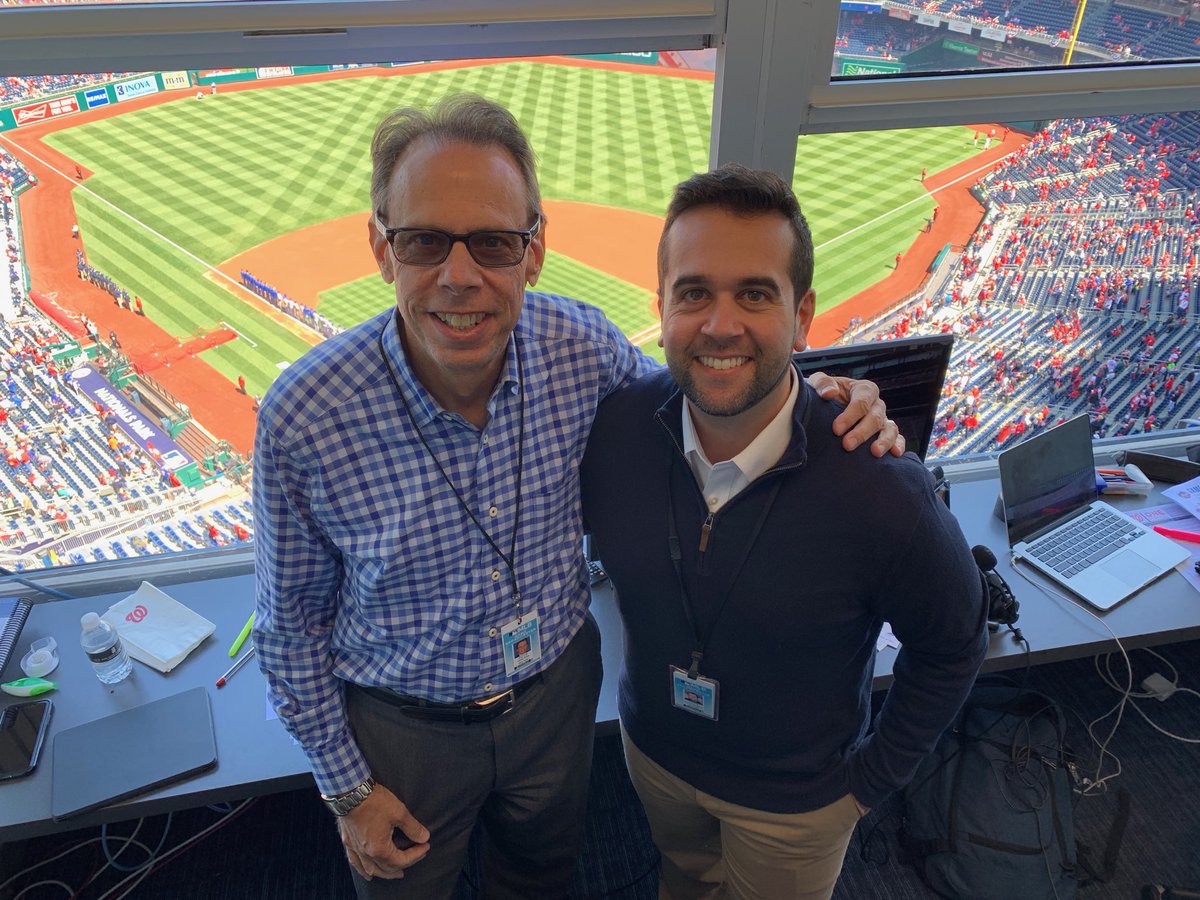 By 3pm the Mets radio duo, is already in the stadium for a 7:10pm start, individually filling out their scorebooks before heading to the manager's press conference. Rose and Randazzo separately arrive in the press room where Mets manager Mickey Callaway responds to his first question promptly at 4pm. Howie and Wayne are mostly quiet, taking a few notes as beat reporters search for a tweet-worthy quote during the 10-minute presser.
Right outside the room, General Manager Brodie Van Wagenen sits like the Godfather in a large armchair, welcoming reporters to approach him for one-on-one questions. Today, rain leads to the sound of indoor batting practice as players shuffle from the clubhouse to the cage. While players are readily available for questions, Rose and Randazzo aren't searching for an inside scoop or anyone to chat with, instead leaving that up to the beat reporters.
"If I need to" Rose said when I asked if he ever looks to talk with players prior to the game. "They have enough reporters hanging out around them, they don't need me to clog it up anymore. Seriously, I don't need to be hanging around there unless I have something to say to somebody. There's probably 15 people for three players in there. When I have a question for a player, I'll find them."
At 4:20, Callaway heads into the interview room to speak exclusively with Mets broadcast partners SNY and Entercom's WCBS 880. Rose, Randazzo and SNY's announceing crew are behind closed doors with Callaway for five-minutes. While exiting the interview room, Callaway notices a new face and politely walks over to introduce himself to me.
"Mickey's been great, easy to deal with," said Randazzo, who hosted the Mets radio pregame show for four years before being named Howie's full-time broadcast partner this season. "[Terry Collins] before Mickey was a guy that would light up the pregame show, he was always so colorful, but Mickey still has been good, he's always open and accessible."
By 5 o'clock Howie and Wayne are back in the booth organizing their pregame notes. Howie sits on the left and both announcers have the lineup taped to a nearby wall with one TV monitor available to Wayne's right. After their prep, Howie and Wayne head to record videos for the in-stadium scoreboard. Rose can later be seen on the big screen offering fans a "Game Notes" segment, with Wayne providing the "Randazzo Report."
At 6:30, Brad Heller begins the WCBS Mets Radio Network pregame show. September 6th is one of 40 games that Heller worked this season, the rest are conducted by longtime Mets reporter Ed Coleman. The 30-minute pregame show features Heller's exclusive chat with the Mets manager and almost takes the broadcast up to first pitch.
At 7:01, Rose welcomes listeners and provides the setting for tonight's game against the Phillies as the Mets play meaningful baseball in September for the first time since 2016. Randazzo gives his detailed description of both teams' uniforms, painting a picture for the listener before sending the call back to Howie for first pitch. After starting the game with a 1-0 count, Mets lefty Steven Matz retires the leadoff hitter with a strikeout as both announcers simultaneously mark a straight "K" in their scorebook.
Howie has a highlighter, black and red ink to fill out his scorebook, Wayne adds extra color with blue, pink, green and purple fine point markers. Randazzo also keeps his laptop in front of him, showing Twitter, MLB Gameday and Baseball Reference on the screen, noting that he doesn't mind looking up information while calling a game. Randazzo even starts mapping out the postgame show before the game is over.
On a cool and rainy night that has the feel of October, Howie and Wayne keep the windows open allowing the opportunity to hear the crowd. The fans filed in slowly, but by the 3rd inning more than half the seats were full, garnering more than expected on a night that many thought would be a rain out.
A good crowd can absolutely enhance a broadcast, as the energy from a raucous fan base is felt through the radio. Both Howie and Wayne expressed how much fun games in August and September are with the Mets making a playoff push that seemed impossible a few weeks earlier.
"It makes it!" Howie said of calling meaningful baseball with an energetic crowd in the building. "Go back to when Washington was here in early August, things were pretty quiet most of the season until then and now all of a sudden they were relevant and this place was ELECTRIC for that three game series, it felt like 2015 again."
"There's a different tone based on what's happening in August and September," Randazzo added. "If they're losing and McNeil or Rosario are up to bat, you're talking about projecting the future, but when the team is in the playoff race, you're talking about what's happening right now and how important each game is."
Wayne takes over the play-by-play to start the third inning as Robbie Cano's friend and former teammate, Jean Segura leads off for the Phillies. The next inning, Wayne gets to call the first homerun of the game, a 425-foot blast off the bat of Michael Conforto setting a new career high for the Mets outfielder.
Had this WCBS 880 Mets radio broadcast occurred on a weeknight, Randazzo's call may have been used by the morning show on their sister station WFAN. Earlier in the summer, Gregg Giannotti of Boomer and Gio came to the realization that Randazzo's voice takes on a 1940's tone when the broadcaster is behind the mic for an exciting call. Gio's characterization of Randazzo became a regular bit on WFAN's morning radio show throughout the season and Wayne has no problem with that.
"No, I don't mind it," Randazzo said with a chuckle. "I can actually do a really good impression of that if Gio wants to hear it, I'd be happy to do it."
"I just think it's cool that Boomer Esiason knows who I am," Randazzo added.
At the start of the 5th inning, Randazzo gets set to throw the play-by-play back over to Rose, but not before he calls one more pitch from Steven Matz. Matz's pitch sailed to the backstop, reminding Randazzo of the lefty's first Major League pitch in June, 2015. Rose jumps right in, adding that Brandon Phillips hit a homerun after that 2015 wild pitch. It's a simple exchange between Randazzo and Rose, but the type of back and forth that comes natural for two radio partners working their first season together. Rose spent the last seven years with Josh Lewin in the booth, but the adjustment of sitting next to Wayne Randazzo has been an easy one.
"It's been wonderful, there's been no learning curve," Rose said of his new broadcast partner. "I was just part of the process of sifting through tapes, when we hired Wayne going back five or six years, I wasn't making the decision. I could give advice or opinion, but I wasn't doing the hiring. When you hire somebody in this role (pre and postgame host), you know you might be hiring your future partner and that's one of the things I looked for when we were canvassing the applicants, 'is this a person who can do this job on a regular basis versus just 10 or 12 times as a fill-in?' Howie asked.
"The thing that impressed me most about the tape Wayne submitted was his work in a no-hit bid by Jake Arrieta when he was with the Cubs. It didn't even dawn on me until much later, that Pat Hughes (Chicago Cubs radio voice) does every inning of every game!" Rose added. "That was just a practice tape from Wayne, he went into a booth and recorded that on his own, it wasn't an audition and that blew me away! I knew right there we had a real serious and aspiring broadcaster, not someone just going through the motions. Also, the fact that Josh would miss between six, eight or ten games during the season in recent years – Wayne would fill in, so it was sort of an icebreaker that helped give us the ability to hit the ground running this year."
"I get to sit here with someone who's seen every game this team has ever played and is truly one of the best baseball announcers in the business," Randazzo said of his iconic radio partner, Howie Rose. "As someone that's trying to one day be that, it's like a masters' or doctorate level course in how to do this that not everyone is allowed to have. Even in our meetings with the manager, just watching how Howie and [Gary Cohen] approach the daily questions to see what's on their mind and what they're seeing has always been something I've learned a lot from, not to mention how they are on-air. Howie has brought out the best in me as a broadcaster and play-by-play person and whether he wants to admit it or not, I've learned six million things from him this season and over the last few years when I was doing the pregame show that will stay with me forever."
Rose's Mets coverage dates back to the 1980s, when from 1987 – 1995, the broadcaster hosted Mets Extra on WFAN. Since 2004, Rose has been a full-time radio play-by-play voice for the New York Mets, following a tenure calling their games on TV for Fox Sports New York and MSG. Randazzo, a Chicago native is finishing up his first year as Rose's full-time play-by-play partner, following four seasons as the Mets pregame show host.
"I've always wanted to be doing what I'm doing now. Everything I've done in my career was done with this in mind," Randazzo said. "I've done updates on 670 The Score, I filled in on White Sox pre and post, did pre and post [on the Mets Radio Network], went to the minor leagues for seven seasons. All of that was to hone my skills, all I've ever wanted to be was a baseball announcer so it was building to get to this point and I'm lucky to be here."
In the sixth inning, Rose openly questions a decision by Mickey Callaway to make a pitching change and remove the left-handed Matz against Phillies pinch-hitter Phil Gosselin, triggering a chess match of decisions. Mets broadcasters are never short on honesty even if it means being critical, something ownership deserves credit for allowing.
Growing up a Mets fan, I was trained by their broadcasters to think critically. Team announcers could take the approach of finding reasons to defend every managerial decision, but instead, they never hold back on presenting an opposing view. As a fan and a listener, I enjoy playing devil's advocate to see if there is a better in-game decision to be made and Mets broadcasters promote that way of thinking.
Critique and honesty from the Mets radio crew was never more exemplified than in a game against the Phillies on June 26th earlier this year.
"The shortstop is behind second base, he's got it and he throws to first, you know why? Because Robinson Cano was jogging – he was jogging," Rose said after a lethargic Cano was thrown out by Phillies infielder Jean Segura during the June 26th broadcast.
"Segura treated him like Wilson Ramos. A lot of times infielders pick the ball up and take that second step because they realize they don't need to hurry, well in that instance, that's what Segura did," Randazzo explained.
"I say unbelievable, but it's something we've talked about all year, if he thinks he's protecting his quad at this point – oh who cares anymore, what's the sense of getting on a soap box, it is what it is," a frustrated Rose continued. "You have to figure he's going to rest tomorrow right? A day game after night game?"
"I don't know – maybe McNeil's the one that's going to rest tomorrow," Wayne said sarcastically, noting the Mets tendency to rest one of their young All-Stars.
Even after getting back to the play-by-play, the Cano critique still filtered in, with Rose saying the Mets high-priced second baseman "…chose to jog – fill in whatever blanks you want, we've already used them."
"Segura, who I mentioned before is very good friends with Robinson Cano, it took him by surprise," Randazzo said.
"It shouldn't," Rose added defiantly.
"If the quad continues to be an issue, let's give Cano the benefit of the doubt for the sake of this point, if that's going to continue to be an issue, then why is he still hitting third?" Rose asked regarding the Mets decision to place Cano in a premium batting order spot.
I revisited this specific exchange between Rose and Randazzo from June 26th, noting that they didn't hold back in their criticisms of both Cano and the team.
"That's my job," Rose told me.
Every Mets fan listening to the broadcast has similar conversations regarding questionable on-field play or in-game decisions. It can be refreshing to hear professional announcers share the sentiment and not be afraid to broadcast their frustrations publicly. When I asked if management ever told them to be less critical, the Mets longtime broadcaster responded, "not a word."
"Our owners have never been given the proper credit for allowing the broadcasters to do their job and that goes for TV and radio. You won't find a more opinionated television crew than we have and that's pretty well established. They're given the latitude to call it as they see it," Rose said regarding the Mets broadcast booth on SNY.
"You're working with a hall-of-fame caliber play-by-play guy (Gary Cohen) who's been here 30 years so he's built up some points on his resume and you've got two world champion players (Ron Darling and Keith Hernandez) sitting next to him. They have credibility and nobody is going out of their way to take hot shots, all we do is like they say in football, read and react. We read the game and react to it."
"To criticize somebody is not personal," Rose Continued. "If I had an issue with a player years ago when I was doing pre and postgame shows in a more opinion driven role than I am now, even though we give opinions now, it seemed like I had someone pissed off at me every other day. But most of that didn't last long because I would make it a point to be right in the middle of the clubhouse the next day and if a player wanted to find me, they could and once in a while they did. We would talk, and once or twice what they were being told was said, wasn't actually said and I even gave them tapes just so they can understand. It's never personal and 99.9% of the players don't take it personal. The only obligation you have is to be fair. If you make it personal or it becomes personal, you're not doing your job."
Howie's credit of the Mets television booth speaks to the respect both crews have for each other. Prior to the game, SNY's Gary, Keith and Ron can be seen in the media lounge sharing a table with Howie and Wayne. The two groups of broadcasters huddle to discuss the game and almost certainly a multitude of other topics considering their dynamic personalities.
"At that point with Cano, we were also aware that he was trying to save himself for the season," Randazzo said. "He lost a month for a hamstring injury and was dealing with quad problems, so it's fair to say that Robbie's trying to conserve himself, but at that time it was getting kind of egregious. I get that Cano is trying to save himself, but on the other hand you have to show more effort than he had been at that time."
In the seventh inning, Rose and Randazzo both share a laugh at their producer, Chris Majkowski for the sponsored in-game trivia question he selected. "Maj" hands Howie and Wayne a trivia question that begins with, "which nine Mets…" but neither broadcaster had time to come up with nine answers.
As a producer for more than a quarter-century, Maj has played a vital role in helping the Mets radio broadcast become one the best in the country. During the game, Maj fact checks as needed, noting there are specific words Howie uses when he wants the longtime producer to find or confirm a statistic.
Maj offers an additional set of eyes for the broadcast, letting Howie and Wayne know if there's movement in the bullpen, or catches something that was shown on TV. As someone who's seen nearly every inning of every Mets game in franchise history, Rose is already a team encyclopedia, so Maj doesn't need to be in the announcer's ear continuously.
Being at the stadium every day for six months, local baseball broadcasters know the pulse of the team as well as anyone, so producers may not need to offer as much information as with national announcers that don't see the team daily. Maj's job is less about offering statistical help and more about being able to offer feedback, while also making sure the technical side runs smoothly and the very long list of sponsorships are satisfied.
"I don't know much about other booths, but whatever we are, good, bad or otherwise, we would be way less without him," Rose said about Majkowski. "An extra set of eyes. Someone to bounce things off of."
In the eighth inning of a close game, Mets pinch hitter, Luis Guillorme drops a hard bunt and hustles down the line, leading Randazzo to jump up hoping for a safe call. While radio listeners don't hear Wayne signaling safe, the announcers' enthusiasm in rooting for the Mets to win bleeds through a broadcast, especially from Howie, a life-long New Yorker and fan of the team.
"When you have a lifetime invested in being around a team, it's pure and organic," Rose said regarding openly rooting for the Mets. "The enthusiasm comes naturally, it's hard to fake it on the air. When the team is doing well, especially at home and you have more people here than you might otherwise, you don't think about this pumping you up, but it naturally happens. One of the games against Washington, Marcus Stroman was great, he struck out six or seven in a row, he's very emotional and animated. The crowd was just eating out of the hand. You ride that wave because it reminds you how different it is to call meaningful games as opposed to not being in the race in August and September. You live for this."
On this night the wave of Mets fans' emotions were in full swing. With a two-run lead in the ninth-inning, the Mets highly touted closer, Edwin Diaz entered the game in the midst of a disastrous season. Diaz blew the save.
"It is almost incomprehensible that Edwin Diaz has given up yet another huge homerun," Rose said as the Phillies tied the game with a two-run blast by JT Realmuto.
Even with a defeating top of the ninth, this story will end exactly how I hoped. In the bottom of the inning, the Mets young slugging superstar, Pete Alonso draws a bases-loaded walk to break the tie and allow Howie Rose to close the broadcast with the phrase that signals victory, "Put it in the books!"
Brandon Contes is a freelance writer for BSM. He can be found on Twitter @BrandonContes. To reach him by email click here.
Brandon Contes is a former reporter for BSM, now working for Awful Announcing. You can find him on Twitter @BrandonContes or reach him by email at Brandon.Contes@gmail.com.
Twitter Blue Debacle Showcases Company's Ongoing Concerns
"If you start giving away blue badges to everyone, then it has no value. It's the equivalent of a currency. if you start printing more, it gets devalued. Same for verified badges."
For years, a blue "verified" check mark on Twitter has long been considered a symbol of status. Anyone — entrepreneurs, journalists, business executives — could potentially end up in the same exclusive space as celebrities like Taylor Swift and Tom Brady. 
Perhaps the one quality that the blue check mark represented that had been overlooked was its authenticity stamp. The badge has been used all across social media platforms to signal an account's authenticity — a verification that recently has proven to be of significant importance to not only people, but brands as well.
Shortly after Elon Musk's $44-billion takeover of Twitter, the billionaire swiftly made his mark which, among many things, included a democratization of the app's verification system. With a $7.99 monthly subscription to Twitter Blue, which launched last year as the company's first subscription service, users could now possess what had long evaded them: a blue check mark.
"Theoretically, this would have made it easier for some brands or influencers to get verified than it has been in the past," Galen Clavio, director of undergraduate studies for the Media School at Indiana University Bloomington, wrote in an email about the possible benefits of Twitter Blue's verification accessibility.
"From an algorithmic perspective, that would have made sense to pursue under the Twitter setup that everyone had come to know," he added.
While perhaps not a surprise to Musk or Twitter executives, everyday people were paying for the newly revamped Twitter Blue to boast their social media clout. Whether Twitter leadership knew it or not, though, those same subscribers took the opportunity to verify themselves using the alias of actual people.
Very quickly, Twitter Blue created an abundance of impersonators masquerading as verified celebrities and companies. Misinformation was hard to identify, making it tougher to find information in an era already plagued by discrepancies between fact and fiction.
"If you start giving away blue badges to everyone, then it has no value," Alessandro Bogliari, CEO of the Influencer Marketing Factory, an influencer marketing agency, wrote in an email. "It's the equivalent of a currency. if you start printing more, it gets devalued. Same for verified badges."
Shortly after the Twitter Blue re-launch, a tweet was sent from an account using the same logo and name of Eli Lilly, a pharmaceutical company. It read, "We are excited to announce insulin is free now." The tweet seemed legit — the branding seemed real, as did the company name. It also boasted a blue-check mark, so it had to be true.
As just one of many misrepresentations that succeeded it, the Eli Lilly tweet was a fake. Even when Twitter finally removed the tweet, more than six hours later, the fraudulent account had more than 1,500 retweets and 10,000 likes. The pharma company's stock also plummeted $368 a share to $346 a share, reportedly erasing billions in market cap, according to several economic reports. Eli Lilly's stock price currently sits at roughly $352 as of Nov. 16th.
"I can only imagine the damage a tweet like that made for the company, its employees, stakeholders, shareholders and anyone really related to their offering," Bogliari said. "Some were able to tweet from their official accounts and restore it a bit. Others, I imagine, used PR and reputation firms to get to a solution fast. But it's not that easy for all of them… for others it could be potentially a damage so big they won't be able to survive, not just in terms of market cap/stock value, but also in terms of reputation and customers love."
The verification mishap affected not only Eli Lilly's reputability and profitability, but could also spell trouble for Twitter's revenue stream.
"It's making it really easy for advertisers to say: 'You know what, I don't need to be here anymore,' and walk away," Jenna Golden, who previously ran Twitter's political and advocacy ad sales team, said in an interview with The Washington Post. "People are not just providing inaccurate information but damaging information, with the ability to look legitimate. That is just not a stable place for a brand to invest."
Sports personalities were also hurt by the preponderance of fake users across Twitter. Basketball star LeBron James trended on the platform after a tweet from someone with the user handle, @KINGJamez, claimed that the 37-year-old was leaving the Los Angeles Lakers to join his former club, the Cleveland Cavaliers.
Adam Schefter, a notable football analyst at ESPN, also trended after someone with the user handle, @AdamSchefterNOT, revealed that Las Vegas Raiders head coach Josh McDaniels lost his job. While the user handle clearly indicates that it didn't come from the actual Adam Schefter, the fact that it was quote tweeted could have led many people to assume it was really Schefter, since many were unlikely to take the time to click and confirm the tweet — and tweeter's — validity.
These are just a few specific instances where, while a more open verification system could have helped Twitter users, the idea did not lead to a successful implementation.
"Being verified would have given those brands more credibility and be marked as the official brand — impersonation happens also for smaller brands and not just for Fortune 100 companies," Bogliari said. "So the idea was theoretically good — I would say only for brands and certain individuals and not just for everyone… documents and proof (are still) required but the execution showed us all the flaws."
Verification issues aside, Twitter faces an uncertain future under Musk's leadership. As much as 50% of the company's 7,500 employees predating Musk's ownership have been laid off under his tenure. The billionaire also revealed that Twitter's cost-cutting methods are a result of the company losing upwards of $4 million daily. He's even announced potential bankruptcy if Twitter doesn't correct its financial woes.
"I see the Twitter Blue controversy as one of several items that are likely to just make brands and creators look elsewhere in the social media landscape," Clavio said. "Twitter offers minimal exposure for creators and brands to the public when compared to other networks, and a much higher risk of doing or saying something that can cause a crisis."
As more people grow skeptical about Twitter, alternatives have started to emerge. More people are visiting platforms like Discord, Reddit, even Tumblr. Others are joining Mastodon, a free and open-source microblogging site that has drawn comparisons to Twitter for its timeline of short updates arranged chronologically rather than algorithmically.
As recently as Nov. 12th, Mastodon boasted approximately 6.63 million accounts, a 17% increase from the 5.65 million users it had on October 28th.
From internal struggles to increased competition, Musk inherited a Twitter that, for better or worse, might be on a continual spiral to irrelevancy.
"It's clear that the Twitter platform is pretty fractured right now," Clavio said. "At the end of it all, I think a lot of brands will just opt out of having a presence on Twitter, paid or otherwise. It's just not big enough of a platform to justify the potential negative exposure."
Eddie Moran is a sports media reporter for Barrett Sports Media. He  is a graduate of Boston University's College of Communication, and has previously written for Front Office Sports, The Basketball Tournament, the USGA, and BU's independent student newspaper, The Daily Free Press. He can be reached on Twitter @EddieMorannn.
Christian Arcand Returns To Where It All Started At WEEI
"Going to WEEI was a no-brainer for me. I started there. That's my radio home."
Since the turn of the century alone, Boston has hosted 12 ticker tape parades to celebrate championships. Christian Arcand has had the opportunity to experience that success firsthand, initially as a diehard Boston sports fan and then as a voice of the fan. Now as he begins his second stint at the WEEI — this time as a producer and weekend host — he aims to ensure a seamless transition for both the Merloni, Fauria, & Mego afternoon drive show and his career in sports media.
Returning to a station where his Boston radio career began, Arcand enters the same building where he started his last sports media job with 98.5 The Sports Hub. Once the station moved to Dorchester, Massachusetts, WEEI moved its studios to the location – and it is where its shows are broadcast from today. Arcand's time at 98.5 The Sports Hub ended in being laid off last month; despite that though, going to work evokes feelings of nostalgia and déjà vu.
"Walking back in there for the first time was pretty wild," Arcand said, who returned to WEEI earlier this week. "I was laid off from The Sports Hub and it was a big surprise to me and to, I think, everybody that [it] happened."
After graduating from the University of Colorado, Arcand moved back east to work for WDIS AM 1170 in Norfolk, Massachusetts, which he says isn't really an option for those entering the business today.
"These little stations are all gone," Arcand expressed. "Those were pipelines to places like WEEI and WFAN and other places in the area. You'd work in Connecticut or you'd work in Rhode Island or whatever and these places all just disappeared."
Just over a year later, Arcand made the move to ESPN New Hampshire, initially co-hosting Christian and King with Tom King, a sportswriter for the Nashua Telegraph covering the New England Patriots, Boston Bruins and other college and high school sports. The show was broadcast during the midday time slot from noon to 3 p.m. and sought to entertain the audience while informing them about the day's action.
After nearly four years on the air, Arcand transitioned to work with Pete Sheppard, a former member of the heralded WEEI program The Big Show hosted by Glenn Ordway, on Arcand and Sheppard. Additionally, Arcand was named as the show's executive producer, meaning that while the show was going on, he was often focused on many different tasks. Once Christian and King was brought back, he continued working in this dual role before the show ended in January 2017, six months before the format flipped from ESPN-branded sports to oldies.
"It was a lot – cutting up all the audio you want to play, then playing it during the show, then cutting the commercial [and] trying to answer the phone," Arcand said. "It was this whole thing, but I really loved it; we had a lot of fun up there."
While Arcand currently works at WEEI, it is his second stint with the station – and this time, he is working in a brand new role. He initially joined the station in 2013 as a sports anchor and co-host of the evening program Planet Mikey featuring Mike Adams. Shortly thereafter, he helped launch WEEI Late Night, airing from 10 p.m. to 2 a.m. where he became known in the Boston marketplace going on the air after the conclusion of Boston Red Sox live game broadcasts.
Unlike his time in New Hampshire though, he was solely hosting and not producing – requiring him to adjust to not having as much oversight regarding the inner workings of each program.
"I'm not a control freak, but I remember [thinking], 'Wow, this is different. I'm not running the board anymore. I'm not playing my own stuff,'" Arcand said. "….That was kind of jarring at first [but] I ended up working with a lot of great producers and I still am today."
Mike Thomas, who currently serves as the senior vice president and market manager for Audacy Boston, was integral in building 98.5 The Sports Hub from its launch in August 2009. He was responsible for signing Arcand away from WEEI to join the brand as co-host of The Adam Jones Show airing weeknights.
Working alongside show producer Jeremy Conley, he gained an in-depth understanding of what it entails to produce a sports talk radio show in a major market, helping broaden his knowledge of the craft and position him for his current job with WEEI.
"I really had a good opportunity to learn from some of, I think, the best [producers] in the business," Arcand said. "….It's cool being a fan of these guys and then getting to work with them and learn from them and all that other stuff…. It's really a job that requires a lot, and the guys who are really good at it, I think, are just top-notch."
Over the last several years, 98.5 The Sports Hub has earned massive wins across the Nielsen ratings, recently finishing number one in the summer book across all dayparts in the men 25-54 demographic. Days later though, the station's parent company Beasley Media Group made budget cuts, resulting in Arcand and Toucher and Rich producer Mike Lockhart's employment being terminated.
While Lockhart has since been re-hired after Fred Toucher and Rich Shertenlieb lobbied for the decision to be reversed, Arcand was in the job market quickly mulling over his future in the industry. In fact, it was reported that Arcand was on the verge of signing a three-year contract that would have kept him at the station before the termination of his employment.
"I was so shocked that it had happened and it was sort of hard to deal with it," Arcand expressed. "Then I was angry about it and then I sort of channeled that into, 'Okay, what am I going to do next here?' You start thinking, 'Is this it? Is this the end of the career? Are you going to even continue doing this?,' and that was a thought I had a couple of times."
Arcand's abrupt departure from 98.5 The Sports Hub and Boston sports radio was short-lived though, as there was a substantial market for his services. In the end, he communicated with Thomas and WEEI operations manager Ken Laird, utilizing industry connections and his own versatility to return to the place where he began working professionally in Boston.
"Seeing that WEEI was in the market for someone on-air and to produce [the afternoon] show, I was right there and willing to try out something I hadn't done in a while," Arcand said. "It was a no-brainer, really. Going to WEEI was a no-brainer for me. I started there. That's my radio home."
As someone once again "new" to the station, Arcand is looking to foster a working chemistry with afternoon hosts Lou Merloni, Christian Fauria and Meghan Ottolini, along with radio producer Ryan Garvin. Arcand enters the role replacing show executive producer Tyler Devitte who left the station to pursue other opportunities and feels that the composition of the show is unique in the sports radio landscape. In short, it gives them an opportunity to further differentiate themselves from other afternoon programs across multiple platforms of dissemination.
"It's an interesting show because Lou and Christian are both ex-jocks," Arcand explained. "It's rare that you sort of see shows where it's just two guys like that and it was just them for a while but then with [Glenn] Ordway and then they brought in Meghan [Ottolini]."
Arcand had been listening to the afternoon drive program long before the offer to return to WEEI was made to him and now looks to offer his insight and expertise when necessary. He does not want to enter his new role with insolence or by coming off as dogmatic when expressing his opinions about the show.
"I'm sort of taking the approach of observing more than maybe I would in a couple of weeks from now or something," he said. "I want to sort of make sure I get the rhythm of the show and the clock and everything like that. Those are all things that you have to be more aware of when you're behind the glass as opposed to on the air."
Arcand will be hosting a solo radio program on WEEI every Saturday afternoon, reminiscent of Sunday Service, a weekend show he used to host on 98.5 The Sports Hub. He is excited to be able to return to the Boston airwaves and connect with his audience once a week to bring them the latest sports news and entertaining talk – all while bringing his trademarks of sarcasm and congeniality.
"I'm really comfortable just sitting in the room, cracking the mic and talking with the callers or putting out my points and getting to certain things that I want to touch on," Arcand said. "….I think my style is one that you just sort of tune in and you're hanging out with me for a couple of hours."
Ultimately, Christian Arcand has made the move back to what he refers to as his radio home. As he concludes his first week back at WEEI, he is focused on producing the afternoon drive program and complimenting that with his solo show on Saturdays, the first of which will take place tomorrow from noon to 2 p.m. Through all of his endeavors, he will talk about Boston sports with his listeners no matter the season, giving them a platform to engage with the hyperlocal coverage.
"Being back at WEEI is something that I'm really happy about," Arcand expressed. "I was excited to get started, [and] now that I'm there, I'm excited to see where we can take this show."
Derek Futterman is a features reporter for Barrett Sports Media. In addition, he serves as the production manager for the New York Islanders Radio Network and lead sports producer at NY2C. He has also worked on live game broadcasts for the Long Island Nets and New York Riptide. He previously interned for Paramount within Showtime Networks and wrote for The Long Island Herald. To get in touch, find him on Twitter @derekfutterman.
What Twitter Alternatives Exist For Sports Media?
Sports Twitter is a major vehicle that has helped establish the platform's reputation for accurate and authentic up to the minute information.
The reality of Twitter dying as a platform was looked at as a bit hyperbolic when Elon Musk first took over the social media network. Now though, it is slowly coming closer and closer to potential reality.
Musk has been on a quest to salvage Twitter's economic stability but has done so in an irrational and unplanned fashion. The actions he has taken include publicly criticizing his employees and firing them after pushback and firing essential engineers who literally keep the platform from crashing. Developers have even warned Twitter users with two factor authentication to either remove the feature or to remain logged in because the function that handles that process no longer works.
Sports Twitter is a major vehicle that has helped establish the platform's reputation for accurate and authentic up to the minute information. It has helped establish the careers of insiders such as Adrian Wojnarowski, Shams Charania and Adam Schefter. In case Twitter does actually come to an end, what should reporters who rely so much on the platform do?
Establish an email list through Substack
With permission from their employers, I would suggest starting a newsletter list that they would be able to carry with them in case they decided to leave their employer at some point (all three of the mentioned journos recently signed extensions). Posting on Substack through a mobile device is just as easy as posting on Twitter and it gives users an almost similar experience to what they had with using Twitter in the sense that they could have their email notifications turned on and they could interact with other basketball lovers through Substack's comments section.
Create a live blog that always exists on your employer's page
A running page of information that was sponsored and existed on ESPN or Stadium's page would make digestible, quick hit commentary monetizable for the networks that employ Shams, Woj and Schefter. It brings people back to their employer's page and establishes even more of a bond between consumers and apps/websites – a connection that has been taken away from many due to the existence of social media.
Establish a Mastodon server
With over a million users, Mastodon has become the closest thing to a Twitter alternative that's available. Even though signing up for an account is a little confusing and the ability to search for unique users and takes isn't fully established in comparison to Twitter – Mastodon has a similar look and feel to Elon's platform and it gives employers more control over who is and isn't interacting with their employees and what they are able to see. It would make it easier on ESPN or Stadium's part to constantly promote links to their pages for viewers and readers to consume.
It's the closest thing that is available to establishing your own social media network without the startup costs, hiring of engineers and figuring out tech issues. An advertising mechanism hasn't been established yet but ESPN or Stadium could be in the forefront (because of the credibility they bring to the table) of establishing the revenue side of things alongside Mastodon.
Stick it out with Elon
NBC Universal's advertising head recently told AdAge that NBC is sticking it out with Twitter. Twitter's ad program has faced setback since Elon's takeover but it is still much more established and streamlined that anything else available out there that is similar to Twitter. She also said that Twitter is the biggest host of NBC content on the internet (besides NBC owned platforms of course).
If a major company like NBC is standing with Twitter and if most major advertisers haven't left yet, maybe sports reporters should also stay put for now. Twitter is not a startup. Despite the disarray we read about everyday, it's still an established company that is up and running. We are all using Twitter itself to talk smack about its mismanagement but the reality is we are all still using Twitter. Even those who have gone away from the platform still come back more often than not to check in on what is happening directly on Twitter.
Maybe the grass will eventually be greener on the other side and Elon will have Twitter on more established ground. Maybe Elon files for bankruptcy and sells it to bankers who create an environment of stability for the company.
The reality is there is no other platform as good at real time reaction than Twitter so maybe sticking it out and keeping status quo is the best thing for everyone to do. See you later on Twitter (follow me @JMKTVShow).
Jessie Karangu is a columnist for BSM and graduate of the University of Maryland with a bachelor's degree in journalism. He was born and raised in Baltimore, Maryland but comes from Kenyan roots. Jessie has had a passion for sports media and the world of television since he was a child. His career has included stints with USA Today, Tegna, Sinclair Broadcast Group and Sightline Media. He can be found on Twitter @JMKTVShow.