A Day Spent With The Mets Broadcast Booth
"If they're losing and McNeil or Rosario are up to bat, you're talking about projecting the future, but when the team is in the playoff race, you're talking about what's happening right now and how important each game is."
Between TV and radio, the New York Mets have two of the best local broadcast teams in sports. On Friday, September 6th, I spent time with Mets radio announcers, Howie Rose and Wayne Randazzo to watch them call a game. Over the air, the broadcast sounds effortless, but behind the scenes there are plenty of moving parts, with Rose and Randazzo arriving more than four hours before first pitch.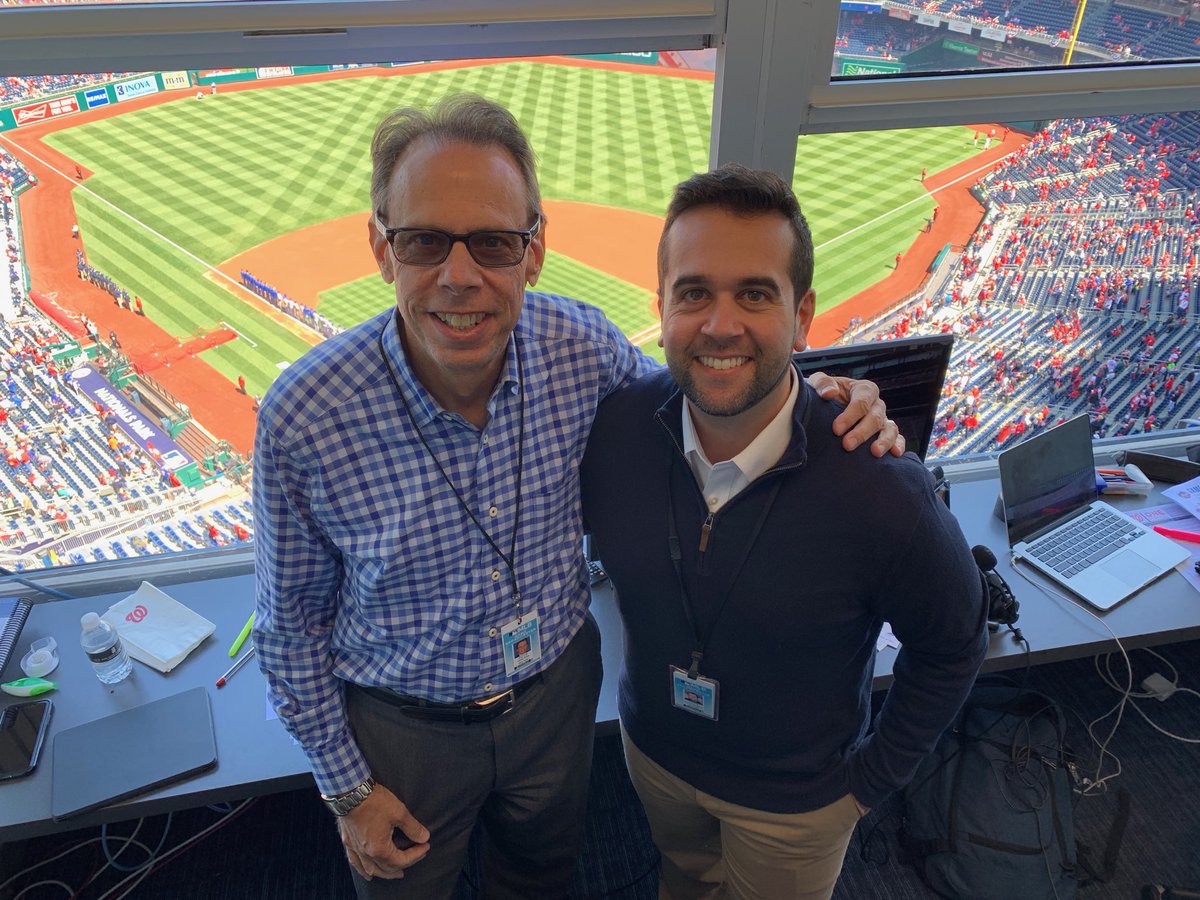 By 3pm the Mets radio duo, is already in the stadium for a 7:10pm start, individually filling out their scorebooks before heading to the manager's press conference. Rose and Randazzo separately arrive in the press room where Mets manager Mickey Callaway responds to his first question promptly at 4pm. Howie and Wayne are mostly quiet, taking a few notes as beat reporters search for a tweet-worthy quote during the 10-minute presser.
Right outside the room, General Manager Brodie Van Wagenen sits like the Godfather in a large armchair, welcoming reporters to approach him for one-on-one questions. Today, rain leads to the sound of indoor batting practice as players shuffle from the clubhouse to the cage. While players are readily available for questions, Rose and Randazzo aren't searching for an inside scoop or anyone to chat with, instead leaving that up to the beat reporters.
"If I need to" Rose said when I asked if he ever looks to talk with players prior to the game. "They have enough reporters hanging out around them, they don't need me to clog it up anymore. Seriously, I don't need to be hanging around there unless I have something to say to somebody. There's probably 15 people for three players in there. When I have a question for a player, I'll find them."
At 4:20, Callaway heads into the interview room to speak exclusively with Mets broadcast partners SNY and Entercom's WCBS 880. Rose, Randazzo and SNY's announceing crew are behind closed doors with Callaway for five-minutes. While exiting the interview room, Callaway notices a new face and politely walks over to introduce himself to me.
"Mickey's been great, easy to deal with," said Randazzo, who hosted the Mets radio pregame show for four years before being named Howie's full-time broadcast partner this season. "[Terry Collins] before Mickey was a guy that would light up the pregame show, he was always so colorful, but Mickey still has been good, he's always open and accessible."
By 5 o'clock Howie and Wayne are back in the booth organizing their pregame notes. Howie sits on the left and both announcers have the lineup taped to a nearby wall with one TV monitor available to Wayne's right. After their prep, Howie and Wayne head to record videos for the in-stadium scoreboard. Rose can later be seen on the big screen offering fans a "Game Notes" segment, with Wayne providing the "Randazzo Report."
At 6:30, Brad Heller begins the WCBS Mets Radio Network pregame show. September 6th is one of 40 games that Heller worked this season, the rest are conducted by longtime Mets reporter Ed Coleman. The 30-minute pregame show features Heller's exclusive chat with the Mets manager and almost takes the broadcast up to first pitch.
At 7:01, Rose welcomes listeners and provides the setting for tonight's game against the Phillies as the Mets play meaningful baseball in September for the first time since 2016. Randazzo gives his detailed description of both teams' uniforms, painting a picture for the listener before sending the call back to Howie for first pitch. After starting the game with a 1-0 count, Mets lefty Steven Matz retires the leadoff hitter with a strikeout as both announcers simultaneously mark a straight "K" in their scorebook.
Howie has a highlighter, black and red ink to fill out his scorebook, Wayne adds extra color with blue, pink, green and purple fine point markers. Randazzo also keeps his laptop in front of him, showing Twitter, MLB Gameday and Baseball Reference on the screen, noting that he doesn't mind looking up information while calling a game. Randazzo even starts mapping out the postgame show before the game is over.
On a cool and rainy night that has the feel of October, Howie and Wayne keep the windows open allowing the opportunity to hear the crowd. The fans filed in slowly, but by the 3rd inning more than half the seats were full, garnering more than expected on a night that many thought would be a rain out.
A good crowd can absolutely enhance a broadcast, as the energy from a raucous fan base is felt through the radio. Both Howie and Wayne expressed how much fun games in August and September are with the Mets making a playoff push that seemed impossible a few weeks earlier.
"It makes it!" Howie said of calling meaningful baseball with an energetic crowd in the building. "Go back to when Washington was here in early August, things were pretty quiet most of the season until then and now all of a sudden they were relevant and this place was ELECTRIC for that three game series, it felt like 2015 again."
"There's a different tone based on what's happening in August and September," Randazzo added. "If they're losing and McNeil or Rosario are up to bat, you're talking about projecting the future, but when the team is in the playoff race, you're talking about what's happening right now and how important each game is."
Wayne takes over the play-by-play to start the third inning as Robbie Cano's friend and former teammate, Jean Segura leads off for the Phillies. The next inning, Wayne gets to call the first homerun of the game, a 425-foot blast off the bat of Michael Conforto setting a new career high for the Mets outfielder.
Had this WCBS 880 Mets radio broadcast occurred on a weeknight, Randazzo's call may have been used by the morning show on their sister station WFAN. Earlier in the summer, Gregg Giannotti of Boomer and Gio came to the realization that Randazzo's voice takes on a 1940's tone when the broadcaster is behind the mic for an exciting call. Gio's characterization of Randazzo became a regular bit on WFAN's morning radio show throughout the season and Wayne has no problem with that.
"No, I don't mind it," Randazzo said with a chuckle. "I can actually do a really good impression of that if Gio wants to hear it, I'd be happy to do it."
"I just think it's cool that Boomer Esiason knows who I am," Randazzo added.
At the start of the 5th inning, Randazzo gets set to throw the play-by-play back over to Rose, but not before he calls one more pitch from Steven Matz. Matz's pitch sailed to the backstop, reminding Randazzo of the lefty's first Major League pitch in June, 2015. Rose jumps right in, adding that Brandon Phillips hit a homerun after that 2015 wild pitch. It's a simple exchange between Randazzo and Rose, but the type of back and forth that comes natural for two radio partners working their first season together. Rose spent the last seven years with Josh Lewin in the booth, but the adjustment of sitting next to Wayne Randazzo has been an easy one.
"It's been wonderful, there's been no learning curve," Rose said of his new broadcast partner. "I was just part of the process of sifting through tapes, when we hired Wayne going back five or six years, I wasn't making the decision. I could give advice or opinion, but I wasn't doing the hiring. When you hire somebody in this role (pre and postgame host), you know you might be hiring your future partner and that's one of the things I looked for when we were canvassing the applicants, 'is this a person who can do this job on a regular basis versus just 10 or 12 times as a fill-in?' Howie asked.
"The thing that impressed me most about the tape Wayne submitted was his work in a no-hit bid by Jake Arrieta when he was with the Cubs. It didn't even dawn on me until much later, that Pat Hughes (Chicago Cubs radio voice) does every inning of every game!" Rose added. "That was just a practice tape from Wayne, he went into a booth and recorded that on his own, it wasn't an audition and that blew me away! I knew right there we had a real serious and aspiring broadcaster, not someone just going through the motions. Also, the fact that Josh would miss between six, eight or ten games during the season in recent years – Wayne would fill in, so it was sort of an icebreaker that helped give us the ability to hit the ground running this year."
"I get to sit here with someone who's seen every game this team has ever played and is truly one of the best baseball announcers in the business," Randazzo said of his iconic radio partner, Howie Rose. "As someone that's trying to one day be that, it's like a masters' or doctorate level course in how to do this that not everyone is allowed to have. Even in our meetings with the manager, just watching how Howie and [Gary Cohen] approach the daily questions to see what's on their mind and what they're seeing has always been something I've learned a lot from, not to mention how they are on-air. Howie has brought out the best in me as a broadcaster and play-by-play person and whether he wants to admit it or not, I've learned six million things from him this season and over the last few years when I was doing the pregame show that will stay with me forever."
Rose's Mets coverage dates back to the 1980s, when from 1987 – 1995, the broadcaster hosted Mets Extra on WFAN. Since 2004, Rose has been a full-time radio play-by-play voice for the New York Mets, following a tenure calling their games on TV for Fox Sports New York and MSG. Randazzo, a Chicago native is finishing up his first year as Rose's full-time play-by-play partner, following four seasons as the Mets pregame show host.
"I've always wanted to be doing what I'm doing now. Everything I've done in my career was done with this in mind," Randazzo said. "I've done updates on 670 The Score, I filled in on White Sox pre and post, did pre and post [on the Mets Radio Network], went to the minor leagues for seven seasons. All of that was to hone my skills, all I've ever wanted to be was a baseball announcer so it was building to get to this point and I'm lucky to be here."
In the sixth inning, Rose openly questions a decision by Mickey Callaway to make a pitching change and remove the left-handed Matz against Phillies pinch-hitter Phil Gosselin, triggering a chess match of decisions. Mets broadcasters are never short on honesty even if it means being critical, something ownership deserves credit for allowing.
Growing up a Mets fan, I was trained by their broadcasters to think critically. Team announcers could take the approach of finding reasons to defend every managerial decision, but instead, they never hold back on presenting an opposing view. As a fan and a listener, I enjoy playing devil's advocate to see if there is a better in-game decision to be made and Mets broadcasters promote that way of thinking.
Critique and honesty from the Mets radio crew was never more exemplified than in a game against the Phillies on June 26th earlier this year.
"The shortstop is behind second base, he's got it and he throws to first, you know why? Because Robinson Cano was jogging – he was jogging," Rose said after a lethargic Cano was thrown out by Phillies infielder Jean Segura during the June 26th broadcast.
"Segura treated him like Wilson Ramos. A lot of times infielders pick the ball up and take that second step because they realize they don't need to hurry, well in that instance, that's what Segura did," Randazzo explained.
"I say unbelievable, but it's something we've talked about all year, if he thinks he's protecting his quad at this point – oh who cares anymore, what's the sense of getting on a soap box, it is what it is," a frustrated Rose continued. "You have to figure he's going to rest tomorrow right? A day game after night game?"
"I don't know – maybe McNeil's the one that's going to rest tomorrow," Wayne said sarcastically, noting the Mets tendency to rest one of their young All-Stars.
Even after getting back to the play-by-play, the Cano critique still filtered in, with Rose saying the Mets high-priced second baseman "…chose to jog – fill in whatever blanks you want, we've already used them."
"Segura, who I mentioned before is very good friends with Robinson Cano, it took him by surprise," Randazzo said.
"It shouldn't," Rose added defiantly.
"If the quad continues to be an issue, let's give Cano the benefit of the doubt for the sake of this point, if that's going to continue to be an issue, then why is he still hitting third?" Rose asked regarding the Mets decision to place Cano in a premium batting order spot.
I revisited this specific exchange between Rose and Randazzo from June 26th, noting that they didn't hold back in their criticisms of both Cano and the team.
"That's my job," Rose told me.
Every Mets fan listening to the broadcast has similar conversations regarding questionable on-field play or in-game decisions. It can be refreshing to hear professional announcers share the sentiment and not be afraid to broadcast their frustrations publicly. When I asked if management ever told them to be less critical, the Mets longtime broadcaster responded, "not a word."
"Our owners have never been given the proper credit for allowing the broadcasters to do their job and that goes for TV and radio. You won't find a more opinionated television crew than we have and that's pretty well established. They're given the latitude to call it as they see it," Rose said regarding the Mets broadcast booth on SNY.
"You're working with a hall-of-fame caliber play-by-play guy (Gary Cohen) who's been here 30 years so he's built up some points on his resume and you've got two world champion players (Ron Darling and Keith Hernandez) sitting next to him. They have credibility and nobody is going out of their way to take hot shots, all we do is like they say in football, read and react. We read the game and react to it."
"To criticize somebody is not personal," Rose Continued. "If I had an issue with a player years ago when I was doing pre and postgame shows in a more opinion driven role than I am now, even though we give opinions now, it seemed like I had someone pissed off at me every other day. But most of that didn't last long because I would make it a point to be right in the middle of the clubhouse the next day and if a player wanted to find me, they could and once in a while they did. We would talk, and once or twice what they were being told was said, wasn't actually said and I even gave them tapes just so they can understand. It's never personal and 99.9% of the players don't take it personal. The only obligation you have is to be fair. If you make it personal or it becomes personal, you're not doing your job."
Howie's credit of the Mets television booth speaks to the respect both crews have for each other. Prior to the game, SNY's Gary, Keith and Ron can be seen in the media lounge sharing a table with Howie and Wayne. The two groups of broadcasters huddle to discuss the game and almost certainly a multitude of other topics considering their dynamic personalities.
"At that point with Cano, we were also aware that he was trying to save himself for the season," Randazzo said. "He lost a month for a hamstring injury and was dealing with quad problems, so it's fair to say that Robbie's trying to conserve himself, but at that time it was getting kind of egregious. I get that Cano is trying to save himself, but on the other hand you have to show more effort than he had been at that time."
In the seventh inning, Rose and Randazzo both share a laugh at their producer, Chris Majkowski for the sponsored in-game trivia question he selected. "Maj" hands Howie and Wayne a trivia question that begins with, "which nine Mets…" but neither broadcaster had time to come up with nine answers.
As a producer for more than a quarter-century, Maj has played a vital role in helping the Mets radio broadcast become one the best in the country. During the game, Maj fact checks as needed, noting there are specific words Howie uses when he wants the longtime producer to find or confirm a statistic.
Maj offers an additional set of eyes for the broadcast, letting Howie and Wayne know if there's movement in the bullpen, or catches something that was shown on TV. As someone who's seen nearly every inning of every Mets game in franchise history, Rose is already a team encyclopedia, so Maj doesn't need to be in the announcer's ear continuously.
Being at the stadium every day for six months, local baseball broadcasters know the pulse of the team as well as anyone, so producers may not need to offer as much information as with national announcers that don't see the team daily. Maj's job is less about offering statistical help and more about being able to offer feedback, while also making sure the technical side runs smoothly and the very long list of sponsorships are satisfied.
"I don't know much about other booths, but whatever we are, good, bad or otherwise, we would be way less without him," Rose said about Majkowski. "An extra set of eyes. Someone to bounce things off of."
In the eighth inning of a close game, Mets pinch hitter, Luis Guillorme drops a hard bunt and hustles down the line, leading Randazzo to jump up hoping for a safe call. While radio listeners don't hear Wayne signaling safe, the announcers' enthusiasm in rooting for the Mets to win bleeds through a broadcast, especially from Howie, a life-long New Yorker and fan of the team.
"When you have a lifetime invested in being around a team, it's pure and organic," Rose said regarding openly rooting for the Mets. "The enthusiasm comes naturally, it's hard to fake it on the air. When the team is doing well, especially at home and you have more people here than you might otherwise, you don't think about this pumping you up, but it naturally happens. One of the games against Washington, Marcus Stroman was great, he struck out six or seven in a row, he's very emotional and animated. The crowd was just eating out of the hand. You ride that wave because it reminds you how different it is to call meaningful games as opposed to not being in the race in August and September. You live for this."
On this night the wave of Mets fans' emotions were in full swing. With a two-run lead in the ninth-inning, the Mets highly touted closer, Edwin Diaz entered the game in the midst of a disastrous season. Diaz blew the save.
"It is almost incomprehensible that Edwin Diaz has given up yet another huge homerun," Rose said as the Phillies tied the game with a two-run blast by JT Realmuto.
Even with a defeating top of the ninth, this story will end exactly how I hoped. In the bottom of the inning, the Mets young slugging superstar, Pete Alonso draws a bases-loaded walk to break the tie and allow Howie Rose to close the broadcast with the phrase that signals victory, "Put it in the books!"
Brandon Contes is a freelance writer for BSM. He can be found on Twitter @BrandonContes. To reach him by email click here.
On Sunday Night, Everyone Is Watching Karl Ravech
"What I like about my story over the years at ESPN from 1993 to the present is that it's constantly changing and evolving."
Karl Ravech injured his knee while playing soccer at Needham High School and needed to make a decision on what he wanted to pursue as a career. Always having an interest in both sports and writing, Ravech made the decision to attend Ithaca College as a communications major. Throughout his time in upstate New York, he worked hard to take the next step in his career by quickly immersing himself in the professional world, serving as the sports director at NewsCenter 7 in Ithaca, N.Y. and a freelance producer for WCVB-TV in Boston, Mass. – all while attending classes.
Upon his graduation, Ravech attended SUNY Binghamton to earn his master's degree in management and leadership. Just as he had done previously, Ravech worked in the professional world as he pursued this degree, now as a sports anchor and reporter at WBNG-TV in Binghamton, N.Y.. In 1990, Ravech earned his degree and relocated to Harrisburg, Pa. and was nominated for two local Sports Emmy awards for his reporting on baseball and golf.
Ravech was hired as an anchor by ESPN in May 1993 and has been a fixture at the network since, working in a variety of different on-air roles. He is now the primary play-by-play announcer for Sunday Night Baseball, occupying the seat behind the microphone for Major League Baseball's biggest matchups every week. Getting to this point in his career has been a journey that has required Ravech to consistently adapt and develop, and, in turn, has augmented his versatility.
"What I like about my story over the years at ESPN from 1993 to the present is that it's constantly changing and evolving," said Ravech. "I think the fact that it hasn't stayed stagnant is what's wonderful, and the Sunday Night Baseball booth is sort of the next iteration in [my] career."
Ravech began hosting the overnight edition of SportsCenter with Mike Tirico and Craig Kilborn upon his being hired, and became the primary host of Baseball Tonight and postseason baseball studio coverage starting in 1995. After recovering from a heart attack he suffered while playing pickup basketball with colleagues in 1998, Ravech hosted golf coverage for the network as Tiger Woods became the youngest golf pro to ever win a Grand Slam, and also continued his baseball duties.
Starting in 2006, Ravech began his immersion into the broadcast booth when he became a commentator for Little League World Series broadcasts. Each year, he makes the trip to Williamsport, Pa. to call the action on ESPN and ABC showcasing young, talented baseball players while also telling their stories off the field. Additionally, Ravech has served as the voice of the College World Series on ESPN since 2011, calling the championship action each year from the Charles Schwab Field at TD Ameritrade Park in Omaha, Neb.
The style of both of these broadcasts differ from calling a Major League game in that there is more time to delve into the backgrounds of each of the players and tell the unique stories they bring – especially for those participating in the Little League World Series.
"I'd love to be able to bring that same level of joy to a college game or a Major League game, but I think it's obvious that it's a little more serious," said Ravech. "You're talking about, in the professional ranks, people that are getting paid; and there's a lot of pressure on the college kids and their fan bases are very passionate."
Much like a performer, one of the roles of a broadcaster is understanding and catering to their audience; that is, to understand exactly why a person may be watching or listening to a game and what they seek to gain from it. When a broadcaster is able to pull back the curtain and see the game from the perspective of an audience member, it allows them to foster a deeper connection with the audience as a whole and modify the broadcast accordingly.
"The little league crowd that's on TV is very different than the one that you get for a College World Series game and certainly for a Major League Baseball game," explained Ravech. "They have baseball in common, but I don't think that the expectation when you watch the Little League World Series is to dive too deep into Xs and Os… It's really about why most people came to the game, which is to enjoy it and have fun with it."
Being aware of the viewing audience has been central to Ravech's early success as the new primary voice of Sunday Night Baseball, as it differs from the viewers he had previously been communicating with on Monday Night Baseball, a role he took on in 2016. Yes, calling games on Mondays and Wednesdays undoubtedly required ample preparation; however, Ravech's new gig has required a shift into how he applies his preparation to the broadcast.
"On Sunday night, [everyone is] watching, which means you have got to be as prepared by talking to the players and coaches as you possibly can be because the people who are consuming it know as much about the team as you do," said Ravech. "It's not as if we are preparing any differently, but you're certainly paying a great deal of attention to just the two teams."
Throughout his time at ESPN, Ravech had worked extensively with Eduardo Pérez: a former Major League player and experienced analyst. Whether it was in the booth at the College World Series or calling Korean Baseball Organization games remotely in the middle of the night during the onset of the COVID-19 pandemic, the duo has developed a synergy on the broadcast.
Pérez is able to extrapolate unique storylines during the game because of his profound ability to communicate with those around him.
"As we walk through the stadiums, he is talking to people who are doing everything in the building – whether they are operating an elevator; whether they are the general manager; whether they are a player; whether they are welcoming people into a clubhouse," Ravech said of Pérez. "He knows everyone, and those connections make him so valuable."
Someone Ravech has been familiar with over his years living in New England is former all-star pitcher and YES Network analyst David Cone, albeit from covering him as a player and watching him on television. Ravech called ESPN being able to land Cone this offseason "the last piece" to assembling the new booth, all while Cone is still slated to call 50 Yankees games on the YES Network this season. Prior to the 2022 campaign, Ravech and Cone had not worked together; yet just a few games into his new job, Ravech has been impressed with his colleague.
"He recognizes that in order to communicate properly we, collectively, have to understand what it is that we're talking about – so you're not just throwing terms out there that may sound good but you don't know what they are – and he's very aware of that," Ravech said of Cone. "He's the complete package when it comes to an analyst in 2022."
Along with being the voice of Sunday Night Baseball, the College World Series and the Little League World Series on ESPN, Ravech has also served as the voice of the SEC basketball tournament since 2017. Being on the call for high-stakes matchups, such as the Kentucky Wildcats against the Tennessee Volunteers, or on Sunday Night Baseball, the New York Yankees against the Boston Red Sox, is an exciting part of Ravech's job throughout the calendar year. But no matter the sport; no matter the league; no matter the game – there is a consistent aspect of Ravech's vernacular he is cognizant of every time he steps behind the microphone.
"I think my style, whether it's in the studio or in the booth, is to really engage with the analyst," said Ravech. "That part of it is, I think, a common trait through all of my broadcasts and I want to continue to do that."
Having the ability to engage in genuine conversation with his analyst comes in actively listening and molding the conversation to fit most optimally with what is being discussed, even if it means departing from what he had originally planned. In this sense, he sets his partners up for success during the broadcast, part of the reason why he has been adept in working with different personalities in varying atmospheres across different sports.
"If you listen, then your follow-up questions will not necessarily be ones that you have written down already," explained Ravech. "[Your analyst] has opened up this door, and you better be able to be willing to walk through it with them because they're trying to say something and you've got to get it out of them."
—
While Ravech, Cone and Pérez call Sunday Night Baseball games in the style of a traditional broadcast, there are several elements of the entire viewing presentation that demonstrate ESPN's willingness to adapt to changing media consumption trends. One of these elements includes the addition of the new KayRod Cast, which became the most viewed alternate broadcast during a Major League Baseball game during the season debut of Sunday Night Baseball. The broadcast, featuring New York Yankees play-by-play announcer and 98.7 ESPN New York host Michael Kay, along with all-star third baseman Álex Rodríguez, diverts from the traditional style of broadcast through longform conversation, special guests and commodifying the act of watching a live baseball game.
"Baseball to me is an ideal platform for things like the KayRod Cast," Ravech opined. "I think David, Eduardo and I spend a great deal of time focused on the game, but I think there are times where you can veer off and get into some entertaining conversations, and I certainly know that the guests that are on the KayRod Cast offer opportunities like that as well. Baseball lends itself to things like ESPN is doing right now, and I'm grateful to be in one of those booths."
One of the elements within the traditional Sunday Night Baseball broadcast that lends to the commodification of the sport is putting mics on players. It's a new element in Sunday Night Baseball this year. Fans have been given a firsthand perspective, essentially divulging the in-game mindset of a Major League player. Occasionally though, the action finds the interviewee mid-sentence during a game, as it did Francisco Lindor recently – and those are moments where all the broadcasters can do is watch and hope for the best.
"You're kind of holding your breath that he makes the play instead of his being, in some way, distracted by the conversation," said Ravech. "We're incredibly sensitive to that. We try to, for the most part, stay out of when they are at the plate; there's no talking to them. But in the field, they understand that this is an opportunity for them to share with the consumer at home a real on-the-field view that people would not otherwise get."
Appearing as the featured player on Sunday Night Baseball garners plenty of significance and gives players the opportunity to connect with their fans and the larger viewing public. Having the chance to share your perspectives on national television during a game has become a badge of honor, and players from each week's matchup have nominated a player for the next week's game to wear the microphone. So far, ESPN is batting 1.000 in that department, as everyone who has been nominated has appeared on the following week's broadcast.
"Joey Votto was very different than Ozzie Albies [who] was very different than Kike Hernandez and Francisco Lindor," explained Ravech. "The list is great, and every one of them has provided unique looks into the game and their positions and their communication styles and skills while they're on the field and in the dugout."
Occasionally, a player will opt to stay on the microphone for an extended period of time as Phillies outfielder and reigning National League Most Valuable Player award-winner Bryce Harper did a few weeks ago. Harper was the designated hitter for that night's game against the Milwaukee Brewers and stayed on the microphone for four innings of the contest.
"It was incredible," recalled Ravech. "We got a chance to talk to one of the biggest names in the game for four innings; he almost became a quasi-analyst with us. It was really neat, and I think the viewer benefits from it."
—
As Ravech's career continues, he seeks to improve in all areas of his work and try new things if the opportunities arise within ESPN's broadcast portfolio. While there is always the chance of opportunities presenting themselves at different media outlets, Ravech affirms that since the network continues to innovate and remains the leader in coverage, he wishes to continue working with them.
"I think [ESPN] is going to continue to evolve for sure," said Ravech, "and I feel very comfortable about the direction they're going to go in and continue to ride along with them."
Any additional career endeavors that Ravech desires to pursue will be because he had actively pursued them, and he is excited to discover what lies ahead in his career.
"I'm not one of those who looks at it and says, 'I want to call a World Series. I want to call a Final Four,'" said Ravech. "If that all happens, then there will be a reason. I'll have sought those out, as opposed to the way this has happened – which is you kind of just keep moving around and finding your lane like water does down the sidewalk. That's the beauty of it; it's organic – there's nothing linear about it."
Ravech has worked with a wide array of broadcasters throughout his career at ESPN, including Dan Patrick, Keith Olbermann, Stuart Scott and Chris Fowler, and has spoken to aspiring broadcasters on numerous occasions as well. One broadcaster he has had the opportunity to mentor firsthand is his son Sam, who has grown to become a play-by-play announcer on the SEC Network, ACC Network and ESPN, making his debut for the latter at 22 years of age.
Through mentoring his son and other young broadcasters, Ravech has learned that having authenticity in the on-air work that you do allows for one's true personality to shine through no matter the sport being played or medium on which the broadcast is being disseminated.
"I always encourage Sam to be himself. Don't try to be somebody else; don't use somebody else's voice; don't try to speak the way they do," said Ravech. "Be you, and hopefully over the course of a long time, people will come to respect you [and] your work."
Sometimes, getting opportunities in sports media comes in being uncomfortable; that is, broadcasting or talking about a sport with which you may be unfamiliar or having to relocate outside your home market to accept a job. By working to transform feelings of discomfort into those evoking contentment, sports media professionals can successfully learn to grapple with change, and be prepared for it the next time it happens.
ESPN saw potential in Karl Ravech in his early years at the network and has been open and receptive to giving him opportunities both inside and outside of baseball as time goes on. In order for Ravech to grow as a broadcaster though, he had to work to enhance his craft – but none of that would have been possible had it not been for Ravech being open to and embracing change.
"Be malleable. Be flexible," said Ravech. "That's what I would tell anyone, whether it's my son Sam who I'm incredibly proud of, or anybody getting into it. You just never know which way this career is going to go and the things it's going to expose you to. You just don't."
The Big Ten Could Change The College Football TV Landscape Forever
"It appears the Big Ten could be the first major conference to embrace major streaming services carrying its top games."
The college football world, and the college football Twitterverse, was lit the night of September 22, 2018. The fourth-ranked Oklahoma Sooners were being taken to the wire by Army, a team that still runs the triple option in an age when offenses routinely throw the ball 40+ times per game. The National Championship picture was already going to be blurred a bit and we'd barely even started the season. We all left our games of choice in search of the end of regulation and the eventual overtime only to find a relic of days gone by, the game was only available on a pay-per-view telecast.
In the days before massive conference media deals, the pay-per-view games were a regular occurrence, normally reserved for the Southwest Louisianas and Pacifics of the world visiting town. For you kids, Southwest Louisiana is now The University of Louisiana and Pacific once played football, sort of. Not even regional telecasts had an interest in those games, so you called your local cable company and shelled out $39.95 to watch a poorly produced telecast of an absolute bludgeoning. 
Incidentally, one other way you could watch these pay-per-view games was if you had access to one of those C band satellites. In my youth, it was a sure sign of wealth. It looked like your neighbor had raided a NASA facility and stolen a satellite at gunpoint. You couldn't hide them, either. They would sit out in the middle of your lawn like you were trying to communicate with beings from a neighboring solar system.
My friend had one of these satellites and we spent hours watching random things like Spanish language shopping networks. Where else can you buy an authentic matador cape for four easy payments of $39.95? We also found news analysts awaiting their live shot window while applying one more coat of make-up or adjusting their toupee. It occasionally kept us out of real trouble, even if it wasn't the height of entertainment. But, I digress.
The concept of the stand-alone pay-per-view game seemed to have been dealt a near fatal blow with the massive ESPN and FOX deals with the major conferences. It was finished off and buried with the launches of the conference television networks. Technically, almost all the games are "pay-per-view" in that I pay my provider each month for the sports channels but I no longer have to find a channel I otherwise never use and watch color bars in anticipation of an announcer I never see trying to sell me on the importance of a game in which the home team is favored by five touchdowns.
The imminent Big Ten Conference media deal is going to be a big one but, according to Big Ten Commissioner Kevin Warren, it may include something many college fans have never encountered, major games only available on streaming.
Warren told ESPN's Adam Rittenberg that Amazon and Apple will be potential major players in the future deal. It would be a departure from the normal business plan for the two streaming giants to settle for games featuring a directional school playing a Big Ten power. That means the real possibility of a meaningful Top 25 Big Ten game being available only on a streaming service.
The NFL is already in this bed with Amazon. Notre Dame has also dipped their toe in this pool with a 2021 game exclusively available on Peacock. There has yet to be a conference go all-in to this degree. It appears the Big Ten could be the first major conference to embrace major streaming services carrying its top games. Somebody had to be first, as the Big Ten was with the Big Ten Network, and you can be sure every conference commissioner is watching.
There is a certain comfort to finding games in the way you always have. I imagine dialing up Amazon Prime for the big Wisconsin at Penn State game will have the same feel as dialing up the random channel for the old school pay-per-view.
My family is uniquely prepared for this as we have, apparently, chosen to purchase our streaming services like we are buying them in a Sam's Club family pack. The Amazon deliveryman visits my house so often I asked my accountant if I could declare him a dependent on my taxes. The Big Ten won't be sneaking a streaming game past me!
This will come with a certain amount of criticism, no doubt. Many fans pay for their satellite or cable packages primarily for their favorite team's games. Now, my conference of choice will ask me to add a streaming service on top of this. It's a smart move by Amazon or Apple. Big Ten fans will sign right up and promptly forget to cancel as soon as the season ends and the $14.95 will keep being drafted whether you watch Severance, or not. My wife and I gave the first Severance episode 15 minutes and moved on to Bridgerton. For your information, I only watch Bridgerton for the well-written dialogue.
This feels like a seminal moment in sports TV, not unlike the 1995 Duke-North Carolina game at Cameron Indoor Stadium in Durham. That was the night ESPN chose to televise college basketball's most-watched rivalry on ESPN2. It forced cable providers, and viewers, to say: "Wait, big games will be there too? It's not just Jim Rome and Jim Everette fighting?" In the length of a two-overtime classic Tar Heel win, ESPN2 became a necessity for any true sports fan. 
Now, you'll have to pry the Michigan-Ohio State game out of FOX's cold dead hands but, if Amazon or Apple wants this to work, they'll pay the money that would put any other Big Ten game in play for them. That is the only way you convince the average fan to pay more for the services they don't already have. Money obviously isn't an issue for Amazon and Apple, Jeff Bezos and Tim Cook could realistically be under the impression they are actually buying the physical states that make up the Big Ten.
If Amazon is the winning bid, their football profile is off to an impressive start. The Sports Business Journal reports they are among the leaders for NFL Sunday Ticket to pair with their current national games, a deal believed to be worth $2 billion per year. Add major Big Ten games to the mix and it won't be long until other conferences are interested in joining the platform.
For Apple, it would be a new sporting venture to pair with their national MLB games, giving them an extended profile. Not shockingly, they are also in the mix for the NFL's Sunday Ticket package according to Sports Business Journal. All of this means I could eventually watch one of these games on my watch. We truly are living in the time of The Jetsons.
If not now, soon. Amazon and Apple don't just go away. Clearly, they are interested in being major players in sports streaming and have the money necessary to get a seat at that table. If not the Big Ten, another college conference will be on board, but make no mistake – the Big Ten would be a major pelt on the wall for either company. Speaking of walls, this news may mean it is time to add another TV to yours. Amazon has some great deals right now.
Peacock's 'MLB Sunday Leadoff' Hits Baseball Broadcast Sweet Spot
'MLB Sunday Leadoff' feels like meeting up with an old friend while 'Friday Night Baseball' has been more like going on a blind date.
Sunday was Mother's Day, so it probably already felt like a special day for many families and households. But for baseball fans, the late morning felt particularly warm and festive with the debut of MLB Sunday Leadoff on Peacock and NBC Sports.
Breakfast and baseball? (Maybe "brunch and baseball" is more appropriate with the pregame show beginning at 11 a.m. ET, followed by the Chicago White Sox and Boston Red Sox playing at 11:30 a.m.) Who might have guessed the two would blend together so wonderfully until Peacock showed us?
Yes, sports fans have woken up with tennis, soccer, the Olympics, and the NFL in London for many years now. But as the Sunday Leadoff broadcasters mentioned a few times, a morning start time felt like getting up early to play a Little League game, reviving a happy memory for so many fans.
And though baseball has endured criticism for its slow pace and idyllic vibe in recent years, those aspects seemed to fit with a Sunday morning — when some might be waking up, returning from quiet early errands, or coming home from church — just perfectly.
The Peacock broadcast certainly embraced comfortable nostalgia with its presentation, with Vin Scully narrating the introduction, reminding (or informing) viewers that NBC was once the home for Major League Baseball for more than 40 years with Saturday's Game of the Week. Baseball returned to the network for six years, from 1994 to 2000, but had been elsewhere for 22 years.
To younger generations, that may not matter. Baseball has been readily available on Fox, ESPN, TBS, and more importantly, regional sports networks. But NBC always felt like home for the sport with voices including Scully, Mel Allen, Curt Gowdy, Dick Enberg, Joe Garagiola, Tony Kubek, and Bob Costas. Even on a streaming platform, with Sunday's debut simulcast on a linear broadcast network, baseball being back on NBC (or an NBC product) just felt right.
However, promoting the game's past and tradition isn't the best way to appeal to younger fans. MLB Sunday Leadoff seemed entirely aware of that, bringing an energy and excitement to its presentation that made baseball feel vital. Host Ahmad Fareed and analyst Nick Swisher made the broadcast feel like an event, informing viewers of the White Sox and Red Sox and which players were worth watching.
Bringing on popular online baseball personalities like Rob Friedman (aka @PitchingNinja on Twitter) to break down the starting pitching match-up between Chicago's Dallas Keuchel and Boston's Tanner Houck was also a nice touch.
A highlights package of Saturday night's action opened its arms to fans of all ages. Fareed and Swisher narrated the action enthusiastically, making the footage feel as if it had to be seen. (Swisher may have been too enthusiastic for 11:30 in the morning — 8:30 a.m. on the West Coast — but those familiar with him shouldn't be surprised that he came across as very caffeinated. He's a high-energy dude.)
Even better, the theme from This Week in Baseball played with the highlights. More specifically, the theme song is titled "Gathering Crowds," composed by John Scott, and played over the closing credits of the show with a montage of baseball action. Want to get an older baseball fan excited? Play that theme song.
The actual game broadcast was smooth as well. Those who didn't know otherwise might guess that play-by-play announcer Jason Benetti and analysts Steve Stone and Kevin Youkilis have often called games together. They sounded comfortable with each other in a three-man booth setup that doesn't always work.
Of course, Benetti and Stone work together on NBC Sports Chicago's White Sox broadcasts so there was obviously familiarity there. With the plan for Benetti to work with rotating analysts associated with the two teams playing each Sunday, it was a fortunate circumstance to have Stone in the booth. That made a more welcoming environment for Youkilis, who's new to broadcasting this season on NESN's Red Sox coverage.
Benetti certainly helped with making Youkilis comfortable, asking him questions about playing at Fenway Park (as a batter and fielder), his approach to hitting, and how he strategized against opposing pitchers. That shouldn't have been a surprise, considering how many different analysts Benetti works with while calling basketball and football. He's an utter professional who elevates his partners and makes broadcasts fun.
Sunday's telecast also benefited from some luck. During the fourth inning, Peacock had Red Sox left fielder Alex Verdugo mic'ed up, a feature that's worked well on many baseball broadcasts so far this season. Verdugo provided good insight on how he handles playing in front of Fenway Park's iconic Green Monster, dealing with fly balls, caroms, and throws in a setting unlike any other in MLB.
But the game was delayed when home plate umpire Ron Kulpa was hit by a foul ball off his mask. Kulpa seemed stunned by the impact and was checked by trainers before leaving the game to be examined further. That resulted in a 20-minute delay while first base umpire Marty Foster changed into proper gear to take over behind home plate.
Yet for viewers watching on Peacock or NBC, the stoppage may not have felt so long because the broadcast crew and Verdugo engaged in an extended interview that felt more like a conversation, covering topics ranging from being traded for Mookie Betts, dealing with the wind as an outfielder, and favorite restaurants in Boston. It surely helped that Verdugo has been mic'ed up for broadcasts before and was already comfortable with such a situation. But the timing of it all worked out fortunately for Peacock.
MLB's new streaming ventures with Peacock and Apple TV+ received heavy attention going into the season. Fans and media weren't sure of what to expect, while exclusive telecasts meant viewers had to sign up for these services to watch. Of the two thus far, MLB Sunday Leadoff feels like meeting up with an old friend while Friday Night Baseball has been more like going on a blind date.
To be fair, maybe too much was expected of Apple TV+ from the outset. A tech innovator streaming live sports for the first time would surely bring something new to a baseball telecast, maybe even reinvent parts of it. Instead, the game broadcasts — incorporating some who have never called a baseball game before — have felt like everyone involved is still trying to figure out what works best.
Meanwhile, Peacock just produced a solid baseball broadcast, sprinkling in elements that may have been familiar, but also felt fresh. Leaning on nostalgia doesn't hurt, either. But there's also less of an uphill climb by not trying so hard to be new and innovative. Comfort is a nice thing, especially on a Sunday morning.