Jason La Canfora Gets Why We're Having The NFL Draft
"I kind of wanted to do this all my life and we get the chance. It's certainly been a little more tricky than we would've imagined. It's not ideal, but I'm not complaining."
I'm always interested to find out how big names in the sports media business simply come across as people. Are they full of themselves? Can you feel their ego starting to infiltrate your soul? Are they genuine? Michael Jordan's former agent, David Falk, recently said that what the public really has difficulty understanding is when a superstar puts on his uniform, he's working. It's the same concept for media members. Hearing an animated clip from a sports radio or TV show doesn't mean those people operate the same way in everyday life.
I enjoyed chatting with Jason La Canfora for a number of reasons. Despite being a heavy hitter who covers the most popular league in America, I didn't catch one iota of ego from the CBS Sports NFL Insider. He has also remains calm while being less than two months into a brand new sports radio show on 105.7 The Fan in Baltimore during a global pandemic. Being quarantined without face-to-face interaction — especially on a new show — will test the patience of anybody.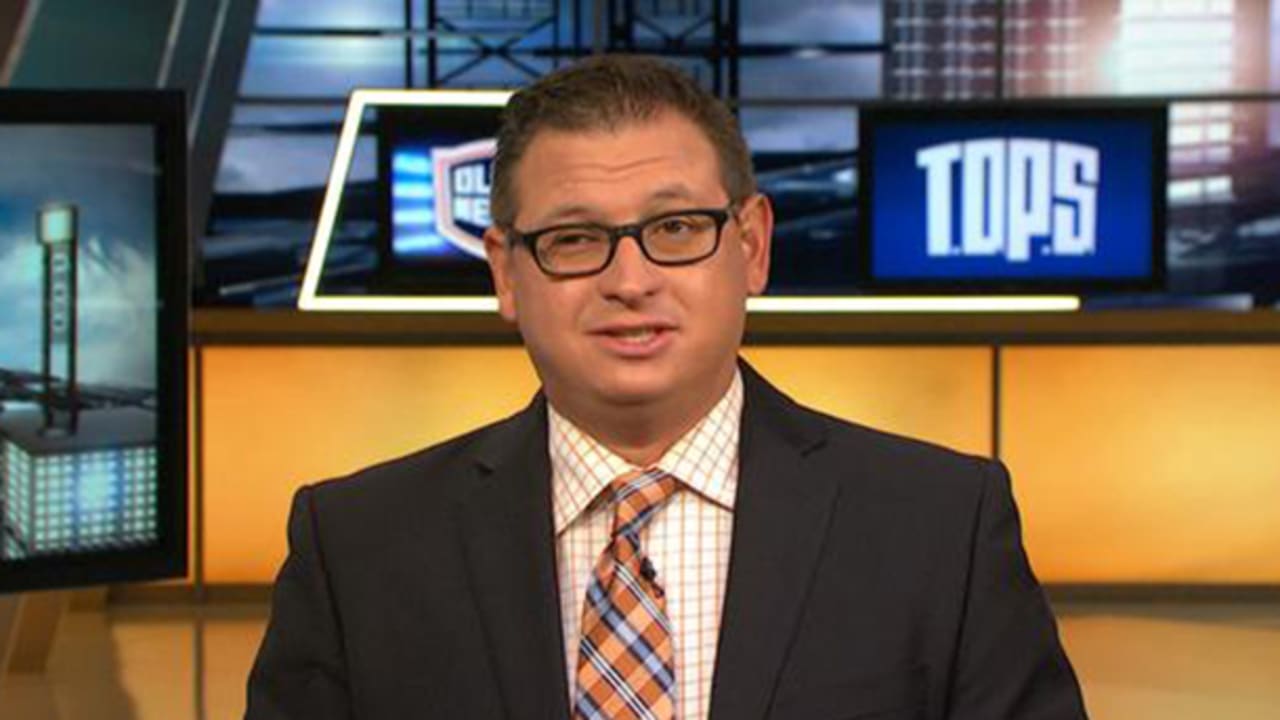 La Canfora keeps pushing forward as he always does. It's interesting to learn how an extensive writing background helps La Canfora's approach to his Inside Access radio show with Ken Weinman. Not one to shy away from opinions, the upcoming NFL draft is a topic we discuss as well. Future endeavors are unknown for La Canfora at this point, but one opportunity could include some sophisticated neckwear down the road. (I vote yes.) Enjoy!
Brian Noe: What's your biggest challenge launching a new show in this current environment?

Jason La Canfora: I don't even know where to start. It's been tricky. It certainly has been a challenge. It's been a blessing in a lot of ways to be able to try to give people some outlet for entertainment or escapism, the theater of the absurd a little bit. Also to continue to do smart sports talk and to try to stay on top of the pandemic as it affects the sports world; to try to educate our listeners as well. But this is our sixth week so literally it's been one thing after the next. By the end of our first week there were going to be no college conference tournaments. Then we found out we wouldn't be able to do any remote shows. Then also that second week, I think was our last week in studio so it was learning this new equipment while we're just starting to build chemistry.
I've known Ken for a while and Ken's an absolute pro. He makes my life a lot easier on a lot of levels, but there's no substitute for being there and having eye contact and being able to play off each other.
We had an incredibly talented producer, Alex Woodward, who was if anything underpaid. After the fourth week he was let go as part of the sweeping changes at Entercom and the restructuring that took place there. As much as the station didn't want to lose him it was out of their hands.
Tim Barbalace has to produce two shows basically now. He's been with Vinny Cerrato and Bob Haynie for a while. Now he's also running the board and helping us. I don't think there's much that could have prepared us for it. [Laughs] That's to say nothing about obviously the business climate and the situation that advertisers and potential sponsors are in with the economy being where it is and with people not able to go to bars and restaurants and all of that stuff.
I kind of wanted to do this all my life and we get the chance. It's certainly been a little more tricky than we would've imagined. It's not ideal, but I'm not complaining. There are people who've got it way worse than us. There's a lot going on in the world right now and a little sports talk show doesn't mean a thing. But it has been from a business side, from a content side, from the advertising side and just from sort of the mental health side of what we're all experiencing on a day-to-day basis and how our emotions fluctuate, it has certainly been unique.
BN: I don't know exactly how to phrase this perfectly, but in what ways does not having live games help a new show, and in what ways does it hurt a new show in terms of you playing off of your partner?
JL: Thankfully Ken and I have been hoping that this would have happened for years. He and I would be texting each other through games even though we didn't have a show together. We'd be texting each other during Oriole games. The minor leagues are really where it's at here because the Orioles are in a deep rebuild. I'd go to a ton of games with my kids. Ken probably went to five or six minor league games with me last year, maybe a few more.
Thankfully we had some of that already built up. Otherwise it really would've been much more difficult. But we kind of knew each other's thoughts on certain things and we already had a bit of chemistry. We knew how we could bust each other's chops. I think that gave us certainly a leg up. Even so, I'm not going to lie, when we got kicked out of the studio I was not happy. I understood why; it was a corporate decision. I get all of that but it was like, man, it just feels like every time we're starting to build something it goes away. Not through anything we were doing but just through circumstances. Losing Alex was a huge blow.
I feel like it's just forced us to hit the ground running, to be really creative. We communicate quite a bit already. Now with Tim, there isn't quite as much contact with him as we had with Alex because he's got two shows to produce. We don't want to throw too much at him, but Ken and I are talking all the time about "Do you think this works?" "What if we try this tomorrow?" "What if we get this guest?" It's just things like that.
BN: Were you an avid sports radio listener before you had a show?
JL: Yeah, absolutely. First of all just from being in the national media for so long, I feel like I've done many shows in the past if you just put together all my phoners. [Laughs] I was already doing hundreds of hours of radio a year anyway and had co-hosted some national and some local stuff on a fill-in basis. It's something that I was always interested in, something that I always wanted to do more with.
I love the medium. I love how creative you can be. I love how it can be like TV where you're doing things rapid fire and it's do less with more, but you can also branch out and end up doing two or three segments in a row on something that wasn't on the rundown just because you have the time and there's the trust there between you and your partner and you just feel like it's good radio. I just think it's a great medium especially in a time like this.
Everything I'm reading is that listenership is actually up. I don't know how you monetize it in something like this, but even without people going to work they're still flipping on podcasts and terrestrial radio, or taking it in off the Radio.com app. It's such a direct medium.
I like being part of a team. As a beat writer you're always a lone wolf to a certain extent. It's three of us in this together every day and I like the camaraderie aspect of it. I really like everything about it.

BN: As someone who's been interviewed so many times does that give you ideas of what to ask now, or is it more what to avoid when you've been asked stupid questions over the years?

JL: Interviewing is such a big part of reporting — knowing how to set someone up and how to go here to eventually go there, how to stagger things, how to defuse certain situations, or create a welcoming vibe. All of that stuff. I'm definitely stealing from people sometimes consciously and sometimes subconsciously. But yeah, you have a feel for what you think worked and what you think didn't work.

BN: What do you think is the trick to getting something really good out of an interview?
JL: One thing that I learned a long time ago was interview somebody when they want to be interviewed. I think part of it is in how it's presented and why you are talking to them. A lot of times it's knowing something about a subject that maybe isn't what they're known for. Doing a little research and finding out that they have a particular shared interest with you. Something that's not the typical question they'll be asked and you say, yeah I'm going to talk to you about some of the stuff that everybody talks to you about, but I really also would like to get a couple minutes with you about X, Y, or Z.

BN: What's the most useful part of your writing background that you apply to sports radio?

JL: I think it applies in a lot of ways. Certainly interviewing people and knowing how to ask questions. Knowing how to get out of your own way at times. Having been around a locker room environment for so long, I have a pretty good feel with athletes in particular; sort of some do's and don'ts and a lay of the land. You just have a nose for information.
I feel like a lot of the skill sets do dovetail. You're always looking for stories and what are people interested in or what's an interesting way to tell a story that I haven't seen done a million times before. You're reading a lot. I think there's no substitute for that. I've been reading and consuming sports media all the time as someone who is involved in it. I think it's also knowing good reporters. Knowing who to talk to. Something breaks, there's a pretty good chance that I know somebody covering that story or know somebody who could tell me somebody covering that story who's really good, or who I've worked with before. I have a natural list of contacts or resources that I can go to for different things.
Then also in this case, it has nothing to do with reporting, but I've lived here virtually my entire life. Except for when I was in Syracuse and in Detroit, one for school and one for a job, I've been here. I've lived 46 years pretty much all Baltimore sports. I worked locally at The Baltimore Sun. That's where I was first interning so I've seen a lot of things. I've covered a lot of things. I know a lot of people.
It's Smalltimore. People call it that for a reason. Everybody knows everybody. When they say what school did you go to they mean high school not college. I think that helps versus being in a parochial market like this and coming from the outside. I think it's just a lot tougher to have a feel for what people are interested in, to have a feel for the way the city ticks and who the movers and shakers are.
BN: When you go back to the beginning what did you always want to do in the sports media business and how did you initially break in?  
JL: It's something I always was interested in. I love to write. When I was a kid I'd walk down to the corner store to buy a Washington Post and a Washington Times. We subscribed to The Morning Sun and my aunt would subscribe to The Evening Sun. Sometimes I'd walk a couple blocks down to her house and see what was in that paper as well. I just was always a sports junkie. 
I knew that I was going to do something in the sports realm. I thought about broadcasting and originally went to Syracuse as a broadcast journalism major and switched over to newspaper journalism. I pretty much knew I was going to switch majors by the end of my freshman year. Then like everybody else tried to get internships, tried to get my foot in the door.
I was really lucky and blessed to have great mentors at The Baltimore Sun. It was such a great sports department — Buster Olney and Ken Rosenthal — sitting in the press box with those guys every night. You couldn't go to school and replicate that in any classroom or textbook environment. There's no substitute for that. I did some internships in college and ended up getting a job at the Detroit Free Press covering hockey there probably way before I ever should have. I thankfully knew some people, John Lowe the longtime baseball writer at the Free Press, I had sort of befriended and he helped me get in front of their sports editor Gene Myers. That ended up being huge.
It was just really right place, right time. A lot of good luck, over-blessed with tremendous mentors. I just really couldn't imagine even as a pretty young child doing something that wasn't involved in sports whether it was broadcasting, working for a team, being in PR, or ideally being a writer.

BN: Are you on board with the NFL draft beginning on the 23rd?
JL: I've gone back and forth about this. I get it. I understand it. We had Troy Vincent from the NFL head of football operations on the show and he was really convincing. We went pretty long with him and by the end of that I was like "look, I understand why they're doing this." I applaud the telethon component of this. They're going to use it in large part as a fundraiser for first responders for research to develop some sort of vaccine or some way to better detect this or to eventually be able to curtail it. That's a huge part of it, which is awesome.
From a football standpoint I understand the general managers and a lot of people have concerns. There's a lot going on in their lives and they feel like there's no reason it couldn't be moved back. I get that and I also understand the morality issue of "hey, there's other stuff going on in the world right now. Maybe we don't need to be picking football players for three days." But at some point we all hope and pray and think that we're going to be on the other side of this. I do think for a lot of people it'll be a little bit of escapism. At least that weekend will feel a little different than some other weekends.

BN: What's your strongest opinion about the draft heading into it? 
JL: I just feel that all of a sudden now I'm supposed to believe Tua is like the third or fourth best quarterback in this draft. That just doesn't pass the smell test for me. The body of work is what it is. I understand he was injured but the doctors aren't lying to NFL teams about the condition he's in. It's just not how it works. That's crazy talk.
Would you like to get your hands on him and everything else? Yeah, but there's nothing Justin Herbert has done that's increased his stock. It's not like he's meeting with owners and blowing them away and they're coming away changing their draft boards. Nobody has any contact with anybody. Everybody's going back to the film. If you look at the film there's not a comparison between these two. I just think some people are protesting a little too much about this precipitous fall that I'm supposed to believe that Tua's in store for.

BN: When you look toward the future is there anything that you haven't been able to do yet that you'd like to at some point in your career?

JL: I'm always open the new opportunities. I got a lot on my plate right now between CBS and Entercom. [Laughs] I would be lying if I said I'm actively looking for more gigs.
I think I would like to teach at some point. That's something I'd like to do. I don't know about now. It would be impossible now, but down the road if maybe I'm not doing quite as much as I am right now in the media realm and once at least a couple of my kids are in college. I wouldn't mind being a professor teaching some communications classes. That would be pretty cool.

BN: Would it specifically be communications because of the background you have?

JL: I guess. It could be, I don't know if it would be broadcasting, I don't even know. What I love to do more than anything else still is write. If I could go teach a sports writing class somewhere at some point, I think that would be pretty cool.

BN: Do you think you would wear an ascot if you ever teach a class?

JL: No. Not unless it was part of the contract and they paid me handsomely to do so. Not of my own volition, but if there's a sponsorship involved, I'll listen. I've learned that much in my six weeks of radio.
Brian Noe is a columnist for BSM and an on-air host heard nationwide each weekend on FOX Sports Radio. Previous roles include stops in Portland, OR, Albany, NY and Fresno, CA. You can follow him on Twitter @TheNoeShow or email him at bnoe@premierenetworks.com.
The Future Is Now, Embrace Amazon Prime Video, AppleTV+
As annoying as streaming sports is and as much as I haven't fully adapted to the habit yet, Amazon and Apple have done a magnificent job of trying to make the process as easy and simplified as possible.
This week has been a reckoning for sports and its streaming future on Amazon Prime Video, AppleTV+, ESPN+, and more.
Amazon announced that Thursday Night Football, which averaged 13 million viewers, generated the highest number of U.S. sign ups over a three hour period in the app's history. More people in the United States subscribed to Prime during the September 15th broadcast than they did during Black Friday, Prime Day, and Cyber Monday. It was also "the most watched night of primetime in Prime Video's history," according to Amazon executive Jay Marine. The NFL and sports in general have the power to move mountains even for some of the nation's biggest and most successful brands.
This leads us to the conversation happening surrounding Aaron Judge's chase for history. Judge has been in pursuit of former major leaguer Roger Maris' record for the most home runs hit during one season in American League history.
The sports world has turned its attention to the Yankees causing national rights holders such as ESPN, Fox, and TBS to pick up extra games in hopes that they capture the moment history is made. Apple TV+ also happened to have a Yankees game scheduled for Friday night against the Red Sox right in the middle of this chase for glory.
Baseball fans have been wildin' out at the prospects of missing the grand moment when Judge passes Maris or even the moments afterwards as Judge chases home run number 70 and tries to truly create monumental history of his own. The New York Post's Andrew Marchand has even reported there were talks between YES, MLB, and Apple to bring Michael Kay into Apple's broadcast to call the game, allow YES Network to air its own production of the game, or allow YES Network to simulcast Apple TV+'s broadcast. In my opinion, all of this hysteria is extremely bogus.
As annoying as streaming sports is and as much as I haven't fully adapted to the habit yet, Amazon and Apple have done a magnificent job of trying to make the process as easy and simplified as possible. Amazon brought in NBC to help with production of TNF and if you watch the flow of the broadcast, the graphics of the broadcast, NBC personalities like Michael Smith, Al Michaels, and Terry McAuliffe make appearances on the telecast – it is very clear that the network's imprint is all over the show.
NBC's experience in conducting the broadcast has made the viewing experience much more seamless. Apple has also used MLB Network and its personalities for assistance in ensuring there's no major difference between what you see on air vs. what you're streaming.
Amazon and Apple have also decided to not hide their games behind a paywall. Since the beginning of the season, all of Apple's games have been available free of charge. No subscription has ever been required. As long as you have an Apple device and can download Apple TV+, you can watch their MLB package this season.
Guess what? Friday's game against the Red Sox is also available for free on your iPhone, your laptop, or your TV simply by downloading the AppleTV app. Amazon will also simulcast all Thursday Night Football games on Twitch for free. It may be a little harder or confusing to find the free options, but they are out there and they are legal and, once again, they are free.
Apple has invested $85 million into baseball, money that will go towards your team becoming better hypothetically. They've invested money towards creating a new kind of streaming experience. Why in the hell would they offer YES Network this game for free? There's no better way for them to drive subscriptions to their product than by offering fans a chance at watching history on their platform.
A moment like this are the main reason Apple paid for rights in the first place. When Apple sees what the NFL has done for Amazon in just one week and coincidentally has the ability to broadcast one of the biggest moments in baseball history – it would be a terrible business decision to let viewers watch it outside of the Apple ecosystem and lose the ability to gain new fans.
It's time for sports fans to grow up and face reality. Streaming is here to stay.
MLB Network is another option
If you don't feel like going through the hassle of watching the Yankees take on the Red Sox for free on Apple TV+, MLB Network will also air all of Judge's at bats live as they are happening. In case the moment doesn't happen on Apple TV+ on Friday night, Judge's next games will air in full on MLB Network (Saturday), ESPN (Sunday), MLB Network again (Monday), TBS (Tuesday) and MLB Network for a third time on Wednesday. All of MLB Network's games will be simulcast of YES Network's local New York broadcast. It wouldn't shock me to see Fox pick up another game next Thursday if the pursuit still maintains national interest.
Quick bites
One of the weirdest things about the experience of streaming sports is that you lose the desire to channel surf. Is that a good thing or bad thing? Brandon Ross of LightShed Ventures wonders if the difficulty that comes with going from app to app will help Amazon keep viewers on TNF the entire time no matter what the score of the game is. If it does, Amazon needs to work on developing programming to surround the games or start replaying the games, pre and post shows so that when you fall asleep and wake up you're still on the same stream on Prime Video or so that coming to Prime Video for sports becomes just as much of a habit for fans as tuning in to ESPN is.
CNN has announced the launch of a new morning show with Don Lemon, Poppy Harlow and Kaitlin Collins. Variety reports, "Two people familiar with plans for the show say it is likely to use big Warner Bros. properties — a visit from the cast of HBO's Succession or sports analysis from TNT's NBA crew — to lure eyeballs." It'll be interesting to see if Turner Sports becomes a cornerstone of this broadcast. Will the NBA start doing schedule releases during the show? Will a big Taylor Rooks interview debut on this show before it appears on B/R? Will the Stanley Cup or Final Four MVP do an interview on CNN's show the morning after winning the title? Does the show do remote broadcasts from Turner's biggest sports events throughout the year?
The Clippers are back on over the air television. They announced a deal with Nexstar to broadcast games on KTLA and other Nexstar owned affiliates in California. The team hasn't reached a deal to air games on Bally Sports SoCal or Bally Sports Plus for the upcoming season. Could the Clippers pursue a solo route and start their own OTT service in time for the season? Are they talking to Apple, Amazon, or ESPN about a local streaming deal? Is Spectrum a possible destination? I think these are all possibilities but its likely that the Clippers end up back on Bally Sports since its the status quo. I just find it interesting that it has taken so long to solidify an agreement and that it wasn't announced in conjunction with the KTLA deal. The Clippers are finally healthy this season, moving into a new arena soon, have the technology via Second Spectrum to produce immersive game casts. Maybe something is brewing?
ESPN's Monday Night Football double box was a great concept. The execution sucked. Kudos to ESPN for adjusting on the fly once complaints began to lodge across social media. I think the double box works as a separate feed. ESPN2 should've been the home to the double box. SVP and Stanford Steve could've held a watch party from ESPN's DC studio with special guests. The double box watch party on ESPN2 could've been interrupted whenever SVP was giving an update on games for ESPN and ABC. It would give ESPN2 a bit of a behind the scenes look at how the magic happens similarly to what MLB Tonight did last week. Credit to ESPN and the NFL for experimenting and continuing to try and give fans unique experiences.
Jessie Karangu is a columnist for BSM and graduate of the University of Maryland with a bachelor's degree in journalism. He was born and raised in Baltimore, Maryland but comes from Kenyan roots. Jessie has had a passion for sports media and the world of television since he was a child. His career has included stints with USA Today, Tegna, Sinclair Broadcast Group and Sightline Media. He can be found on Twitter @JMKTVShow.
ESPN Shows Foresight With Monday Night Football Doubleheader Timing
ESPN is obviously testing something, and it's worth poking around at why the network wouldn't follow the schedule it has used for the last 16 years, scheduling kickoffs at 7 and then 10 on their primary channel.
The Monday Night Football doubleheader was a little bit different this time around for ESPN.
First, it came in Week 2 instead of Week 1. And then, the games were staggered 75 minutes apart on two different channels, the Titans and Bills beginning on ESPN at 7:15 PM ET and the Vikings at the Eagles starting at 8:30 PM on ABC and ESPN+. This was a departure from the usual schedule in which the games kicked off at 7:00 PM ET and then 10:00 PM ET with the latter game on the West Coast.
ESPN is obviously testing something, and it's worth poking around at why the network wouldn't follow the schedule it has used for the last 16 years, scheduling kickoffs at 7:00 PM and then 10:00 PM ET on their primary channel. That's the typical approach, right? The NFL is the most valuable offering in all of sports and ESPN would have at least six consecutive hours of live programming without any other game to switch to.
Instead, they staggered the starts so the second game kicked off just before the first game reached halftime. They placed the games on two different channels, which risked cannibalizing their audience. Why? Well, it's the same reason that ESPN was so excited about the last year's Manningcast that it's bringing it back for 10 weeks this season. ESPN is not just recognizing the reality of how their customers behave, but they're embracing it.
Instead of hoping with everything they have that the customer stays in one place for the duration of the game, they're recognizing the reality that they will leave and providing another product within their portfolio to be a destination when they do.
It's the kind of experiment everyone in broadcasting should be investigating because, for all the talk about meeting the customer where they are, we still tend to be a little bit stubborn about adapting to what they do. 
Customers have more choices than ever when it comes to media consumption. First, cable networks softened the distribution advantages of broadcast networks, and now digital offerings have eroded the distribution advantages of cable networks. It's not quite a free-for-all, but the battle for viewership is more intense, more wide open than ever because that viewer has so many options of not just when and where but how they will consume media.
Programmers have a choice in how to react to this. On the one hand, they can hold on tighter to the existing model and try to squeeze as much out of it as they can. If ESPN was thinking this way it would stack those two Monday night games one after the other just like it always has and hope like hell for a couple of close games to juice the ratings. Why would you make it impossible for your customer to watch both of these products you've paid so much to televise?
I've heard radio programmers and hosts recite take this same approach for more than 10 years now when it comes to making shows available on-demand. Why would you give your customers the option of consuming the product in a way that's not as remunerative or in a way that is not measured?
That thinking is outdated and it is dangerous from an economic perspective because it means you're trying to make the customer behave in your best interest by restricting their choices. And maybe that will work. Maybe they like that program enough that they'll consume it in the way you'd prefer or maybe they decide that's inconvenient or annoying or they decide to try something else and now this customer who would have listened to your product in an on-demand format is choosing to listen to someone else's product entirely.
After all, you're the only one that is restricting that customer's choices because you're the only one with a desire to keep your customer where he is. Everyone else is more than happy to give your customer something else. 
There's a danger in holding on too tightly to the existing model because the tighter you squeeze, the more customers will slip through your fingers, and if you need a physical demonstration to complete this metaphor go grab a handful of sand and squeeze it hard.
Your business model is only as good as its ability to predict the behavior of your customers, and as soon as it stops doing that, you need to adjust that business model. Don't just recognize the reality that customers today will exercise the freedom that all these media choices provide, embrace it.
Offer more products. Experiment with more ways to deliver those products. The more you attempt to dictate the terms of your customer's engagement with your product, the more customers you'll lose, and by accepting this you'll open yourself to the reality that if your customer is going to leave your main offering, it's better to have them hopping to another one of your products as opposed to leaving your network entirely.
Think in terms of depth of engagement, and breadth of experience. That's clearly what ESPN is doing because conventional thinking would see the Manningcast as a program that competes with the main Monday Night Football broadcast, that cannibalizes it. ESPN sees it as a complimentary experience. An addition to the main broadcast, but it also has the benefit that if the customer feels compelled to jump away from the main broadcast – for whatever reason – it has another ESPN offering that they may land on.
I'll be watching to see what ESPN decides going forward. The network will have three Monday Night Football doubleheaders beginning next year, and the game times have not been set. Will they line them up back-to-back as they had up until this year? If they do it will be a vote of confidence that its traditional programming approach that evening is still viable. But if they overlap those games going forward, it's another sign that less is not more when it comes to giving your customers a choice in products.
Danny O'Neil is a sports media columnist for BSM. He has previously hosted morning and afternoon drive for 710 ESPN Seattle, and served as a reporter for the Seattle Times. He can be reached on Twitter @DannyOneil or by email at Danny@DannyOneil.com.
Media Noise: Sunday Ticket Has Problems, Marcellus Wiley Does Not
Podcast: Play in new window | Download
Subscribe: RSS
Demetri Ravanos is the Assistant Content Director for Barrett Sports Media. He hosts the Chewing Clock and Media Noise podcasts. He occasionally fills in on stations across the Carolinas. Previous stops include WAVH and WZEW in Mobile, AL, WBPT in Birmingham, AL and WBBB, WPTK and WDNC in Raleigh, NC. You can find him on Twitter @DemetriRavanos and reach him by email at DemetriTheGreek@gmail.com.