So, You Want To Be In Sports Media
"Jay Mariotti says journalism has been replaced by cooperative public relations and those looking to work in sports media shouldn't allow it to completely hijack their lives."
Ten, 12, 15 — I've lost count. Day after day the last several weeks, I've appeared on talk shows with hosts who've asked the same questions: "Was Michael Jordan really that (magnificent, sublime, G.O.A.T.-like)?'' … "Was he really that big of a (tyrant, S.O.B., jerk)?'' … "Why were Jerry Krause and Jerry Reinsdorf so (jealous, vindictive, joyless) in breaking up the Bulls?''
But near the end of a show last week, a host snuck in a different query: "What would you tell a young person who wants to get into sports media?''
I paused. Did he really want to go there? Now? Sports media is a wilted flower, a pot-holed wheeze down a one-way back road in a rusted jalopy, a relic exposed as the antithesis of essential during the COVID-19 catastrophe. It has been left naked and cold by dried-up advertising revenue, radical downsizing, crumbling journalistic bedrock, corporate raiders who buy and kill news shops, an over-reliance on sports leagues and franchises to stay afloat, athletes and teams that have their own methods to reach fans and — if major sports leagues do shut down in 2020 — zero employment prospects as pay cuts and furloughs turn into permanent layoffs. Even if Major League Baseball, the NBA, the NFL and college football return without spectators, one might have a more secure future as a drive-thru cashier at Taco Bell. Oh, and I should note that regular access to athletes and coaches, so vital to the storytelling separating good sports sites from charlatans, might not happen in a post-pandemic world of social distancing and no press boxes, thus requiring skilled writers to cover games off TV like the basement bloggers of yore.
Or, perhaps, do something else for a living.
For some reason, I then thought of the late Albert Dickens. Fortunate to spend much of my column-writing and broadcasting career amid the vigorous, thriving heyday of media, I viewed Albert not as an editorial assistant but as a daily symbol of the good times, a wise and pleasant soul who sat at his desk in the Chicago Sun-Times sports office and reminded us how we literally had life by the balls. Forget about the pathetic, mind-blowing farces evident even in those prosperous days: CEOs/publishers who skimmed profits and went to prison, editors who protected sports owners, fans who threatened your life because you didn't always worship Da Coach, the newspaper guild that stood firm when the editor-in-chief forearm-shivered you into his office wall, the radio boss who canned you with great ratings because you didn't agree in writing to stop criticizing his rights-holder teams, the baseball writer who gave an MVP vote to A.J. Pierzynski because he was a trusted source, the drunken colleague who wanted to fight in a Washington arena until Al Gore came walking by, the newspaper executive who asked the college football beat writer to pick up his free season tickets, the media rivals who couldn't outwork or outperform people but certainly could outsleaze them.
"You're alive and well,'' Albert would assure me in his dapper sweater and tie, "and you're making a nice living doing what you love.'' He would deliver such a speech on a day when I'd take for granted the ESPN debate show I was taping that morning, the one that reached nearly a million viewers a day back in the best years of "Around The Horn;'' and the column I was preparing for the next day's newspaper, which might take me to Wrigley Field, Soldier Field or the Slaughterhouse That Jordan Built; and the expense account that allowed me to hop on planes and cover almost any event I wanted around Planet Sport. I welcomed his verbal nudges, those cues to smell the roses.
To me, Dickens was Media Yoda. And now, just days after his passing at 82, in a sports media landscape gutted by coronavirus fallout and facing a future unrecognizable when compared to the glorious past, somebody wanted to know what I'd tell a young person about a collapsing business. I would love to have replied thusly: Go read an entertaining Washington Post guest column by Rick Reilly, who doesn't write enough, and realize that sportswriting can't possibly be dying as long as he's living.
If only the answer could be that simple. This was a young person's life, and I could save it or ruin it. Years earlier, an agent asked me to have lunch at a Manhattan deli with a recent college graduate named Jordan Schultz, who said he wanted to be a sportswriter. Emerging amid the digital content boom of the 2010s, he thankfully has done well for himself as a basketball writer and Huffington Post columnist. Yet I wonder, in retrospect, if Jordan might have preferred the path of his father, Howard, the King of Starbucks. So my response to the radio host could not afford to be nuanced. I wanted to tout a sports media career as a blessing, as it has been for me for decades, but I also don't want to add another dark statistic to the staggering U.S. jobless total. This is how I clapped back at our imaginary aspirant:
"Sure, pursue sports media as a sidelight gig. But you might think about writing code, not sports, until you have some money in the bank.''
From this point forward, I'm afraid, a volatile industry has only limited options, none as appealing as when I began at 19 as a fiercely independent rabble-rouser with a singular journalistic mission: No one ever would order me what to write or say. First of all, the very idea of pugnacious, nonaligned sports journalism is all but extinct, swallowed by media companies that prefer to secure business partnerships with leagues, franchises and programs and eagerly promote those entities rather than also covering and scrutinizing them — a frightening thought about a $200-billion industry rife with scandal.
There are people who follow leagues and teams as beat reporters, people who excel in long- and short-form storytelling, people who host talk shows as couriers for teams on the station and people on TV who shriek about whether the Packers insulted Aaron Rodgers by drafting Jordan Love. But the hard-hitting columnists who keep the sports owners and power brokers honest are dwindling to dust, either too pricey for the payroll or too hot to handle for sites such as The Athletic, which lacks edge and somehow is trying to cover AND appease the Big Sports mechanism. And the days of ESPN hammering the NFL over concussions and player conduct cases are long past, replaced by a corporate need to butter up commissioner Roger Goodell and the owners and help the network land a spot in the Super Bowl broadcast rotation. As for local media operations, which once exposed Barry Bonds' steroids sham and some of sport's biggest scandals, most gave up on investigative reporting long ago, realizing the professional and college machines have enough financial and political clout to flick them aside, probably with one call from a team executive or coach to a stadium-suite-leasing media boss.
The 2020 survivalist mantra: Become a sports sycophant or die. I'd rather die, keeping in mind that no one should allow an industry capable of being so thankless and cutthroat — lowbrow, too — to define one's self. If sports media were a shinier craft, yes. And it once was, with the Post calling it "a storied profession'' in its own piece last week about the demise of the industry. But the world is very big, folks — travel, art, wineries, parties, sunsets, movie scripts and 22-mile ocean bicycle trails, assuming we're allowed to resume those activities — and you'd be foolish to allow the sports media trade to completely hijack your life when inevitably, for reasons that have nothing to do with talent or production or work ethic, you'll be blindfolded and tossed aside by someone working for someone who works for someone.
And whatever happened to the spirit of beatdown competition, whipping the rivals with a big story or a mightier column and making content better for readers, viewers and listeners? Does anyone compete anymore? Back when I arrived in Chicago, I made a point of calling the publicist of author Sam Smith and requesting an advanced copy of "The Jordan Rules,'' the hot new book that revealed the dictatorial side of MJ. She not only sent excerpts, she sent some of the most controversial, which was great for the Sun-Times because we didn't pay a penny for material that the rival Tribune — which employed Smith as a Bulls beat writer and compensated him with a salary and expense money — paid thousands of bucks to publish. Of course, I published a column about it first, embarrassing the Tribune and prompting Smith to call my editor, moping that I was trying to get him fired. To this day, Sam is cranky about it when, you know, he should have put the clamps on his publicist.
Maybe young people today clamor to be Mike Greenberg, an amiable TV and radio host. But if they want to emulate Bryant Gumbel and his reporting titans on HBO's "Real Sports,'' they're out of luck because the show has only a few correspondents, and there's no other program like it. And if they want to be Reilly — hey, he gets it, choosing scuba-diving each morning in Hermosa Beach over a regular writing regimen. He can afford to, you see. Such were the perks of sports media in the '80s, '90s, '00s and part of the '10s.
But not the '20s.
A reader of this column knows I've been alarmed, if not disgusted, by networks and sites that carry an amateurish, sappy tone of wishful thinking when "reporting'' about the possible resumption of live events. I wrote about it last month, and because it doesn't stop, I'll run it back — as it pertains to the future of media. ESPN cannot speak sports into existence, but it certainly tries every night, with "SportsCenter'' host Scott Van Pelt continuing as a mushy Disney character when, more than ever, we need journalistic clarity about the medical crisis of our lives. A series of critical issues should be addressed on each show: How will sports keep athletes and support staffs safe during an ongoing pandemic? … Are health risks worth taking just so leagues and athletes can recoup pieces of lost fortunes? … Does the whole thing go to hell if there's a second wave of coronavirus? … Despite marked improvements in available testing, would enough kits be available over the months ahead — MLB alone needs 10,000 per week — for numerous pro and college inventories? … How can this be accomplished without depleting the national test supply and making sports leagues look uncaring and greedy? … What happens when athletes test positive? … Is MLB seriously going to quarantine a player who tests positive but NOT quarantine his exposed teammates, allowing the games to go on? … And will leagues be transparent publicly about every positive test or cover it up to protect their seasons and incoming revenues?
I rarely hear a mention of such protocol roll calls on ESPN. But I do get Stanford Steve, who joins Van Pelt on a frat-bro segment about past wagers gone awry. And I get a deceiving headline in the show tease — "PLAYERS TALK RETURN'' — when there's no certainty the NBA will resume play this year. So, kids, you're basically stumping for sports leagues if you want to work in the biggest media shops. Even Van Pelt openly debated his purpose when he told CNN Business, "I have asked that question aloud and in my brain driving home some nights, where I think, `What are we doing?' '' The pandemic is one of those moments in time, like 9/11 and world wars, when sports media should want to be on the front lines. Instead, they've retreated into minimal-audience irrelevance. Why? Because the leagues expect media to be loyal partners in a time of crisis, to dutifully report what the leagues want the public to think, even if it's tantamount to brainwashing that serves the bottom line.
That isn't journalism. It's cooperative public relations. And in the future, a bleak trend that started years ago will continue in full force: If you want to work in sports media, you'll likely be working directly for the leagues and teams themselves, or for a company that remains obedient in covering them. And if you want to report a story they don't want reported, you'll be bounced out of town, if not out of the business. You may remember when wives of Houston Astros players were harassed by White Sox fans during a World Series game in Chicago, forcing the Sox to apologize; well, my column about the apology never saw the light of day, killed by editors intimidated by Sox management. On a higher level, this is how President Trump tries to bully the White House press corps, but enough media shops have remained strong and protected the backs of political reporters. Sports? I can count on one hand how many boardrooms would protect their people in a firestorm.
The New York Times is one. Bleeding from financial woes, ESPN was too busy making money off the UFC 249 pay-per-view presentation to investigate business partner Dana White, who made a debacle of testing protocols in Jacksonville and didn't seem to care if COVID-19 was spread or lives were lost. A Times sports reporter wrote a critical and fair story, accusing the UFC president of flouting Florida safety and health guidelines — headline: "U.F.C.'s Coronavirus Plan Is Careful. Its Enforcement Has Been Spotty'' — with White responding in his usual level-headed, mature tone.
"F–k that guy. F–k that guy,'' he said. "You know what happened with that guy? That guy, who has never covered the sport ever before, was writing a story about (UFC parent company) Endeavor … What do you think happened when this guy and this paper covered the UFC when they had never covered it before? What do you think happened? The f—–g story was huge. They did killer traffic. Now they're writing stories, three a week, and they're posting live results I don't give a s–t what that guy thinks, what he has to say or what he writes. Good for him."
Was White concerned about fallout from the piece?
"I don't give a f–k," he said. "Don't give a f–k."
The Trump effect, call it.
I suppose a sports media aspirant could work for White and serve as his publicity flack, assuming he or she wants to risk contracting the virus. Or, worse, you can work for one of these goof-bubba sites where you make weed money for a few years but ultimately embarrass friends, family and even rats in the attic. You know: the joints run by creeps who see sports and sports media as toilets, take massive dumps and turn the profession into a sewage clog, aiming content at burnouts while declaring war on smart, well-adjusted humans. Like most panelists who've logged thousands of airtime hours on ESPN, I was targeted by one such loser who wrote about me so often — pathologically lying to the end — that there had to be something seriously wrong with him. There was: He was a hard-core drug addict who wound up in rehab and wrote about it, which may have explained why he had me followed and offered money to any colleague with "dirt'' when I began a San Francisco gig. Later, Hulk Hogan sued the guy and his affiliated website for an original award of $115 million, putting both out of their misery forever.
If you think I'm overly cynical, I could suggest The Athletic. The founders, propped up by venture capitalists, are fighting the good fight for the future of sportswriting albeit with a glaring obstacle — they're relying entirely on subscriptions that likely have peaked after four years of existence and won't be selling during a sports-crippling pandemic, meaning hundreds of talented writers could be out of work if sports don't return or a second virus wave buries an attempt to return. Actually, Sports Illustrated, despite internal flareups and various dents on a once-sterling reputation, might have a better chance to survive as a smaller operation. There are even smaller sports sites, zillions of them, but you'll have a better life drawing unemployment.
TV? You either become a full-blown company man and get bonuses every time you utter, "This is why we love sports,'' or you twist and shout like Stephen A. Smith. Otherwise, the networks will keep hiring those who played, coached or generally managed the game, often preferring been-in-the-trenches faux cred to compelling, thoughtful discourse and going so far to pardon criminals in sports and real life, from Alex Rodriguez to Ray Lewis.
Documentaries? This would be my recommendation, having contributed to the Hollywood content churn myself, with "The Last Dance'' docu-series inspiring a new batch of sports films available in coming days — the Donald Sterling racism affair; Mark McGwire, Sammy Sosa and the bogus home-run derby of 1998; the Lance Armstrong doping scandal; even a piece on Bruce Lee. But this isn't sports media work, remember. It's filmmaking, which means Jason Hehir, director of the 10-part Jordan series, is considered a far greater creative force today than Wright Thompson, thought to be the best of the current sportswriters and a guy ESPN actually has used — burp! — to chow down at college football tailgates.
The takeaway: Unless you really like brisket, please avoid journalism school and enroll in film school. But even then, as Hehir knows, you're at the mercy these days of iconic athletes — some with their own production companies — who want their legacies crafted their way, maximizing the triumphs and minimizing the gambling mischief and political limpness. See, you're still working for The Man.
Talk radio? All you need to know is that Bernie Miklasz, the biggest sports media personality in St. Louis the last three decades, was fired from his talk show because he made too much money. And the story floated in the New York Post about the teetering fate of ESPN host Dan Le Batard? Much as Le Batard denies the story, he pulls down more than $3 million a year — and the Post media writer has strong Bristol sources. Anyone who makes real money in talk radio soon might be replaced by … wait, a kid out of college! There's the answer for our sports media aspirant: Work cheap when the big-money guys are ziggied!
Dismiss me if you'd like. But one sunny morning in 2009, on a Wrigley Field rooftop, I told the legendary writer Frank Deford, a former boss of mine who passed in 2017, why newspapers would fade away if they didn't adjust to technology and create a revenue balance between newsprint and an eventual digital takeover. A year before, I had opted out of a lucrative, long-term deal because the Sun-Times reneged on a promise to improve its website — a flaw that led to the paper's quick free-fall. Deford, then hosting a "Real Sports''' segment about the troubles of print media, pointed to a copy of that day's paper and asked, incredulously, if the newsprint product would cease to exist. I told him the entire operation, someday, would cease to exist. For now, the Sun-Times remains on life support, kept alive by the periodic financial largesse of Chicago Blackhawks owner Rocky Wirtz, which means a staffer can't criticize the Hawks anymore without being Bullwinkled by Rocky. But truly, whatever was left of a once-dominant sports department died when Albert Dickens passed.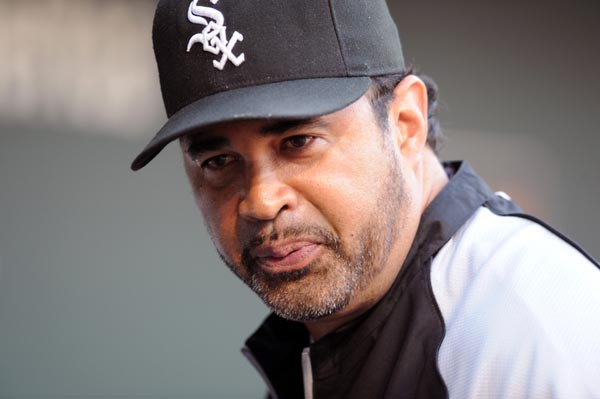 I remember the day when Ozzie Guillen, a crude baseball loon worthy of my nickname for him ("The Blizzard Of Oz''), called me a "(bleeping) fag.'' He was incensed because I'd criticized him, while on a road trip covering the NBA Finals and U.S. Open golf, for rebuking a kid pitcher who didn't bean a Texas Rangers batter as ordered. This led to a national media storm that included requests for me to appear with Tucker Carlson and Bill O'Reilly, half-assed punishment from the commissioner's office and interest-conflicted Sun-Times editors who cheaply exploited coverage of the flareup, including a sports boss who asked me to issue a statement for other media outlets. Um, wasn't my "statement'' contained in the column I was writing on Guillen? WTF?
Sometime later, I saw Albert at his desk. "You sure know how to keep the lights on around here,'' he said.
It's a lost art, kids.
Jay Mariotti, called "the most impacting Chicago sportswriter of the past quarter-century,'' is the host of "Unmuted,'' a frequent podcast about sports and life (Apple, Podbean, etc.). He is an accomplished columnist, TV panelist and radio host. As a Los Angeles resident, he gravitated by osmosis to movie projects. He appears Wednesday nights on The Dino Costa Show, a segment billed as "The Rawest Hour in Sports Broadcasting.''
Jay Mariotti, called "the most impacting Chicago sportswriter of the past quarter-century,'' writes a weekly media column for Barrett Sports Media and regular sports columns for Substack while appearing on some of the 1,678,498 podcasts in production today. He's an accomplished columnist, TV panelist and radio talk host. Living in Los Angeles, he gravitated by osmosis to film projects. Compensation for this column is donated to the Chicago Sun-Times Charity Trust.
NBC Must Develop a Real No. 2 NFL Crew for Playoffs
Is the network's only other option Jac Collinsworth and Jason Garrett?
Several years ago, the NFL objected to NBC wanting to employ Mike Tirico as the lead play-by-play voice for its Thursday Night Football broadcasts. The league preferred Al Michaels because he was NBC's No. 1 NFL play-by-play announcer and wanted the TNF telecasts to carry the same prestige as Sunday Night Football.
Following the network's heavily-criticized broadcast of Saturday's Wild Card playoff game between the Los Angeles Chargers and Jacksonville Jaguars, the NFL may want to impose its authority again and insist that a top-tier broadcast team call the action of an important postseason game.
The consensus among fans and media watching Saturday's broadcast was that Michaels and analyst Tony Dungy were surprisingly low-energy for an NFL playoff game, let alone one that became so exciting with Jacksonville rallying from a 27-0 deficit for a 31-30 victory on a last-second field goal.
Such a lackluster broadcast led to questions of whether or not Michaels was now past his prime after a season of calling subpar TNF games for Amazon and what initially appeared to be another snoozer when the Jaguars fell behind by 27 points. Pairing him with Dungy, who was a studio analyst all season, certainly didn't help.
Dungy was as basic as a game analyst could be, typically narrating replays viewers could see for themselves while adding little insight. Worst of all, he demonstrated no enthusiasm for the action, leaving Michaels to fill most of the airtime. The veteran broadcaster showed that he can no longer carry a broadcast by himself. He needs the energy and back-and-forth that Cris Collinsworth or Kirk Herbstreit provide.
So how did NBC get here?
Most football fans know that the network's top broadcast team is Tirico on play-by-play alongside analyst Cris Collinsworth. But they had their own assignment during Super Wild Card Weekend, calling Sunday night's Ravens-Bengals match-up. With the postseason field expanding from 12 to 14 teams, resulting in six games being played on Wild Card weekend, NBC was awarded one of the additional playoff broadcasts.
Thus, another broadcast team was needed for that second Wild Card game. Fortunately, NBC had a renowned play-by-play man already in place. Michaels finished out his final season as SNF's lead voice by calling Super Bowl LVI, part of a powerful one-two combination for NBC Sports coming toward the end of its 2022 Beijing Winter Olympics coverage.
Ending his legendary career with a Super Bowl broadcast would've been a wonderful final note for Michaels. That appeared to be a natural path when Tirico moved from ESPN to NBC in 2016. Network executives admitted that a succession plan was in mind for Tirico to take over SNF eventually. At the time, Michaels also likely thought he would retire by then.
But when confronted with the possibility of retirement, Michaels realized he wasn't interested. He was still enjoying broadcasting the NFL. His skills were still sharp. And perhaps most importantly, he was in demand. Amazon wanted Michaels as the lead voice for its Thursday Night Football broadcasts, bringing instant credibility to a streaming venture that drew some skepticism. ESPN considered him as its Monday Night Football play-by-play man.
As it turned out, ESPN made a bold move for MNF, swiping Fox's No. 1 NFL crew of Joe Buck and Troy Aikman. That left Amazon for Michaels, and the streaming giant paid him a commensurate salary with the top broadcasters in the industry as part of his three-year contract.
Yet Michaels wasn't done with NBC either. After his agreement with Amazon became official, NBC announced that its relationship with Michaels would continue in an "emeritus" role allowing him to broadcast the network's Olympics coverage and that additional Wild Card playoff telecast.
NBC can't have been happy that most of the social media chatter afterward focused on the broadcast, rather than the game result. Especially when the discussion centered on how poorly Michaels and Dungy performed in what turned out to be a thrilling playoff game. That's a pairing that the NFL probably doesn't want to see again.
Michaels will likely call at least one more Wild Card playoff game for NBC since he intends to work on the 2024 Paris Summer Olympics. He's also under contract with Amazon for another two seasons unless he decides to retire before that deal expires. So perhaps the simple solution is keeping Dungy out of the broadcast booth and giving Michaels a better partner.
But can NBC drop in another analyst who hasn't worked with Michaels all season? Anyone would arguably be an improvement over Dungy. Is it at all possible for Herbstreit to be hired on for a one-off playoff broadcast, thus ensuring that the broadcast team will have some on-air familiarity and chemistry?
Otherwise, NBC's only other option may be its Notre Dame broadcast team of Jac Collinsworth and Jason Garrett. (The network tried that last season with Tirico and Drew Brees, only for Brees to wilt under the harsher NFL playoff spotlight.)
The pair also called USFL broadcasts for the network, so at least there would be familiarity rather than trying to figure each other out during a telecast. Yet Collinsworth and Garrett aren't terribly popular with viewers. And as with Brees, that crew will face intense scrutiny with a larger playoff audience.
Unfortunately, NBC appears to be stuck here. Unless the new Big Ten broadcast team of Noah Eagle and Todd Blackledge gets a shot. That might be the best option! Other than Notre Dame or USFL games, where are the other opportunities for NBC to develop a No. 2 NFL broadcast team? No one wants to put Al Michaels through Chris Simms in the broadcast booth, right?
Ian Casselberry is a sports media columnist for BSM. He has previously written and edited for Awful Announcing, The Comeback, Sports Illustrated, Yahoo Sports, MLive, Bleacher Report, and SB Nation. You can find him on Twitter @iancass or reach him by email at iancass@gmail.com.
Al Michaels Has Options But He Has To Make a Choice
"It does all of us in the sports industry well to remember 99% of our audience would gladly trade places with us."
I don't ask much out of game announcers; get excited when appropriate, get the simple information correct, don't get so caught up in your shtick you put yourself above the game. Al Michaels has been doing all those things well for the better part of half a century and few would argue that he's not one of the best to ever do it. That doesn't mean he can't lose his fastball.
Before you read any longer, I am not here to say Al Michaels has lost his fastball. What I am here to say is Michaels has all too often this season seemed upset with and disinterested in the game he is calling. That isn't entirely surprising when you consider some of the Thursday night action he called on Amazon Prime where the average margin of victory was almost nine points per game.
On top of that, the Amazon schedule had a dreadful two week stretch with Colts 12-9 win over the Broncos in Week Five and the Commanders 12-7 win over the Bears the next Thursday. It was in that Broncos-Colts game Michaels asked Herbstreit if a game "can be so bad it is good?" Herbstreit's answer was "No", by the way. It was the full 15 game schedule that Michaels told The Athletic's media critic Richard Deitsch was like trying to sell a used car.
All of that is fine, the inaugural Amazon Prime season was not a smashing success. The streaming giant missed audience projections and will lose advertising revenue because of it. The lackluster schedule did not help that. But Michaels was given a second life; he was the NBC play-by-play announcer for the Saturday Night Wildcard Playoff game between the Chargers and Jaguars. It initially looked like Michaels might be the problem as five first half Jags turnovers had them in a 27-0 hole. But the home team staged a nearly unprecedented comeback for the win.
It was the performance by Michaels and, to a lesser degree, his analyst Tony Dungy that has led to criticism. Criticism might be too soft of a word, Michaels was roundly dragged for his lack of enthusiasm during the comeback and specifically on his call of the Jacksonville game winning field goal. The enthusiasm of the call of the game winner had a mid-3rd quarter of week four feel to it.
Me telling Al Michaels how to do play-by-play of an NFL game would be the equivalent of me telling a physicist how to split an atom. So, this isn't just a Michaels criticism, few things bother me more than hearing a game announcer complain about the length or quality of a game as if he'd rather be anywhere else. It does all of us in the sports industry well to remember 99% of our audience would gladly trade places with us.
How many NFL viewers would sit in the seat Michaels, or any NFL announcer occupies, for free? They'd feel like they won the lottery if they also were getting the money those announcers are getting paid to be there. The guy that works a 12-hour Thursday construction shift just to get home and crack a beer for the NFL game probably doesn't want to hear how tough that game is to announce.
On top of all of that, Michaels was given the gift of one of the wildest NFL Playoff comebacks you'll ever see and, at times, sounded as if he was completely disinterested in being there. Pro tip: the best NFL announcer in those moments is Kevin Harlan (see: Miami at Baltimore from earlier this season. That has nothing to do with my lifelong Dolphins fandom). Michaels' lack of enthusiasm was compounded by the exact opposite from Mike Tirico on the very same network for the Bengals-Ravens Wildcard game Sunday night.
Tirico, like Michaels, has a sterling resume of play-by-play accomplishments. The difference is Tirico sounded like he was having the time of his life on Sunday night.
To be fair, their two styles are different. Michaels has a very old school, Pat Summerall approach. Summerall, Vin Scully and Dick Enberg came along at a time when announcers were far more likely to let the pictures tell the story. More new school guys like Harlan and Tirico approach it differently.
Look, Al Michaels helped us believe in miracles. His place in the Sports Broadcaster's Hall of Fame has long since been cemented. Being a hall of fame inductee doesn't mean your style will forever be accepted by the masses. That leaves you with a few options; you can continue your style and accept or ignore the criticism or you can ride off into the sunset and enjoy the fruits of your decades of labor.
Al Michaels has what we all want; great options. He can choose any of them and be a winner in the game of life. It doesn't matter if he enthusiastically embraces them, or not.
Ryan Brown is a columnist for Barrett Sports Media, and a co-host of the popular sports audio/video show 'The Next Round' formerly known as JOX Roundtable, which previously aired on WJOX in Birmingham. You can find him on Twitter @RyanBrownLive and follow his show @NextRoundLive.
Bernie Kosar Was the Victim of a Policy That Doesn't Work Anymore
"The NFL has bigger fish to fry than Bernie Kosar. Hell, it has more pressing issues in Cleveland alone."
One week ago, Bernie Kosar lost his job on the Browns Radio Network for placing the first legal sports bet in the state of Ohio. Kosar, just like Jets coach Miles Austin weeks earlier and Calvin Ridley last year, violated a league policy that forbids team employees from placing a bet on any NFL game.
The integrity of the games still matters. The belief that what we are all seeing is being fairly contested is what gives those of us that like to have a little vested interest in the outcome the desire to lay our money down in the first place. I get the league's discomfort with a coach on the staff of a team in the middle of the playoff hunt making bets. I get its fear of the message it sends to have players making bets.
Roger Goodell and the 32 team owners are well within their rights to object to men that can potentially control the outcome of a game or postseason seeding doing anything that even appears to jeopardize its fairness. Even perceived impropriety can compromise the league's tremendous value.
But Bernie Kosar doesn't have that kind of influence on the outcome of a game. He is just a broadcaster and not even a game analyst. He is part of studio coverage.
I am far from the first to point this out, but in 2023, the NFL has three official sports betting partners. Just last week, it approved the first ever in-stadium sportsbook, which Fanatics is set to open inside of FedEx Field. If the NFL is comfortable enough with the reality that its fans like to bet to make those things a reality, then Kosar losing his gig is absurd. It is the result of nothing other than "well, that's the way we've always done it" thinking.
Maybe Kosar was terrible on the radio and the team was looking for a reason to move on. I don't live in Cleveland and I am not a Browns fan, so I have no idea.
How many times have we heard that NFL owners hired Goodell to "protect the shield"? I'm not even really sure what it means or when it applies anymore. If I had a vested interest in the public perception of the league, I know that I would want someone to do the PR math on this situation.
Bernie Kosar isn't an addict that can't watch a game without the high of winning or the emotional distress of losing everything at stake, at least not as far as we know. This was a bet made through an advertising partner, to benefit charity. He even said on his podcast this week that the purpose of making the bet was to generate some money for former players in need of help.
This is like Disney threatening daycare centers with lawsuits for painting Mickey Mouse on a classroom wall. The NFL has bigger fish to fry than Bernie Kosar. Hell, it has more pressing issues in Cleveland alone.
Surely you have seen Garrett Bush's impassioned rant on the Ultimate Cleveland Sports Show about the obstacles facing Damar Hamlin because of how many hoops the NFL makes former players jump through in order to get some kind of pension.
On January 2, we were all united in our concern for a guy that hadn't even completed his second full NFL season. We didn't know if he was going to live, but if he did, we all knew that the NFL had done everything it needed to in order to protect itself from ever having to pay a dime for his medical care. Less than a week later, Bernie Kosar was fired for what amounted to a charity stunt that was meant to raise money and attention to very similar issues.
At both the league level and the team level, there was incompetence that lead to a man unnecessarily losing a gig and to the Browns and the NFL looking horribly out of touch with reality.
Are we acknowledging that people gamble or not? Are we acknowledging there are responsible ways to bet on football and are interested in generating revenue off of it or not? Because it doesn't seem to me that the same league that just gave the thumbs up to open a sportsbook inside of a stadium is really that concerned with people that cannot affect the outcome of games betting on those games.
Has the NFL come out and said that it is going to cover every medical bill for everyone that has ever played the game? We know that this is a brutal game that leaves a physical and physiological impact on the men that played it. Why would we make it harder for someone that knows that pain to help others do something about it?
I feel awful for Bernie Kosar. Whether he needs the money or not, it is embarassing to be at the center of a controversy like this, particularly because in the NFL in 2023, there is no reason for a controversy like this to exist.
Demetri Ravanos is the Assistant Content Director for Barrett Sports Media. He hosts the Chewing Clock and Media Noise podcasts. He occasionally fills in on stations across the Carolinas. Previous stops include WAVH and WZEW in Mobile, AL, WBPT in Birmingham, AL and WBBB, WPTK and WDNC in Raleigh, NC. You can find him on Twitter @DemetriRavanos and reach him by email at DemetriTheGreek@gmail.com.