This Time, Athletes Can't Stop Kneeling And Protesting
"What we've learned from George Floyd's death — and history — is that racial activism cannot afford to be intermittent. Sports protests must be relentless, and leagues should allow athletes to kneel as they please"
This is no time for amnesia. It wasn't long ago when the almighty power bases of American sports — the NFL and its broadcast partnerships — were burned out on Colin Kaepernick and his racial injustice movement. The sentiment was sweeping that sideline protests had run their course, that network cameras would avoid showing athletes in the act of kneeling. The evil seeds were planted, of course, by You Know Who, in an Alabama speech urging teams how to proceed if a player took a knee.
"Get that son of a bitch off the field right now. He's fired. He's fired,'' said President Donald Trump, adding, "I guarantee things will stop'' if fans immediately got up and left the stadium.
Before you knew it, by incremental design, the demonstrations were a non-story. Roger Goodell, working for billionaire owners, distanced himself from Kaepernick by embracing another league activist, Malcolm Jenkins, then enlisting rapper Jay-Z as his cultural minister and crisis fixer. The exit strategy was insensitive and awkward, as are many flashpoints of Goodell's commissionership, but eventually, the spectacle of football and pressures of television money overwhelmed the protests, appeasing white-influenced advertisers who'd watched nervously. As for other top leagues, there were no such tensions; NBA players and commissioner Adam Silver have been in powerful lockstep about race since the 2014 Donald Sterling debacle, and Major League Baseball is disturbingly indifferent amid a grim racial imbalance, with African-American players comprising less than eight percent of Opening Day rosters last season.
Call it corporate suppression. Call it white supremacy. Certainly, call it a case of the football establishment getting what it wanted and quieting the angst of black America yet again.
But now, in all its grotesque horror, we have the cold-blooded murder of George Floyd, the latest victim of police brutality in our twisted, hatred-gutted republic. Coming as it did after the killings of Ahmaud Arbery and Breonna Taylor, a truth has become self-evident: This time, sports cannot be allowed to strategically tip-toe out of inconvenience because a bunch of rich white men are uncomfortable in boardrooms. Like it or not, the NFL and all other institutions, professional to college to high school, must obey their social responsibilities and let athletes take a knee as they please. If and when live games resume, those who wish to kneel in protest of racial inequality should be permitted to do so without resistance for as long as they damn well please — years, if necessary.
The networks must air it. The commissioners and owners must honor it. The advertisers must deal with it. The fans must respect it. And Trump must put a sock in it — or, better, move aside and let someone else try to lead America through its violence-and-pandemic turbulence without daily provocation and cartoonish responses.
Otherwise, another atrocity awaits, another tragedy as unspeakable as a racist cop pressing his knee against the neck of an unarmed black man for eight minutes and 46 seconds.
What we've learned from the Floyd images, and the outbreaks of civil unrest, is that racial activism cannot afford to be intermittent. No one can shut up and dribble. Protests must be relentless, if also peaceful, so the world isn't allowed to forget Minneapolis and slip into old, sick habits that enable killer cops such as Derek Chauvin. Black athletes have been vocal for generations — Muhammad Ali, John Carlos and Tommie Smith, Jim Brown, LeBron James — but their robust voices ultimately fade amid the inevitable disruption of another racist act. That's why the composed but persistent visual of Kaepernick, in a period when NBA players routinely wore "I Can't Breathe'' shirts in memory of Eric Garner, harbored hope for a long-term sea change.
"Ultimately, it's to bring awareness and make people realize what's going on this country,'' Kaepernick said of his mission. "There's people being murdered unjustly and people not being held accountable.''
Alas, the kneeling campaign sputtered and stopped. And here we are, right back where we started, outraged about another man who couldn't breathe. Kaepernick no longer is playing in the NFL, but Trump is still the president, shaken enough by violent protests near the White House to lash out on Twitter and escape to his underground bunker, yet striking the pose of a strongman in threatening to summon the U.S. military. All Kaepernick ever did was peacefully kneel by the San Francisco 49ers bench until the national anthem ended. Trump, by comparison, is a self-caricature in free fall, using the Bible as a prop in a surreal photo-op outside a fire-damaged Washington church … but only after police swept away protesters with gas, rubber bullets and flash bang grenades. When calm and equilibrium are the urgently needed presidential tones, Trump is hapless to summon anything but bluster.
"I am your President of law and order,'' he declared, vowing to rid the nation of "professional anarchists, violent mobs … arsonists, looters, criminals, rider rioters, Antifa and others.''
And as long as he's in office, Trump will oppose what's next in sports: Athletes again wanting to kneel, scribble messages on their shoes and uniforms and demonstrate on game days. He will resurrect his "son of a bitch'' speech. He will contact Goodell and influential NFL friends, such as New England Patriots owner Robert Kraft. Trump will denounce athletes as unworthy of jobs and appeal to Americans to turn against them. This time, the NFL and the networks cannot budge.
Let them kneel. Let them speak.
Take a lead from Europe — hella Europe — where Premier League players can protest Floyd's death without fear of reprimand. This is in contrast to Germany's soccer chiefs, who investigated three Bundesliga players for displaying messages supporting Floyd. "A common sense approach,'' said the Football Association, England's governing soccer body. "The power of football can break down barriers across communities, and we remain deeply committed to removing all forms of discrimination from across the game we all love."
It has been inspiring to watch athletes and entertainers speak out in recent days, including Michael Jordan, Tiger Woods and Derek Jeter, all averse to enter past racial frays. Said Jordan, memorably: "I am deeply saddened, truly pained and plain angry. I see and feel everyone's pain. I stand with those who are calling out the ingrained racism and violence toward people of color in our country. We have had enough.'' In particular, young athletes such as Jaylen Brown and Malcolm Brogdon are rising up to lead peaceful protests. Among the words resonating most instructively are those of Gregg Popovich, a 71-year-old white male and military veteran who has evolved into an outspoken crusader against racism. Sometimes, his anti-Trump rants are out of place at, say, a pre-game media briefing, costing San Antonio Spurs fans the joy of a refreshing hoops conversation. But this is the real time and place to vent, as a thoughtful American, and in a conversation with The Nation site, the U.S. Olympic men's basketball coach struck a chord that must resonate.
"The thing that strikes me is that we all see this police violence and racism, and we've seen it all before, but nothing changes,'' Popovich said. "That's why these protests have been so explosive. But without leadership and an understanding of what the problem is, there will never be change. And white Americans have avoided reckoning with this problem forever, because it's been our privilege to be able to avoid it. That also has to change."
But will it change? Ever? All the education and demonstration in the world can't stop a rogue racist from becoming the next Derek Chauvin. Kareem Abdul-Jabbar thought he had seen the abyss 28 years ago in Los Angeles, when an unarmed black man named Rodney King was savgely beaten by police officers who would be acquitted, prompting riots that feed the city's anxieties today. "Think about this: nothing has changed since what was supposed to be a routine traffic stop of Rodney King,'' said Abdul-Jabbar, the NBA great, author and social observer. "That was 30 years ago. And still nothing has changed. White cops still can act with impunity and kill people that they feel like they want to kill. It's got to stop someplace.''
Tell Bob Kroll. He's the Minneapolis police union president who thinks Floyd's 2009 conviction, for assault and robbery, begins to justify death-by-asphyxia. "What is not being told is the violent criminal history of George Floyd,'' Kroll said in a letter to members. "The media will not air this.'' Has he considered that the media, like most human beings, are consumed by viral visuals of Floyd. We see him telling witnesses, "They're going to kill me, man,'' which is exactly what happened as he became unresponsive, though Chauvin kept his knee on his neck for another two minutes and 53 seconds.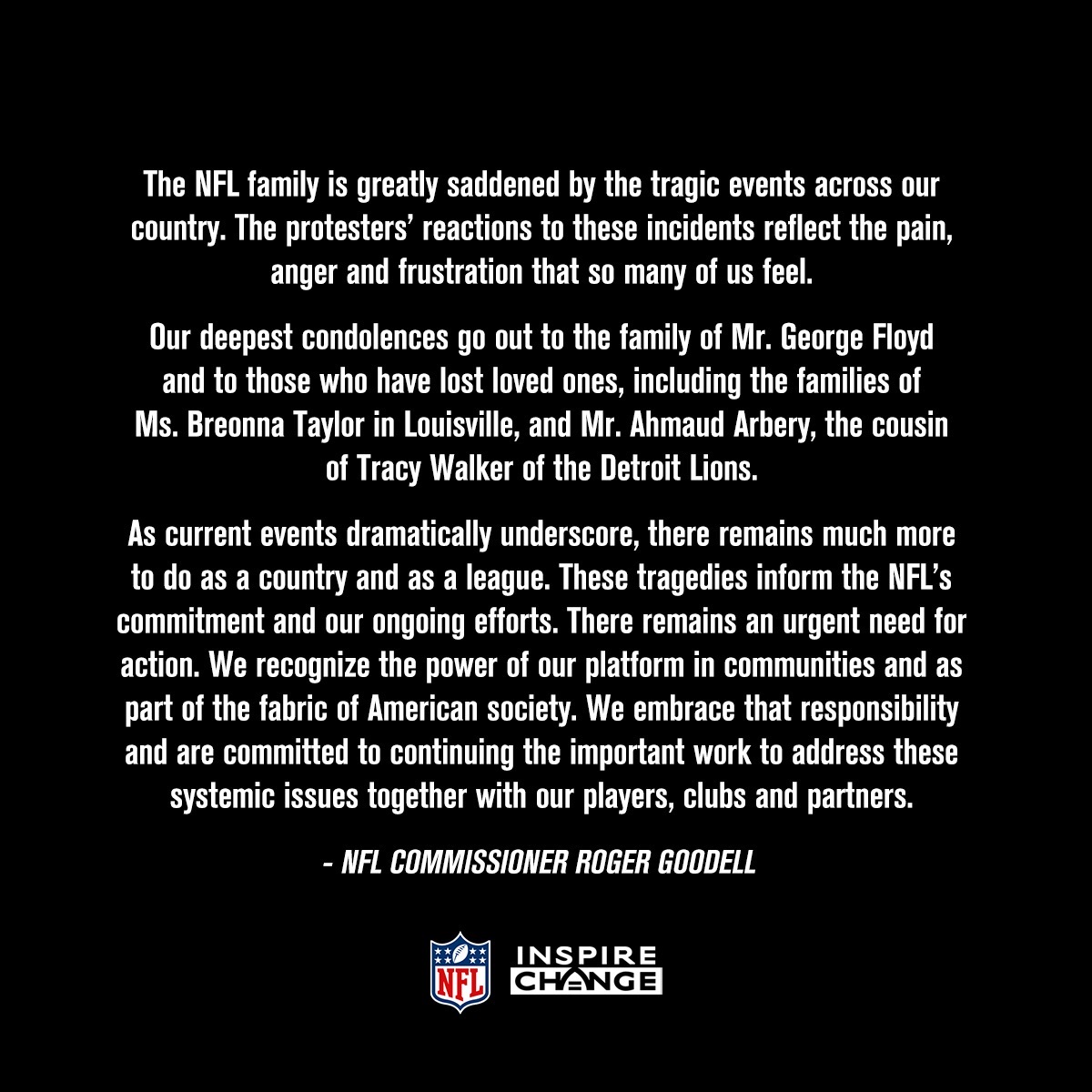 For reasonable people, it never was a question of whether Kaepernick was right or wrong in sideline protests that started four years ago. It was whether he ultimately would disrupt racism and force a American social metamorphosis. Obviously, he did not, and the recent string of killings give oxygen to theories that Kaepernick has been blackballed by the NFL. After Goodell released a statement, saying "the NFL family is greatly saddened by the tragic events across our country" and that "protesters' reactions to these incidents reflect the pain, anger and frustration that so many of us feel,'' the commissioner was mocked on social media by everyone from director Ava DuVernay to Houston Texans receiver Kenny Stills.
"Save the bull(bleep),'' said Stills, one of the few players still kneeling on sidelines last season.
"Your statement said nothing,'' Minnesota Vikings linebackers Eric Kendricks and Anthony Barr said in identical tweets. "Your league is built on black athletes. Vague answers do nothing. Let the players know what you're ACTUALLY doing. And we know what silence means.''
No doubt the league would benefit substantially, in the optics of social awareness and the interest of calming players, if a franchise swooped in now and signed Kaepernick. This was suggested by former Clinton White House press secretary Joe Lockhart, the NFL's primary spokesperson when the kneeling protests took hold in 2017. He is urging the Vikings to make an offer — the team that plays in a stadium not far from the Floyd death scene. Lockhart claims Goodell had no agenda, saying, "Kaepernick was not blocked because the league wanted to punish him for setting off the protests.'' Rather, Lockhart says franchises ignored the league's "prodding and pushing'' to sign him, adding that teams "thought he was bad for business'' and "an executive from a team that considered signing Kaepernick told me the team projected losing 20 percent of season ticket holders if they did."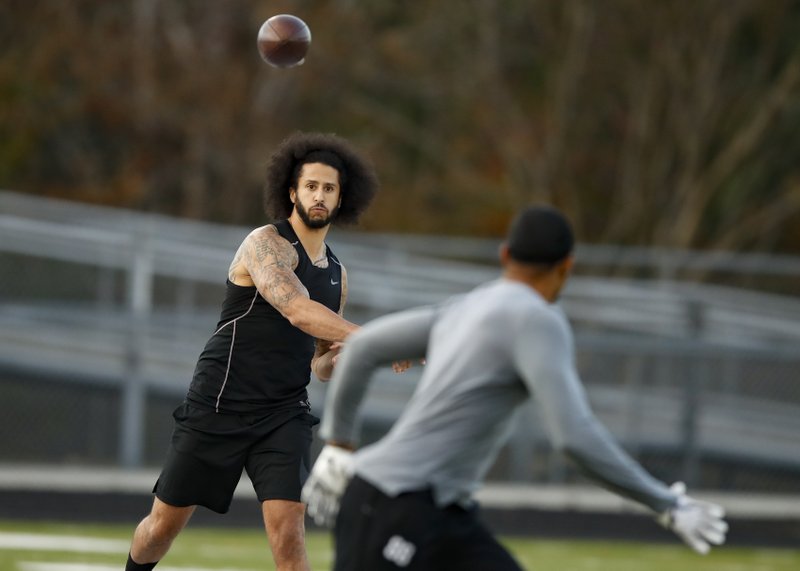 Is Kaepernick still too hot to handle? Of course, he is, now more than ever. Given the magnitude and breadth of violence nationwide, his arrival in any city would be akin to a tsunami as people try to stay safe from the unrest, ward off COVID-19 and deal with rampant unemployment. Consider two key points: (1) The NFL season is in limbo because of the pandemic; and (2) Kaepernick has not been a difference-making quarterback since 2013 and at times has been a bad quarterback, such as when I covered him in San Francisco. He hasn't played an NFL down in almost four years, and when the league arranged for a mass tryout last fall, he complained, moved the workout site and pissed everyone off. So, stop the politicking, Joe, and let Kaepernick get back to work on America's social conscience.
Besides, his cultural influence remains dynamic. In West Hollywood, an LAPD officer made an offer to protesters: If they were peaceful, he would take a knee. They complied. So he dropped into the Kaepernick stance.
And the protesters took a knee with him.
Don't stop kneeling. Don't stop believing.
Being Wrong On-Air Isn't A Bad Thing
…if you feel yourself getting uncomfortable over the fact that you were wrong, stop to realize that's your pride talking. Your ego. And if people call you out for being wrong, it's actually a good sign.
In the press conference after the Warriors won their fourth NBA title in eight years, Steph Curry referenced a very specific gesture from a very specific episode of Get Up that aired in August 2021.
"Clearly remember some experts and talking heads putting up the big zero," Curry said, then holding up a hollowed fist to one eye, looking through it as if it were a telescope.
"How many championships we would have going forward because of everything we went through."
Yep, Kendrick Perkins and Domonique Foxworth each predicted the Warriors wouldn't win a single title over the course of the four-year extension Curry had just signed. The Warriors won the NBA title and guess what? Curry gets to gloat.
The funny part to me was the people who felt Perkins or Foxworth should be mad or embarrassed. Why? Because they were wrong?
That's part of the game. If you're a host or analyst who is never wrong in a prediction, it's more likely that you're excruciatingly boring than exceedingly smart. Being wrong is not necessarily fun, but it's not a bad thing in this business.
You shouldn't try to be wrong, but you shouldn't be afraid of it, either. And if you are wrong, own it. Hold your L as I've heard the kids say. Don't try to minimize it or explain it or try to point out how many other people are wrong, too. Do what Kendrick Perkins did on Get Up the day after the Warriors won the title.
"When they go on to win it, guess what?" He said, sitting next to Mike Greenberg. "You have to eat that."
Do not do what Perkins did later that morning on First Take.
Perkins: "I come on here and it's cool, right? Y'all can pull up Perk receipts and things to that nature. And then you give other people a pass like J-Will."
Jason Williams: "I don't get passes on this show."
Perkins: "You had to, you had a receipt, too, because me and you both picked the Memphis Grizzlies to beat the Golden State Warriors, but I'm OK with that. I'm OK with that. Go ahead Stephen A. I know you're about to have fun and do your thing. Go ahead."
Stephen A. Smith: "First of all, I'm going to get serious for a second with the both of you, especially you, Perk, and I want to tell you something right now. Let me throw myself on Front Street, we can sit up there and make fun of me. You know how many damn Finals predictions I got wrong? I don't give a damn. I mean, I got a whole bunch of them wrong. Ain't no reason to come on the air and defend yourself. Perk, listen man. You were wrong. And we making fun, and Steph Curry making fun of you. You laugh at that my brother. He got you today. That's all. He got you today."
It's absolutely great advice, and if you feel yourself getting uncomfortable over the fact that you were wrong, stop to realize that's your pride talking. Your ego. And if people call you out for being wrong, it's actually a good sign. It means they're not just listening, but holding on to what you say. You matter. Don't ruin that by getting defensive and testy.
WORTH EVERY PENNY
I did a double-take when I saw Chris Russo's list of the greatest QB-TE combinations ever on Wednesday and this was before I ever got to Tom Brady-to-Rob Gronkowski listed at No. 5. It was actually No. 4 that stopped me cold: Starr-Kramer.
My first thought: Jerry Kramer didn't play tight end.
My second thought: I must be unaware of this really good tight end from the Lombardi-era Packers.
After further review, I don't think that's necessarily true, either. Ron Kramer did play for the Lombardi-era Packers, and he was a good player. He caught 14 scoring passes in a three-year stretch where he really mattered, but he failed to catch a single touchdown pass in six of the 10 NFL seasons he played. He was named first-team All-Pro once and finished his career with 229 receptions.
Now this is not the only reason that this is an absolutely terrible list. It is the most egregious, however. Bart Starr and Kramer are not among the 25 top QB-TE combinations in NFL history let alone the top five. And if you're to believe Russo's list, eighty percent of the top tandems played in the NFL in the 30-year window from 1958 to 1987 with only one tandem from the past 30 years meriting inclusion when this is the era in which tight end production has steadily climbed.
Then I found out that Russo is making $10,000 per appearance on "First Take."
My first thought: You don't have to pay that much to get a 60-something white guy to grossly exaggerate how great stuff used to be.
My second thought: That might be the best $10,000 ESPN has ever spent.
Once a week, Russo comes on and draws a reaction out of a younger demographic by playing a good-natured version of Dana Carvey's Grumpy Old Man. Russo groans to JJ Redick about the lack of fundamental basketball skills in today's game or he proclaims the majesty of a tight end-quarterback pairing that was among the top five in its decade, but doesn't sniff the top five of all-time.
And guess what? It works. Redick rolls his eyes, asks Russo which game he's watching, and on Wednesday he got me to spend a good 25 minutes looking up statistics for some Packers tight end I'd never heard of. Not satisfied with that, I then moved on to determine Russo's biggest omission from the list, which I've concluded is Philip Rivers and Antonio Gates, who connected for 89 touchdowns over 15 seasons, which is only 73 more touchdowns than Kramer scored in his career. John Elway and Shannon Sharpe should be on there, too.
Money Isn't The Key Reason Why Sellers Sell Sports Radio
I started selling sports radio because I enjoyed working with clients who loved sports, our station, and wanted to reach fans with our commercials and promotions.
A radio salesperson's value being purely tied to money is overrated to me. Our managers all believe that our main motivation for selling radio is to make more money. They see no problem in asking us to sell more in various ways because it increases our paycheck. We are offered more money to sell digital, NTR, to sell another station in the cluster, weekend remotes, new direct business, or via the phone in 8 hours.
But is that why you sell sports radio?
In 2022, the Top 10 highest paying sales jobs are all in technology. Not a media company among them. You could argue that if it were all about making money, we should quit and work in tech. Famous bank robber Willie Sutton was asked why he robbed twenty banks over twenty years. He reportedly said," that's where the money is". Sutton is the classic example of a person who wanted what money could provide and was willing to do whatever it took to get it, BUT he also admitted he liked robbing banks and felt alive. So, Sutton didn't do it just for the money.
A salesperson's relationship with money and prestige is also at the center of the play Death of a Salesman. Willy Loman is an aging and failing salesman who decides he is worth more dead than alive and kills himself in an auto accident giving his family the death benefit from his life insurance policy. Loman wasn't working for the money. He wanted the prestige of what money could buy for himself and his family. 
Recently, I met a woman who spent twelve years selling radio from 1999-2011. I asked her why she left her senior sales job. She said she didn't like the changes in the industry. Consolidation was at its peak, and most salespeople were asked to do more with less help. She described her radio sales job as one with "golden handcuffs". The station paid her too much money to quit even though she hated the job. She finally quit. The job wasn't worth the money to her.
I started selling sports radio because I enjoyed working with clients who loved sports, our station, and wanted to reach fans with our commercials and promotions. I never wanted to sell anything else and specifically enjoyed selling programming centered around reaching fans of Boise State University football. That's it. Very similar to what Mark Glynn and his KJR staff experience when selling Kraken hockey and Huskies football.
I never thought selling sports radio was the best way to make money. I just enjoyed the way I could make money. I focused on the process and what I enjoyed about the position—the freedom to come and go and set my schedule for the most part. I concentrated on annual contracts and clients who wanted to run radio commercials over the air to get more traffic and build their brand.
Most of my clients were local direct and listened to the station. Some other sales initiatives had steep learning curves, were one-day events or contracted out shaky support staff. In other words, the money didn't motivate me enough. How I spent my time was more important.
So, if you are in management, maybe consider why your sales staff is working at the station. Because to me, they'd be robbing banks if it were all about making lots of money.
Media Noise: BSM Podcast Network Round Table
Demetri Ravanos welcomes the two newest members of the BSM Podcast Network to the show. Brady Farkas and Stephen Strom join for a roundtable discussion that includes the new media, Sage Steele and Roger Goodell telling Congress that Dave Portnoy isn't banned from NFL events.
Podcast: Play in new window | Download
Subscribe: RSS