Greg Papa Is Still Trying To Impress His Big Brother
"I think the hard part is not knowing exactly when this will all wrap up. The idea of worrying about sports seems a little silly right now. For now, we just have to look out for each other."
Greg Papa understands the value of a role model.  Someone tangible in front of you who has risen to heights to which you plan to ascend yourself.  A person who blazed a path forward while graciously leaving breadcrumbs behind.
No one needs a role model when things are going well – when everything's working out.  When times are good, success feels effortless, almost inevitable. 
It's the tough times when you need that spark – when you think you don't belong or you're not quite good enough. During those times it's all too easy to make excuses. To settle. To throw your hands in the air and figure it was never meant to be. During times of doubt – it's vital to understand yours is a battle that has been fought and won time and time again.
As the only broadcaster to ever work for the Warriors, A's, Giants, Raiders and 49ers – you don't have to work hard to paint Papa as a role model himself. It's an exercise, however, in which he has no interest.
"I'm always very humbled when people come up to me and say they grew up listening to me and watching me," he pauses, clearly uncomfortable at the idea of discussing his Bay Area celebrity. "More times than not I'm thinking 'aren't you my age?'"
Papa didn't have to look far for his role model, in fact he was right down the hall in his childhood Buffalo, NY home. Gary Papa, eight years Greg's senior, was everything a younger brother could ask for.  Even over the phone in 2020, Greg speaks of Gary with such a reverence – you're forced to hang on every word.
Like any younger brother – Greg is quick to measure himself up to Gary.
"He went to Cornell – then he went on to law school," explains Greg, as if annoyed at his brother's success.
"I was never going to be an Ivy League guy."
When he wasn't attending University at Buffalo Law School classes, Gary was anchoring sports for WGR-TV down the street.  By 1981, with a law degree in hand, the elder Papa began a career at WPVI in Philadelphia that lasted nearly 3 decades.
"I still don't know how he was able to pull all that off," admits Greg, his voice somewhere between awe and admiration.
Greg may not have inherited his brother's academic fortitude, but he certainly has the work ethic. He would also never admit it, but Greg's post collegiate career might be more impressive than that of his brother's.
With the Ivy League out of the question, Papa settled on Syracuse University – a reasonable safety school by any metric. By his junior year, he was the Sports Director for the student led WAER and cutting his play by play teeth on just about every sport the Athletic Department had to offer.
As it turns out, he was a promising young talent in a school known for it's talent at just the right time.
"My senior year, Sports Illustrated had contacted us to do a story on what had become 'the incubator of sportscasters' at Syracuse," he grins. "I got a little cocky."
Papa's self-diagnosed "cockiness" was not unfounded.
Right out of school, the fresh faced 22-year-old was offered the Sports Director position for KGO in San Francisco. Where Greg differed a bit from his older brother was his gravitation towards the play by play booth. He preferred the games over the studio and wanted to land somewhere he could call some action.
That opportunity came in the form of Indianapolis with the Pacers. The team needed a bench broadcaster to fill in and the recent Syracuse grad was their man.
Generally speaking, broadcasters straight out of their caps and gowns don't get jobs in the NBA. While grateful for the opportunity – Papa was not about to rest on his laurels.
In 1986 the Golden State Warriors had an ownership change and Greg's boss in Indiana, Roger Blaemire, had himself a new position in Oakland as a VP and brought Papa out west. Just a few years removed from Upstate New York – Greg was now the TV and radio voice of the Bay Area's only NBA team.
"For the first month I was out here – I stayed at the Oakland Airport Hilton. It took me about two weeks to realize how much I loved the Bay Area. It's like a small country out here, in a 3 hour drive you can do anything you want," the transplant takes a beat, careful to be completely honest about the tough times involved with the move.
"I will say I was a little intimidated for a while. For one, the people out here were so smart, so worldly. I also wasn't sure I could ever afford a house!"
The rookie west coaster combined his excitement with his fear and allowed it to fuel his work. Alongside Jim Barnett, Papa called the Warriors' first playoff season in a decade. He was a new name in the market but his voice was now synonymous with winning.
Of course – there wasn't a bigger winner in the late 80s in the Bay Area than the Oakland A's, a neighbor of Papa's Warriors. During the 1990 season, just months after 1989's Bay Bridge Series, Greg joined Oakland's broadcast team and followed the A's all the way to their 3rd consecutive World Series appearance.
By 1997, with a decade of experience calling Warriors games and a handful of summers spent in the Coliseum – Papa had already established himself as a major player in the Bay Area sports media market. That fall, he would start the job that would cement his place as an icon in town.
"I have to say," begins the ever-modest Papa. "My first Raiders game, first preseason game, I was terrible!  The worst broadcast in my career.  I had never done the NFL, I was passive.  By my second game I understood I had to attack the game.  Formations, substitutions – I had to be aggressive in my calls.  I got better."
For 20 years, Greg Papa's emphatic "Touchdown RRRRRRaiders" calls were as much a part of the Silver and Black game day experience as Blake Hole cutaway shots and "The Autumn Wind" blasting from car radios as tailgaters began their march to the Coliseum.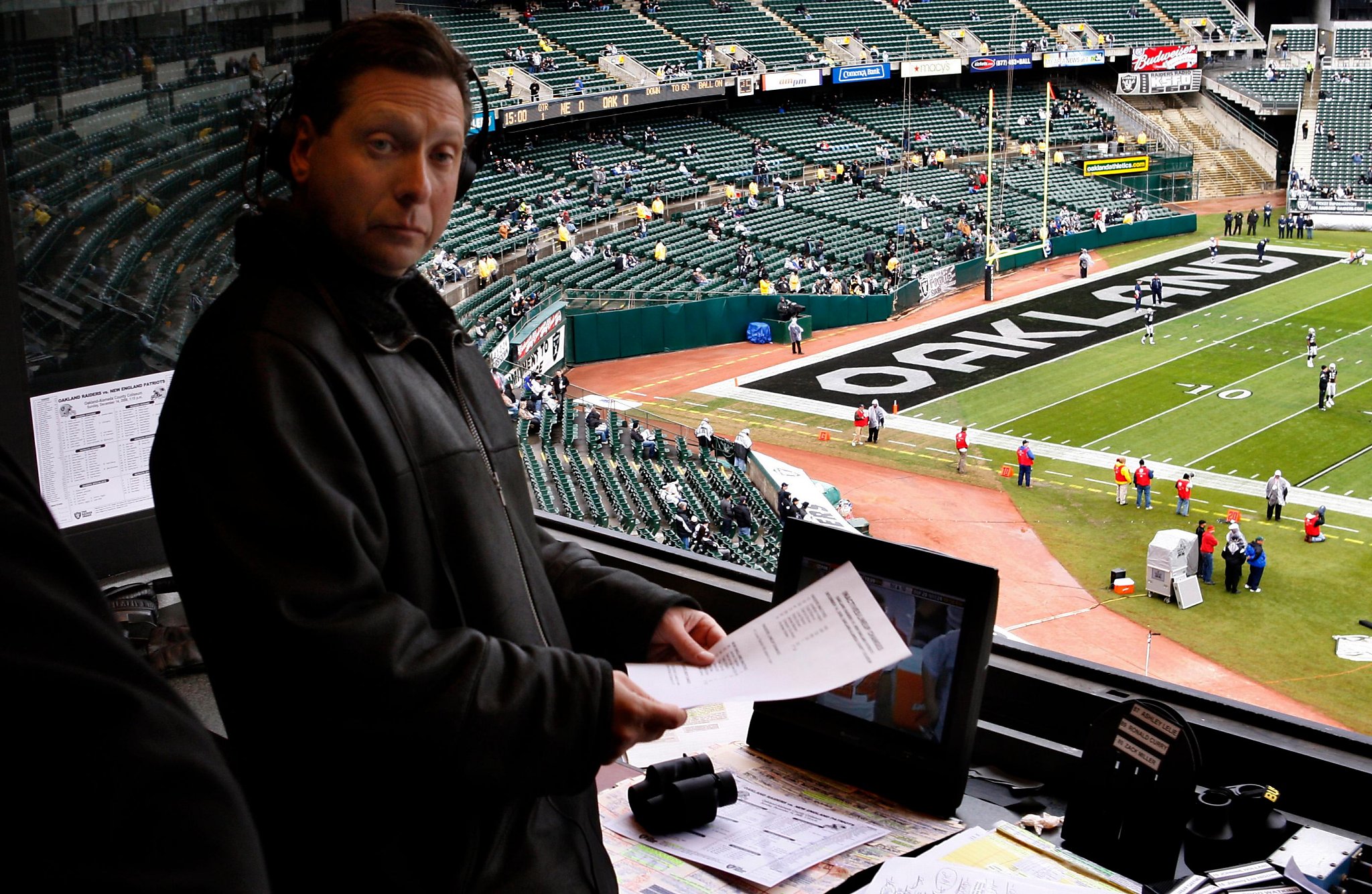 While he would never describe himself as such, Papa was something of a hero for the East Bay sports scene at the turn of the 21st Century. In a market that celebrated mediocre Giants and 49ers teams over championship seeking A's and Raiders squads – Papa was a proud representation of the often-slighted Oakland sports fan.
Industry politics, as they so often do, stood between Papa and the ability to be the voice of all three East Bay teams at once.
"It was close, but it never did exactly line up. I was a few months off."
In the summer of '97, the Warriors opted to make a change in the broadcast booth. Undeterred, Papa found a way to keep his NBA fix – nearly 2,000 miles away in San Antonio.
From 1997 to 2000, the same man who marveled at how his brother Gary could work as a fulltime sportscaster while attending law school, was calling games on TV for the A's and Spurs while manning the radio broadcasts for the Raiders.
3 teams, 3 sports, 2 markets, no offseason.
You won't hear Greg complain about that schedule. Rather, he counts himself lucky to have had a front row seat to the dawn of Gregg Popovich's head coaching career and the first 3 years of the remarkable Tim Duncan era – not to mention a 1999 championship season.
It was late in 2003 – as Greg was nearing his 20-year mark in the Bay Area – that Papa received what he calls one of the toughest phone calls of his career. He was reached out to by the then VP of Programming for Comcast SportsNet Bay Area and CSN California, Ted Griggs.
"Ted got on the phone, and I'll never forget it. He told me the A's wanted to go in another direction – but that if I wait 5 minutes, I would be getting a call from Larry Baer."
Papa understood a call from the owner of the San Francisco Giants meant an offer to join the broadcast crew for the team across the Bay. He was honored to be considered, but immediately faced with a new set of challenges.
"There was already a great team of broadcasters over there. Duane and Mike (Kuiper and Krukow) are two of the best in the business on the TV side, and on the radio you had the unbelievable team of Jon Miller and Dave Flemming! Needless to say, I was the low man on the totem pole."
Maybe the most impressive thing about Greg Papa, outside of his undying respect for his colleagues and predecessors, is his brutal honesty when assessing his own performance.  As it happens, the switch to the National League after nearly 15 years in the AL was tougher than the veteran broadcaster had anticipated.
"That was the hardest thing I've ever had to do in my career! I was so familiar with the AL, I didn't realize how out of touch I was with the NL. I was pretty hard on myself for a stretch when I was filling in."
On top of navigating the waters of a foreign league, Papa had to deal with the backlash of switching fan bases.
"There was definitely some: 'This is an A's guy! What's he doing here!?' There's not much I can do about that, fans are passionate."
While his divorce with the A's and courtship with the Giants was difficult, Greg points out it made his next dismissal slightly easier to stomach.
In July of 2018, just a month before preseason games were set to kick off, the Raiders notified Papa he would not return for a 22nd campaign with the team. At that point, Papa had worked for 3 other Bay Area franchises and was back doing pre and postgame shows for the Warriors – but above all else Greg's voice was associated with the Raiders. The decision of the Raiders to move on from Papa was major news in Northern California, but rather than cast blame or stew over those who wronged him – Greg chooses to walk on the sunny side of the street.
"Look at it this way – I've been fired from 3 different teams in the Bay Area and I've never had to move. How many people can say that?"
Last summer, Gary's little brother received an offer that would escalate his already stellar career to an unprecedented level. He was asked to become the radio voice of the San Francisco 49ers – the 5th Bay Area team to seek his services.
"I honestly did think about it for a second. My wife thought the transition would be tough because I was so closely associated with the Raiders," remembers Papa.
Fortunately for 49ers fans, that second didn't last long.
In 2019, Greg Papa became the first broadcaster to work for all 5 major sports franchises on either end of the Bay Bridge. As humble as the day he left Buffalo, he's not one to boast about his unparalleled career accomplishments, but the significance certainly isn't lost on him.
"One of my most prized possessions is hanging right now above me in my office. It's a Niners jersey with the number 5 on it – signed by Kyle Shanahan and a number of people from the organization. It was a great gesture by the team."
Greg Papa has done things in his career so many could only dream of. He's called two Super Bowls, one for each team. He was along for the thrill ride of the A's historic 20 game winning streak and was immortalized in 2012's Moneyball for his efforts. He lent his voice to Barry Bonds' all-time home run chase of Willie Mays, Babe Ruth and ultimately Hank Aaron. He was there for Sleepy Floyd's 51 point playoff game against the Lakers in the late 80s, and the agonizing pain of the "Tuck Rule," and the birth of Tom Brady's legacy at the cost of Silver and Black hearts.
2020, however, marks the most bizarre and challenging time of Papa's life and career.
"It's hard to comprehend all of this," he admits.  "My career has lasted through two Iraq wars and 9/11, but this is different.  This is on a completely different level.  I'm consumed by it, day and night.  I think the hard part is not knowing exactly when this will all wrap up.  The idea of worrying about sports seems a little silly right now.  For now, we just have to look out for each other."
Greg makes light of the fact that he's been fired by three different teams, he almost embraces it. You might think he does so to deflect, but in reality, it's clear that when the chips are down – even a man defined by sports understands that sports are trivial compared to what really matters
In 2009, Gary Papa lost a long bout with cancer. The Broadcast Pioneers of Philadelphia Hall of Fame Inductee was survived by his wife Kathleen and two boys.
So many times these days we're asking ourselves questions to which we have no answer. When will it end? What will be the same? What will be different? The unknowns can be scary.
"I don't know when, but sports will return.  Our way of life will return and when it does we'll be better and stronger than ever."
We may not see the finish line at the end of this particular race, and we may not yet have definitive answers to questions that keep us up at night.
One thing we do know is that the Bay Area is fortunate to have a role model like Greg Papa – and his role model is and will always be proud of his little brother.
Being Wrong On-Air Isn't A Bad Thing
…if you feel yourself getting uncomfortable over the fact that you were wrong, stop to realize that's your pride talking. Your ego. And if people call you out for being wrong, it's actually a good sign.
In the press conference after the Warriors won their fourth NBA title in eight years, Steph Curry referenced a very specific gesture from a very specific episode of Get Up that aired in August 2021.
"Clearly remember some experts and talking heads putting up the big zero," Curry said, then holding up a hollowed fist to one eye, looking through it as if it were a telescope.
"How many championships we would have going forward because of everything we went through."
Yep, Kendrick Perkins and Domonique Foxworth each predicted the Warriors wouldn't win a single title over the course of the four-year extension Curry had just signed. The Warriors won the NBA title and guess what? Curry gets to gloat.
The funny part to me was the people who felt Perkins or Foxworth should be mad or embarrassed. Why? Because they were wrong?
That's part of the game. If you're a host or analyst who is never wrong in a prediction, it's more likely that you're excruciatingly boring than exceedingly smart. Being wrong is not necessarily fun, but it's not a bad thing in this business.
You shouldn't try to be wrong, but you shouldn't be afraid of it, either. And if you are wrong, own it. Hold your L as I've heard the kids say. Don't try to minimize it or explain it or try to point out how many other people are wrong, too. Do what Kendrick Perkins did on Get Up the day after the Warriors won the title.
"When they go on to win it, guess what?" He said, sitting next to Mike Greenberg. "You have to eat that."
Do not do what Perkins did later that morning on First Take.
Perkins: "I come on here and it's cool, right? Y'all can pull up Perk receipts and things to that nature. And then you give other people a pass like J-Will."
Jason Williams: "I don't get passes on this show."
Perkins: "You had to, you had a receipt, too, because me and you both picked the Memphis Grizzlies to beat the Golden State Warriors, but I'm OK with that. I'm OK with that. Go ahead Stephen A. I know you're about to have fun and do your thing. Go ahead."
Stephen A. Smith: "First of all, I'm going to get serious for a second with the both of you, especially you, Perk, and I want to tell you something right now. Let me throw myself on Front Street, we can sit up there and make fun of me. You know how many damn Finals predictions I got wrong? I don't give a damn. I mean, I got a whole bunch of them wrong. Ain't no reason to come on the air and defend yourself. Perk, listen man. You were wrong. And we making fun, and Steph Curry making fun of you. You laugh at that my brother. He got you today. That's all. He got you today."
It's absolutely great advice, and if you feel yourself getting uncomfortable over the fact that you were wrong, stop to realize that's your pride talking. Your ego. And if people call you out for being wrong, it's actually a good sign. It means they're not just listening, but holding on to what you say. You matter. Don't ruin that by getting defensive and testy.
WORTH EVERY PENNY
I did a double-take when I saw Chris Russo's list of the greatest QB-TE combinations ever on Wednesday and this was before I ever got to Tom Brady-to-Rob Gronkowski listed at No. 5. It was actually No. 4 that stopped me cold: Starr-Kramer.
My first thought: Jerry Kramer didn't play tight end.
My second thought: I must be unaware of this really good tight end from the Lombardi-era Packers.
After further review, I don't think that's necessarily true, either. Ron Kramer did play for the Lombardi-era Packers, and he was a good player. He caught 14 scoring passes in a three-year stretch where he really mattered, but he failed to catch a single touchdown pass in six of the 10 NFL seasons he played. He was named first-team All-Pro once and finished his career with 229 receptions.
Now this is not the only reason that this is an absolutely terrible list. It is the most egregious, however. Bart Starr and Kramer are not among the 25 top QB-TE combinations in NFL history let alone the top five. And if you're to believe Russo's list, eighty percent of the top tandems played in the NFL in the 30-year window from 1958 to 1987 with only one tandem from the past 30 years meriting inclusion when this is the era in which tight end production has steadily climbed.
Then I found out that Russo is making $10,000 per appearance on "First Take."
My first thought: You don't have to pay that much to get a 60-something white guy to grossly exaggerate how great stuff used to be.
My second thought: That might be the best $10,000 ESPN has ever spent.
Once a week, Russo comes on and draws a reaction out of a younger demographic by playing a good-natured version of Dana Carvey's Grumpy Old Man. Russo groans to JJ Redick about the lack of fundamental basketball skills in today's game or he proclaims the majesty of a tight end-quarterback pairing that was among the top five in its decade, but doesn't sniff the top five of all-time.
And guess what? It works. Redick rolls his eyes, asks Russo which game he's watching, and on Wednesday he got me to spend a good 25 minutes looking up statistics for some Packers tight end I'd never heard of. Not satisfied with that, I then moved on to determine Russo's biggest omission from the list, which I've concluded is Philip Rivers and Antonio Gates, who connected for 89 touchdowns over 15 seasons, which is only 73 more touchdowns than Kramer scored in his career. John Elway and Shannon Sharpe should be on there, too.
Money Isn't The Key Reason Why Sellers Sell Sports Radio
I started selling sports radio because I enjoyed working with clients who loved sports, our station, and wanted to reach fans with our commercials and promotions.
A radio salesperson's value being purely tied to money is overrated to me. Our managers all believe that our main motivation for selling radio is to make more money. They see no problem in asking us to sell more in various ways because it increases our paycheck. We are offered more money to sell digital, NTR, to sell another station in the cluster, weekend remotes, new direct business, or via the phone in 8 hours.
But is that why you sell sports radio?
In 2022, the Top 10 highest paying sales jobs are all in technology. Not a media company among them. You could argue that if it were all about making money, we should quit and work in tech. Famous bank robber Willie Sutton was asked why he robbed twenty banks over twenty years. He reportedly said," that's where the money is". Sutton is the classic example of a person who wanted what money could provide and was willing to do whatever it took to get it, BUT he also admitted he liked robbing banks and felt alive. So, Sutton didn't do it just for the money.
A salesperson's relationship with money and prestige is also at the center of the play Death of a Salesman. Willy Loman is an aging and failing salesman who decides he is worth more dead than alive and kills himself in an auto accident giving his family the death benefit from his life insurance policy. Loman wasn't working for the money. He wanted the prestige of what money could buy for himself and his family. 
Recently, I met a woman who spent twelve years selling radio from 1999-2011. I asked her why she left her senior sales job. She said she didn't like the changes in the industry. Consolidation was at its peak, and most salespeople were asked to do more with less help. She described her radio sales job as one with "golden handcuffs". The station paid her too much money to quit even though she hated the job. She finally quit. The job wasn't worth the money to her.
I started selling sports radio because I enjoyed working with clients who loved sports, our station, and wanted to reach fans with our commercials and promotions. I never wanted to sell anything else and specifically enjoyed selling programming centered around reaching fans of Boise State University football. That's it. Very similar to what Mark Glynn and his KJR staff experience when selling Kraken hockey and Huskies football.
I never thought selling sports radio was the best way to make money. I just enjoyed the way I could make money. I focused on the process and what I enjoyed about the position—the freedom to come and go and set my schedule for the most part. I concentrated on annual contracts and clients who wanted to run radio commercials over the air to get more traffic and build their brand.
Most of my clients were local direct and listened to the station. Some other sales initiatives had steep learning curves, were one-day events or contracted out shaky support staff. In other words, the money didn't motivate me enough. How I spent my time was more important.
So, if you are in management, maybe consider why your sales staff is working at the station. Because to me, they'd be robbing banks if it were all about making lots of money.
Media Noise: BSM Podcast Network Round Table
Demetri Ravanos welcomes the two newest members of the BSM Podcast Network to the show. Brady Farkas and Stephen Strom join for a roundtable discussion that includes the new media, Sage Steele and Roger Goodell telling Congress that Dave Portnoy isn't banned from NFL events.
Podcast: Play in new window | Download
Subscribe: RSS