Eavesdropping: John & Hugh On 92.9 The Game
"You'll certainly find highlights with this sports-first show during the course of a five-hour morning, but like many hosts, the duo will benefit from the returning scoreboard."
For five years, John Fricke and Hugh Douglas have been a top-rated morning show with Atlanta's 92.9 The Game. On-air from 5 – 10am each day, totaling 25 hours a week, it might not be fair to fully judge their show while most professional leagues remain shut down. But as we approach four months without pro sports and no guarantee they'll survive through the fall, hosts have needed to adjust.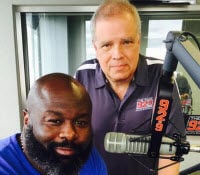 Content has focused on when and should sports return during a global pandemic. Many shows have taken these months to reminisce, while others welcomed the opportunity to dive into topics outside sports. And as sports continues to intersect with social issues, it can sometimes present an uncomfortable scenario for hosts and listeners.
With Drew Brees' comments on protests during the national anthem, NASCAR banning the Confederate flag and a noose found in Bubba Wallace's garage, some hosts may prefer sticking to sports, but it's impossible to ignore the issues of racial injustice. For Fricke and Douglas, they seemed at their best discussing these topics, offering measured, honest commentary.
Atlanta Hawks head coach Lloyd Pierce has become a leading voice in the city while fighting social injustice, and his interview with 92.9's morning show regarding the issue of racial inequality was short, but insightful. Two days later, Douglas, a former NFL defensive end, offered an emotional response to Brees' comments that he "will never agree with anybody disrespecting the flag."
"It's not about the flag, it's about being treated equal," Douglas said through tears. "It's about making sure that when my son drives through the city, he's not going to get killed."
To hear a former First Team All-Pro express that type of emotion and fear, allowed listeners to connect with the host in a way they probably didn't realize they could. Many people believe someone like Hugh Douglas, who made millions in the NFL, doesn't experience social hardships at this point in his life, but after hearing him speak Thursday, June 4, it would be ignorant to continue that assumption. Douglas made himself relatable to the audience and Metro Atlanta's Black community, a city with racial inequality even though it touts the slogan of a "city too busy to hate."
With local teams in the three major professional sports, NFL, NBA and MLB, it was interesting to hear how much soccer Fricke and Douglas mixed in. The Atlanta United have a partnership with the station, which gives reason to emphasize their local MLS club, but the hosts' interest sounded genuine.
In New York, for example, the only time you'll hear soccer on sports radio is during the World Cup. A local radio station might offer a quick spot to focus on matchups and countries, but very few discussions will include specific players.
When Mike Conti joins John and Hugh to discuss the Atlanta United, they break down specific players which gives me something to watch for. If I turn a game on after hearing the interview, I have a stronger connection with the United because I recognize players on the field. As Major League Baseball burns relations with its fans, 92.9 The Game's MLS coverage is timely.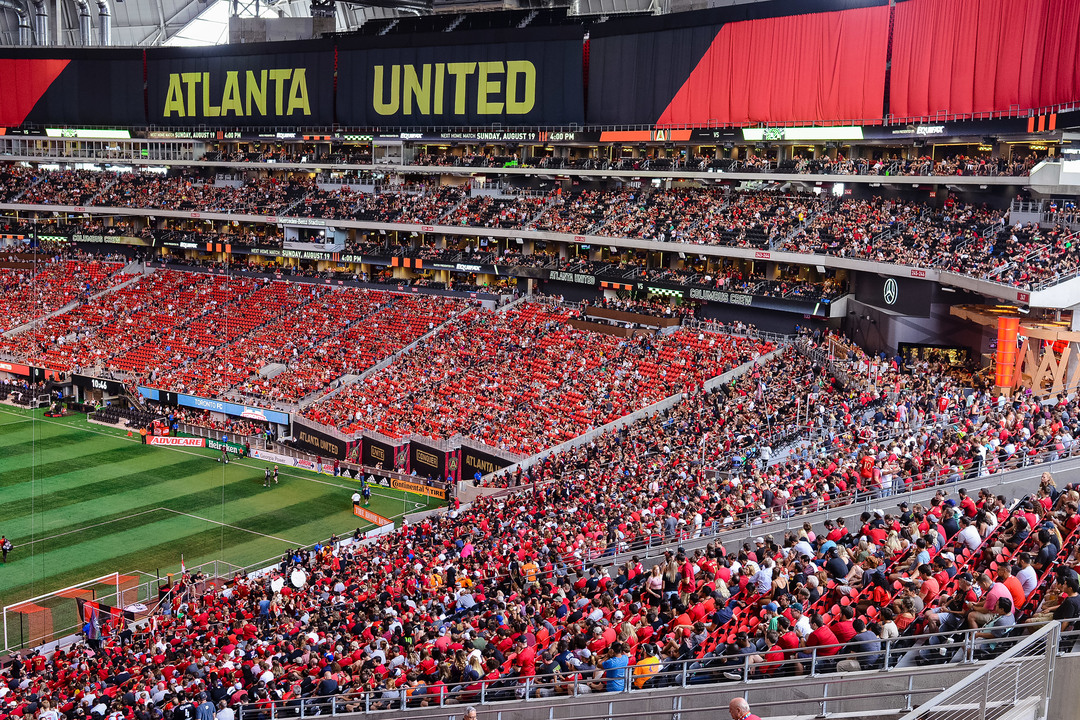 My favorite segments from John and Hugh were ones that brought in additional voices. For hosts like Colin Cowherd and Jim Rome who plan and organize each show block in detail, less on-air voices can be more. But for a local morning show that reacts to yesterday's headlines, the segments that welcomed additional personalities offered a more communal listening experience.
Daily segments such as the Morning Mashup and Morning Menu introduced a variety of topics for the hosts to react to and included producers Abe Gordon and Orin Romain. Fricke and Douglas speak with smooth, easy listening tones, but sometimes the addition of a third voice can break the morning monotony with a quick shot of enthusiasm.
There were some bits that fell flat, such as a guessing game of what are Douglas' five favorite drinks in the summer. It felt like filler radio, although my attention did spark when Fricke asked if a mixture of "Red Bull and Sprite" made the list – Red Bull and Sprite?
The rest of the show was equally confused. The 'Pick 6' segment, 'list the six Heisman winners with the worst NFL careers since 2000,' was slow to start simply because Douglas didn't have the last 20 Heisman winners in front of him.
I would still encourage more creatively built segments, especially at a time when local sports topics were thin. As listening habits change and people like myself spend more days working from home and less time in cars, I look for content that withstands time. Rehashing last night's headlines won't always succeed in convincing me to listen live or download a podcast.
There are radio shows and podcasts that were released last week, month or even year, and when you listen, you forget the date they were recorded. Not every live show will be Dan Le Batard, where I can listen back to an episode from five years ago and be entertained for hours, but in the current digital and work-from-home age, timeless content is essential.
Just as I enjoyed the influx of personality from Orin and Abe, involving the listening audience can provide similar depth. During my hours of listening to John and Hugh, I did not hear one caller join the show, and can't remember a listener text, email or tweet read on-air. (I admittedly did not listen to all 110 hours of the show during the month of June.)
There are varying opinions on taking calls in sports radio, but being from New York where WFAN built its show model around that input from the audience, I see its benefits. The Morning Show w/ John and Hugh isn't alone in its decision to stick to the hosts. At the 2020 BSM Summit, 92.9 The Game afternoon host Carl Dukes discussed how his show takes very few calls and didn't express much of a desire to implement more listener interaction.
But especially during a time without sports, there's room to involve the audience. Fricke and Douglas introduced a variety of discussions from their personal lives about housework, first apartments and children mooching that would be enhanced by audience involvement. The opportunity is there to ask listeners for unique stories on the topic, either through a phone call or tweet.
Speaking with conviction during those personal stories, regardless of how basic they may be, will provoke the audience to participate. It's natural to be confident when you're offering a sports opinion, but not all hosts speak with the same tone when they're telling a personal or funny story.
Fricke and Douglas keep the show moving with short segments and a lot of topic changes. During my month of listening, it was rare that a single topic became a focal point of the show. The rundown of headlines can limit a discussion from branching out and building through the addition of new thoughts and opinions. You'll certainly find highlights with this sports-first show during the course of a five-hour morning, but like many hosts, the duo will benefit from the returning scoreboard.
Sports Are Learning To Meet Gen Z Where They Are
"The crux of the issue is that Gen Z is the first generation of kids who are truly free to find their "thing" in a way previous generations never could thanks to modern connectivity."
Should sports radio be concerned about where audiences will come from in the future? It is an interesting question that we talk about here a lot. It is also something that the New York Times tackled indirectly last week.
A column from Joe Drape and Ken Belson declared this generation of kids "The eSports Generation" and went on to explain just how disconnected from traditional sports they really are.
An alarmist might ask if this is the beginning of the end of traditional sports leagues. Someone a little more level-headed, like Joe Ovies, may want to dive a little deeper to see what leagues are learning and how they are adapting.
Joe hosts The OG in afternoon drive at 99.9 The Fan in Raleigh. He is always interested in how changes in technology and consumption patterns effect sports and his audience. I saw him tweeting about the New York Times piece last week and asked if he would want to write a little something for us.
Enjoy!
Demetri Ravanos
---
"Meet your audience where they are."
How many times have you heard that phrase in the last 5 years from a consultant, manager, or any number of Barrett Media posts as content consumption trends continue to spread out over a variety of platforms? Turns out the same applies for pro sports leagues, who are fearful that an entire generation of fans will be lost and their traditional business model will crater as a result.
The New York Times recently highlighted what sports marketers are doing to win over Generation Z, which typically applies to kids born from 1997 to 2012. The Times hits the usual beats.
There's a reference to Tyler "Ninja" Blevins, an esports star who is also a traditional sports fan, who the NFL hoped would be a Pied Piper for youth fandom. There are examples of MLB, famously stingy when it came to fans using their content on social media, now working with TikTok influencers. And of course, highlighting the NBA's wide ranging approach to online engagement and their franchise run NBA 2K esports league. Most of the article was based on a recent SSRS/Luker on Trends report, which conducts regular surveys about sports and society.
The issue for pro sports leagues isn't that Gen Z kids aren't "passionate" enough about sports. It's that Gen Z is more likely to admit they simply don't like sports.
"Only 23 percent of Generation Z said they were passionate sports fans, compared with the 42 percent of millennials (defined as 26 to 41), 33 percent of Generation X (42 to 57) and 31 percent of baby boomers (57 to 76) who identified themselves as passionate. More striking was that 27 percent of Gen Zers said they disliked sports altogether, compared with just 7 percent of millennials, 5 percent of Gen Xers and 6 percent of boomers."

The new york times, Jan. 12, 2022
Also factoring into the waning interest in sports from Gen Z is the dramatic decline of youth sports participation. There is a larger discussion to be had about the role of parents and specialization in this decline, but we can address that topic another day. As it relates to pro sports leagues today, the drop in youth participation absolutely impacts the level of interest in kids who might want to watch the best in the world of sports do their thing.
"Participation in youth sports was declining even before Covid-19: In 2018, only 38 percent of children ages 6 to 12 played team sports on a regular basis, down from 45 percent in 2008, according to the Sports & Fitness Industry Association.

In June 2020, the pandemic's early days, 19 percent of parents with kids in youth sports said their child was not interested in playing sports, according to a survey conducted by The Aspen Institute's Sports and Society Program. By September 2021, that figure was 28 percent.

On average, children play less than three years in a sport and quit by age 11, according to the survey. Why? Mostly, because it is not fun anymore."

the New york times, Dec. 19th 2021
The crux of the issue is that Gen Z is the first generation of kids who are truly free to find their "thing" in a way previous generations never could thanks to modern connectivity. Meeting up on the playground or at a friend's backyard for a pickup game has been replaced with meeting your friends on a Discord server and deciding if you're going to play Halo or Call or Duty after school.
If you have kids in the age range that I do, none of this should be a surprise. You see it every day and don't even think twice about it. But if you do stop and think about how frictionless it has become to be online all day with your friends, you start to realize the impact of never being bored or getting dragged to things by your parent because there were no other options.
Watching sports and going to sporting events isn't frictionless. It's a pain in the ass. Older generations deal with it because we don't know any better, it's just what we do. But Gen Z isn't about to stop what they're doing just to watch a game. Why would they? They can get the highlights later.
Gen Z is about dropping in and out of entertainment options whenever they feel like it. In other words, why would they sit around waiting for their favorite song to be played on the radio when they can easily pull it up on YouTube or Spotify.
Pro sports leagues can create all the social content and tout billions of views. They can tout engagement with Gen Z because a bunch of kids bought NFL related skins in Fortnite.
Awareness of their leagues isn't the problem. It's getting Gen Z to care enough to watch the game. Take my kids, who are fully aware of what's going on in the world of sports, but getting them to sit down and actually watch the game is torture. Throw in the increasing cost to attend sporting events, I've started leaving them at home because it's a waste of money given my 13-year-old is just gonna play Clash Royale in that $75 seat.
To be clear — I'm OK with my kids just not being into sports. It's not like I didn't try. It's simply understanding we've transitioned to a world of niche communities. You can still thrive within those niche communities. Just look at sports talk radio as an example, where you're not winning with cume, but with passion around sports. That's what great sports talk radio stations sell. Pro sports leagues will be fine doing the same.
How Soon Is Too Soon To Lean Into The NFL Draft?
"I think there will be even more hype and content leading up to Draft than last year."
For sports talk hosts, nothing generates content quite like the NFL Playoffs. The country's most popular sport inches closer each week to crowning a champion. Each game produces an unlikely hero, a questionable call or some other storyline that can generate an entire show's worth of conversation. Around the country, most stations talking about football are talking about the playoffs.
There is a select group of markets though where it makes sense for the football conversation to be driven by something else. Sure, the playoffs are on the radar, but if you are in a market with a top five draft pick, it makes sense that prospects and potential trades will draw significant interest.
Houston is not completely ignoring the playoffs. Landry Locker, co-host of In The Loop on Sports Radio 610 says that just like everywhere else in the country, NFL football is the headliner.
"We cover the NFL Playoffs top-to-bottom whether the Texans are in or not," he told me. "However, just like all of our content we try to localize it as much as possible and try to respect the fact that we are a local show. Why do Houstonians care about what happened in each Wild Card game? What are the local ties?"
And what about the NFL Draft? The Texans have the third pick. That means there are plenty of discussions worth having on air, especially with the local team being so quarterback-needy.
I asked Landry if the lack of a Trevor Lawrence or Joe Burrow has dulled interest in the draft for Texans fans compared to what it could have been.
"I think there will be even more hype and content leading up to Draft than last year. While this QB class isn't as good as last year's the speculation about Russell Wilson, Aaron Rodgers and Deshaun Watson make up for that void because if any of those three are traded it will likely be before the Draft. The NFL offseason has become the most active in sports and this year's will be as wild as ever, especially here in Houston with the Watson drama."
Ryan Green, better known to Jacksonville sports fans as Hacker on 1010XL, is in a familiar position. Just last year, he and his colleagues on XL Primetime were talking about the Jaguars welcoming a new coach to town and holding the first pick in the draft. By the time the NFL Draft gets here in April, the Jaguars will be holding the first pick as they welcome a new coach to town. So how does Hacker ensure that this year's conversations don't sound like 2021's conversations on air?
"We will discuss what went wrong last year and how not to duplicate that this time around," he said. "Why did last year fail? What could have been done differently and what needs to be different this time around. Also the history of back-to-back No. 1 picks for teams isn't good, how can the Jaguars succeed when so many others have failed."
Having the first pick of draft is great when you have the chance to grab the quarterback that can change your franchise's fortunes. But the Jaguars experienced that last year and they have the top pick again.
Hacker said it perfectly. Last year was a failure for the Jaguars. Does that make his listeners a little less enthusiastic this time around?
Yes, he says. Last year was such a let down that there is a whole series of conversations fans want to have before they are ready to start breaking down prospects.
"Jaguar fans want the coaching and gm hires to be correct or the picks won't matter anyway. Coaching matters and the Jaguar fans have had to endure a lot of bad coaching over the past decade. They want the right coach, then they will focus on the top pick"
Draft talk is fun. As Brandon Kravitz pointed out in his column earlier this week, it is a chance for fans of bad teams to feel real hope. Hope is the word right now in Houston too.
Locker says that there are so many factors that make this offseason one that Texans fans have been waiting three years for. His plan is to devote as much time to draft talk as possible.
"Obviously that's fluid depending on what happens with the Stros and Rockets," he says, "but this is going to be the wildest offseason in Texans franchise history. This will be the first time the Texans have had a first round selection in three drafts and with the possibility of getting even more compensation for Watson and a new coach it's going to be nuts around here."
It seems weird to type this, but Jacksonvillians know it is true. Hope can get old sometimes. When it is all you have ever been served, hope just doesn't hit the same.
Hacker jokes that he and his co-workers know their way around a show rundown this time of year because this time of year never seems to end for the Jags.
"Draft talk for Jacksonville always starts around Thanksgiving, so we are already a month into draft talk before the playoffs even get here."
Your Only Focus Should Be On What You Can Control
"We can't press a Staples easy button and automatically make the audience more active, the sales team more diligent, or the editors gather every piece of sound."
The crybaby Cowboys are at it again. After Dallas lost its Wild Card playoff game to the San Francisco 49ers 23-17 on Sunday, there was plenty of blame and finger pointing. Big D's fingers weren't pointed at themselves and their ugly run defense, shaky quarterback play, and inability to avoid committing stupid penalties, right?
No no, it's far easier to just blame the officials. Let's shine a light on those guys instead!
The controversy occurred at the very end of the game. As the Cowboys trailed by six points with 14 seconds remaining, quarterback Dak Prescott rushed up the middle of the field for 17 yards. As Chris Berman would say, "Tick, tick tick tick tick." Precious seconds were ticking away as umpire Ramon George rushed over to spot the football. Once Prescott spiked the ball to stop the clock, the final seconds had ticked away and the Cowboys lost the game.
Prescott said in his postgame press conference that the official "needs to be closer to the ball" to spot it more quickly, and the result of that not happening was "tough to accept." When asked about fans throwing beer bottles and trash at the officiating crew, Prescott said, "Credit to them then. Credit to them."
Wow, dude. Really? Hooray for assault? Cowboys head coach Mike McCarthy chimed in by saying, "We shouldn't have had any problem getting the ball spotted there."
This might be news to the Cowboys, but not every NFL official is going to have blazing speed mixed with the agility of a ballet dancer. The offense needs to allow enough time just in case the umpire doesn't resemble a Cirque du Soleil performer. The Cowboys failed to do that.
The Cowboys also made a huge mistake in the final two minutes. Defensive end Randy Gregory drew a defensive holding penalty for bear hugging and tackling a 49ers offensive lineman. That stupid penalty directly impacted the limited time the Cowboys had at the end of the game. Prescott also had an awful 69.3 passer rating. For context, Dak's 69.3 passer rating against the Niners was actually lower than the abysmal 69.7 passer rating New York Jets rookie quarterback Zach Wilson produced this season. Yuck.
But it's someone else's fault. Right, Cowboys? That's what losers do; they point the finger at others.
For the Cowboys to make the loss about the officials is flat-out embarrassing. They spent more time whining about things they can't control (officiating) compared to what they can control (their own performance).
The same thing happens in sports radio. A lot. Many people in the industry are consumed by what they can't control rather than what they can. Several hosts focus on the time slot they want or the job they think they should have. News flash: that isn't controllable. It's also easy to complain about a lack of advertisers or sponsors, why listener engagement isn't better with more calls and tweets, or why some postgame sound is missing on the cut sheet.
"We don't have the sound? How do we not have the sound? Everybody else has it. How are we missing the same sound that all of the other shows have?"
MacGyver it, dude. Find another way. Focus on what you can control instead of what you can't. As Patriots head coach Bill Belichick says, "Do your job."
The truth is that there are a lot of things in sports radio that workers want to control, might even think they should control, but don't actually dictate. We can't press a Staples easy button and automatically make the audience more active, the sales team more diligent, or the editors gather every piece of sound. But we can focus our attention on many things we do have control over.
Former NFL head coach Jon Gruden once gave some great advice. Before he was known for his emailing ways, Gruden hosted the successful QB camp series on ESPN. I'll never forget an episode with former Miami Hurricanes quarterback Brad Kaaya. The QB told Gruden, "It's tough when each week you're thinking, 'Man, if I don't play well, if I don't throw for this many yards, if we don't win, my coach might not be here the very next week.' It's tough on me 'cause you spend time around these coaches, you meet the families, meet the kids, coach [Al] Golden recruited me. You grow close to him."
Gruden stopped Kaaya and said, "Make this note here; worry about what you can control. Don't worry about the things you can't control. Because if you do start worrying about things that are out of your control, you're going to become a freakin' basket case like me."
I love this advice. It's so easy to get off track by focusing our energy in the wrong areas. The funny thing is that our thoughts might start in a good place but lead to a bad outcome. Kaaya was worried about his coach's job status and family. That's reasonable, but by doing so it added unnecessary pressure to the situation and shifted the QB's focus to things he can't control. That isn't a good result.
I think it's smart to constantly be aware of whether something is helping or hurting your ability to perform.
A lot of people in the sports radio industry are competitive maniacs. That isn't automatically a bad thing at all. Being super competitive can fuel a great work ethic and provide a valuable edge. However, it can evolve into a roadblock once you become a bitter, competitive maniac. That's a different story. The bitter competitive maniac becomes jaded, frustrated, and hung up on what other people have. How is any of that helpful? It's much better to stay focused on things that help you do a good job, not get in the way of it happening.
The Cowboys couldn't control whether the official spotted the ball faster or not, but they could've allowed more time in case the umpire wasn't Usain Bolt 2.0. They had plenty of control over surrendering fewer than 169 yards rushing to San Fran and Prescott having a much better day. But the crybaby Cowboys will whine and whine instead of being more accountable.
Don't be like them. Instead of focusing on what you can't control, take a closer look at what you actually can control.