It's Time To Pay College Football Players
"Exploited for too long, athletes are fighting back — if not opting out or walking out — amid coronavirus fears and bullying cultures in a multi-billion-dollar sport that doesn't pay them wages."
Pay them.
Two words, one period, zero room for debate.
And if the dictatorial cavemen who've ruled college football prefer to keep intimidating and abusing players instead of rewarding them, maybe they should pause amid the introspective zen of 2020 and ask, "Exactly why am I making millions of dollars to coach 20-year-olds on a 100-by-53-yard field? How did I get here?''
In extreme times when pivoting is the mission and common sense is the lantern, the mood is right for a pandemic-year trial of compensating players with salaries. If only the powers-that-be had pondered that earlier, before players began opting out — and threatening to walk out — amid coronavirus fears and bullying cultures in a multi-billion-dollar sport that doesn't pay them wages. The establishment feels the roil of activism and is responding in full pushback mode, engaging players in power tug-of-wars as the likes of Nick Rolovich and Gary Patterson join the Insufferable Tyrants Club. We even have creepy, meat-on-the-hoof allegations at Colorado State, where players say they were told to ignore virus protocols and not report possible symptoms while warned of reduced playing time if they test positive.
Exploitation? Extortion? Attempted murder?
The college ecosystem always has treated players as unpaid labor. But for once, athletes have the leverage to not only fight back but shut down a season via mass defections. Revolution is in the air like never before, and if the sport wants to pocket its usual billions this season — assuming there is one — the system finally will find a way of paying players and honoring their glaring concerns about COVID-19, social injustice and coaching bullies.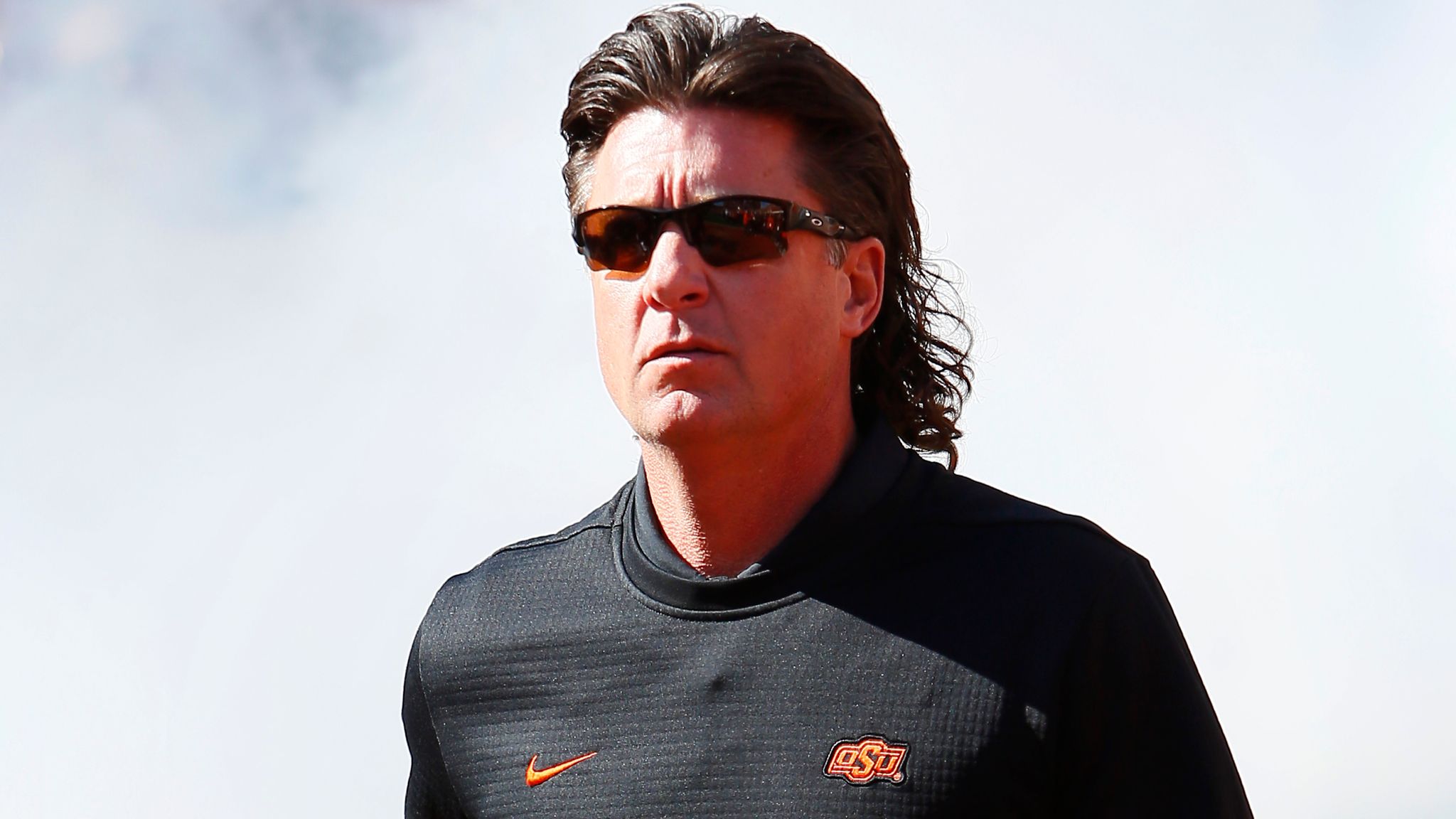 The establishment isn't asking too much from the help, only to engage in close-contact violence amid the ongoing virus ravages so Brinks-loads of money — pause for Mike Gundy reference — can be "run through'' states, local economies, universities, TV networks and the nine bedrooms and 11.5 bathrooms of head coaches' mansions. Every hour of every day for months, thousands of young men would be directly exposed to the virus throughout the season, at home and in road travel fraught with hotspots. This time, contrary to a past that has resisted pay for play, the athletes should be rewarded handsomely for absorbing massive, potentially life-altering health risks. The question isn't whether virus outbreaks are inevitable in college cultures, but how many are waiting to explode like wildfires during games and practices and on campuses. LSU, Clemson, Michigan State, Rutgers — I've already lost track of the infection clusters that have blitzed programs and/or halted workouts — and this is the right time, I suppose, to mention the outbreak across USC's fraternity row.
You know my sentiment about starting a college football season now. When it's hard enough fathoming the resumption of sports — inside Bubbles or in the unprotected outdoors, amid America's ever-rising death toll and economic ruin — no one in good conscience should send unpaid lads into a 24/7 continuum of COVID. It's no stretch to compare it with shipping young people off to war. We pray that the University of Connecticut is the clear-thinking forerunner here, the first of many — or preferably, all — Football Bowl Subdivision teams to cancel a season because of the pandemic.
"The safety challenges created by COVID-19 place our football student-athletes at an unacceptable level of risk," said David Benedict, the school's athletic director. "The necessary measures needed to mitigate risk of football student-athletes contracting the coronavirus are not conducive to delivering an optimal experience for our team."
The decision was supported by UConn players, who said in a statement released through the university: "We came to campus in the beginning of July knowing there would be challenges presented by the pandemic, but it is apparent to us now that these challenges are impossible to overcome. … Not enough is known about the potential long term effects of contracting (the virus).''
Thank you. And thank you to Division II and Division III programs that canceled fall sports championships for the same reason. But UConn, while it plays on the sport's highest level, is not a Power Five program. In fact, it opted out because those elite conferences have canceled games against smaller fries such as UConn, which won't receive lucrative accompanying checks. Keep your eye on one big number as the Power Five continues to power through with daily updates on reduced, wishful-thinking schedules: $4 billion. That's the fortune at stake this season … and why smart people, from university presidents to broadcast executives, continue to be stubborn and dumb about pushing on, preferring to believe President Trump when he says the virus "will go away like things go away.''
Such as Trump, perhaps, come early November.
It's possible the strongest and ablest would carry on independently in limited conference blocs, with decisions to play determined by each school. Said NCAA president Mark Emmert to the Associated Press: "You have to look at the huge variability around the country. When you look at what are the facts on the ground in Syracuse, N.Y., versus Miami, Fla., they're very, very different. And those schools are going to have to operate consistent with local municipal policies, state policies, federal policies, and then also whatever they decide collectively in the conference. So it really isn't the time where you can say we'll have one rule to govern all of football.''
At least Major League Baseball players are paid as they impossibly try to avoid the evil droplets. The NBA, NHL and other leagues functioning well inside restrictive environments are protecting athletes AND paying them. NFL players would be playing in the same three-hour-plus Petri dish, but they're armed with a collective bargaining agreement and a union. Yes, I realize they're all professionals. And I realize the college kids do receive full scholarships, stipends, facilities, housing, eventual licensing benefits and built-in advantages of influential alumni/boosters who live vicariously through them and sometimes slip them, um, you know, sweet nothings.
Nonetheless, 2020 is the boiling point, especially when a successful coach such as Patterson — celebrated for reviving football excellence at Texas Christian — uses the n-word in practice to prove a point about not using the n-word. In this century, there is no room for despots who traffic in cruel, oppressive behavior when the players aren't even paid. Actually, the coaches should be begging them at this point. Athletic departments will be devastated without football. ESPN, which literally owns and operates the sport, will lose more than $1 billion in advertising and rights payments. College towns, such as the Dabo-dependent village of Clemson, S.C., will be financially and spiritually gutted without games and Trevor Lawrence's long locks. Paul Finebaum will have no one to piss off.
None of this is going to happen without the players. They know it, too, aware they're holding unprecedented leverage in an ancient squabble. And that it makes no medical sense for studs to play in a pandemic — Caleb Farley and Rashod Bateman have opted out, with Lawrence and Justin Fields possibly to follow — when NFL riches await. The driving forces of American life — the virus and social justice activism — are empowering players to make demands in a rights movement organized in the Pac-12 conference and still capable, as the season twists in limbo, of raging to other leagues. Athletes are tired of being viewed as servants in a multi-billion-dollar racket. And they'll no longer tolerate even hints of racism in an industry dominated mostly by wealthy white men, many of whom lord over programs, campuses and entire regions.
As Black Lives Matter dominates sports culture, college football has its own related backlash. The Pac-12 unity group is threatening to boycott the season if 17 demands aren't satisfied, almost all involving the virus, racial inequality and a redistribution of football revenues. "We believe a football season under these conditions would be reckless and put us at needless risk," the group, numbering in the hundreds, said in a statement published by the Players' Tribune. "Every day that we don't have discussions puts players at additional risk of COVID."
They're playing the coronavirus card, as they should, to seek fair market value. The initial ask is outrageous — "distribute 50% of total conference revenue evenly among athletes'' — but if this is a negotiation that should have started decades ago, why not start high? The question is how many players would risk their football future, in college and possibly the NFL, to take a hardline labor stance. We've seen failed attempts to unionize college athletes, some involving ringleader and former UCLA linebacker Ramogi Huma, who is behind the current uprising. But 2020 is different.
COVID-19 makes it different.
Black Lives Matter makes it different.
Someone please inform Rolovich, the new coach at Washington State. He initially was empathetic to the virus concerns of an up-and-coming wide receiver and leader, Kassidy Woods, who called to say he was opting out because of an underlying sickle cell condition. But Rolovich chose to dig, inquiring if Woods was part of the Pac-12 group.
"Yes, sir,'' he said, in a tape presumably released publicly by Woods.
When the moment called for a human being to guide a college student, Rolovich turned cold and corporate. He told Woods to empty out his locker and said his scholarship wouldn't be honored beyond this season. Oh, and Woods should spread the word that other players who opt out as part of the Pac-12 group would face similar repercussions. In essence, Rolovich was trying to bust a union before he coached his first game.
Said the coach, regrettably: "OK so that's going to be, that's gonna be an issue if you align with them as far as future stuff, 'cause the COVID stuff is one thing. But, um, joining this group is gonna put you on a … that's obviously, you know, you get to keep your scholarship this year, but it's gonna be different. You know, if you, if you say, `I'm opting out 'cause of COVID and health and safety,' I'm good. But this group is gonna change, uh, I guess, how things go in the future for everybody, at least at our school. Um, so just think about that is, if it's about getting paid and not … about racial justice and that stuff. Then it's probably, it's there's two sides, there's two sides here. I'm good with the Sickle Cell and the COVID, and but this, this group is gonna be at a different level as far as how we're kind of going to move forward in the future.''
Was he manipulating a narrative? Issuing a passive-aggressive threat? Actually, both.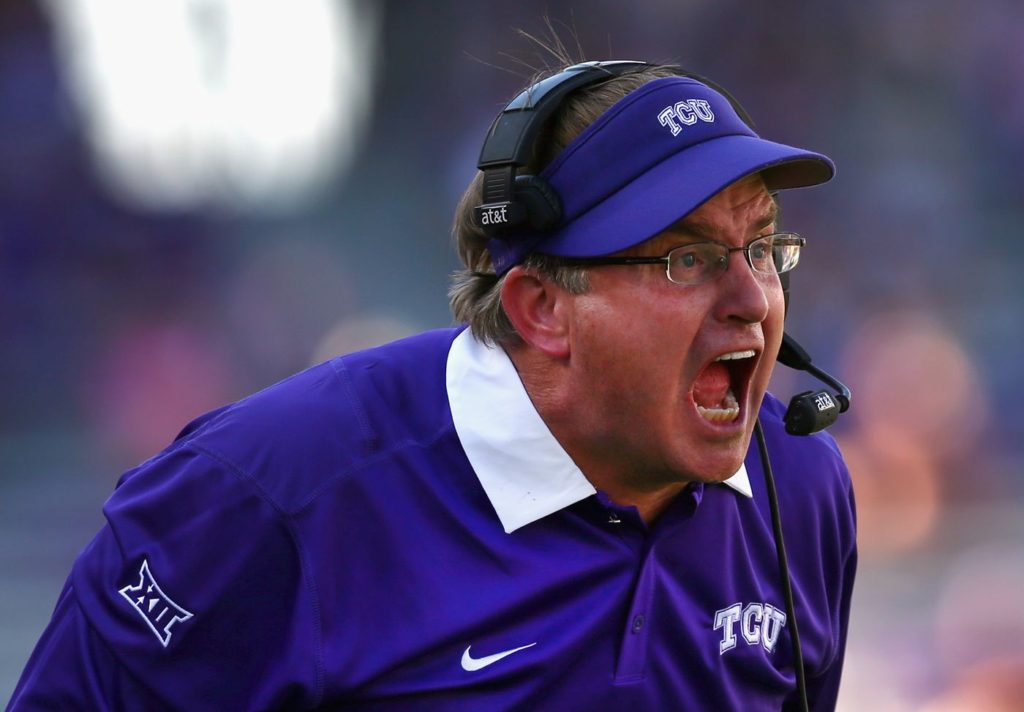 Patterson faced a boycott of several players after he mindlessly used a racial slur in a failed teaching moment. In a tweet, freshman linebacker Dylan Jordan explained that Patterson asked him to stop using the n-word, then repeated the slur. Before that, Patterson had rebuked Jordan during practice, according to Jordan, calling him "a f——— brat'' and threatening to "send you back to Pitt,'' referring to the player's hometown of Pittsburg, Kan. After Patterson told players that he wasn't addressing Jordan directly with the n-word, Jordan tweeted, "The behavior is not okay now or ever and there needs to be repercussions to these actions.''
Two days later, Patterson was apologizing on Twitter: "I met with our Seniors and Leadership Council last night about how we move forward as a team, together. We are committed as individuals and as a program to fighting racial injustice of any kind. I apologize for the use of a word that, in any context, is unacceptable. I have always encouraged our players to do better and be better and I must live by the same standards."
College football is a religion. Thus, any uprising by players is viewed as blasphemy by traditionalists, many living in states represented by Edward Sharpe and the Magnetic Zeroes ("Alabama, Arkansas …''). Know what? Deal with it, people. This is a country that can pay someone $600 a week not to work. This is a country where an assistant college football coach, Alabama's Steve Sarkisian, just got a raise to $2.5 million a year.
You mean you can't find a decent piece of a $4 billion pie for athletes braving a monster contagion … and maybe a demonic coach?
If not, you deserve a broken season. And broke coffers.
Jay Mariotti, called "the most impacting Chicago sportswriter of the past quarter-century,'' writes a weekly media column for Barrett Sports Media and regular sports columns for Substack while appearing on some of the 1,678,498 podcasts in production today. He's an accomplished columnist, TV panelist and radio talk host. Living in Los Angeles, he gravitated by osmosis to film projects. Compensation for this column is donated to the Chicago Sun-Times Charity Trust.
Why Do NFL Fans Want More Greg Olsen and Less Tony Romo?
Olsen creates the perception that he studies each team, breaking down film of offenses and defenses, in preparation for the telecast.
Five years ago, Tony Romo retired as an active NFL player, jumped into the CBS broadcast booth, and immediately became the darling of fans and media for the excitement he brought to his telecasts. Romo's enthusiasm for the game and understanding of modern offense allowed him to predict plays successfully, making him an instant sensation.
Greg Olsen will finish his second season as a full-time broadcaster on Feb. 12 from the NFL's biggest stage, calling Super Bowl LVI for Fox with play-by-play partner Kevin Burkhardt. Olsen hasn't drawn the must-see buzz that Romo did early in his TV career. No fan likely tuned into Fox's top NFL telecast, "America's Game of the Week," to listen to Olsen's analysis. His work doesn't draw nearly the same amount of acclaim.
But the shine has worn off Romo with viewers during the past couple of NFL seasons. Watching a game with Romo in the booth previously felt like sitting alongside a fellow fan, jubilant at fantastic plays or clever strategy, and disappointed at performances that fell short. His energy also elevated Jim Nantz as a play-by-play announcer, bringing him back to life after 13 seasons alongside Phil Simms.
Now, however, Romo's outbursts — noises in place of words, or outright yelling — seem like a crutch when coherent thoughts can't be articulated. Where there was once fascinating insight from the analyst position, the former Dallas Cowboys quarterback often resorts to clichés and platitudes that don't add to a fan's understanding of what's happening on the field.
Worst of all, Romo sometimes talks merely to talk, filling a quiet space when a broadcast needs to breathe or the images are saying enough on their own. That's especially awkward when paired with a veteran like Nantz, who's a master at letting the moment speak for itself rather than trying to punctuate it with unnecessary narration.
On Fox's telecast of the 49ers-Eagles NFC Championship Game, Olsen explained how play-calling changes when an offense intends to go for it on fourth down. He showed an awareness of the strategies that each coach employed to gain an advantage or neutralize what the opponent was doing well.
Early on, he highlighted San Francisco defensive end Joey Bosa holding back on his natural impulse to pursue the quarterback at all costs. Instead, he maintained a position that prevented Eagles quarterback Jalen Hurts from running to gain yardage when pass plays weren't available.
With analysis like this, Olsen creates the perception that he studies each team, breaking down the film of their respective offenses and defenses, in preparation for the telecast. He doesn't appear to be surprised by what he sees because that prep work — watching film, talking to coaches and players — informs him of the eventualities and possibilities that could arise during a game.
The hardcore football fan, those who repeatedly watch highlights and replays, loves that kind of analysis. Such attention to detail feels gratifying because it demonstrates that the person calling the broadcast is as serious about this stuff as the viewer who's waited all week for the big game.
Yet a more casual fan is also drawn in because of Olsen's amiable personality and ability to explain things simply and clearly. It's similar to what viewers enjoy about ESPN's "ManningCast" for Monday Night Football. Yes, there are jokes and funny moments. But Peyton and Eli Manning both explain strategy and preparation very well.
By comparison, Romo comes off like a broadcaster who's winging it, letting his personality and enthusiasm fill gaps created by a lack of preparation. That might be a completely unfair criticism. We don't know what kind of work Romo puts in leading up to a telecast. Maybe he watches as much film as Olsen. Perhaps he talks to everyone available to the broadcast crew in production meetings.
If so, however, that doesn't show itself on the CBS telecast. Romo's work on Sunday's Bengals-Chiefs AFC Championship Game telecast was an improvement over his call of the Bengals-Bills divisional playoff clash. During the previous week, Romo acted as if he didn't have to provide any insight because this was the match-up fans had anticipated all season and already knew everything about the two teams.
Perhaps in response to that criticism, Romo made a point of highlighting the importance of each team's defensive coordinator — Cincinnati's Lou Anarumo and Kansas City's Steve Spagnuolo, respectively — in disrupting the performance of quarterbacks Patrick Mahomes and Joe Burrow. But rather than demonstrate an actual strategy during a replay, he stated that each defense would come after the opposing QB and create pressure.
Ultimately, the difference between Romo and Olsen seems to be schtick versus knowledge. But it's also a product of how each analyst reached their position. Romo joined CBS's No. 1 NFL broadcast team without previously calling any games. (As BSM's Garrett Searight points out, that immediacy and recent connection to the game fueled what felt like fresh analysis.)
Meanwhile, Olsen called games during bye weeks while he was still an active player and was on Fox's No. 2 crew with Burkhardt before being elevated to top status following the departure of Joe Buck and Troy Aikman to ESPN. He's had to get better out of necessity. Even now, as Olsen establishes himself as his network's top analyst, he faces the possibility of being bumped from that position when Tom Brady retires and cashes in on the massive contract Fox offered him.
Compare that to Romo, who's the highest-paid NFL analyst on television. His $18 million annual salary set the bar other top broadcasters are trying to reach. And he has seven years remaining on the 10-year contract he signed with CBS. That is significant job security. Even if network executives (or Nantz) lean on Romo to improve his flaws, how much motivation is there when he's already been anointed a broadcasting king?
However, NFL fans and sports media are making it clear what they prefer from their football broadcasters. They want insight and substance. They want to learn something from the commentary, rather than just be told what they can see for themselves.
Olsen is providing that and is being rightly lauded as a broadcaster living up to his status. Romo is suffering a fall from acclaim and has become a weekly punching bag. If he and CBS want to change that, he'll have to bring more to the booth each week. In the meantime, Fox should consider appreciating what it already has, rather than welcome a glitzy name.
Ian Casselberry is a sports media columnist for BSM. He has previously written and edited for Awful Announcing, The Comeback, Sports Illustrated, Yahoo Sports, MLive, Bleacher Report, and SB Nation. You can find him on Twitter @iancass or reach him by email at iancass@gmail.com.
Chris Fowler Knows You Know He Isn't In Australia
"I applaud Fowler for not playing the game and allowing even a hint of the illusion he was in Australia. I think the viewer deserves to know."
I can tell you my exact whereabouts when 2015 became 2016 in the Central Time Zone. I was in a media shuttle outside of AT&T Stadium in Arlington, Texas awaiting my transport to the Omni Hotel in Dallas. It was kind of a sad scene, not just because Alabama had picked Michigan State's bones 36-0. Nope, it was sad when the clock struck midnight and a tired, cracking voice from the back of the bus said, "Happy New Year" with all the excitement of a man facing execution.
I, too, was tired. I had just spent a week doing shows in Dallas and was headed back to Birmingham for a pit stop before flying to Phoenix for what would be an epic Alabama v. Clemson National Championship Game. I am not complaining, mind you, but the thought of the end of the football season being near was very comforting. It's a bittersweet thought, I love college football, but I also love being home with my family.
ESPN's Chris Fowler was at Jerry World that night, as well. He had been on my show earlier in the week and we had joked with him about how good he had it; two College Football Playoff games then a flight halfway around the world for the Australian Open. I had bumped into him leaving the stadium that night and we laughed, again, at his good fortune.
As I sat on the bus for the saddest of New Year's celebrations, I reflected on the conversation with Fowler and thought about how overwhelming that travel seemed. I could never have imagined then that type of travel assignment would one day become a luxury rather than a necessity. 
There are numerous things COVID ended. Many of them were more important than announcing crews actually at the events, but that was one casualty. It has even continued to impact the top level crews like Fowler and John McEnroe who did their 2023 Australian Open work a world away in Bristol, Connecticut.
The fact that the majority of ESPN talent was actually stateside had already been painfully obvious to anyone watching. The studio show had made no effort to hide that fact but the actual match announcers were part of a little more of an attempt to appear they were Down Under. It was abundantly clear, though, that the match announcers were simply standing in front of images of the Melbourne stadiums superimposed behind them.
It was Chris Fowler who finally revealed the man behind the curtain when he removed the mystery and made it clear they were not in Australia. After Darren Cahill, who was actually on site, relayed the weather conditions to Fowler and McEnroe, Fowler commented that the Bristol weather was in the 30's. 
I applaud Fowler for not playing the game and allowing even a hint of the illusion he was in Australia. I think the viewer deserves to know. I also think most viewers have seen enough of the low-energy, disjointed remote announcing that they can spot it without being informed. Thankfully, Fowler and McEnroe are pros enough (and in the same room) that they can still do their job well from 10,000 miles away.
I just can't believe we are still playing this game in 2023. I think history will show that, in many cases, remote broadcasts were unnecessary in 2020 but that was a complete unknown at the time. One has to assume the desire to save on travel expenses is a large motivation in 2023. I can only imagine how much is saved by ESPN in airfare and lodging by keeping announcers in Bristol rather than sending them to Melbourne. Tennis is also one of the sports in which the difference isn't as noticeable.
The feedback I get from the fans in other sports, where remote announcers are far more noticeable, is that the network clearly doesn't value my team or me as a fan. While that may not be true, if that perception is held by a large enough group of fans, it becomes true. What the networks know is this: we are addicted to our teams. They can have bad announcers from their living rooms but what am I going to do about it? I get a limited number of times to watch my team each season. I'm not missing that chance because a network wants to squeeze dimes.
As most people have learned more about COVID, most unnecessary precautions have faded away. Remote announcers have been tougher to extinguish and may never go away entirely.
In the meantime, I'm rested now and I'll take that trip to Australia anytime someone is ready to send me.
Ryan Brown is a columnist for Barrett Sports Media, and a co-host of the popular sports audio/video show 'The Next Round' formerly known as JOX Roundtable, which previously aired on WJOX in Birmingham. You can find him on Twitter @RyanBrownLive and follow his show @NextRoundLive.
ESPN Ready To Go Back To The NHL All-Star Game
"What ESPN does [better] than anyone else is tell stories, and there will be hundreds of small stories told over those few days, and I think that's what it's all about."
The NHL is approaching a break leading up to the festivities at the All-Star Weekend taking place from FLA Live Arena in Sunrise, Florida: the home of the Florida Panthers. Saturday's 2023 NHL All-Star Game will be broadcast on ABC and simulcast on ESPN+ for the second consecutive year under the seven-year media rights deal which brought live game broadcasts back to The Walt Disney Company's platforms for the first time since 2005.
On hand to call the action and provide fans with exclusive access will be the NHL on ESPN lineup of experienced commentators, versatile journalists, and knowledgeable analysts, including the studio team of Steve Levy, Mark Messier, Chris Chelios, and P.K. Subban. The group is looking forward to making the trip to South Florida to catch up with former teammates and colleagues, as well as finding reprieve from the colder temperatures outside their regular Bristol studios.
"You just look at the graphics of the commercials out there with the surfboards and the beach and the warm weather and [see that] hockey can thrive anywhere," Messier expressed. "…It's a great time to pause and break and celebrate what's happened in the first 40 games of the season until everybody starts to buckle down for the stretch drive."
Messier signed on with the NHL on ESPN team before the 2021-2022 season as a studio analyst, utilizing his vast experience and championship pedigree to intuitively decipher the game of hockey and provide cogent reasoning about the action. He is a six-time Stanley Cup champion – five with the Edmonton Oilers and one with the New York Rangers – and is a member of the Hockey Hall of Fame.
Furthermore, Messier is third all-time in points and ninth in goals, and he was the captain of both of his championship teams – making him the only player in league history to garner that accolade. His presence on its hockey coverage gives ESPN added ethos and someone who remains a student of the game, closely following the league to craft informed opinions.
"Seeing the amount of talent in the game now and the emergence of these players is just incredible," Messier said. "Of course, it's what it's all about – just trying to get yourself. Once you've established yourself as an NHL player, the next step is to figure out how to win."
Chris Chelios joined Messier on the studio panel from the launch of the NHL on ESPN last season and is also a Hockey Hall of Fame member who played professionally for 26 years, retiring at the age of 48. He recognizes the changes in the game of hockey, especially since his 1983-84 rookie campaign, and tries to accentuate them while promulgating classic aspects of the sport demonstrated through its young talent.
"Just when you think you've seen everything, they come up with something else; some new move," Chelios said. "….There have been some unbelievable highlights and every night, especially working with ESPN, [we have been] able to see all that. We're in an entertainment business and these guys aren't letting anybody down. It's great; it's a great product."
Steve Levy has worked with ESPN since 1993 where he has broadcast countless different sports and hosted various types of studio programming. Whether it is calling football games, sitting behind the desk on SportsCenter, or making movie cameos, he is an anomaly within the industry in that he has had a long and storied career primarily with one company. Through his versatility, he can continue seamlessly assimilating into a wide foray of roles and, in the process, enhance the broadcast skills of his colleagues.
Last season, Levy, Messier, and Chelios broadcast coverage of NHL All-Star Weekend from T-Mobile Arena in Las Vegas. The trio was situated in a suite at "The Fortress". It contrasts the regular-season mindset of gathering two points per night; contrarily, this weekend is, in essence, a celebration of the game and its people.
"It's an opportunity to showcase besides their skills, I think their personalities," Levy said. "I really look forward to that."
Levy has worked with Messier and Chelios for the last year on ESPN's studio coverage and is now joined by P.K. Subban, who played in the NHL as recently as this past April as a member of the New Jersey Devils. A three-time All-Star selection and 2014 Olympic gold medalist, Subban inked a multi-year contract with ESPN this past November to regularly serve as a studio analyst and also work as a live game broadcast analyst for select regular season matchups.
Implementing a player who is closely removed from playing professional hockey brings fresh perspectives to the show, offering different perspectives, and appealing to a wider segment of viewers.
"We were sitting next to him on the set the other night and he's talking about Jack Hughes and it's like, 'Who's going to have a more educated opinion than a guy who was lockering next to him the last three seasons?,'" Levy said of Subban. "It's easy to forget he was in the league in April; he's fresh out of it."
Subban grew up watching Messier and Chelios in the NHL and now works alongside them, holding them in high regard. Aside from their play on the ice, Subban remembers Messier in Lay's commercials in the late-1990s and early-2000s advertising its products. Although he brings more contemporary perspectives by being removed from the league for less than a year, Subban embraces the traditional style of the game and delivers analysis based on multiple eras.
"I think keeping it fresh is also being able to educate some of these young players and the audience about guys like Mess and Chelios," Subban said. "I think that's also very important because we have a luxury [in] having these two on the broadcast…. It's just really cool for me this year. I'm super excited to do this for the first time; to sit next to these guys."
All three NHL on ESPN studio analysts participated in at least one aspect of the skills competition during their playing careers, with Messier winning the shooting accuracy challenge in both 1991 and 1996 and Subban winning the breakaway challenge in 2016. Watching the players compete from a new vantage point and evincing their ethereal abilities on the ice underscores what the weekend is genuinely about.
According to Levy, the 2023 All-Star Skills would be the event he would attend if he had to choose between it and the game. This sentiment has permeated itself in the linear television ratings, as the 2022 All-Star Game was the least-watched (1.15 million viewers; 0.6 share) since 2009, while the corresponding skills competition was the most-watched (1.09 million viewers; 0.6 share) since 2012.
It is important to note, however, that last year's all-star game aired just before the first night of the Beijing 2022 Winter Olympic Games, broadcast in the United States by NBC, USA, and CNBC. Despite last year's Olympic Games drawing the lowest U.S. ratings in the history of the international sporting event and cultural phenomenon, the first night still drew 13.2 million total viewers across the three networks, accounting for a 6.8 share.
The format of the NHL All-Star Game was changed starting in 2016 to contain four teams (one per division) playing three-on-three games split into 10-minute halves in a single-elimination tournament. The winning of the tournament's championship game splits a prize pool of $1 million, ostensibly incentivizing more realistic play as the allure of the windfall profit is aggrandized.
Nonetheless, the weekend is all about appealing to the fans and demonstrating the star power of the league through the depiction of vivid imagery, as well as chronicling stories to engross viewers in the product.
"You highlight fun and entertainment through the skills, and the three-on-three was a great concept because it's exciting to the fans," Messier said. "….I think the NHL, the NHLPA and ESPN and everybody involved has worked diligently to make this weekend really fun and to highlight the great talent we have on the ice and the great people we have off the ice."
"What ESPN does [better] than anyone else is tell stories, and there will be hundreds of small stories told over those few days, and I think that's what it's all about," Subban added. "For these players, a lot of times, they're buttoned into the game and focused on the ice. This is an opportunity for [the] fans to get to know the players in a fun way; get to know them through their skill set and what they're able to do on the ice."
The All-Star Skills will feature the return of events including the Breakaway Challenge, Fastest Skater, Accuracy Shooting, and Hardest Shot. In addition to these classics, there will be the debut of the Tendy Tandem where goalies will face off in a shootout, along with two new geo-focused events – the Splash Shot (pre-taped from Fort Lauderdale Beach Park); and the Pitch 'n Puck (from a par-4 golf hole).
"I know each market tries to do something specific to the local area," Levy said. "I do know ESPN has worked really hard with the NHL to try to enhance the best events and make them even better… and better for television."
The league continues to adapt and find new ways to engage fans with the launch of the 2023 NHL Fan Skills at Home, a social media-based competition urging fans to submit videos performing their hockey abilities focused in different areas. Various hockey content creators, including Pavel Barber and Kane Van Gate, will make the trip to Sunrise, Fla. to promote the contest and implore fans to participate.
Additionally, the NHL will host the All-Star Beach Festival at Fort Lauderdale Beach Park, a free fan fest-style event featuring appearances from NHL all-stars and alumni, a photo opportunity with the Stanley Cup, and interactive games for the whole family.
Surrounding it all on ABC, ESPN and ESPN+ will be a concentrated effort to emphasize the dispositions of regular all-star selections – such as Edmonton Oilers forward Connor McDavid; Washington Capitals forward Alexander Ovechkin; and Colorado Avalanche defenseman Cale Makar – while contextualizing what is going on through experience and astute foresight.
At the same time, the broadcast will aim to espouse awareness towards younger stars, many of whom are first-time selections such as 20-year-old Seattle Kraken forward Matty Beniers; 24-year-old New York Rangers defenseman Adam Fox; and 25-year-old Vegas Golden Knights goaltender Logan Thompson.
"Our job is to really highlight these players and make it a fun telecast," Messier said, "and really talk about the players as people and what great, incredible talent they possess."
"You have to be able to tell stories about the players," Subban said. "They're the product on the ice and there's no better way to tell stories about players than getting ESPN. They are the best at it, so it should make for a fun couple of days."
The NHL on ESPN studio team thoroughly enjoyed their time at last year's All-Star Weekend in Las Vegas, as it led them to become accustomed to working together and set them up to put on quality broadcasts through the Stanley Cup Playoffs. However, the Stanley Cup Finals are set to be broadcast by Turner Sports this year (as part of its seven-year media rights agreement) with its regular studio crew of Liam McHugh, Paul Bissonnette, Anson Carter, and Wayne Gretzky.
Messier and Gretzky, each serving as studio analysts on ESPN and TNT, respectively, starred in an NHL on FOX commercial together back when they were teammates on the New York Rangers in 1996.
This season, the NHL on ESPN studio crew has not worked together regularly because of the network's obligations to the NFL and NBA. The group will soon be on the air regularly though to break down the top plays, interview stars before they hit the ice and foster a congenial atmosphere for sports fans everywhere.
"I look forward to working with these three guys together," Levy said. "We haven't had a lot of run together [because] it's just the way the schedule works [during] the first half of the season."
"I'm looking forward to kicking this off," Chelios added. "It's like a playoff run [for us] now; this All-Star Game is the start of working and grinding and doing a couple of games a week and getting into a rhythm here."
The 2023 NHL All-Star Skills will be broadcast on Friday, Feb. 3 on ESPN beginning at 7 p.m. EST and is available to stream live on ESPN+. Then on Saturday, Feb. 4, the 2023 NHL All-Star Game, featuring teams representing the Atlantic, Metropolitan, Central, and Pacific divisions, commences at 3 p.m. EST on ABC and can be streamed live on ESPN+.
Derek Futterman is a features reporter for Barrett Sports Media. In addition, he serves as the production manager for the New York Islanders Radio Network and lead sports producer at NY2C. He has also worked on live game broadcasts for the Long Island Nets and New York Riptide. He previously interned for Paramount within Showtime Networks and wrote for The Long Island Herald. To get in touch, find him on Twitter @derekfutterman.