Five Who Get It, Five Who Don't
"A periodic look at the best and worst in sports media from an industry veteran who is neither a cardboard cutout nor a virtual fan."
THEY GET IT
Jay Williams, ESPN — In a Black Lives Matter ethos, it's commonplace to hear an African-American commentator excoriate white-based racism. It's stunning — and a sign of progress — when Williams scolds a Black player, the Clippers' Montrezl Harrell, for slurring Mavericks sensation Luka Doncic during an on-court confrontation. After Harrell called Doncic "a bitch ass white boy,'' Williams, who is Black, spoke openly to Harrell in a Twitter video: "I can only imagine if Luka Doncic had said something like that to you, and it got caught on tape. I can only imagine during Black Lives Matter how much of a big deal that would have been, considering today's climate and state. It would have been a massive story. Luka would have lost all credibility in this space; everybody would have commented on it. … But it's not that big of a story because Trez said it to a Caucasian person. It should be a big story because it's not acceptable, man.'' Before the next game, Doncic and Harrell exchanged hugs, with the gifted Slovenian refusing to make it a big deal — he preferred to hit the game-winning three-pointer in a 43-point, 17-rebound, 13-assist revelation. But it was a very big deal that Williams made Harrell an issue across America. And very brave of Williams, too, as he hears the inevitable backlash.
S.L. Price, formerly of Sports Illustrated — When the purest long-form sportswriter in the industry leaves a once-venerated publication after 26 years, it only magnifies SI's recent mismanagement and dysfunction. "I'm writing a new book on lacrosse in America, and have a long-form podcast project I hope to complete,'' Price tweets. Lacrosse's gain is our loss, but as one who has fled media insane asylums, I know Price will be mentally healthier for it. And podcasts are invigorating, even if everybody has one. The bigger trend here, sadly: Long-form storytelling continues to fade away, with Bleacher Report shutting down B/R Mag this week. Call it the death of the sports literary attention span.
Katie Strang, The Athletic — It was painful for Mike Milbury, I'm sure, when he was dumped from NBC's hockey coverage after another gratuitous insult of women, saying last week of the NHL's playoff bubble, "Not even any woman here to disrupt your concentration.'' But his real punishment came in a scathing column by Strang, who wrote, "I'm tired of this s—-. It's not just me. And it's not just other women. That's way too reductive and simplistic. And it's selling too many people far short of what they deserve. It's every hockey fan who is capable of thinking critically wondering why someone who routinely offends, belittles and dismays seems to be continually trotted out despite what seems like little appetite for what he has to offer. This was not an errant slip or an inelegant turn of phrase. This is also not the result of someone being green or unpolished. Rather, it's another example of casual misogyny that is not isolated, but instead a pattern of behavior.'' I often bemoan The Athletic's lack of critical edge. This was a blade that slashed Milbury's network career to its final shreds.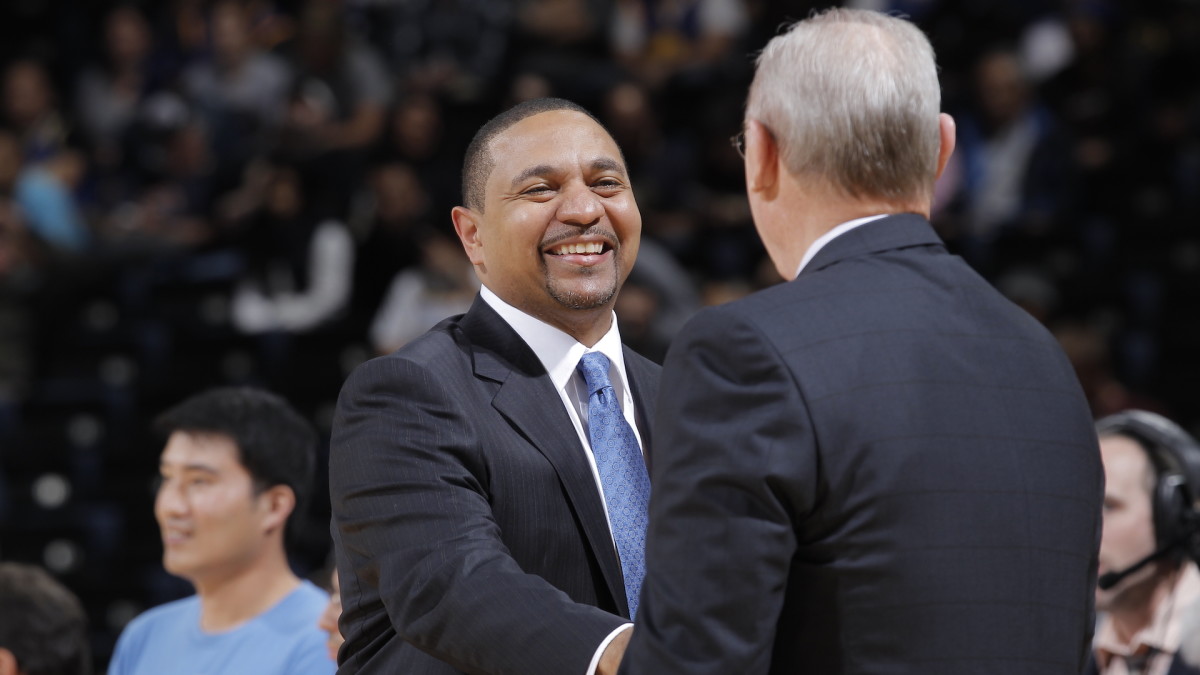 Mark Jackson, ESPN — Lost in the trash-talk banter of Charles Barkley and Shaquille O'Neal is the spicy byplay between Jackson and his NBA broadcast partner and former coach, Jeff Van Gundy. They don't hesitate to go at it, playfully, and when Jackson defended Carmelo Anthony for never having a coach who pushed him to play aggressive defense, Van Gundy balked, saying Anthony should have found motivation within himself. This prompted George Karl, who coached Anthony for seven seasons in Denver, to fire a tweet: "I heard @MarkJackson13 is taking shots at my defensive coaching during tonight's broadcast. Remind me, how many all-star teams did you coach, Mark? How many DPOYs (Defensive Players of the Year)? How many Finals appearances? How many of my teams became dynasties right after I left?'' The last shot was a reminder that Jackson was fired by Golden State and replaced by Steve Kerr, who coached the Warriors to three NBA titles. And we thought these Bubblecasts might be boring.
Dwight Jaynes, NBC Sports Northwest — The pandemic didn't stop Jaynes, the veteran Portland sports journalist, from asking this of Trail Blazers coach Terry Stotts after star Damian Lillard injured his finger during a blowout loss: "Terry, what was Dame doing on the floor with two minutes to go in the third quarter down by 30?'' Shot back Stotts dryly, through his mask on Zoom: "Uh, he was playing basketball. Good question, Dwight.'' It WAS a good question, Dwight. Glad it was asked, even when the NBA playoffs aren't as consequential as usual.
THEY DON'T
Scott Van Pelt, ESPN — Nice to see anyone flee Bristol and return home — in his case, Washington — for his "SportsCenter'' gig. However … with so much racial tension and sensitivity in the American air, why does Van Pelt continue to describe himself as a "professional gentleman of leisure – Mr. Whitefolks'' on his Twitter feed? I figure he's trying to be cute. But if it's an overgrown-frat-boy takeoff on a lone white pimp in a controversial 1998 film — with the characters in "Pimps Up, Ho's Down'' described by Associated Press writer Aliah D. Wright as having "leaped straight from a 1970s blaxploitation movie, and a bad one at that'' — well, obviously, nothing is remotely cute about the reference in the current climate. So just take it down, clown. You work for Disney, not a porn channel.
Dan Le Batard, Miami Herald — I'm thinking Le Batard isn't long for the ESPN world after he repeatedly referenced "white power'' in a column that linked Thom Brennaman, Curt Schilling and Steve Bannon. As the son of Cuban immigrants, Le Batard is entitled to his enlightened views for his hometown news operation and, actually, I like him more behind a laptop than in front of a camera, where he has become a cartoon character held hostage by a Stugotz. But "white power'' might be pushing the patience and political boundaries of Disney bosses who already have sliced an hour from his national radio show. It's one thing to emphasize that Black Lives Matter, quite another to plant racial seeds within an anxious company.
Marquee Sports Network — Here's another sports operation loose and reckless with politics, which is creating perception issues for the Chicago Cubs. In business tandem with Trump-friendly Sinclair Broadcast Group, Marquee is the venture of Cubs owner Tom Ricketts, whose brother, Peter, is the Republican governor of Nebraska; and whose father, Joe, has been a rabid Obama-basher who was embarrassed last year when his racist and anti-Muslim e-mails were leaked. Now we have Marquee contributor and longtime Chicago baseball analyst Bruce Levine apologizing for a since-deleted tweet that included a photoshopped President Trump standing behind a sign: "Joe Biden is just Hillary Clinton with a smaller d—k.'' How it entered Levine's brainstream to post such material — in a post about the Cubs recalling prospect Ian Miller from their alternate camp — is beyond me. But just know Levine owes his career to White Sox chairman Jerry Reinsdorf, who also has approved the ongoing TV career of Ozzie Guillen, he of the "f——— fag'' comment and various slurs uttered about people through the years. If I'm Guillen's employers at NBC Sports Chicago, I'm not sleeping at night after Brennaman's anti-gay slur and Levine's bizarre lapse.
Jon Greenberg, The Athletic — There's no shortage of fascinating sports material, as you can see, in Chicago. But if the upstart sports site has any chance of capturing the masses in that market, its columnist will have to consistently react to topics that matter and ignore those that don't. No one cares that the White Sox, who are absolutely correct in this case, didn't allow ballpark entry to reporters who recently were arriving from St. Louis. Seems we're in the midst of something called a pandemic, which requires travelers from Missouri to quarantine in Chicago for 14 days. Greenberg argued in a lengthy column that sports reporters are "essential'' workers. In the Chicago metropolitan area, or anywhere else on Planet Earth, no worker is less essential right now than a baseball writer.
Vegas Stats & Information Network — Tens of millions of Americans are without jobs and income. So is it really a good time for a sports gambling site to wave advice carrots on Major League Baseball when, as we know, a COVID-19-infected player could be yanked from any game at any time? And when multiple teams have been derailed by virus outbreaks? I'd have more faith betting on the turtle races at that Irish bar in Marina del Rey.
Jay Mariotti, called "the most impacting Chicago sportswriter of the past quarter-century,'' writes a weekly media column for Barrett Sports Media and regular sports columns for Substack while appearing on some of the 1,678,498 podcasts in production today. He's an accomplished columnist, TV panelist and radio talk host. Living in Los Angeles, he gravitated by osmosis to film projects. Compensation for this column is donated to the Chicago Sun-Times Charity Trust.
Five Who Get It, Five Who Don't
A weekly analysis of the best/worst in sports media from a multimedia content prince — thousands of columns, TV debates, radio shows and podcasts — who receives angry DMs from media burner accounts
THEY GET IT
Me — I've come to realize, in 18 months of writing media columns for Jason Barrett's site, that the only people who care about sports media are sports media people. I think you grasp by now who gets it and who doesn't get it from my perspective. And I get it by knowing when to step away and focus on my sports columns for Substack — after all, I am a career sports columnist at a time when a fading column-writing craft needs robust dissections of a $600 billion industry immersed in legal gambling, COVID-19 stadium ignorance and countless other self-interest compromises. It's still fun to write about events and athletes, but I won't contribute to elevating media people into the gods they are not. The best advice I can offer aspirants is to NEVER allow a media career to define your existence as a human being, because, chances are, industry people generally will fall short of your expectations and exploit this profession for all the wrong reasons and agendas. I hope I've been able to shed light on my experiences, correct misconceptions about me and help formulate playbooks for sports media's murky future. I'd always assumed athletes owned the mega-egos, but based on burner-account feedback, the true megalomaniacs are inside studios and C-suite offices. I'm proud to have been the anti-Richard Deitsch — by that, I mean actually critiquing media with a razor's edge instead of presiding ineffectually at The Athletic. In that vein, Phil Mushnick of the New York Post always gets it, while Deitsch and other imposters tend to curry the favor of network public-relations departments. Hey, they have paychecks to protect! As you know, I only curl my lips for loved ones.
Peyton Manning, ESPN — He'll be calling an Omaha-like audible soon enough, slipping out the door of his Man Cave studio and ditching a TV world he doesn't want. What Manning wants is to own a piece of an NFL franchise, and he's well aware that the Denver Broncos will be sold to the highest bidder next year — good news for a man who is raising his kids in a 16,000-square-foot home about 20 minutes from Empower Field at Mile High. Imagine him as ownership's public face, joining Jeff Bezos and Jay-Z as possible major investors in an expected $4 billion deal, as first reported by Front Office Sports. Had Manning really wanted to do "Monday Night Football,'' he would have agreed to a lucrative, long-term contract in the on-site booth and not settled for an alternate gamecast, where he sits on a couch and kids brother Eli about childhood acne and pretends to be Jon Gruden in a headset and Raiders cap. As I watched, all I could think was: Why is Peyton, who would be a gamechanger on the perpetually underachieving "MNF'' production, wasting his time and our time on ESPN2 and ESPN+? The idea is to give viewers a folksy option via America's favorite football family, but people want to hear Manning do the game in the stadium — they don't want the game as a background visual for two brothers shooting the hay with occasional contributions from the likes of Charles Barkley, who, of course, offered gambling tips via Zoom. Manning is a very smart man. He doesn't want to analyze the action. He wants to be The Action.
John McEnroe, ESPN — If he never played nice with chair umpires as a player, he certainly won't be teasing a network tennis audience to keep watching a U.S. Open final when a comeback looks impossible. Realizing Novak Djokovic was minutes from losing his Grand Slam bid, McEnroe bid adieu to his broadcast partners — brother Patrick and Chris Fowler — which had to mortify Bristol bosses praying for a miracle finish against competing NFL telecasts. "John, you're rolling the credits,'' said Fowler, somewhat aghast. But this is what you get when you hire an outspoken realist to analyze the Slams. Good for McEnroe, who repeatedly referred to Djokovic-slayer Daniil Medvedev as "this guy,'' for staying true to his audience and not playing television's b.s. game.
Allison Williams, ESPN — I'd have more respect for the company's vaccination mandate for all employees if Bristol stopped a disturbing, contradictory practice — sweeping shots of maskless fans at sold-out football games, where students at Alabama, Auburn and other Southern COVID-iocy capitals chant "F—k Joe Biden!'' But the veteran sideline reporter has a valid reason for rejecting the vaccine and stepping aside from job duties this season. As she wrote on Twitter: "While my work is incredibly important to me, the most important role I have is as a mother. Throughout family planning with our doctor, as well as a fertility specialist, I have decided not to receive the COVID-19 vaccine at this time while my husband and I try for a second child. This was a deeply difficult decision to make and it's not something I take lightly. I understand vaccines have been essential in the effort to end this pandemic, however taking the vaccine at this time is not in my best interest. After a lot of prayer and deliberation, I have decided I must put my family and personal health first.''
Derek Jeter, scorekeeper — When a voting baseball writer possesses the gall — and stupidity — to leave Jeter off his Hall of Fame ballot, the least he can do is stop hiding and explain why he adversely impacted baseball history. The only "no'' vote put Jeter's total at 396, one shy of joining former Yankees teammate Mariano Rivera as the only first-ballot unanimous selections. The Captain took a well-deserved shot at the anonymous killjoy, saying during his induction speech, "Thank you to the baseball writers — all but one of you who voted for me.'' It was his way of shaming the lone wolf, if only in his bathroom mirror. I understand the integrity of maintaining electoral privacy, but I, for one, wouldn't mind if someone in the know leaks the identity of the rogue voter. Maybe it would deter the next wise-guy charlatan from poisoning the process.
THEY DON'T GET IT
Drew Brees, NBC — In any worthwhile School of Communication, a college student hears a professor utter this advice in the first class: "Be yourself!'' No one at the network bothered to tell Brees, who showed up for his ballyhooed "Football Night In America'' studio gig with a new Hair Club For Men hairline. As it is, large swaths of America don't trust Brees after his anti-kneeling comments last year, in the charged aftermath of George Floyd's murder, when he said he "will never agree with anybody disrespecting the flag of the United States of America or our country.'' For some misguided reason, Brees thought it was a good idea to pin a piece of Superdome turf on what formerly was a large, shiny balding region. Between the wig, whiter teeth, a refreshed face and a thinner appearance, I haven't seen a TV personality have so much work since Woody Paige discovered there are tanning booths in Denver. Brees was roasted on social media, which wasn't the start NBC wanted when he inevitably will be compared to the gold standard of football analysts, the revered Tony Romo. On the set, Brees delivered what seemed a great line after a highlight reel of opening-day scoring passes by his successor in New Orleans, Jameis Winston, saying he was happy the Saints finally found someone to throw a deep ball. But even that moment turned sour when host Mike Tirico said Brees had stolen his line. It's tough when, in the same week, you realize your old team doesn't miss you and that memes are comparing your hairline to Stephen A. Smith's.
Scott Van Pelt, ESPN — Having invested billions in major programming that conveniently feeds into its signature "SportsCenter'' show, ESPN has squandered an opportunity to be a definitive, for-the-record platform by trotting out this overgrown frat-house president and schmooze-happy friend of all sports figures. What the time slot needs is a robust presence capable of perspective-loaded essays that interpret and celebrate what we've just witnessed. Van Pelt lacks the intellectual depth and heft — gravitas, they call it — to deliver. Why pay so much money for premium content when you can't put a memorable, magnetic bow on it. This isn't about catering to social media followers, bro-dude bettors on campuses or Tony the Tiger in cereal ads. This is about consistently providing a best-in-class panorama of why we're watching and what it all means. Monday night, after ESPN aired a promo that announced "The Greatest Moments In Sports Happen Here,'' Van Pelt quickly reminded the bro-dudes that " 'Bad Beats' are on the way'' — got to keep that gambling blood gurgling, you know — then followed a wild Raiders-Ravens game by telling analysts Brian Griese and Louis Riddick: "I'm struggling at the moment.'' Never admit that you're struggling to ask questions about an overtime thriller. Imagine Van Pelt doing a post-game show when Disney finally airs a Super Bowl.
Kenny Mayne, free agent — With more clarity about his ESPN departure, it's obvious Mayne's career wounds were self-inflicted. A reasonable person can't blame management for monitoring his anti-Trump tweets, as he revealed in a profile in The Ringer, at a time when fellow Bristol personalities Jemele Hill and Dan Le Batard were falling out of favor for their own needlessly self-important political activism. What a shame that Mayne mistakenly thought his witticisms would fly beyond what he did well: delivering "SportsCenter'' scripts about actual sports news. Who really cared what Kenny thought when a White House doctor said President Trump was in "excellent'' overall health in 2018? Tweeted Mayne: "President's doc just hand timed me in the 40 at 4.21 in Snoop Dogg slippers. Moderate wind. sports#'' He recalls, "I got a Norby call on that one,'' referring to stick-to-sports sheriff Norby Williamson. Like Le Batard and Hill, Mayne has seen his impact wane since leaving Bristol, and while he does commercials and hosted a Tokyo Olympics show for NBC's Peacock streaming service, the Kenny Mayne we knew and enjoyed on ESPN no longer exists. I'm guessing he would have been offered a raise, not a massive pay cut, if he wasn't another frustrated late-night comedian working on Middle Street in Bristol when he'd have preferred Hollywood Boulevard, Broadway or 30 Rockefeller Plaza.
Stephen A. Smith, ESPN — Anyone who thought he might mellow after a year of professional disgrace — with no screwup worse than when he mocked Shohei Ohtani for using an interpreter, after which I wrote that his middle initial stands for Ass — is advised to avoid a radio interview where he explains why he purged partner Max Kellerman from "First Take.'' Appearing on New York station Hot 97, Stephen A. said, "The rumors are accurate in terms of me wanting him off the show. Let's get that out the way. It wasn't really about asking him to be off the show, it was about the fact I knew that we, together, as far as I was concerned, was not a great partnership anymore and that was something that needed to change.'' So far, with a revolving cast that includes volcanic Michael Irvin and beatitudinal Tim Tebow, those debating Smith haven't improved the show. This is dangerous territory for ESPN, which pays him $12 million a year to maintain a level of content quality and ratings success.
John Barr, ESPN — Positioned as an investigative journalist, Barr should be using his platform on the long-forgotten "Outside The Lines'' to unearth the down-and-dirty about the NFL's newfound marriage with a gambling industry once designated taboo by the league. Instead, he delivered a promotional reel that had to thrill the league and his ESPN bosses, who have direct financial and programming stakes in the legal betting explosion. Barr told us that $12 billion will be wagered on NFL games this season — we already knew that — and he summoned the network's Vegas-based betting analyst, Doug Kezirian, to add a little pro-casino buzz: "There's an extra little umph going on right now, because this city is excited about sort of the indirect validation that the NFL brings." Bob Ley, who once symbolized journalism at ESPN, wisely got out before newsgathering was swallowed up. The likes of Barr and Jeremy Schaap have stuck around and sold out.
Jay Mariotti, called "the most impacting Chicago sportswriter of the past quarter-century,'' writes a weekly media column for Barrett Sports Media and regular sports columns for Substack while appearing on some of the 1,678,498 podcasts in production today. He's an accomplished columnist, TV panelist and radio talk host. Living in Los Angeles, he gravitated by osmosis to film projects. Compensation for this column is donated to the Chicago Sun-Times Charity Trust.
5 Who Get It, 5 Who Don't
A weekly analysis of the best and worst in sports media from a multimedia content prince — thousands of columns, TV debates, radio shows, podcasts — who receives angry DMs from media burner accounts
THEY GET IT
Journalists — Twenty years ago this week, three sportswriters walked into a radio studio in Chicago. We assumed our show would be dominated by the story I'd broken the night before — Michael Jordan returning to the NBA with the Washington Wizards — but just before airtime, the horrific images of 9/11 flashed across our monitors. We followed our instincts, Jim Litke and Mike Mulligan alongside me, and reported the details to network listeners, taking their grieving calls in our collective shock and anger. During a break, some advertising nitwit demanded coverage be flipped to a news channel, but the program director, Mark Gentzkow, valued our skills and kept us on the air. The next day, we were recognized in the national media as "sports guys'' who crossed over and covered the news story of our lives. I mention this to remind today's PDs, who seem frightened of the C-word, to please allow well-read hosts to discuss COVID-19 in depth and not run from it like cowardly sheep puppeteered by Big Sports. It's embarrassing, in these complicated times, to hear sports radio dumbing-down on who's gonna-win-the-NFC-West minutiae.
Tony Romo, CBS — As he rearranges his bank vault to accommodate $180 million in compensation, it would be convenient for Romo to tank. You know, shy from the predictions that helped make him the richest sportscaster ever. Instead, he keeps living dangerously, daring to forecast that rookie Zach Wilson will defy the NFL's longstanding incurable disease — Jets Syndrome — and quickly attain the quarterbacking status of … Patrick Mahomes? "It's rare for me to say someone has the ability to get in the stratosphere of a Mahomes, but I think this kid actually has that ability,'' Romo said. "So when you have a quarterback like that, I think there's no telling how good you can be. He can make up for a lot of weaknesses in a lot of areas for a football team. I think Zach Wilson is going to be in the discussion as one of the top three to five quarterbacks very quickly. Within the next couple of years, I think you're going to see him rise. I think he's unbelievable. His ceiling is so high." As soon as Sunday, Romo could be forced to eat his bold words — or, in New York, a more odorous substance — but give him credit for audacity. He risks credibility for the sake of spirited, made-to-rewind conversation.
Bomani Jones, HBO — It's time to commission a study: How much do intelligence quotients increase when sports commentators escape ESPN's Silly Squares? That's what I call the caged silhouettes that define quick-hit debate programs — I was locked inside one myself for eight years and 1,700 shows — and Jones, perceptive and streetwise as it is, comes off as doubly illuminating on Bob Costas' new series, "Back On The Record.'' He delivered a powerful and timely commentary on why the NFL isn't punishing Deshaun Watson, despite 22 civil lawsuits and 10 criminal complaints from message therapists (think money), then swung harder in a roundtable discussion that underlined the evils of legal gambling for leagues and media companies. This is the one premier production, in a vast sports media wasteland, that covers and scrutinizes a $600 billion industry rather than promoting and ass-kissing — and ESPN and Fox Sports would be wise to acknowledge middling-to-low ratings on Silly Square TV and adopt HBO's sophisticated approach. To say Jones is a thinking man's Stephen A. Smith is understating matters.
Plaxico Burress, redemptive soul — How fascinating to see Burress firing football opinions instead of shooting himself in the thigh region. He served 20 months in prison for that nightclub accident, having violated New York's gun laws, but the one-time Super Bowl hero is back on a Fox Sports Radio weekend gig with two other former NFL players, LaVar Arrington and TJ Houshmandzadeh. Burress stated what others were reluctant to say about the New England quarterbacking situation: "Bill Belichick cut Cam Newton because he was not vaccinated. That is the absolute truth. He will never be able to come out and say it publicly, but he was released because he was not vaccinated, you can't depend on him, and he would be unreliable going forward as the starting quarterback.'' Sing it, Plaxico: "Don't you … forget about me.''
T.J. Quinn, ESPN — This surely isn't his romantic ideal of participatory journalism: chronicling his long-haul bout with the coronavirus. But the investigative reporter tells a chilling tale, melding his plight with that of Justin Foster. Of the Clemson defensive lineman, Quinn writes that he's still "missing a sense of smell, still struck by occasional shortness of breath or pains in his chest, still prone to brain fog when he's tired (and) has intense reactions to any bug bites.'' Then, at 52, Quinn ponders his own fate: "You spend your life running into limits and defining yourself by how you react to them. Then long-haul COVID hits you with limits that you don't know how to deal with, or didn't expect to deal with for years. And no one can tell you whether it will be one more week of this or the rest of your life.''
61,825 — Sad to say, this isn't the seating capacity at Soldier Field. In response to readers who inquired about Chicago Sun-Times circulation, following my piece about the demise of that city's once-robust newspaper culture, I e-mailed interim editor-in-chief Steve Warmbir. He didn't respond — and now I know why (see: the number above). A London-based media site that gets it, Press Gazette, analyzed data from the Alliance for Audited Media about the declining readership of American papers. The Sun-Times plunged 18 percent in Monday-through-Friday print-copy averages since the start of the pandemic and sells half the haul of the Chicago Tribune, which owns a still-profitable Sunday market. It's a bleak report overall, with only the Wall Street Journal and New York Times topping 200,000 in weekday print circulation, and it further underscores the long-ago importance of launching a paywall-worthy digital presentation — which only the Journal, Times and Washington Post can boast at present. USA Today, which used to give away copies at hotels, has lost 62 percent of print circulation in 18 months and has gone to a paywall. And to think I was ripped throughout the industry, after leaving the Sun-Times of my own volition, for predicting on HBO's "Real Sports'' that papers without robust websites would fade away. Paid weekday circulation when I departed: 325,000. Just saying … as a worthy sixth item.
Lyndsey Gough, Georgia TV reporter — Jerk behavior is on the rise in stadiums, no doubt fueled by pandemic angst. Gough deserves a medal and a raise for exposing this unruly element on Twitter. Attempting to tape a segment inside a concourse during the Georgia-Clemson game, the WTOC 11 sports director was repeatedly harassed by fans of both teams. "Please don't touch me,'' she told one yahoo before allowing the tape to roll for a sick minute. "So uncomfortable. Can we please respect people's space?'' she wrote. A tip for Gough: Next time, avoid the concourse. The game is what matters, not idiot fans — a proverb built for Item No. 7.
THEY DON'T GET IT
Fox Sports — You almost could see the sinister spikes from the COVID-19 photo illustrations, red and gray and imported from Wuhan, creeping through the maskless thousands inside Camp Randall Stadium. There was a college football game to play, you see, and before the fourth quarter, there was a tradition to observe. It's called "Jump Around,'' the mob scene where entire sections of Wisconsin students do just that, jumping and jamming to the House of Pain beat. This should not have been allowed to happen, with mask-wearing "strongly encouraged'' in the stadium if not mandated, yet "Jump Around'' went off the first time in 651 days with few, if any, jumpers masked up. And Fox was right there to celebrate it all, irresponsibly and blindly, panning the capacity crowd of 76,832 fans for several minutes and even participating — sideline reporter Jenny Taft jumping and spinning, play-by-play man Gus Johnson bopping his head. Do I need to remind Eric Shanks, CEO of Fox Sports, that America remains in the ravages of COVID and the Delta variant? That parents are petrified when they see such madness at packed venues? In the network's fervor to drive ratings, promote the sport, appease Big Ten partners and borrow political rhetoric from Fox News — you know, make money — Fox wants viewers to think the pandemic is over. This goes for all sports networks moving forward: Stop enabling superspreads by glorifying large, rowdy, maskless crowds. If Shanks cares, he'll check for COVID case-load numbers in Madison this week and inquire about Badgers linebacker Leo Chenal, who tested positive before kickoff. Oh, did I mention that Johnson, while hyping "Jump Around,'' was reading a promo for the Fox Bet app? Ain't that America, for you and me.
John Smoltz, MLB Network — Which leads to another Fox conundrum: what to do with Smoltz in the upcoming postseason when he refuses to be vaccinated. As the network's top baseball analyst, he'll be expected to join Joe Buck for the major American League showdowns — which could include large markets in New York, Chicago, Houston and Boston — and the World Series. But will Fox follow the lead of the MLB Network, which banned anti-vaxxers Smoltz and Al Leiter from in-studio appearances? For all concerned, Smoltz should arrange for two jabs and not jeopardize the health of Buck and other Fox personnel. Besides, no one wants Alex Rodriguez anywhere near the main booth if Smoltz isn't available.
Joel Klatt, Fox Sports — Camp Shanks is in disarray this week. When not mocking COVID, the Madison production included a troubling observation from the football analyst. In a safety-minded era, it's a near-consensus view that players — especially those in college — should be protected from killer hits. The officials did their job, ejecting Penn State linebacker Ellis Brooks for targeting Wisconsin quarterback Graham Mertz with a vicious shot. Said Klatt, who should know better as a former college QB: "I just hate the ejection. This is a problem with this rule. Hey, college football, at some point you gotta measure intent. The guy's not out there head-hunting. He's playing fast. It's a violent sport. This is a really good player. He's the heart and soul of this defense. He shouldn't be ejected from the game. You wanna throw a flag? Throw a flag. Eject a guy from the game? You've gotta fix this in college football. Disgrace." Actually, we've gotta fix Klatt. Disgrace.
Social media chasers — At some point, legitimate sports media will stop allowing social media to dictate coverage. I just don't know which decade that will happen. Obviously, Notre Dame coach Brian Kelly wasn't advocating mass murder when he borrowed John McKay's ancient quip on execution and football. "I'm in favor of execution. Maybe our entire team needs to be executed after tonight. We just didn't execute very well,'' Kelly said after beating Florida State in overtime. With nothing better to do on a holiday weekend, the trolls exploded — and Kelly was forced to explain himself. "I was kidding. It was tongue-in-cheek. It wasn't funny? I was talking and making a joke about it. It was taken serious? Are you people crazy?'' he said. "I was stealing one of (McKay's) old quotes and being funny, because nobody likes to be funny anymore. If you want to take me to town on that, please do.'' I prefer to address the trolls: When will you do something with your lives? No one cares about your opinions, your selfies or you. The same applies to those speculating recklessly about the sideline appearance of ESPN football analyst Todd McShay, who acknowledged health issues in announcing he'll be stepping away from work for the short term. Signing up for a Twitter account isn't a license to slander.
"First Take,'' ESPN — This is what happens when you let Stephen A. program the network. You have one new debate partner, Michael Irvin, who will duel Smith in high-decibel screaming rants on Mondays. And you have another debate partner, Tim Tebow, who will turn Fridays with Stephen A. into acts of religious blasphemy. With the ouster of Max Kellerman, the show needs continuity, not the sort of panelist roulette that has plunged the ratings of "Around The Horn.'' Yet producer Antoine Lewis says Smith and moderator Molly Qerim will see a third chair rotated among Chiney Ogwumike, Jessica Mendoza, Mina Kimes, Dan Orlovsky, Marcus Spears and Damien Woody. So "FIrst Take'' becomes just another musical-chairs stop for the same pundits seen on other daytime shows. Why not at least use Bomani Jones? The short answer: Stephen A. is afraid he'd be brain-shamed. Said Lewis: "Stephen A., Molly and a lineup of A-list guests will definitely continue to provide fans with all they've come to expect from 'First Take' and much more. We're excited to get going!" Whee!
ESPN — A week doesn't pass without another attacker taking down the Worldwide Leader In Dysfunction for its internal issues. It's pretty bad when Paul Pierce, dumped by ESPN last spring after an Instagram video showed him zonked out with exotic dancers, calls out WWLID for its business conflicts of interest. "I was done with them anyway. It wasn't a great fit,'' Pierce told Sports Illustrated. "There's a lot of stuff over there you can't say. And you have to talk about LeBron all the time.'' The Truth, who joins a conga line of stoned NBA greats in the Basketball Hall of Fame this week, always is worthy of an overtime period in "They Don't Get It.''
Jim Gray, schmoozer — I believe we have time for a seventh item. Once reviled for boldly peppering Pete Rose on live TV with tough questions about gambling, Gray softened in recent years to become an advocate of the elite athlete. Nothing like climbing into business bed with superstars to pad one's income. Gray's book — "Talking to GOATs,'' now available in paperback — features intimate conversations with Tom Brady, Michael Jordan, Muhammad Ali, Mike Tyson, Kobe Bryant and LeBron James. They've trusted him with certain topics and open up more than they might with other interviewers, but when it's time for another Rose moment, Gray protects the GOATs rather than feed them nutrients for major exclusives. Baaaa!
Jay Mariotti, called "the most impacting Chicago sportswriter of the past quarter-century,'' writes a weekly media column for Barrett Sports Media and regular sports columns for Substack while appearing on some of the 1,678,498 podcasts in production today. He's an accomplished columnist, TV panelist and radio talk host. Living in Los Angeles, he gravitated by osmosis to film projects. Compensation for this column is donated to the Chicago Sun-Times Charity Trust.
Five Who Get It, Five Who Don't
A weekly analysis of the best and worst in sports media from a multimedia content prince — thousands of columns, TV debates, radio shows, podcasts — who receives angry DMs from media burner accounts
THEY GET IT
Anish Shroff and Tom Luginbill, ESPN — Almost impossibly, the Worldwide Leader In Dysfunction humiliates itself more with each passing week. This time, no one in management bothered to vet the bogus, farcically unworthy opponents set up to play powerhouse IMG Academy in an ESPN-televised high school football game. The rogue outfit from "Bishop Sycamore'' — an online-only creation — boasted top college prospects, but the claims were revealed as a scam early in a 58-0 crushing. Shroff and Luginbill might not have jobs for long, but they admirably served their audience by criticizing how this fiasco ever materialized. Said Shroff, noting how he'd attempted to verify Bishop Sycamore's players: "They did not show up in our database; they did not show up in the databases of other recruiting services. So, OK, that's what you're telling us, fine, that's how we take it in. From what we've seen so far, this is not a fair fight, and there's got to be a point where you're worried about health and safety.'' Said Luginbill: "I think this could be potentially dangerous given the circumstances and the mismatch.'' The only thing ESPN does well these days is pass the buck, blaming schedule-makers at Chicago-based Paragon Marketing Group. Tell me: How much longer will Jimmy Pitaro last as company president?
Erin Andrews, Fox Sports — As brave as she is candid, Andrews has been open about her many personal challenges. She spoke of her fear in battling cervical cancer. She spoke of her horror when a creep secretly filmed her changing clothes through a hotel-room peephole. Now, the veteran sideline reporter writes about her eight-year, seven-round experience with in vitro fertilization, vowing to be "vocal and honest'' about a "time-consuming and emotionally draining process.'' Writes Andrews in a Facebook Bulletin essay: "I'm now 43, so my body is kind of stacked against me. I have been trying to do IVF treatment for a while now, but sometimes it doesn't go the way you want it. … When this happens, it really makes you question: is it the future of my family or is it my job? I work in an industry where I think women feel the need to keep things like this quiet. I decided that this time around, I would be open with my show producers." As an Internet sensation early in her career, Andrews stayed strong through crude website and social-media behavior. Now, she's leaving a legacy of courage and survival.
Maria Taylor, NBC — In some perverse way, she has benefited wildly from Rachel Nichols' assessment that Taylor inherited the hosting role on ''NBA Countdown'' as a diversity makeup call. Only weeks after fleeing the Bristol nuthouse, Taylor has landed as a co-host of the most-watched studio show on sports television, "Football Night In America.'' The Sunday night platform will showcase Taylor as a rising star — and let's hope she augments a strong telegenic presence with diligent NFL homework. Drew Brees also joins the program, biding his time on the lead desk with Mike Tirico until Al Michaels and, eventually, Cris Collinsworth are phased out in the booth. I would let Michaels and Collinsworth continue until they drop, but the network is fixed on a Tirico-Brees broadcast team that could be decidedly mediocre. Unlike Fox and CBS, which basically have stuck with the same studio lineups, at least NBC is experimenting with new faces.
Bob Nightengale, USA Today — While other baseball writers sit in press boxes and wait for Zoom interviews, Nightengale is found in the front row behind home plate at Dodger Stadium — in full view of the TV camera — as he chats up industry insider Dennis Gilbert. It's part of a tireless, decades-long work ethic that continues to produce breaking stories and crackling columns, including a dead-on commentary titled, "MLB's payroll disparity has become laughable, threatening the integrity of the sport.'' He writes of the financial canyon between the Los Angeles Dodgers ($284 million) and Pittsburgh Pirates ($49.1 million): "It's a monstrous and horrifying Great Divide that has long cast a shadow in Major League Baseball, but never before has the divide in team payroll between the haves and have-nots been so pronounced, and created such a deep impact in the standings. … The Dodgers are paying nearly as much money ($38 million) to starting pitcher Trevor Bauer, who has been on administrative leave since July 2, as the Pirates are paying to their entire 40-man roster. The Dodgers' payroll is a whopping $200 million more than four teams.'' In the mid-'90s, Nightengale was the first to quote commissioner Bud Selig about steroids. It took almost 10 years for Bud Lite to fess up in front of Congress.
Joe Davis, Spectrum SportsNet LA — Rare is the baseball play-by-play voice who dares to knock the sport's bosses for their ongoing debacle: games that average three hours and nine minutes, an increase of nine minutes since 2018. But when more than six minutes lapsed before the top of the eighth inning recently, as Dodgers reliever Kenley Jansen was having the grounds crew manicure the mound, Davis' annoyance was palpable. "That's not good,'' he said, "for a game that wants to be snappier.'' His partner, Orel Hershiser, said nothing. More broadcasters should speak up.
Patrick Soon-Shiong, Los Angeles Times owner — Sounding like a sports owner tired of losing, Soon-Shiong challenged his struggling newspaper — I know, that's a redundancy — to improve its underwhelming digital profile and "expand revenue.'' Appearing on Kara Swisher's "Sway'' podcast, he said he has invested $650 million over three-plus years and wants to see an urgent turnaround under new executive editor Kevin Merida — or else. "I do mind losing money,'' he said. It's mind-blowing that the nation's second-largest media market, home to 18 million potential readers, could exist without a flagship daily newspaper. But Soon-Shiong reminds us that the Times almost died three years ago, when the biotech billionaire rescued a wrecked ship from Chicago-based Tribune Publishing: "I got a call from Mike Ferro and that board, the current board, and (they) said, 'We're about to shut down the L.A. Times and push everything to Chicago. You have about 48 hours with no due diligence to buy the L.A. Times for $500 million.' '' If the Times goes away, I honestly don't know where southern California sports readers would turn. The Athletic isn't a factor. ESPN no longer has a local shop and is trying to unload its L.A. radio station. The other papers are ghosts. Thus, as a SoCal resident, I'm pleased to see an ultimatum, which qualifies Soon-Shiong as a sixth who gets it this week.
Sports Illustrated — As The Athletic tries to maintain footing amid two failed mergers and stalled subscription numbers, quality appears to be one-upping hype. Quietly, the Sports Illustrated Media Group has more than 42 million monthly users, reports Front Office Sports, making it the fastest-growing property in sports media. There's a paywall arms race between the rivals, and, at $69.99 annually, SI's edgy content is a better buy than The Athletic's bulk at $71.99. You even get the fabled magazine — I know, what's a magazine? — but you ARE familiar with the swimsuit issue. SI sneaks into the seventh slot when I vowed to do only five this week.
THEY DON'T GET IT
Dave Roberts, ESPN — Pitaro isn't the only culprit in Bristol. As Stephen A. Smith's enabler and the executive who helped dilute the ESPN Radio lineup, Roberts is contributing to the messes at Dysfunction Junction. How does Smith get away with rambling constantly about "white privilege'' while Nichols is booted for criticizing — again, in the supposed privacy of her hotel room — the company's past issues in diversity hiring? How does Smith mock Shohei Ohtani's use of an interpreter and somehow come to work, without even a disciplinary wrist slap, the next day? These are hard questions for Roberts, now tasked with re-re-re-revamping the network's long-problematic NBA coverage. Already, reports have Smith teaming with Magic Johnson (Magic Johnson?) on a prominent show. Gee, Dave, why not just let Stephen A. do everything — host the prime-time "SportsCenter'' at night and "Get Up'' in the morning, take over the "Monday Night Football'' booth, moonlight on "College GameDay,'' do 10 hours of radio a day and anchor the tennis, golf and hockey coverage along with his current role on "First Take,'' where he successfully ran Max Kellerman off the show? Is there a fishing program Stephen A. can do? Bowling? Cornhole, even?
Jason Whitlock, lunatic — I hesitate to go here because, at this stage of his very bizarre career, he's just screaming for attention at an extreme right-leaning site. But Whitlock lost me when he said Pitaro "is engaged in a prolonged war with the Taliban, commonly referred to in sports media circles as the "BLM-LGBTQ+ Alphabet Mafia." Worse, he wrote of Nichols' fateful hotel-room phone conversation with influential public-relations advisor Adam Mendelsohn: "A year ago, Nichols, a white Jewish woman, gossiped with a male member of her tribe about ESPN management handing black colleague Maria Taylor a job that had been contractually promised to Nichols.'' In the case of Taylor and Nichols, the black-white issue is relevant in a time when ESPN is dealing with ongoing in-house racial politics. But for Whitlock to drop the "tribe'' line is just warped — and suggests Nichols was punished for being Jewish when, in fact, ESPN parent Disney has been run for years by Bob Iger, who happens to be Jewish. Can somebody please fit Whitlock with a straitjacket? Tell him to shut down social media, breathe some fresh air and enjoy life?
ESPN — It makes no sense to employ investigative reporters when the network is in bed with every sport, league and conference imaginable. As further evidence, ESPN is willing to cheapen its brand by licensing it to gambling companies, which would further distance Bristol from journalism that barely exists anyway. The bosses are eyeing more than $3 billion to slap their logo on major sportsbooks, and before long, I fear the lead story on "SportsCenter'' won't be who won a big game … but which team covered the spread.
Trey Wingo, desperado — Former ESPN sportscasters have to make a living somehow, I understand, but Wingo has fallen hard. Once a prime-time face of the network's NFL coverage, he now looks unrecognizable and cheesy in a photo illustration announcing him as Caesars Sportsbook's "chief trends officer and brand ambassador.'' What that means exactly, I'm afraid to ask, but Wingo joins the cavalcade of media professionals shilling for casinos. "Mind your own biscuits and life will be gravy,'' he tweeted about the move. Problem is, he'll have to take three showers a day in that racket.
My ego — Yes, it runs amok sometimes. But here goes anyway: Unlike coaching trees with mixed results — the Belichick tree, the Krzyzewski tree — my kinda/sorta radio tree is surviving the test of time quite well. Not that they needed my help, but I'm happy to report that three enduring sports-talk careers started alongside me in the wayback days. Dan Bickley was just moved to morning drive in Phoenix. Mike Mulligan is a morning-drive rock in Chicago. And Anthony Gargano, who made his unforgettable radio debut after an all-night rager, is the renowned "Cuz'' in his native Philadelphia. As for me, my last local program was scuttled — despite ratings that trounced my Chicago competition — because I refused an executive order to sign a document promising not to criticize the White Sox and Bulls. Know what's crazier? The station was trying to appease a sports owner, Jerry Reinsdorf, who wound up taking those teams to the other station anyway. Some of us sleep well at night. Others must not.
Dan Le Batard, M.I.A. in MIA — Predictably, the host has faded from the mainstream after leaving ESPN and launching his own podcast and company. Other than diehards, is anyone listening? How do you find him? No amount of DraftKings sponsorship money can compensate for the loss of buzz, which leads to fewer listeners and waning impact. He has his much-sought editorial freedom, but his old TV show — while grinding to an eventual halt — still trumps him in relevance. I know, this is Item No. 6.
ESPN — I tried to go for an ocean bike cruise, but the WWLID wouldn't let me. So, this is Item No. 7. "Sources: Patriots cut Newton; Jones to start'' blasted the headline atop the website, implying ESPN broke the story. You have to scroll to the bottom for this lonely paragraph: "The Boston Globe first reported Newton's release.'' Please stop playing these phony games, trying to take credit when readers see through the b.s.
Jay Mariotti, called "the most impacting Chicago sportswriter of the past quarter-century,'' writes a weekly media column for Barrett Sports Media and regular sports columns for Substack while appearing on some of the 1,678,498 podcasts in production today. He's an accomplished columnist, TV panelist and radio talk host. Living in Los Angeles, he gravitated by osmosis to film projects. Compensation for this column is donated to the Chicago Sun-Times Charity Trust.