Foolish Denial: Saban And King Football Vs. Covid
Between the coaching legend's hypocrisy and the NFL's games-first stance in plowing through daily infections, the sport still isn't taking the pandemic seriously enough — as consequences await.
Now that they've turned the coronavirus into an intercollegiate sport — Nick Saban rallies late to thwart the nasal swabs! — and now that NFL teams routinely play games just days or hours after closing facilities, we see what the football megalomaniacs are doing now.     
They are raising fists, thrusting middle fingers higher than the heavens and telling all health-minded Americans to bug off, that they have important work to do the next few months. This work is so critical to humankind that Saban had a state trooper meet him at his home after the coach's "fifth consecutive negative" COVID-19 test, that according to the Alabama team physician, who, of course, couldn't have reported otherwise without Saban firing him on the spot. The state trooper then escorted St. Nick from "self-isolation," which involved Zoom-spying on his team every day and night, over to the team hotel so he could join meetings seven full hours before Alabama played Georgia, a game that never, ever could have proceeded without Saban on the sideline.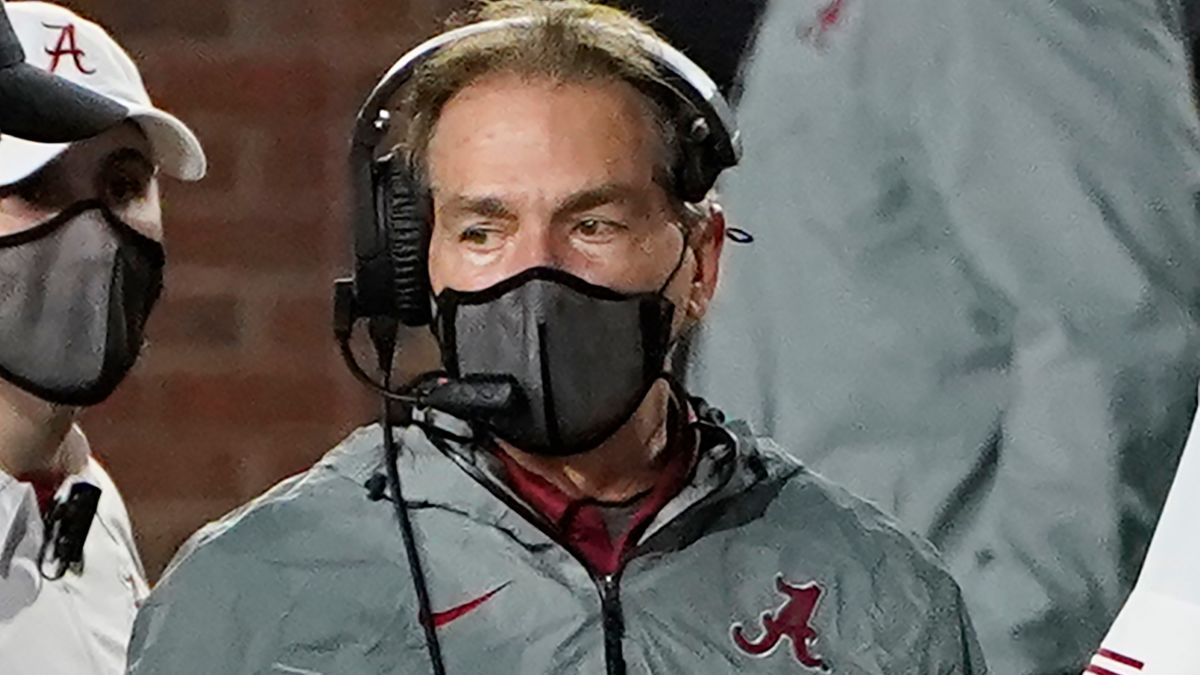 Most anywhere else in America, a 68-year-old man who tests positive is quarantined for at least 14 days as an elevated risk, which protects him and others from spread. In the warped and corrupt sphere of college football, the athletic conference grounded in the country's virus-dumbest region — the Southeast — already had devised a farcical and nakedly suspicious plan to cover coaches in case of a "nuisance" such as a positive test. Never mind that Saban looks like a complete fraud and hypocrite after imploring people all summer to wear masks and even scolding the school mascot, Big Al, for not covering up. Never mind that Saban, if he was sincere about COVID, would have responsibly stayed home and allowed the able Steve Sarkisian to take over. His ego needed to coach. Alabama needed him to coach. CBS needed him to coach and drive prime-time ratings.     
So he relied on a nine-day-old combination of hokum to clear him: The Southeastern Conference's "Return to Activity and Medical Guidance Test Force Protocol," in conjunction with "The University of Alabama System Health and Safety Task Force," indicated Saban was given five tests via two labs after his positive test on Wednesday — and all magically turned up clean. The final test was flown by private jet to to an "SEC-approved lab" in Mobile, which, in case we're supposed to be impressed, happens to be in Alabama. "Out of an abundance of caution," said the school statement, which smacks of, "Oh, we really didn't have to do all of this, but we're covering ourselves in case those fancy, big-city doctors scold us."     
And when his return to the sideline finally was complete, with Alabama upholding its No. 2 ranking in a 41-24 win, what did Saban do? He DANCED WITH HIS PLAYERS, WITHOUT HIS MASK, INSIDE THE LOCKER ROOM — as captured in a Twitter video since deleted by his staff — before, ahem, voicing appropriate fear for the virus. His words didn't reflect his actions.  
"I think I gained a lot of respect (for COVID) thinking I had this even though we've done everything to set a good example relative to social distancing, wearing the mask, washing hands," Saban said. "I think everybody should have the proper respect because, I'm gonna tell you, when they tell you that you've tested positive, that's not a good feeling. Now I wasn't sick. All right?"  
Sure, Nick, sure. Whatever you say. After all, you're bigger than life.     
On the same weekend, the Jacksonville Jaguars became the latest NFL team to shut down their building after a positive test. But because the infected person was a practice-squad player, the Jaguars quickly said their Sunday home game wouldn't be impacted — despite the 12 practice-squad players placed on the reserve/COVID-19 list. Aren't they in the same facility as active roster players, coaches and team personnel? This as the New England Patriots, already slammed by the Cam Newton-Stephon Gilmore virus whammy, were placing four players on the COVID-19 list — including starting guard Shaq Mason and running back Sony Michel — after another player tested positive. Not that it stopped an already-postponed home game with Denver from happening — and Newton from devolving into a turnover machine in a bad loss. Until now, the NFL needed only one positive test to move games. Now, the league is coldly trudging forward with the schedule, virus be damned.     
Didn't the Tennessee Titans assume they'd be safe after a solo positive test late last month, only to play matador to a massive virus outbreak that eventually infected 24 people and played havoc with the NFL schedule? Are we expected to just forget and ignore the league's numerous fires, which suggest more NFL outbreaks are inevitable as cold weather emerges and COVID cases rise to national levels not seen since July?     
That's what King Football would like America to do. Shut up, sit back and be happy that we still have games to watch, while the NFL makes its billions, the Power Five conferences make theirs and broadcast networks make theirs. Think about whether it's Russell Wilson's year in the NFC, or if Tampa Bay's trash-talk riddling of Aaron Rodgers gives Tom Brady a shot to join the Rays and Lightning in a pandemic title threesome (no chance). Ponder whether the rejuvenated, balanced Steelers can upend the Chiefs in the AFC, as they head to Nashville next weekend for an early showdown. And why the interim Texans coach, Romeo Crennel, blew a game when he eschewed an extra point (it would have put his team up by eight) and chose a two-point conversion that failed, allowing Derrick Henry and the Titans an opening they seized. In college ball, fantasize about — ugh — yet another Clemson-Alabama rematch, about the only decipherable projection for a four-team playoff amid out-of-whack schedules and belated Big Ten and Pac-12 starts. They want us to appreciate, you know, the entertainment.    
So what if they get us all infected? So what if they're falling victim to virus impatience and fatigue at the absolute wrong time? So what if we have no idea if they're being transparent about test results — positive, negative, false positive — with huge money on the table? So what if the host of the NFL's ever-popular "Red Zone" show, Andrew Siciliano, missed work for the first time in 15 years because he has COVID? What if Saban still had the virus? He could have passed it on to players, who could have passed it on to loved ones and other students on a campus already ravaged.     
They're trying to wear us down, of course, like a strong running game, only through denial and deceit. I don't know how many times I have to write it: Without the use of Bubbles — and the NFL reiterated it has no plans to move to a restrictive environment — football is dangerously pushing its luck by not pausing seasons, waiting until someone becomes seriously ill as a result of this self-serving delusion.     
And even then, it probably would take someone to die before these commissioners, from the NFL's Roger Goodell to the SEC's double-talking Greg Sankey, think about stopping a season. At least the players are being paid in the NFL. College players not only are assuming health risks without pay, they're being brainwashed by masculinity-related pressures within the system — sit and you're less of a man — if not overtly then subtly. In the SEC, I'm not sure if anyone would care if a kid died from COVID. That's how blind they are to the pandemic, as enabled by President Trump. This is the league where Ed Orgeron, coach of defending national champion LSU, thinks most of his players have contracted the virus — though he isn't sure — and openly hopes they achieve herd immunity. This is the league where Georgia coach Kirby Smart, interviewed before the Alabama game in a stadium with only 21,000 fans, said, "It'll be a raucous environment'' … before catching himself. This is the league where Florida coach Dan Mullen sounded brain-dead when he demanded The Swamp be packed with 90,000 breathing, expectorating fans for an LSU game that thankfully didn't happen — it was postponed when the Gators, pounded by a virus breakout, didn't have enough scholarship players.     
"Coaches sometimes say things outside of their area of expertise," Florida athletic director Scott Stricklin said. "And they're really good at what they do. Dan is really good at calling ball plays."
Mullen also is really good at playing the fool — he, too, eventually tested positive for COVID, finally conceding, "I am proud of how our players, staff and campus community have navigated this unprecedented time and hope all continue to be safe."     
This is the league where Sankey, the boss, is a flim-flam man. He keeps scolding SEC programs for "not following proper COVID-19 protocols" and threatening $100,000 weekly fines, writing in a memo, "Do not relax — and do not let those around you relax — because of a few weeks of success." He did sock Ole Miss, Texas A&M and Tennessee with financial penalties for mask violations, yet on a weekend when two conference games were postponed, Sankey let Saban jump out of quarantine and into his sideline windbreaker in no time. By coaching only hours after testing positive, then dancing maskless with his players afterward, Saban was setting a lousy example for the millions watching the game — the same lousy example set by the rest of college football and the NFL.     
Too many Americans are thinking now, "Hey, if Saban was back in three days and all of these NFL games are happening despite daily positive tests, how serious could this stupid virus be? It's a hoax!" And anyone who thinks the recklessness will change if Joe Biden is the president doesn't know the stubbornness of a football coach, player or fan. Or the irresponsibility of a broadcast network, a betting operation or anyone else who makes money off a football season amid a pandemic.     
Decades from now, assuming Planet Earth hasn't imploded, scholars will look back at 2020 and ask, "Why were those men and boys playing football and perpetuating spread?" In a world presumably more health-conscious by then, they'll be appalled to learn it was about money and money only. The university presidents who are supposed to teach and protect young people only put them at risk. And the NFL, which foolishly thought the virus would have subsided by now, is presiding over a tsunami, callously rescheduling games while advertisers squirm, wondering when a tenuous landscape will explode. The league, in a cosmetic attempt to show it is serious, is forcing players and team staff members with any symptoms to go home, with the league's chief medical officer, Dr. Allen Sills explaining, "Because there's so much overlap (in symptoms), we have to assume it could be COVID." All of which only will dilute the quality of play, already suspect in a league of calamitous injuries — be well, Dak Prescott — and all-time record scoring that seems kind of phony. Yes, we love spectacular offenses. No, we don't like defenses that can't tackle or scheme.     
In a country where 46 states and the nation's capital are experiencing COVID surges, as we near the holidays amid a creeping reality that THIS is our world now, these crazy men are still trying to wedge in football games. It's easy for NFL owners and university administrators to stay inside their bunkers and preside over bank deposits. It's easy for broadcast executives to sit in their handsome homes and feel good that the lights are still on. But who's thinking about the players? Or the long-term ramifications of COVID, including a mysterious brain fog that some survivors compare to dementia?    
The attitudes won't change when the Titans, Team COVID, are 5-0 and actually taking football inspiration from those 24 positive tests. Said quarterback Ryan Tannehill: "What this team and this organization has been through, to really fight that off, shake that off … I think it makes a statement."     
Shake it off? That quickly, a coronavirus outbreak is nothing but a Taylor Swift song?     
Nor will the attitudes change after Nick Saban — for all we know, still carrying an infectious disease — bursts from his house and whips those Bulldogs just as he whipped that ol' virus. "I have a tremendous amount of gratitude to the unbelievable number of people who texted or sent prayers," he said. "It was just phenomenal and I believe in things like that so I think all of that helped. I'd like to thank all those people for their support and help and the relationships and people I know all over the United States — calling, checking, texting. It's heartfelt, and I really appreciate it."     
And his players? "They handled the disruption really well,'" he said.     
The football victory, you see, is all that matters in life.     
Even if it leads to the symptoms of death.
Anatomy of a Broadcaster: Dave Pasch
For Pasch, the preparation is there, the knowledge of the teams is there, and that's why he's a pro's pro.
Versatility is always a key in sports. General managers talk about it as a way to have more flexibility on their rosters all the time these days. Versatility is also a key in sports broadcasting. In this case, the ability to call multiple sports, sometimes in the same week, at a high level. No drop off between sports, and no indication of fatigue based on scheduling.
To me, that tells the story of Dave Pasch. He's been in the game a long time and continues to be at the top of his game whether he's broadcasting the NBA, college football, or the NFL. It's a skill that only a very few own.
I might add, he gets the job done on both television and radio. The balancing act of going back and forth between the two media forms isn't all that easy, either. Descriptive to the max on one and letting the pictures tell the story on the other. Mastering that craft is not something everyone can do.
THE ROAD TO ESPN/ARIZONA CARDINALS
Pasch went to Syracuse and got started at the student station WAER-FM, where he worked from 1990-94. A year later, he went to work for the West Virginia Radio Corporation from 1994-1995 as a news and sports anchor, and he called high school football play-by-play.
Pasch also worked for WMAQ-AM in Chicago, the signal that now is home to WSCR, one of the sports radio stations in the city. At 'MAQ, he hosted a talk show (The Sports Huddle) and the Chicago Blackhawks' pre-game show, as well as calling play-by-play on select Blackhawks broadcasts.
From Chicago, it was on to Detroit. Pasch worked for WDFN-AM there, serving as a sports anchor, talk show host, and play-by-play commentator for International Hockey League Detroit Vipers broadcasts.
He then went back to his alma mater, Syracuse, where from 1999-2002, he was the radio voice for Syracuse football and basketball. Pasch also called select NFL and NFL Europe games for Fox Sports in 2002 and 2003, and did the Buffalo Bills preseason telecasts in 2001.
In 2002, he became the radio voice of the Arizona Cardinals. He has been balancing that job with several others, mainly for ESPN, where he's been since 2003. For the network he calls NBA games, college basketball games and college football as well. Pasch occasionally pops up on Westwood One radio to broadcast the NFL and the radio network's coverage of the NCAA Men's Basketball Tournament. He just called the Rams-Buccaneers NFL playoff game on Westwood.
Pasch has worked with a who's who of analysts in each sport he calls. Chris Spielman, Bob Griese, Urban Meyer and Andre Ware in college football. His partners on his NBA and college basketball telecasts include Jeff Van Gundy, Mark Jackson, Hubie Brown, Doug Collins, Jay Bilas, Dick Vitale, Bill Raftery, Doris Burke and, of course, Bill Walton. More on his relationship with Walton later.
Also at ESPN, he's handled Major League Baseball broadcasts and women's college hoops as well.
WHY IS HE SO GOOD?
I already mentioned Pasch's versatility, and his ability to handle the array of sports he does. As a play-by-play announcer, he is rock solid and always brings an energetic and informative broadcast to the viewer/listener. There's no flash, but it's not needed when you have what it takes to deliver games the way he does.
For broadcasters that do multiple sports in the same week, preparation can be an issue. Where do you find time to get ready for each team and each sport in a manner that they deserve? If a broadcaster isn't sufficiently ready for that game, there's no fooling the audience. It becomes pretty clear. For Pasch, the preparation is there, the knowledge of the teams is there, and that's why he's a pro's pro.
I also appreciate his sense of humor. There is a way in which he can laugh at himself and his partner without making it too much. In other words, Pasch allows for a little fun when needed and called for within a telecast or broadcast. I'm good with that if it isn't at the sacrifice of key moments in a game. He has that style down to an art form. This makes a game between two teams that maybe the viewer doesn't have a rooting interest in fun to watch.
He has the ability to play the "straight man" in the context of his partner getting a little outside the broadcast. Pasch has had plenty of experience being a good partner, especially when it comes to working with Bill Walton.
BILL WALTON
Pasch was paired with Walton on college basketball for ESPN's Pac-12 coverage starting in 2013. The two work together often and just did a game the other night between Oregon and UCLA. Pasch never knows what might happen during a broadcast.
For example, in this game, Walton went off the rails as usual and also as usual, Pasch played off it, questioned the big man's thoughts, and offered some well-placed sarcasm. Pasch also kept the viewer up to date on the game while the nonsense was going on.
In the second half of the game, Walton casually mentioned how the "Tinder portal" has worked out very well for the Pac-12. After the UCLA legend kept talking for another few moments, Pasch had to jump in to point out that Walton referred to the NCAA's transfer portal as the Tinder portal.
Pasch: "You mean the transfer portal? You called it the Tinder portal."
Walton: "Tinder portal, yeah. That's what it is."
Pasch: "You're saying the transfer portal is like Tinder? You swipe right or left to get a player?"
Walton: "Do you love me today?"
Six game minutes later, Walton again brought up the Tinder portal, and offered an explanation for "the way that works."
Walton: "The way that works is that they put their name in there and then the coaches start pushing left and right."
Pasch (sarcastically): "Exactly."
This is television gold, showing exactly why Pasch is the perfect foil to Walton's outlandish commentary.
Pasch though told The Oregonian that he appreciates working with Walton and that the former UCLA star wants to be good at what he does on television.
"I emailed Bill after the game this past weekend and his response was, 'I'm sorry I let you down,'" Pasch told John Canzano. "He's so hard on himself. I don't know what he's talking about. It's Bill. He's hard on himself. That's what made him a great player."
The broadcaster was also willing to point out that his broadcasts with Walton doesn't serve all audiences.
"Not everybody finds what we're doing entertaining. There are plenty of people, probably including several coaches in the conference who don't enjoy it," said Pasch.
"The biggest thing is to document the game. When your goal is to document the game and celebrate the players, you can still have fun and allow Bill to be Bill. I do think there's a fine line there. I'm sure we've crossed it where you're trying to be funny or you're trying to have a gag work and it doesn't work because you tried… there is a complete spontaneity to the broadcast."
COMMUNITY/FAITH
Pasch is a man of faith and put that on display at the beginning of the pandemic. He and his family offered assistance to those struggling to pay their bills. He tweeted the following on March 14, 2020:
"If there is a family in the Phoenix area who will have lost income because of the Coronavirus, and cannot pay a bill, please DM me. The Pasch family would love to hear your story and try to help. Acts 20:35."
Pasch expanded on his motivations that week to Jeff Metcalfe of the Arizona Republic.
"I just felt this is an opportunity for me as a Christian to live out my faith in a way that's real and kind of where the rubber meets the road," said Pasch. "Here's an opportunity to step up when you've got a lot of people that are hurting and suffering and unsure of the future, scared, nervous, anxious."
He asked those within sports to set the right example. Such a fine message shows how a sportscaster for a local team can become instantly involved in his/her community. It's so important to have that relationship with the fans on a deeper level.
CONCLUSION
I'm a big fan of Pasch's work and enjoy pretty much everything he calls on ESPN. Glad to see that solid, no-flash broadcasters are still prospering in the industry. I've said it before and I'll say it again, I appreciate when the announcer excels at making the game the star.
SUMMARY
Dave Pasch has risen through the ranks of top play-by-play announcers in the game. Hard work and a tremendous work ethic and style have helped him along the way. Pasch handles a busy schedule like a pro and excels at all the various sports for which he calls games.
Rob Thompson Fell Backwards Into Sports Radio and Never Looked Back
Getting into sports radio was a stroke of luck, but Thompson has carved out an amazing career in San Antonio.
Before it was cool, Rob Thompson was doing it. Before it was a multi-billion dollar industry and something you can control with your fingertips, he was playing fantasy football the old-school way.
But what was once just a hobby turned into one of the best opportunities of his life. In 1992, Thompson was playing fantasy football with different people from all over the country. He was looking for a specific stat to calculate scores from the weekend, but there was confusion with the numbers.
"One of the guys had a Chicago paper and I had a San Antonio paper and our numbers were different," Thompson said. "So I called the local paper and asked for the official NFL stat line. The guy I called asked why. I told him I was playing this weird game called fantasy football. We had lunch and he had heard about it and he asked me if I could write a column. So I started writing a Saturday column about fantasy football."
A local radio guy named Charlie Parker started reading the column. Soon after, he asked Thompson and his brother to come on his show. They started showing up on Fridays and then eventually on Mondays. Looking back at it now, Thompson thinks it was because they were being used as a segment filler. But before they knew it, they were regular guests on the show.
"Then on a random Friday he called in sick," said Thompson. "The program director walked out and said, well, I guess it's y'all. So we jumped on air and he ended up hiring us. He brought us on for a Saturday show, his name is Andrew Ashwood.
"I kind of fell backwards into it and then one thing led to another and I had a Saturday show in San Antonio with my brother. Because we are in San Antonio and on the iHeart station a couple of the vice presidents of the company started listening to us and liked us. And then they syndicated us. I got nationally syndicated before I had a local show. This was in 2000 working with WOAI, a legacy station here doing Saturdays and that turned into weekdays."
Getting into sports radio was a stroke of luck, but he's carved out an amazing career in San Antonio. Today, he's the co-host of R&R in the Morning on ESPN San Antonio's Sports Star. He's also the PD of the station, which means his normal weekday begins before most people even think about getting out of bed.
"I've been an afternoon guy my entire radio career, other than the Saturday shows," Thompson said. "I moved to the mornings last year back in July. About a year ago during the Covid crisis, my station decided to invest in sports talk and felt like we had a pretty good product here and it allowed me to expand our lineup.
"We went from one three-hour show to now I'm running right at eight hours daily. I get in around 3:30 am. I do a lot of my grunt work for traffic and everything before anyone gets here in the morning and then I do my show that ends at 10:00. I'll hang around for my mid-day guy and then see my PM drive but I'm out of the building around 2:00."
If Thompson didn't already have enough on his plate, his station is undergoing a rebranding that began last year. The station is still an ESPN affiliate, but changed its name to San Antonio Sports Star, a play on the Dallas Cowboys and the amount of coverage the station commits to the team.
"We're a pretty big Dallas Cowboys affiliate," Thompson said. "We get Jerry Jones on pretty regularly. Mike McCarthy on weekly. We even go to their training camp. We've adopted the star logo while still hanging on to the ESPN letters. We rebranded last year, but I carry those ESPN letters pretty proudly because it gets me in a lot of doors."
But sometimes a rebrand doesn't come without challenges. A name change can cause confusion with some listeners. Yet overall, it's something Thompson and The Sports Star knew they needed to make happen.
"I wouldn't call it smooth," Thompson said. "In the San Antonio market, there's two competitors. For the most part, because we've cross pollinated so much… my co-host came from across the street and I worked across the street.
"It wasn't a matter of confusion about ESPN. I'm trying to separate from that and become our own entity. I love the letters and I really love them for sales purposes, because it gets us in the door with so many advertisers. But quite frankly, most of our listeners, they get us confused. They always have, because I was across the street for 15 years and my co-host was there basically for the same amount of time."
San Antonio is a one-sport town and the one team in the city has enjoyed an incredible run since the late 90s. Granted, the franchise isn't having the same success as when Tim Duncan, Manu Ginobili and Tony Parker were on the floor, but it's still a Spurs town at its core. However, Thompson and his staff are committed to Cowboys talk. Seeing as the Spurs have fallen off a bit, will they commit an entire show during the NBA season to the local team?
"Not an entire show," Thompson said. "We're not their flagship or an affiliate. They're such a closed franchise and hardly anything comes out of there. There's some benefit and there's some negative to it. For us it allows us to open the canvas to paint whatever picture we want.
"We can talk about the Spurs daily, because they're not going to give us anything, we can just project what we want. So it's always been an easy fill. We still talk about them every day. I've always called it the holy trinity that we hit every single day: the Dallas Cowboys, either Texas or Texas A&M football, and the Spurs."
Outsiders come into Houston all the time to do sports radio. It can even happen in Dallas, as well as other markets in the state of Texas. But San Antonio has a little bit of a different feel to it. It's not easy for an outsider to come into the city and be beloved by the listeners.
"That's a good question, because I don't know of anyone that's come from the outside and been successful other than one guy across the street," Thompson said. "He took my seat when I left back in 2008 and he's done a great job.
"We're a very insular community. The local CBS affiliate has been on the air since around 1959. They've had two sports broadcasters in their history. One has been on for the past 25 years and he's retiring, so I brought him on to be a co-host on my PM drive show. There was never any consideration to look outside the market. They just don't test well here. People need to know what high school you went to."
Thompson's co-host, who goes by Rudy Jay, is one of the locals doing sports radio that has endeared himself to the listeners. He and Thompson have developed an incredible rapport and take San Antonians to work every morning.
"He's a great guy and a man of the city," Thompson said. "There's very few people that, no matter what they say and how they say it, you walk away not being upset with them. He's just a genuine and honest man, who has great opinions but never really inflicts them on you. He's a well-versed and interesting guy that loves to talk about sports. I couldn't be happier."
OutKick 360 Isn't Just Talking To The South Anymore
"We came in with an understanding of Nashville, North Alabama, Southern Kentucky, East Tennessee, West Tennessee and then they email us saying, 'let's go for everywhere and see how this thing can grow'."
When Jonathan Hutton, Paul Kuharsky and Chad Withrow announced they were leaving 104.5 The Zone in January of last year, no one doubted where they would end up. The show, formerly known as The Midday 180, was clearly bound for OutKick. After all, the three hosts had been friends with Clay Travis for years.
The only real question was how would it be delivered to the audience? OutKick wouldn't be the first company to re-launch what was once a radio show on a digital platform. That wasn't enough for the trio though.
At The Zone, Hutton, Kuharsky, and Withrow had built a loyal following. It showed in the podcast and streaming numbers, something they didn't think was valued properly, and it showed in the ratings. This show had a future on terrestrial radio. It was just a matter of introducing it to other stations in the geographic footprint that made the most sense.
"The root of the tree for us is Nashville, Tennessee, the southeast, and it kind of spreads from there," Kuharsky says. "Based on where we did the show for 10 years, where our initial expertise is, where we have the deepest roots and all of that, it just makes sense."
OutKick isn't a little mom-and-pop business. Even before FOX bought the site, it had significant backing behind it. It's not like the crew, now re-branded as OutKick 360, was flying completely solo.
When you are trying to syndicate a sports radio show though, you may as well be on your own if you do not have the backing of ESPN, FOX Sports, or CBS Sports Radio. Hutton said he was going to rely on that regional expertise as the sales pitch. These are guys that know what sports fans in the Southeast want. He was going to make sure Southern programmers knew that.
"On a Monday morning in April, if you wake up, chances are, if you're listening to the coast to coast radio, they're leading off with something New York Knicks or Lakers or they're going to talk Yankees or they're going to be discussing the New York Giants or whatever it might be," Hutton pointed out. "But you can talk now, SEC football, coast to coast and people will tune in as well. NFL sells. Ratings prove that. And that's what we were going to bring. We're going to play the hits and speak to an audience in the heartland of America that wants to talk football 365!"
Hutton, Kuharsky, and Withrow have adopted a tag line for their show that makes their priority clear: "bringing sports back to sports talk." Sure, there may be distractions. FOX Sports suits really got a kick out of Kuharsky talking about how much he spends on Christmas decorations for instance. At their hearts though, these three are sports fans.
That is assumed of all sports radio hosts. When you put the OutKick brand on a show though, people make other kinds of assumptions. After all, the site's founder Clay Travis has made a hard swerve into the political realm and has made it clear that when he sold the site to FOX, his vision was that it could be "a bridge between FOX Sports and FOX News."
Hutton says he has a simple message for people that approach the show with preconceived notions: just listen first.
"I would hope they would listen to the show and judge us based on the product. We are the sports branch wherever we have been or will go. And, you know, being agenda-free can be what our show is about when it comes to sports. I don't care what channel you turn on, there is an agenda there. So our goal is to be agenda-free, and to be authentic in what we're doing instead of laying down a preconceived line of thinking one way or the other."
It doesn't mean that the show is nothing but Xs and Os. Withrow admits that sometimes, the conversation may make you uncomfortable, but just because it might go that direction doesn't mean it is a political statement.
"If we were to come on and say, you know, 'this race-baiting episode by ESPN is pathetic,' well, 95% of sports fans feel that way, but 95% of sports media won't say it. So when we say it, someone's going to say, 'Oh, well, they're just being political, they're falling in line' and I don't see it that way. I see it as no, this is how sports fans who want sports think."
Withrow continued, "They think it in black and white, not race. They think in wins and losses, and who's the better quarterback? So stop infesting everything with some political leaning or just whichever way the wind is blowing. To me, that's what OutKick was founded on, being fearless and saying what you think, regardless, if it's going to be popular or not. Certainly what Clay has done has gone into the world of politics, but what we're doing, if you listen to our show, we really don't get into politics at all."
When FOX completed its purchase of OutKick, plenty in the industry wondered what it meant for Hutton, Kuharsky and Withrow. Would FOX want to be in the broadcast radio network business?
Not only was the answer yes, but Withrow says one of the first notes the company had for the OutKick 360 hosts was "think bigger".
"As Hutton said, we started with a very localized plan with radio stations and we told FOX that's what we're going to do. They looked at us like, 'why the hell not Ohio? Why not Joplin, Missouri? Why not everywhere? You guys are thinking too small'. We came in with an understanding of Nashville, North Alabama, Southern Kentucky, East Tennessee, West Tennessee and they'd email us saying, 'let's go for everywhere and see how this thing can grow'."
So there was the growth plan. OutKick 360 was going to live and die with football, the country's most popular sport, it was going to be agenda-free in how it talked about the storylines on and off the field, and the hosts were going to be authentic in how they presented themselves to the audience.
There was actually one more ingredient that Hutton wanted to stress. The show was going to sound good.
Back when Covid began and radio shows everywhere had to learn to broadcast from home, it stood out to Hutton just how bad everything on his station sounded. The three asked around and got recommendations for what the right microphone to have was. A friend told them it was the Blue Yeti microphone, so they each went out and got one.
Now, OutKick 360 is broadcast from a state of the art studio and the equipment is upgraded from a $75 podcast microphone. In fact, BSM President Jason Barrett paid a visit to the trio's 6th & Peabody location during a November business trip, and raved about the setup. He said it was private enough to allow the crew to focus on what was needed for the airwaves, yet also accessible for the hosts to interact with fans and host client events on-site.
Withrow says the location has been a hit and the upgraded technology is important, but in a time when even the biggest shows and networks are getting away with terrible audio quality, the real asset is the people dedicated to upholding a particular standard.
"The advantage that we have is David Reed, our producer, who's great with audio quality and is a stickler for it. Hutton and David Reed came up in the same school with Titans Radio on audio and quality of the broadcast being paramount to everything. He really carries that with this show."
OutKick 360 is distributed by Skyview Networks. Just because FOX owns their platform doesn't mean the show can only do business with FOX Sports Radio affiliates. In fact, Hutton says Skyview has helped "take the show to a completely different level and scope."
"They provide the horsepower for the OutKick 360 engine, and that allows us to bring advertisers and listeners together with our sports brand. We had several partners and stations already on board, and they were thrilled to learn Skyview was handling the daily distribution for us."
The trio may have a little more muscle behind them now and the bosses may want them thinking bigger, but Kuharsky says they still have the same attitude when it comes to growing their network.
"It's certainly open to whatever may come our way or wherever we can get our foot in the door."
Radio stations interested in adding OutKick 360 can learn more by reaching out to Skyview Networks by clicking here.