2020 Strikes Again: A Dodgers Title Marred By Covid
MLB must explain the suspicious timeline behind Justin Turner's positive test, which tainted a compelling World Series and turned the champions into visible symbols of America's coronavirus divide.
Here in America, 2020, a renowned baseball franchise won the World Series after its star third baseman was pulled in the eighth inning because of a positive COVID-19 test. What, we're just supposed to ignore a heinous breach of medical trust and let everyone party? Yes, this was a triumph of perseverance, not only for the bluebloods who blew decades of chances and billions but for a generational athlete, Clayton Kershaw, who finally buried his postseason bugaboos.
But six days before the most consequential election in this country's history, the Dodgers are symbolizing more than sports glory. They are the definition of why the coronavirus continue to rage. As they celebrated in an empty ballpark in Texas and fans frolicked in Los Angeles with only a few rubber bullets fired by police, anyone with a functioning brain was mortified by it all.
Already plagued by a long history of scandal, from the Black Sox to the Steroids Era to the trashcan-banging Astros, Major League Baseball might have one-upped itself in shame Tuesday night. Justin Turner, the shaggy-haired slugger and team leader, took his regular coronavirus test Monday. It's unconscionable that the president of MLB's Utah-based lab, Dr. Daniel Eichner, needed a day and a half before contacting deputy commissioner Dan Halem with news that Turner's test was inconclusive. It happened in the second inning of Game 6, if we can believe the details of commissioner Rob Manfred, which should have put the league on immediate high alert. What about Turner's Dodgers teammates and their family members, all staying in the designated "Bubble" hotel? What about the traveling party of the Tampa Bay Rays, staying inside the same Four Seasons in the Dallas suburb of Irving? What about baseball officials and broadcasters? Were they at risk because Manfred, on the final night of a four-month odyssey, was trying to sneak his way through an infection?
In the height of irresponsibility, MLB stayed mum throughout the game, as if wanting the crisis to go away. The league had a billion reasons to do so — the dollars arriving once the postseason was complete and champions were crowned — and, as has been common procedure in American sports throughout the pandemic, the financial grab took priority over the safety of the workers in uniform. Halem asked the lab chief to inspect Turner's pre-game Tuesday sample, hoping the previous test was a false positive. In the sixth inning, MLB was informed that Turner indeed was infected. If Manfred truly cared about protocols, Turner would have been placed in quarantine, the game would have been stopped, and every person in the Bubble would have been put on notice. Instead, Turner was allowed to play two more innings while the Dodgers were being informed. The ballgame came first — and was it coincidence that this dangerous dance continued until the Dodgers had taken command, after Rays manager Kevin Cash absurdly had removed the dominant starting pitcher, Blake Snell?
This was administrative malpractice of the most corrupt kind. At first, there was no explanation for Turner's removal, which smacked of a cover-up attempt. Not until Fox Sports' Kevin Burkhardt reported the positive test did reality settle in: MLB had waited until it saw daylight at the end of its COVID tunnel — riches and finality — before acknowledging that the virus hadn't been conquered after all. Manfred has spent October in hearty self-congratulation for overcoming the early outbreaks of the Miami Marlins and St. Louis Cardinals and "harnessing" the virus. As America and Planet Earth are wickedly aware, COVID is kicking all of our asses and will keep doing so as long as selfish people run institutions as important as sports.
"It's a bittersweet night for us," a wobbly Manfred told Fox, adding, "We learned during the game that Justin tested positive and he was immediately isolated to prevent spread."
I'm not buying any of this. When $1 billion is on the table, after MLB lost $3 billion in cash during its truncated regular season, powerful men tend to wobble. This smells like a scam, negative news delayed intentionally so the World Series wasn't interrupted. And the scene grew worse not long after the 3-1 clincher, when Turner appeared on the field for the traditional team photo. Flanked by his wife, he hugged Kershaw and posed beside manager Dave Roberts, who wasn't wearing a mask. His teammates wanted him out there, COVID be damned, before preparing for an emergency round of PCR tests. This is not how championships are supposed to be celebrated.
"Thanks to everyone reaching out!" Turner tweeted after the game. "I feel great, no symptoms at all. Just experienced every emotion you can possibly imagine. Can't believe I couldn't be out there to celebrate with my guys! So proud of this team & unbelievably happy for the City of LA #WorldSeriesChamps."
Dodgers baseball boss Andrew Friedman, who had endured years of criticism to reach this night, was troubled by the developments. "It was extremely surreal," he said. "Obviously, it's incredibly unfortunate, and it speaks to what all of us are dealing with in 2020. Post-game, he wanted to come out and take a picture with the trophy. For him, being a free agent and not sure how the future will play out, I don't think anyone was going to stop him. This is something we're going to wrap our arms around. It was an unfortunate end point of this incredible series and definitely affected some of the joy of winning becuase of what J.T. has meant to us."
Asked why he was seen in an animated discussion with Turner and why he allowed Turner to pose for the photo, Friedman suggested the matter was out of his hands. "If there's people around him without a mask, that's not good optics at all," he said of Roberts. "I think the subsequent tests we're going to take are really important so that any of us who test positive don't spread it to other people. It wasn't up to Justin. He wanted to come out and take a picture with the trophy, and he did."
His teammates had no problem with it. "He's part of the team," Game 6 hero Mookie Betts said.
"Forget all that, he's part of the team. We're not going to exclude him from anything."
"It's gut-wrenching. It hurts me. I can't imagine how he feels," said Corey Seager, the Series MVP. "If I could switch places with him right now, I would, because that man more than anybody deserves to take a picture with that trophy."
The takeaway here is bigger than the World Series, bigger than sports. What Turner's positive test does is remind Trumpers that the coronavirus is not a hoax, that it can overshadow the Dodgers' first championship in 32 years. Just the same, Trumpers can fire back and say, "Turner had no symptoms. He was fine. It was all fake news, a conspiracy," — on the same day the White House said Trump has "ended the COVID-19 pandemic."
Only in a pandemic, one might joke, would Kershaw handcuff October, Roberts hush his critics and the Dodgers win the Series. But this is no time for Open Mic Night, not that The Comedy Store, The Improv and other local laugh shops are open anyway. A wonderful story was clouded by COVID, and it's important we not forget that wonderful story. You don't have to like the Dodgers to appreciate how they mastered baseball's most surreal year. Armed with every logistical reason to crash again, they invited loved ones to Texas, bonded like family for an entire month and handled the weirdness better than the rest.
That they did so in a bastardized season didn't make the agony purge any less rewarding. They would have loved to celebrate at Dodger Stadium, where the home team hasn't clinched a Series since 1963 and where 1,000 vehicles packed the parking lot each night for viewing parties on 60-foot screens, with honks replacing cheers. But Arlington will do. Like the Lakers and Tampa Bay Lightning, like Bryson DeChambeau and Collin Morikawa, like Rafael Nadal and Naomi Osaka, like the WNBA's Seattle Storm and soccer's Portland Timbers and anyone else who won a championship in the evil 2020, the Dodgers like winning this way. The memories of Game 5, the real clincher, told us that much.
There was Kershaw, now the old soul after a near-decade of using "We Are Young" as his warmup music, at peace after handing the ball to Roberts with a lead for a change. In the pivotal moment of this entertaining Series, the Dodgers needed him to be Hall of Fame Clayton or just Decent Clayton one night after the Rays, had reminded the world of their unique tenacity — and audacity — with what is known as The Brett Phillips Experience. Would Kershaw implode again in October? Would he be Hangdog Clayton? No, he would not, for this time, he realized Roberts was making the right call in removing him after 5 2/3 innings of two-run ball. His teammates lobbied furiously for him to stay in the game, including Turner, who mouthed an expletive. But Kershaw, without his best stuff, refused to plead his case as he might normally. And it all worked out, for both embattled men, as the storybook insisted it should. Who will forget the sight of Kershaw, 4-1 this month with a 2.93 ERA and 37 strikeouts in 30 2/3 innings, sitting with a satisfied smile at a Zoom conference with daughter Cali and son Charley after Game 5?
"Anytime you have success in the postseason, it just means so much. That's what you work for. That's what you play for this month," he said. "I know what the other end of it feels like, too, so I'll take it."
He looked at Cali, 5. "Every dad just wants their kids to be proud of them," Kershaw said. "Cali told me that, so I'll take that."
Then there was Roberts. He laughed when reminded that Dodgers fans, who numbered around 8,000 in a socially distanced ballpark, still managed to unload a ferocious assault of boos as he threatened to fail them again in removing Kershaw. "I understand that fans and players can get caught up in emotion, and I'm emotional," he said. "But I still have to have clarity in making decisions because, ultimately, my job is to help the Dodgers win the World Series. So yeah, I can't get caught up in fans' reactions with a decision I make."
Does he have anything to say to his critics? Too classy for that. "When you take on this job … of a particular organization that hasn't won a championship for quite some time, that's part of what you signed up for," Roberts said. "So, I just take it more as passion and care from the fans."
They had flipped the script, as they say in Hollywood, at last bringing joy to their legacies and fun to grocery-store visits to Ralph's. Two nights later, the Dodgers were in heaven. "This is our year!" shouted Roberts, greeted by cheers now. It was a refreshing and necessary scene for the battered American psyche. We still were able to witness a World Series celebration, even if it involved a franchise with endless resources and an ability to trade for Betts, then hand him $365 million for the next dozen years.
I live 17 miles west of Dodger Stadium, so I guess this is my local team, at least according to my MLB app. You should know some things about Los Angeles during a pandemic. These days, there is little to resent about L.A. The coronavirus has dimmed the neon and dulled the thrill of living here, with masks dutifully worn after 300,000 cases and 7,000 deaths in the county. The sun comes out only if the wildfire haze lets it. As I write this, the air quality index is an unhealthy 171. Freeway traffic is light because there's nowhere to go. "Here come those Santa Ana winds again," goes the Steely Dan refrain, as dust coats your eyes on the tennis court.
Another political disturbance could bust out at any time, even on Rodeo Drive, which will close on Election Day. In Inglewood, the new $6-billion football stadium sits undisturbed like an alien spaceship, deemed unsafe by Taylor Swift, Kenny Chesney, Guns N' Roses and California Gov. Gavin Newsom, who lets two NFL teams play there on TV in what must be the loneliest experience in sports. Celebrities? I saw Ben Affleck and his girlfriend strolling on a Santa Monica avenue, but most are in seclusion, venturing out only after paparazzi are alerted for relevance preservation purposes. I also spotted Arnold Schwarzenegger on his bike. Wow.
All that said, I'm still hearing anti-L.A. groans nationally after the Game 6 clincher, especially given the Turner episode. Coupled with the NBA title of the Lakers 16 nights earlier, this has become the sports epicenter of the pandemic. The concern is that L.A. has so many built-in advantages — weather to enjoy, movies and docs to produce, mansions to purchase, Kardashians and Jenners to date, new championships to win — that every prominent American athlete will try to funnel his way here and flourish amid the overflowing resources of southern California's franchises.
LeBron James did, using his influence to lure prized sidekick Anthony Davis. Betts couldn't wait to sign the extension after his trade to the Dodgers, who added him to an embarrassment of homegrown riches including Walker Buehler, Cody Bellinger and Seager. Mike Trout might own Eagles season tickets and love his native Jersey, but he never paused in his Newport Beach digs before re-signing with the Angels for $430 million. And if Kawhi Leonard and Paul George tip-toe around here these days, having failed to take over the town as promised, they're still with the Clippers and eyeing a title they frittering one away in the NBA Bubble. When a superstar wants a scenery change, SoCal always is on the short list and often is the choice. If Hollywood once was about movie stars, now it's also about music icons, influencers and athletes.
But here's something the groaners don't know about L.A. that might soothe their trophy envy. Unlike the people of New England — a region that won a nauseating six Super Bowls, four World Series, one NBA title and one Stanley Cup between 2002 and 2019 — Angelenos don't walk around with puffed chests, open alcohol containers and bro-dude bravado, fueled by an obnoxious delusion that sports titles make them superior to the rest of us. Oh, some idiots will riot in the streets, but this is not a place where sports feeds native self-esteem and identity. They do like hanging banners and adoring their icons, favoring those who play entire career spans here, such as Kobe Bryant, over a rented mercenary such as James. Yet if the Lakers had lost to the Heat or the Dodgers had blown another to the Rays, people wouldn't sulk and mope for the entire winter, as they do in Chicago or Philadelphia.
They'd just head to the beach.
That's why athletes love L.A. The fan and media pressures, which can be suffocating in psycho cities in the East and Midwest, are downsized. Local sports radio has some of the worst ratings in the industry. There isn't a ravenous appetite for written sports content as there is in, say, Chicago, where I needed a watchdog friend and a bartender's security skills just to stop for a post-game beer. (An aside: When a Bears fan said he didn't like my columns, and I expressed shock that he knew how to read, he tried to slug me … until the bartender leaped over the counter and removed him). The media stars here are either friends of the athlete (Jim Hill), comedians (Fred Roggin and Petros Papadakis) or a columnist such as Bill Plaschke, the closest thing to a hardass after the forced retirement of churlish L.A. Times colleague T.J. Simers. That's why I was so surprised to see Jerry Hairston Jr., the Spectrum SportsNet LA analyst and indirect Dodgers employee, stand in a somber studio after the Game 4 crusher and knock Roberts for more mismanagement and closer Kenley Jansen for serving a meaty fastball for Phillips to bloop into history. There aren't many Jim Romes left around here.
It's as chill as advertised. And those old stories about athletes gathering at the Playboy Mansion or getting down with the ladies at the Forum Club? Well, the party scene obviously is subdued now. You might see (fill in the young NBA star) with Kendall Jenner at Nobu in Malibu, but LeBron is a middle-aged homebody with three houses to choose from, Kershaw is a devout Christian and family man who spends offseasons in Dallas, Trout is a new daddy, Betts is helping the homeless, Bellinger is Instagramming with his model girlfriend, Kawhi's main crib is in San Diego, and hockey players literally have a commune by the beach. The Rams and Chargers? They still don't matter much in a region where loads of transplants stay true to hometown NFL teams in replica sports bars, such as New England haunt Sonny McLean's, which is partially open with outdoor TVs if anyone wants to cry about Tommy and watch friggin' Cam throw another pick.
The Dodgers and Lakers are what the natives care about. I was outside at a pizza joint when Cash removed Snell after 5 1/3 scoreless innings, an impulse regretted by the manager as Snell seethed. "I am definitely disappointed and upset," he said. "I just want the ball. I felt good. I did everything I could to prove my case to stay out there, and then for us to lose, it sucks. I want to win, and I want to win the World Series, and for us to lose, it just sucks."
For the Dodgers, it was a gifted opening. For Major League Baseball, it was an undeserved reprieve. Imagine, as Game 7 awaited, if everyone in the Four Seasons had to be quarantined for days. Imagine if the Series was postponed until November, if played at all. Imagine if Manfred didn't get his billion dollars.
Usually, the end of a baseball season smells like champagne. This one smells like a skunk.
Sam Mayes Got A Raw Deal But Tyler Media Made The Right Call
"You are being naive if you think a company should stand behind an employee that has put themselves in this situation."
I do not envy whoever at Tyler Media had to make a decision about Sam Mayes's future with the company after audio of a private conversation in 2016 was leaked to the media. Mayes and now-former co-worker Cara Rice made a few racist jokes at the expense of Native Americans.
The recording, according to Mayes, was made without his knowledge and leaked illegally. He says in a recorded statement that he should have been given the opportunity to address the recording on air and make amends.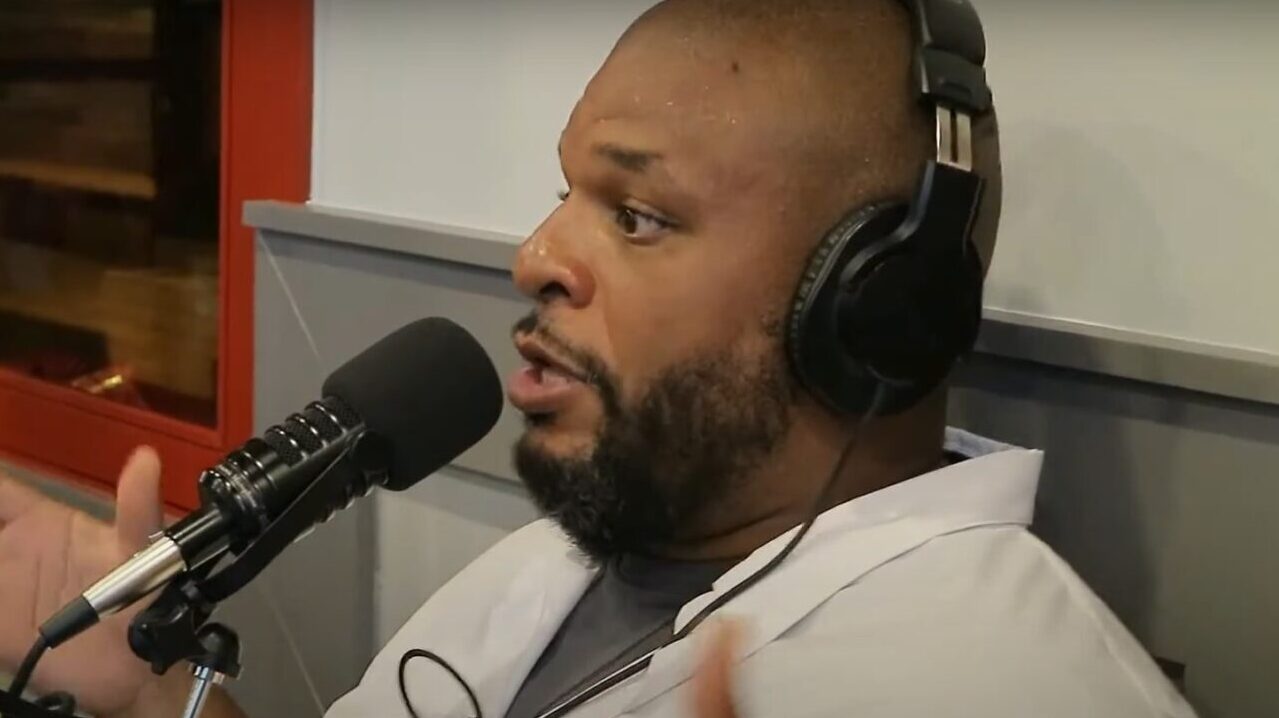 Maybe that is true, maybe it isn't. I hate for Sam to lose his job as the result of an illegal recording of a private conversation, but the fact is, that conversation isn't private anymore. Tyler Media didn't really have an option here. Sam Mayes had to go.
Someone had an illegal recording of the conversation and created an anonymous email account to send it to people in the Oklahoma City media. I was shown a copy of the email. The author states clearly that their goal is to see Mayes and Rice out of a job. There is nothing fair or just about that person getting exactly what they want. It feels slimy. I can't say that it feels like it wasn't the right call though.
We have debated whether or not someone should lose their job over comments made in a private conversation many times before. It happens in every field. It wasn't long ago at all that we were having this same debate about Jon Gruden. His emails to Bruce Allen and others were sent in private. Is it fair he had to go when they were made public? No matter what horrible things were in there, they were said with the understanding that it would stay between friends.
I am going to say the same thing about Sam Mayes that I did about Gruden when that story first broke. You are being naive if you think a company should stand behind an employee that has put themselves in this situation.
You read that right. The circumstances of how the conversations in these examples came to light are absolutely unfair, but the conversations came to light. How it happened is irrelevant. Any sponsor or boss that stands behind Sam Mayes or Jon Gruden would be endorsing the language they used, either inadvertently or very much on purpose. Try explaining that to a sponsor.
People at Tyler Media may know Sam Mayes's heart. He doesn't seem like a bad guy. The fact of the matter is, once the audio became public, their hands were tied. There is no mistaking what was said or who said it.
How can any seller or manager take Mayes to advertisers now? How can they put him in front of the Lucky Star Casino, one of the station's biggest advertisers? They can ask for an audience to let Sam explain himself and try to make amends. The Cheyenne and Arapahoe Tribes, who own the casino, are under no obligation to forgive or even listen.
Maybe the day will come where Sam Mayes bounces back. I hope it does. I hope he gets the chance to address his comments with members of Oklahoma's Native American community and listen to what they have to say in response. I do think it sucks that this is how his time at The Franchise comes to an end, but I get it.
If I have to explain to you why not to say dumb, racist shit, then I don't think we have much to talk about. But, it is worth noting that the recording of Mayes and Rice's conversation is proof that privacy is always an assumption, not always a fact.
In his audio statement, Mayes admits it is his voice on the recording. He also says that he was uncomfortable with Rice's comments and he tried to end their conversation. I'll take him at his word, but I will also point out that before he tried to end the conversation, he joined in on the jokes. Maybe when someone says that Native Americans are "too drunk to organize" it isn't a great idea to respond. All it leads to is proof of you saying something dumb and racist.
Again, I'll reiterate that how these comments came to light is unfair, but they did come to light. That is Sam Mayes's voice on the recording. He is joining in on the jokes about Native Americans being drunks and addicts. At the end of the day, the only thing that was done to him was the audio being released. He fully and willingly committed the firable offense.
What is the response to a client or potential client when they bring that up? All Tyler Media can do is try to recover and move forward. The company cannot do that with Mayes on the payroll.
Stop Prospecting, Start Strategizing!
"You cannot put a price tag on authenticity. It's very rare and hard to find these days."
Struggling to get new business appointments? Dreading making prospecting calls? Having trouble writing creative emails that seemingly never get a response?
Generating responses to new business outreach is easier than you think. Just make sure you do your homework first and keep it "Simple Stupid".
To do that, start with asking yourself these (3) simple questions:
#1: Did I do my home work on the business itself, their competition and those I plan on reaching out to?
#2: If I were on the other end of the phone and/or email with myself would I want to engage in conversation and/or reply to that email?
#3: Am I prepared to make a one call close given the opportunity to?
If the answer to any of these is "No"… do NOT pick up the phone and by all means do NOT hit the send button on that initial outreach email! Doing so will all but ensure you fall flat on your face. On the off chance you do happen to get the decision maker on the phone you won't make that great first impression that sometimes can be so crucial. First impressions are always important… ALWAYS!
Skipping over these critical steps is a sure-fire way to ensure your email is completely ignored and will not generate the engagement from the prospect you'd hope for. Successful prospecting is all about the front end digging and research. Do your homework first then strategize a plan of attack for your call and/or email. Taking these extra measures on the front end is absolutely "Mission Critical" and will set you up for much more success with your prospecting endeavors.
Now once you've answered "Yes" to all of the above, you're ready to attack with the knowledge and confidence that should set you a part from your competition. It's all about the Game Plan, and if you don't have one, you're destined for failure time and time again. Incorporate these (5) things into your prospecting Game Plan for your next call/email and watch your results dramatically improve:
#1: MAKE IT PERSONAL & CASUAL – Be informal, find out something interesting about them.
#2: MAKE IT SHORT & CONCISE – Be straight forward and to the point, people are busy.
#3: MAKE IT TIMELY & RELEVANT TO THEM AND/OR THEIR BUSINESS – Give them a good Valid Business Reason.
#4: MAKE IT INTERESTING, COMPELLING & INFORMATIVE – Be the expert they're missing.
#5: MAKE IT FUN – Fun people are easy to do business with and make it less like "work".
Lastly, and most importantly, Be Yourself! You cannot put a price tag on authenticity. It's very rare and hard to find these days. When clients do find it trust me, they value it and appreciate it way more than you'll ever know!
Good Producers Can Teach The World A Lot About Christmas
"A lot has to be accomplished in the lead-up to Christmas. So much of it happens in the background without much recognition."
Who is Carl Christmas in your house? Who is the one that makes sure everyone that needs to get a card does? Who comes up with the plan for the lights? Who takes the reins on the shopping?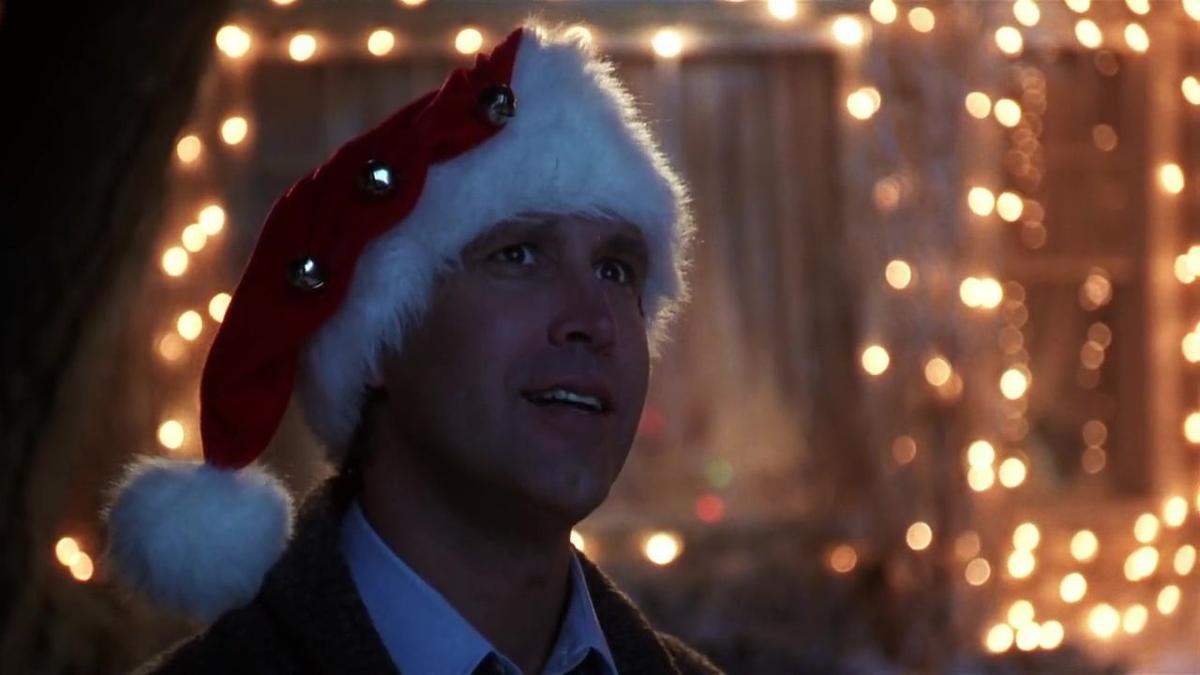 Every home needs one and in my house, that's me. December (including the last week of November) is my time to shine, baby!
One thing I have tried to impress upon my mom and wife this year is that shipping and supply chain delays are real. So, if you are planning on procrastinating on your online shopping this year (you know, like usual) someone (me) is going to have no presents under the tree.
Veteran producers are used to operate this way. Young producers, listen up. Your job involves the most delicate balance of any in sports radio. You have to help bring your host's and PD's visions to life. That means you have to be able to take their direction. But you also have to keep the host on target. That means you cannot be afraid to be forceful and lead when the moment demands it.
There's no value to being an unrepentant asshole to people, but you do have to hold them accountable. Look at that Christmas shopping example again. If you want to get what you want, you need to keep on task the people you know aren't paying attention to the potential roadblocks. It isn't selfish. It is making sure everyone gets the holiday W they are expecting. Sure, you would be disappointed if your gift doesn't arrive on time, but so will the gift giver.
Being a stickler for the clock or moving a host off of a topic that has no value is the same thing. Of course there is something in it for you, but you are also helping the host do his or her job better. They may get annoyed with you now, but if you save them from an ass-chewing from the bosses or slipping ratings, then they have reaped the benefits.
I guess the unfortunate difference here is that there may be no acknowledgment of what you did or helped them to avoid. Oh well. Every producer has to expect a certain level of thanklessness.
Producers have to take on that Carl Christmas role in dealing with sales too. Remember, just because the producer's name isn't on the show doesn't mean that isn't every bit his or her show that it is the hosts'.
It's like decorating your house for the holidays. You may have a certain design in mind. Maybe you have a traditional look you stick to every year. If your spouse or your kid comes home with a giant, inflatable Santa Claus in a military helicopter that they want on the lawn, you have a decision to make. Are you going to say no and suggest an alternative that aligns more with your goal or are you going to let your plan get run over?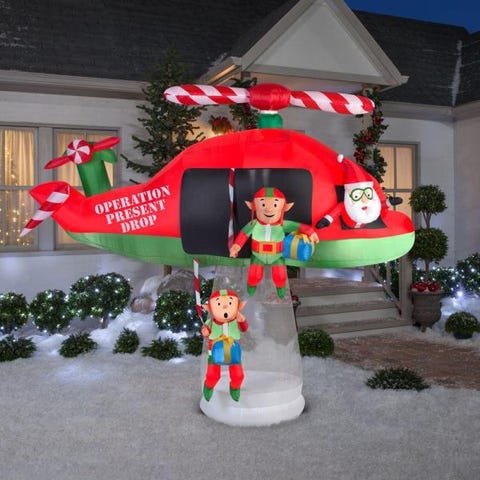 Sales has a job to do. It is to make sure their clients' messages are heard and to make money for the station. Both can be accomplished without sacrificing your show's quality.
If a seller comes to you and says he wants his client to come in for five minutes and talk about now being the time to book an appointment to have your garage floors redone, you have to speak up. You have an obligation to make sure that the seller knows that even five minutes of that will hurt the show and have listeners diving for the preset buttons on their car stereo. That isn't good for the station or his client.
Instead, offer to work with the seller and the client to come up with a piece of content that the client can put his name on and a 20-second ad read behind. Will the audience stick around to listen to some dude named Jerry talk about garage floors or will more people listen to you talk about the NFL playoff picture in a creative way and then still be there to hear Jerry's message about garage floors? The answer seems obvious.
A lot has to be accomplished in the lead-up to Christmas. So much of it happens in the background without much recognition. If the background work wasn't done though, the problems would be right out on the front lawn for everyone to see.
"Gatekeeper" is a term I really hate. It implies that someone is telling others what they are and are not allowed to enjoy. It is a necessary term though to properly describe what it is that a great producer and a great Carl Christmas do.
We don't shut people out from being able to enjoy or be a part of what it is we are creating. We set or are handed down expectations and we block anything that can get in the way of achieving them. Sometimes, that is more thankless work than it should be. It is necessary though.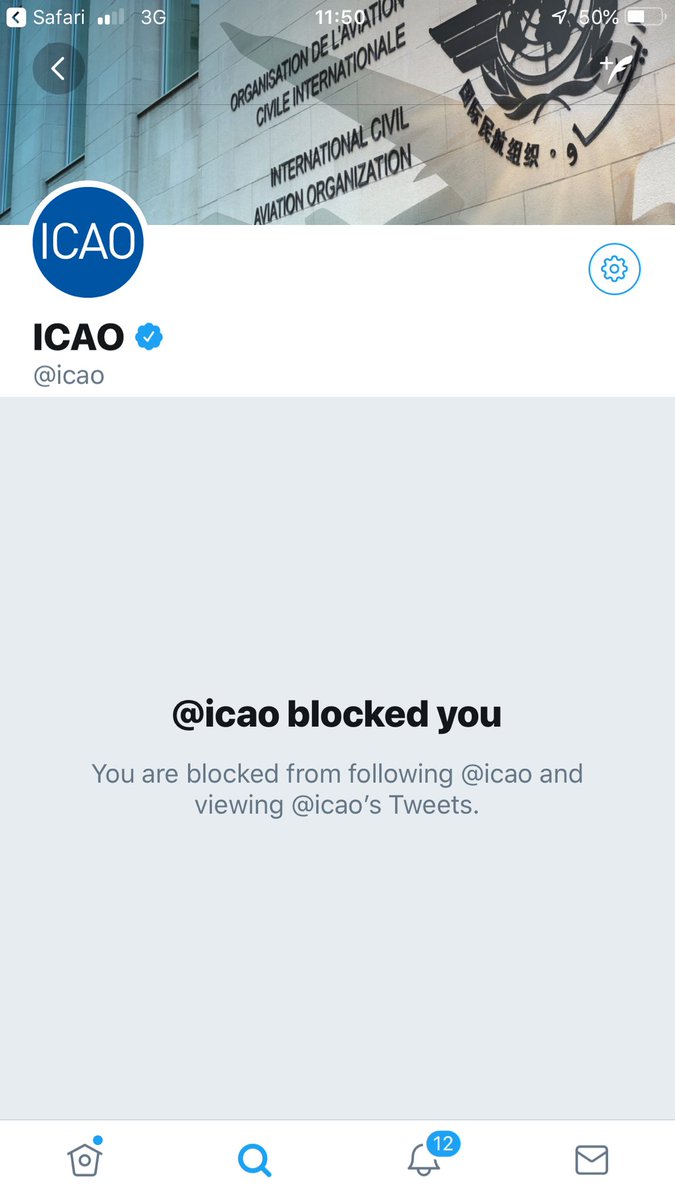 As my home's self-appointed Carl Christmas and a former producer, let me give my countrymen the thanks others forget. We are the ones that make it possible for everyone else to be mindless. Wear it as a badge of honor. We may not get the kind of recognition we deserve everyday, but when plans go off without a hitch, we are usually the first to be recognized for making it happen.