Sports Helped Biden, But Covid Reckoning Awaits
Unlike Trump, the President-elect vows to attack the coronavirus with a national mask order, which could jeopardize reckless leagues in 2021 until — or, if — a promising vaccine is ready.
We interrupt the celebrations inside the sports world — activism over Trumpism — for an urgent message from the President-elect. He vows to impose a nationwide "mandate'' attacking COVID-19, which continues to ransack America but is viewed as just another nagging injury by pro and college football while being pooh-poohed, rather stunningly, by a baseball boss who didn't punish Justin Turner as a potential superspreader.
Pfizer says it has developed a promising COVID vaccine. The President-elect is hopeful, as we all are. He also is cautious, as we all should be.
"Masks matter,'' said Joe Biden, who wears one and wants everyone else to do the same. "It saves lives. It prevents the spread of the disease. All of the tough guys say: `I'm not wearing a mask. I'm not afraid.' Well, be afraid for your husband, your wife, your son, your daughter, your neighbor or your co-worker. That's who you're protecting having this mask on. And it should be viewed as a patriotic duty to protect those around you. Anybody who contracts the virus by saying masks don't matter, or social distancing doesn't matter, I think is responsible for what happens to them.''
Meaning, nothing has changed. "Americans will have to rely on masking, distancing, contact tracing, hand washing and other measures to keep themselves safe into the next year,'' Biden said Monday.
Got it, sports?
Probably not.
It was President Trump, remember, who encouraged and enabled the resumption of sports this year. He did so while mocking and dismissing the coronavirus, allowing leagues and conferences to take life-and-death risks in bulldozing and landmine-jumping through seasons. Schedules played inside Bubbles worked; schedules played outside Bubbles haven't worked. The primary reason for the failures and outbreaks: Athletes and coaches haven't obeyed protocols such as, oh, wearing masks. And if positive tests wreaked havoc, as they have in football, c'est la vie — even if means COVID chaos and major fines for NFL teams and scheduling chaos in the college game, such as the infection that sidelined the presumptive No. 1 draft pick, Trevor Lawrence, for the season's best collision to date.
Without Lawrence, Clemson lost to Notre Dame in double-overtime, a thriller that shook the echoes hours after Biden and Kamala Harris spoke to the nation, this as people rejoiced on city streets coast to coast. America felt alive … until thousands of students and players' family members — yes, thousands — rushed the field in South Bend, all packed together, some wearing masks and some not. How could this happen? I forgot. The Rev. John I. Jenkins, Notre Dame's president, is a Trump supporter who tested positive at a Trump event and evidently doesn't care much about a campus outbreak. Even when the public-address announcer repeatedly asked the throng to leave, everyone remained long enough … for a spread. Coach Brian Kelly, whose program has been rocked by the virus, had warned his players, "When we win this thing, the fans are going to storm the field. With COVID being as it is, we've got to get off the field and to the tunnel."
The players were slow to get through the green mob anyway. "I beat `em all to the tunnel," Kelly said, "so that didn't go over so good."
Not that the players cared. "That was a cool experience for me, everybody rushing down," said the star running back, Kyren Williams.
Oh, but there's more irresponsible COVID news from the weekend. Only hours after MLB pardoned Turner for his self-indulging escape from COVID isolation following Game 6 — so he could celebrate a World Series title with teammates — nine members of the Dodgers organization have subsequently tested positive. If we can believe the Dodgers, five weren't part of the MLB Bubble in Texas. The other four? The team and league haven't commented, which smacks of a cover-up attempt.
The flouting, the recklessness, the megalomaniacal delusion that sports is bigger than the virus and can plow through it to recoup TV billions — this madness likely won't be happening when Biden takes over as the 46th U.S. President. That assumes it isn't an empty promise, which wouldn't be a good way to start, and that he won't back down to those who say a mask "mandate" isn't legal. Biden already has formed a 12-person coronavirus task force, saying during his Saturday night speech, "We cannot repair the economy, restore our vitality or relish life's most previous moments … until we get it under control. That plan will be built on bedrock science and constructed out of compassion and concern. I will spare no effort — none — or any commitment to turn around this pandemic."
If he's this determined, tell me: How will sports carry on in 2021, when leagues are hellbent to play outside protective lockdowns that allowed the NBA, NHL, WNBA and, eventually, MLB to survive in 2020? How will Biden win this war when too many human beings associated with sports aren't responsible enough to wear facial coverings and maintain distancing? And when joyful Democrats, honking car horns and waving index fingers, weren't wearing masks themselves?
In a pro-mask, no-vaccine, cases-surging, bleak-winter reality, sports could be reduced to intermittence or completely shut down. Did the anti-Trumpers in the industry ponder that when lobbying hard for Biden? Unlike Trump, who wanted games as weekend entertainment while doing favors for his owner pals, Biden will be judged early on how his virus directives impact states and municipalities. If he's strict about banning fans from ballparks, there won't be an MLB season. If he doesn't want games played outside Bubbles in local arenas, there probably won't be NBA and NHL seasons. If he objects to the rampant infections ravaging the NFL and college landscapes, how will football proceed? Trump cared about the multi-billion-dollar sports machine and its impact on the economy.
Biden prioritizes health over wealth, as he should.
Certainly, in retrospect, sports played a role in this transfer of power. If the vigorous efforts of LeBron James, Colin Kaepernick and their partners in activism didn't exactly lead to a repudiation of Trumpism — see the President's 71 million votes and absence of a Democratic "blue wave" — their tireless campaign against Trump did achieve a purpose.
They helped run him out of office.
Without them, he might be headed to a second term.
It didn't take long for James to toast his second historic victory in four weeks. In a social media blitz, he retweeted a GIF of Trump's "You're Fired!" catchphrase and posted a photo of his famous 2016 Finals block with superimposed images: Biden's face onto his, Trump's face onto Andre Iguodala's. When James and fellow NBA players agreed to complete the season in isolation, they demanded the league raise voting awareness and open up arenas as election sites — including State Farm Arena in Atlanta, where 40,000 cast ballots in a key swing state for Biden. Truly, no one can say sports activism efforts weren't influential.
"More Than A Vote!" James kept imploring on social media, on t-shirts and inside the Bubble. As 2020 morphed into an extraordinary year, he targeted an unprecedented double whammy: Win an NBA title and take down Trump in one swoop. To do so, he emphasized the lost concept of getting out and voting, particularly in inner cities, recruiting athletes to promote the cause. James grew weak at one point, almost quitting on the league and the Lakers in the restrictive environment of Florida before the intervention of a Biden guy — you've heard of Barack Obama — persuaded him to stick around. He realized the larger mission required his presence. On Election Eve, knowing Hillary Clinton lost in 2016 because she lacked urban support in major cities, James messaged his 74 million followers to vote for Biden, writing, "One more day. Please!! We need EVERYTHING to change and it all starts tomorrow."
As Biden finally pulled away, in a race somehow more mind-numbing and bananas than the last one, James was responding with clapping emojis to a tweet detailing Biden's success with Black voters in cities within decisive battleground states: Detroit, Atlanta, Philadelphia and Milwaukee. Was the increased turnout and the more monumental development — the highest voter rate for a U.S. presidential election since 1900 — all about the urgings of sports figures? No. But they certainly impacted the stir. People noticed when athletes and coaches embraced "Black Lives Matter" as a historic power mission after the police-brutality death of George Floyd … when NBA teams boycotted games after the police shooting of Jacob Blake … when Patrick Mahomes and other Black NFL stars taped a video that prompted a philosophical 180 from commissioner Roger Goodell, who admitted the league was wrong to ignore longstanding racial injustice concerns.
In an election that needed a bump to make a difference, sports may have been the impetus to dethrone Trump, if not white supremacy, which is still alive and not well. Just as Rome wasn't built in a day, America must re-start somewhere, even with a new president who might let the economy slip into chaos and, at 78, can't get the names of his grandchildren straight. If Biden doesn't finish his term, Harris will. She is a woman of color who lives in the Los Angeles neighborhood of Brentwood, where James owns two homes. Connect the dots.
Generally, I don't endorse sports figures as political hell-raisers. The Kaepernick kneeling campaign was proud and powerful, but his supporters conveniently ignored that his once-estimable quarterbacking skills had waned — and the protests began to drag. There were times during the Trump presidency when relentless, top-this activism interfered with the fun and escapism of the games, such as when the esteemed NBA coach, Gregg Popovich, endlessly unloaded on Trump as a "soulless coward" and "a pathological liar in the White House, unfit intellectually, emotionally and psychologically to hold this office, and the whole world knows it." His disciple, Steve Kerr, would chime in, and the messages grew stale and orchestrated. Another title team rejects the White House invitation? Yawn. But as America moved toward Election Day, the Kaepernick influence took effect. It was difficult to ignore what Trump had said in 2017 as NFL players continued to kneel: "Wouldn't you love to see one of these NFL owners, when somebody disrespects our flag, to say, `Get that son of a (expletive) off the field right now. Out. He's fired!' "
He also engaged in a needless Twitter rift with U.S. soccer star Megan Rapinoe, who said she wouldn't visit the White House if her team won the World Cup. Trump should have wished her luck. Instead, he wrote, "WIN first before she TALKS!" She won, and Trump was a perceptive loser again. This came after Trump, with more dumb timing, mocked James' intelligence after he opened his "I Promise" school, which came after James refused to stay with his team at the Trump SoHo in New York. But unlike other loose cannons, James went months without another firebomb. He waited to pick his spots … and the summer and fall of 2020 were his windows, especially amid Trump's limp response to COVID-19.
A change in the White House, of course, doesn't mean the end of Trump. His supporters will grow even louder, and their influence continues to be an ominous enemy for a sports world damaged by his lax approach to COVID. Significantly fewer people are watching events this year. If the pandemic is the big reason, a recent MKTG-SRI survey showed 33 percent are tuning out because "sports have become too political." The NBA ratings collapse can be attributed, in part, to predominant "BLACK LIVES MATTER" messages on the Disney World courts. And it's telling that commissioner Adam Silver is finished with the signage, telling ESPN, "(T)hose messages will largely be left to be delivered off the floor. And I understand those people who are saying `I'm on your side, but I want to watch a basketball game.' "
The athletes, emboldened by their Trump purge, will want their voices to be louder in the future. But the future of sports is too uncertain, with COVID blazing uncontrollably, to let activism carry the same weight. The entire industry, athletes included, should focus on helping Biden confront the virus and lifting sports from its current niche space. Just because there's a new president doesn't mean people will flock back to sports, with 20 million Americans still unemployed as a nation pivots. Responsible as Silver and other commissioners have been in handling the virus, Goodell and MLB's Rob Manfred continue to be negligent. It's appalling how Manfred, after initially condemning Turner, flipped when no one was watching him and issued no penalty.
"In retrospect," Manfred said in a statement, "a security person should have been assigned to monitor Mr. Turner when he was asked to isolate, and Mr. Turner should have been transported from the stadium to the hotel more promptly."
Why did MLB suddenly take the p.r. hit, allowing Turner to conveniently apologize in the same statement? Because Manfred and the owners, who've pocketed $1 billion for getting through October, don't really care anymore what happened that night. Never mind that the L.A. County Department of Public Health said nine people associated with the Dodgers — and at least one family member — had tested positive. Never mind that the Dodgers, thrilled to finally have won the big trophy, have vanished.
Such is the sham of sports and the coronavirus. "You know," Clemson coach Dabo Swinney said of Lawrence, "if he was going back to his desk job, he'd be right back to work on Thursday." Remind Dabo that Trump lost.
LeBron and the rabble-rousers refused to shut up and dribble. They won the biggest championship of their lives, in fact. "There are so many bigger things and so many greater things that's going on," James said. "If you can make an impact, if you can make a change, if you can have a vision, it just helps out so much, not only in the community but all over the world. Where do we go from here? We don't stop, obviously."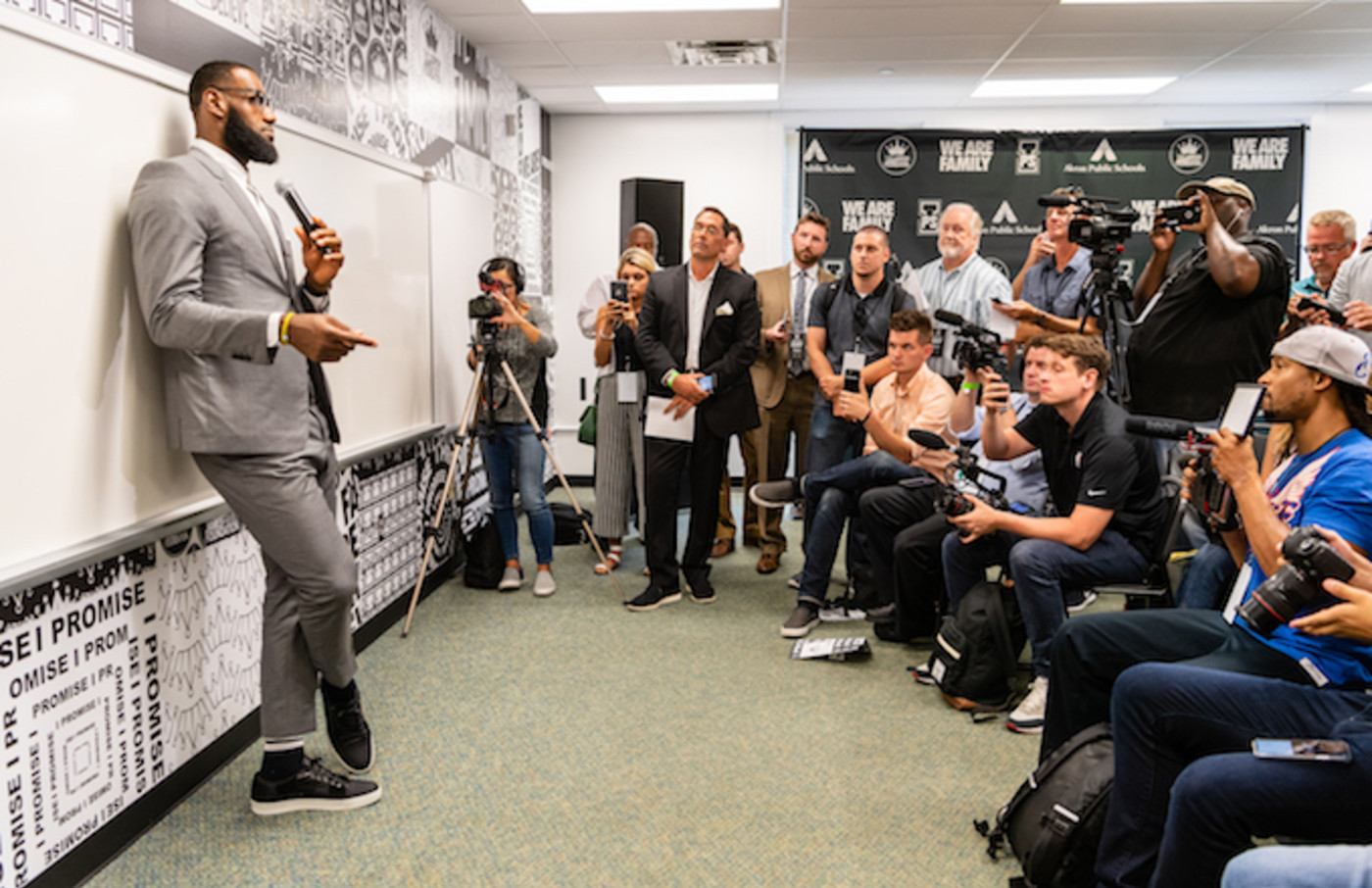 Next, the activists must help sports confront the virus. If they can sway a presidential election, they surely can support Biden by making sure their brethren in all leagues are masking up and growing up.
If not, they might not have jobs themselves in 2021.
Being Wrong On-Air Isn't A Bad Thing
…if you feel yourself getting uncomfortable over the fact that you were wrong, stop to realize that's your pride talking. Your ego. And if people call you out for being wrong, it's actually a good sign.
In the press conference after the Warriors won their fourth NBA title in eight years, Steph Curry referenced a very specific gesture from a very specific episode of Get Up that aired in August 2021.
"Clearly remember some experts and talking heads putting up the big zero," Curry said, then holding up a hollowed fist to one eye, looking through it as if it were a telescope.
"How many championships we would have going forward because of everything we went through."
Yep, Kendrick Perkins and Domonique Foxworth each predicted the Warriors wouldn't win a single title over the course of the four-year extension Curry had just signed. The Warriors won the NBA title and guess what? Curry gets to gloat.
The funny part to me was the people who felt Perkins or Foxworth should be mad or embarrassed. Why? Because they were wrong?
That's part of the game. If you're a host or analyst who is never wrong in a prediction, it's more likely that you're excruciatingly boring than exceedingly smart. Being wrong is not necessarily fun, but it's not a bad thing in this business.
You shouldn't try to be wrong, but you shouldn't be afraid of it, either. And if you are wrong, own it. Hold your L as I've heard the kids say. Don't try to minimize it or explain it or try to point out how many other people are wrong, too. Do what Kendrick Perkins did on Get Up the day after the Warriors won the title.
"When they go on to win it, guess what?" He said, sitting next to Mike Greenberg. "You have to eat that."
Do not do what Perkins did later that morning on First Take.
Perkins: "I come on here and it's cool, right? Y'all can pull up Perk receipts and things to that nature. And then you give other people a pass like J-Will."
Jason Williams: "I don't get passes on this show."
Perkins: "You had to, you had a receipt, too, because me and you both picked the Memphis Grizzlies to beat the Golden State Warriors, but I'm OK with that. I'm OK with that. Go ahead Stephen A. I know you're about to have fun and do your thing. Go ahead."
Stephen A. Smith: "First of all, I'm going to get serious for a second with the both of you, especially you, Perk, and I want to tell you something right now. Let me throw myself on Front Street, we can sit up there and make fun of me. You know how many damn Finals predictions I got wrong? I don't give a damn. I mean, I got a whole bunch of them wrong. Ain't no reason to come on the air and defend yourself. Perk, listen man. You were wrong. And we making fun, and Steph Curry making fun of you. You laugh at that my brother. He got you today. That's all. He got you today."
It's absolutely great advice, and if you feel yourself getting uncomfortable over the fact that you were wrong, stop to realize that's your pride talking. Your ego. And if people call you out for being wrong, it's actually a good sign. It means they're not just listening, but holding on to what you say. You matter. Don't ruin that by getting defensive and testy.
WORTH EVERY PENNY
I did a double-take when I saw Chris Russo's list of the greatest QB-TE combinations ever on Wednesday and this was before I ever got to Tom Brady-to-Rob Gronkowski listed at No. 5. It was actually No. 4 that stopped me cold: Starr-Kramer.
My first thought: Jerry Kramer didn't play tight end.
My second thought: I must be unaware of this really good tight end from the Lombardi-era Packers.
After further review, I don't think that's necessarily true, either. Ron Kramer did play for the Lombardi-era Packers, and he was a good player. He caught 14 scoring passes in a three-year stretch where he really mattered, but he failed to catch a single touchdown pass in six of the 10 NFL seasons he played. He was named first-team All-Pro once and finished his career with 229 receptions.
Now this is not the only reason that this is an absolutely terrible list. It is the most egregious, however. Bart Starr and Kramer are not among the 25 top QB-TE combinations in NFL history let alone the top five. And if you're to believe Russo's list, eighty percent of the top tandems played in the NFL in the 30-year window from 1958 to 1987 with only one tandem from the past 30 years meriting inclusion when this is the era in which tight end production has steadily climbed.
Then I found out that Russo is making $10,000 per appearance on "First Take."
My first thought: You don't have to pay that much to get a 60-something white guy to grossly exaggerate how great stuff used to be.
My second thought: That might be the best $10,000 ESPN has ever spent.
Once a week, Russo comes on and draws a reaction out of a younger demographic by playing a good-natured version of Dana Carvey's Grumpy Old Man. Russo groans to JJ Redick about the lack of fundamental basketball skills in today's game or he proclaims the majesty of a tight end-quarterback pairing that was among the top five in its decade, but doesn't sniff the top five of all-time.
And guess what? It works. Redick rolls his eyes, asks Russo which game he's watching, and on Wednesday he got me to spend a good 25 minutes looking up statistics for some Packers tight end I'd never heard of. Not satisfied with that, I then moved on to determine Russo's biggest omission from the list, which I've concluded is Philip Rivers and Antonio Gates, who connected for 89 touchdowns over 15 seasons, which is only 73 more touchdowns than Kramer scored in his career. John Elway and Shannon Sharpe should be on there, too.
Money Isn't The Key Reason Why Sellers Sell Sports Radio
I started selling sports radio because I enjoyed working with clients who loved sports, our station, and wanted to reach fans with our commercials and promotions.
A radio salesperson's value being purely tied to money is overrated to me. Our managers all believe that our main motivation for selling radio is to make more money. They see no problem in asking us to sell more in various ways because it increases our paycheck. We are offered more money to sell digital, NTR, to sell another station in the cluster, weekend remotes, new direct business, or via the phone in 8 hours.
But is that why you sell sports radio?
In 2022, the Top 10 highest paying sales jobs are all in technology. Not a media company among them. You could argue that if it were all about making money, we should quit and work in tech. Famous bank robber Willie Sutton was asked why he robbed twenty banks over twenty years. He reportedly said," that's where the money is". Sutton is the classic example of a person who wanted what money could provide and was willing to do whatever it took to get it, BUT he also admitted he liked robbing banks and felt alive. So, Sutton didn't do it just for the money.
A salesperson's relationship with money and prestige is also at the center of the play Death of a Salesman. Willy Loman is an aging and failing salesman who decides he is worth more dead than alive and kills himself in an auto accident giving his family the death benefit from his life insurance policy. Loman wasn't working for the money. He wanted the prestige of what money could buy for himself and his family. 
Recently, I met a woman who spent twelve years selling radio from 1999-2011. I asked her why she left her senior sales job. She said she didn't like the changes in the industry. Consolidation was at its peak, and most salespeople were asked to do more with less help. She described her radio sales job as one with "golden handcuffs". The station paid her too much money to quit even though she hated the job. She finally quit. The job wasn't worth the money to her.
I started selling sports radio because I enjoyed working with clients who loved sports, our station, and wanted to reach fans with our commercials and promotions. I never wanted to sell anything else and specifically enjoyed selling programming centered around reaching fans of Boise State University football. That's it. Very similar to what Mark Glynn and his KJR staff experience when selling Kraken hockey and Huskies football.
I never thought selling sports radio was the best way to make money. I just enjoyed the way I could make money. I focused on the process and what I enjoyed about the position—the freedom to come and go and set my schedule for the most part. I concentrated on annual contracts and clients who wanted to run radio commercials over the air to get more traffic and build their brand.
Most of my clients were local direct and listened to the station. Some other sales initiatives had steep learning curves, were one-day events or contracted out shaky support staff. In other words, the money didn't motivate me enough. How I spent my time was more important.
So, if you are in management, maybe consider why your sales staff is working at the station. Because to me, they'd be robbing banks if it were all about making lots of money.
Media Noise: BSM Podcast Network Round Table
Demetri Ravanos welcomes the two newest members of the BSM Podcast Network to the show. Brady Farkas and Stephen Strom join for a roundtable discussion that includes the new media, Sage Steele and Roger Goodell telling Congress that Dave Portnoy isn't banned from NFL events.
Podcast: Play in new window | Download
Subscribe: RSS