Craig Miller And The Musers Are Still Chasing The Same Thing
"All of us genuinely like each other and I think when you have a good locker room and everyone gets along and enjoys spending time with each other, good things happen."
There's an argument to be made that bits in sports radio are somewhat of a lost art. But if anyone is keeping the spirit alive it's certainly The Ticket in Dallas, most notably, its morning drive show The Musers.
Whether it's fake Jerry Jones, fake Stephen Jones or a fake Tiger Woods, the trio of Craig Miller, George Dunham and Gordon Keith have perfected the art in sports radio.
"I would say the great majority of sports radio talk shows don't do bits," said Miller. "The bits were done by the wacky FM music morning shows or the late night crazy talk shows. That was one thing unique about The Ticket as we were probably the first all sports station to be funny and focus on comedy, have bits and crazy characters. I know The Fan in New York wasn't doing that and a few other all sports stations, as well. I think that helped make The Ticket unique. George and Gordon have much more voice talent than I do, in terms of impersonating people and changing their voices. You have to have guys like that on your staff."
You would think the logistics behind creating a bit so funny and entertaining would be a difficult and time consuming process. But that's really not the case with The Musers. Credit their ability to be naturally funny without a whole lot of prep, but most bits are done just a few minutes before the segment.
"Some of the characters are done on the mic in the studio," said Miller. "Gordon does most of them, George does a few and I do a handful. They're all pretty much, not completely on the fly, but I would say each morning around 8:10 in that commercial break we say, OK, what are we going to do for 8:40? Some mornings, like a Monday after a Cowboys game, we know we're going to do fake Jerry Jones. We know the morning after The Masters we're going to do fake Tiger Woods. But for the most part we have about 30 minutes where we decide what character it's going to be and during the commercial break, we're trying to write or help Gordo write it if he's the one doing the character that day. It's slapped together pretty quickly and that's a strength of Gordo's. He operates really well under a deadline. If you told him a day before 'Hey, let's do fake Nolan Ryan', he would say, 'OK', but he wouldn't start writing it till 8:15 that morning. He can't work a day out but he works extremely well 20 minutes beforehand. It's very much done in the spur of the moment."
Funny character voices aren't the extent of the bits done with The Musers. You'll often hear them make fun of themselves, especially when it comes to the comparison of the show being the Susan Lucci of sports talk radio. The Musers have been nominated over a handful of times for Major Market Personality of The Year at the Marconi Awards but have never won it. But in their true ability to relate to the listener, they use that as content for the show.
"The Ticket has won three," said Miller. "They were great and it meant a lot to all of us. Our show, the three of us specifically, have been nominated for Major Market Personality of the Year like six or seven times, but we've never won. We've almost embraced not winning, like we're the Susan Lucci of sports talk radio. If we actually did win, which would be great, but if we did win it would kind of spoil that bit and I don't think any of the three of us really care about winning that much, not to give you coach speak, but it's almost funnier if we keep losing. I think it's better for the show if we keep losing because it's something to make fun of (laughs)."
Regardless if The Musers even win a Marconi it's pretty well understood few morning shows across the country can compete with their success over the years. In an industry that's routinely swapping shows and hosts to find the right combination, Miller, Dunham and Keith are the longest-running show in the Dallas market and have been a top rated show since 1995. That's unheard of, especially with all the changes and trends that sports radio has seen during that time frame.
"I really think it starts with me, George, Gordon, we all genuinely love each other and love working with one other," Miller said. "We get along really well. That's kind of rare in radio, at least my experiences and stories I've heard. Not just from our market, but others as well. A lot of people have trouble checking their ego when it comes to radio, and I think that's what's been unique about not only our show, but also our station. I think when you have a good locker room and everyone gets along and enjoys spending time together, good things happen. I hope that comes across to the listener, because I think it's been our secret at The Ticket."
Miller is one of the originals at The Ticket, starting at the station all the way back in 1994. His story on finding a love for sports radio isn't unique from most hosts across the country. But before sports, it was all about the weather. To this day it still fascinates him. At an early age he wanted to be a weatherman on television. His fascination with local radio and TV led him to watching and listening to numerous newscasts from his Oklahoma City home. But then in 8th grade, he figured out sports was the passion he wanted to pursue.
While at an Oklahoma City 89ers game, a minor league baseball team now called the Oklahoma City Dodgers, Miller and his dad arrived early at All Sports Stadium. He noticed a couple of TV reporters in the dugout talking to players. That's when it struck him.
"I thought, what a great job," Miller said. "You get to go out in the field, into the dugout, and I love sports anyways, so that's kind of when I shifted from weather to sports. I've had that in my mind ever since."
The Ticket has seen a ton of success and recognition since it took the airwaves in 1994. One of the biggest changes over that time is the growing number of competitors the station has seen since its inception. Miller has been in the middle of all of it and has seen just how different the station is today from the first time he sat behind the mic in Dalas.
"When we started in 1994 none of us had personal computers," Miller said. "We were going to the studio every day and bringing the sports page as well as a NBA, NFL or Major-League Baseball almanac, if we needed to look something up. That has changed because of the computer age. The competitive landscape, obviously, is a lot different. Back then we had a couple of other stations but there were no other all sports stations. We had some stations that did a sports talk show, one in the morning and one in the evening, but by 2000, we had three all sports stations in Dallas.
"Now we have not just other sports stations to compete against, but podcasts and you can stream any other radio station around the country or the world if you want to. When we started, we didn't have one specific competitor, now we have hundreds of them."
The Musers aren't going anywhere. That's more of a fact, than an opinion, seeing as the show inked a long-term deal with The Ticket in November of 2019 to remain in morning drive. Miller loves working with his two co-hosts and sees exceptional talent in both.
In Keith, Miller sees an amazing comedic talent with a quick brain and incredible voice talent. With Dunham, he sees a great football mind with a unique voice and perspective. Plus, a rapport that's irreplaceable and exists all the way back to their college days.
But what exactly are The Musers still chasing? They've been the best in Dallas for so long. They know they can probably be in morning drive at the a top station in the market for as long as they want. What's going to keep the show at its best?
"I think we're chasing the same thing we've been chasing forever now, which is to be a little different and a little better every single day," Miller said. "Not to give you coach speak again, but we don't want to fall into a rut. I'm trying to change it up so the listener hears something a little different. If you give them a different perspective, a different opinion, a different joke, or a different character and try to change it up a little each day, that's the challenge we're chasing."
Reflecting On 30 Years of ESPN Radio
"There is an intimacy in the relationship you develop with your audience in radio that is unlike anything I've found in any other medium."
The most iconic network on sports radio just turned 30 years old. It was January 1, 1992 when ESPN Radio first debuted. Since then, the network has been the home of legendary voices and games that live in the annals of history.
ESPN television was already an institution and destination for sports fans in the early 90s when the worldwide leader decided to enter the world of sports radio. The move made logical sense as it provided the company with an opportunity to expand its reach and presence. WFAN in New York had proven that the format could find an audience and stations were starting to pop up everywhere across the country. Even brands that didn't have a need for 24 hours of sports talk were interested. After all, many news/talk stations aired sports radio programming at night and on weekends back then.
When the network launched, ESPN offered weekend shows and boasted 147 affiliates. Since then, the network has grown into a 24/7/365 operation with over 400 local stations partnering full time with the country's largest sports brand, and many others picking it evenings, weekends and other select shows.
"That's a credit to the power of the brand," says Traug Keller, the former Vice President of ESPN Audio. "The biggest challenge local radio has is ad sales revenue right? It's how they eat. And if you're a salesperson in Quad Cities, Iowa or New Orleans or whatever market, it doesn't matter. You're coming into a business to sell radio ad time, which is invisible to begin with. You've got to get people over the visual part of the value. But as soon as you say those four letters, 'I represent ESPN radio,' it takes half the battle off the table."
Norby Williamson, ESPN's Executive Vice President of Production, has been with the radio network since the beginning. He said its launch was very different from how ESPN rolled out another one of its iconic brands a little over a decade before. 
"We grew SportsCenter and there was always a demarcation point," he told me. "Whether it was Berman or Dan and Keith or Robin Roberts, the product was always there and it was about the content. The brand SportsCenter kind of became front and center.
"I think with radio it was first and foremost, certainly about sports, but when you think of the great radio voices of the past, there was this sense of credibility and connectivity between the talent and the audience, which then gave the talent the opportunity to go in different directions about different topics."
The lineup has gone through its share of changes over the years. For many, there was a distinct "golden era" of the network's prime lineup. It was the middle of the first decade of the 21st century. The mornings featured Mike & Mike followed by The Herd with Colin Cowherd, who joined the network in 2004. Cowherd was then followed by one of ESPN's biggest names on any platform, Dan Patrick.
Patrick's star was well-established. The next step for the network was establishing its morning show as a force in the national syndication space.
"The truth is that was just the timing of the situation, it wasn't necessarily a strategic decision," Bruce Gilbert told me. He served as the network's GM until 2007. "Dan Patrick was hugely successful, and really didn't need any more focus. Meanwhile the network was uncertain about whether Mike & Mike would work together or if they would be better off on separate shows."
Clearly, Greenberg and Golic belonged together. Gilbert credits not just the hosts, but the entire behind the scenes crew with building what he calls "the show of record for sports fans centered on the newsmakers."
Calling it "the show of record" implies that Mike & Mike was a stuffy affair, the kind of thing that you respect and learn from more than you actually enjoy. Nothing could be further from the truth.
Mike & Mike were funny. They had great on-air chemistry. They took the games and the outcomes seriously without losing sight of the fact that their audience, for the most part, will never be invested like the people they interviewed each morning.
"My thought process in the morning because people are driving to work, was maybe I can take you where you can't go," Golic told BSM's Brian Noe last year. "I can take you into a pro athletes' head, I can take you into their locker room. I can take you onto the field of any sport because as pro athletes you have that mentality, and can I make you laugh a little bit? If I can make you smile and chuckle a little bit on your way to work, I feel like I did my job. So to me the best part of radio is when you went off course and that turned out to be the most fun."
That is a very particular needle to thread, but the duo and their crew did it. That is why the show became more than just a sports show. It became a huge part of the national sports conversation.
What was the exact moment that happened? Well, that depends on who you ask.
Maybe it started with the show going to television as well as radio. That wasn't a landmark moment though in Williamson's eyes. He told me putting Mike & Mike on TV was almost a necessity for ESPN to meet the needs of its audience.
"You've got to realize that not that long ago SportsCenter wasn't even alive in the morning. You know, at one point I said, 'Wait a minute, we're doing the show at 1am on the West Coast that re-airs until one o'clock in the afternoon? We're giving away the entire morning!'".
For others, it was specific events that proved Mike & Mike was something more than just a sports radio show.
"When we were first invited on Letterman," Greenberg insisted when I asked about it. "He was someone both Mike and I admired a great deal. That first appearance was among the most exciting nights of my life."
That appearance on The Late Show with David Letterman happened in October of 2006.
For Williamson, it wasn't so much about the invitations. He liked the physical proof that Mike & Mike had become a big deal.
"I remember going to a remote, I think in Philadelphia. I can't remember exactly where. At four o'clock in the morning, people were lined up around the block to get in to see the show. And that's kind of when it registered for me that these guys had broken through. They're resonating, and we've got something special."
ESPN Radio wasn't just a collection of strong talent behind the microphones at that time. Plenty of people in behind the scenes roles went on to successful programming careers in markets of all sizes.
Bruce Gilbert isn't surprised when he looks back at the members of his former staff that went on to spread their wings and leave their stamp on the sports radio industry. He says that the network was in something of a luxury position: every sports fan wanted to be there, and that meant the talent was stacked from floor to ceiling.
You couldn't even get in the door without a degree and high scores on one of the hardest sports trivia exams ever developed. This created a competitive environment and a workforce of people that were hungry, passionate and driven to succeed and grow. The other great thing about ESPN were the different paths it offered to professionals. The company was always evaluating talent and working to help them find the right growth trajectory. At ESPN you could grow in audio, move into television, the magazine or digital/web. The opportunities were endless and equally rewarding."
One of the people that passed that test and earned an opportunity is Freddie Coleman. The longtime host joined the network as part of Game Night in 2005. Coleman is still heard nightly on Freddie and Fitzsimmons.
The network doesn't currently have a lot of people with Coleman's kind of hosting tenure. Greenberg would be the other. ESPN Radio went through two major lineup overhauls as recently as last year. That position, a sort of "dean of hosts," is one Coleman takes a lot of pride in.
"I know how blessed I am to have been a part of the Worldwide Leader for 17 plus years. It's hard to be ANYWHERE now for 17 minutes. With that pride comes accountability and I never take that for granted," he told me."
Some of the most successful talent in the radio industry have come and gone over the years. Each has left his or her mark on a network which has been a key part of millions of listener's lives. Though change is a part of every business, there's no doubt that some departures have created larger voids than others.
Tony Kornheiser's exit from the network's weekday lineup in March of 2004 fits in that conversation. Replacing a host with his stature was not easy. In fact, Bruce Gilbert says he recoiled a bit at the idea of having to find "the next Tony Kornheiser."
"My boss and I really wanted a TRUE radio person," shared Gilbert. "Most of the people on the radio network at that time had come up through SportsCenter or ESPNews. We made a pact to find someone that really understood the intricacies and subtleties of audio and how to connect emotionally and passionately with the ESPN radio audience."
Remember, this was before radio stations across the country were focused on streaming. Gilbert's search wasn't easy. He was calling affiliates and asking how he could listen to their best talents over the phone.
There was one name that Gilbert heard from two trusted advisors. Scott Mastellar and Rick Scott told him to check out this guy in the Pacific Northwest named Colin Cowherd.
"I was a local radio guy, and Tony Kornheiser was amazing," Cowherd said, reminiscing about the process during a show in 2015. "He's a brilliant man, brilliant writer, media icon, and he was leaving. And they could have picked a million guys out of New York, or L.A. Chicago, Dallas, many applied, it was a good job."
"After hearing his show we flew him to Bristol and when Colin came into my office, he never even gave me a chance to ask a question, he basically started doing a show," Remembers Gilbert of his first meeting with Colin Cowherd. "For 45 minutes straight he entertained the hell out of me and I don't believe he ever took a breath. I remember telling my bosses he was the guy and they couldn't understand how I was so sure and I said I just wish you could have been in my office the day he was here and you wouldn't even ask me that question. There was one executive who said to me, and I quote, 'What the hell is a Colin Cowherd, and is that even a real name?'".
Plenty of sports radio fans across the country are happy Gilbert got his way on that one.
A few years later, the network had to replace another icon. Traug Keller remembers Dan Patrick's decision to leave ESPN as "bittersweet." He jokes that it worked out just fine for the recently inducted Radio Hall of Famer and ESPN Radio "kept on trucking".
"We had this collection of 300-plus affiliates that were trusting us. As big of a name as Dan was and him going probably made some of them nervous, they were confident we would figure it out."
The initial plan was Mike Tirico. Keller says that just as that show was finding its rhythm, the host was tapped for another assignment by the network. He describes the call for Tirico to take over as the voice of Monday Night Football coming just as "you could see the ratings start to pop."
From there, Scott Van Pelt was given a shot. He and Ryen Russillo established a strong presence in the noon to 3 pm time slot. Van Pelt was well-known thanks to SportsCenter. Russillo wasn't a national name quite yet, but had established some credibility for himself in Boston, working on 1510 The Zone and WBCN.
The move to ESPN Radio wasn't exactly easy for Rusillo. Last year, he told Bryan Curtis, his colleague at The Ringer, that his prep process and scope had to change in order to be successful on the national level.
"I always had to know a little about a lot of things, where in local I had to know everything, but only about one thing," he said in October on The Press Box podcast. "The math is easier on the local side of things."
Cowherd would leave the network in 2015, but not before calling his time there "the best ten years of my life." In 2017, it was Greenberg who said goodbye to radio.
That gave ESPN Radio the chance to give its morning show the first overhaul it would receive in nearly two decades. Mike Golic was given two new co-hosts, NFL Live's Trey Wingo and his son, Mike Golic Jr, who had been working overnights on the network.
The younger Golic told me that he knew from growing up around broadcasting that it was the career he wanted. That didn't mean he was ready for the spotlight on day 1.
"That's kind of like being in shape vs being in football shape," he told me via email. "Growing up around it certainly made me familiar with the names and the environment, but I was still so green when it came to doing the actual job. Everyone gives you the same advice coming in: reps reps reps. And they're all right. It worked a lot like my football career though, where Dad was able to help me by being an extra set of eyes and ears. I got to watch my high school football tape with a guy who played 9 years in the NFL, and now I was getting feedback from a hall of fame radio host."
Golic and Wingo lasted for four years on the network. Then it was Mike Golic Sr.'s turn to say goodbye.
His final show has become one of the truly iconic moments in ESPN Radio history. Originating from his home, with his entire family around him, Golic shared stories and insight about how the job had changed his life.
It was Golic Jr. that stole the spotlight though. His farewell to his father was raw. Everyone on the set, and presumably most people on the other side of the screen or speaker, were in tears
"To get to do this with you for the last three years will be the highlight of my professional life and my personal life," Junior said. "To get to do the thing you always wanted to do with the person you always wanted to be is just surreal."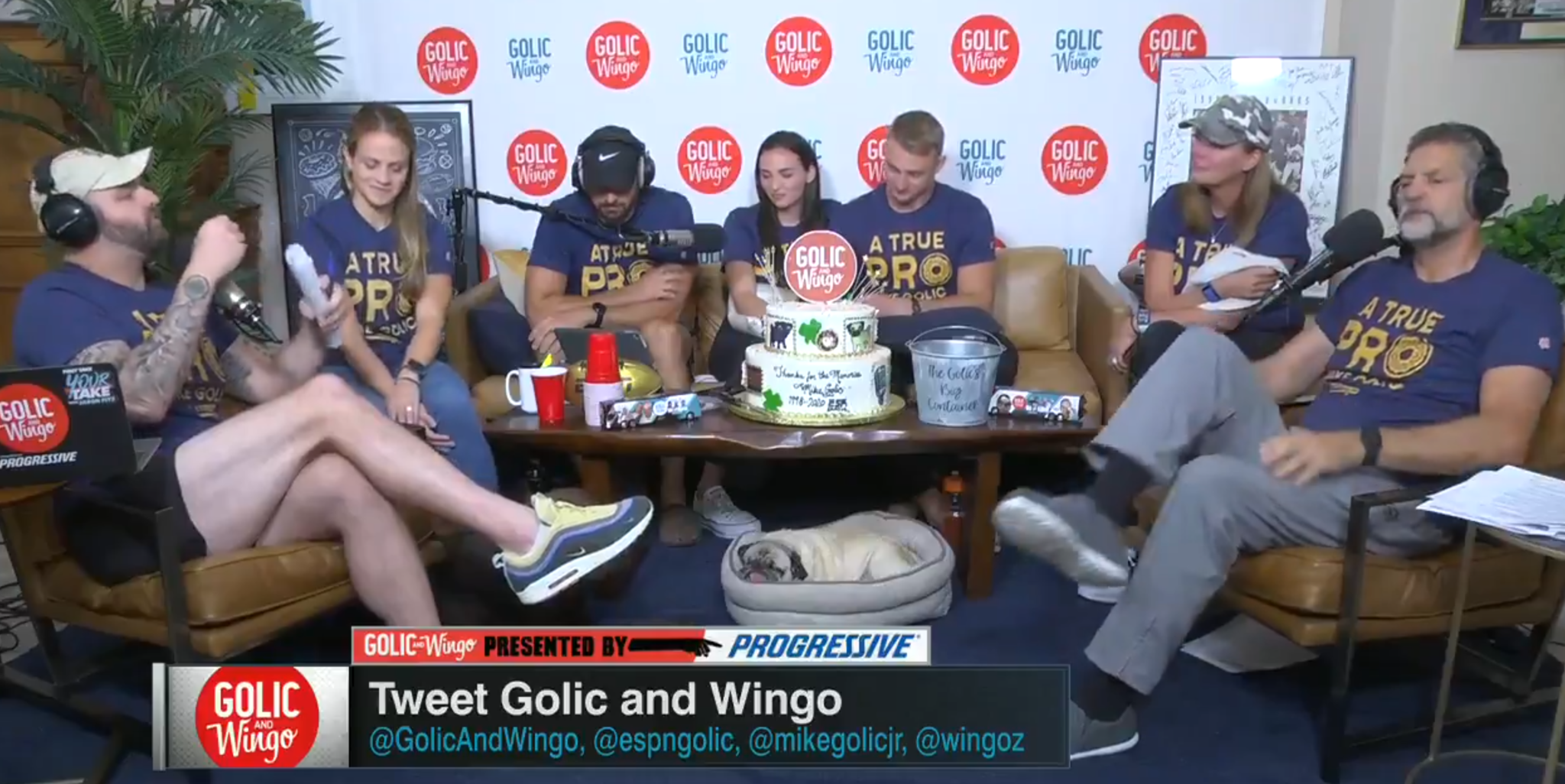 I asked Junior about that moment and if he recognized immediately the weight that it had.
"Oh yeah," he said. "I think as long as I live and am with ESPN that and dipping Oreos in mayonnaise will be my legacy."
Mike Golic Sr. looks back on his ESPN Radio years mostly with fondness. He did tell Brian Noe that there is one thing he would never miss though.
"Getting up sucked, but once you start going and getting to the studio and everybody is there, I loved it. There wasn't much I haven't missed outside of that 4:15 alarm, which I swore at every single morning. Every time 4:15 hit, I had a bad word come out of my mouth."
Changes don't happen without grumbling at ESPN Radio. Norby Williamson says he is used to that. "Radio and audio is a very personal connectivity," he says. Sometimes, there isn't much you can do to change people's minds. The public will just have to wait and form their own opinions.
Affiliates though are a different story. Williamson says that they tend to offer the people making the decisions a certain level of trust. That is what comes with long relationships and a history of performance.
"I think the ESPN brand stands for something, you know? For a lot of years we've worked hard to create this brand affinity with our customers to serve sports fans and to gain some credibility with them," he says. "So I think when you put the ESPN logo on certain things, whether it's audio, ESPN Plus, etc., there is a very particular expectation by the customer. There's also a sense of 'Alright, I trust this group. So maybe I may not like it initially and boy, I really like that old show better, but I understand I'm going to give it a chance and hope.' We do a great job. I think a lot of our partners approach any new product we offer thinking 'I'm going to learn it, accept it, and possibly like it maybe more than the old offering."
"There isn't a day that goes by that we aren't looking to super serve our partners," says Justin Craig, ESPN's Senior Director of Network Audio Content. "From paying attention to storylines in key markets to doing our best to have a two way conversation to understand what matters to them, it's a non-stop focus. We try to be as representative of the largest set of the audience as possible."
Keeping affiliates happy means giving them help when they want it and giving them an audience when they want that instead.
The network has held regular calls with its affiliates over the years to discuss key issues and ideas that could benefit both sides. Local program directors and executives often join network managers on those calls, which keeps the relationship between both parties in a healthy state. The network has also welcomed representatives from local stations to Bristol to explore ways to work better together, providing tours of ESPN's studios and making introductions to ESPN Radio talent during those visits to further remind partners of their appreciation for the partnership.
"We work very hard at making sure our talent is accessible to supplement what's being done with our partners, whether it's regular appearances, liners or anything else that might be of interest," Craig adds. "We also operate the other way. If there is a story that matters in one of our markets, we aim to have a host or talent from that market on the network to enhance our coverage. We also continue to provide production elements to everyone through a web based system, so what you hear on the network is easier to duplicate locally. The most important thing is the open flow of communication."
The older Golic's exit was the first step towards ESPN Radio's current lineup, one that features a plethora of voices that weren't on the radio in Bristol just a few years ago. Keyshawn Johnson and Jay Williams are not new faces by any stretch. ESPN had already created major profiles for each in the past to go along with what they had established in their playing days.
Tapping them for morning drive radio on a national network though? That was going to be a new venue for both of them.
In August of 2020, I had the chance to speak with Williams and he told me that a big part of the reason he felt up to the challenge was that he had the chance to watch, learn from, and get to know Mike Golic.
"I've been with ESPN for a long time. Mike Golic was the first person I saw on there for an extended period of time doing that show. I remember sitting there thinking to myself 'Wow, that is really cool. Mike Golic Sr. is Mike Golic Sr.' He's very comfortable with who he is and he is very comfortable being that person on camera.
"It was the first time in my career that I ever thought 'I've gotta figure out who I am, so I can be who I want to be on air.' I never thought about who I was. I was too busy running. I was too busy giving my opinions about other things to ever have an opinion about myself."
Johnson told BSM in 2020 that he was ready for the challenge of establishing a new identity for the network in morning drive, because he was not worried about the old identity. The audience was going to have preconceived notions and set feelings no matter what he said on the first show, so he was just going to focus on Keyshawn, JWill and Zubin instead of worrying about how he compared to Mike Golic.
"There's nobody else out there that's me, there's nobody that's any of my co-hosts. Everybody has their own opinion on how to do something, how to host a show. You'll hear people say, 'they're not that good,' and you'll also hear people say 'they're really good.' Everyone has a different opinion, so I don't get caught up in the hype."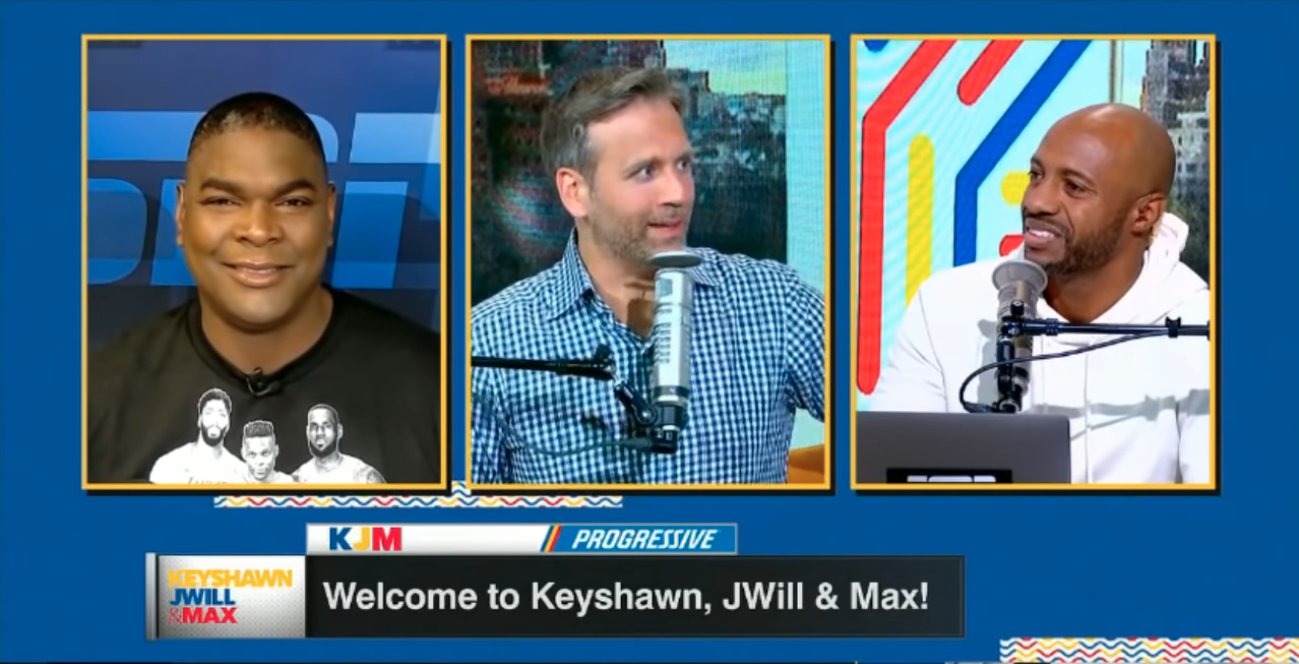 When the radio lineup received its first post-Golic overhaul, Zubin Mehenti was part of morning drive. Eventually, health concerns forced him to step away from the grind of morning radio. Max Kellerman, who had been added to the radio lineup in early afternoons would move into Mehenti's seat in mornings.
Good things that go away have a way of not staying gone forever in the media business. That's why it shouldn't be a surprise that another part of ESPN Radio's new identity was Mike Greenberg.
He was no longer in morning drive and he wasn't grinding away for four hours everyday anymore, but Greeny was back on the radio three years after leaving to launch Get Up on television.
His new show #Greeny is heard for two hours every weekday. Now it is on from 10 am until noon, but it started out from noon until 2 pm.
Greenberg told me that he didn't sit around pining for the chance to be back on the radio during the time he was solely focused on TV, but it is a medium he loves. So when the opportunity to sit behind a microphone again presented itself, he was interested.
"I didn't actively think about it much because my time was fully consumed with launching Get Up, but I always knew I'd eventually go back in some form," he said. "There is an intimacy in the relationship you develop with your audience in radio that is unlike anything I've found in any other medium."
Say the words "ESPN Radio" too many times or to the wrong person these days and you are bound to be corrected. It's ESPN Audio now. The network is creating shows and content with different identities across different platforms.
"Nobody makes decisions in a vacuum," says Dave Roberts, ESPN's Senior Vice President for NBA and Studio Production. "It's a matter of understanding the markets, analyzing the research, reviewing the ratings, and placing a focus on the importance of cross platform content creators. The days of being just a radio focused brand are long gone. You have to be focused on audio, video, digital. Those are the parameters you have to operate in."
Roberts played a major role in the overhaul of ESPN Radio's talent lineup and overall philosophy. Two years ago, he spoke with Jason Barrett and explained that he has faith that diverse voices and diverse technology would be a key to ESPN's long term success in the audio space.
"I have the utmost respect for our competition. There are some very talented personalities and brands out there. But I'm not focused on what they're doing. I'm looking at how we can improve ESPN Radio. A key part of our strategy is making sure our platforms are connecting with one another. It's why you see many of the people on our product today. That underscores the commitment we have to maximizing the strength of the ESPN brand to the depth of talent. That's integral to our strategy and growth. Any decisions we make are going to be made with that being a key focus."
Like every other radio venture, ESPN functioned for so long following the rules of what entertainment on the platform was supposed to be. Norby Williamson says that isn't good enough in 2022. Audiences want options when it comes to entertainment. If you want to stay on their radar, you have to play by the new rules.
"Ultimately the consumer wins," he says. "I think sometimes, whatever product that you're making, whether it's in the media or other things, sometimes we think we know more than we actually know. The consumer will always win."
Every ESPN Radio show is also a podcast. It has a video feed on ESPN+. Keyshawn, JWill and Max, is on ESPN2 in the morning. On top of that, clips from everyone's content make their way to ESPN's and ESPN Radio's various social media channels.
A multi-platform approach is nothing new really. Remember, going back to the days of Mike & Mike, ESPN Radio was sharing shows with television. Traug Keller says he feels lucky to have been in the business during a time when the options for audio entertainment were blowing up.
When ESPN Radio launched in 1992, there were no podcasts. There was no satellite radio. There was no streaming audio or smart speakers.
It wasn't just executives. Talent had to earn to work and succeed in the new media environment too. Not every old school radio guy is cut out to start playing "anywhere there's ears" as Keller puts it. That is why he gives credit to Dan Le Batard.
"Dan was incredibly creative with how he did both the radio show and a TV show. The show works so well as a podcast too without even without a lot of tinkering, just kind of the way Le Batard and his crew down there in South Beach presented it. So, you know, a lot of ESPN's strategies depended on the different personalities and different shows. But as a general theme we wanted to be what we called 'Uber Audio,' right? We just wanted to be everywhere that there was the opportunity for more listening."
The other piece of the puzzle that makes ESPN Radio what it is are play-by-play rights. Sure, the four letters are valuable to sellers in local markets, but what makes those letters valuable? It is that ESPN is synonymous with the biggest events in sports.
A local ESPN Radio affiliate instantly gets play-by-play rights to Major League Baseball's Sunday night showcase game and its entire postseason, the biggest college football games each week including the College Football Playoff, and the NBA Finals.
To look at that collection today, one would be forgiven for thinking that ESPN Radio put a premium on accumulating those rights from day one. Bruce Gilbert says that isn't true and he credits one man for helping change that.
"ESPN Radio was actually behind the curve when it came to the number of live events. We had John Martin – "The Chief" – who was an experienced and extremely talented producer of live audio play-by-play and John was always looking to do more and add more to the ESPN Radio offerings."
Even if others in Bristol didn't think it was imperative that the radio network carry actual games, Gilbert says "Chief" kept it at the front of everyone's mind. This was sports radio after all! Games have been airing on the radio long before they were on TV and even longer before the word "talk" became synonymous with "sports radio."
Besides, this is ESPN! It's the biggest name in sports. How could the radio network live up to that standard without the biggest games?
"John understood the drama of live events and the storytelling that brought those events to an even higher level," Gilbert said. "Like many successful business ventures, the addition of play-by-play was a natural and organic process that elevated ESPN Radio."
Thirty years is a long time. Plenty of radio networks have come and gone since January 1, 1992 when Tony Bruno, Keith Olbermann, Chuck Wilson appeared on the network's airwaves. Plenty of media formats have come and gone too. Remember mini discs?
ESPN's audio offerings keep expanding and adapting. The executives get the importance of that. Dave Roberts says the key to continued success is finding and investing in talent that gets that too.
When ESPN Radio launched in 1992, it found success by leveraging the ESPN brand in a new space. Success in 2022 in beyond is about getting both listeners and affiliates to view audio offerings as part of the entire ESPN portfolio.
"If you think otherwise you're not being realistic," Roberts told Barrett. "Today, you have to connect in multiple ways. That's how you build a bigger brand."
Success in the future will certainly depend on understanding new trends and appealing to the modern listener. But the foundation for success was laid long ago.
"I think there are a few reasons for the sustainability," says Amanda Gifford, the Senior Coordinating Producer/VP, ESPN Audio and Content Strategy. "One – the ESPN Brand. Nothing says sports like "ESPN," so when people tune in to ESPN Radio, they know they'll get high-quality sports talk to keep them informed and entertained about everything going on in the sports landscape. Two – the people. We've had such talented people both in front of and behind the microphone over the past 30 years, and because of the aptitude of hundreds of folks who have made an impact on ESPN Radio, we've been able to uphold the standards of the World Wide Leader."
ESPN is the biggest name in sports media. The company has access to some of the biggest events and most unique voices. As long as that is true, no one will worry about whether or not the radio network can survive another 30 years. It absolutely will. The questions are more along the lines of what will it sound like and how will we hear it.
After thirty years of success, it is probably fair to trust that ESPN will figure all of it out.
Back To Basics: Strive To Be Great
If you don't want to be great, what are you doing?
I began the "Back to Basics" series a couple months back in an effort to highlight some of the strategies, practices, and techniques that have helped me sound like a professional early on in my radio career. I don't write this because I think I know better; I write this because I rely on the basics to be good at my job. I don't believe I was blessed with the voice of God, I'm not a former pro athlete, or anything out of the norm intellectually.
For me to stand out in this business, I have to nail the basics at the core of everything I do. Part of that concept and drive for me is the desire to be great.
Striving to be great is the most basic concept you can take hold to and it takes zero talent or experience. I heard Turner Sports NBA analyst Greg Anthony once say "No one ever got worse at something they wanted to be great at." It resonates with me every day and it's the perfect launch point to today's "basic" concept.
Ask yourself this: If you are not striving to be great, what are you doing?
I see so much complacency in this business. I see so many guys coming up that turn down opportunities because they are either scared or lazy. Simple things, too. If you are a producer and a host asks you to come up with a segment, you should be finding a way to knock it out of the park and then ask for two segments. If you roll your eyes at a request like that and think "great, more work," you are already behind the 8-ball.
That attitude is pervasive in this business and I will never understand it. This isn't an industry you get into because the money is so great that you just have to pursue this lifestyle. No parent wishes their child grows up to become a sports talk radio personality. We're not doctors, lawyers, or pilots. We talk and cover sports for a living.
This is a dream job, but I see so many treat it like it's just any other job. It confuses me to my core, because if you are still at the bottom of the ranks and you aren't shooting for the moon, so to speak, that means you're comfortable making the incredibly low rate radio companies pay for anything less than top-tier "talent."
It's not lucrative. I can't speak to every market in the country, but right here in the heart of Florida, you'd make a good amount more bagging groceries or working a drive-thru than you would board-operating a talk radio show. That's just the reality of it. Is it pretty? No. But this is what we've signed up for, isn't it? No one is forcing you into this industry; you chose this.
So, I ask again — If you don't want to be great, what are you doing?
After you answer that very personal question, the next one to come to mind should be: How do I become great? Lucky for us, that one's simple: Effort and focus.
We all want to be great at different things, so I don't want to hyper-focus on one element of broadcasting. Whatever your avenue — talk radio, production, or play-by-play — I think the methods are the same. Listen to yourself, listen to others, find people you respect in your field of choice and talk to them, ask for advice, and push the limits of your comfort zone.
My general rule of thumb is if it makes me nervous, I must be doing something right. Rarely do we get nervous in our comfort zone, but rarely do we do any growing in our comfort zone either.
Remember that feeling the first time you cracked a mic? Find new ways to feel like that again. It usually means you're learning something and those uncomfortable experiences will soon take up residence in your comfort zone, making you better in the long term. Convince yourself to try new things. Even if it's crap, at least it's new crap that you can learn and grow from.
The bottom line is, there are going to be a lot of things between now and the end of the road that hold you back from accomplishing whatever your ultimate goal is in this business. But you can't allow one of those hurdles to be your own effort and approach.
If you truly want to be great, there's nothing stopping you. This is not coming from someone who is great, but rather someone who is striving to be. And if that's not your bag and you don't care about the fact that you've completely plateaued, might I suggest another line of work?
The Best Defense Against An Ornery Subject Is A Good Question
With the right question, a reporter never has to assume an antagonistic stance or role.
A question should be constructed to get the best answer possible.
This was the guideline I learned as a newspaper reporter, which makes sense. You don't hear the questions in a story. You don't usually read them. The questions operate off-stage, the unseen lever that pries out the good stuff from the subject.
The dynamic changes when the interview is conducted in public, though. I learned this first-hand when I transitioned from reporter to radio host in 2013. Suddenly, my questions were part of the content being consumed. This is increasingly becoming the reality for anyone covering pro sports now. Not only have the press conferences themselves become a part of actual sports programming, but those press conferences are increasingly the only access to professional athletes, given post-pandemic locker-room restrictions.
But any time I start to think that it's important to consider how a question sounds to the audience, instead of focusing on the answer it gets from the subject, I will inevitably be reminded of where that thinking leads. This week, it was Jim Matheson, a veteran Canadian hockey reporter in Canada, confronting the Edmonton Oilers' Leon Draisaitl over being non-cooperative.
On the one hand, this kind of tension has existed for decades in pro sports. It's inevitable, really, that the people paid to play the games will at times be at odds with the people paid to critique their performance. The difference now, as Ian Casselberry pointed out here at BSM yesterday, is that the tension is increasingly visible.
Personally, I love these moments. Seeing someone get sensitive in public is catnip to my shallow sensibilities. But professionally, there is something to be learned here by going back to the question that started each impasse. Let's start with Matheson.
"Lots of reasons for why the Oilers are playing the way they are, in terms of winning and losing," Matheson said. "What do you think is the number one reason for the losses now? Is there one thing, in your own mind, that you're saying, 'We've got to get better at that'?"
It's a bad question for two reasons, the first being that it is actually two questions. "Double-barreled" is the term used by John Sawatsky, a Canadian journalist, an absolute prince of a man, and an unrivaled expert in improving interview skills. In two days, John taught me more about good interview tactics than I've learned in 20 years of weekend workshops and workday brownbags. This won't be the last time I mention him in my posts here at BSM.
The best piece of advice John offers is also the easiest to institute and provides the most immediate results: Ask one question. Just one. If you add a second question — either out of nervousness or because you try to phrase it better — it will confuse even a cooperative subject. If you have an uncooperative subject, it provides an out. An opportunity to answer the less difficult question and then stare right back at you to indicate it's your turn.
That is exactly what happened to Matheson. Here was Draisaitl's response: "Yeah, we have to get better at everything."
Matheson asked if Draisaitl was willing to expand; Draisaitl was not, adding a sarcastic aside that Matheson could add to it because he knew everything. Jameson then asked Draisaitl why he was so "pissy."
"Hmmmm," Draisaitl said, raising his eyebrows as if he hadn't heard.
"Why are you so pissy?"
"I'm not," Draisaitl said. "I'm just answering your–" at which point he was cut off by Matheson.
"Yeah, you are," Matheson said. "Every time I ask a question."
Now, it's likely that Draisaitl's issue has nothing to do with the question Matheson asked. It's possible that no question Matheson asked was going to get a good answer. But because that question was poorly constructed, it left Matheson cornered into the choice of accepting Draisaitl's terrible answer to his poor question or creating a confrontation. He chose the latter, and while I don't think it was wrong, per se, or crossed any lines, Matheson looked like the aggressor. And I suspect that will be the last piece of useful content he ever receives from Draisaitl.
This is the point where my column was initially going to end. Then I saw Ian's post, which included an exchange between Gary Washburn, a reporter at the Boston Globe, and Celtics guard Dennis Schroder, who was every bit as uncooperative as Draisaitl. It provides the perfect example to see how a better question changed the nature of the impasse.
Let's go to Washburn's first question: "Dennis, in Philly, you had one point, but the game before in Indiana, you had 23. It seems like you've been up-and-down a little bit. Are you starting to feel comfortable? You had the COVID protocol, you had a lot of things happen this week, are you starting to feel a little bit of comfort in the offense?"
Washburn's question wasn't perfect. There are technically two queries, though I'd argue he really just restated his question about being comfortable. It was also a yes-no question, which doesn't tend to be as powerful as a question that seeks an answer about how or why something has occurred. I'm nitpicking, though. The strength of this question was revealed when Schroeder bristled.
Schroeder: You with us or you with Philly?
Washburn: No, I'm just asking.
Schroeder: You with Boston? You work for us?
Washburn: I cover the Celtics. I'm just asking if you're feeling any more comfortable over the last couple games.
Schroeder: It's just a stupid question.
Washburn: My fault. Are you feeling any more comfortable? How did you feel like you played today?
Schroeder: Not good enough for you, huh?
Washburn: No. I'm asking about the bounce back.
Schroeder: We won, so that's all that matters. I'm a team player, so end of the day if I've got 40 points or one point and win the game, I'm going to be happy with it. So end of the day, I'm a team player, trying to win some games. And in Philly, we didn't come out right, we played right, and that's it.
Washburn: Thank you.
At no point in that back-and-forth does Washburn have to do anything other than restate his question: Are you feeling more comfortable? Schroeder has the choice whether to answer it, and ultimately talks around the quesrion without addressing it.
Washburn never has to say he was dissatisfied with the answer or call out Schroeder for being uncooperative. He never has to assume an antagonistic stance or role. He's courteous and even accepts responsibility for a question Schroeder doesn't like. In the end, Schroeder's defensiveness speaks for itself. And that is important given how many people are now watching not just the answers that athletes provide, but the hearing and in some cases seeing the questions that provoke them
When Ian wrote about these situations on Thursday, he concluded with a very poignant observation: "Tensions are now out in the open, when they might have previously happened in a corner, away from everyone's attention. And when these dialogues become public, people feel the need to take sides with the reporter or the athlete. Which side you're on as a fan likely depends on your perception of the media."
He's absolutely right, but I would provide one addition to that. A well-constructed question is your best defense against not only an ornery subject, but also those audience members predisposed to blaming you for antagonizing the athlete.