A Simpler Solution: No One Should Be In NBA Logo
A league embroiled in numerous racial issues — Jazz, Timberwolves, LeBron vs. Zlatan, Masai Ujiri, Jeremy Lin, vaccines — is better served by a generic silhouette than a Kobe Bryant/Jerry West debate.
Yep, this is absolutely what America needs right now, a political argument about a logo. This is where we are in 2021: A truther who has said the world is flat, Kyrie Irving, lobbying to replace the old, white dude in the NBA silhouette — presumably Jerry West, though the league never has confirmed it — with an image of Kobe Bryant, whose memory is widely revered even if he hurled an anti-gay slur and was accused of rape by a teenager who wasn't his wife.
And we're actually supposed to hunker down and take sides on this matter, igniting a race inferno that has been reasonably tame since Donald J. Trump returned to his previous life as a golfing liar.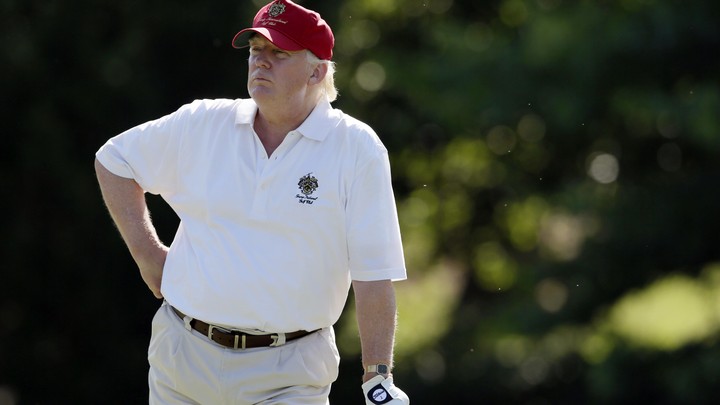 "Gotta happen, idc what anyone says. BLACK KINGS BUILT THE LEAGUE," Irving posted on Instagram, launching a campaign with a next-day addendum: "As a native Black man, a native Black king, it's part of my responsibility to continue to push our culture forward. I know that it probably was met with some people who love the idea and some people that don't like it. My thing is paying homage to the example that has been set by that man."
Normally, my debating reflex would counter with my pick, LeBron James. In the league's most turbulent era, he has melded all-time basketball greatness with an unprecedented double whammy: a social conscience potent enough to help dislodge Trump from the White House and a leadership presence resilient enough to guide the Lakers to a pandemic championship amid 95-day isolation. James has avoided scandal. James has remained a family man. James hasn't driven an SUV while gacked out on opioids. James should be The New Logo.
Until, I wondered: Why does anyone specifically have to be in a new logo?
Can't we just have something generic and inoffensive, exhausted as we are from activism fatigue?
The NFL logo is a red, white and blue shield with a football and eight stars. The Major League Baseball logo, with the same American flag colors, shows an indistinguishable batter preparing to hit a pitched ball that surely is juiced. The Olympics logo was designed with five rings from the participating continents at the time. The NHL logo is duller than commissioner Gary Bettman himself, a silver crest with diagonal lines. College football logos pay tribute to the cash-machine conferences, including the Big Ten's optical illusion. Major League Soccer's logo is half-empty (look it up). The only other sports logo that might depict a particular player is the WNBA's, an orange silhouette resembling the elegance of West's image, though the league won't say if it's Diana Taurasi.
So why exacerbate what remains a volatile era in the NBA when the logo simply can be redesigned without a person in mind? Or is that too easy?
What could be a fun discussion in another time and place — which historic figure best symbolizes what is fondly called the association? — is an attempt by Irving to use the logo as a power play. Understandably, he and other Kobe proponents think a Black legend should represent a league in which three-fourths of players are Black yet only one majority owner — Michael Jordan, also a prime logo contender — is African American. "I think he deserves it," Irving said. "I think his family deserves it. I think we deserve it (after) seeing greatness personified as Mamba. And anyone that's coming into the league should know that's the example that was set."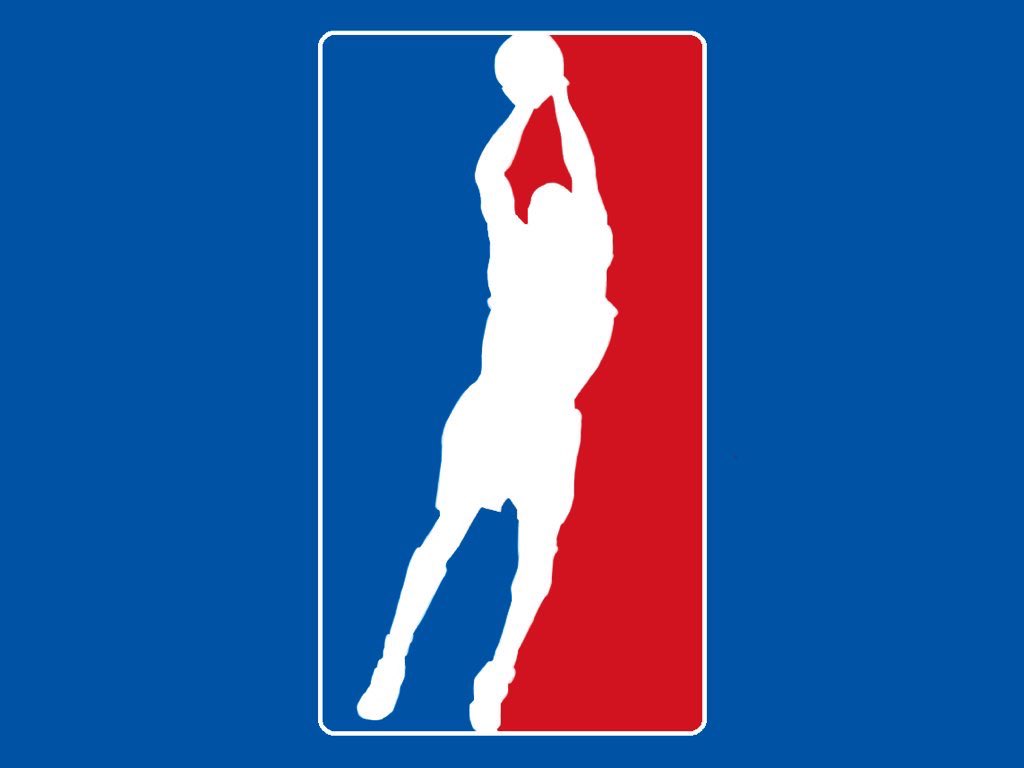 I am not opposed. I just don't understand why — right here, right now. The Black Lives Matter movement inside the Disney World Bubble, which included commanding signage and powerful game boycotts, didn't end the tension that roils the league today. We don't need a logo squabble poisoning the pot. Some Black players are reluctant to heed commissioner Adam Silver's hope that they take coronavirus vaccines, knowing a history of racism in the U.S. health care system has fueled a fear of injections within African-American communities. It reflects a continuing unease in the ranks about the virus, which hasn't stopped the league from conducting an All-Star Game next weekend despite opposition from James and other prominent players.
The league also is investigating a tweeted allegation by ex-Jazz forward Elijah Millsap that Utah executive Dennis Lindsey, who has helped build one of the league's leading contenders, told him this in a 2015 exit interview: "If u say one more word, I'll cut your Black ass and send you back to Louisiana." Lindsey denies making the comment and is backed by Jazz coach Quin Snyder, who was present during the conversation, but in a smallish market with a predominantly White population, the story has disrupted the team's rise and forced a busy Silver to state, "We take allegations of discrimination seriously, so do we also take the due process rights of those who are being accused, which is why we do full investigations. And in this case, the investigation is being conducted in partnership and in coordination with the Utah Jazz."
Meanwhile, Silver was voicing remorse about comments he made in 2019. In an HBO interview, he said Toronto Raptors president Masai Ujiri, one of only four Black executives running basketball operations in NBA franchises, was partly to blame for his altercation with an Alameda County sheriff's deputy after the Raptors won the NBA title at Oracle Arena. Video footage revealed that the deputy, Alan Strickland, initiated physical contact with Ujiri, and both parties dropped lawsuits last month. Said Silver at the time: "It's part and parcel of what comes with someone who is living on the edge a bit and is hard-wired to sort of march forward with incredible energy. And I think lessons learned for him — without assigning culpability or blame to anyone — as a leader, those are the kinds of situations he needs to learn to avoid."
After Ujiri's recent declaration that he was "completely vindicated," Silver told Canadian network Sportsnet, "I apologize to Masai for what I said in that interview. … Believe me, when I look at that now, I cringe when I watch it," adding that he regrets not checking "my own built-in implicit biases around a particular situation."
This as the NBA deals with its version of a Rooney Rule violation. The NFL has made a mockery of that rule, of course, with White team owners largely giving lip service to league requirements that Black candidates be seriously considered for head-coaching and executive positions. So explain why the Minnesota Timberwolves, after firing coach Ryan Saunders, were so quick to name a White replacement, Toronto assistant Chris Finch, without conducting interviews with numerous worthy Black candidates, including their own lead assistant coach, David Vanterpool? Finch is an offensive innovator and disciple of Raptors coach Nick Nurse, who has won an NBA title with Ujiri. Still, why the mad rush? With the league's worst record, it's not as if the Wolves are going anywhere.
The swirl of racial conflicts continued Friday night when James, shirtless, went on the attack in his post-victory Zoom interview. Soccer star Zlatan Ibrahimovic had been critical of James' activism, saying in an interview with a Swedish network, "I don't like when people have some kind of status, they go and do politics at the same time. Do what you're good at. Do the category you do. I play football because I'm the best at playing football. I don't do politics. If I would be a political politician, I would do politics. That is the first mistake people do when they become famous and they become in a certain status. Stay out of it. Just do what you do best because it doesn't look good."
Responded James: "I would never shut up about things that are wrong. I preach about my people, and I preach about equality. Social injustice. Racism. Systematic voter suppression. Things that go on in our community. Because I was a part of my community at one point and saw the things that was going on, and I know what's going on still because I have a group of 300-plus kids at my school that are going through the same thing, and they need a voice. And I'm their voice. I'm their voice, and I use my platform to continue to shed light on everything that may be going on, not only in my community, but around this country and around the world. So there's no way I'd ever just stick to sports, because I understand how this platform and how powerful my voice is."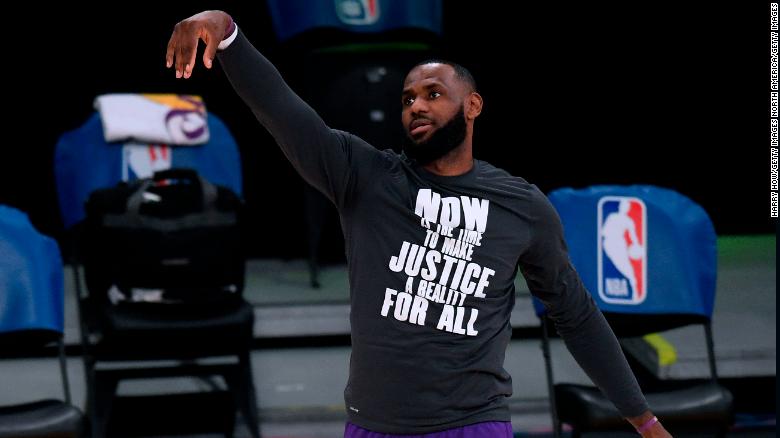 LeBron also made Zlatan look bad, recalling how Ibrahimovic had spoken in 2018 about "undercover racism" he'd encountered from media in his native Sweden. "I am not Andersson or Svensson. If I would be that, trust me, they would defend me even if I would rob a bank. They would defend me, I tell you," he said then.
Said James: "He was the same guy who said when he was in Sweden … because his last name wasn't a certain last name, that he felt there was some racism going on when he was on the pitch. I speak from a very educated mind, so I'm kind of the wrong guy to actually go at because I do my homework."
On the same night, the NBA's official minor league, the G League, was looking into claims by former NBA guard Jeremy Lin that he is subjected to racism. Now with the Santa Cruz Warriors, Lin wrote in a Facebook post, "Being a 9 year NBA veteran doesn't protect me from being called `coronavirus' on the court." Over the weekend, Lin tweeted he wouldn't be "naming or shaming anyone" in the probe. Wrote Lin, who briefly rocked the sport with scoring flurries as the first American-born NBA player of Chinese descent: "What good does it do in this situation for someone to be torn down? It doesn't make my community safer or solve any of our long-term problems with racism."
So, with considerable angst bubbling in the National Basketball Association, we're going to approach a revamped All-Star Sunday — and the outsized media attention accompanying it — with furious sparring sessions about the logo? As Bryant's widow was weighing in with her approval ("love this @KyrieIrving"), she also was learning for the first time that actress Evan Rachel Wood had called her late husband "a rapist" the day of his fatal helicopter crash.
Vanessa fired back at Wood. "Your false, insensitive, defamatory and slanderous tweet on 1/26/20 is vile and disturbing to say the least," she wrote. "Behavior like this is part of the reason why innocent black men go to jail for crimes they didn't commit. An accusation doesn't make someone guilty. YOU DON'T KNOW THE FACTS OF THE CASE."
You know what's crazy? Jerry West never wanted to be the man in the logo. It just happened that way as a league-commissioned consultant poured over various images in 1969 and came up with what appears to be West. Thus, The Logo was born. Four years ago, West seemed agonized about the topic when appearing on ESPN's "The Jump" program. "Again, it's flattering. But it's also, I think — if I were the NBA, I would be embarrassed about it," he said. "I don't like to do anything to call attention to myself, and when people (call him The Logo), that's just not who I am. If they would want to change it, I wish they would. In many ways, I wish they would."
The NBA can change the logo, sure.
To the simple image of a basketball, round and pebbled and not at all flat, unlike Kyrie Irving's complicated world.
Jay Mariotti, called "the most impacting Chicago sportswriter of the past quarter-century,'' writes a weekly media column for Barrett Sports Media and regular sports columns for Substack while appearing on some of the 1,678,498 podcasts in production today. He's an accomplished columnist, TV panelist and radio talk host. Living in Los Angeles, he gravitated by osmosis to film projects. Compensation for this column is donated to the Chicago Sun-Times Charity Trust.
Does Mike & The Mad Dog Reunion Really Have Broad Appeal?
"My confusion is not about the content. It is about the strategy."
I know this is an unpopular opinion, especially on a site built on the back of sports radio, but I also know that I am not alone when I say this. I do not get why ESPN is reuniting Mike & the Mad Dog on First Take on Wednesday.
That is not a comment about Mike Francesa or Chris Russo as people. I am not going to sit here and tell you their show was not groundbreaking or pretend that its success did not make it easier for the sports format to spread across the country. They deserve all of the credit and accolades they get from our industry.
My confusion is not about the content. It is about the strategy. Who outside of New York and/or outside of the broadcast industry feels like this is must-see TV? This feels like some real whiffing of our own farts.
When ESPN writes a press release about the success of First Take, they tend to highlight two demographics. It's either with men 18-49 or with men 18-34. The age range is important because Mike & The Mad Dog hasn't been a thing for almost 15 years. Francesa and Russo have had their own success in that time. It is not like they disappeared, but 2008 was a long time ago. Even lifelong New Yorkers in the desired demos may not have a strong connection to Francesa and Russo as a brand.
And then there are those of us outside of New York. We may understand that Mike & The Mad Dog was a thing, but what does it really mean to us? Outside of industry professionals, I would venture a guess that if you say "Mike and the Mad Dog" to someone from the Central, Mountain or Pacific time zones, the very best-case scenario is that they would tell you that it sounds familiar, but they have no idea why.
Mike and the Mad Dog is a very specific dynamic, and credit to Stephen A. Smith and his producers, it is a dynamic that is perfect for First Take, but thanks to First Take, it isn't a dynamic that I can only get from those two guys anymore. Their loud, unrelenting debates were revolutionary in 1989 when the show launched. Since then, the style has spawned so many imitators that I would worry the significance of the reunion will be lost on the average Joe tuning in from outside the Tri-State Area.
Smith is important enough to ESPN that if this is what he wants to do on First Take, then the bosses needed to make it happen. I respect that. But selling this as an event? It seems more exclusionary than anything. To us everywhere-elsers, Wednesday is just going to be an extraordinarily loud episode of First Take.
I have been working for Barrett Sports Media long enough to know the influence that people that are successful on New York radio have across the sports media industry. Why else would FS1 rearrange its schedule to make room for Craig Carton? If First Take were a show dedicated to debating ratings points and the value of digital audiences versus broadcast audiences, then a Mike & the Mad Dog reunion would be a home run. 
But First Take is where sports fans turn to hear discussion of the Cowboys' most recent playoff failure and the possibility that Nikola Jokic wins a third straight MVP award. Those are topics that cast a wide net – think like the net that commercial fishing vessels drop into the ocean. Using a walk down memory lane with Francesa and Russo as a ratings driver is like trying to catch fish with a pool skimmer.
Well okay, maybe not a pool skimmer. New York is really big, so let's so it is like trying to catch fish with a laundry basket.
Demetri Ravanos is the Assistant Content Director for Barrett Sports Media. He hosts the Chewing Clock and Media Noise podcasts. He occasionally fills in on stations across the Carolinas. Previous stops include WAVH and WZEW in Mobile, AL, WBPT in Birmingham, AL and WBBB, WPTK and WDNC in Raleigh, NC. You can find him on Twitter @DemetriRavanos and reach him by email at DemetriTheGreek@gmail.com.
Jamie Erdahl Reflects On First Season of Good Morning Football
"I learned a lot [and] I got the nuances of the show down. Next year, I hope to elevate even more [and] just push the box a little bit more in."
Jamie Erdahl, who was named in July 2022 as a new host of Good Morning Football on NFL Network following Kay Adams' departure from the show, has looked to redefine the role of studio host and shatter the boundaries of being simply a moderator passing the baton to analysts throughout her career in sports media.
"I don't personally feel that it's my job to include them," Erdahl said of her colleagues. "I like to think that this show is the four of us including each other in the conversation, and I happen to be the one that gets us on the air [and] gets us off the air, but everywhere in-between that it's very much an equal lift if you will."
Since its inception in August 2016, Good Morning Football has provided football fans unparalleled coverage of their favorite sport through recurring segments, interviews with active players and alumni, live demonstrations and insightful analysis. Aside from Erdahl, the show cast consists of Kyle Brandt, who was the former executive producer of The Jim Rome Show, along with NFL analyst Peter Schrager, former NFL cornerback and Super Bowl champion Jason McCourty.
Erdahl never thought hosting a national morning football show produced by a league-owned media outlet was realistic nor possible in the first place, wherefore she focused her early career endeavors towards covering local teams. In fact, her first exposure to sports media was as a 16-year-old shadowing broadcasters and answering the phones at KFAN Sports Radio in Minneapolis, screening callers who wanted to discuss the Minnesota Vikings among other topics.
After transferring from St. Olaf College to American University, Erdahl was placed into a production internship with ESPN through the Association for Women in Sports Media in a role she refers to as one of her "most formative professional experiences off-camera." Her principal responsibility was cutting highlights for Baseball Tonight and SportsCenter, along with writing scripts for the anchors to recite over the highlights during the broadcast.
"To this day, I don't think I would be as great or as strong at reading highlights if I had never had that opportunity at ESPN," Erdahl said. "….I don't think you can be really good on the air if you don't have a full understanding of what it takes to get there from a production standpoint."
Out of college, Erdahl returned to Minneapolis, where she worked as a freelance reporter at Fox Sports North, a regional sports network. In that role, she was a sideline reporter for various high school basketball games and Minnesota Lynx WNBA contests. One year later, she made the move to Boston to join NESN as an on-air anchor and reporter, contributing both to studio coverage and in-person event coverage ranging from the Boston Marathon to Boston College hockey.
Through several years of persistence and determination, Erdahl was afforded more opportunities and chances to continue elevating her skills. During her first year at NESN, she was working on NESN Sports Today as an anchor and reporter while also filling in for Jenny Dell as a field reporter for Boston Red Sox games. By September 2013, she was named the new rinkside reporter for Boston Bruins live game broadcasts where she succeeded Naoko Funayama, an established broadcaster who held the role for nearly six years.
"[Boston], more than any [market] I've ever been around, expects the world of you," Erdahl said. "They expect the world of their athletes; of their coaches; of their organizations; and then of the media that covers the team. They'll sus you out right away if they have a sense that you don't know what you're talking about or if you don't know their team like the back of your hand like they do."
Over her season as the rinkside reporter for Boston Bruins games on NESN, Erdahl performed her job well but internally struggled to report solely on the team. In being immersed in the dynamic atmosphere of a professional team, it is entirely plausible that while the storylines may change, much of the quotidian routine is mundane in nature.
Akin to a beat reporter, Erdahl's job was to focus her work on the Bruins and NHL at large while remaining cognizant of Boston sports. Through it all, she inherently desired something more – a role in which she could cover several teams within a sport rather than just one.
"I am amazed at the people who can do 162-plus baseball games a year," Erdahl said. "I just applaud them so much. I think your wealth of knowledge is admirable, but I found it so challenging to, let's say, do 82-plus [games] of hockey because I felt like I wanted more sport variety."
In 2014, Erdahl signed with CBS Sports as a sideline reporter for the NFL on CBS, traveling every week around the country to uncover stories and perspectives enhancing the game broadcast. She primarily worked with the No. 3 broadcast team of Greg Gumbel and Trent Green, along with director Suzanne Smith, who has served as one of Erdahl's mentors. The move from reporting in one city to adopting a peripatetic lifestyle helped her with professional development and allowed her to cultivate relationships around the country.
"When you are at the regional [sports network], you're just answering to that one team," Erdahl said. "I loved reporting but what I loved about when I got to CBS was [that] you are answering to the broadcast; you are answering to players from both sides. You had to work to make sure that your coverage was fully equal."
After several seasons covering the NFL, Erdahl was named the lead reporter for college football on CBS Sports, including within its SEC broadcast package. Despite the game being similar in many ways, college football presented challenges to Erdahl, largely due to the size of the rosters and the fact that many SEC on CBS Game of the Week broadcasts regularly included the Alabama Crimson Tide, Georgia Bulldogs and Louisiana State University Tigers.
Next season will be the final year CBS will broadcast SEC games before the conference's media rights agreement with The Walt Disney Company (ABC/ESPN) takes effect: a 10-year deal worth a reported $300 million annually. CBS will broadcast the Big Ten Conference instead, inking a 7-year deal for the second-best rights package worth a reported $350 million annually.
"Here I was back again [asking], 'Okay, how do I make things new and fresh?,'" Erdahl said. "You can't talk to Tua Tagovailoa every time on the phone. You've got to branch out; you've got to tell other guys' stories."
In addition to reporting on college football and NFL games, Erdahl was one of the first anchors on CBS Sports HQ, a free 24/7 sports news network available to stream on multiple platforms. She also reconnected with her athletic roots when she provided sideline reporting for CBS Sports' coverage of March Madness. Her alacrity for the game and proficiency in its vernacular gave her an advantage as a media member reporting on one of the year's premier events.
"My translation speed, let's say, of what I hear in a basketball huddle is so much faster to laymen's terms in basketball than it is for football," Erdahl said. "That's just a matter of I played basketball; it is a part of my lifeblood; it is part of my body and soul and upbringing."
Erdahl eventually moved back into sideline reporting for the NFL on CBS; however it differed the second time around because she had two young children at home and had to leave them from Thursday to Sunday each week. Although she was content with her role at CBS and had the support system in place to make it possible, she wanted to be able to see her children grow up and spend time with them.
At the same time, continuing to cover football was important to her and a reason why she considered a studio-based hosting role. In the end, she was ultimately named the new co-host of Good Morning Football on NFL Network.
"Professionally, I think I was very much honing my skill set to become a really great, strong sideline reporter at CBS," Erdahl said. "I grasped at the opportunity to become a really great, strong studio host. I'm not there yet – it's only been six or seven months – but I really wanted this job in particular to get me to a place within the NFL [and] within the industry to be a really good host."
For 15 hours per week, Erdahl is on television discussing the game of football with Brandt, Schrager, McCourty and Selva, along with a plethora of other guests and industry experts. Entering the role from the perspective of a sideline reporter, she has found many aspects of her previous role permeate into this job, most notably those pertaining to listening to others.
"As a sideline reporter, all you can do is be eyes and ears and you're just hoping that if you're not the one saying it on the broadcast, you're relaying information back to the truck or to the play-by-play guy to make sure that what you're seeing or hearing on the field is getting on to the broadcast…. I like to take that back into a studio setting. Very easily we could sit around the table and we could each talk for a minute and give our takes, but then you're not really listening to each other."
Before landing the job, Erdahl had conversations with Kay Adams where they discussed the role and just what makes it unique. Their discussions left Erdahl energized and eager to get started and disseminate her opinions and points of view to consumers on weekday mornings.
"You get to have your own arc of creativity, no matter what chair you're sitting in," Erdahl expressed. "I think Kay did that incredibly well for six years. People loved Kay for all the things that she did – but the job isn't, 'Here's how Kay did it; do it the way Kay did.' That's not how it was presented [to] me [and] I don't think Kay would have wanted it that way."
Over the years, Erdahl has established relationships with colleagues and competitors alike in sports media, staying in touch and reaching out for advice. She was friendly with many of her colleagues at the NFL on CBS, including Tracy Wolfson, Amanda Balionis and Melanie Collins, along with ESPN/Amazon Prime Video's Charissa Thompson and NFL Network host Sara Walsh. She also estimates speaking to SEC on CBS analyst Gary Danielson weekly, someone who was instrumental in her development as a broadcaster and learning more about the game of football.
Erdahl and the rest of the Good Morning Football on-air personalities do not simply show up to the studios to broadcast each morning; rather, there is an immense amount of preparation that goes into each and every show beginning the night before.
On a shared document, show producers compile a layout for the next day's program and Erdahl and the other personalities write notes and perspectives to better inform the rest of the crew as to their individual thought processes. There is a production crew that works overnight to monitor the news cycle and prepare production elements for the next day's program so by the time 7:00 AM ET comes around, the team is ready to produce three hours of insightful football coverage.
"The information wheel in the NFL is just constantly turning so it's easier for me just to kind of, throughout the day, remain aware of it so then at night, I can answer all my stuff and then tomorrow, I feel a little bit more prepared," Erdahl said. "I'm not cramming for an hour before the show…. It's easy to kind of stay swimming in it."
As Erdahl reflects on the impending completion of her first full season on the show, she intends to learn from her mistakes, such as relying on certain statistics or storylines as a crutch for extended periods of time, to improve as a studio host. She also aims to augment her creativity, learn more about the history of the game and demonstrate energy for the game – all qualities imbued within Brandt, Schrager and McCourty, respectively – to become a "master of the NFL."
"I was lucky I got through the season," Erdahl said. "I learned a lot [and] I got the nuances of the show down. Next year, I hope to elevate even more [and] just push the box a little bit more in terms of making sure I don't have those crutches."
Viewers of Good Morning Football or other NFL Network programming might be skeptical towards the legitimacy of some opinions because of the oversight the league has on the broadcast outlet. Yet over her time with NFL Network, Erhardt does not feel as if she has been suppressed in editorializing her views.
Moreover, it is the responsibility of the show to balance subjectivity and the maintenance of professional relationships in football with the display of objectivity and proffering of genuine analysis. After all, she believes the league trusts that she is on the air for a reason, and works to ensure the league communicates its storylines in a way discernible to a variety of demographics.
"I haven't felt the hindrance whatsoever in terms of editorial direction that would make me feel like I shouldn't do something," Erdahl said. "I would say mostly on the daily, I get the green light from the things that we try to accomplish as a show."
There are many football fans across the United States, and it can be safely assumed that many of them have at least thought about potentially covering the game as a media member. Yet very few aspiring media professionals reach the point Erdahl has; in fact, some of her most memorable moments over the years are when she was told she had received certain jobs. Although her skills on the air are evident, her demeanor and team-oriented mindset has separated herself from other candidates and led to sustained success and growth amid a competitive marketplace.
"Sixty percent of being good at this job has nothing to do with being on television, in my opinion," Erdahl articulated. "I think it's about a good, honest, ethical person that is nice to people; that is easy to be around; that coaches and athletes in particular want to be around and want to talk to [and] tell their story to. The other stuff will come because you are speaking to something that you went about the right way."
Derek Futterman is a features reporter for Barrett Sports Media. In addition, he serves as the production manager for the New York Islanders Radio Network and lead sports producer at NY2C. He has also worked on live game broadcasts for the Long Island Nets and New York Riptide. He previously interned for Paramount within Showtime Networks and wrote for The Long Island Herald. To get in touch, find him on Twitter @derekfutterman.
Why Do NFL Fans Want More Greg Olsen and Less Tony Romo?
Olsen creates the perception that he studies each team, breaking down film of offenses and defenses, in preparation for the telecast.
Five years ago, Tony Romo retired as an active NFL player, jumped into the CBS broadcast booth, and immediately became the darling of fans and media for the excitement he brought to his telecasts. Romo's enthusiasm for the game and understanding of modern offense allowed him to predict plays successfully, making him an instant sensation.
Greg Olsen will finish his second season as a full-time broadcaster on Feb. 12 from the NFL's biggest stage, calling Super Bowl LVI for Fox with play-by-play partner Kevin Burkhardt. Olsen hasn't drawn the must-see buzz that Romo did early in his TV career. No fan likely tuned into Fox's top NFL telecast, "America's Game of the Week," to listen to Olsen's analysis. His work doesn't draw nearly the same amount of acclaim.
But the shine has worn off Romo with viewers during the past couple of NFL seasons. Watching a game with Romo in the booth previously felt like sitting alongside a fellow fan, jubilant at fantastic plays or clever strategy, and disappointed at performances that fell short. His energy also elevated Jim Nantz as a play-by-play announcer, bringing him back to life after 13 seasons alongside Phil Simms.
Now, however, Romo's outbursts — noises in place of words, or outright yelling — seem like a crutch when coherent thoughts can't be articulated. Where there was once fascinating insight from the analyst position, the former Dallas Cowboys quarterback often resorts to clichés and platitudes that don't add to a fan's understanding of what's happening on the field.
Worst of all, Romo sometimes talks merely to talk, filling a quiet space when a broadcast needs to breathe or the images are saying enough on their own. That's especially awkward when paired with a veteran like Nantz, who's a master at letting the moment speak for itself rather than trying to punctuate it with unnecessary narration.
On Fox's telecast of the 49ers-Eagles NFC Championship Game, Olsen explained how play-calling changes when an offense intends to go for it on fourth down. He showed an awareness of the strategies that each coach employed to gain an advantage or neutralize what the opponent was doing well.
Early on, he highlighted San Francisco defensive end Joey Bosa holding back on his natural impulse to pursue the quarterback at all costs. Instead, he maintained a position that prevented Eagles quarterback Jalen Hurts from running to gain yardage when pass plays weren't available.
With analysis like this, Olsen creates the perception that he studies each team, breaking down the film of their respective offenses and defenses, in preparation for the telecast. He doesn't appear to be surprised by what he sees because that prep work — watching film, talking to coaches and players — informs him of the eventualities and possibilities that could arise during a game.
The hardcore football fan, those who repeatedly watch highlights and replays, loves that kind of analysis. Such attention to detail feels gratifying because it demonstrates that the person calling the broadcast is as serious about this stuff as the viewer who's waited all week for the big game.
Yet a more casual fan is also drawn in because of Olsen's amiable personality and ability to explain things simply and clearly. It's similar to what viewers enjoy about ESPN's "ManningCast" for Monday Night Football. Yes, there are jokes and funny moments. But Peyton and Eli Manning both explain strategy and preparation very well.
By comparison, Romo comes off like a broadcaster who's winging it, letting his personality and enthusiasm fill gaps created by a lack of preparation. That might be a completely unfair criticism. We don't know what kind of work Romo puts in leading up to a telecast. Maybe he watches as much film as Olsen. Perhaps he talks to everyone available to the broadcast crew in production meetings.
If so, however, that doesn't show itself on the CBS telecast. Romo's work on Sunday's Bengals-Chiefs AFC Championship Game telecast was an improvement over his call of the Bengals-Bills divisional playoff clash. During the previous week, Romo acted as if he didn't have to provide any insight because this was the match-up fans had anticipated all season and already knew everything about the two teams.
Perhaps in response to that criticism, Romo made a point of highlighting the importance of each team's defensive coordinator — Cincinnati's Lou Anarumo and Kansas City's Steve Spagnuolo, respectively — in disrupting the performance of quarterbacks Patrick Mahomes and Joe Burrow. But rather than demonstrate an actual strategy during a replay, he stated that each defense would come after the opposing QB and create pressure.
Ultimately, the difference between Romo and Olsen seems to be schtick versus knowledge. But it's also a product of how each analyst reached their position. Romo joined CBS's No. 1 NFL broadcast team without previously calling any games. (As BSM's Garrett Searight points out, that immediacy and recent connection to the game fueled what felt like fresh analysis.)
Meanwhile, Olsen called games during bye weeks while he was still an active player and was on Fox's No. 2 crew with Burkhardt before being elevated to top status following the departure of Joe Buck and Troy Aikman to ESPN. He's had to get better out of necessity. Even now, as Olsen establishes himself as his network's top analyst, he faces the possibility of being bumped from that position when Tom Brady retires and cashes in on the massive contract Fox offered him.
Compare that to Romo, who's the highest-paid NFL analyst on television. His $18 million annual salary set the bar other top broadcasters are trying to reach. And he has seven years remaining on the 10-year contract he signed with CBS. That is significant job security. Even if network executives (or Nantz) lean on Romo to improve his flaws, how much motivation is there when he's already been anointed a broadcasting king?
However, NFL fans and sports media are making it clear what they prefer from their football broadcasters. They want insight and substance. They want to learn something from the commentary, rather than just be told what they can see for themselves.
Olsen is providing that and is being rightly lauded as a broadcaster living up to his status. Romo is suffering a fall from acclaim and has become a weekly punching bag. If he and CBS want to change that, he'll have to bring more to the booth each week. In the meantime, Fox should consider appreciating what it already has, rather than welcome a glitzy name.
Ian Casselberry is a sports media columnist for BSM. He has previously written and edited for Awful Announcing, The Comeback, Sports Illustrated, Yahoo Sports, MLive, Bleacher Report, and SB Nation. You can find him on Twitter @iancass or reach him by email at iancass@gmail.com.