Meet The Market Managers: Mary Menna, Beasley Boston
"You have to do what's right, and when what's easy and what's right are the same thing, you know you've hit the jackpot."
In her radio life, Mary Menna only knows one place. A Jersey girl by birth, Mary has been working in Boston radio ever since she attended college there. She started as an original promotions assistant at WBCN. Now she runs Beasley's six-station cluster in the city, which includes 98.5 The Sports Hub.
Everyone knows the Sports Hub's track record of success: monster ratings, reliable revenue, and more than a few Marconi Awards. Since it's launch, it has become one of the dominant brands in Boston let alone across the country. That's why when Mary learned there might be a chance to bring the station into the Beasley family, she jumped.
In this latest edition of the Meet the Market Managers series presented by Point To Point Marketing, I chat with Mary about play-by-play relationships, the previous challenge of replacing Mike Thomas, managing a cluster through a pandemic on the fly, and much more. Check it out.
---
Demetri Ravanos: Tell me a little bit about what the conversations were like at Beasley when you realized that there was a legitimate opportunity to bring 98.5 The Sports Hub in-house.
Mary Menna: So that was in 2017. We were at an NAB Conference in whatever city it was in during that year. Caroline Beasley asked me to go to her suite for a meeting, which I did, and in that meeting she said "Normally I would make you sign an NDA, but you're going to swear that you're not going to say anything to anyone. And I said, "I promise.". She's my CEO! She told me, "There is an opportunity for us to buy a spin off from the Entercom/CBS deal. What would you want?". I said, "the only station I want is Sports Hub." She said, "that's the only one you want?" I said, "that's the only one I want." 
Then I think she went and talked to David. I think Entercom would have wanted to keep WEEI anyway, because WEEI was a cornerstone of their company at the time. It was the biggest station they had, and they had a lot invested in it, not to mention a lot of emotional investments in it as well.      
We initially talked about perhaps doing a two station deal for two stations and in the end it became the Sports Hub for Magic 106.7 plus cash.
DR: Was it a situation where you and Caroline had the conversation and you had to be quiet about it until the deal was done? Or were you able to share the news and strategize in your building before the deal was announced? 
MM: I was not able to share it with anyone, but a hurricane happened that year. I think the hurricane was hitting Naples at the time. After that meeting, I brought Caroline back to Boston and the joke was we were kidnapping her and not letting her leave. She worked out of our Boston office for several days, and during that time she brought in our VP of programming, Cadillac Jack. But it wasn't up to me to bring anyone in. It was up to her. It was her secret.
She bought Cadillac in on it and then we strategized it. We didn't want to give up Magic because that was our flagship in Boston at the time, the largest station that we had. But that was the deal. We had to give them Magic. So we did. 
DR: So the station then comes into your building, and it was a really interesting dynamic because Phil Zachary ends up leaving Boston's Entercom cluster to move to Hartford, and Mark Hannon, who had a major role in building the Sports Hub along with Mike Thomas as part of CBS Radio, now moves over to Entercom.
I would imagine that there were guys on the Sports Hub staff wondering what this change was going to mean for them and their options. How did you handle talking to them, making them feel welcome, and making it clear that Beasley had a vision for the brand's future? 
MM: When that happened, it affected four different companies in the marketplace. iHeart got some spin-offs, we got the Sports Hub, CBS and Entercom were merging, and people didn't know which boat they were going on. Then it was all held up by the DOJ. You had people in conference rooms all over the city waiting for a tentative time of when we'd be able to announce it, and we were all going to announce it at the same time, but were waiting on the DOJ.
We thought we had a certain time all set but then the DOJ got held up. We took them out of the conference rooms because we thought, "well, we can't let them sit there any longer," but then once we did that, maybe 20 minutes later, we got them all back in and announced what was happening.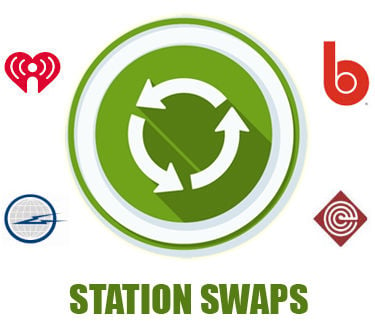 There was a lot of speculation going around the marketplace even before that. Nobody knew who was getting what or where they were going. Mark and I are friends, and Alan at iHeart and I are really good friends, because I worked there for a million years and we worked together. Some of the transition was made easier because of those relationships. We all wanted to do the right thing for our people because they're the ones that were being displaced, and they didn't know what was happening to their livelihoods, their families, their jobs, and all of that stuff. 
I had already set up a meeting. I was going to be able to go into the CBS building and meet with The Sports Hub staff, and then come back here. Mark would then come here to meet with our people. I went to the CBS building with some of my key people. We did a meeting. Mark introduced me. They could tell that Mark and I had a good relationship and thought, "OK, well, let's see if he likes her and she likes him, we're going to be OK." You know, it's like parents are getting divorced and you want to make sure that the kids are OK, right? What we announced at that meeting was "we have a very limited amount of time here. We wanted to come and welcome you and introduce ourselves, and answer any of the questions that you might have that we might be able to answer now, and just tell you it's going to be OK, but bear with us."
I scheduled a cocktail party, because I do like cocktails, that afternoon at a bar/restaurant right near their office. So I said, "if anybody would like to get to know us better, we're going to have a few other managers that aren't here at this meeting, come over and join us. We'll be there at 4:00. You can come by and have a drink with us."
I always think that you can break the ice better in a social situation rather than in a big group meeting where people are afraid to speak. So we did that. We had a great time and rolled out the red carpet. I think that was really just a good way to deal with a really difficult situation, because we ended up not taking over the station for another month. They were in a trust, so that adds a whole other layer of corporate weirdness because when they're in a trust, we're not really allowed to deal with them. We were able to do small stuff, but we couldn't make decisions. The trust makes decisions. They were still in the other building for quite some time because we had to build out studios. There was a little bit of lag time.
The sales people ended up coming over before the rest so sales and programming were disjointed because they couldn't see each other. It was just a series of stuff. It wasn't until July after the deal was done that the studios were completely done, and they are beautiful. They're also TV studios. It's not like you put up a couple of boards. There had to be a lot of cameras, lighting, more cable, and other technology because two of our shows broadcast on NBC Sports Boston.
DR: Particularly when you have the sales staff in the Beasley building and the programming staff not yet moved over, how important was it in your mind to connect with Mike Thomas and make sure he was able to sell what Beasley wanted to do with the station to his staff, or make sure his staff understood what Beasley didn't plan to do with the station that some people may have feared?
MM: Mike had an office here too. He went back and forth a lot. So Mike and I were attached at the hip.
You know, here's the thing. In 2021, we're used to remote communication, right? But in 2017 it was a little clunkier. Now you'd say "What was the problem? We do remote communication 22 times a day." But at that point it was a little different.
You had to be respectful. It was someone else's building. It's not like I could decide on the drive in "I'm going to pop in and see T&R this morning, and just sit in on the show." It wasn't my house. You had to be respectful. If I needed to have an insurance meeting there with people, I would go through the right channels because you can't just show up unannounced.
Mike had a little bit more leeway because we had to have an office in that building. We had to be respectful of the boundaries between all of the companies. I think iHeart had some people in there for a while too. So it was just a really weird time. But like I said, if it was 2021 after a pandemic, it would be a little more normal. We worked through it though. You try to build relationships over the phone. You have in-person lunches with people. That was a great thing. You do a cocktail at the end of the day with someone. You go to games with them. If they're broadcasting at games, you stop by the broadcast booth to spend a little time with them. We were able to build those relationships, we just didn't see them every day.
It was great to finally bring them all together and welcome them into the building on a full time basis. I think we migrated different departments over that period of time and the last people to come over were when we flipped the switch on a weekend and brought the on air team over.
DR: I appreciate the detail on all of that. It allows industry people who follow Boston to get a sense of what that period of time was like. Let's fast forward a bit though. Mike Thomas moved on at the end of 2019 to Chicago where he's now the Market Manager for ESPN 1000. That meant you had arguably the most coveted PD job available in sports radio in decades. I'm sure your phone and inbox were full of messages and members of your corporate team were being hit up regularly. What was it that gave you the confidence that Rick Radzik could ascend to the top job and keep the brand thriving?
MM: Rick was the assistant program director for the entire duration of the existence of the station, so he has a lot of institutional knowledge. This radio station, as many sports stations do, has so many moving pieces: three on-air hosts in every day part, four play-by-play properties, live weekends, etc.. He knew how all those moving pieces worked.
We interviewed a lot of people, and I'll say that the team really rallied for Rick. As a matter of fact, Marc Bertrand had bumper stickers made up for him. In addition, they started a write-in campaign and got signatures around the building. It was really heartwarming to see the team wanted him and was rallying for him. I did talk to people and made sure that they didn't just want Rick because Rick was going to be easy on them or he was the person that they knew. I always say that when you have an open position like that, you have to interview a lot of people because you can't do what's easy. You have to do what's right. When what's easy and what's right are the same thing, then you know you've hit the jackpot.
It became clear that was what was right and easy was the same person – Rick. When those two things come together you know you're making the right decision that affects so many people. If you put the wrong PD in a situation like The Sports Hub, where so many big personalities are involved, it can screw up the whole thing.
Then I looked at Rick in his first year in that job and he gets hit with a pandemic. In March he gets hit with the end of live sports. We've got to punt, kick, and try to figure this all out. If there was somebody in that job that wasn't familiar with the infrastructures of the Patriots, Bruins and the Celtics, and didn't know the inner workings of our talent and scheduling, it would have been a disaster. But he had all that institutional knowledge.
If we had somebody from another market who didn't know all of the personalities, sports teams, and simple things like 'how do you get from TD Garden to here?' and capable of making those lines work, it could've been rough. We're really, really lucky, and I was very proud that in his first year in the job, Rick propelled himself onto your list at #5. Thank you for that. I think that's a true testament to his abilities and what he's done in this year.
DR: Anyone that I've had a conversation with about Rick is a true believer with him in that position. I've never heard from anyone where the reaction was "I can't believe they're going with the APD instead of, candidate X."
MM: I think that if someone does a really good job and works really hard for 3 years, 5 years, 10 years, whatever the case may be, that person should receive extra consideration. Especially if they're great.
You don't want people to have to leave your organization to grow. You should be able to grow your own people. That's what we do as coaches, right? We want to mentor our people and make them better.
What's the message? Once you get great, you need to go to another market? That's not something that you really want in terms of a really solid organization and keeping it going into the future.
DR: Speaking of Rick's institutional knowledge of The Sports Hub, you guys had a moment last year where Fred Toucher needed to step away from the morning show for a period of time. That show is a powerhouse, not just in Boston, across the format, nationwide too. Everybody knows what 'Toucher and Rich' do. I wonder if you or Rick ever allowed yourselves to entertain or even sat down to make a plan for "what is our plan in mornings if Fred said he couldn't do this anymore? What if he didn't want to continue?"
MM: I never thought that that would happen, and I do want to say that I'm so proud of Fred for being able to make that determination and do what was necessary to get himself in a much better place. And he is in such a great place.
I am so proud of him every day. He's doing a great job. His show sounds better and his life is great and his family is great. I'm just thankful that we were able to come to that point where he made that turn and he did it himself. I never planned for anything other than Fred coming back. I believed in him!
DR: I think a lot of people across radio, regardless of format, recognize that sports can be an expensive endeavor, particularly in a major market, when you have the kind of success that you guys do. When you told Caroline "this is the only Boston station that I want" and you factor in all of the expenses necessary to operate a brand of this magnitude, I imagine it isn't cheap. Do you ever feel you're under a microscope or certain things need to happen year in and year out to justify the amount it takes to run a station like The Hub?
MM: I think it's a rate of return, but you're right. Sports is expensive. Rights fees and personalities cost a lot. Live morning shows on music stations are expensive. Original compelling content is expensive. It's not just repurposed content. It's original programming and that costs money. So the rate of return has to be there.
Fortunately, we have a fabulous sales team and the station works, so it's a lot easier to generate revenue using a platform that generates results for clients. The math on this station, even though the expenses are extraordinarily high, it works because the clients and partners are there and we do generate strong revenues. The clients come back because the radio station is a powerhouse and it works for them and helps them generate business.
DR: On the subject of math, you have three of the four major play by play partnerships in the city of Boston. You've have had all of them for a while too. Are we past the point now where you have to do the risk/reward math whenever these deals come up for renewal?
MM: Play-by-play, really is not a liquidating entity, especially in the days when you're traveling to all the games. Now, I'd like to get back to being able to travel to away games. Going to Tahoe this weekend was terrific. I mean, it had some ice problems, but it was great. It was great to be able to call live sports live at an outdoor venue.
Maybe some stations do it differently where they actually make money on it, but I think play by play is a loss leader type of situation. It's essential to the radio station to keep it vibrant and rich and have those teams as part of the fabric of the radio station. What comes with being the flagship station of those teams is you have access to other programming that's outside of your regular play-by-play windows.
I think it's an important piece to make the radio station compelling with content and be fully integrated with the local teams. I don't think it's ever something that's going to work on a spreadsheet. If it can liquidate, that's great. But sometimes it doesn't liquidate. If you can break even, that's a win because they don't always break even.
It's an important component to programming, you know what I mean? I don't think we look at our personalities and say, "hey, what's the rate of return?" It's an art and a science. And part of this is art.
DR: I think about something like Tom Brady leaving town and the created content it produced in Boston for the better part of a year.
MM: It still does.
DR: Right, so is the payoff there the access you guys have that lets you follow every single step of the process with the Patriots because you are the partner? Or is the payoff to something like that less about what people tune in for with the games and more about what it brings people to hear Toucher and Rich on Monday or Felger & Mazz on Friday leading into the weekend?
MM: I think there's multiple touch points in a relationship. I don't look at it as it's just a payoff. Our relationship with the Patriots is an incredibly important relationship that goes back to the WBCN days. I think BCN was one of the first stations that actually put football on rock radio. It was definitely an early adopter.
The Patriots are a dynasty here. Even if they don't have a Super Bowl season like this year, people still care about the New England Patriots. It's in our blood. We want them to win, but even when they don't win we still love them.
The Kraft organization is incredible. One of the first things I did when we acquired The Sports Hub was extend our relationship far into the future. I added many, many years onto that contract knowing that Tom Brady would never outlast the length of our contract. Even if he stayed and didn't go to Tampa, it's still a contract that far exceeds a period of time where Tom would still be playing. I believe in the Patriots. I believe in their organization, and I believe in the Kraft's. So I went for the long bomb on that one.
DR: Given what we just saw in the Super Bowl, are you confident that the contract length will outlast Tom Brady?
MM:Yes. It's a loooooong deal!
Besides what it gives us in terms of the content and what it gives us in terms of stature and partnership, it also gives us something for our clients as well. It gives us access. It gives us the ability to entertain them in a luxury box. It's the opportunity to have them on the field before a game or visit the broadcast booth to feel what a broadcast is like. It allows our major partners to touch, feel and get up close and personal. That kind of access is is gold.
DR: Analyzing your own career for a minute, you've ascended to an important position overseeing a group of highly successful brands. But everyone can get better at something. What are some of the things you feel you need to learn still in order to confidently take that last step in your professional life?
MM: I think acquired knowledge just happens. Don't forget I was in the same building for 25 of 28 years. I took a three year sabbatical early on and went somewhere else, so I was always just a sponge and available if somebody needed something done. Even if it wasn't in my department. If I could help, I did, and I learned something from that. I think I've learned something from everyone I've ever come in contact with. They all make you better as you create your jigsaw puzzle of experiences.
A lot of people aspire to someday be a market manager. Well, I always said that I wanted to be the market manager of Kiss 108, but by the time I got to that job, the job had changed and become a lot harder. I wanted the job when a gentleman named John Madison had it, like in the 90s. I think whatever you do to prepare is great, but on the job training is invaluable. Whatever you thought you needed to know, it's great that you had that as a reserve, but you need to learn more everyday.
For instance, nobody could've prepared for April 2020, right? There was no manual. What are you going to do? How are you going to get all your people out of the building by March 16th? How are you going to be able to keep the place running and keep everyone safe while you still have people coming to the studios? And where do you find masks in March? And Purell when there's a shortage? I thought "Oh my God! I'm going to call a record label, Big Machine, because they have a bar in Nashville that's changing their vodka distillery into sanitizer. Great!" You know, "Hey, Big Machine, Can I get some of it?"
I think you have to be resourceful. We're in radio. We know how to put things together with band-aids right?
When all of this started, I just made a list. What do we need? How do I wrap the building in Plexiglas when I have no budget? I learned that we needed MERV filters. I researched (Google is my friend) and figured out how many of them we had to have. Then, when it came to Plexiglas, I looked up the top 10 glass companies in the market. "Everybody gets to call one person, so go get an appointment with somebody to see if they want to be the official glass company of the Sports Hub or whatever. Go figure it out!"
People weren't spending cash then, so we did a lot of trade. We upgraded a lot of our systems to make the place safer. That's not something that's in a "How to be a market manager" manual. That's something that you just learn by having boots on the street.
DR: That's something that never had to be in a "how to be a human being manual" until last year.
MM: Right, so you figure out. I didn't have a manual for how to be safe in the workplace and deal with Covid, so I made one. The on air staff, those were the only people here for a few weeks. They were so used to not seeing anyone that I thought 'how do I make them feel safe once the sales staff start coming in?'
We're lean in people by nature. I'm Italian. I hug people. I kiss on the cheek. We had to teach our team how to be lean out people like, "hey, you're getting too close. You need to move back two more feet."
Everybody's figured that out now, a year later, but in the beginning, when they first started coming back in, it was a learning process. In these type of situations, you just have to pay attention to what's going on, think about what will help your people stay safe while working, and find different ways to get through it. And if need be, write your own manual if one doesn't exist.
Covid Is A Convenient Excuse For Lowering Our Standards
"I am sick of hearing lag and noticeably different levels of soundproofing between two hosts on the same show."
I was probably four hours deep into my all-day football binge on Saturday when I started to think about the overall quality of what I was seeing. This isn't a column about whether college football is secretly better than the NFL. This is about our industry.
While you may not notice a difference in the presentation on CBS's top line SEC broadcast or on FOX's Big Noon Saturday game, it is clear how few resources are being allocated to some of the games further down the networks' priority list. ESPN doesn't even send live broadcasters to its Thursday night college football game for instance.
Covid-19 was the beginning of this. It forced every business in the broadcast industry to re-evaluate budgets and figure out how to do games when travel and the traditional set up of broadcast booths simply were not on the table.
This isn't a problem limited to game coverage either. Plenty of hosts still are not back in their radio studio. Plenty of guests on ESPN's and FS1's mid day debate shows are still appearing via Skype and Zoom connections. It is as if we have started counting on our audience not expecting quality any more.
I want to be perfectly clear. I get that this pandemic isn't over. I get that in many cases, networks and stations are trying to avoid overcrowding studios and in some cases, make accommodations for top-level talent that refuse to get vaccinated. "It's survival mode," is the answer from corporate.
Do we still need to be in survival mode though? We are 18 months into this pandemic. The majority of Americans are vaccinated. The ones who aren't are actively making a choice not to do what they need to in order to put on the best possible show they can.
I am sick of hearing lag and noticeably different levels of soundproofing between two hosts on the same show. I am sick of seeing hosts on crystal clear HD cameras in a high tech studio talk to someone on a dirty webcam that can't be bothered to even put in headphones so they don't sound like they are shouting down a hallway.
A good example is the late Highly Questionable. I really liked that show when it was done in studio. I liked a lot of the ESPN talent that popped up on the show even after Dan Le Batard left. I couldn't watch any more of the show than the two minute clips that would show up on Twitter. I didn't want to see Bomani Jones behind a giant podcast mic. The low res camera that turned Mina Kimes's house plant into a green blob gave me a headache. The complete disregard for quality made a decent show hard to watch.
There was a time when the accommodations we made for Covid-19 were totally necessary. Bosses and broadcasters did whatever they had to to get a show or a game on the air. At this point, I am starting to wonder how much of the concessions are necessary and how much are the result of executives that "good enough" is the new standard.
It is totally reasonable to argue that in an age where microphones and editing software are cheap, slick production doesn't carry the weight it once did. That is true for the podcasters and TikTokers that are creating content in spare bedrooms and home offices. If you're ESPN or FOX or SirusXM, that slick production is what sells the idea that your content is better than what people can make at home on their own.
It's soundproof studios, 4K cameras and futuristic graphics packages that make the standard setters in the industry special. Maybe your average Joe Six-Pack can't put it into words. He just knows that a lot of home-produced content sounds and looks like play time compared to what he sees or hears on a network.
Sure, the anchors are the signature of SportsCenter's heyday, but it was the stage managers, producers, and other behind-the-scenes staff doing their jobs that really made the show thrive. Those people cost money. The details they took care of may be something 90% of viewers will never notice. They will just know that they are watching a really good show. Those difference makers cannot do their jobs to the best of their abilities if everyone is being piped in from a different FaceTime feed.
In the early days of the Covid-19 pandemic we did whatever we had to. As broadcasters, we made compromises. As an audience, we accepted compromises. We were desperate for familiar entertainment and if Zoom is what it took to get it, that was just fine. There was no cure, no vaccine, things were scary and we were all anxious not knowing how long it would all last.
More than 18 months later, things may not be back to normal, but we are considerably less desperate. There are signs of normalcy in the world. Make the commitment to bring back the standard that won you so many fans in the first place.
If Netflix Wants Live Sports, F1 May Be Just The Beginning
"Netflix will shrewdly need to continue to rethink its strategy because its first-mover advantage and long-time industry leading dominance is no longer guaranteed."
In the past, Hollywood dealmakers and stockbrokers wondered whether another studio or streamer would catch Netflix.  Its dominance stemmed from being a first-mover and not having a serious competitor until Amazon and Disney ten or more years after their launch.  However, Netflix would eventually have to compete for content, original and licensed, other platforms that offered less expansive ad-based options, and additional content like live sports or a very popular series or movie premiere.  
Arguably, the pandemic accelerated the move to digital and it allowed competitors to gain subscribers because people were spending more time at home.  More subscribers and additional streaming options for consumers has not caused Netflix to faulter, but it has caused Netflix to rethink its sports strategy.  For years, Netflix was dead set again streaming live sports because of their cost and commercials—Netflix does not have advertisements on its platform currently.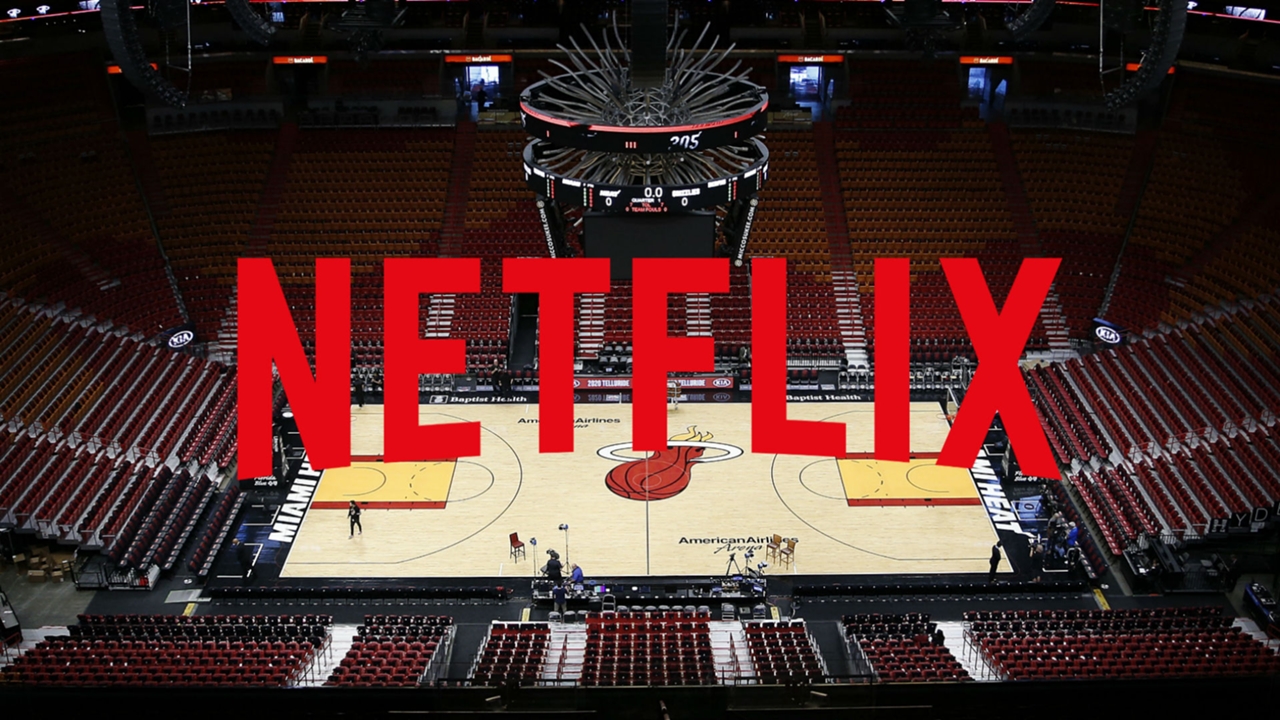 Netflix's popular Drive to Survive docuseries about the Formula 1 (or "F1") racing circuit, which was renewed for a fourth season, and the Michael Jordan/Chicago Bulls The Last Dance represents a golden era and renaissance of sports documentaries.  As much as fans of feature films and television series enjoy learning about actors during and off camera they similarly want to know about sports stars, their coaches, and franchises.  In other words, the business of sports is booming in valuation and behind-the-scenes content.  
Recently, Netflix CEO Reed Hastings stated that the popularity of Drive to Survive has caused the company to rethink its stance on purchasing live sports content.  The broadcast and streaming rights to Formula 1 will become available via ESPN and Sky Sports in 2022 and 2024.  Netflix, will have some competition to secure F1 rights, which will drive up the cost.  It was also reported by Front Office Sports that the Netflix CEO would require a level of exclusivity for sports rights that other platforms do not normally require.  The exclusivity is likely required because Netflix will want to justify the purchase price and to keep-in-line with what Netflix customers expect—exclusive content on the platform.  
With Premier League club Manchester United looking to secure a broadcast deal for selling its rights outside of the traditional league format, it might be the perfect acquisition for Netflix. An exclusive team vs. an entire league would also be less expensive and more targeted. One aspect of uncertainty for all streamers is their subscribers overseas, particularly in untapped China. The international market is far from settled or established. Netflix also has a large operation in India so possibly cricket via the Indian Premier League ("IPL") could be a rights purchase to consider.
In 2018, the original content on Netflix only accounted for 8%.  This means that 92% of the content on the platform just a few years ago was all owned (at least partially) by someone else.  That statistic has changed because Disney+, Paramount+, Peacock, HBO Max, Apple+, and many others have since been created and stocked or restocked with content.  Controlling interest in Hulu was even purchased from FOX by Disney.  Disney and Amazon now both rival Netflix in terms of subscribers.  Netflix will shrewdly need to continue to rethink its strategy because its first-mover advantage and long-time industry leading dominance is no longer guaranteed.  
As Comcast-owned NBCUniversal CEO Brian Roberts recently said, purchasing sports rights can be difficult.  Sports rights are expensive.  Exclusive sports rights are even more expensive.  Sports rights only become available every five to ten years.  Networks and streamers are highly competitive to secure those rights with the hope of landing viewers, subscribers, and advertising dollars.  
Will Netflix get into sports rights bidding?  In the past, the digital entertainment giant has been steadfast is its non-sports approach.  However, the market has changed and is flooded with more competitors now.  Netflix has to change to meet its customer and the market needs.  
Formula 1 presents an interesting scenario for Netflix as a buyer and partner.  F1 is a popular league internationally and growing in the United States.  Two new F1 races in Miami, Florida, and Austin, Texas, in addition to season four of the Drive to Survive Netflix series are sure to drive traffic, pun intended, and interest in the racing sport.  
Formula 1 is a sports league that will cost less to purchase streaming rights than a traditional American "Big 4" like the NBA, NFL, or MLB.  Formula 1's structure is also centered at the top so it would be easier to make an exclusive deal that Netflix seeks.  The remaining questions being, will Netflix pursue Formula 1 sports rights to increase its streaming platform subscribers and compete with others?  Second, will Netflix be the first to offer commercial free live sports programming—for a premium price—or offer in-screen ads and additional during-break inside looks, content, and analysis?  Or will Netflix act more like a traditional broadcaster and offer advertisements to pay down its purchase price?  One will know more after a few laps around the sun.
Manningcast Is Best Experienced As A Fan, Not As A Broadcaster
"I still would've watched the game had the alternate not been available, but with the Manning breakdown of each play, I was watching an otherwise meaningless game on the edge of my seat."
Much has been written on this site already about the ESPN alternative to a traditional Monday Night Football broadcast, the Manningcast. Andy Masur asked if it worked and questioned the network pulling its audience in two different directions. Mark Madden said the concept undoubtedly works, but the content is poor.
Both articles are good reads. Both provide another level of insight from those in the industry and how they view this unique/high-profile concept. Industry views provide solid insight to the success and quality of the show itself, what works – what doesn't. But if we can't sit back and take our industry glasses off, and just look at this broadcast as sports fans, I feel we'll never see it in clear view.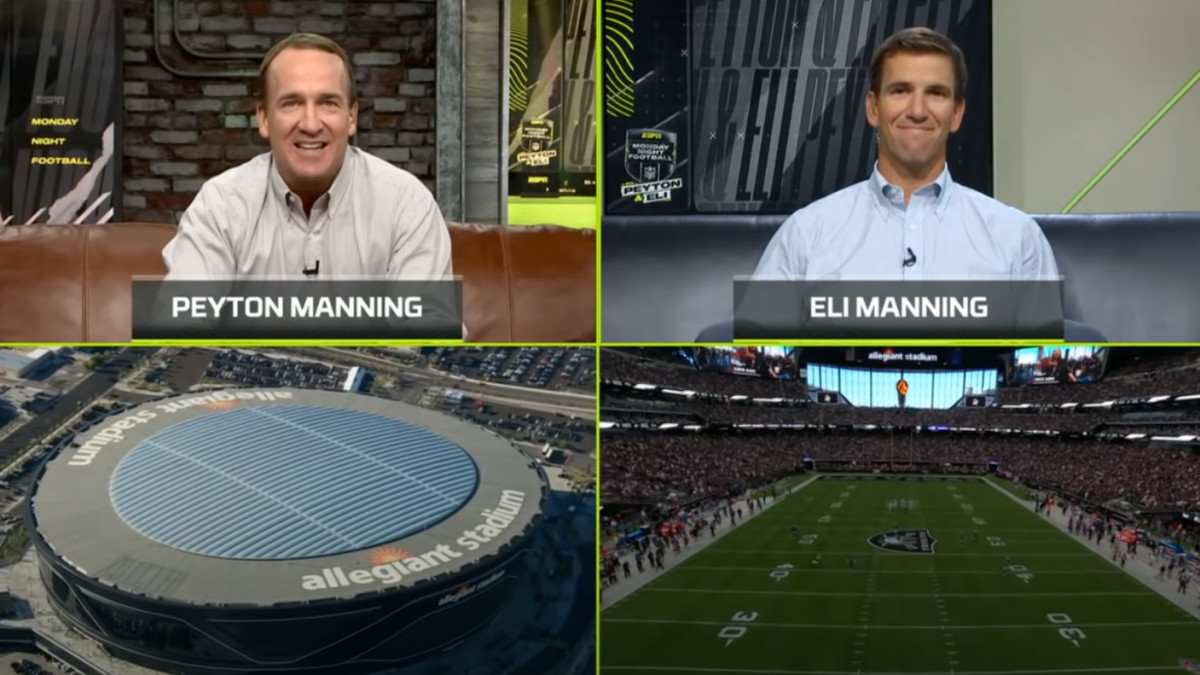 I'll admit, for me, it took me no more than 5 minutes of watching week 1's Ravens vs Raiders game to say "yeah, this isn't meant for me". I didn't like the non-traditional approach of the broadcast, it felt like it lacked the energy of a traditional sportscast. The stadium volume was turned way down, the excitement was more in the conversation they were having with each other, rather than the game itself. It took me out of the moment of the game, rather than allowing me to get sucked in.
Now, in fairness, I kind of went into it with a narrow mind, thinking that would be the case. I am not someone who has the desire to flip around during the College Football Playoff broadcasts and catch the coaches corner or studio chatter, I want the game. 
Bottom line is, I hated the Manningcast when I watched it in Week 1. I even went on the air the next day and trolled members of my audience that were effusive in their praise of it. In the limited sample I provided for myself, I had come to the conclusion that this broadcast wasn't made for REAL football fans (insert caveman sound effect here) and that only the most casual viewer would want to watch this SNL wanna be of a football broadcast. 
However, week 2, I decided I was going to be more open minded to it. I made it a point to break away from the traditional Packers vs Lions broadcast and watch the Manningcast, no matter how painful. I was completely wrong in my initial opinion.
Was Peyton Manning wearing a helmet and acting a little too zany for my taste in week 1? Yes. Is the guest connection quality well below what we should find acceptable in broadcasting? Yes. But that's where I made the mistake. I was looking at this broadcast through the eyes of a broadcaster and not as a sports fan. 
Peyton Manning's charisma jumps off the screen, he is elite at describing what he sees on the field in a way that no one else can. Eli can be a little dry, but he's low key funny. And they have real chemistry together, as they should. They are family after all.
The thing that hooked me the most was just how invested Peyton was in the plays on the field, he really gets into the game, truly invested in the success and failure of the quarterbacks. There was a moment in week 2 when Jared Goff threw the ball to an empty patch of grass 15 yards down the field and was subsequently called for intentional grounding. You could see Goff yelling at the referee, pleading his case. Peyton surmised, probably accurately, that Goff was telling the ref that the ball was thrown to the right place and that its not his fault the receiver didn't run the correct route. Peyton then carried on and told stories of when this type of thing would happen to him when he played for Indianapolis and Denver. I was hooked. 
I realized that I was far more invested in week 1 as a stand alone football game, I'm from Baltimore, I have a lot of love for the Ravens. Being invested in the game itself doesn't lend as much flexibility. As a fan, you to want to hear about anything else but the action on the field. However, when watching two teams that I have no personal interest in, the Manning broadcast took on this new life. It created a level of interest for me as a REAL football fan that I otherwise would not have had. I still would've watched the game had the alternate not been available, but with the Manning breakdown of each play, I was watching an otherwise meaningless game on the edge of my seat. I felt like I had a front row view to a football clinic, held by two of the most accomplished players in league history.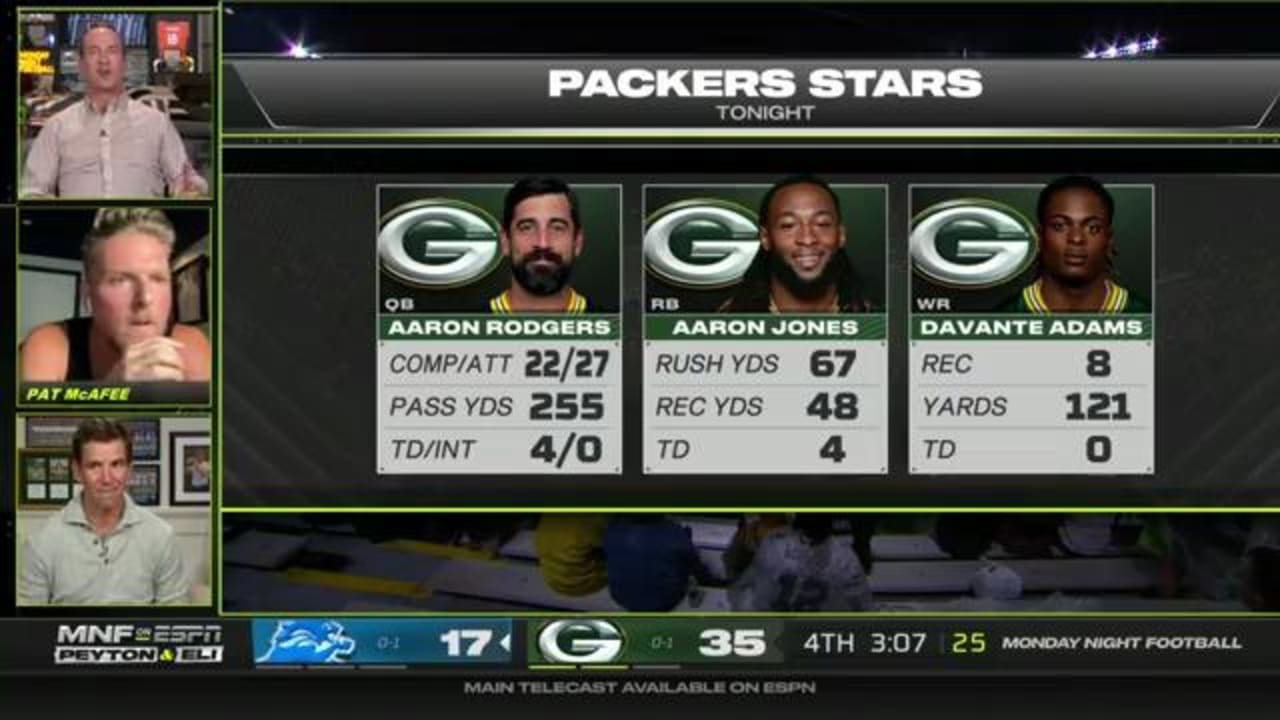 Personally, I could live without the guests. I am not as entertained by the back and forth with Rob Gronksowski or Pat McAfee as it seems the majority of social media is, but the Manningcast does a brilliant job of bridging the gap between the hardcore football fan and the casual observer. It's an absolute hit and I'll be locked in for the next one.