Once Crisis-Addled, NFL Thrives In New Riches And Buzz
Surviving racial upheaval, a concussion crisis and a pandemic, the league will rule American sport into the next decade, pivoting around issues to command a $100-billion-plus TV payout while generating a 365-day news cycle.
Wasn't football supposed to be ghosted by now, a victim of cancel culture? Allow me to jog America's convenient amnesia from, say, four years ago. If the concussion crisis and a continuous flurry of personal conduct cases wouldn't kill the NFL, then the Colin Kaepernick backlash certainly would. That's what the media were doomcasting then, mainstream and social alike.
Book it: A league lorded by old, white, tone-deaf billionaires had no chance of surviving the onslaught of the people.
So why is it, people, that the NFL in 2021 is more prominent, prosperous and almighty than ever? Deftly surviving those existential challenges AND a global pandemic that didn't cancel a single game, the league is successfully doubling its media rights bonanza, commanding a collective $100 billion-plus from networks and streamers beholden to the owners like never before. Not only will the NFL remain king, it will stay atop the throne into the next decade, with 17-game regular seasons stretching to 18. And if it didn't do so without selling out — Roger Goodell, meet the grimy casino world — the league has maintained cross-demographic relevance while Major League Baseball is battered by crippling crises and the NBA struggles amid internal upheaval.
You don't have to like how the NFL avoided its so-called demise, politicizing and scheming all the way. I'm not a fan of the Jerry Jones grandstand and the Robert Kraft rub-and-tug, a crime he got away with, of course. But if we once looked at Goodell and thought he was the world's biggest idiot, who's saying that now? Ray Rice forced the league to look inward and crack down on off-field crime. Safety rules were installed to protect brains. Quarterbacks were surrounded by impenetrable force fields, or so it seemed, and maximized for optimum starpower and importance. Offenses exploded, giving rise to Patrick Mahomes, Deshaun Watson and magicians friendly to TV audiences, fantasy geeks and millions of thrill-seekers lapping up the league's new embrace of legalized gambling.
And when the Kaepernick fallout could have led to labor ruin, Goodell finally expressed what he should have said years before, showing up in his home den — was he in pajamas with giraffes? — and declaring, "We, the National Football League, condemn racism and the systematic oppression of black people. We, the National Football League, admit we were wrong for not listening to NFL players earlier and encourage all to speak out and peacefully protest. We, the National Football League, believe black lives matter."
Crisis averted, the NFL was restored as the epicenter of American sports, the last remaining form of premium appointment media in an evolving culture of cord-cutting, Gen-Z indifference and relentless life problems — COVID-19, racial protests, political madness, deadly Capitol Hill riots and who in God's name knows what else. Sports doesn't matter to the masses as it once did.
Football still matters.
Flip on the TV. Check out the websites. Tune to sports radio. What is the dominant topic in March, as America slowly tries to vaccinate itself out of a corona-nightmare? It isn't college basketball, which might have brackets but lacks the usual passion and interest heading inside an Indiana bubble where only smatterings of fans will be permitted for a sport reliant on energy. The NBA? The All-Star Game was a COVID-distracted bore, and wake us up when the playoffs start and the Brooklyn Nets realize they can't win a title without a defensive stop, regardless of unprecedented offensive machinery. Baseball, careening toward a devastating labor impasse, is appropriately drawing more attention for sexual harassment than anything happening on the fields of spring training. Are they even playing hockey?
Here's what America is talking about: the NFL. Through the postseason and another Ageless Tom Brady coronation, the buzz somehow hasn't stopped. Now it's all about quarterback-o-rama, the mobility of nobility, non-stop debates on where Watson and Russell Wilson might be headed as they demand their way to preferred destinations. As I've written, this get-me-out-of-here-ism isn't healthy for the league's competitive integrity or balance, but it's great for media traffic. Which explains why every legitimate development is met with an enormous headline: Ben Roethlisberger is staying in Pittsburgh … Matthew Stafford finally fled a loser in Detroit for a chance to win in Los Angeles … Carson Wentz, who could play Prince Harry in the movie if this football thing doesn't work out, has a rehab shot in Indianapolis.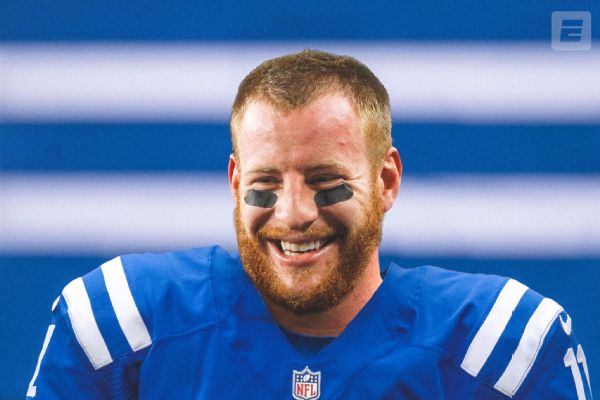 The drama is only beginning, sure to extend through an April 29 draft night that will include teams jumping the line with trade-ups. Don't be shocked, after Trevor Lawrence joins Urban Meyer in Jacksonville and Zach Wilson's life is ruined with the Jets, that the Panthers trade up to take Justin Fields and the Falcons select Trey Lance — yep, quarterbacks with the first four picks — with the 49ers potentially moving up to No. 9 to snag Mac Jones. But those calls are weeks away. As long as Wilson and Watson aren't tethered to their current situations, the hum will grow louder.
If the Seahawks now are listening to Wilson offers, does that mean the four teams on his agent's stated wish list — Cowboys, Bears, Saints, Raiders — now have legitimate shots? Shouldn't Wilson push hard for New Orleans and do his best to avoid Boss Jerry, Jon Gruden and Chicago's QB dead end? And what if the Saints don't land Watson or Wilson? Is that why Drew Brees, supposedly being fitted for an NBC blazer, was working out furiously on a video posted by his trainer? If the Saints don't want him anymore, might Bill Belichick take a one-year flyer? Or might he trade up for Jones, who's being compared to Brady, though he's more likely a byproduct of having DeVonta Smith in his daily radar at Alabama? Maybe Jerry tires of Dak Prescott's contractual demands — the guy has more commercial endorsements than playoff appearances — and trades him for Derek Carr … or Wilson.
Might the Bears be best served, given their dismal history at the position, playing an entire season without a quarterback? Will anyone opt for a feel-good triumph in Alex Smith? And who wants Sam Darnold? Maybe the Washington Football Team, which could make something of the misfit after extracting a decent playoff showing from Taylor Heinicke. And will Lamar Jackson, still a postseason straggler, become the next star to enter the get-me-out-of-here derby if the Ravens don't extend his contract to his wishes?
Know how crazy it's getting? Baker Mayfield — entrenched in Cleveland, at least until his next four-turnover game — tweeted something about seeing "a UFO drop straight out of the sky" on his way home from dinner. Fox Sports Radio host Colin Cowherd, who still would bash Mayfield if he won a Super Bowl, said, "I would prefer of all the qualities of a franchise quarterback … I want to know your arm. Are you good pre-snap? Are you mobile? The ability to see UFOs in the offseason is nowhere near my top 10 qualifications. Joe Montana, Troy Aikman, Terry Bradshaw, Tom Brady have never seen aliens. I would prefer my guys don't talk about it."
You'll never guess who stepped out of his Super Bowl hangover to respond. "How do you know I've never seen aliens Colin?" tweeted Brady.
With the Kardashians fading from mass TV consumption — may Kanye rest in peace — QB Chitter-Chatter is the new American gossip obsession. Whether it's a scam created by agents or a natural outgrowth of the most glamorous position in team sports, the rage is just another reason why Fox, CBS and NBC have no choice but to ante up, soon to announce 11-year deals at roughly $2 billion each to renew current packages. And why ESPN, with the promise of a long-coveted spot in the Super Bowl rotation, will pay more than $2 billion for "Monday Night Football" after initially balking at the NFL's demand of a fee increase. And why Jeff Bezos is an expected part of the mix, buying "Thursday Night Football" for his Amazon Prime Video platform and forcing Baby Boomers to figure out this streaming thing.
The post-pandemic media landscape will look like a war-torn battlefield, leaving uncertainty across the entertainment industry. Turns out the NFL was disruption-proof, its ratings holding reasonably steady when 2020 ratings were tumbling throughout sports, making football the surest investment bet for the networks. The league did lose $5 billion in 2020 revenue, yet still topped out near $10 billion, according to Forbes — while MLB was falling to $4 billion and the NBA, over two seasons, to $7.9 billion. With the new media jackpot, the NFL is the only major sports league without financial concerns, with the 32 teams assured of sharing added multiple billions per year.
If anyone has a crystal ball about where the world will be in 2031, please show me. It's possible a different collection of NFL bidders takes shape, from platforms we don't know about yet. Jones and Kraft likely won't be involved, and perhaps Bezos will have ascended to the ownership of the Washington Football Team. Maybe virus variants lead to another pandemic that forces sports into movable bubbles without spectators, designed by Elon Musk. My guess is your guess, much depending on whether the NFL retains the eyeballs of teenagers as they grow into disposable-income adulthood.
Until then, I just want to know where the doomcasters went.
Probably debating where Russell Wilson ends up, I suppose.
Being Wrong On-Air Isn't A Bad Thing
…if you feel yourself getting uncomfortable over the fact that you were wrong, stop to realize that's your pride talking. Your ego. And if people call you out for being wrong, it's actually a good sign.
In the press conference after the Warriors won their fourth NBA title in eight years, Steph Curry referenced a very specific gesture from a very specific episode of Get Up that aired in August 2021.
"Clearly remember some experts and talking heads putting up the big zero," Curry said, then holding up a hollowed fist to one eye, looking through it as if it were a telescope.
"How many championships we would have going forward because of everything we went through."
Yep, Kendrick Perkins and Domonique Foxworth each predicted the Warriors wouldn't win a single title over the course of the four-year extension Curry had just signed. The Warriors won the NBA title and guess what? Curry gets to gloat.
The funny part to me was the people who felt Perkins or Foxworth should be mad or embarrassed. Why? Because they were wrong?
That's part of the game. If you're a host or analyst who is never wrong in a prediction, it's more likely that you're excruciatingly boring than exceedingly smart. Being wrong is not necessarily fun, but it's not a bad thing in this business.
You shouldn't try to be wrong, but you shouldn't be afraid of it, either. And if you are wrong, own it. Hold your L as I've heard the kids say. Don't try to minimize it or explain it or try to point out how many other people are wrong, too. Do what Kendrick Perkins did on Get Up the day after the Warriors won the title.
"When they go on to win it, guess what?" He said, sitting next to Mike Greenberg. "You have to eat that."
Do not do what Perkins did later that morning on First Take.
Perkins: "I come on here and it's cool, right? Y'all can pull up Perk receipts and things to that nature. And then you give other people a pass like J-Will."
Jason Williams: "I don't get passes on this show."
Perkins: "You had to, you had a receipt, too, because me and you both picked the Memphis Grizzlies to beat the Golden State Warriors, but I'm OK with that. I'm OK with that. Go ahead Stephen A. I know you're about to have fun and do your thing. Go ahead."
Stephen A. Smith: "First of all, I'm going to get serious for a second with the both of you, especially you, Perk, and I want to tell you something right now. Let me throw myself on Front Street, we can sit up there and make fun of me. You know how many damn Finals predictions I got wrong? I don't give a damn. I mean, I got a whole bunch of them wrong. Ain't no reason to come on the air and defend yourself. Perk, listen man. You were wrong. And we making fun, and Steph Curry making fun of you. You laugh at that my brother. He got you today. That's all. He got you today."
It's absolutely great advice, and if you feel yourself getting uncomfortable over the fact that you were wrong, stop to realize that's your pride talking. Your ego. And if people call you out for being wrong, it's actually a good sign. It means they're not just listening, but holding on to what you say. You matter. Don't ruin that by getting defensive and testy.
WORTH EVERY PENNY
I did a double-take when I saw Chris Russo's list of the greatest QB-TE combinations ever on Wednesday and this was before I ever got to Tom Brady-to-Rob Gronkowski listed at No. 5. It was actually No. 4 that stopped me cold: Starr-Kramer.
My first thought: Jerry Kramer didn't play tight end.
My second thought: I must be unaware of this really good tight end from the Lombardi-era Packers.
After further review, I don't think that's necessarily true, either. Ron Kramer did play for the Lombardi-era Packers, and he was a good player. He caught 14 scoring passes in a three-year stretch where he really mattered, but he failed to catch a single touchdown pass in six of the 10 NFL seasons he played. He was named first-team All-Pro once and finished his career with 229 receptions.
Now this is not the only reason that this is an absolutely terrible list. It is the most egregious, however. Bart Starr and Kramer are not among the 25 top QB-TE combinations in NFL history let alone the top five. And if you're to believe Russo's list, eighty percent of the top tandems played in the NFL in the 30-year window from 1958 to 1987 with only one tandem from the past 30 years meriting inclusion when this is the era in which tight end production has steadily climbed.
Then I found out that Russo is making $10,000 per appearance on "First Take."
My first thought: You don't have to pay that much to get a 60-something white guy to grossly exaggerate how great stuff used to be.
My second thought: That might be the best $10,000 ESPN has ever spent.
Once a week, Russo comes on and draws a reaction out of a younger demographic by playing a good-natured version of Dana Carvey's Grumpy Old Man. Russo groans to JJ Redick about the lack of fundamental basketball skills in today's game or he proclaims the majesty of a tight end-quarterback pairing that was among the top five in its decade, but doesn't sniff the top five of all-time.
And guess what? It works. Redick rolls his eyes, asks Russo which game he's watching, and on Wednesday he got me to spend a good 25 minutes looking up statistics for some Packers tight end I'd never heard of. Not satisfied with that, I then moved on to determine Russo's biggest omission from the list, which I've concluded is Philip Rivers and Antonio Gates, who connected for 89 touchdowns over 15 seasons, which is only 73 more touchdowns than Kramer scored in his career. John Elway and Shannon Sharpe should be on there, too.
Money Isn't The Key Reason Why Sellers Sell Sports Radio
I started selling sports radio because I enjoyed working with clients who loved sports, our station, and wanted to reach fans with our commercials and promotions.
A radio salesperson's value being purely tied to money is overrated to me. Our managers all believe that our main motivation for selling radio is to make more money. They see no problem in asking us to sell more in various ways because it increases our paycheck. We are offered more money to sell digital, NTR, to sell another station in the cluster, weekend remotes, new direct business, or via the phone in 8 hours.
But is that why you sell sports radio?
In 2022, the Top 10 highest paying sales jobs are all in technology. Not a media company among them. You could argue that if it were all about making money, we should quit and work in tech. Famous bank robber Willie Sutton was asked why he robbed twenty banks over twenty years. He reportedly said," that's where the money is". Sutton is the classic example of a person who wanted what money could provide and was willing to do whatever it took to get it, BUT he also admitted he liked robbing banks and felt alive. So, Sutton didn't do it just for the money.
A salesperson's relationship with money and prestige is also at the center of the play Death of a Salesman. Willy Loman is an aging and failing salesman who decides he is worth more dead than alive and kills himself in an auto accident giving his family the death benefit from his life insurance policy. Loman wasn't working for the money. He wanted the prestige of what money could buy for himself and his family. 
Recently, I met a woman who spent twelve years selling radio from 1999-2011. I asked her why she left her senior sales job. She said she didn't like the changes in the industry. Consolidation was at its peak, and most salespeople were asked to do more with less help. She described her radio sales job as one with "golden handcuffs". The station paid her too much money to quit even though she hated the job. She finally quit. The job wasn't worth the money to her.
I started selling sports radio because I enjoyed working with clients who loved sports, our station, and wanted to reach fans with our commercials and promotions. I never wanted to sell anything else and specifically enjoyed selling programming centered around reaching fans of Boise State University football. That's it. Very similar to what Mark Glynn and his KJR staff experience when selling Kraken hockey and Huskies football.
I never thought selling sports radio was the best way to make money. I just enjoyed the way I could make money. I focused on the process and what I enjoyed about the position—the freedom to come and go and set my schedule for the most part. I concentrated on annual contracts and clients who wanted to run radio commercials over the air to get more traffic and build their brand.
Most of my clients were local direct and listened to the station. Some other sales initiatives had steep learning curves, were one-day events or contracted out shaky support staff. In other words, the money didn't motivate me enough. How I spent my time was more important.
So, if you are in management, maybe consider why your sales staff is working at the station. Because to me, they'd be robbing banks if it were all about making lots of money.
Media Noise: BSM Podcast Network Round Table
Demetri Ravanos welcomes the two newest members of the BSM Podcast Network to the show. Brady Farkas and Stephen Strom join for a roundtable discussion that includes the new media, Sage Steele and Roger Goodell telling Congress that Dave Portnoy isn't banned from NFL events.
Podcast: Play in new window | Download
Subscribe: RSS