Revolution In The Brackets, Rebellion In The Hotels
Sister Jean has become the norm in a script-flipped NCAA tournament, but be reminded that the athletes aren't being paid from a $1 billion pie — and should consider game boycotts amid COVID-19 disarray.
Why stop at basketball? Might Sister Jean Dolores Schmidt also save Tiger Woods? Cure the latest coronavirus variants? Stop anti-Asian hatred? Quell the maskless mobs on South Beach?
If you believe in fairy tales and Jim Nantz, yes, friends, this is a revolution. But if you've studied the sea changes in college hoops, you aren't shocked in the least, realizing there are no one-percenter elites in the sport now — and that Loyola-Chicago and its 101-year-old team chaplain just might win it all. The have-nots are terrorizing the haves as they invade traditional mansions, water-board famed coaches, ransack their stuffed safes and spray-paint the fine artwork with their own names — Oral Roberts, Abilene Christian, Ohio, the Mean Green of North Texas and Oregon State, which reduced the NBA's presumptive No. 1 draft pick, Cade Cunningham, to something ordinary.
And on their way out the front gates, owning all the cachet now, they are tweeting ha-ha-has back at the gamblers who legally bet against them.
Where's Duke? Kentucky? North Carolina? Michigan State? Louisville? The NCAA tournament is being played in Indiana, but there are no Hoosiers. I see no Ohio State, where the players are being threatened online by psycho fans, but I do see Ohio, from Athens, where I remember once attending classes and find the personal triumph of Jason Preston more compelling than anything on Netflix. I see Illinois crashing because of inflated egos and porous coaching, embarrassed by the modest school tucked away in a North Side neighborhood, Loyola, thanks not only to Sister Jean's faith but the precision and passion of leisure-wear-clad coach Porter Moser and a balding, mustachioed, harmonica-playing big man, Cameron Krutwig.
The No. 1-seeded Illini, you might say, were nun-and-done.
"The guys believed, and it's amazing what happens when you have a group of young men who believe," said Moser, who can name his next job, including governor of Illinois … or coach at Indiana.
This delicious portion of March Madness — oh, how we needed it as a virus-and-politics-weary country. Has the pandemic altered life to the point where, in a couple of Mondays, we finally might see some crazy, little team win it all? And I don't mean Gonzaga, the crazy, little team that grew up and now stands nearly alone as a blueblood.
"We just beat the University of Texas. Little ol' Abilene Christian out in West Texas built a program that went toe-to-toe with the University of Texas, and it's an incredible story," coach Joe Golding rhapsodized. "It's what March is about. We needed March Madness, man. We needed some type of normalcy to our country. We needed people to fill out brackets. We needed people to cheer for the underdog."
And Sister Jean? Somehow bigger in Americana at 101 than she was at 98, when Loyola reached the Final Four, she delivered these pre-game words to the team: "As we play the Fighting Illini, we ask for special help to overcome this team and get a great win. We hope to score early and make our opponents nervous. We have a great opportunity to convert rebounds as this team makes about 50 percent of layups and 30 percent of its (three-pointers). Our defense can take care of that."
Maybe she should coach the Illini. Or the Bulls. Because the Ramblers held Illinois and its future NBA guard, Ayo Dosunmu, to 28.6 percent shooting from the three-point arc."It's been a whole season of that. That's our defense," said Krutwig, who resembles what a young Mike Ditka might have looked like if he'd played hoops. "It's not just a 48-hour scout. We've been working our whole season for this. I guess people kind of forgot. We were the No. 1 defense in the country this year. People chalk it up to being a mid-major."
Of course, there is no such creature as a mid-major anymore. My only issue is why Sister Jean, in her picks, had Loyola losing to West Virginia in the Elite Eight — when West Virginia (and Bob Huggins' mullet) lost to Syracuse, a team Loyola should beat.
Yet for every broken bracket, every sweet disruption and every familiar adrenaline attack that cues the thunder of March, there are louder voices in Indianapolis — those of the athlete activists speaking hard truths, something you won't see covered on CBS. This would be an insurrection.
They've already seen one game declared a no-contest due to a COVID-19 outbreak, with virus-ravaged VCU going home. The natural response is to ask who will be infected next and whether there's a hole in the NCAA's "controlled environment." At what point should the tournament be shut down to protect players, coaches, officials and traveling parties, knowing five programs have been disrupted by COVID the past week? And if you view that as a Chicken Little reflex, consider how the sport's obsession with money prompted the playing of needless conference tournaments that might have led to VCU's outbreak and other positive tests?
"It just stinks," said VCU coach Mike Rhoades. "I can't sugarcoat it."
The activists also have observed the anguish of Ohio State's E.J. Liddell, who received threatening tweets after a stunning loss to Oral Roberts, and wonder why players are subjected to such hatred. Is this what happens when the sports industry embraces legalized gambling — creeps who lose wagers threaten players? And the abuse isn't limited to digital devices; an old-school coach stuck in the last century, Michigan State's Tom Izzo, grabbed a player and bullied him in full view of a national audience.
So, quite justifiably, the players wish to interject once again that they aren't being paid a penny. Hundreds of young men, all but locked down in hotel rooms so the NCAA can make $1 billion from its basketball spectacle, do not get a crumb of compensation from the pie. They receive scholarships, nice places to live on campus and televised windows to showcase their skills, but in the biggest equation — advertisers paying broadcast networks that feed the NCAA monolith — what's happening to them now, amid a pandemic, looks like slavery to them.
Symbolic of the slights: A multi-billion-dollar governing body that should care deeply about peak performance has whiffed on nutrition. Borrowing from former President Trump, who served junk food to Clemson players for their White House celebration, the NCAA asked its proud partners from Wendy's, Buffalo Wild Wings and Pizza Hut to provide massive quantities of burgers, chicken wings and pizzas. In essence, the players are eating no better than COVID-pudgy fans gorging at home. Said Dan Gavitt, the NCAA's tournament poohbah: "That's a lot of food for hungry student-athletes."
His comment contains two lies: It is not food, and they are not students.
Which explains why this tournament ultimately could be remembered for much more than basketball. It might be defined by a historic boycott — the possible shutdown of games in the Elite Eight or Final Four, where America's eyeballs are primarily glued — as guided by a movement that includes players from at least 15 schools with little to do but think and text in confinement. Heeding the powerful lessons of activists throughout professional sports, including LeBron James inside the NBA's restrictive bubble, the players want change. They are treated like essential workers as the NCAA and its partners, CBS and Turner, try to shoehorn 67 games into three weeks in central Indiana. The sole mission is to complete the event on the night of April 5, this avoiding the substantial financial losses resulting from the canceled 2020 tournament.
It is an act of desperation and business survival in a sport burdened by two many existential issues to count. Yet, the players who've been asked to save the NCAA tournament aren't paid a cent for it? That's why some are talking boycott, fueled by a hashtag: #NotNCAA Property.
"This tournament is going to generate a billion dollars," Iowa's Jordan Bohannon told The Athletic. "And we're not allowed to make a single dime off our own names … but they want to treat us like employees. … Maybe it's protesting a game or delaying a game — because it would be a nightmare for the NCAA. I know they don't want that. Right now, we certainly have the leverage to do it."
Is it likely games will be boycotted and postponed? The answer depends on how many more games are canceled because of COVID-19. Three years ago, Michigan was at the forefront of a plotted Final Four-wide boycott but couldn't gather consensus acceptance. Some players are thrilled to be living a dream, others intimidated by coaches who might try to ruin their lives. The difference this time is the pandemic. In life-and-death America, players haven't been able to see loved ones, and now, VCU's forfeit plants more doubt.
The NCAA has said that COVID-tainted games can proceed if five "eligible and healthy" players are available. But while Rhoades indicated he had at least five — "I was going up and down the hallway and saying, `We're like a wounded animal. You don't want to go against a wounded animal,' " he said — the NCAA played the caution card. In consultation with the local Marion County Public Health Department, it wisely determined, "With potential risks to all involved in the game, we could not guarantee or be comfortable that five or more players would be available without risk."
Members of the VCU traveling party had been tested every day for three weeks. "But within the last 48 hours we've received multiple positive tests," said Rhoades, which suggests the infections occurred during a period when the Rams were at the Atlantic 10 title game in Dayton, Ohio, before bussing to Indianapolis. How were the players infected? Was it during a walk on a rare occasion when teams are allowed to be outdoors? "I want to make sure it's clear: This isn't something where our team broke protocol and did the wrong thing," VCU athletic director Ed McLaughlin said. "We don't know how this happened, but it certainly wasn't bad behavior on our side whatsoever."
Is it any wonder, then, why such a crisis plants burdensome seeds? The athletes want compensation for their work and health risks, as we all would in their situation. The core issue is the longstanding fight that athletes should be paid for names, images and likenesses, a mission that has progressed in some states but continues to clog Congress like a bad half-court offense. The disparity is magnified by their current accommodations, a hermetically sealed experience that allows for games, practices and an occasional outdoor exercise period. Unlike college football players, who played once a week, basketball players have engaged in multiple games a week and traveling since November — that is, when schedules weren't paused by virus outbreaks.
Now here they are, in the heartland, hoarded together like so much cheap labor and subjected to abuse beyond the absence of pay. As I wrote last week, this NCAA tournament is the most heavily gambled sports event ever. Despite pandemic risks that wouldn't make betting advisable — such as, hearing three hours before tipoff that Oregon was advancing — almost 50 million Americans are expected to invest $1.3 billion. And when a team loses unexpectedly, fans are known to turn wacko, perhaps because they lost a wager.
It's repulsive that Ohio State had to contact police after Liddell was threatened on social media. One fan vowed to find Liddell and attack him. Another wrote: "You are such a f—— disgrace. Don't ever show your face at Ohio State. We hate you. I hope you die I really do."
Tweeted Liddell, after posting the screenshots: "What did I do to deserve this? I'm human."
And an unpaid human, at that. We don't know if the cowardly snipers were gamblers who'd lost an Ohio State bet. If they were, this is Exhibit A of the possible consequences when the sports industry — especially college sports, which purportedly is centered around higher education and "student-athletes" — embraces the legalized gambling craze. Of course, Ohio State's athletic leadership rallied around Liddell, with coach Chris Holtmann saying, "These comments, while not from or representative of Ohio State fans, are vile, dangerous and reflect the worst of humanity. E.J. is an outstanding young man who had a tremendous sophomore season and he was instrumental in our team's success."
But don't count on Ohio State or any other monster program to question the possible agenda of gambling. I'll bring back a paragraph I wrote on the eve of the tournament: "And who cares that Indiana is enjoying a gambling boom that includes 14 physical sportsbooks thrilled to accept wagers of any size? That includes the Winner's Circle Sports Pub and OTB right there on Pennsylvania Street, mere blocks from Lucas Oil Stadium and Bankers Life Fieldhouse and the six team hotels, according to the trusty Bookies.com website. No way a dirtball or two could infiltrate the NCAA Bubble and convince a teenager or two to fix a game, right? This is college basketball, so very clean and ethical, a sport that has responsibly steered clear of point-shaving scandals — except those at Arizona State, Boston College, Tulane, Northwestern, Auburn, Toledo, San Diego, etc. — and never, ever would allow a player or parent or coach or referee or agent or sneaker creep to be on the take or crawl under a table."
Whatever the motive for the attacks on Liddell, it's another reason athletes are wondering: Why are we playing for no pay?
The abuse also comes from coaches, the men who walk into living rooms and tell parents that their sons will be treated well. Izzo, 66, blistered forward Gabe Brown during an overtime loss to UCLA, grabbing him by the arm and jersey. Brown pulled away, causing Izzo to chase him through the tunnel in an uncomfortable scene. "A normal nothing," Izzo called it. "It's just that this day and age, everything's something. He missed a play and I told him, and he walked away and so I told him to come back."
Syracuse's Jim Boeheim should be a happier man than usual, watching ice-veined son Buddy lead the Orange to the Sweet 16. But the grumpy coach, who recently mocked a reporter as someone "who has never played basketball and is 5 foot 2," continues to scold players even with big leads. Boeheim is 76.
Mike Krzyzewski, whose Duke team finished 13-11 and had its season ended by a COVID outbreak, is 74. North Carolina's Roy Williams, routed by Wisconsin in the first round, is 70. John Calipari, coming off his most miserable season at Kentucky, is 62 and perhaps too old to be chasing around recruits in a private jet. Kansas' Bill Self, 58 going on 70, was lucky to get by Eastern Washington.
This is a revolution, all right, and not a good one for college basketball. A future NBA superstar, such as Cunningham or Zion Williamson, now won't bother to play even one season on campus when the NBA soon allows players to directly enter the league from high school. As it is, the league's top rookies this season — LaMelo Ball, before his season-ending broken wrist, and James Wiseman — didn't need a full college season to adjust. There is the NBA's developmental option, the G League, and a new league offering $100,000 salaries. The kids can play in other countries, as Ball did.
All of which will dilute the level of talent in the NCAA tournament. Make no mistake, as long as CBS and Turner have broadcast rights to the event and pay the $1 billion annually — a $19.6 billion extension doesn't end until 2032 — March Madness will exist. The gamblers have to gamble, after all, and the coaches have to coach so they can get rich and their schools can cash in. But once considered a jewel event on the American calendar, the tournament could fade in prestige for common fans and shift sideways into a gambling-centric mode. It's the NFL's world, after all, buoyed by more than $100 billion in new TV deals, and one can make the argument that everything else is niche now.
Thus, the NCAA will keep trying to fight the players. President Mark Emmert will give the Indianapolis activists an audience, as they've demanded, and the games likely will proceed as normal until "One Shining Moment" is played. "I'm certainly not unhappy that students are using their voices to describe what they think are issues of importance to them," Emmert said. "That's a good thing. They're students. They're supposed to do that." But the NCAA is the biggest flim-flam group in sports, evidenced by the original disparities in weight room facilities at the men's and women's tournaments. Once the fresh revenues are deposited as usual, we won't hear from the NCAA or the TV networks. Mission accomplished, Emmert would say.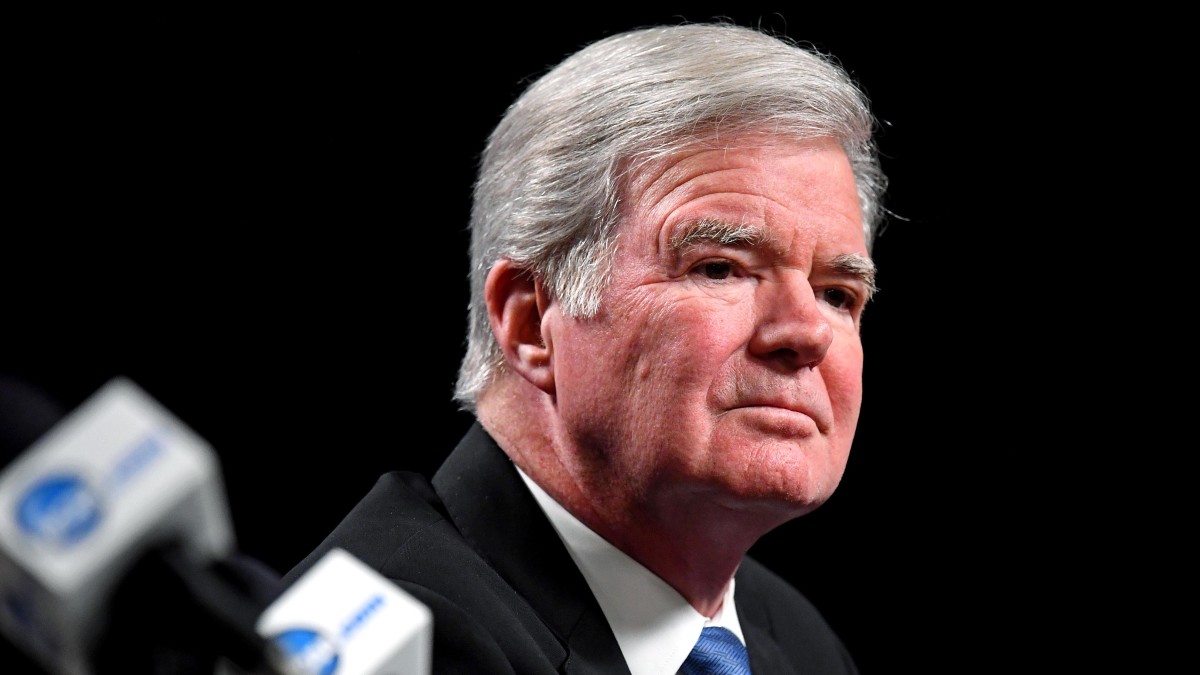 In that sense, I'm hoping for an Elite Eight boycott. I'm rooting for chaos. "Am I concerned?" Gavitt asked. "I would be concerned about any potential disruption, I guess, of games."
The tournament so far has been fun, invigorating. But the emerging stories aren't on the makeshift courts of Indiana. They are inside those hotel rooms, which must feel like cages by now, inhabited by angry young men ready to raise necessary hell.
Being Wrong On-Air Isn't A Bad Thing
…if you feel yourself getting uncomfortable over the fact that you were wrong, stop to realize that's your pride talking. Your ego. And if people call you out for being wrong, it's actually a good sign.
In the press conference after the Warriors won their fourth NBA title in eight years, Steph Curry referenced a very specific gesture from a very specific episode of Get Up that aired in August 2021.
"Clearly remember some experts and talking heads putting up the big zero," Curry said, then holding up a hollowed fist to one eye, looking through it as if it were a telescope.
"How many championships we would have going forward because of everything we went through."
Yep, Kendrick Perkins and Domonique Foxworth each predicted the Warriors wouldn't win a single title over the course of the four-year extension Curry had just signed. The Warriors won the NBA title and guess what? Curry gets to gloat.
The funny part to me was the people who felt Perkins or Foxworth should be mad or embarrassed. Why? Because they were wrong?
That's part of the game. If you're a host or analyst who is never wrong in a prediction, it's more likely that you're excruciatingly boring than exceedingly smart. Being wrong is not necessarily fun, but it's not a bad thing in this business.
You shouldn't try to be wrong, but you shouldn't be afraid of it, either. And if you are wrong, own it. Hold your L as I've heard the kids say. Don't try to minimize it or explain it or try to point out how many other people are wrong, too. Do what Kendrick Perkins did on Get Up the day after the Warriors won the title.
"When they go on to win it, guess what?" He said, sitting next to Mike Greenberg. "You have to eat that."
Do not do what Perkins did later that morning on First Take.
Perkins: "I come on here and it's cool, right? Y'all can pull up Perk receipts and things to that nature. And then you give other people a pass like J-Will."
Jason Williams: "I don't get passes on this show."
Perkins: "You had to, you had a receipt, too, because me and you both picked the Memphis Grizzlies to beat the Golden State Warriors, but I'm OK with that. I'm OK with that. Go ahead Stephen A. I know you're about to have fun and do your thing. Go ahead."
Stephen A. Smith: "First of all, I'm going to get serious for a second with the both of you, especially you, Perk, and I want to tell you something right now. Let me throw myself on Front Street, we can sit up there and make fun of me. You know how many damn Finals predictions I got wrong? I don't give a damn. I mean, I got a whole bunch of them wrong. Ain't no reason to come on the air and defend yourself. Perk, listen man. You were wrong. And we making fun, and Steph Curry making fun of you. You laugh at that my brother. He got you today. That's all. He got you today."
It's absolutely great advice, and if you feel yourself getting uncomfortable over the fact that you were wrong, stop to realize that's your pride talking. Your ego. And if people call you out for being wrong, it's actually a good sign. It means they're not just listening, but holding on to what you say. You matter. Don't ruin that by getting defensive and testy.
WORTH EVERY PENNY
I did a double-take when I saw Chris Russo's list of the greatest QB-TE combinations ever on Wednesday and this was before I ever got to Tom Brady-to-Rob Gronkowski listed at No. 5. It was actually No. 4 that stopped me cold: Starr-Kramer.
My first thought: Jerry Kramer didn't play tight end.
My second thought: I must be unaware of this really good tight end from the Lombardi-era Packers.
After further review, I don't think that's necessarily true, either. Ron Kramer did play for the Lombardi-era Packers, and he was a good player. He caught 14 scoring passes in a three-year stretch where he really mattered, but he failed to catch a single touchdown pass in six of the 10 NFL seasons he played. He was named first-team All-Pro once and finished his career with 229 receptions.
Now this is not the only reason that this is an absolutely terrible list. It is the most egregious, however. Bart Starr and Kramer are not among the 25 top QB-TE combinations in NFL history let alone the top five. And if you're to believe Russo's list, eighty percent of the top tandems played in the NFL in the 30-year window from 1958 to 1987 with only one tandem from the past 30 years meriting inclusion when this is the era in which tight end production has steadily climbed.
Then I found out that Russo is making $10,000 per appearance on "First Take."
My first thought: You don't have to pay that much to get a 60-something white guy to grossly exaggerate how great stuff used to be.
My second thought: That might be the best $10,000 ESPN has ever spent.
Once a week, Russo comes on and draws a reaction out of a younger demographic by playing a good-natured version of Dana Carvey's Grumpy Old Man. Russo groans to JJ Redick about the lack of fundamental basketball skills in today's game or he proclaims the majesty of a tight end-quarterback pairing that was among the top five in its decade, but doesn't sniff the top five of all-time.
And guess what? It works. Redick rolls his eyes, asks Russo which game he's watching, and on Wednesday he got me to spend a good 25 minutes looking up statistics for some Packers tight end I'd never heard of. Not satisfied with that, I then moved on to determine Russo's biggest omission from the list, which I've concluded is Philip Rivers and Antonio Gates, who connected for 89 touchdowns over 15 seasons, which is only 73 more touchdowns than Kramer scored in his career. John Elway and Shannon Sharpe should be on there, too.
Money Isn't The Key Reason Why Sellers Sell Sports Radio
I started selling sports radio because I enjoyed working with clients who loved sports, our station, and wanted to reach fans with our commercials and promotions.
A radio salesperson's value being purely tied to money is overrated to me. Our managers all believe that our main motivation for selling radio is to make more money. They see no problem in asking us to sell more in various ways because it increases our paycheck. We are offered more money to sell digital, NTR, to sell another station in the cluster, weekend remotes, new direct business, or via the phone in 8 hours.
But is that why you sell sports radio?
In 2022, the Top 10 highest paying sales jobs are all in technology. Not a media company among them. You could argue that if it were all about making money, we should quit and work in tech. Famous bank robber Willie Sutton was asked why he robbed twenty banks over twenty years. He reportedly said," that's where the money is". Sutton is the classic example of a person who wanted what money could provide and was willing to do whatever it took to get it, BUT he also admitted he liked robbing banks and felt alive. So, Sutton didn't do it just for the money.
A salesperson's relationship with money and prestige is also at the center of the play Death of a Salesman. Willy Loman is an aging and failing salesman who decides he is worth more dead than alive and kills himself in an auto accident giving his family the death benefit from his life insurance policy. Loman wasn't working for the money. He wanted the prestige of what money could buy for himself and his family. 
Recently, I met a woman who spent twelve years selling radio from 1999-2011. I asked her why she left her senior sales job. She said she didn't like the changes in the industry. Consolidation was at its peak, and most salespeople were asked to do more with less help. She described her radio sales job as one with "golden handcuffs". The station paid her too much money to quit even though she hated the job. She finally quit. The job wasn't worth the money to her.
I started selling sports radio because I enjoyed working with clients who loved sports, our station, and wanted to reach fans with our commercials and promotions. I never wanted to sell anything else and specifically enjoyed selling programming centered around reaching fans of Boise State University football. That's it. Very similar to what Mark Glynn and his KJR staff experience when selling Kraken hockey and Huskies football.
I never thought selling sports radio was the best way to make money. I just enjoyed the way I could make money. I focused on the process and what I enjoyed about the position—the freedom to come and go and set my schedule for the most part. I concentrated on annual contracts and clients who wanted to run radio commercials over the air to get more traffic and build their brand.
Most of my clients were local direct and listened to the station. Some other sales initiatives had steep learning curves, were one-day events or contracted out shaky support staff. In other words, the money didn't motivate me enough. How I spent my time was more important.
So, if you are in management, maybe consider why your sales staff is working at the station. Because to me, they'd be robbing banks if it were all about making lots of money.
Media Noise: BSM Podcast Network Round Table
Demetri Ravanos welcomes the two newest members of the BSM Podcast Network to the show. Brady Farkas and Stephen Strom join for a roundtable discussion that includes the new media, Sage Steele and Roger Goodell telling Congress that Dave Portnoy isn't banned from NFL events.
Podcast: Play in new window | Download
Subscribe: RSS