Gonzaga Paints A Masterpiece Amid So Much Graffiti
In a sign of what's ahead for the diluted college game, artistry is suffering and shots are clanking in the NCAA tournament, with the favorite on a seemingly impenetrable path to a perfect season.
We shouldn't be too hard on the kids when they can't see their loved ones, slaving away as unpaid, Covid-era laborers in the $1 billion sweatshop known as March Madness. But why is it so damned difficult to shoot a basketball through a rim with a circumference of 56.5 inches? And does it amplify the unspoken truth about a sacred event in sporting Americana: That this year's NCAA tournament, beyond the history-seekers at Gonzaga and two glimmers from Los Angeles, hasn't been easy on the eyes?
Heavens to Naismith, thank goodness for the Zags, creating artwork amid the cat scratches and ambling toward the first perfect championship season in 45 years. If they arrived in Indianapolis as chalk favorites, now it would be shocking if anyone gave them a game. "We're not hung up on the undefeated thing at all," said coach Mark Few, in the Elite Eight without a visible sweat bead. "As you get farther and farther along, the pressure comes from a lot of places. I think the biggest place it comes from is, you don't want it to end. I bet if you asked them, they wish they could play 25 more games together. So you just don't want it to end."
It should end predictably, with a large trophy in their grasp, because the competition generally is inferior. Guess which team made only 3 of 19 three-point tries and wouldn't have survived the Sweet 16 if the coach didn't order his clankers to drive headlong to the hole? That would be Baylor, a supposed contender, whose best player was invisible offensively. Maybe it's because Jared Butler had no appreciation for the moment. Asked what the movie "Hoosiers" meant to him after playing inside venerable Hinkle Fieldhouse, where the concluding scenes were filmed, Butler killed the retro buzz, saying coldly, "I haven't seen all of `Hoosiers.' I've seen maybe, like, 20 minutes of it. It wasn't that interesting at first, so that's why I didn't finish it."
The barn was good enough for John Wooden, Oscar Robertson and Jimmy Chitwood, but not for Jared Butler. Apparently, the ghosts took note.
Alabama made the shot of the tournament, sparking end-to-end memories of Christian Laettner and Tate George when Alex Reese drained a three-point buzzer beater to force overtime. "WOW!!!!!!" tweeted LeBron James, whose injured ankle suddenly didn't hurt as much. The Crimson Tide followed by missing its next five shots and losing to UCLA, which is joined by crosstown L.A. rival USC in the Elite Eight for the first time EV-ERRR, as a Gen-Zer on either campus would put it.
"We knew that we had nothing to worry about it," UCLA's Jaime Jaquez said of Reese's turnaround 28-footer. "This is March. It happens all the time."
Then there was Arkansas, which made a Pig Sooey mess in reaching the Elite Eight by hitting just 29 of 77 shots from the field, 1 of 9 from beyond the arc. And Houston, which missed 19 of 26 treys before finally burying Buddy Boeheim and a Syracuse team that scored 20 points in the first half and shot 28 percent. Oregon State might be the college version of "Hoosiers" — would Hollywood dare make "Beavers" with a straight face? — after sneaking into the brackets as a 12th seed, then becoming the first team in 36 years to win three straight games as an underdog of six points or more. The story keeps getting cooler, with coach Wayne Tinkle relating how he took advice from a stranger he keeps running into during morning walks through the Convention Center labyrinth.
"Coach, do you know what the enemy of great is?" a man named Tim Allen, not the actor, asked Tinkle. "It's not bad — it's good enough. Good enough is the enemy of great. Challenge your guys not to be good enough, but continue to be great."
Tinkle, a basketball lifer whose wife and three children also have played on the Division I level, decided to use the suggestion during his pre-game speech. Considering Oregon State was voted last in the Pac-12 Conference preseason poll, why not keep embracing the crazy? "It's our time. Dare to be great," he told his players.
Still, was the subsequent victory over Loyola-Chicago more a byproduct of the Ramblers missing 18 of 23 three-pointers — bricks that not even Sister Jean Dolores Schmidt could pray toward makeability? "We just couldn't find it," said Cameron Krutwig, referring to the basket.
Maybe Michigan, a possible Final Four opponent for Gonzaga, has the right idea in pounding the ball down low, successful against Florida State with 7-1 Hunter Dickinson and 6-9 Franz Wagner. And next comes USC — what is this, the Rose Bowl? — riding the Mobley brothers — 7-foot lottery pick Evan and 6-10 Isaiah — and guards who actually can make threes. Do I honestly think any of them, or anyone else, can beat Gonzaga? No, as I've said all season.
I've always loved the tournament for its joy, its youth, its fun, its refreshing story lines. But what's happening here, amid the Misfires of March, isn't merely a quirk of a pandemic year. College basketball is facing an existential crisis that won't end well. You'd think the evolution of the sport — an unprecedented flurry of talented players coming out of high school — would be good for the college game. In fact, it's backfiring.
The very best teenagers, such as LaMelo Ball and James Wiseman, no longer need even a year of the tournament. They just circumvented college ball and found their way to the NBA, which will become the norm when the league waives the one-and-done rule and allows players to enter the league directly from high school. Those who aren't ready can prepare in the NBA's G League, where players prefer to be compensated in a holding pattern rather than go unpaid while making fortunes for universities. This only serves to dilute the quality of college play — and render traditional bluebloods Duke, Kentucky, Kansas, North Carolina, Michigan State, Louisville, etc., as ordinary programs that either didn't make the tournament or were bounced early.
You might not like John Calipari, Mike Krzyzewski, Roy Williams and Bill Self. But it isn't good for college basketball when they're at home while, bless them, Oregon State and Arkansas are playing for Final Four berths. And when the Pac-12 is 12-2 in the tournament, with three teams in the final eight. Those of us who live on the West Coast love the new tilt our way, with Gonzaga the heaviest, but face it: College basketball needs to thrive in the East, Midwest and South, not after midnight on ESPN.
One player who detoured to the G League, guard Daishen Nix, opted out of his UCLA letter of intent to take a reported $300,000. This prompted coach Mick Cronin, who nonetheless has steered the Bruins from the First Four to the Elite Eight, to slam the NBA for poaching teenagers. "All I would say is, let's not act like we're all on the same team," Cronin said. "College basketball has been a free farm system for 40 years for the NBA, and it is and will always be the best place for a young player to develop. The experience is second to none and I believe it's the best basketball development that somebody's going to get. That's just my belief; it doesn't mean that I'm right. I'm well aware that in midtown Manhattan (in the NBA office), they're not real concerned with my opinion and that's OK. … I don't think Adam Silver is concerned; he works for 30 owners and they're all capitalists, as they should be." Later, on Dan Patrick's radio program, Cronin pumped up the volume, accusing the NBA of "two-faced lies and acting like we didn't recruit the kid."
It didn't stop Cronin from making an NBA analogy, with Michigan waiting in the next round. "Somebody said, 'Well, now you've been to an Elite Eight.' That's not why I came to UCLA," he said. "I've got a lot of friends in the NBA, they make fun of people that have rings that say conference champion. There's only one. Whoever wins the NBA title is the world champion. So for me, we've got to win three more games."
Soon enough, the idea of Zion Williamson spending a year in college will be a distant memory. And the five-star players who do want the NCAA experience, if only for a year, might not be so quick to choose a blueblood anymore. Twenty years ago, remember, Gonzaga was a "mid-major Cinderella." Might the likes of Creighton and Loyola take the quantum leap next? These days, Few can snap his fingers in Spokane for five-star talents — such as star guard Jalen Suggs or incoming sensation Hunter Sallis, who chose Gonzaga over Kentucky, North Carolina, Kansas, Oregon and UCLA. The nation's No. 1 prep prospect, Chet Holmgren, also is expected to sign with the Zags, in part because Suggs was his high school teammate. In two years, though, players on their level won't bother with college choices. They'll be NBA-bound.
Which explains why the games are ragged and many of the teams can't shoot. I am not the only one who thinks the best showdown thus far involved no testicles. Two phenomenal teens, Connecticut's Paige Bueckers and Iowa's Caitlin Clark, converged in a women's matchup that interested me more than anything I've observed in Indiana. It only magnified the shame piled on NCAA president Mark Emmert, who should have been fired years ago and now faces an almost certain dismissal after lopsided inequities were exposed at the men's and women's tournaments. When the women's weight facilities in San Antonio were found to be worse than those at a two-bit apartment complex, Emmert said, "We dropped the ball."
Seems he can't shoot straight, either.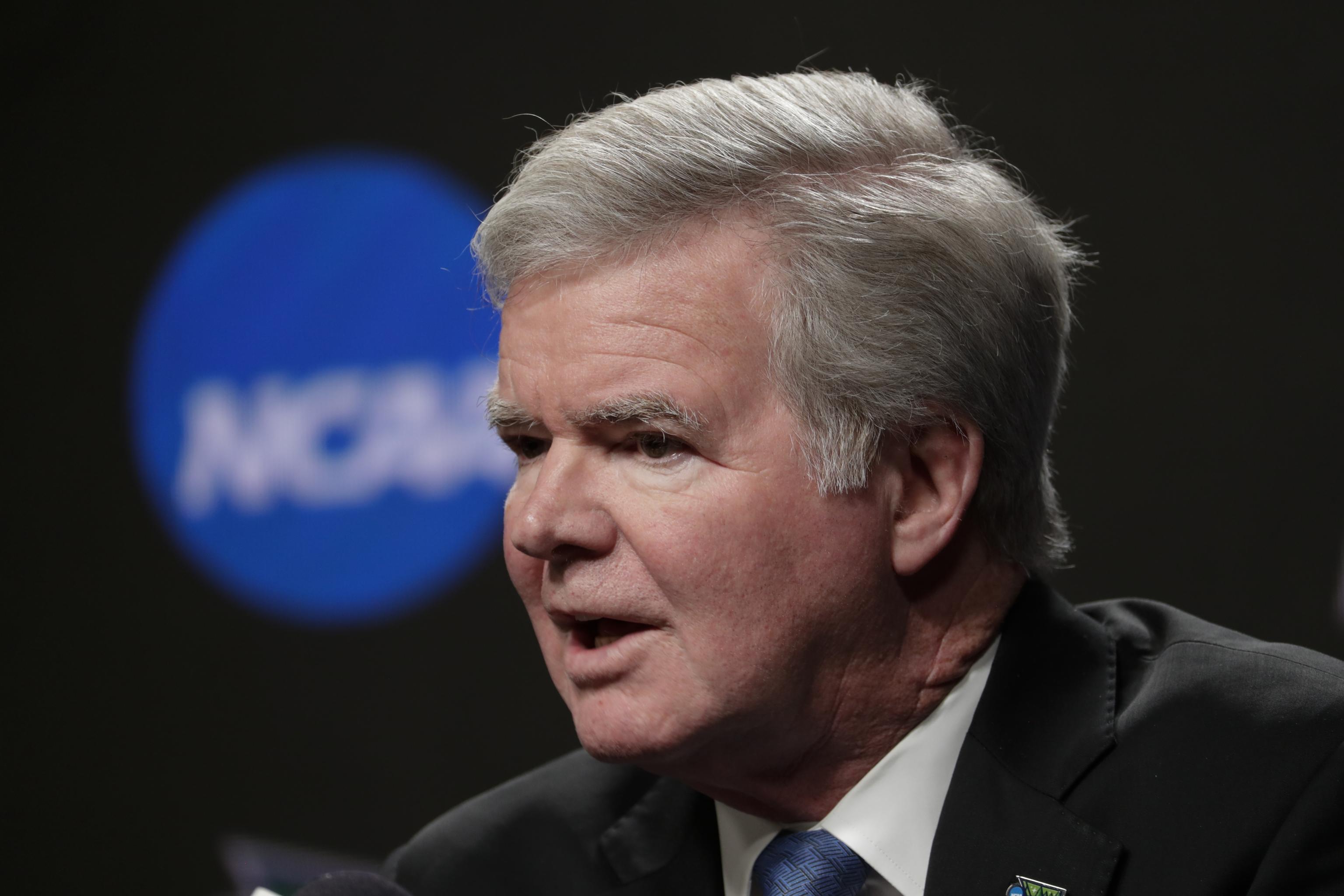 By no coincidence, Gonzaga hit 59.6 percent from the field and 37.5 percent from three range in a rout of Creighton. Even on a below-par day for Suggs, the dominant rhythms were unaffected. "We play best when we're moving the ball because we have so many pieces and so much versatility," point guard Andrew Nembhard said. "It's just like playing in a park with a bunch of guys that click so well."
That easy, huh? It's why the Zags are three victories from a season of perfection not seen since the Indiana Hoosiers in 1976. "These guys," said Creighton coach Greg McDermott, "are on a mission."
While too many others are just missing.
Being Wrong On-Air Isn't A Bad Thing
…if you feel yourself getting uncomfortable over the fact that you were wrong, stop to realize that's your pride talking. Your ego. And if people call you out for being wrong, it's actually a good sign.
In the press conference after the Warriors won their fourth NBA title in eight years, Steph Curry referenced a very specific gesture from a very specific episode of Get Up that aired in August 2021.
"Clearly remember some experts and talking heads putting up the big zero," Curry said, then holding up a hollowed fist to one eye, looking through it as if it were a telescope.
"How many championships we would have going forward because of everything we went through."
Yep, Kendrick Perkins and Domonique Foxworth each predicted the Warriors wouldn't win a single title over the course of the four-year extension Curry had just signed. The Warriors won the NBA title and guess what? Curry gets to gloat.
The funny part to me was the people who felt Perkins or Foxworth should be mad or embarrassed. Why? Because they were wrong?
That's part of the game. If you're a host or analyst who is never wrong in a prediction, it's more likely that you're excruciatingly boring than exceedingly smart. Being wrong is not necessarily fun, but it's not a bad thing in this business.
You shouldn't try to be wrong, but you shouldn't be afraid of it, either. And if you are wrong, own it. Hold your L as I've heard the kids say. Don't try to minimize it or explain it or try to point out how many other people are wrong, too. Do what Kendrick Perkins did on Get Up the day after the Warriors won the title.
"When they go on to win it, guess what?" He said, sitting next to Mike Greenberg. "You have to eat that."
Do not do what Perkins did later that morning on First Take.
Perkins: "I come on here and it's cool, right? Y'all can pull up Perk receipts and things to that nature. And then you give other people a pass like J-Will."
Jason Williams: "I don't get passes on this show."
Perkins: "You had to, you had a receipt, too, because me and you both picked the Memphis Grizzlies to beat the Golden State Warriors, but I'm OK with that. I'm OK with that. Go ahead Stephen A. I know you're about to have fun and do your thing. Go ahead."
Stephen A. Smith: "First of all, I'm going to get serious for a second with the both of you, especially you, Perk, and I want to tell you something right now. Let me throw myself on Front Street, we can sit up there and make fun of me. You know how many damn Finals predictions I got wrong? I don't give a damn. I mean, I got a whole bunch of them wrong. Ain't no reason to come on the air and defend yourself. Perk, listen man. You were wrong. And we making fun, and Steph Curry making fun of you. You laugh at that my brother. He got you today. That's all. He got you today."
It's absolutely great advice, and if you feel yourself getting uncomfortable over the fact that you were wrong, stop to realize that's your pride talking. Your ego. And if people call you out for being wrong, it's actually a good sign. It means they're not just listening, but holding on to what you say. You matter. Don't ruin that by getting defensive and testy.
WORTH EVERY PENNY
I did a double-take when I saw Chris Russo's list of the greatest QB-TE combinations ever on Wednesday and this was before I ever got to Tom Brady-to-Rob Gronkowski listed at No. 5. It was actually No. 4 that stopped me cold: Starr-Kramer.
My first thought: Jerry Kramer didn't play tight end.
My second thought: I must be unaware of this really good tight end from the Lombardi-era Packers.
After further review, I don't think that's necessarily true, either. Ron Kramer did play for the Lombardi-era Packers, and he was a good player. He caught 14 scoring passes in a three-year stretch where he really mattered, but he failed to catch a single touchdown pass in six of the 10 NFL seasons he played. He was named first-team All-Pro once and finished his career with 229 receptions.
Now this is not the only reason that this is an absolutely terrible list. It is the most egregious, however. Bart Starr and Kramer are not among the 25 top QB-TE combinations in NFL history let alone the top five. And if you're to believe Russo's list, eighty percent of the top tandems played in the NFL in the 30-year window from 1958 to 1987 with only one tandem from the past 30 years meriting inclusion when this is the era in which tight end production has steadily climbed.
Then I found out that Russo is making $10,000 per appearance on "First Take."
My first thought: You don't have to pay that much to get a 60-something white guy to grossly exaggerate how great stuff used to be.
My second thought: That might be the best $10,000 ESPN has ever spent.
Once a week, Russo comes on and draws a reaction out of a younger demographic by playing a good-natured version of Dana Carvey's Grumpy Old Man. Russo groans to JJ Redick about the lack of fundamental basketball skills in today's game or he proclaims the majesty of a tight end-quarterback pairing that was among the top five in its decade, but doesn't sniff the top five of all-time.
And guess what? It works. Redick rolls his eyes, asks Russo which game he's watching, and on Wednesday he got me to spend a good 25 minutes looking up statistics for some Packers tight end I'd never heard of. Not satisfied with that, I then moved on to determine Russo's biggest omission from the list, which I've concluded is Philip Rivers and Antonio Gates, who connected for 89 touchdowns over 15 seasons, which is only 73 more touchdowns than Kramer scored in his career. John Elway and Shannon Sharpe should be on there, too.
Money Isn't The Key Reason Why Sellers Sell Sports Radio
I started selling sports radio because I enjoyed working with clients who loved sports, our station, and wanted to reach fans with our commercials and promotions.
A radio salesperson's value being purely tied to money is overrated to me. Our managers all believe that our main motivation for selling radio is to make more money. They see no problem in asking us to sell more in various ways because it increases our paycheck. We are offered more money to sell digital, NTR, to sell another station in the cluster, weekend remotes, new direct business, or via the phone in 8 hours.
But is that why you sell sports radio?
In 2022, the Top 10 highest paying sales jobs are all in technology. Not a media company among them. You could argue that if it were all about making money, we should quit and work in tech. Famous bank robber Willie Sutton was asked why he robbed twenty banks over twenty years. He reportedly said," that's where the money is". Sutton is the classic example of a person who wanted what money could provide and was willing to do whatever it took to get it, BUT he also admitted he liked robbing banks and felt alive. So, Sutton didn't do it just for the money.
A salesperson's relationship with money and prestige is also at the center of the play Death of a Salesman. Willy Loman is an aging and failing salesman who decides he is worth more dead than alive and kills himself in an auto accident giving his family the death benefit from his life insurance policy. Loman wasn't working for the money. He wanted the prestige of what money could buy for himself and his family. 
Recently, I met a woman who spent twelve years selling radio from 1999-2011. I asked her why she left her senior sales job. She said she didn't like the changes in the industry. Consolidation was at its peak, and most salespeople were asked to do more with less help. She described her radio sales job as one with "golden handcuffs". The station paid her too much money to quit even though she hated the job. She finally quit. The job wasn't worth the money to her.
I started selling sports radio because I enjoyed working with clients who loved sports, our station, and wanted to reach fans with our commercials and promotions. I never wanted to sell anything else and specifically enjoyed selling programming centered around reaching fans of Boise State University football. That's it. Very similar to what Mark Glynn and his KJR staff experience when selling Kraken hockey and Huskies football.
I never thought selling sports radio was the best way to make money. I just enjoyed the way I could make money. I focused on the process and what I enjoyed about the position—the freedom to come and go and set my schedule for the most part. I concentrated on annual contracts and clients who wanted to run radio commercials over the air to get more traffic and build their brand.
Most of my clients were local direct and listened to the station. Some other sales initiatives had steep learning curves, were one-day events or contracted out shaky support staff. In other words, the money didn't motivate me enough. How I spent my time was more important.
So, if you are in management, maybe consider why your sales staff is working at the station. Because to me, they'd be robbing banks if it were all about making lots of money.
Media Noise: BSM Podcast Network Round Table
Demetri Ravanos welcomes the two newest members of the BSM Podcast Network to the show. Brady Farkas and Stephen Strom join for a roundtable discussion that includes the new media, Sage Steele and Roger Goodell telling Congress that Dave Portnoy isn't banned from NFL events.
Podcast: Play in new window | Download
Subscribe: RSS