The Lazy Sports Radio Draft
What are the topics and gimmicks that really, truly showcase just how lazy a radio show is in terms of topic selection and content execution?
Last week, we ran a story on the site about Bomani Jones criticizing an age old criticism. He said that Alejandro Villanueva was destined for sports radio greatness after the newest Baltimore Raven took a shot at former teammate Juju Smith-Schuster. Villanueva said receivers were divas. Jones said that criticism is lazy and outdated.
That got our wheels turning here at BSM. What are the topics and gimmicks that really, truly showcase just how lazy a radio show is in terms of topic selection and content execution?
We used to be so good at drafts. We did them amongst our staff. We reached out to writers and broadcasters employed elsewhere to participate. But we haven't done a draft of any sort since 2019!
This draft is staying in house. Jason Barrett, Jeff Caves, Ryan Maguire, Tyler McComas, Brian Noe, and Demetri Ravanos took turns drafting to each create a team of three insanely lazy examples of sports radio. Enjoy the results!
---
ROUND 1
1. Demetri Ravanos – Locks
You HAVE to have some kind of gambling presence on your show these days, but there is nothing lazier than just telling me who you like against the spread. That is what the internet is for. When you talk gambling, you need to be creative and compelling so that even the guy that will never place a bet is still interested in what you have to say.
2. Jason Barrett – Mount Rushmore
How many times must hosts go to the well to execute a bit that has no payoff, no right answer, and little entertainment value? Anytime I hear this teased on a show, I know to tune out. It may have been cool in 2010-2015, but it's a tired act in 2021. Great talent can find much better ways to entertain, inform and draw a reaction from their audience than busting out the Mount Rushmore of _____ bit.
3. Tyler McComas – GOAT Debates
We're all guilty of this one, but if you're still having segments debating who's better between Jordan and Lebron, STOP! This argument has went on for so long, there's nothing new to be added that we haven't heard 10,000 times before. And plus, this whole conversation just screams of someone calling in and taking up 8 minutes of air time.
4. Brian Noe – Does Pete Rose belong in the Hall of Fame?
It could be the most drawn out debate in the history of sports talk — brace yourself — should Pete Rose be in the Baseball Hall of Fame? There is no meat left on that bone. And it's been that way for the past decade.
5. Jeff Caves – Asking listeners to respond to someone else's column
When the local columnist does a hit piece , we don't need to just ride that wave of controversy. Especially when we start reading from the article and defending it as if we wrote it. It is better to carve out our own conclusions and have a few points to back up our own opinion especially if it is different than the columnist.
6. Ryan Maguire – Ask me anything
Whenever I hear a host say this, it tells me that they have NOTHING to talk about. Listeners tune into a show because they want to listen and react to what a host has to say. Telling an audience that you have "open lines" is the epitome of mailing it in. Any host who thinks this is a good idea should probably go do something else for a living.
ROUND 2
7. Ryan Maguire – Best sports movies
Caddyshack or Happy Gilmore? Field of Dreams or Moneyball? Rocky or Raging Bull? This was a great sports topic on a slow day 20 years ago. Now, it's a major eye-roller as it's been overdone more than a prison meatloaf. No one needs to listen to a radio show to get movie recommendations. Netflix and Amazon Prime do that for me every time I go online.
8. Jeff Caves – Favorite sports memory with Dad
When we troll for personal experiences from our audience it feels like we are one step removed from just turning over the show to the caller. I don't think we would promo our show "coming up, your memories of your father, next! " Would anybody really care about that? How will you interact with them? Gee wow that's cool. That's great. Etc, etc. Survey radio is so superficial. Stop it!
9. Brian Noe – Teasing phone calls
"Your calls next," is easily the laziest tease in sports radio. It doesn't even qualify as an actual tease. It's a tease's delinquent cousin that wasn't invited to the party but somehow still showed up.
10. Tyler McComas – What's on your Super Bowl plate?
This inevitably will take over some shows on Friday before the Super Bowl and the answers are ALWAYS the same. I've even heard some hosts use this same question for the National Championship in college football. What? Why? Look, chicken wings are great, but let's use a little more originality than this topic the week of the biggest sporting event of the year, please.
11. Jason Barrett – MJ vs. LeBron
Why is it necessary to compare LeBron James to Michael Jordan every time he's in the news? Are we that unwilling to dig deeper to create content involving the NBA's most popular star? I get that it's an easy way out. Mention this silly debate which has no right answer and watch the phone lines light up. But is that the goal of your show? If your measure of success is counting how many people lit the lines up, do this. If you'd rather keep the other 99% in your market listening to your show, steer clear of introducing the same tired debate and discussion.
12. Demetri Ravanos – Getting pissed at a player for holding out
If you are ever pro management/ownership in a labor dispute, then you are a bad person. But that's not really my objection. Nothing screams that you are incapable of critical thought or too lazy to do anything more than pander than phrases like "I'd like to see him go to work at a real job, like we do" or "I could never tell my boss that I am not coming in until I get a raise". Yeah, you couldn't. You know why? No one is going to pay $100 to come watch you talk into a microphone, dummy.
ROUND 3
13. Demetri Ravanos – Do you want Trent Dilfer's career or Dan Marino's?
The classic championship versus individual greatness debate. We only think it is worth debating because lazy hosts won't stop doing it. If the choices are Dilfer or Marino and you pick Dilfer, you need a hug and for someone to tell you to value yourself. These "classic debates" are already mind-numbingly boring. They are so much worse when we have to bend over backwards to pretend the answer isn't so obvious.
14. Jason Barrett – Open phones
How many times have you heard a host say this 'whatever's on your mind, dial us up and we'll talk about it'? Open lines without direction makes a host sound reliant on the audience. It can work for talent with longstanding track records because people are so eager to connect with them, they'll sit thru anything. But if you're under 40-45 and trying to establish yourself, 'is this really the path you want to explore when content options are available everywhere else?' Connecting with people on the air can be entertaining. This isn't a question of whether or not calls work. I'm in favor of audience involvement. Just lead them somewhere. Tell them what you're interested in and what you need their input on. Don't put the fate of your next 10 minutes in their hands and not know where your show is heading. You're a talk show host, not a telephone operator.
15. Tyler McComas – Interviews with the opponent's beat writer
I find that most beat writers aren't very entertaining on the radio. That's not meant to be a dig, their job is to be a great writer, not a great radio guest. Most of these interviews usually consist of info the hosts and fans already know. I'm not saying you shouldn't interview someone from the other team, but try to be more unique than depending on the guy from the local newspaper. 
16. Brian Noe – Hot takes
A hot take is seen as a tactic to get attention, but it's more than that; it's also a lazy way to generate content. Anybody can throw out something outlandish like, "Steph Curry is a system quarterback," to knock out a few segments.
17. Jeff Caves – What's your score prediction?
In one topic towns, often on Fridays, this "closest score prediction wins a prize on Monday" segment happens. It can go on for an hour. Each caller struggles to have the depth it takes to make a compelling reason for the outcome. Its like we are expecting 15 handicappers to call us and entertain the audience. Whats worse than too any handicappers on the air? Too many callers acting like handicappers on the air. 
18. Ryan Maguire – Trivia
So, who led the American League in on-base percentage in 1978? Oh, the tension as you listen to the caller hem and haw while they try and Google the answer. FOR THE LOVE OF ALL THAT'S HOLY…NO!   Sports trivia used to be a popular feature on many shows years ago, now it's just painful to listen to. If I wanted to play games, there are apps for that. 
---
And there you have it. Hard to believe trivia lasted all the way to being Mr. Irrelevant in this draft! What a steal for Ryan Maguire. To recap, here are our teams.
DEMETRI RAVANOS
Locks
Blaming players for holding out
Would you rather have Trent Dilfer's career or Dan Marino's?
JASON BARRETT
Mount Rushmore
MJ vs. LeBron
Open Phones
TYLER MCCOMAS
GOAT debates
What's on your Super Bowl Plate?
Interviewing the opponent's beat writer
BRIAN NOE
Does Pete Rose belong in the Hall of Fame?
Teasing phone calls
Hot takes
JEFF CAVES
Asking listeners to respond to someone else's column
Favorite sports memory with dad
What's your score prediction?
RYAN MAGUIRE
Ask me anything
Best sports movies
Trivia
Now it is your turn to play Kiper and/or McShay. Who drafted the laziest team? Who lost? What can you believe did not get picked? Let us know in the comments or on social media.
Or if you are too lazy for that, just keep it in your head and know you're right.
Keeping Premier League Games Shouldn't Be A Hard Call For NBC
"Beyond its massive global fanbase, the Premier League offers NBC/Peacock a unique modern 21st-century sport for the short attention span of fans."
NBC Sports is facing some tough, costly decisions that will define its sports brand for the rest of this decade.  A chance to connect with viewers in a changing climate and grow Peacock's audience as well.  However, making the right choice is paramount to not losing to apps like Paramount+ (pun intended).
NBC is currently in the business of negotiating to continue airing the Premier League as their current deal ends after this 2021-2022 season. NASCAR is contracted to NBC (and FOX) through the 2024 season.
NBC's tentpole sports are the NFL and the Olympics.
Negotiations for the EPL are expected to go down to the wire. Rather than re-up with NBC, the league is meeting with other networks to drive up the price. NBC has to then make a decision if the rights go north of $2 billion.
Should NBC spend that much on a sport that is not played in the United States? It's not my money, but that sport continues to grow in the US.
If NBC re-ups with the Premier League, will that leave any coins in the cupboard to re-up with NASCAR? Comcast CEO Brian Roberts hinted that there might be some penny pinching as the prices continue to soar. This may have been one of the reasons that NBC did not fight to keep the National Hockey League, whose rights will be with Disney and WarnerMedia through ESPN and TNT, respectively.
"These are really hard calls," Roberts said. "You don't always want to prevail, and sometimes you're right and sometimes you're wrong, but I think the sustainability of sports is a critical part of what our company does well."
Roberts was speaking virtually at the recent Goldman Sachs 30th Annual Communacopia Conference. He told the audience that between NBC and European network Sky, that Comcast has allocated approximately $20 billion towards these sports properties.
Comcast CFO Michael Cavanagh spoke virtually at the Bank of America Securities 2021 Media, Communications and Entertainment Conference and echoed that the company is in a good position to make some strong choices in the sports realm.
"The bar is really high for us to pursue outright acquisitions of any material size," Cavanagh added. "We got a great hand to play with what we have."
While the European investments involve a partnership with American rival Viacom, the US market seems to have apparent limits.
Last Saturday's NASCAR Cup Series at Bristol Motor Speedway was seen by around 2.19 million people. It was the most-watched motorsports event of the weekend. That same week eight different Premier League matches saw over 1 million viewers. More than half of those matches were on subscription-based Peacock. 
Beyond its massive global fanbase, the Premier League offers NBC/Peacock a unique modern 21st-century sport for the short attention span of fans. A game of typical soccer fan is used to a sport that is less than two hours long. The investment in a team is one or two games a week. 
My connection to the Premier League began before the pandemic. When I cut the cord in late 2017, I purchase Apple TV. Setting it up, it asks you to name your favorite teams. After clicking on the Syracuse Orange and the New Jersey Devils, I recalled that my wife has family based in London, England. They are season ticket holders for Arsenal, and that family redefined the word "die-hard" fans.
I've long been a believer that sports allegiances are best when handed down by family. I love hearing stories of people loving the New York Giants because their parents liked them, and they pass it down to their children.
I've successfully given my allegiance to the Devils to my young daughters.
By telling Apple TV that I liked Arsenal, I get alerts from three different apps when the "Gunners" are playing. The $4.99 is totally worth it to see Arsenal.
Whenever I told this story, I was amazed to see how many other American sports fans had a Premier League team. Students of mine at Seton Hall University rooted for Tottenham Hotspurs, while an old colleague cheers on Chelsea.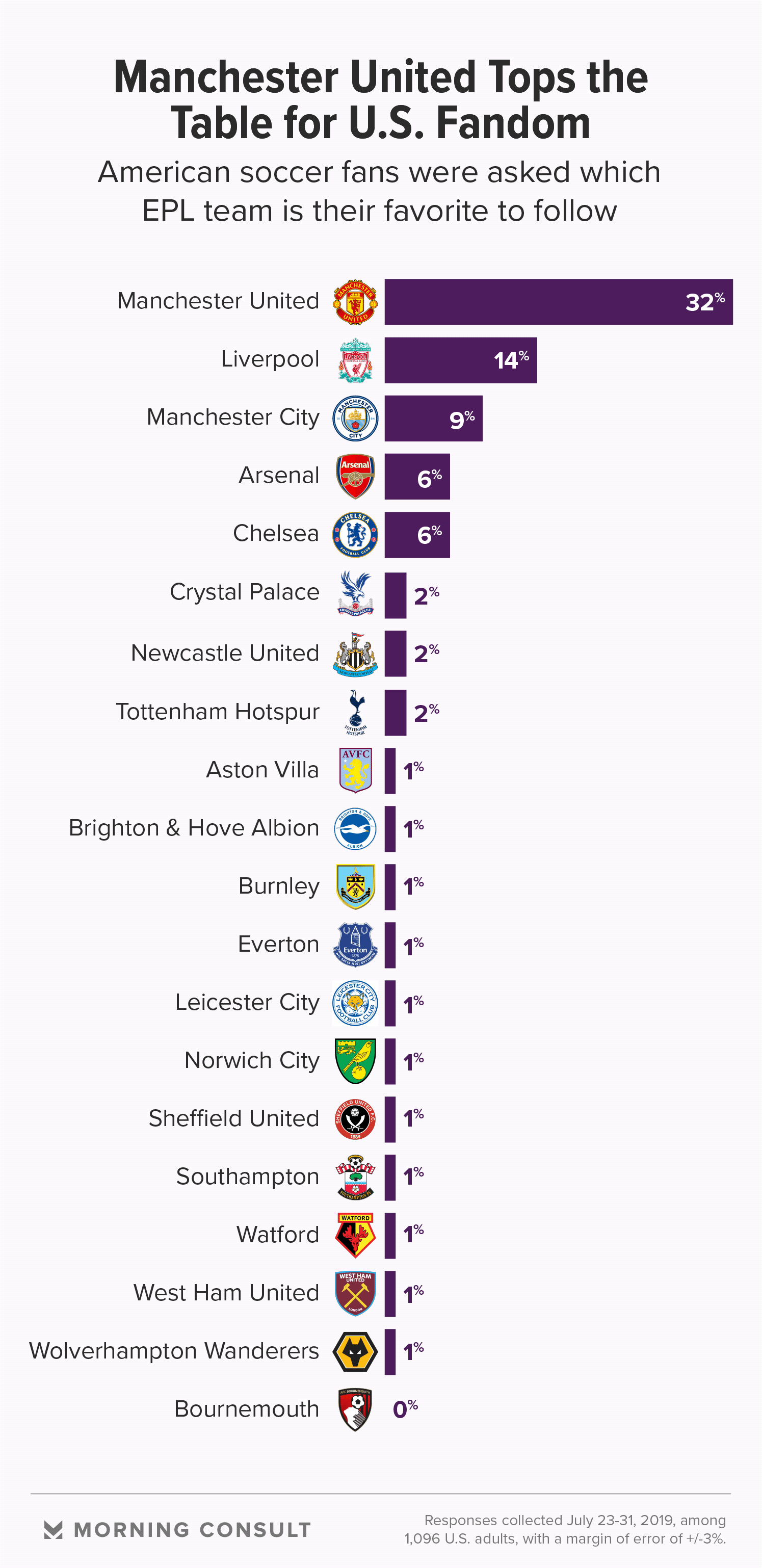 This is not meant to say that NBC should sign the EPL on my account. The key for any US-based soccer fan is that between Bundesliga, Serie A, and other leagues, there will be no shortage of soccer available on both linear television and streaming services.
Besides, Dani Rojas did say that "Football is life." NBC, originator of the Ted Lasso character, should make keeping its Premier League US connection a priority.
Today, Demetri is joined by Tyler McComas and Russ Heltman. Tyler pops on to talk about the big start to the college football season on TV. Russ talks about Barstool's upfront presentation and how the business community may not see any problems in working with the brand. Plus, Demetri is optimistic about FOX Sports Radio's new morning show.
Podcast: Play in new window | Download
Subscribe: RSS
6 Ad Categories Hotter Than Gambling For Sports Radio
"Using sports radio as a back page service for gambling will have a limited shelf life."
For years sports radio stations pushed sports gambling advertisers to early Saturday and Sunday morning. The 1-800 ads, shouting, and false claims were seedy, and some stations wouldn't even accept the business at 5 am on Sunday.
Now, with all but ten states ready to go all in on sports gambling, sports radio stations can't get enough of that green. Demetri Ravanos wrote about the money cannon that sports gambling has become for stations. Well, what if you are in one of those ten states where it isn't likely to ever be legal like California or Texas? Where is your pot of gold?
Or, let's face it, the more gambling ads you run, the more risk you take on that the ads will not all work as you cannibalize the audience and chase other listeners away who ARE NOT online gambling service users and never will be. So, what about you? Where is your pot of gold?
Well, let's go Digging for Gold.
The RAB produces the MRI-Simmons Gold Digger PROSPECTING REPORT for several radio formats. In it, they index sports radio listeners' habits against an average of 18+ Adult. The Gold Digger report looks at areas where the index is higher than the norm – meaning the sports radio audience is more likely to use the product or service than an average 18+ Adult who doesn't listen to sports radio. The report, generated in 2020, indicates that sports radio listeners are 106% more likely to have used an online gambling site in the last thirty days. That's impressive because the report only lists 32 activities or purchases a sports radio listener indexes higher than an average adult. I looked at those 32 higher indexes, and I think we can start looking for some gold.
Using sports radio as a back page service for gambling will have a limited shelf life. The gambling companies who commit significant money to get results will continue advertising and chase the others away. So, the future of sports radio needs to include other cash cows.
If it is evident to online sports gambling services that sports radio stations are a must-buy, who else should feel that way?  I looked at the Top 32 and eliminated the media companies. ESPN, MLB/NHL/NFL networks, and others aren't spending cash on sports radio stations they don't own in general. But Joseph A Bank clothing, Fidelity, and Hotwire should! Here's your PICK-6 list I pulled together that's hotter than sports gambling:
Sportscard collectors, Dapper Labs, Open Sea- read about Sports NFT $.
Online brokerage firms-Fidelity, Charles Schwab, Robinhood, Webull, TD Ameritrade
Golf courses, resorts, equipment, etc.- we play golf at home and vacation
Hotwire.com, Booking.com, TripAdvisor, Airbnb, Carnival Corporation, and Priceline.com- we've used Hotwire in the last year.
FedEx, UPS, U.S. Postal Service, Venmo, PayPal, Zelle-we wired or overnighted $
Jos. A. Bank, shein.com, macys.com, nordstroms.com- we went to Jos. A. Bank in last three months
The sports card/NFT market is 32% hotter than the sports betting market for sports radio listeners. Everything on the PICK-6 is at least 100% more likely to purchase than an average 18+ Adult who doesn't listen to sports radio. All listed are at or above indexing strength compared to sports betting. The individual companies I added are industry leaders. Bet on it! Email me for details.