Meet The Market Managers: Brian Maloney, Capitol Broadcasting Raleigh
"I know a lot of people aren't using the R word anymore. You know, it's audio this or whatever, but we're in the sports content business, period. It's that simple."
The business model for sports radio in Raleigh, NC is an interesting one. One company, Capitol Broadcasting, owns all three of the market's sports brands. It also owns the local NBC and FOX affiliates. Combine that with the fact that the company owns the Durham Bulls and a major local sports site called WRALSportsFan.com, and it is obvious that the company is a juggernaut in the local sports scene.
I used to work for Capitol. So many different outlets meant you had a lot of exclusive audio and access to build content around. There was a lot of work involved, but there were plenty of perks too.
The man in charge of all of it is Brian Maloney. He is the focus of the latest Meet the Market Managers column.
In our conversation, Brian and I discuss why he still values play-by-play, his reasons for changing his expectations of a program director, and more. Plus, it ends with an invite to a tailgate party!
---
Demetri Ravanos: I want to go back to right before the pandemic set in, where 99.9 The Fan went through a major lineup change, splitting up the popular tandem of Adam Gold & Joe Ovies. They had been together over a decade, and you moved Adam to middays, which meant David Glenn would no longer be part of the station's schedule. Then, just as things were starting to get rolling, the pandemic hit. I'm wondering if you can take me through some of those early moments and what went through your mind as you're trying to navigate not only the new realities for the station, but across the cluster.
Brian Maloney: You really want me to relive this huh? Oh, my God, it was scary as hell. But I kept telling myself, "We're going to be so much better on the other side of this." And I think it's true.
College basketball rules in this market, and it all came crashing down for us around March 12th or 13th. We were right in the middle of the biggest month of the year for us in ratings and revenue, and then the bottom fell out literally in a matter of a day.
It was really scary for the first six or so weeks because nobody had ever experienced what we were going through. It was like driving down a country road at night with no lights on. You had no idea where it was going to go.
DR: Right. And you're doing all of that with two new shows, one in afternoon drive that includes a guy that hasn't done radio before.
BM: Yeah, that was crazy. In hindsight, we either couldn't have picked a worse time or maybe it was the best time to make changes. We brought in Joe Giglio from the News and Observer and I think he had been on for one week at that point. Here's a guy with no radio experience doing a sports talk show host's job from his bathroom, because it was the only quiet space in his house, with a new partner that couldn't even see. But, man, if you can do that, you can do anything.
We just got really creative. We got really good. And like I said, we are better off than we were 14 months ago.
DR: So that leads into my next question. In terms of both the sound of the two shows and ratings performance, how would you grade that first year and few months of this new lineup?
BM: It was really hard to get a handle on things the first four months because the world was just going nuts. We started to, in July, feel it coming together, and now we're seeing the performance in the ratings, streaming, and reactions on social media. The street buzz from clients is also good. It's really starting to gain momentum.
Joe Giglio and Joe Ovies released our Russell Wilson podcast last week. It's a six part series. We just released part four today, and we're coming in on fifteen thousand downloads in a week. So we're really happy about that. That's an example of a way that we got better, because we really had to stop and think. And that's something that those guys have been working on since back in the summertime when we were still in the throes of things.
DR: When you were dealing with the difficulties brought on by the pandemic, you guys started hosting these virtual town halls with local clients. I think you would open up at one point, correct me if I'm wrong, to just any business. If some of these clients had other friends that were business owners that wanted to be a part of those sessions, they were welcome as well, right?
BM: Yeah, we came out of the chute conducting online seminars, anything from H.R. people talking about how to handle employees going through challenges to attorneys talking about dealing with the business loans and such.
We just went after that right away. It was a way we could help. We were able to position ourselves as somebody there to help the community. As a matter of fact, that was branded as "Here to Help". I think we built up a lot of credibility when we did that, and it had nothing to do with sports. It was just all about helping businesses in this community.
DR: How did that idea come together so quickly that you were able to act on it right away?
BM: Fortunately, we work for a private company that has a bunch of talented people and we just sprung into action and turned it on quick. We got up and running and it just snowballed from there.
DR: Let's talk about working for a privately owned, local company. Capitol owns the entire sports radio landscape here in Raleigh. One of the things I look at all the time is certainly it does block out the ability for a competitor to come in and be strong. But is there value to all three of your sports brands? Certainly 99.9 The Fan is a property that any group in the market would want, but The Buzz is on an HD channel, albeit with translators. The Ticket is on an AM signal. How do you value those brands in 2021?
BM: Well, I think there's no doubt we've seen growth in digital listening, but terrestrial still makes up the majority of listening in the United States and in our market as well. So it's still important. You've got to have that real estate. But, you know, I no longer look at it as "The Ticket is on 620 AM. It's not just on 620 AM. It's still a brand of ours, and we distribute it. I mean, it is available in many places right now. We have our stations streaming under our TV stations' webcams of the beach, of the lake, and of downtown Raleigh. We just push it out everywhere.
DR: And with that association with WRAL, the local NBC affiliate, certainly there are advantages to The Fan being branded as part of WRAL's online sports empire. I wonder if there are any disadvantages of The Fan using that WRALSportsFan banner. The Buzz and The Ticket too for that matter. Do you see any disadvantages of radio brands not having their own distinct online location?
BM: No, I think it's actually a huge advantage. I think seven years ago, 10, 12 years ago, you might have said, "wow, man, they don't have their own identity". But if you look at where our industry has gone and where it's going, it's not just about radio. It's about radio, video, and articles online.
We're doing what we've always done, and that's the way of the world now. I mean, our radio stations are just a piece of the big machine and our on air talent write articles. They do videos. We video stream our shows. It's almost like the radio shows themselves are just a small piece of what we do. Our sports website generates millions of page views every year, millions. The overall website gets billions.
DR: And that's why I asked if there are disadvantages. Forget the website. Look at it from a mobile perspective. The WRALSportsFan app offers a user considerably more content than you might expect from an independently owned radio station's app.
BM: Yeah, it's 360. It's a very robust platform of sports content. I know a lot of people aren't using the R word anymore. You know, it's audio this or whatever, but we're in the sports content business, period. It's just that simple. I think people try to complicate it, but we are in the business of producing sports content, whether it's podcast, video, audio, on a radio station, Alexa or whatever.
DR: During the pandemic you made a change at PD. You and I talked about the job and you were very clear from the get go, you were rethinking what that position should be. You've had guys like Adam and Joe, who had been with you for over a decade and Alec Campbell, who has run their show for five years. Was that a big factor in being willing to experiment because you knew the sports side was full of people that had established successes, or did you simply feel it was time for the role of a program director to evolve and move building clocks and coaching talent to the backburner?
BM: Absolutely. Sammy Simpson is the brand manager for our cluster, which includes the mighty WRAL FM, Adult Contemporary, and then our sports stations.
You're absolutely right. Sammy views this, the whole operation as a unit, including sales. There are many times that Sammy comes up with ideas and ways to market ourselves to clients and solve their problems, all the way down to how are we going to market this new podcast that we're putting out. How are we going to brand anything we do?
So, yeah, I think the days of program directors fiddling with clocks and the less important stuff, that's done in my mind.
DR: Raleigh is still a market where the ratings come out and advertisers pay attention. It helps them in setting up their buys. Given that so much of this is now about producing content that's consumable on people's own schedules, are we reaching a point where part of the reason PDs will have to offer more than just fiddling with clocks and coaching talent is it's less about what that number is at the end of each quarter?
BM: I think for sports radio, it's never really been about the ratings. That's been one of the beauties and attractions of the sports format, is we all know how powerful it is, no matter what the ratings say, and now I think it's even more powerful. To give you an example, last week we did a countdown to the NHL playoffs promotion, where we took a 500 pound block of ice and froze a puck in it. We asked listeners to guess when they thought the puck would drop. They won tickets to the playoffs and a chance at money and everything.
So we had this block of ice set up with a webcam on it 24/7 that got hit in our newscasts on our TV station, and it was talked about on the air, it was watched on social media. We had over 7000 people tune in to watch ice melt last week, okay? When they watched ice melt, they also saw the client's logo, they heard the client mentioned on the air, and they saw the client on social media.
It just goes so far beyond the radio promo mention now. That's what we bring. I don't care if you're a music station or a talk station. That's what you should be doing right now.
DR: You guys have a history of doing some really cool podcasting projects. You mentioned the Russell Wilson podcast earlier. I've told clients to listen to Lauren Brownlow's NC State Stuff podcast from 2017 too. I think it's a great example of what radio stations should be doing in that realm. As successful as the creative side has been, looking at it from a business standpoint, do you feel like it's been successful in terms of getting ad reps and clients to see the value of putting their messages on those products?
BM: It's been a learning process. You really have to stop and think about what you're doing. So just to walk you through briefly, the latest thinking with this Russell Wilson podcast is that we see so many, what is it at now? 1.6 million podcasts out there today? You see so many people who are just sitting down in front of a microphone and think they're going to just talk sports. We tried that and it didn't really work. So we started to be thoughtful about what we're doing.
We know from the data that NC State and Russell Wilson move the needle. Credit Joe Giglio and Joe Ovies for coming up with that topic and for phoning in their contacts to get great content for that podcast. We knew that if we did something that went really deep and was really thoughtful about a topic we know moves the needle, maybe we can get something cranking here.
We got a sponsor involved. They were like "Oh, Russell Wilson? Big name! NC State? Big School! Yeah, sign me up!" So we were able to sell a title, exclusive sponsorship for it. And like I said in the first week, we're coming up on fifteen thousand downloads.
So take it a step further. We thought let's buy digital ads in Richmond, Wisconsin and Seattle. So now we've touched, our market, Raleigh/Durham, but we've also touched Richmond, Wisconsin and Seattle, where Russell's footprints or fingerprints are. So now we believe securing a sponsor for our next podcast effort will be easier, because we know we have a nice track record of success with the Russell Wilson podcast and also with other ones we've done in the past, too.
You really have to be thoughtful about what you're doing and strategic. It takes a lot of work. We do have an advantage of a great machine in Capitol broadcasting that can promote that podcast on the news and a massive website. But you've just got to be thoughtful about it. You can't just crack the mike and talk about the football game.
DR: I remember when I was working for you how much you emphasized the value of live play-by-play and how every other liner I read was about carrying this game or that race. I wonder as we fast forward five years, is that value the same? There is an ACC Network now that replays every game multiple times during the week. ESPN+ and other sports streaming services have games and events available on demand. During the pandemic, it became clear that matters to people. So where does that leave live play-by-play on the radio? Has the value been diminished at all?
BM: I think there's still a tremendous value there because not everybody can be in front of a screen to watch the game. Whether it's hopping in your car and headed to the Home Depot on a Saturday afternoon and you're catching the score or getting updated, I think there is – actually, it's not that I think I know there is real value in live play-by-play because again, we can look at our screen numbers when the game comes on and you will see a spike. Right when the puck drops or the ball is kicked, you will see a spike in listening. Now Nielsen may not show it, but don't get me started on that.
DR: Listen, I've done this series now for three months. You wouldn't be the first I've heard complain about it.
BM: We have a lot of work to do there.
DR: I worked on a story back when Keyshawn, JWill, and Zubin were getting ready to launch, taking the lay of the land from market managers who ran local ESPN stations to see how they felt about the new lineup. You told me that you were really optimistic about the show, pointing out Jay Williams' local connection from having won a title at Duke.
Things haven't gone the way they were initially designed, so adjusting could be necessary again. I don't think it's fair to ask "is it great" less than a year into a new show's life, but are you still optimistic about the show's future?
BM: I really am. I believe in that show. It's a new show that started in the middle of a messed up sports world and then some tragedies happened within the show, which were just horrible. But I believe that is a very entertaining show, and I can't wait till the fall. I think you're going to see, at least I believe for us, that's really going to explode.
I don't know that we can judge that show yet in such an unstable sports world that we've been in since it was launched. I think Keyshawn is one hell of an entertaining person to listen to. JWill's role is well-defined. I really am optimistic about it.
DR: I moved to Durham 15 years ago and read a statistic that said in the time that I've been here, 35 percent of the people that were here then are now gone. The Triangle is growing. We've got Apple coming in real soon. That's going to spark a whole new wave of population turnover. Does the nature of our market make national sports media, whether it is network radio or satellite radio a more formidable competitor here than it might be elsewhere?
BM: That's a really good question. We were just talking about this today because we were doing our planning session for the upcoming football season and one of the topics we kept going back to was that you have just a melting pot of fans here. Do we address the Steeler fans, the Lions fans, the Tampa fans? And so we're paying attention to it and trying to weave those teams into discussions and promotions. A few years ago, we found a unique way of addressing it by doing a thing called Transplant Tuesdays. We would, on any given Tuesday, focus on the city and the teams and the food and the beer from that city. If it was Pittsburgh, we would talk about the teams of Pittsburgh and it went over really well.
You have to address it. You have to acknowledge it. The other thing too is because of that influx of population into a market where there's three major universities, not everybody in town is an NC State, Duke or Carolina fan anymore. I mean, as a matter of fact, half of them have no emotional ties to those schools anymore.
DR: I'll give you an example of exactly what you are talking about. When I got here in 05, I was living in Durham. If I wanted to go watch a football game with other Alabama fans, my only option was 40 minutes away in Garner. Now I have my choice of three different fan groups.

BM: Yeah, like in our meeting today that we had, we were talking about throwing tailgate parties for teams that aren't even in the Triangle. In fact, Alabama was number one on the list. So I'll make sure we let you know when that is going to be.
DR: Please do!
BM: But you are right. It's really something, and I think that's probably true for any market in the Southeast right now. You have just such an influx of people coming from all over the country. You can't just ride the coattails of your traditional school and market. You've got to think broader.
Keeping Premier League Games Shouldn't Be A Hard Call For NBC
"Beyond its massive global fanbase, the Premier League offers NBC/Peacock a unique modern 21st-century sport for the short attention span of fans."
NBC Sports is facing some tough, costly decisions that will define its sports brand for the rest of this decade.  A chance to connect with viewers in a changing climate and grow Peacock's audience as well.  However, making the right choice is paramount to not losing to apps like Paramount+ (pun intended).
NBC is currently in the business of negotiating to continue airing the Premier League as their current deal ends after this 2021-2022 season. NASCAR is contracted to NBC (and FOX) through the 2024 season.
NBC's tentpole sports are the NFL and the Olympics.
Negotiations for the EPL are expected to go down to the wire. Rather than re-up with NBC, the league is meeting with other networks to drive up the price. NBC has to then make a decision if the rights go north of $2 billion.
Should NBC spend that much on a sport that is not played in the United States? It's not my money, but that sport continues to grow in the US.
If NBC re-ups with the Premier League, will that leave any coins in the cupboard to re-up with NASCAR? Comcast CEO Brian Roberts hinted that there might be some penny pinching as the prices continue to soar. This may have been one of the reasons that NBC did not fight to keep the National Hockey League, whose rights will be with Disney and WarnerMedia through ESPN and TNT, respectively.
"These are really hard calls," Roberts said. "You don't always want to prevail, and sometimes you're right and sometimes you're wrong, but I think the sustainability of sports is a critical part of what our company does well."
Roberts was speaking virtually at the recent Goldman Sachs 30th Annual Communacopia Conference. He told the audience that between NBC and European network Sky, that Comcast has allocated approximately $20 billion towards these sports properties.
Comcast CFO Michael Cavanagh spoke virtually at the Bank of America Securities 2021 Media, Communications and Entertainment Conference and echoed that the company is in a good position to make some strong choices in the sports realm.
"The bar is really high for us to pursue outright acquisitions of any material size," Cavanagh added. "We got a great hand to play with what we have."
While the European investments involve a partnership with American rival Viacom, the US market seems to have apparent limits.
Last Saturday's NASCAR Cup Series at Bristol Motor Speedway was seen by around 2.19 million people. It was the most-watched motorsports event of the weekend. That same week eight different Premier League matches saw over 1 million viewers. More than half of those matches were on subscription-based Peacock. 
Beyond its massive global fanbase, the Premier League offers NBC/Peacock a unique modern 21st-century sport for the short attention span of fans. A game of typical soccer fan is used to a sport that is less than two hours long. The investment in a team is one or two games a week. 
My connection to the Premier League began before the pandemic. When I cut the cord in late 2017, I purchase Apple TV. Setting it up, it asks you to name your favorite teams. After clicking on the Syracuse Orange and the New Jersey Devils, I recalled that my wife has family based in London, England. They are season ticket holders for Arsenal, and that family redefined the word "die-hard" fans.
I've long been a believer that sports allegiances are best when handed down by family. I love hearing stories of people loving the New York Giants because their parents liked them, and they pass it down to their children.
I've successfully given my allegiance to the Devils to my young daughters.
By telling Apple TV that I liked Arsenal, I get alerts from three different apps when the "Gunners" are playing. The $4.99 is totally worth it to see Arsenal.
Whenever I told this story, I was amazed to see how many other American sports fans had a Premier League team. Students of mine at Seton Hall University rooted for Tottenham Hotspurs, while an old colleague cheers on Chelsea.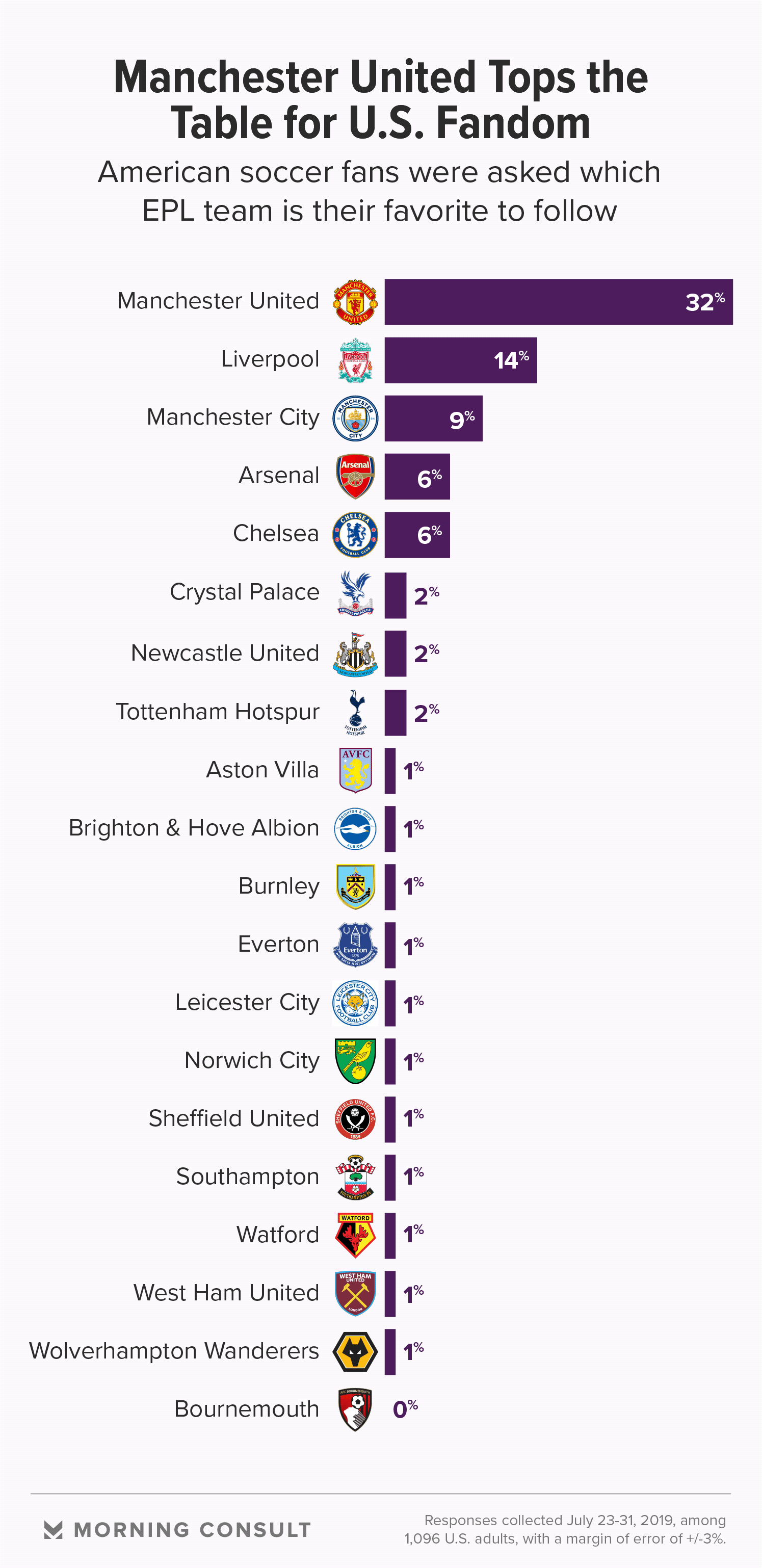 This is not meant to say that NBC should sign the EPL on my account. The key for any US-based soccer fan is that between Bundesliga, Serie A, and other leagues, there will be no shortage of soccer available on both linear television and streaming services.
Besides, Dani Rojas did say that "Football is life." NBC, originator of the Ted Lasso character, should make keeping its Premier League US connection a priority.
Today, Demetri is joined by Tyler McComas and Russ Heltman. Tyler pops on to talk about the big start to the college football season on TV. Russ talks about Barstool's upfront presentation and how the business community may not see any problems in working with the brand. Plus, Demetri is optimistic about FOX Sports Radio's new morning show.
Podcast: Play in new window | Download
Subscribe: RSS
6 Ad Categories Hotter Than Gambling For Sports Radio
"Using sports radio as a back page service for gambling will have a limited shelf life."
For years sports radio stations pushed sports gambling advertisers to early Saturday and Sunday morning. The 1-800 ads, shouting, and false claims were seedy, and some stations wouldn't even accept the business at 5 am on Sunday.
Now, with all but ten states ready to go all in on sports gambling, sports radio stations can't get enough of that green. Demetri Ravanos wrote about the money cannon that sports gambling has become for stations. Well, what if you are in one of those ten states where it isn't likely to ever be legal like California or Texas? Where is your pot of gold?
Or, let's face it, the more gambling ads you run, the more risk you take on that the ads will not all work as you cannibalize the audience and chase other listeners away who ARE NOT online gambling service users and never will be. So, what about you? Where is your pot of gold?
Well, let's go Digging for Gold.
The RAB produces the MRI-Simmons Gold Digger PROSPECTING REPORT for several radio formats. In it, they index sports radio listeners' habits against an average of 18+ Adult. The Gold Digger report looks at areas where the index is higher than the norm – meaning the sports radio audience is more likely to use the product or service than an average 18+ Adult who doesn't listen to sports radio. The report, generated in 2020, indicates that sports radio listeners are 106% more likely to have used an online gambling site in the last thirty days. That's impressive because the report only lists 32 activities or purchases a sports radio listener indexes higher than an average adult. I looked at those 32 higher indexes, and I think we can start looking for some gold.
Using sports radio as a back page service for gambling will have a limited shelf life. The gambling companies who commit significant money to get results will continue advertising and chase the others away. So, the future of sports radio needs to include other cash cows.
If it is evident to online sports gambling services that sports radio stations are a must-buy, who else should feel that way?  I looked at the Top 32 and eliminated the media companies. ESPN, MLB/NHL/NFL networks, and others aren't spending cash on sports radio stations they don't own in general. But Joseph A Bank clothing, Fidelity, and Hotwire should! Here's your PICK-6 list I pulled together that's hotter than sports gambling:
Sportscard collectors, Dapper Labs, Open Sea- read about Sports NFT $.
Online brokerage firms-Fidelity, Charles Schwab, Robinhood, Webull, TD Ameritrade
Golf courses, resorts, equipment, etc.- we play golf at home and vacation
Hotwire.com, Booking.com, TripAdvisor, Airbnb, Carnival Corporation, and Priceline.com- we've used Hotwire in the last year.
FedEx, UPS, U.S. Postal Service, Venmo, PayPal, Zelle-we wired or overnighted $
Jos. A. Bank, shein.com, macys.com, nordstroms.com- we went to Jos. A. Bank in last three months
The sports card/NFT market is 32% hotter than the sports betting market for sports radio listeners. Everything on the PICK-6 is at least 100% more likely to purchase than an average 18+ Adult who doesn't listen to sports radio. All listed are at or above indexing strength compared to sports betting. The individual companies I added are industry leaders. Bet on it! Email me for details.