Anatomy of An Analyst: Louis Riddick
"The experiences Riddick has had over the length of his career are irreplaceable when it comes to his analysis of the sport."
From the field to the front office to your television, Louis Riddick is all about one thing: Football. Riddick along with his boothmates, Steve Levy and Brian Griese, will be back for a second season of ESPN's Monday Night Football. Riddick got solid reviews and they were well deserved. He and Griese seamlessly worked together as co-analysts, which is not an easy thing to do.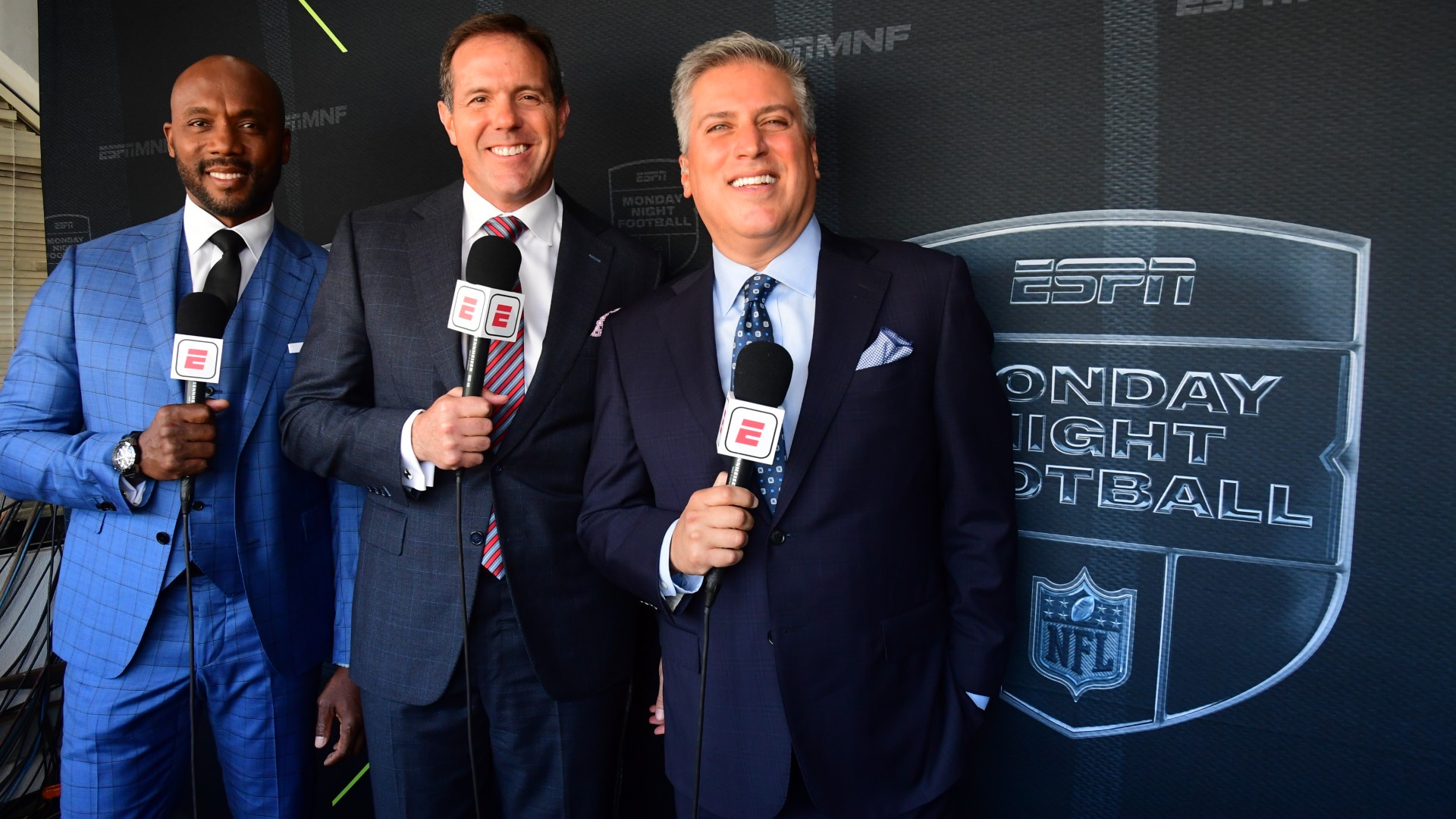 Riddick is a native of Quakertown, Pennsylvania and graduated from the University of Pittsburgh. He was a four-year letterman and a two-time Academic All-America. Riddick was a ninth-round draft choice of the San Francisco 49ers in 1991, and played seven NFL seasons at safety. His career included stints with the Falcons, Browns and Raiders. When his playing career came to an end, Riddick moved into the front office. His experience spanned more than a decade with the Washington Football Team and Philadelphia Eagles. He started as a pro scout in Washington before being promoted to director of pro personnel, a position he held for three years. Riddick then joined the Eagles in 2008 as a scout. He was named assistant director of pro personnel in 2009, and, a year later, he was promoted to director of pro personnel.
ROAD TO MONDAY NIGHT BOOTH
Riddick started at ESPN in May of 2013 as an NFL Front Office Insider. His role has expanded seemingly every year since. In 2015, he made his debut on the network's NFL Draft coverage in Chicago. He was supposed to cover the draft for ESPN Radio, but when riots broke out in Baltimore, Ray Lewis went back to the city and the network needed a replacement. Since Riddick was going to be in Chicago anyway, he was going to be the guy. The network informed him the night before the draft was set to begin.
"When we started the draft that night, within the first 20 minutes, I looked down at my phone and I probably had about 75 to 90 text messages from co-workers, friends, family and former coaches", Riddick recalled to the Philly Voice. "I thought I was either doing really bad, or I was doing really well. It turned out really positive. I remember going back to my hotel room in Chicago that night thinking, 'Here we go.' That's when it took off in my mind that I can do this."
Riddick has been a fixture of ESPN's draft coverage on the main set ever since. He opened up a new world for himself in Bristol. Riddick began contributing to many of their signature NFL Shows. Sunday NFL Countdown, Monday Night Countdown, and NFL Live, as well as SportsCenter and ESPN Radio.
Riddick also worked Friday Night College Football game broadcasts, which showcased his ability to analyze a live game. Even before settling into the current MNF booth, Riddick worked with his booth mates, on September 9, 2019, when they helped kick off MNF's 50th season and called the Denver Broncos-Oakland Raiders game for ESPN.
The following year, after a shakeup, Riddick, Griese and Levy were called to take over the iconic franchise. They will return for a second season this year.
WHY IS HE SO GOOD?
He's got the credentials and the chops to be very good at what he does. The experiences Riddick has had over the length of his career are irreplaceable when it comes to his analysis of the sport. It's almost a situation of when Riddick talks, people listen, just like that old investment company's commercial. It's not just the information he disseminates, it's the timing and conviction in which he speaks. 
Riddick also plays well off of both Levy and Griese. The latter of course played the game but also has a little more experience in the booth and a different comfort level. That's probably why you don't see Riddick breaking down plays with a telestrator, it's more "I've seen this", "I used to run this", or "when I was in Philadelphia, we stressed this." The words stand alone and have power based upon having been there and done that. 
The other thing that's striking about Riddick in this booth, is the way he and Griese converse throughout a game. It's great football talk at a "human" level. Riddick presents the complex breakdowns of coverages, schemes and plays in a manner that is technical, yet not overly so. That's not an easy thing to do when you are a former football player first and broadcaster second. Terminology within a locker room or front office is geared to those in the know and pretty much only those folks. A broadcast has to be treated differently and Riddick gets it. He talks to his audience, not above them or below them. He has a way of explaining things so the casual fan can follow along. He can also get it done in a concise manner, since time is critical, especially in a three-man booth. Not a skill everyone can pull off.
There is confidence in his commentary. The delivery is clear and authoritative, commanding respect, but yet it's not overly cocky or arrogant. He works well with his 'teammates' in the booth and you can feel the healthy respect each has for the other. 
BACK TO FRONT OFFICE WORK?
Off of those points, there is a question that needs to be asked and answered. Just how long will Riddick remain in the booth? The answer is not entirely clear, but based on how many teams interviewed him for front office positions this offseason, it may not be long. Riddick has made no secret of his desire to return to the NFL, this time he'd like to be a general manager. 
The Lions, Texans, Jaguars and Falcons talked to him about vacant GM positions, but nothing materialized. Riddick wouldn't be the first guy to leave the MNF booth for a spot in the NFL. Jon Gruden returned to the sidelines with the Raiders in part because of his commentary and analysis from that booth. But like Gruden, Riddick has to feel like the opportunity is a good fit and the right situation for him. He has a great gig now, so something would probably have to blow him away to lure him away from MNF.
DID YOU KNOW?
I'll bet you didn't know, Riddick won use of Washington Football Team owner Dan Snyder's Aston Martin. Riddick worked in the scouting and pro personnel departments for the WFT and had the occasion to play Snyder in racquetball. He appeared on "the ESPN Daily podcast' earlier this year to recall the story.
"I used to whup him pretty good," Riddick remembered. "And I used to talk to [Snyder], like 'Are you gonna challenge me today or what? Is this gonna be a game? I'm getting bored with you.'
"He goes, 'If you can shut me out' — he had just bought the new V12 Vanquish Aston Martin, brand-new — 'If you can shut me out, I'll let you take that home.' I was like, 'Deal!' I went down there to the racquetball courts and was like, "Bam, bam, bam bam!' 11-nothing. Boom. Just like that. And he was pissed. PISSED."
Riddick wasn't sure that Snyder would honor the bet after a few weeks without acknowledgment of the events. But the Football Team owner finally paid up and gave him the keys to the Aston Martin.
"If you scratch it," said Snyder, "I'll be commandeering your salary forever."
Riddick didn't get to keep the car. He got to use it for three days, enough time to drive it home, impress his neighbors and his wife. Riddick was a sight to behold at the team's headquarters when he would roll up, driving the owner's car and parking in his personal space.
CONCLUSION
Riddick is a football guy; he knows what he's talking about. I really enjoy his commentary from the booth and when he appears on ESPN's draft coverage. He's such a credible voice and is in many cases the voice of reality. That's his schtick, it's not to be noticed for extremely high energy or random 'hot takes', he's based with his feet firmly planted on the ground. He works in facts and opinions based on factual information. A refreshing breath of fresh air. Give me that any day of the week.
Anatomy of An Analyst: Drew Brees
"His early work is being met with mixed reviews, but what can really be expected of a guy that just stepped off the football field?"
When you hear the name Drew Brees, you likely think of the guy that led the New Orleans Saints to the franchise's only Super Bowl title in 2009. The NFL was his way of life for 20 years, but Brees decided it was time to walk away after last season.
It's never easy for a guy as talented as Brees to realize that the time has come to retire from the sport he loves. Luckily for him, Brees had somewhere to go to keep that connection alive. Networks were reportedly climbing over one another to secure his services as an analyst. NBC won the bidding and now Brees calls the network home. 
At NBC, he serves as an analyst on Football Night in America and joins Mike Tirico in the booth on Notre Dame Football broadcasts. NBC also plans to use Brees during their Super Bowl coverage and during future Olympics. 
ROAD TO NBC SPORTS
Brees was born in Dallas to parents with athletic backgrounds. His dad played basketball at Texas A&M and his mom was a former all-state athlete in three sports while in high school. Brees didn't even play tackle football until high school, and his freshman year, he lettered in baseball, basketball and football.  It was said that he considered playing baseball in college, but after an ACL tear his junior year, most recruiters shied away from him. Brees overcame the injury and led his football team to a state championship with a 16-0 record. He was voted the Texas High School 5A Most Valuable Offensive Player in 1996. 
He received offers from only two schools, Purdue and Kentucky. He chose the Boilermakers. During his college career Brees set two NCAA Records, 13 Big Ten records and 19 Purdue marks. Even with all those accolades to his credit, he wasn't taken until the first pick of the second round of the 2001 NFL Draft by the San Diego Chargers. He slipped because of a perceived arm strength issue and his smaller than a pro quarterback stature (6'0").
After 5 seasons with the Chargers, they allowed him to leave via free agency. He joined the Saints in 2006 and led them to nine playoff runs, seven division titles (including four straight from 2017 to 2020), three NFC Championship Game appearances and the franchise's first ever Super Bowl title in Super Bowl XLIV.
In spite of all the doubters, Brees retired as the NFL leader in career pass completions, career completion percentage and regular season passing yards. He is also second in career touchdown passes. He also was the MVP of the Saints' Super Bowl XLIV victory. 
HOW IS HE DOING SO FAR?
Brees is a rookie again, and under the microscope in a high-profile job. His early work is being met with mixed reviews, but what can really be expected of a guy that just stepped off the football field? It's one thing to be a good subject for an interview, it's another to be the person on the other side of things and having to analyze and also interview. In his role on Football Night in America, he's criticizing former teams and teammates that he just played with last season. Imagine that. 
"The Carolina defense completely shut them down today. There was no run game, they got after Jameis Winston," Brees said. He then added: "These Carolina Panthers came ready to play." That's all he had to say, but in a few short sentences he'd said a lot about his former team.
Not a bad start by Brees, who may still be trying to find himself and his style in the early moments of his new endeavor. I'm sure he was thinking and his bosses probably were too, if he takes a glancing shot at his team, that leaves every other team in the league open to his words. I get that, you have to be careful, especially as Brees points out he still has relationships with many of his former teammates. He's still close to Sean Payton as well. Baby steps for an analyst, but important steps none the less.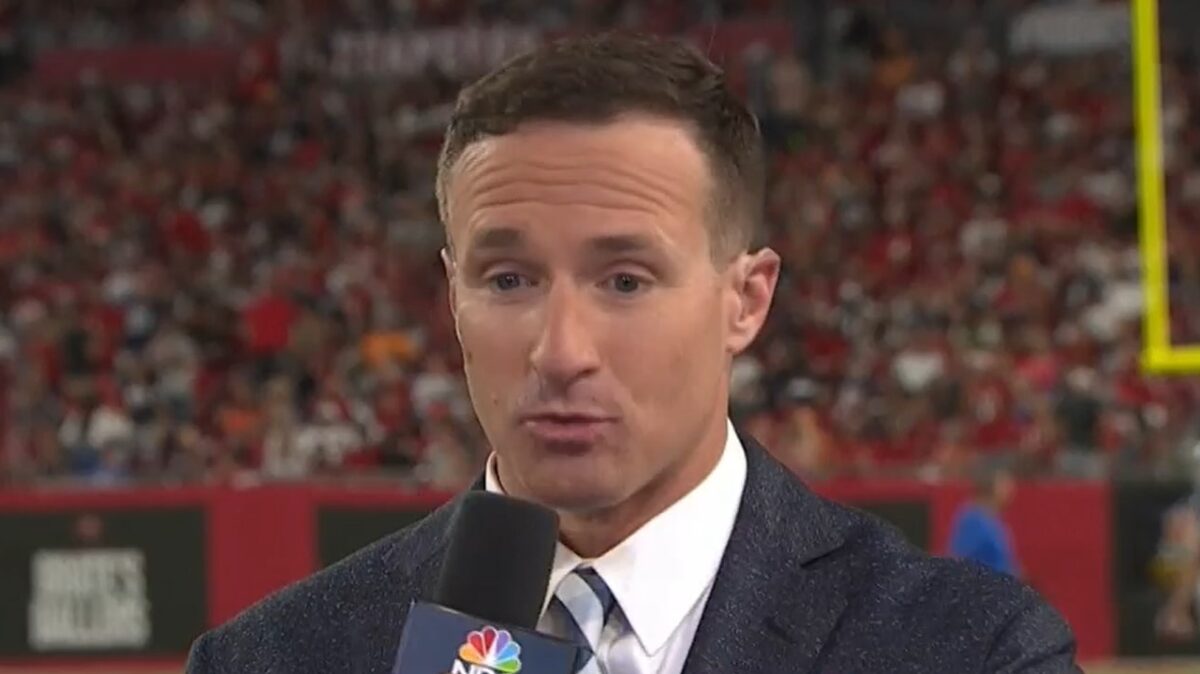 It's all part of a lot of firsts for Brees in his post football career and new media gig. Opening week of the NFL season, his Saints put a whooping on the Green Bay Packers. Brees was watching it from a television monitor. Then last week, he had to call a college football game, Notre Dame facing his alma mater of Purdue.
I went back to watch the NBC broadcast of the Irish and Boilermakers to get a better idea about Brees as a color commentator. There have been rumors that NBC would like to see him in this type of role going forward. I'll break down what I saw and heard as I watched the game. 
I felt like Brees was still finding his way through a broadcast. He didn't really have much to add as Mike Tirico set the stage for the game. Brees actually played in this rivalry so I would have thought the producer of the game would have liked him to speak to how intense it gets with the schools separated by less than 150 miles.
Tirico did a brilliant job early of asking Brees direct questions to bring him into the broadcast. There was some silence still in places where I'm used to hearing the analyst chime in. The early stages of the first quarter are fairly devoid of any commentary, Brees didn't bring much through that point. Some of his early analysis was fairly generic, he started to explain how a near interception by a Notre Dame player resulted because the "pass in the flat, from the opposite hash, may be a 5-yard pass, but it's in the air 35." I was all ears, but then he ended with "lucky that pass didn't get picked off."
Look, there is a timing, not just in the game, but with the broadcast itself. Television, as I've explained a lot, belongs to the color commentator. He should be the star. When you have a rookie in that spot, he/she may tend to defer to the announcer, when they really don't need to, or have to in these cases. 
Like any rookie quarterback, I thought Brees really improved as the game went on. Especially when it came to play calling and the work of the quarterbacks on both sides. After a Purdue sack, Brees said that "(ND QB) Coan needs to understand where the rush is coming from and feel it in order to make a play." He's been there and yes; he knows how to read a defense.
It's almost like a light switch went on in his head during the latter stages of the 1st Quarter and into the 2nd. He had some tremendous insight about Purdue being in third and short situations and knowing how many different play calls they could make in the situations Purdue faced.
In the 2nd quarter, Brees had some excellent commentary about Notre Dame's young quarterback Tyler Buchner. Brees, relayed what Brian Kelly told him during the week about what can be expected from Buchner.
Brees explained, "They are not trying to rush him along, they're not trying to give him more than he can handle, at this point. They want him to be able to play fast, play confident. Certainly, they see this kid's upside and his ability to throw the ball, even though a lot of that's happened outside the pocket thus far, both with the runs and RPO's," Brees said. "What I'm looking to see today is are they going to call some pocket passes with him, because if I'm Purdue's defense all I've seen from Tyler Buchner thus far is him making plays outside the pocket, I haven't seen him make a play from the pocket yet. Guys, keep this guy in the pocket…don't allow him outside the pocket, let's see if he can beat us from there."
This particular bit of verbiage showed me a couple of things. He can relay and pay attention to what a coach is telling him about a particular player. In other words, he was doing his homework on a player that many Notre Dame fans want to watch and see him develop. Brees didn't betray any type of confidence because as he continued, "what I'd like to see" turns it right back on his experience as a high-level quarterback. From this point of the game on, I was happy to see and hear more confidence in Brees. He jumped into the fray without Tirico having to "invite" him and his timing was so much better.
There were a few times it sounded like Brees was back in the huddle, explaining how time management for Notre Dame was critical and that Coan needed to tell his team that they had lots of time to get a completion and with two time outs toward the end of the half, they could even afford to run the ball. Experience was talking right there and that's what I want to hear from an analyst as a play-by-play guy. That gives our broadcast credibility. 
The most impressive thing about Brees in that game, by my count he only slipped up once and dropped a "we" when it came to Purdue. After a completion in the flat and some run after the catch he said, "we'll take that every time!" Not bad and understandable.
More and more reps, like he needed as a young quarterback will make Brees better as time goes along.
DID YOU KNOW?
Brees still gets a copy of the Saints game plan? During an appearance on The Dan Patrick Show, it was revealed that Brees stays in regular contact with both Jameis Winston and the Saints' backup and gadget play quarterback, Taysom Hill.
"Are you an unofficial assistant coach?" Dan Patrick asked.
"I will say this," Brees said laughing. "I did have the game plan for the (Packers) game in my hand prior to the start of the game." It came directly from the Saints according to Brees.
Brees got attention for a lot more than his work during week one. Apparently, his hair was the talk of the internet. Fans on social media were surprised to see Brees with a fuller head of hair, and noticed that his "hairline" has seemingly drastically improved in post-retirement life.
CONCLUSION
Brees has a future in the industry. Just like all those former players that came before him, repetition and learning the ways of the broadcasting world will serve him well. Brees has the background and credentials that make him a credible analyst, now he just needs to learn how to incorporate his thoughts within the structure of a broadcast. He'll figure out how to make statements that are powerful, meaningful and understandable. It all comes with time.
Anatomy Of A Broadcaster: Rick Allen
"Not only is he high-energy, he's accurate, smooth and has a very confident and commanding style."
In my "Anatomy of a Broadcaster" series, I've basically stuck to the Big 4 (Baseball, Basketball, Football and Hockey). I figured it was time to branch out a bit and tackle one of the more popular sports in America, NASCAR.
I have to admit, I'm not a huge racing fan, but many of you that read this column are, so let's start our engines on this "Anatomy" by focusing on Rick Allen of NBC Sports. 
Allen grew up in Grand Island, Nebraska, and was an athlete in college. He was a walk-on for the University of Nebraska Track and Field team and was one of those great success stories. He wound up as a letter winner all four seasons, was a three-time All-American in the sport, winning two Big Eight Conference decathlon titles (1991–92). Not too shabby for a non-scholarship athlete. 
He received his bachelor's degree of communications from the university. After graduation, he worked as a public address announcer for the University of Nebraska athletic department. He was heard on the PA system at Memorial Stadium, where the Cornhuskers football team played. This was a time where Nebraska dominated the football landscape and a 24-year-old Allen was in the spotlight, heard by hundreds of thousands of fans in the early to mid '90s. His work at the school led him to racing. He was asked by a Nebraska Alum and donor to do the PA at a racetrack just purchased by the donor. Eagle Raceway is where it all started for Allen. 
ROAD TO NBC/NASCAR
Rick's path to the booth was pretty unique. He never really intended to announce races when he was a student. But the opportunity afforded to him by the owner of the Eagle Raceway, set the tire rolling down the track for him.
Allen recalled last year to a Nebraska TV station WOWT, "A NASCAR official came to me during my second year of announcing out there, and said send my demo tape in because FOX Sports and NBC Sports were taking over the broadcasts for NASCAR, and I didn't know anything about NASCAR, so I didn't send a tape in and about two weeks later they said hey you really need to send a tape in, they are interested," said Allen.
From 2003 to mid-2014, Allen worked for Fox Sports, where his main duty was calling the NASCAR Camping World Truck Series and ARCA Racing Series on SPEED-TV and later Fox Sports 1. He occasionally covered Nationwide Series events as well.
In December of 2013, it was announced that Allen would become the lead announcer for NASCAR on NBC starting in 2015. He actually started some work with NBC in 2014, hosting their daily studio show, NASCAR America while he was still at Fox. His last Truck Series race for Fox was in July of 2014. 
As part of the NBC family, Allen has been able to show his versatility as a broadcaster. He's been called upon as a play-by-play announcer for the network's coverage of USA Track and Field Indoor and Outdoor Championships. He also calls the Millrose Games, the Boston Marathon, and the World Indoor and Outdoor Track and Field Championships on NBC Sports. Makes sense since he was a three-time All-America in the sport, right? 
In the racing off-season, Allen calls Atlantic 10 Men's Basketball games on the NBC family of networks.
WHY IS HE SO GOOD?
I had to do a little research to find out why Allen is so good at what he does. Viewing several of his races and learning about his path, it wasn't hard to figure out why. Allen first and foremost is a student of the racing game. Never intending to be in the position he is now, he had to work to familiarize himself with the sport and learn along the way. Not just about NASCAR but how to broadcast it.
During the same interview I referenced earlier with the Nebraska TV Station WOWT, he recalled a race in 2003. It was a NASCAR Truck Series race and it was a three-wide photo finish. Exciting right? I should point out that this race was held at the Daytona Motor Speedway. Allen, feeling all of the excitement in the air and of the finish he just saw, almost made a big gaffe. He told the station that he almost proclaimed Rick Crawford the winner of the Daytona 500. Nope. Wouldn't have been true. So, when you listen back to the call of the actual result of the race, Allen says, "Rick Crawford wins the Daytona", and after a pause of 5 seconds or so, "250".  All good. 
The other thing that struck me by watching some races over the years is his very confident and upbeat style. He's taken some criticism for what some perceive as him "yelling" all the time. I felt it was appropriate in almost every situation. See, he's working with Dale Earnhardt Junior and Junior is always upbeat in the booth. Earnhardt the former driver himself, knows a lot about the sport and is one of the most hyped-up analysts around. As a play-by-play announcer, you have to try and match that energy. Matching it without sounding completely phony is a tough chore. Allen pulls it off.
Not only is he high-energy, he's accurate, smooth and has a very confident and commanding style. He's in control of his broadcast and while that amped-up style may not be for everyone, to me the sport almost demands it. These are cars traveling around a track, bunched up, going over 200 miles an hour. It's exciting just to watch what is happening and the sounds of the track are loud and the announcer has to be able to relay the excitement in his voice. The broadcast team also seems to really enjoy each other's company. That's important. 
The educational style of the broadcast is interesting as well. Not having grown up myself as a racing fan, I was drawn to how Allen explains things. Even the novice gains some education and I don't think the rabid fans get offended by the simplistic nature of some of the commentary.
In an interview with "i80 Sportsblog" Allen explained that's all part of NBC's approach to their NASCAR coverage. "If you didn't grow up in racing and get introduced to the sport via your family, how would you ever get introduced? Our goal is to explain it in an easy, conversational way."
Mission accomplished.
Anatomy Of A Broadcaster: Michael Kay
"Kay isn't afraid to call it like he sees it, even if that means blasting the Yankees, an individual player or the opposing team."
Dreams do come true, just ask Yankees TV announcer Michael Kay. He grew up ten minutes from Yankee Stadium. He was a huge Yankees fan, so much so, that in Little League he'd wear number 1 for his favorite player, Bobby Murcer. Once he realized that a career as the Yankees' first baseman wasn't going to materialize, the dream turned to becoming a broadcaster for the team. To get there, Kay did all the school reports he could about the Yankees, so he could know all about them. Now many years later it's his job to know all he can about the team.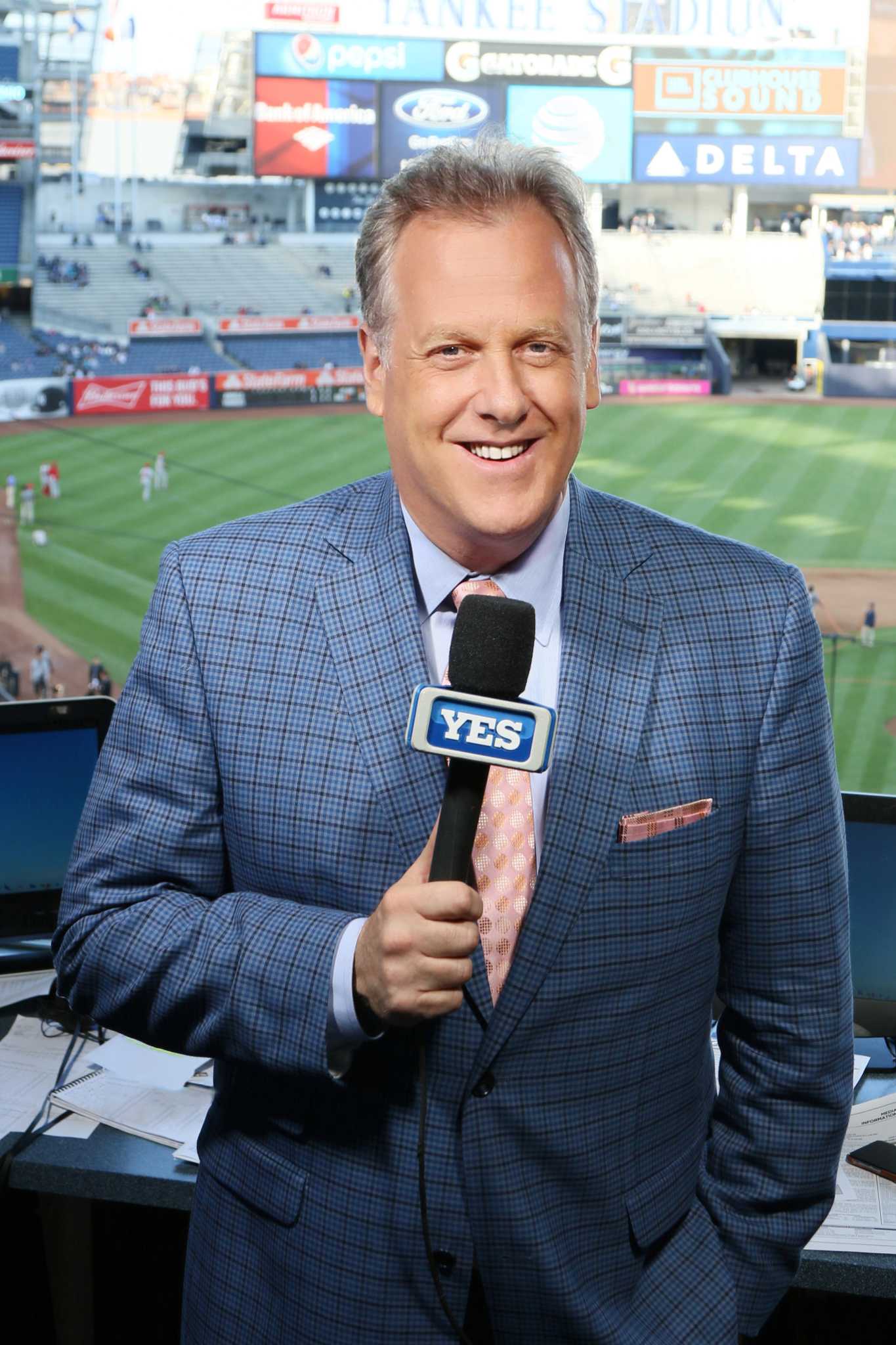 Kay attended Fordham University and worked for the radio station WFUV, thinking it was the best place for him to pursue the dream. He was there with another guy that dreamed of a play-by-play career, Mike Breen, the voice of the NBA on ABC/ESPN. 
In 1992, the lifelong ambition became a reality as he joined John Sterling in the Yankees radio booth. He would spend a decade on radio, then transition to television with the advent of the YES Network. He became the main play-by-play guy for the network in 2002. So now, Kay is in his 30th year with the team as a broadcaster.  
ROAD TO YANKEES BOOTH
Kay started his professional career with the New York Post in 1982 as a general assignment writer. He had sports assignments from college basketball and the NBA, covering the New Jersey Nets. Kay worked himself up at the paper and received the Yankees' beat writing assignment in 1987.
In 1989, Kay left the Post for the Daily News, still covering the Yankees as his primary beat. Kay also served as the Madison Square Garden Network Yankee reporter starting in 1989.
Kay left the Daily News to host a sports talk show on WABC in 1992, briefly returning to write "Kay's Korner" for the Daily News in 1993, before taking the microphone job for radio broadcasts of New York Yankee games beside John Sterling. 
BUSY GUY
Kay manages to find time to do many things, aside from calling Yankees games. He hosts The Michael Kay Show weekdays from 2-6:30pm on ESPN Radio 98.7 FM and simulcast on the YES Network. The show started in 2002, the same year he started as the voice of the Yankees on TV. 
The show is now co-hosted by Don La Greca and Peter Rosenberg. Kay and La Greca have been paired on ESPN New York since 2002, with the duo working to build a successful sports radio show in a tough market over the course of two decades. Rosenberg, the show's third voice, joined in 2015.
In March TMKS moved up an hour to give Kay more time with the New York audience. But that means an extra hour away from preparing for that night's Yankees game. Kay will look through his Yankees notes and other things to get ready for the game, during long commercial blocks on his radio show. If there is a game to call, Kay will leave the radio show anywhere from 5:45 to 6pm, with co-hosts La Greca and Rosenberg left to close out the show.
He's also the host of CenterStage on the YES Network. He interviews some of the biggest names in sports, entertainment and politics for the last two decades. Kay has even collected some of his favorite moments from on and off camera into a book "CenterStage: My Most Fascinating Interviews – From A-Rod to Jay-Z."
I'm not entirely sure how Kay manages this schedule. I know that the first time I was asked to host an hour-long pregame show before a game broadcast, the feeling in my stomach was not good. How could I do this show and get ready for a game that night? It meant getting to the ballpark earlier, using time between segments wisely and then getting some good exercise. I'd have to maneuver through the crowd from the home studio down the left field line, to the broadcast booth behind home plate. Stressful.
My point is, for Kay to be able to call a Yankees game, after having been on the air already for 3-4 hours is something to marvel at. I'm sure he would tell you that a lot of the prep work comes from some of the topics on his show. He's likely already up on the latest information regarding the Yankees and he's pretty versed by then about what is happening elsewhere in the world of sports. Still, I admire his ability to be as busy as he is and still be sharp on his play-by-play. 
WHAT MAKES HIM SO GOOD
There is a conversational style by Kay that sets him apart from others. He doesn't have that "typical" broadcasting voice, but that isn't necessarily a bad thing. He seems to speak to Yankees fans as a Yankees fan. Make sense? I mean he's rooting for the team and he's not pleased when they aren't doing well. You can tune into a Yankees telecast and before you even see the score, you can tell by his tone, who's winning and who's not. Kay is a true hometown broadcaster and people in New York crave that. He's happy when the viewer is obviously happy, and not when they aren't.
Having a highly rated sports talk show helps with that delivery. Hosts are supposed to have that conversational, passionate and easy to listen to style. You talk with your audience as opposed to talking "at" them. Sports talk hosts want to build that relationship with an audience, making them feel like the host is one of them so to speak. This holds true with a baseball announcer trying to develop that same relationship. Kay truly is one of them and while his style may not work for others, it definitely works for him.
Kay is a throwback of sorts as well. There aren't too many true "homers" left in booths across the country. Yes, broadcasters of local teams, scream and yell more when their team is doing well, but if their local 9 isn't playing well, choosing the right words can be challenging. Not too many announcers have free reign to criticize their own club. Gone are the days of Harry Caray and Marty Brennaman who would frequently call out their own team and its players for a variety of things. Both had built up so much equity with the teams and fan base they were free to do and say what they wanted.
Kay isn't afraid to call it like he sees it, even if that means blasting the Yankees, an individual player or the opposing team. He sees it as being honest with the viewer/listener. As he told the "Sports Media with Richard Deitsch" podcast, Kay doesn't think there is anybody more critical of the team they broadcast than he is and he credits the Yankees for allowing him to do that.
"The reason I can do it is that the Yankees never say a word because they realize the value of honesty. If you are going to tell people the food stinks, then they are going to believe you when they tell you the food is great. There are so many people around the country that are blowing smoke constantly and I guess that's what the fanbase wants. I don't think that would play in New York. I think honesty plays in New York."
CRITICIZING AND BEING CRITICIZED 
In his 30-year career, Kay has done his share of criticizing. In April he went off on the Yankees for using an "opener", Nick Nelson, in a critical game against the Rays. 
"You're the best-looking guy at the party. Don't try to be the smartest. Why couldn't they start Michael King? Why were they getting cute by starting Nick Nelson, who gave up two runs and they never looked back? Why? Why were you doing that? In your organization, you don't have another starter? It's almost the same thing as what you did in the Division Series. You started Deivi Garcia and brought in J.A. Happ. Don't try to outsmart the Rays!"
So, when you criticize you open yourself up for it to come back to you. He's had back-and-forth run-ins with players on his own team, like Clint Frazier. Most recently as a result of commentary on his talk show, he's gone toe-to-toe with Mets' pitcher Marcus Stroman.
The funny thing is Kay claims he has thin skin. Again, speaking on the "Sports Media with Richard Deitsch" podcast he admitted to such. His inclination is to fight back, but sometimes it's not the best way to go about it. 
"People that criticize people do not like to be criticized. My skin is so thin, it is translucent. If I mess up a call and you say wow, Michael messed up a call. Bring it, I deserve it. When you say stuff just the way I do stuff or something that rubs you the wrong way, it bothers me. I don't understand the meanness of it." Kay told the podcast.
CAREER HIGHLIGHTS/CALLS
Working for an organization like the Yankees lends itself to a broadcaster having some memorable calls. This is true in the case of Kay, who got to watch Derek Jeter, Bernie Williams, Mariano Rivera, Tino Martinez, Mark Teixeira, Jason Giambi, Jorge Posada, Aaron Judge and even Alex Rodriguez play many baseball games. One of Kay's most memorable came in 2011.
Derek Jeter's 3000th hit came on a home run, July 9, 2011:
"The 3-2, that one's drilled to deep left field, going back Joyce, looking up, See ya! 3000! History with an exclamation point! Oh, what a way to join the 3000-hit club! Derek Jeter has done it, in grand style!"
If you've ever wondered, where his home run call, "see ya!" came from, well in 2018 he joined the Dan Patrick Show and explained the origin:
"I got this job 27 years ago, and at the time I was dating a young lady who, when she would get out of the car at the end of a date, she would say 'see ya, wouldn't want to be ya!' And I said, 'you know, I'm going to hijack that as my home-run call. So, I've been doing it since the very beginning of when I got the job in 1992."
CONCLUSION
Kay is a multimedia superstar in New York and just keeps on going. His uniqueness is in his ability to juggle a top-rated talk show and call games for one of the iconic franchises in sports history is amazing to me. To actually be able to do BOTH jobs at such a high level sets him apart. Kay has carved out his own style and it works for both him and Yankees fans alike.