Anatomy of An Analyst: Drew Brees
"His early work is being met with mixed reviews, but what can really be expected of a guy that just stepped off the football field?"
When you hear the name Drew Brees, you likely think of the guy that led the New Orleans Saints to the franchise's only Super Bowl title in 2009. The NFL was his way of life for 20 years, but Brees decided it was time to walk away after last season.
It's never easy for a guy as talented as Brees to realize that the time has come to retire from the sport he loves. Luckily for him, Brees had somewhere to go to keep that connection alive. Networks were reportedly climbing over one another to secure his services as an analyst. NBC won the bidding and now Brees calls the network home. 
At NBC, he serves as an analyst on Football Night in America and joins Mike Tirico in the booth on Notre Dame Football broadcasts. NBC also plans to use Brees during their Super Bowl coverage and during future Olympics. 
ROAD TO NBC SPORTS
Brees was born in Dallas to parents with athletic backgrounds. His dad played basketball at Texas A&M and his mom was a former all-state athlete in three sports while in high school. Brees didn't even play tackle football until high school, and his freshman year, he lettered in baseball, basketball and football.  It was said that he considered playing baseball in college, but after an ACL tear his junior year, most recruiters shied away from him. Brees overcame the injury and led his football team to a state championship with a 16-0 record. He was voted the Texas High School 5A Most Valuable Offensive Player in 1996. 
He received offers from only two schools, Purdue and Kentucky. He chose the Boilermakers. During his college career Brees set two NCAA Records, 13 Big Ten records and 19 Purdue marks. Even with all those accolades to his credit, he wasn't taken until the first pick of the second round of the 2001 NFL Draft by the San Diego Chargers. He slipped because of a perceived arm strength issue and his smaller than a pro quarterback stature (6'0").
After 5 seasons with the Chargers, they allowed him to leave via free agency. He joined the Saints in 2006 and led them to nine playoff runs, seven division titles (including four straight from 2017 to 2020), three NFC Championship Game appearances and the franchise's first ever Super Bowl title in Super Bowl XLIV.
In spite of all the doubters, Brees retired as the NFL leader in career pass completions, career completion percentage and regular season passing yards. He is also second in career touchdown passes. He also was the MVP of the Saints' Super Bowl XLIV victory. 
HOW IS HE DOING SO FAR?
Brees is a rookie again, and under the microscope in a high-profile job. His early work is being met with mixed reviews, but what can really be expected of a guy that just stepped off the football field? It's one thing to be a good subject for an interview, it's another to be the person on the other side of things and having to analyze and also interview. In his role on Football Night in America, he's criticizing former teams and teammates that he just played with last season. Imagine that. 
"The Carolina defense completely shut them down today. There was no run game, they got after Jameis Winston," Brees said. He then added: "These Carolina Panthers came ready to play." That's all he had to say, but in a few short sentences he'd said a lot about his former team.
Not a bad start by Brees, who may still be trying to find himself and his style in the early moments of his new endeavor. I'm sure he was thinking and his bosses probably were too, if he takes a glancing shot at his team, that leaves every other team in the league open to his words. I get that, you have to be careful, especially as Brees points out he still has relationships with many of his former teammates. He's still close to Sean Payton as well. Baby steps for an analyst, but important steps none the less.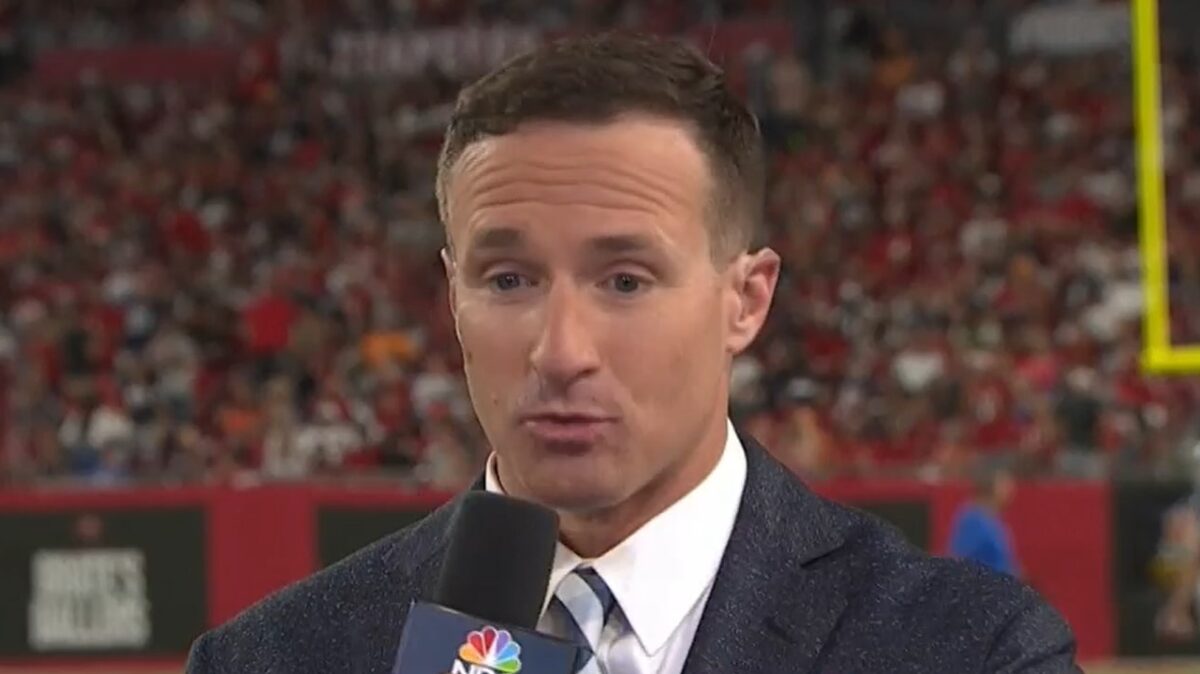 It's all part of a lot of firsts for Brees in his post football career and new media gig. Opening week of the NFL season, his Saints put a whooping on the Green Bay Packers. Brees was watching it from a television monitor. Then last week, he had to call a college football game, Notre Dame facing his alma mater of Purdue.
I went back to watch the NBC broadcast of the Irish and Boilermakers to get a better idea about Brees as a color commentator. There have been rumors that NBC would like to see him in this type of role going forward. I'll break down what I saw and heard as I watched the game. 
I felt like Brees was still finding his way through a broadcast. He didn't really have much to add as Mike Tirico set the stage for the game. Brees actually played in this rivalry so I would have thought the producer of the game would have liked him to speak to how intense it gets with the schools separated by less than 150 miles.
Tirico did a brilliant job early of asking Brees direct questions to bring him into the broadcast. There was some silence still in places where I'm used to hearing the analyst chime in. The early stages of the first quarter are fairly devoid of any commentary, Brees didn't bring much through that point. Some of his early analysis was fairly generic, he started to explain how a near interception by a Notre Dame player resulted because the "pass in the flat, from the opposite hash, may be a 5-yard pass, but it's in the air 35." I was all ears, but then he ended with "lucky that pass didn't get picked off."
Look, there is a timing, not just in the game, but with the broadcast itself. Television, as I've explained a lot, belongs to the color commentator. He should be the star. When you have a rookie in that spot, he/she may tend to defer to the announcer, when they really don't need to, or have to in these cases. 
Like any rookie quarterback, I thought Brees really improved as the game went on. Especially when it came to play calling and the work of the quarterbacks on both sides. After a Purdue sack, Brees said that "(ND QB) Coan needs to understand where the rush is coming from and feel it in order to make a play." He's been there and yes; he knows how to read a defense.
It's almost like a light switch went on in his head during the latter stages of the 1st Quarter and into the 2nd. He had some tremendous insight about Purdue being in third and short situations and knowing how many different play calls they could make in the situations Purdue faced.
In the 2nd quarter, Brees had some excellent commentary about Notre Dame's young quarterback Tyler Buchner. Brees, relayed what Brian Kelly told him during the week about what can be expected from Buchner.
Brees explained, "They are not trying to rush him along, they're not trying to give him more than he can handle, at this point. They want him to be able to play fast, play confident. Certainly, they see this kid's upside and his ability to throw the ball, even though a lot of that's happened outside the pocket thus far, both with the runs and RPO's," Brees said. "What I'm looking to see today is are they going to call some pocket passes with him, because if I'm Purdue's defense all I've seen from Tyler Buchner thus far is him making plays outside the pocket, I haven't seen him make a play from the pocket yet. Guys, keep this guy in the pocket…don't allow him outside the pocket, let's see if he can beat us from there."
This particular bit of verbiage showed me a couple of things. He can relay and pay attention to what a coach is telling him about a particular player. In other words, he was doing his homework on a player that many Notre Dame fans want to watch and see him develop. Brees didn't betray any type of confidence because as he continued, "what I'd like to see" turns it right back on his experience as a high-level quarterback. From this point of the game on, I was happy to see and hear more confidence in Brees. He jumped into the fray without Tirico having to "invite" him and his timing was so much better.
There were a few times it sounded like Brees was back in the huddle, explaining how time management for Notre Dame was critical and that Coan needed to tell his team that they had lots of time to get a completion and with two time outs toward the end of the half, they could even afford to run the ball. Experience was talking right there and that's what I want to hear from an analyst as a play-by-play guy. That gives our broadcast credibility. 
The most impressive thing about Brees in that game, by my count he only slipped up once and dropped a "we" when it came to Purdue. After a completion in the flat and some run after the catch he said, "we'll take that every time!" Not bad and understandable.
More and more reps, like he needed as a young quarterback will make Brees better as time goes along.
DID YOU KNOW?
Brees still gets a copy of the Saints game plan? During an appearance on The Dan Patrick Show, it was revealed that Brees stays in regular contact with both Jameis Winston and the Saints' backup and gadget play quarterback, Taysom Hill.
"Are you an unofficial assistant coach?" Dan Patrick asked.
"I will say this," Brees said laughing. "I did have the game plan for the (Packers) game in my hand prior to the start of the game." It came directly from the Saints according to Brees.
Brees got attention for a lot more than his work during week one. Apparently, his hair was the talk of the internet. Fans on social media were surprised to see Brees with a fuller head of hair, and noticed that his "hairline" has seemingly drastically improved in post-retirement life.
CONCLUSION
Brees has a future in the industry. Just like all those former players that came before him, repetition and learning the ways of the broadcasting world will serve him well. Brees has the background and credentials that make him a credible analyst, now he just needs to learn how to incorporate his thoughts within the structure of a broadcast. He'll figure out how to make statements that are powerful, meaningful and understandable. It all comes with time.
Andy Masur is a columnist for BSM and works for WGN Radio as an anchor and play-by-play announcer. He also teaches broadcasting at the Illinois Media School. During his career he has called games for the Chicago Cubs, San Diego Padres and Chicago White Sox. He can be found on Twitter @Andy_Masur1 or you can reach him by email at Andy@Andy-Masur.com.
Anatomy of a Broadcaster: Brian Anderson
Anderson has a 'relaxed enthusiasm' about him. I know those are diametrically opposed words, but it's true.
Undoubtedly, you've heard Brian Anderson call a game. If you live in Milwaukee, you definitely know him, since he's called Brewers games since 2007. Anderson has exploded on the national scene, with his work for Turner Sports on coverage of Major League Baseball, the NBA and the NCAA Men's Basketball Tournament. Versatility is his calling card and he achieves great heights in every sport he calls.
Anderson was born in Texas. He was a catcher on the nationally ranked baseball team at St Mary's University (Texas). He graduated from the school in 1994. Anderson is from a baseball family. He played the game and his older brother Mike was a Major League pitcher for the Reds and now is a special assistant to the GM with the Texas Rangers.
Anderson credits a Padres scout, Chuck LaMar for his and his brother's successes in their respective careers. It all came down to a Cincinnati Reds tryout, where Mike, was looking to sign a deal as an undrafted free agent. Brian was there when Mike was throwing 95 on the radar gun, allowing LaMar to sign him and send him on to minor league baseball. Brian would visit his older brother at all his minor league stops. Brian would spend time with the local play-by-play crews along the way.
This is why he credits the scout for his livelihood. "It was totally Chuck LaMar who is responsible for both our careers," Brian Anderson told the Athletic in May.
Brian was an English major in college, "I had no aspirations of becoming a broadcaster before that." he said.
In the early 1990s, Brian would go into an auxiliary booth and do a 'mock' broadcast to try and improve on this new ambition. His college happened to be using the field the San Antonio Missions, then the Double-A affiliate of the Padres, played on. One day after practice, he went to their front office and asked, if he could meet the team's broadcasters.
Little did he know that after graduating from college in 1994, the Missions hired him to be their No. 2 radio person. That started his career.
Anderson was destined for bigger and better things, and those things were on the horizon for the talented play-by-play man.
ROAD TO TURNER SPORTS
Since 2010, Anderson has also called play-by-play for Turner Sports' Sunday MLB on TBS package, a role he continued to fill on select Sunday national games in 2022. Outside of baseball, Anderson has covered the NCAA basketball tournament for Turner Sports/CBS Sports since 2012, the NBA on TNT since 2014 and various golf events since 2016.
Along the way, Anderson showed that versatility I spoke of earlier. He was a play-by-play announcer for The Golf Channel from 2003 until 2006. Anderson also hosted a variety of events on both the PGA and Nationwide Tours for the network. Nearly simultaneously, he also worked at FSN Southwest as the sideline reporter for the Spurs, from 1997 until 2007. He covered 3 Spurs NBA Championships during his time with the NBA team.
Anderson told the Sports Broadcast Journal in 2019, "My versatility is purely based on my willingness to say yes when offered assignments." He adds, "It's putting my fears aside, getting out of my comfort zone and being fully present to the event I'm hired to do."
Starting in 2007, Anderson moved on to be the play-by-play announcer for the Milwaukee Brewers. Anderson remains a member of the Brewers' broadcast booth today, though he cut his schedule down last season to accommodate more national assignments for Turner.
The sign that Anderson has risen to the top of his field, the ability to pivot on a dime. Going from one sport to the next, seamlessly. How is it that he can handle the big transitions? Again, he told the Sports Broadcast Journal in 2019, "The mechanics and prep are vastly different. Yet in all sports, it's important to absorb the vibe of the game/event. That's hard to explain or teach but I believe it's the most important first piece to successful preps."
The high-profile assignments continue for Anderson at Turner Sports, where he has become a well-known announcer.
WHY IS HE SO GOOD?
Every great announcer has a presence about him or her. Some have booming voices, some have schtick and some just rely on talent and being themselves. Anderson has developed into one of those 'big time' voices, not just because of top notch assignments, but for the way he handles those jobs.
Anderson has a 'relaxed enthusiasm' about him. I know those are diametrically opposed words, but it's true. The enormity of his games, never get the best of him. He's always in control, hence the relaxed part, but in the big moments Anderson rises to the occasion, covering the enthusiastic element.
He has a very relaxed and friendly on-air persona. That friendliness comes across in the broadcast in the way he relates to his analysts and the audience. He brings life to the basics of every game. The way he performs, game in and game out is so consistent. Which is huge in the industry.
BEST CALLS
Anderson has been a part of many big moments in sports. From the baseball field, to the Bermuda grass of the fairway, to the hardwood. Here's a selection of some of his great calls over the years.
October 6, 2010 – Anderson called Game 1 of the 2010 NLCS between the Reds and Phillies for TBS. That's the series in which Roy Halladay threw the second no-hitter in postseason history. Anderson's call of the final out:
Halladay is one strike away, the 0-2… a bouncer. Ruiz, IN TIME! ROY HALLADAY, HAS THROWN A NO-HITTER!
April 22, 2018 – Anderson called Game 1 of the 2018 Eastern Conference First Round match-up between the Bucks and Celtics where Khris Middleton hit a buzzer beating 3 to tie the game at 99 just minutes after Terry Rozier hit a 3 to put the Celtics up with 0.5 seconds left in the 4th quarter:
Who's going to get the last shot here? Gets it in, Middleton for the tie! OH MY GOODNESS! KHRIS MIDDLETON! TIES IT, WITH A LONG RANGE 3! And now they will check to see if he got it off in time, I think he did.
March 22, 2018 – Anderson covered the 2018 Sweet Sixteen match-up between the 11th seeded Loyola Ramblers and the 7th seeded Nevada Wolf Pack on CBS. Loyola had a 1-point lead until Marques Townes hit a 3 to help ice the game to advance the Ramblers to the Elite Eight.
Custer… crossover, kicks it. Townes, for 3. YES SIR! MARQUES TOWNES!
October 15, 2022 –Anderson was on the call for the marathon ALDS Game 3 between the Astros and Mariners in Seattle. The game was scoreless through 17 innings. Then Jeremy Pena walked to the plate to send the Astros to the ALCS.
The 3-2 pitch…in the air deep left center field, hit well, Rodriguez on the run…and it is GONE! Oh ho! Jeremy Pena sends one to the seats and the Astros lead 1-0 in the 18th inning. (lays out for crowd noise and pictures) This kid is the real deal himself, what a moment!
DID YOU KNOW?
Anderson played catcher on the nationally ranked baseball team at St. Mary's University, Texas. His team played in the 1993 NAIA World Series that season. While stats for that era were a little hard to come by, there is this nugget. Anderson is tied for 7th all-time in school history with 401 putouts in 1993.
Anderson was on the call for TNT's "The Match" golf series for the May 2020 event featuring Tiger Woods and Peyton Manning defeating Phil Mickelson and Tom Brady in Florida.
Andy Masur is a columnist for BSM and works for WGN Radio as an anchor and play-by-play announcer. He also teaches broadcasting at the Illinois Media School. During his career he has called games for the Chicago Cubs, San Diego Padres and Chicago White Sox. He can be found on Twitter @Andy_Masur1 or you can reach him by email at Andy@Andy-Masur.com.
Anatomy of an Analyst: Ray Ferraro
"I did get some advice early on, it's not an accumulation of word count," Ferraro told the Hartford Courant. "If you don't have something to say where you can provide some context then there's no need to say it. If the audience thinks I'm talking too much, then I probably think I'm talking too much."
He was given the nickname, 'The Big Ball of Hate' by former New York Rangers teammate Glenn Healy, but Ray Ferraro is easy to like if you watch him work. Ferraro retired from the NHL just before the 2002 season after a rather successful 18-year run. Even before retiring he began talking hockey on television while still an active player. Working for ESPN as one of the more respected minds and voices of the game. 
Ferraro returned to ESPN/ABC for the 2021-22 season as the lead color commentator for their NHL coverage.
Ferraro was born in Trail, British Columbia.
HOCKEY CAREER
Ferraro scored 408 career goals and recorded a 898 career points in 1,258 games. His 18-year NHL career included stops in Hartford, New York, for both the Rangers and Islanders, Atlanta, Los Angeles and St. Louis.
He was a 40-goal scorer twice, once scoring 41 in Hartford in 1988-89 and an even-40 for the Islanders in 1991-92. He also tallied a career best in points that season with New York, scoring 80 total. For those efforts, he was named to the NHL All-Star game in 1992.
Ferraro had a memorable Stanley Cup playoff run for the Islanders in 1993. He scored two overtime goals against the Capitals. The Islanders would knock off Washington and defending champion Pittsburgh in that postseason. He assisted on the goal that won the game and series in overtime of Game 7 against the Penguins. That goal advanced the Islanders to the Wales Conference Finals, which they lost to the eventual champion Montreal Canadiens. Ferraro finished that playoff season with team-leading totals in goals (13) and points (20).
ROAD TO ESPN/ABC HOCKEY
When Ferraro officially retired from hockey in 2002, he had already been working on some ESPN hockey broadcasts. He appeared on NHL 2Night with John Buccigross and Barry Melrose, while still an active player.  
He later worked as a studio analyst for the NHL on NBC, was a color commentator on Edmonton Oilers broadcasts on Rogers Sportsnet and some other hockey programs on the network. 
Ferraro has also worked as a color commentator and studio analyst for the NHL on TSN. He provided commentary for CTV during the 2010 Winter Olympics as well. After Pierre McGuire left TSN for NBC, Ferraro became the lead color commentator for their hockey telecasts. When Rogers Media, the parent of TSN's rival Sportsnet, gained the national NHL rights in 2014-15, Ferraro became a color commentator for the network's regional NHL telecasts. 
When ESPN regained the rights to air NHL games, Ferraro rejoined the network and is a big part of their broadcasts now. Last year, Ferraro waxed poetic about his first foray with ESPN.
"I didn't know it was a career at the time, I was still playing. I got to work with John Buccigross and Barry Melrose," he told The Province in 2021. He was recalling his first foray into broadcasting alongside Buccigross on Melrose on ESPN2's NHL 2Night, a step he took while he was still an active player. "All these years later, I'm back."
AS AN ANALYST
Ferraro's credibility is unquestioned. Ferraro also understands his role, maybe more than a lot of analysts in other sports. Ferraro doesn't try to force things or try to show off his deep knowledge of the sport. His philosophy on the job is spot on.  
"My role is to provide some 'why' as to what's happening," Ferraro said to the Hartford Courant back in May of this year. "Everybody's got a television and they can see what's happening, my thought is to try to use my experience from playing and from being around the game to explain why it happened. I love the game and I've been around it a long time, and I hope that comes across."
Ferraro doesn't have any hokey catch phrases, he just delivers the commentary straight without gimmick or flash. Whether or not fans of either team playing want to believe it, he has absolutely no rooting interest in a particular game. The length Ferraro goes to make sure that's the case is interesting. 
"I make it point to not really get to know many of the managers or the players on a personal level other than those I just do know," he said to the Hartford Courant. "Because I don't want it to cloud how I analyze a play. You always hear from people who think you're biased one way or the other, but honestly, you'd have to go a long way to find somebody who cares less who wins than I do. My job is not to care."
Hockey is fast-paced and many things can happen between his comments, depending on stoppages in play. He's not jumping in and interrupting the flow of the game with nonsense. Others in his role have. Ferraro doesn't spew endless mundane facts, like where a guy played his junior hockey, or how small a player's town is. Ferraro picks his spots well and compliments the play-by-play announcer. 
"I did get some advice early on, it's not an accumulation of word count," Ferraro told the Hartford Courant. "If you don't have something to say where you can provide some context then there's no need to say it. If the audience thinks I'm talking too much, then I probably think I'm talking too much."
That's a very refreshing take. Too often analysts and even play-by-play announcers, just say something to say it. The result is usually awkward. Ferraro understands the nature of his sport as well. If you make a comment that lasts too long on something that just happened, chances are pretty good that something else, maybe more important will happen next. I enjoy the fact that he understands it.
Ferraro is such a great breath of fresh air, compared to some that have done it in the past. His commentary is even handed and succinct. It's bread from the experience of a long and successful NHL career and I think it means something to the viewer.
DID YOU KNOW?
Ferraro played for British Columbia in the 1976 Little League World Series. They finished with a 1-2 record.
On November 23, 2015, Ferraro became the first hockey broadcaster to call a game where his child also played in the same game. It happened with the Maple Leafs hosting the Bruins. Ferraro's son Landon was playing for Boston. Ray let it slip at the end of an interview, telling his son 'Don't be shy, go get another goal."
Ferraro remarried in 2004 to former U.S. women's ice hockey team captain Cammi Granato, who also worked as a women's hockey analyst during NBC's coverage of the 2006 and 2010 Winter Olympics. 
Andy Masur is a columnist for BSM and works for WGN Radio as an anchor and play-by-play announcer. He also teaches broadcasting at the Illinois Media School. During his career he has called games for the Chicago Cubs, San Diego Padres and Chicago White Sox. He can be found on Twitter @Andy_Masur1 or you can reach him by email at Andy@Andy-Masur.com.
Anatomy Of A Broadcaster: Jason Benetti
"Benetti is entertaining to watch. Whether you're an old school follower of baseball and feel that batting average is still important, or a newer, metrics fan, he can appeal to you."
His voice is unmistakable, his humor makes his broadcasts entertaining and oh yeah, he's everywhere these days. Jason Benetti has stepped into the limelight as more than just a local baseball television announcer.
Benetti added a new feather in his cap a couple of weekends ago, picking up lead play-by-play duties for the new NBC-produced MLB Sunday Leadoff games seen on Peacock. He will be joined by a series of rotating analysts representing the teams in each game.
Benetti's main gig during the summer months is the White Sox. Since 2016, when he took over for Ken "Hawk" Harrelson, he's been the lead television voice for the team. For most people, the two fairly high-profile jobs would be enough, not for Benetti. 
He also fills on an occasional Chicago Bulls broadcast for NBC Sports Chicago during the fall and winter months. Benetti is also employed by ESPN. He joined the network as a play-by-play commentator for college basketball in 2011. Since then, he's also called college football, baseball and lacrosse games, high school football and Major League Baseball, as well as NFL, college football and MLB on ESPN Radio. Benetti serves as the play-by-play man for ESPN's MLB StatCast AI coverage of the Wild Card and Home Run Derby.
Benetti also called his first Olympics this past year. In 2021, he was named the play-by-play announcer for NBC's coverage of baseball at the Summer Olympic Games.  
Benetti graduated from Syracuse in 2005 with bachelor's degrees in broadcast journalism, economics and psychology. He then went on to earn his J.D. at Wake Forest School of Law in 2011.
The Illinois native gives back to his alma mater, as he is involved with the Burton Blatt Institute at Syracuse University's Communication Hope through Assistive Technology camp. He has previously taught sports broadcasting as an adjunct professor at S.I. Newhouse School of Public Communication.
ROAD TO WHITE SOX/ESPN/NBC
Benetti, like many of us that were fortunate enough to have a radio station at our high school, joined his school's radio station. At Homewood-Flossmoor High School in Flossmoor, Illinois, Benetti was a regular disc jockey on WHFH and also did play-by-play of various Vikings sporting events.
As mentioned, he attended Syracuse where he called lacrosse and women's hoops. Then upon graduation he enrolled at Wake Forest's school of law. While there, Benetti was the voice of High Point basketball games, Syracuse Chiefs baseball and he did high school sports for Time Warner Cable.
Benetti served as an intern for Chicago sports radio station 670 The Score. In 2011 Benetti joined ESPN, where his broadcasting career would move him into television, despite his childhood preference for radio-only broadcasting. Benetti would call select college basketball games for the ESPN3 online service, and then move on to ESPN2 and ESPNU. In 2013 Benetti called his first football game for ESPN's syndicated American Athletic Conference package.  
In 2020, Benetti signed a multi-year extension with ESPN.
WHY IS HE SO GOOD?
There is something inherently likable about the way Benetti calls a game.  He has the authoritative voice you like to hear from an announcer, yet he isn't monotone. When he gets excited during a game, he doesn't shout and scream, it's much more natural. It sounds just like it should in the flow of a game that has big moments. It's a good lesson for some young broadcasters that like to scream their way through those times.  
Benetti is entertaining to watch. Whether you're an old school follower of baseball and feel that batting average is still important, or a newer, metrics fan, he can appeal to you. He doesn't rely on the stats. Benetti will take those stats and make a story, or build an argument with them. It's a much cleaner way to get the point across rather than just the straight numbers. 
I like the underlying sarcasm that will find its way into his telecasts from time to time. Benetti is a smart guy and you can always tell when he doesn't completely agree with something. It's not delivered in a mean-spirited way, but the point is made, usually in a very entertaining way.
To me, the mark of a great play-by-play announcer is not just how he/she calls a game, it's how they make their analyst sound. Are they getting the best out of their partners? When you work with someone consistently, it's an easier process than when you are working with a rotating group. When Benetti is calling White Sox baseball games locally in Chicago, you can tell that he and Steve Stone are on the same page. They get the reps every day and by now, know each other extremely well and play off each other the same.
With NBC's MLB Sunday Leadoff games, he'll be working with a different analyst every week. One from each team's local broadcast. For some, this would be difficult to deal with. Not for Benetti. He already works with a number of different analysts during his college football and basketball duties on ESPN. His personality lends itself to making each telecast unique based on who he may be working with for that game. You might say he's really looking forward to the chance to do this.
"It feels like you're hosting a cocktail party every week," Benetti said on a recent NBC media conference call. "This one friend doesn't know this other friend, or they might, but the idea is to make sure that there's always conversation and to get to know people quickly. I have found I really have a love for that." he added. "When I heard about the different analysts rotating in, it was my favorite part of the whole thing. I just the love the idea that every telecast is different."
"There's a reason we picked Jason," NBC Sports executive producer Sam Flood said. "We did our homework. We know him. We love what he does, and we think he's the perfect person to be in that middle seat at the dinner party."
Benetti compared the experience to an episode of Curb Your Enthusiasm on the conference call.
"I watched a Curb Your Enthusiasm episode from either last season or the season before where they were having a dinner party, and there's this whole discussion about who's the best dinner party middle, who the best person is to sit in the middle of the table to keep the conversation going," said Benetti. "I think all of us aspire to be that at dinner parties if we're at all an extrovert, even a little bit.
"I think in my understanding of people, like I've done a lot of games with a person once, and the way I see it is when you sit down to do a game, the audience does not care at all if you're best friends with somebody or if you just met them for the first time. And so, it's on us, it's on me, it's on everybody in the booth, to understand each other and maybe have a meal before the game or talk on the phone or whatever."
He added that it's important that everyone in the booth has an opportunity to be at his/her best. Benetti realizes that the task of making that happen falls on him. 
DID YOU KNOW?
Benetti was born 10 weeks prematurely and hospitalized for three months. During the three months in the hospital, Benetti had a respiratory illness while in intensive care that deprived his blood of oxygen. It is believed that caused his cerebral palsy, which was diagnosed when Benetti was a toddler. He underwent years of physical therapy and two surgeries to improve his ability to walk.
Benetti's cerebral palsy prevented him from playing tuba during marching band season. As he told ESPN Front Row in 2014, "I wasn't balanced enough to carry it in marching band." Not wanting to exclude him, the band director asked him to serve as the halftime broadcaster for their marching events.
He helped to launch a Cerebral Palsy Foundation campaign called "Awkward Moments with Jason Benetti" in order to bring awareness through humor to the awkwardness that surrounds those with disabilities. The animated videos are voiced by Benetti. 
Benetti explains the reason he got involved. "There are moments and conversations in our society where people rely on accidental snap judgements or speak without forethought or understanding. That's ok. We all do it, and sometimes it is even funny." he said in a media release back in 2018. "But, if unaddressed, we don't know how to move past them. So, the goal of the campaign is to illuminate these moments when we might be on mental autopilot, and – by using humor – show people that they are having misperception about people – and learn to think differently."
CONCLUSION
Full disclosure, I've worked with Jason before and I find him to be not only a terrific broadcaster but also a really good guy. The thing that always struck me about Benetti is how comfortable in his own skin he really is. He is an inspiration to some, a mentor to others and an example for young broadcasters to follow. He is skilled, prepared, aware and a rising star in the industry. 
Andy Masur is a columnist for BSM and works for WGN Radio as an anchor and play-by-play announcer. He also teaches broadcasting at the Illinois Media School. During his career he has called games for the Chicago Cubs, San Diego Padres and Chicago White Sox. He can be found on Twitter @Andy_Masur1 or you can reach him by email at Andy@Andy-Masur.com.