Anatomy Of An Analyst: Brian Griese
Griese is a pro in the booth. He can break down what a quarterback sees or what an offensive coordinator is trying to accomplish on any given play, or in certain situations.
Brian Griese is the answer to a pretty cool NFL trivia question. Griese and his father, Bob Griese, are the only father/son quarterback combination in NFL history to both win Super Bowl titles. The elder Griese, a Hall of Fame quarterback, won back-to-back titles with Miami in Super Bowls VII and VIII and later served as a top college football analyst for ABC Sports from 1987-2005.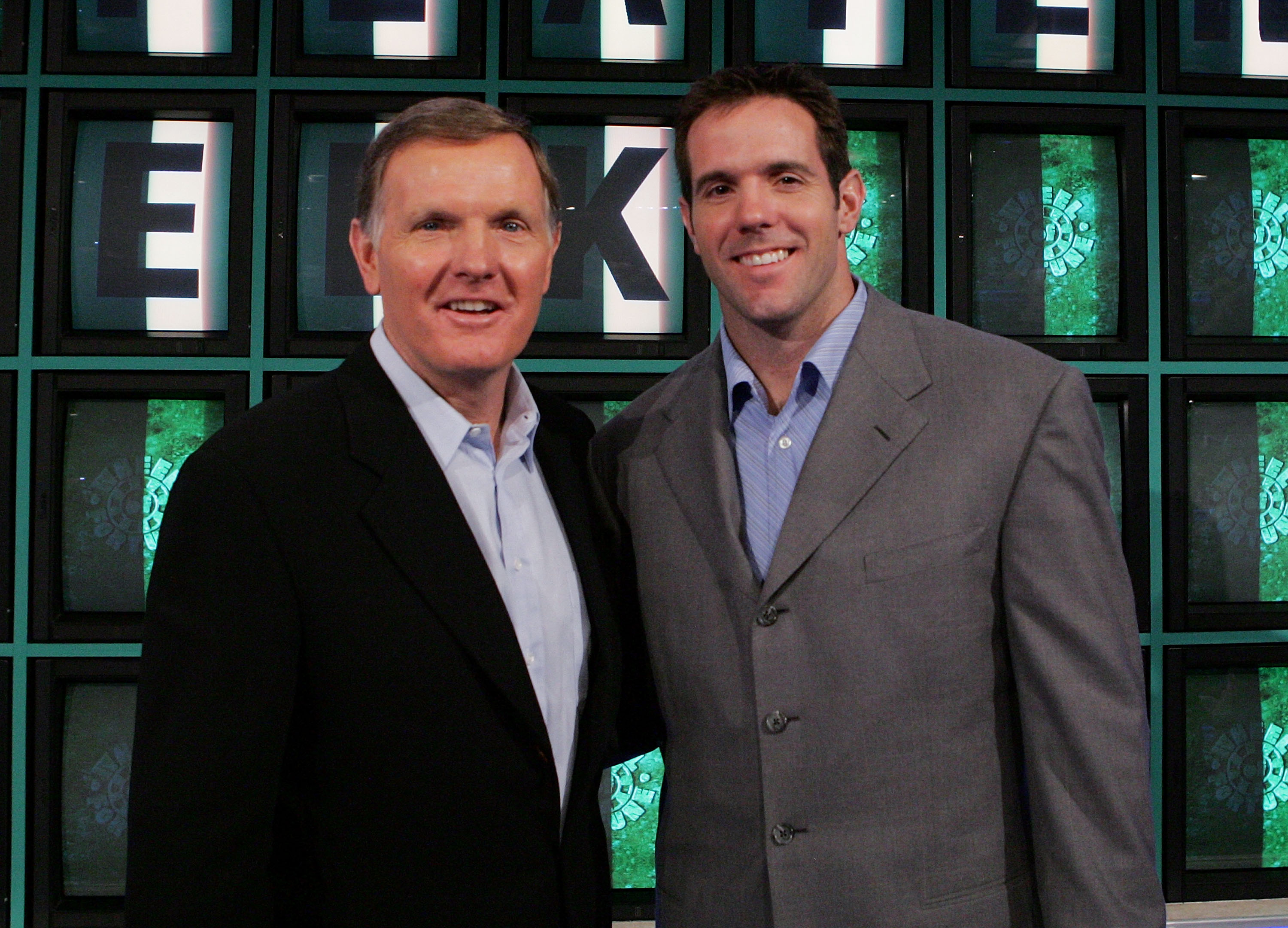 The younger Griese followed in his dad's footsteps one more time, in becoming a college football, and eventually NFL, color commentator. Brian was named to the ESPN Monday Night Football booth in 2020, in a three-man booth featuring Steve Levy on play-by-play and Louis Riddick as the other analyst. The crew was basically given last season as an audition. They passed and were brought back for the 2021 Monday night schedule. 
FOOTBALL CAREER
Griese played collegiately at Michigan from 1993-1997. He was a walk-on for the Wolverines after turning down scholarships at Purdue, where his dad played, and Kentucky.
He managed to piece together a pretty nice career for a non-scholarship player. In his career he went 17-5 as a starter.  Oh yeah, the Wolverines won all three games against Ohio State in which he was the QB. Griese was inducted into the Rose Bowl Hall of Fame in December of 2012. 
Griese led the Wolverines to the 1997 National Championship (as recognized by the Associated Press). After being selected in the third round by the Denver Broncos in the 1998 NFL Draft, he earned his Super Bowl ring with the Broncos in his rookie season, as John Elway led the Broncos to a victory in Super Bowl XXIII over the Falcons. Elway retired after the Super Bowl and Griese became the starting quarterback for the Broncos during the 1999 season. Griese made the Pro Bowl in 2000. After leaving the Broncos, Griese started games for the Dolphins, Bears and Buccaneers.
After his release in July of 2009, he decided to retire from the NFL.
ROAD TO ESPN MONDAY NIGHT FOOTBALL
Griese joined ESPN soon after his playing days were over in 2009. His rise to the MNF Booth was 11 years in the making. He was a leading analyst on college football for the network, calling big games on ABC and ESPN since his hiring. Griese teamed with Levy, field analyst Todd McShay and reporter Molly McGrath to call prominent games which included broadcasting New Year's Day Bowls on television and the College Football Playoff games on ESPN Radio.
Griese previously called ESPN's MNF doubleheader game in 2019 – with his current MNF booth mates Levy and Riddick, and 2018 with Beth Mowins. He also called Denver Broncos' preseason games on TV (2018-19 with Levy) and regular season games on the radio (2010-12). 
AS AN ANALYST
When Griese, Levy and Riddick took over the MNF booth, ESPN was looking to shake things up. Levy was a known commodity, handling many different roles at the network, including hockey. Riddick was more of a question mark from the start. He had the chops as a former player and front office guy, but he had never really served as a game analyst. Griese on the other hand, as I've denoted earlier, had plenty of game experience and the ability to break down a game. The risk though, was a three-man booth. These are never easy situations in any sport. 
"Obviously having three people in a booth versus two people in a booth is different," Griese told The Athletic last year before the groups' first season together. "It's different structurally. The amount of time that you have to talk and how you organize that is something that you have to work through. It's going to be a work in progress, but I think as time goes on, we'll develop our rhythm." he said.  
The roles have been carved out nicely. Griese is a pro in the booth. He can break down what a quarterback sees or what an offensive coordinator is trying to accomplish on any given play, or in certain situations. Having been not only a starter in the NFL, but a backup too, really helps him in my opinion. Sometimes as a starter you get very comfortable with what you're calling, because of the involvement play to play. As a backup, he had the ability to understand by listening to the offensive coordinator in 'game situations' and soaked up that knowledge. In turn now he's able to present that information from both sides if you will. Yet, both Griese and Riddick can explain things to the casual fan. He knows his audience is far less familiar with the nuts and bolts of a game plan than he is. 
I really feel like Riddick's development into a top-flight analyst, comes from Griese's understanding of the role. What do I mean by that? Last year, I felt like Riddick deferred a lot to Griese. In kind, I think the former QB nurtured Riddick, and allowed him to grow, because of how Griese handles his job. I've said it many times, there is a unique skill that only a few former athletes have mastered. That is simplifying the game of football down to its basic form and allowing everyone watching to understand the intricacies involved. All Griese had to do, was be himself and Riddick is doing the same. It really works, especially with an experienced 'traffic cop' in the booth. 
"Ultimately, I don't view our role as showing up every week and trying to show people how much football we know. That's not the point." Griese told the Athletic. "They will learn something new watching the show, and at the very minimum, they will know why the game was won or lost, whether that's a decision by a player or a coach. They will be engaged emotionally because that's always what the most interesting thing to me is when we watch a football game."
There have been occasions where Griese has been questioned for some of the comments he makes. Most recently in the Bears/Steelers Monday Night game on November 8th. Late in the game the Bears tied the score at 26. With 1:46 on the clock, going for one point seemed like it would be the obvious thing to do. The Steelers were called for encroachment and Griese asked whether Matt Nagy would go for two.
"If this is offsides on the defense, now you have options," Griese said. "Do you want to go for two here and potentially… (quick pause), well you're going to kick this field goal either way. It's a higher percentage to win the game."
There was that pause. He was likely hearing from his producer reminding him of the situation and that it only made sense to kick the extra-point.
Everyone makes a mistake from time to time, even people that played the game at the highest level. I don't hold that against Griese, considering, as a Bears' fan, that game had no flow thanks to all the penalties that were called in that game. Tony Corrente and his crew made far more mistakes that night than the broadcast team did.
I'm sure, if Griese is like many, as soon as that commercial break hit, he probably took off his headsets and looked at his partners and said something like, "What did I just say?". He also probably thanked the producer or whoever got in his ear for having his back. 
This situation certainly doesn't define Griese as a broadcaster or an analyst. I look at it as a blip on the radar and one that doesn't happen very often. 
CONCLUSION
As a whole, I enjoy Griese's work on ESPN and ABC. He's become a household voice in football and now is a mainstay on MNF. His less is more approach works, I think it helps the casual fan understand the game better. It's always nicer when the analyst doesn't talk down to you, he/she talks to you and helps the fan to see what they are talking about. The Griese name surely carries some cache, with name recognition as well.
Andy Masur is a columnist for BSM and works for WGN Radio as an anchor and play-by-play announcer. He also teaches broadcasting at the Illinois Media School. During his career he has called games for the Chicago Cubs, San Diego Padres and Chicago White Sox. He can be found on Twitter @Andy_Masur1 or you can reach him by email at Andy@Andy-Masur.com.
Anatomy of An Analyst: Greg Olsen
"The fact that he's raw and not that far removed from his playing days works in his favor."
His style is unique, he sometimes looks disheveled, unshaven and scruffy. But Greg Olsen could probably care less, because he's ascended to the top of his field at Fox. The former NFL Tight End, is spending his first season in the #1 booth with Kevin Burkhardt. While he may indeed look like Dexter's older brother (Showtime's drama about a serial killer), Olsen is killing it with his on-the-spot analysis. Sorry, had to go there.
Growing up in New Jersey, he never really thought about the guys calling the games. On the Dave Pasch Podcast earlier this year, Olsen explained his perspective as a kid.
"Until I started doing it, I don't even really know if I ever paid attention to broadcasters," he told Pasch. "You know, I knew who Monday Night Football announcers were as a kid. Dan Dierdorf and Frank Gifford and Al Michaels. You remember listening to games with John Madden. I remember them, I can't say I ever tuned into a game wondering 'Hey I wonder who is calling the game?' It was always kind of secondary to me."
That all changed when he started to get more serious about life after football.
"It really wasn't until later into my career and I'd been on that other side of the camera and sat in those booths and called it, where I would watch games and almost watch it more to hear what they were saying and more to see the replay sequence and more to see how the analyst used the telestrator and what points he made. And what I found interesting and what I found boring."
NFL CAREER
Olsen was selected by the Chicago Bears with the 31st overall pick in the 2007 NFL Draft out of the University of Miami. He spent four seasons with the Bears before being traded to the Carolina Panthers in 2011. As a Bears' fan, I still don't understand that deal.
Anyway, he remained with the Panthers through the conclusion of the 2019 season, and played a key role in the Panthers' Super Bowl 50 berth against the Denver Broncos. Olsen became one of the best tight ends in NFL history.
He was a three-time Pro Bowler and two-time second-team All-Pro selection. He ranks fifth all-time among tight ends with 742 receptions and 8,683 yards. From 2014 to 2016, he recorded 1,000 receiving yards each season. In the process Olsen became the first tight end in history to record three consecutive 1,000-yard receiving seasons. He left the Panthers as the franchise's all-time leading tight end in receiving yards (6,463), receptions (524) and 100-yard receiving games (10). Olsen sits second among Panthers tight ends in receiving touchdowns at 39 and third in receiving yards and receptions.
From Carolina it was on to Seattle. In 2020, he signed a one-year deal with the Seahawks. It was not as productive a year as he'd become accustomed to. Olsen was released by the Seahawks in March of 2021. He announced his retirement from the NFL that same year.
ROAD TO FOX
Olsen's road to the number one booth actually started while still an active player. In 2017, while playing for the Panthers, Olsen became just the third player in FOX Sports' history to serve as game analyst (Matt Hasselbeck and Marcus Allen were the first two). Olsen joined Kevin Burkhardt, Charles Davis and Pam Oliver to call a Week 11 game between the Vikings and Rams.
He also jumped into the booth in 2019, his last season with the Panthers. He partnered with Kenny Albert and reporter Lindsay Czarniak for the Week 7 NFL matchup between the Arizona Cardinals and the New York Giants.
In early 2020, during the offseason before his final season with the Seahawks, Olsen also partnered with Burkhardt to call five XFL games for FOX Sports and served as an NFL studio analyst for the network's coverage of Super Bowl LIV in Miami.
His full-time broadcasting career started in 2021. Olsen joined FOX last season as the network's color analyst in the No. 2 booth, working next to Burkhardt. When Troy Aikman and Joe Buck left Fox for the Monday Night Football booth at ESPN, Olsen and Burkhardt were promoted to the top booth on Fox before this season.
"We're thrilled to have this team steward our industry leading and award-winning coverage as we embark on our 29th NFL season, highlighted by our 10th Super Bowl," said Brad Zager, Fox Sports president of production/operations and executive producer. "Last season, Kevin and Greg showed viewers their undeniable chemistry and ability to call football at an elite level. We can't wait for fans to see what they're going to bring to 'America's Game of the Week,' the NFL playoffs and Super Bowl LVII."
The promotion may be short lived, because Fox has also committed itself to Tom Brady, if/when the quarterback decides to really retire from football. Olsen was well aware of the situation he was getting himself into. He decided that he couldn't worry about what might come next year, this season was too important for his new found career. So much so, that, as Olsen has playfully tried to talk Brady out of television.
During his first Fox production meeting with Brady, Olsen decided to 'break the ice' with some humor. Burkhardt was in the room as well and related the story to the Sports Illustrated Media podcast.
"Tom, I gotta tell ya, this TV thing sucks," he joked. Brady cracked up according to Burkhardt.
Olsen admitted the story was true. Nobody is quite sure how things will go next year if Brady is available, but it's good to see that Olsen is handling the 'elephant in the room' with class.
AS AN ANALYST
Olsen reached out to many analysts that were already in the business before he got into television full time. One of the things I admire about him, is he's hell bent on being himself and not trying to imitate others. It would be easy for someone in his position to say, "I'm going to sound like Tony Romo, because he's having success." Thankfully Olsen is his own man and brings his own style and flare to the broadcast.
"I've been fortunate to have some good guidance and have some cool conversations. But as far as style, I don't try to be anyone," said Olsen to the Dave Pasch Podcast. "There's not anyone where I say, oh, I want to sound like him. I just kind of talk like me and say things that I think are interesting and try to point out elements of the game that I find fun. It might not be for everyone. Some people might not like my style. They might not like the way I describe things. But I think it's fun. I think it's interesting. I think, our broadcast, you come away learning the game of football. I like that. I want that to be what people are tuning in for."
The fact that he's raw and not that far removed from his playing days works in his favor. Sometimes the more polished you try to sound, the worse it is. People aren't tuning in to hear the analyst sound like he's reading from a script. They want to hear, honest and in the moment thoughts from someone that played the game at a high level. He knows the game and most importantly, knows how to relate the things he's seeing to his audience. You can also hear the enjoyment he's getting, just talking about the game he loves. It's like youthful exuberance shining through.  
"I think the game is so fun and so interesting and complex and the better we can do as analysts in portraying that, I think it's fun for the viewer to come away and learn a few things throughout the course of the game." Olsen said on the Pasch Podcast.
He's learning the television game as he goes along here. I'm sure it's almost like being a rookie in the NFL again. Learning, progressing, evolving and succeeding. The process hasn't taken him very long. Of course, it helps to have a talented play-by-play announcer sitting next to him, and the duo of Burkhardt and Olsen works, and works well. It would be a shame to lose a guy that's coming into his own, like Olsen, for a guy like Brady. Nobody really knows what Brady will sound like, how analytical, or how entertaining he'll be. Me personally, I'd be weary. It's a big name yes, but that doesn't always translate into someone being a good analyst. Brady has always been the 'buttoned up' sound bite, never really saying anything. Fox could be taking a gamble on replacing a sure thing with a less than sure thing.
If I'm running the network, the "A" team at Fox becomes a three-man booth. Olsen has really gelled with Burkhardt and it would be nice, I'm sure, for Brady to have a fellow former player in the booth with him.
DID YOU KNOW?
Olsen twice was named a finalist for the Walter Payton NFL Man of the Year Award. Inspired by the challenges facing his son, T.J., who was born with a severe congenital heart defect, Olsen and his wife, Kara, founded the HEARTest Yard Program to offer support and services to those facing similar circumstances.
Andy Masur is a columnist for BSM and works for WGN Radio as an anchor and play-by-play announcer. He also teaches broadcasting at the Illinois Media School. During his career he has called games for the Chicago Cubs, San Diego Padres and Chicago White Sox. He can be found on Twitter @Andy_Masur1 or you can reach him by email at Andy@Andy-Masur.com.
Anatomy of a Broadcaster: Brian Anderson
Anderson has a 'relaxed enthusiasm' about him. I know those are diametrically opposed words, but it's true.
Undoubtedly, you've heard Brian Anderson call a game. If you live in Milwaukee, you definitely know him, since he's called Brewers games since 2007. Anderson has exploded on the national scene, with his work for Turner Sports on coverage of Major League Baseball, the NBA and the NCAA Men's Basketball Tournament. Versatility is his calling card and he achieves great heights in every sport he calls.
Anderson was born in Texas. He was a catcher on the nationally ranked baseball team at St Mary's University (Texas). He graduated from the school in 1994. Anderson is from a baseball family. He played the game and his older brother Mike was a Major League pitcher for the Reds and now is a special assistant to the GM with the Texas Rangers.
Anderson credits a Padres scout, Chuck LaMar for his and his brother's successes in their respective careers. It all came down to a Cincinnati Reds tryout, where Mike, was looking to sign a deal as an undrafted free agent. Brian was there when Mike was throwing 95 on the radar gun, allowing LaMar to sign him and send him on to minor league baseball. Brian would visit his older brother at all his minor league stops. Brian would spend time with the local play-by-play crews along the way.
This is why he credits the scout for his livelihood. "It was totally Chuck LaMar who is responsible for both our careers," Brian Anderson told the Athletic in May.
Brian was an English major in college, "I had no aspirations of becoming a broadcaster before that." he said.
In the early 1990s, Brian would go into an auxiliary booth and do a 'mock' broadcast to try and improve on this new ambition. His college happened to be using the field the San Antonio Missions, then the Double-A affiliate of the Padres, played on. One day after practice, he went to their front office and asked, if he could meet the team's broadcasters.
Little did he know that after graduating from college in 1994, the Missions hired him to be their No. 2 radio person. That started his career.
Anderson was destined for bigger and better things, and those things were on the horizon for the talented play-by-play man.
ROAD TO TURNER SPORTS
Since 2010, Anderson has also called play-by-play for Turner Sports' Sunday MLB on TBS package, a role he continued to fill on select Sunday national games in 2022. Outside of baseball, Anderson has covered the NCAA basketball tournament for Turner Sports/CBS Sports since 2012, the NBA on TNT since 2014 and various golf events since 2016.
Along the way, Anderson showed that versatility I spoke of earlier. He was a play-by-play announcer for The Golf Channel from 2003 until 2006. Anderson also hosted a variety of events on both the PGA and Nationwide Tours for the network. Nearly simultaneously, he also worked at FSN Southwest as the sideline reporter for the Spurs, from 1997 until 2007. He covered 3 Spurs NBA Championships during his time with the NBA team.
Anderson told the Sports Broadcast Journal in 2019, "My versatility is purely based on my willingness to say yes when offered assignments." He adds, "It's putting my fears aside, getting out of my comfort zone and being fully present to the event I'm hired to do."
Starting in 2007, Anderson moved on to be the play-by-play announcer for the Milwaukee Brewers. Anderson remains a member of the Brewers' broadcast booth today, though he cut his schedule down last season to accommodate more national assignments for Turner.
The sign that Anderson has risen to the top of his field, the ability to pivot on a dime. Going from one sport to the next, seamlessly. How is it that he can handle the big transitions? Again, he told the Sports Broadcast Journal in 2019, "The mechanics and prep are vastly different. Yet in all sports, it's important to absorb the vibe of the game/event. That's hard to explain or teach but I believe it's the most important first piece to successful preps."
The high-profile assignments continue for Anderson at Turner Sports, where he has become a well-known announcer.
WHY IS HE SO GOOD?
Every great announcer has a presence about him or her. Some have booming voices, some have schtick and some just rely on talent and being themselves. Anderson has developed into one of those 'big time' voices, not just because of top notch assignments, but for the way he handles those jobs.
Anderson has a 'relaxed enthusiasm' about him. I know those are diametrically opposed words, but it's true. The enormity of his games, never get the best of him. He's always in control, hence the relaxed part, but in the big moments Anderson rises to the occasion, covering the enthusiastic element.
He has a very relaxed and friendly on-air persona. That friendliness comes across in the broadcast in the way he relates to his analysts and the audience. He brings life to the basics of every game. The way he performs, game in and game out is so consistent. Which is huge in the industry.
BEST CALLS
Anderson has been a part of many big moments in sports. From the baseball field, to the Bermuda grass of the fairway, to the hardwood. Here's a selection of some of his great calls over the years.
October 6, 2010 – Anderson called Game 1 of the 2010 NLCS between the Reds and Phillies for TBS. That's the series in which Roy Halladay threw the second no-hitter in postseason history. Anderson's call of the final out:
Halladay is one strike away, the 0-2… a bouncer. Ruiz, IN TIME! ROY HALLADAY, HAS THROWN A NO-HITTER!
April 22, 2018 – Anderson called Game 1 of the 2018 Eastern Conference First Round match-up between the Bucks and Celtics where Khris Middleton hit a buzzer beating 3 to tie the game at 99 just minutes after Terry Rozier hit a 3 to put the Celtics up with 0.5 seconds left in the 4th quarter:
Who's going to get the last shot here? Gets it in, Middleton for the tie! OH MY GOODNESS! KHRIS MIDDLETON! TIES IT, WITH A LONG RANGE 3! And now they will check to see if he got it off in time, I think he did.
March 22, 2018 – Anderson covered the 2018 Sweet Sixteen match-up between the 11th seeded Loyola Ramblers and the 7th seeded Nevada Wolf Pack on CBS. Loyola had a 1-point lead until Marques Townes hit a 3 to help ice the game to advance the Ramblers to the Elite Eight.
Custer… crossover, kicks it. Townes, for 3. YES SIR! MARQUES TOWNES!
October 15, 2022 –Anderson was on the call for the marathon ALDS Game 3 between the Astros and Mariners in Seattle. The game was scoreless through 17 innings. Then Jeremy Pena walked to the plate to send the Astros to the ALCS.
The 3-2 pitch…in the air deep left center field, hit well, Rodriguez on the run…and it is GONE! Oh ho! Jeremy Pena sends one to the seats and the Astros lead 1-0 in the 18th inning. (lays out for crowd noise and pictures) This kid is the real deal himself, what a moment!
DID YOU KNOW?
Anderson played catcher on the nationally ranked baseball team at St. Mary's University, Texas. His team played in the 1993 NAIA World Series that season. While stats for that era were a little hard to come by, there is this nugget. Anderson is tied for 7th all-time in school history with 401 putouts in 1993.
Anderson was on the call for TNT's "The Match" golf series for the May 2020 event featuring Tiger Woods and Peyton Manning defeating Phil Mickelson and Tom Brady in Florida.
Andy Masur is a columnist for BSM and works for WGN Radio as an anchor and play-by-play announcer. He also teaches broadcasting at the Illinois Media School. During his career he has called games for the Chicago Cubs, San Diego Padres and Chicago White Sox. He can be found on Twitter @Andy_Masur1 or you can reach him by email at Andy@Andy-Masur.com.
Anatomy of an Analyst: Ray Ferraro
"I did get some advice early on, it's not an accumulation of word count," Ferraro told the Hartford Courant. "If you don't have something to say where you can provide some context then there's no need to say it. If the audience thinks I'm talking too much, then I probably think I'm talking too much."
He was given the nickname, 'The Big Ball of Hate' by former New York Rangers teammate Glenn Healy, but Ray Ferraro is easy to like if you watch him work. Ferraro retired from the NHL just before the 2002 season after a rather successful 18-year run. Even before retiring he began talking hockey on television while still an active player. Working for ESPN as one of the more respected minds and voices of the game. 
Ferraro returned to ESPN/ABC for the 2021-22 season as the lead color commentator for their NHL coverage.
Ferraro was born in Trail, British Columbia.
HOCKEY CAREER
Ferraro scored 408 career goals and recorded a 898 career points in 1,258 games. His 18-year NHL career included stops in Hartford, New York, for both the Rangers and Islanders, Atlanta, Los Angeles and St. Louis.
He was a 40-goal scorer twice, once scoring 41 in Hartford in 1988-89 and an even-40 for the Islanders in 1991-92. He also tallied a career best in points that season with New York, scoring 80 total. For those efforts, he was named to the NHL All-Star game in 1992.
Ferraro had a memorable Stanley Cup playoff run for the Islanders in 1993. He scored two overtime goals against the Capitals. The Islanders would knock off Washington and defending champion Pittsburgh in that postseason. He assisted on the goal that won the game and series in overtime of Game 7 against the Penguins. That goal advanced the Islanders to the Wales Conference Finals, which they lost to the eventual champion Montreal Canadiens. Ferraro finished that playoff season with team-leading totals in goals (13) and points (20).
ROAD TO ESPN/ABC HOCKEY
When Ferraro officially retired from hockey in 2002, he had already been working on some ESPN hockey broadcasts. He appeared on NHL 2Night with John Buccigross and Barry Melrose, while still an active player.  
He later worked as a studio analyst for the NHL on NBC, was a color commentator on Edmonton Oilers broadcasts on Rogers Sportsnet and some other hockey programs on the network. 
Ferraro has also worked as a color commentator and studio analyst for the NHL on TSN. He provided commentary for CTV during the 2010 Winter Olympics as well. After Pierre McGuire left TSN for NBC, Ferraro became the lead color commentator for their hockey telecasts. When Rogers Media, the parent of TSN's rival Sportsnet, gained the national NHL rights in 2014-15, Ferraro became a color commentator for the network's regional NHL telecasts. 
When ESPN regained the rights to air NHL games, Ferraro rejoined the network and is a big part of their broadcasts now. Last year, Ferraro waxed poetic about his first foray with ESPN.
"I didn't know it was a career at the time, I was still playing. I got to work with John Buccigross and Barry Melrose," he told The Province in 2021. He was recalling his first foray into broadcasting alongside Buccigross on Melrose on ESPN2's NHL 2Night, a step he took while he was still an active player. "All these years later, I'm back."
AS AN ANALYST
Ferraro's credibility is unquestioned. Ferraro also understands his role, maybe more than a lot of analysts in other sports. Ferraro doesn't try to force things or try to show off his deep knowledge of the sport. His philosophy on the job is spot on.  
"My role is to provide some 'why' as to what's happening," Ferraro said to the Hartford Courant back in May of this year. "Everybody's got a television and they can see what's happening, my thought is to try to use my experience from playing and from being around the game to explain why it happened. I love the game and I've been around it a long time, and I hope that comes across."
Ferraro doesn't have any hokey catch phrases, he just delivers the commentary straight without gimmick or flash. Whether or not fans of either team playing want to believe it, he has absolutely no rooting interest in a particular game. The length Ferraro goes to make sure that's the case is interesting. 
"I make it point to not really get to know many of the managers or the players on a personal level other than those I just do know," he said to the Hartford Courant. "Because I don't want it to cloud how I analyze a play. You always hear from people who think you're biased one way or the other, but honestly, you'd have to go a long way to find somebody who cares less who wins than I do. My job is not to care."
Hockey is fast-paced and many things can happen between his comments, depending on stoppages in play. He's not jumping in and interrupting the flow of the game with nonsense. Others in his role have. Ferraro doesn't spew endless mundane facts, like where a guy played his junior hockey, or how small a player's town is. Ferraro picks his spots well and compliments the play-by-play announcer. 
"I did get some advice early on, it's not an accumulation of word count," Ferraro told the Hartford Courant. "If you don't have something to say where you can provide some context then there's no need to say it. If the audience thinks I'm talking too much, then I probably think I'm talking too much."
That's a very refreshing take. Too often analysts and even play-by-play announcers, just say something to say it. The result is usually awkward. Ferraro understands the nature of his sport as well. If you make a comment that lasts too long on something that just happened, chances are pretty good that something else, maybe more important will happen next. I enjoy the fact that he understands it.
Ferraro is such a great breath of fresh air, compared to some that have done it in the past. His commentary is even handed and succinct. It's bread from the experience of a long and successful NHL career and I think it means something to the viewer.
DID YOU KNOW?
Ferraro played for British Columbia in the 1976 Little League World Series. They finished with a 1-2 record.
On November 23, 2015, Ferraro became the first hockey broadcaster to call a game where his child also played in the same game. It happened with the Maple Leafs hosting the Bruins. Ferraro's son Landon was playing for Boston. Ray let it slip at the end of an interview, telling his son 'Don't be shy, go get another goal."
Ferraro remarried in 2004 to former U.S. women's ice hockey team captain Cammi Granato, who also worked as a women's hockey analyst during NBC's coverage of the 2006 and 2010 Winter Olympics. 
Andy Masur is a columnist for BSM and works for WGN Radio as an anchor and play-by-play announcer. He also teaches broadcasting at the Illinois Media School. During his career he has called games for the Chicago Cubs, San Diego Padres and Chicago White Sox. He can be found on Twitter @Andy_Masur1 or you can reach him by email at Andy@Andy-Masur.com.