The Sports Junkies Are Still Barking
"I want us to go down as one of the most memorable morning shows in D.C. history. Maybe we're halfway there. Let's hope."
The Sports Junkies have been a fixture in Washington D.C. for a quarter-century. The four members of the popular sports radio show are celebrating their 25th year together. Their history off the airwaves goes back even further; three of the members went to nursery school together. The Junkies established a friendship and a bond long before they were ever colleagues. You can hear that chemistry on the air.
My brother-in-law once described my nephews by saying, "They love each other, but they might not always like each other." The same is true at times for the Junkies. Sure, they butt heads and occasionally try to gouge each other's eyes out, but in the end it's a brotherhood. The dust-ups don't last long. The love and support from your brothers is what really matters.
The Junkies faced very long odds in the beginning. A cable access TV show and a newspaper article led to them being discovered. The radio show began in their hometown, which happened to be in a top-10 market. That's like winning the lottery. The Junkies have made the most of their opportunities, and after 25 years, they have plenty of stories to share. Below we chat about sleeping in a coffin for two days, beating a women's professional team in tackle football, and having a fun show that can also handle mature topics. Enjoy!
The four members:
Eric "EB" Bickel
Jason "Bish" Bishop
John "Cakes" Auville
John-Paul "JP" Flaim
Brian Noe: Starting with the cable access TV show, what do you guys remember most about that first show?
EB: The quality was low. Nobody watched it or anything like that, but we took it very seriously. We were excited about it. My future mother-in-law suggested we do a cable access show since anybody in the neighborhood could get a show as long as you were paying taxes. She saw a political show that some other neighbors were doing and she said hey Eric, you and your friends should do a sports show. We went and investigated. They said if you learn how to use the equipment, anybody can do it.
I brought my sister and my future in-laws and other friends and family; they helped us run the cameras and the audio and worked as producers. We dressed all up, treated it like SportsCenter. We were excited about it. It was pretty nerve-wracking for us considering nobody was watching it, but it was something that we took very seriously.
Bish: I remember how nervous I was because we were at JP's parents' house in Bowie. We were in the kitchen and we were getting all jacked up to go. We had to be there in 20 minutes to start recording and I said let's just do a shot. JP said all right, I got some Jack Daniels here. We did a shot of whiskey before we drove over to cable access to do the show. It was only one shot, but I remember I was very nervous, absolutely.
EB: It was low quality, low budget. We'd use spare parts from other shows like their little divider thing, we're using it as a backdrop. My wife made a sign. It was as homegrown as you can imagine.
JP: But we were having fun. That was the big thing. It was four guys who knew each other, having fun, and it was kind of a light bulb moment for us. It was like holy shit, I've got this terrible job — or I was in law school at the time — let's see what we can do with this thing.
Cakes: I was the one that had the terrible job. I had the 1-seed of terrible jobs working in retail. It was a fun escape for me to do something that I was passionate about because I wasn't passionate about selling toys.
Bish: Well at least you guys all had jobs.
EB: We thought it was fun and let's keep doing it. Let's try to get better at it. And as JP said, let's go for the one-in-a-million shot that we can make something of it because none of us wanted real jobs. JP was in law school. I was finishing up a master's in education. Cakes was working already in retail. Jason had odd jobs. None of us really wanted to get real jobs, so let's shoot for the moon. We're all sports nuts. We were having so much fun with it. Let's just see what we can do.
Noe: Where did you get your first break in radio following your cable access show?
EB: What really happened is we did it once a week for about a year. JP would come back from Philly from law school and we'd all get together once a week, knock it out and then go back to our lives. After doing it for about a year we said you know what, this isn't awful. It's somewhat entertaining. We should send out tapes to media critics like the Washington Post, the Washington Times, USA Today, and then maybe one of them will write an article about the show, and then maybe a TV station or a radio station will call us.
We sent out three tapes, one to Len Shapiro at the Washington Post, one to Rudy Martzke at USA Today, and one to Dick Heller at the Washington Times. Dick's the only one that responded really. I spoke to Rudy; Rudy didn't have any interest. Len never really liked us, but Dick really liked the story. He liked the show and wrote an article about us.
JP: That changed our life. March 25, 1996; that article came out and changed the trajectory of our lives.
EB: It was almost out of a fantasy world. The article came out and within an hour WJFK 106.7 FM called us and asked us if we had any interest in working in radio because they had just acquired the rights to the Redskins. They weren't a sports station and they needed some talent on the weekends to talk sports. So we said sure, yeah, we'd love to. That was the dream. We went down there and had an interview with them. They were intrigued. They said do you want to come by next week and do a demo? We said sure. They said all right, do you want to go on air? And we said sure. They said all right, that didn't suck, do you want to come back next week? We said yeah.
Cakes: We showed up at the interview wearing ill-fitting sport coats and ties. We looked like the biggest nerds ever.
JP: We thought you had to dress up for an interview in radio. The first thing that Jim McClure said is you know this is radio, why are you dressed up?
EB: Yeah, because we didn't know. We couldn't believe that they were intrigued enough by our story that they would put us on such a massive station. Even though it was on the weekend, we couldn't believe it, with no experience. And they kept doing it.
Noe: What aspects on the air have you tightened up the most from those early days to where you are now?
Bish: Well we still talk over each other. I know that.
Cakes: Yeah, but not as much as we used to. We used to be really, really bad at that. We would trample over each other all the time where it was almost unintelligible. That still happens from time to time, but I think we have gotten better at that. I think we've gotten better at interviewing people over the years as well. I think we get athletes, coaches, whoever, to open up to us a little more than they might to some other people in the media. We don't present ourselves as journalists. We've never been journalists. We're just fans that got a really good shot, we ran with it, got some good luck along the way, but we've never painted ourselves as journalists ever.
EB: We've also never painted ourselves as experts. I think that's kind of been the appeal too is that hey, we're just fans and we certainly have strong opinions and are knowledgeable in certain areas, but we don't claim to know everything. I think at the time when we started you had to be a know-it-all to be a sports radio guy. We weren't that. We were just fans having fun, like guys would be hanging out at a bar or something.
JP: And we've never been just a sports show. What I would say we've gotten better at, and it's always a big part of the show, is storytelling. Not the sports stuff; yesterday we spent probably 10 to 15 minutes talking about the Chick-fil-A drive-thru. Eric brought up an experience with like 60 cars in a Chick-fil-A drive-thru. We're more comfortable moving off of just sports. If you went to our show in 1996 when we were first starting out, we might've done an outline for three hours, every segment kind of planned out, and it was all very sportsy. Now it's just a little looser. I think you get more comfortable over time talking about certain topics.
Noe: If I had told you 25 years ago that hey, you're going to interview Magic Johnson, or Cal Ripken Jr. is going to talk about the Junkies in your book that's coming out, what's the wow moment that you wouldn't have believed would happen, that actually did come true?
Cakes: You're going to laugh at me because this is white trash, but I don't care, through a connection on the show I got to sing on stage with Poison. I was a big hair metal guy growing up. Another guy in radio was like hey man, I don't want to go on stage and sing with Poison, do you want to do it? I was like are you kidding me? Of course I would do it. I would love to do that. Just opportunities like that. And I got to hang out with Bret Michaels on his tour bus for like two hours after the show. I never thought anything like that would ever happen. I never thought we'd get access to the players and coaches that we've been able to over the years. We interviewed two of the members of Metallica when we were back at the alt-rock station at HFS in the early 2000s. I never thought that would happen.
Bish: Here's another one, Brian. We had Lenny Dykstra on the show. He was promoting a book and he was living in L.A. I just so happened to be planning a trip to L.A. with my family about six weeks after we had him on the show. I said hey Lenny, I'll going to be out in L.A. with my family, can we hook up? I thought he was going to BS me, he goes yeah sure, just contact my PR guy. I contacted his PR guy and he said yeah, give him my number.
I contacted Lenny when I was out there and he invited me to the Beverly Hills Hotel bar. I met him there. We hung out all night and I was at his apartment. He lived above a garage at a $10,000,000 home in Beverly Hills. I hung out with Lenny Dykstra all night getting hammered until three in the morning. He was telling stories and it was unbelievable. It was just surreal. Pretty fuckin' cool.
EB: This will sound cocky but this is honestly true, I actually envisioned all of this happening. I knew we had good chemistry. I knew the station very well. I was a huge listener of the station and I thought we were going to hit a home run. I was like oh my God, we're gonna kill this. I'll be honest with you, I envisioned all of these things. I'm actually disappointed because there's one thing that we haven't done that I thought we were going to do. I swear to God, we've been in Sports Illustrated, we've been in Forbes magazine or Fortune magazine, one of those…
JP: Barrett Sports Media…
Noe: [Laughs]
EB: So many opportunities. But I always thought honestly that we would be guests on The Tonight Show or Letterman. I really did. I envisioned that we would be on, that we'd be like
JP: Like Mad Dog. Mad Dog used to do that.
EB: We were nationally syndicated for three years on Westwood and I just thought eventually, maybe after we replaced Stern or something, eventually we would be on with Letterman. So we've actually failed. We're never going to be on.
JP: Jason actually played hoops at Cal Ripken Jr's place. That's pretty amazing. I had three posters growing up, Cal was one of them. 
Noe: Did you school him?
Bish: I played pretty well. I was a little intimidated when I first got there. He invited a bunch of former college players. Some of the Orioles were there too. I guarded him at least one game. He's strong as an ox. He would back me in and use his ass and thighs, but I got him out on the perimeter and I was hitting jumpers. It was a very competitive game. I'll tell you this; Cal, he doesn't fuck around, man. He's not out there just trying to have a good time, he was out there to win. It was very competitive and that's what I liked about it. I went up there twice to play. That was one of the more memorable moments.
JP: Brian, this one blows me away; the four of us, the four Sports Junkies have World Series rings and Stanley Cup rings.
EB: That's true.
Cakes: We're Stanley Cup and World Series champions.
JP: I have two championship rings. I can barely skate, Brian, and I have a Stanley Cup ring.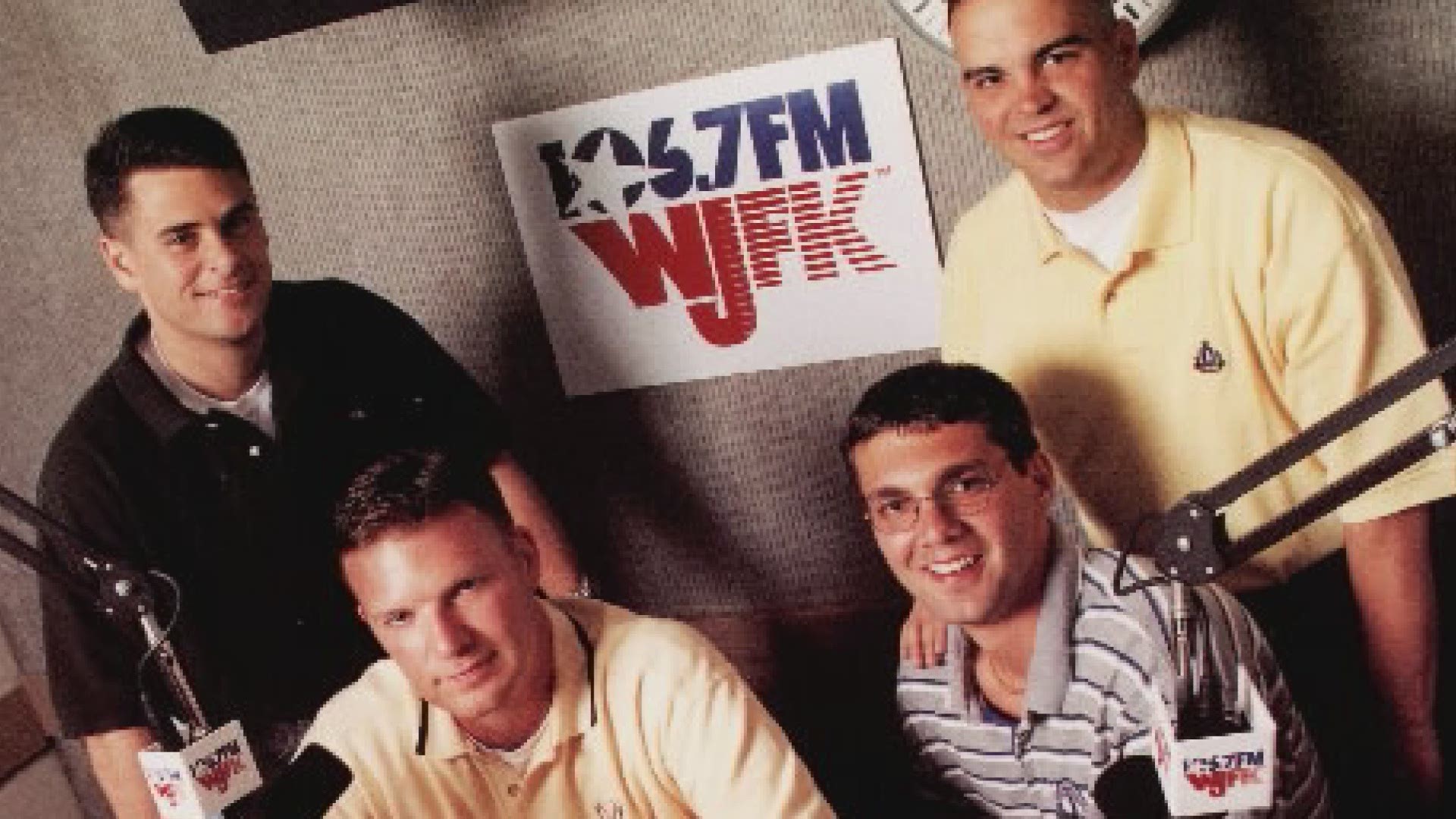 Noe: That's crazy. As far as the craziest moments from the show, whether it's playing a women's professional football team or anything else, what moments stand out to you most?
EB: Well that was obviously one of the highlights; that was just so much fun. We drew like over 8,000 fans. I'll never forget we outdrew the Georgetown Hoyas that night. That was unbelievable. The buildup to that, it was amazing. The turnout, the execution, it was perfect. We said it was all downhill from here. There's no way we can do better than that.
Cakes: And it was not 70 degrees and perfect weather. I want to say it was like 40 degrees. It was raining. It was like the worst night and the turnout was unbelievable.
Bish: It was like Friday Night Lights, man. It was the real deal even though we were playing against girls. We had never played organized football before. I just remember how quick it was. There was a play clock just like a regular college game. But once we settled down it was cool.
JP: That ladies' professional football team was always trying to get on our show. We were like why would we ever have them on the show? We had Clinton Portis and Fred Smoot on at the time. I just pitched the crazy idea, I was like what if we challenge that women's team to a game, but the twist is it's not powder puff football, we would challenge them to tackle. Then it blew up into this whole big thing. We just couldn't believe how many people were in the freaking stands. It was over 8,000 people there to watch us play women in tackle football.
Bish: We killed them. We probably should've beaten them by 50, but they were calling all kinds of penalties on us. We had 13 penalties. But it was fun, man.
JP: I remember in our practices the coaches put us in the Oklahoma drill. Again I played high school soccer and high school baseball, okay Brian? I weighed 165 pounds at the time. We would get matched up against these monsters and just run into each other like rams. That hurt more than the actual game.
Cakes: Never again. It'll never happen again. I'm pretty sure I bruised one of my ribs if not multiple ribs in the practices. I think JP knew a dentist. I was like hey man, can you get me some pain pills from your dentist?
JP: It was all above board, Brian. Remember this is on transcript, Cakes. [Laughs]
Cakes: I got a prescription and I had to pop a few pain pills so I could play in the game. But we couldn't believe the support and the buzz that that event created.
JP: And that's one thing you can do in radio, when you create something that people don't know what the outcome is going to be, and they feel like they have to see it, you can create a big event.
EB: We did something then that we couldn't do today. JP might be embarrassed about this, but being part of a guy talk station — we got a lot of negative attention — we did a porno swap. The Great American Porno Swap where we had people from D.C. and Baltimore all drop off their old pornos, put it into a barrel, and pull out somebody else's old porno.
JP: Simple concept, Brian, one man's trash is another man's treasure.
Cakes: That was in the Wild, Wild West days of radio. You could never get away with something like that in 2021.
EB: But it was genius. I remember we had protesters, so that was a lot of fun.
JP: But a lot of happy listeners. You can't contain this genius, Brian. They would put their hands into a pile of VHS tapes and then we would have them read the titles. I used to say they were feeding-the-monster events. We've been No. 1 rated in men 25-54. Our monster — the wall of men — they like drinking beer, women, that sort of thing. So we would have these type of events for that.
EB: And some of the various stunts like when Cakes slept in the coffin. That was just such a dumb stunt for Cakes to be in a coffin for two days, which look, I couldn't do it. It's not like he was in there for a month, but he was in there for two days and we had TV stations out covering it. It was just insanity.
Bish: To lay in a fucking coffin for two days in a radio studio, I can't even believe he did it. Just when we were doing the show and we were talking to him, I could tell how uncomfortable he was. [Laughs] Especially the second day. I just couldn't imagine laying there and just eating beef jerky for two days. I remember if I had to do it how uncomfortable I would be. It was almost like being buried alive. I just couldn't have done it. No way.
JP: That started because we were talking about David Blaine on the air. At the time most of us were really impressed with David Blaine. Well, Cakes opened up his mouth and was like I could do that, that's no big deal. I've got a bunch of kids. I could be in a coffin; I'd get some rest. We're like are you crazy? You can't do it. The next thing you know a listener calls in, offers to build a coffin, it was a makeshift coffin. It was terrible. Then somebody offered $2,500 and boom, the stunt was afoot.
Cakes: I don't think it was 2,500. I think it was 1,500 if my memory serves.
EB: Way underpaid.
Cakes: Yeah, I was way underpaid for punting away two days of my life lying in a makeshift coffin. It should've been at least 5K minimum.
JP: But he did it, which was impressive. He wasn't allowed to leave, couldn't go to the bathroom, so he went in there with Gatorade bottles and jerky, right?
Cakes: Gatorade bottle, jerky, gummy bears. Those were the essentials. [Laughs]
Noe: To go from your stunts and fun stuff to mature topics like 9/11 or the D.C. sniper, how do you think you guys have handled those situations?
EB: Well I think that's actually where we shine to be honest with you because we could get serious. Especially the sniper, that was happening in our backyard literally where we were broadcasting from. There were shootings right around the corner. We were on at the time when these were occurring. I think people have a lot of respect for the way we handled that. We took it seriously.
And 9/11 was mind-blowing for the entire country. We had to get serious. I remember doing hours and hours and hours, maybe for a week we did about 20 hours of broadcasts without commercials. I remember my dad being alive at the same time, he thought that was maybe the highlight of our careers just the way that we shifted gears and handled that.
Bish: I remember people calling up, former military or current military guys, and they were crying on the phone and talking about their kids over there. Dude, it was awful. But I think we handled it, man, because we were just showing people that we cared and we were kind of all in the same boat. No one knew how to react. It was like fuck Al-Qaeda, let's go get bin Laden. After the first couple of days it started to become kind of like a rally. But back in the early 2000s, we could say shit. We could talk about our opinions and it was different. There was no threat of you getting fired if you shared an opinion, either if it was politically or socially or whatever the topic was. Fifteen, 20 years ago, the world has changed, but radio has really changed.
EB: That's one thing I think that we've been pretty good at is being able to adapt. In today's culture, cancel culture, with everybody being offended by everything these days, we've been able to efficiently navigate the waters and be able to understand sort of on the fly what works and what doesn't. We've been able to survive whereas most of the people we started out with, icons in the industry, don't work in radio anymore. They weren't able to navigate the waters, or they had to go to satellite, or they had to start a podcast. I'm proud of the fact that we're survivors and we've been able to navigate the waters. It's not because we're super talented. It's just that we have chemistry. That's our core, and we're not as stupid as you might think. We've been able to figure it out.
Noe: Is there anything in the future that you haven't experienced yet that you would love to do together?
Bish: I think podcasting is in our future. I drive 50 minutes into the city, so I'm getting up at four, getting out of the house at 4:30. Bro, that's brutal. Especially when you're 51. It's just harder when you get older to do it. I still want to do stuff with them, I just want to do something where we have a little bit more flexibility with time. Morning radio is just a grind on your body and on your mind. Sometimes I'm not even awake until 7:30, an hour and a half into the show and I'm still fuzzy.
EB: For me just being able to keep doing it. It beats a regular job. You get paid handsomely. We have fun every day. Just being able to keep doing it, provide for our families and maybe eventually cruise into a little easier timeslot because getting up at 4:30 in the morning kills you. It takes years off your life. But just being able to be the four of us and do our thing. We're not trying to dominate the TV world, we're not trying to even be nationally syndicated or anything; we love being local radio hosts and being sort of a fixture of this community. I want us to go down as — this is going to sound cocky — but I want us to go down as one of the most memorable morning shows in D.C. history. Maybe we're halfway there. Let's hope.
Cakes: Oh, I don't know if I have 25 more years of doing this in my tank.
JP: [Laughs]
Cakes: But we want to keep doing it as long as we can. Look, I'll be honest, I don't want to be a crotchety old guy talking like Don Imus. There are some guys that can keep going and going and going, but some guys you listen to on the radio when they get up to a certain age and you're like ugh; I don't want to get to that point where people are tuning in and they're like this guy is passed his prime. You want to find that balance.
EB: You still want to be good, but the way I think of it is you work and then you die. I'd rather keep working to keep living.
Noe: If one of you guys is like man, I'm thinking about hanging it up, how would the rest of the Junkies respond to that?
EB: When one guy rolls out, I'm sure the other three would keep going. Who knows what the future is going to hold? Who knows what the future holds for radio? But I think by and large we're all on the same page and we want to still keep providing. We know it sure beats work.
JP: Here's the thing, Brian, we haven't had that when's-it-all-going-to-end discussion, but here's the reality, I have a four-and-a-half-year-old. Eventually, she's going to go to college. When she goes to college, that bill is going to be hefty. I've got a kid who's at NYU right now. Look up the tuition; it's hefty. Jason's got two kids at Virginia Tech right now. Cakes has one in med school. That's a lot of bills to pay, my friend.
Cakes: Yeah, a lot of bills. So many.
EB: And again, I'm not ready to just die yet.
JP: And really going back to the larger theme, we've got a fun job. Think about it; three of us went the nursery school together, and then kindergarten together, Jason since high school, we're working with friends. The odds of that in life are very low. And then to do something like this, a four-hour show, we're not digging ditches, we're not putting on a suit and tie chasing billable hours.
Cakes: But let me also point out, we have not had even close to a Howard Stern level payday.
JP: [Laughs] Okay, that would be a game changer.
Cakes: That has not happened and I'm guessing it's not going to happen. Now if anything like that were ever the happen, then circle back and talk to us if and when that happens.
EB: If Spotify wants to call and give us 100 million.
JP: Or 10. Ten million would be good.
EB: That would work.
Cakes: That'd be amazing.
Noe: Do you have a flashback moment — whether it's good, bad, an interview, a stunt — anything from your time together that you tend to think about the most?
Cakes: I don't have one in particular, but I just think the trips that we've taken. Whether it's to spring training or Super Bowl sites, or to Atlantic City for poker tournaments, there's something about a road trip element. Those are always touchpoints that you kind of remember events that happened when you're outside of the norm of being in a studio. You tend to remember a lot of those things that happened on the road trips either when you're at the venue or on the way to the venue, there's weird stuff that happens. That stuff kind of sticks with me more than anything.
EB: I just remember beating the divas. I loved that. I said at the time if we didn't beat them we'd all have to kill ourselves.
Cakes: That's a little drastic, but it would've been embarrassing.
EB: No disrespect to women, I mean we just had to win that.
Cakes: By the way, that's a one-off. It's never happening again. We're all 51 years old now. No way we're doing that again.
JP: Yeah, when you do it for so long, you don't think about the big picture as often. It's day-to-day, it's the grind. But I do remember that trip to the NFL draft. Our first road trip, that Manning/Leaf draft, when we got there to Madison Square Garden. It was one of those moments where like yeah, he was a manager at Toys R Us. I was in law school. Eric was studying for a master's. Jason was kind of trying to get a job in sports, but he was working as a courier interning. It was like holy shit, we're here. We're here. It's those cool moments where you look back; we were kids that played on the same basketball team when we were like 12 years old and boom, we're here at the NCAA Tournament in St. Louis? They are kind of cool moments.
Bish: It's nothing in particular that's ever happened on the show, it's just the fact that when I walk into my house and I go fuck, I can't believe I have this. I can't believe I'm able to put my girls through school. I can't believe I'm able to save the money I am. I can't believe I can go on vacation and it's all because we were so fortunate back in the day to have Dick Heller write the article, to start on the weekends, and to just continually grow and grow and grow in popularity. Then our contracts are getting bigger and bigger and bigger, and I'm like I can't believe I'm getting paid for this. And getting paid well.
Even now I just can't believe — I mean I bitch about getting up at four, it sucks, but we work four hours a day. I can go play golf whenever I want. I spend time with my kids and my family. I can do all that. I don't have to grind out eight, 10, 12 hours like a lot of guys do. The thing I think about the most is how fortunate we are, to be honest with you.
JP Flaim has written a book about the Junkies' brotherhood and 25 years on the air together. The book is available at StillBarking.com.
Denver Post's Mike Chambers Hurts Credibility By Hoisting Stanley Cup
Chambers isn't a member of the Colorado Avalanche. He's not on the player roster or coaching staff. He doesn't work in the front office.
Maybe Mike Chambers got caught up in the moment. After covering the Colorado Avalanche for more than nine months (and probably more, including the offseason), six preseason games, 82 regular-season match-ups, and 20 Stanley Cup Playoff games, having some fun during a championship celebration may have seemed like the right setting in which to be less than serious.
But for the Denver Post reporter, lighting up a cigar and hoisting the NHL's championship trophy amid the locker room festivities following the Avalanche's 2-1 win and series victory over the Tampa Bay Lightning in Game 6 of the Stanley Cup Final, acting as if he's part of the team and celebrating with the organization looks less than professional.
OK, this is sports. It's all meant to be fun. This isn't covering the House Select Committee's Jan. 6 hearings or another mass shooting, during which showing any kind of favoritism or bias would call a journalist's objectivity into question. This isn't even a serious sports story, such as the Washington Commanders' workplace misconduct or the death of a young athlete.
Besides, many sports fans (and sports figures) expect reporters covering the team to be fans of the teams and athletes they cover. How could somebody not root for an organization with which they spend 12-15 hours a day and nearly an entire year? Wouldn't that be natural? Aren't sportswriters also sports fans? That's often the perception, as wrong as it might be about the sports media profession.
As a result, most sportswriters and broadcasters take their objectivity seriously. Maybe there's less of an expectation among a team's home broadcast crew or even the local market's TV sportscasters. When the Detroit Red Wings won the Stanley Cup in 1997, WXYZ-TV sports anchor Don Shane drank champagne from the trophy and was ridiculed for it. He wasn't a player or coach. He didn't win that championship.
But those who cover a sports team every day don't want to be perceived as a public relations arm of the organization. They often work to fight that notion because a tough, unflattering story may have to be written. There will likely be criticism of players, coaches, and executives during a long season. It's part of the job.
At least it should be. Some might not be too critical or scrutinizing for fear of jeopardizing access or favorability. Others might like being around a team and taking part in its daily routine, even if indirectly. But those reporters risk their credibility by becoming more friendly with the people they cover than they should be.
That's the position Chambers put himself in by hoisting the Stanley Cup over his head, enjoying one of the celebratory cigars, and posing with members of the team. He's not a member of the Colorado Avalanche. He's not on the player roster or coaching staff. He doesn't work in the front office. Yet he appeared to conduct himself as if that was the case.
It's entirely possible Chambers knew how this would look and the scorn it might invite from his colleagues and some fans. Maybe he was having some fun. It was the end of a long season for him as well. And covering a championship team is a reward for all the months of grinding with multiple stories, deadlines, and travel.
Or maybe he just doesn't care what other people think. He got to be in that locker room with one of the coolest trophies in professional sports and you didn't.
To be fair, we don't know what exactly Chambers was thinking. He hasn't commented on those photos on social media, nor did he write about the situation for the Post. In writing this column, I preferred to focus on how several in sports media reacted to Chambers' tweet rather than attempt to reach out to Chambers for his view. I will try to do so, and if he happens to read this, I hope he feels compelled to respond.
But I also didn't contact any beat reporters I know from my years of covering sports myself. I know what the answers would have been. I'm willing to bet the replies would have been unanimous. Reporters don't do this. Not if they want to be taken seriously.
Perhaps we'll soon find out what Chambers' bosses at the Post think about this behavior as well.
Is this taking a fun moment far too seriously? Possibly. Do most fans care about what Chambers did? Probably not. But this is about how a reporter is viewed by his peers. How his professional colleagues perceive behavior that many would consider unbecoming, even embarrassing.
Months from now, maybe this will be forgotten. Maybe it'll be viewed as a celebratory gesture. But if Chambers is in a position next season in which criticizing a player, coach, or executive is necessary, can he credibly face those people and answer for what he's written? That's how reporters and columnists earn respect among their peers and the people they cover.
Is that still possible after acting as if you're one of the guys and holding a trophy with them? Most in this profession would say it's not.
Danny Zederman Is Poised To Lead ESPN 1000 in Chicago
"You need to be a good listener to be in radio," expressed Zederman. "It's not always about talking – a lot of radio has to do with listening; listening to what's going on with the fans; listening to what's going on with the talent."
Certain memories from childhood find a way to stick with you. For Danny Zederman, one of those memories is being seated in his mother's car in Chicago listening to a surfeit of talk radio and being captivated by the power of the aural medium. Whether it was Howard Stern, Jonathan Brandmeier or Steve Dahl, there was always the sound of a familiar voice permeating through the car speakers, cultivating a perdurable appeal to what was being said. Throughout his youth, Zederman was infatuated with radio and thought about potentially pursuing a career in it.
Zederman attended college at The University of Kansas and studied journalism; however, he was relatively uncertain about what he wanted to do upon his graduation. Seeking advice, he conferred with a school counselor who posed a question to him that he remembers to this day.
"'Danny, what can you do for eight or more hours a day and get paid for it, or not get paid for it; what's something you're passionate about?,'" Zederman recalled the counselor asking him. "I said, 'I'm passionate about sports, and I'm passionate about the radio.'"
The sports radio format was still in its growth phase at the time Zederman attended college in the late 1990s, and the ways to begin working in it were not as widely known. As a result, Zederman had to perform much of his own research to learn the available roles and unearth the path to a successful career. Once this research was complete, he knew that the sports radio industry was for him and started trying to position himself for success in this competitive industry. After all, Zederman grew up in the city of Chicago as an avid sports fan and a steadfast radio listener by osmosis wherefore he sought to merge his two passions into a career.
Over two decades later, Zederman has experienced his journey in radio at home in "The Windy City," starting his career in 2002 as the operations manager of Newsweb's conglomerate of Chicago-based stations: WSBC, WCSN, WNDZ and WCFJ. He began working as a producer at The Score in late 2003 and stayed there for just over two years before making the move to ESPN 1000 WMVP Chicago in 2006. In this role, Zederman proved to be an integral part to the station's development, producing notorious radio programs including Mac, Jurko & Harry, Kap & J. Hood and Silvy & Carmen. One of Zederman's favorite memories from his time at the station came in 2016 when his beloved Chicago Cubs won Game 7 of the World Series, breaking their infamous 108-year-long championship drought.
"I got to be [at] Game 7 of the World Series, [and] that was incredible," Zederman said. "The next day we went on the air; my favorite baseball team of all-time just won the World Series… and I'm producing a sports talk radio show celebrating a game that I was at in which the Cubs won the World Series – that was incredible."
Good Karma Brands purchased ESPN 1000 WMVP Chicago as part of a $15 million long-term affiliation agreement with The Walt Disney Company that also included ESPN 710 KSPN Los Angeles and ESPN 1050 WEPN New York. While ESPN 1000 was being operated by Good Karma Brands since October 2019 under a local marketing agreement, Zederman remained in his role as a show producer.
Yet shortly after the official purchase of the station at the start of the new year, Zederman was promoted to director of content, a role he has since been working in for just under seven months. While he has a new title, Zederman knows working as a producer for over fifteen years effectively prepared him for this new responsibility in radio management.
"I've got to think about things further down the line than just the next day's show like you do when you're a producer, but you're still wearing the same hat," expressed Zederman. "The goal is to find out what the fan wants to hear; what the fan wants to consume; and how to best serve the fan. Although the role's different, I think being a producer is the best minor-league system for somebody who wants to go into programming because you have a great touch [and] a great feel for what the fans want."
From an outsider's perspective, making the shift from being a producer to being director of content could seem daunting because of potential animosity from new subordinates. For Zederman though, garnering their respect was not a difficult task because of his longevity at the station, familiarity with the staff and enduring desire to position the station for sustained success.
"I've been here for almost seventeen years. I've worked for most of these guys and gals that work in this building," said Zederman. "They've seen my work ethic; they've seen how much I care; they've seen how much I want this place to succeed, and they respect that."
In his previous role as a producer, Zederman worked closely with various program directors at ESPN Chicago, including Mitch Rosen, Adam Delevitt and Justin Craig. Over the years, he picked up on various proclivities and other skills they had in an effort to excel in his new role and be the best manager possible, one of which is to value the opinions of colleagues and let them be expressed.
"Justin Craig… was a tremendous listener," said Zederman. "As a leader, he would listen to us; he would let us talk; he would let us vent; he would let us express ourselves; he would hear everything. I think that's one thing I learned from him is to manage people, it's important for them to be heard and to feel heard."
While the quotidian operations of the station did not significantly change following the ownership shift, Zederman began working with senior vice president and market manager Keith Williams, who has been with Good Karma Brands since 1999. Williams started in his role as a market manager for ESPN Digital in Baltimore, M.D. and Washington, D.C. in 2018, and following a three-year stint in Madison, Wisconsin, joined ESPN 1000 in Chicago last October. His leadership skills and ability to relate to people has helped Zederman assimilate into his new role at the station and gives him another dependable colleague on the team.
"Keith is absolutely incredible – he is probably the best leader that I've ever worked with," said Zederman. "He understands people; he understands situations; he's a great listener, a great communicator and he's all about teamwork. We've always had a great culture here at ESPN Chicago, but he's taken that to another level with his ability to understand everybody's role."
The market manager for ESPN Chicago before Williams was Mike Thomas, who is now the senior vice president and marketing manager for Audacy in Boston. Thomas, a Chicago-area native, left his job as program director for 98.5 The Sports Hub in October 2019 to join ESPN 1000 in Chicago, and was with the station for two years. In that time, he proved to be instrumental in the creation of the morning drive show Kap and J. Hood, along with overseeing the station's move on FM via digital HD2 transmission. The change in market manager was prompted by Thomas' resignation from the position in October 2021 to return to Boston.
"Mike Thomas is a wizard when it comes to programming," said Zederman. "He was innovative; he had a great sense for what good content was [and] he had a great sense for what the fans wanted. I learned from him how content is created for the fan and how to stay ahead of the curb and always be innovating… changing direction… and finding what's next."
As director of content for ESPN 1000, part of Zederman's job is to ensure the station is generating favorable ratings and revenue. Despite Nielsen being the standard for ratings in radio though, Zederman relies on other metrics to genuinely delineate the performance of his station against more than just its radio counterparts.
"I never get too high when the ratings are good. I never get too low when the ratings are bad," said Zederman. "I understand how Nielsen measures ratings, so I kind of take it with a grain of salt. It's not an exact science."
Accurately instantiating radio performance in the 21st-century extends beyond the scope of simply reviewing the Nielsen ratings on a regular basis. Managers today intricately monitor an assortment of other statistics representative of a multiplatform media environment with an excess of voices and audiovisual content.
"I look at the stream numbers; that's far more accurate," said Zederman when discussing his dependance on radio ratings. "I look at our podcast downloads – we have over a million podcast downloads a month; that's a huge number…. So I look at that to know, 'Hey, we are resonating with our fans no matter what the Nielsen numbers say – positive or negative.' There are metrics that we have that are far more accurate."
Shortly before the rapid spread of COVID-19 in the United States in March 2020, ESPN 1000 released its mobile app where users can stream ESPN 1000 programming live wherever they may be. The app also gives users the ability to listen to past programming, along with other original content including podcast-exclusive shows. Additionally, the station live streams all of it's original shows on Twitch, creating a visual experience and the chance for listeners to join the conversation without even calling in to the show via the platform's chat function.
Even before March 2020, sports media was in the midst of a rapid shift towards digital content accessible to listeners on their own schedule, and the change remains ongoing. Staying ahead of the curb by continuing to innovate and monitor changes in the industry are parts of the job Zederman seeks to master to ensure the station remains prudent and able to compete with other sources of content creation. Those sources of content creation extend far beyond the other prominent sports radio station in town: 670 The Score.
"I don't really worry about competing with The Score," affirmed Zederman. "The truth is I'm competing with iTunes; I'm competing with Spotify; I'm competing with The Ringer. Nowadays, you can get audio in so many different places that if I think I'm just competing with the other sports talk station in town, I'm in big trouble."
Part of the shift in content distribution is resultant upon a profusion of new research suggesting that while younger demographics enjoy listening to aural content, they do so less through the traditional radio medium. Rather, audio is being consumed in a variety of different ways, whether it be through digital streams, podcasts, on-demand shows or visual simulcasts, and is only continuing to expand. That is why while ESPN 1000 is on the FM dial, albeit through an HD2 stream, it does not make a significant impact in terms of the reach of the station, nor does it serve as a primary driver of future content.
"You ask somebody between the ages of 15 and 24 the last time they turned on a radio; they probably haven't done it in months," Zederman surmised. "If we want to reach our fans, there are so many different platforms to reach them – that's what they focus on."
ESPN 1000 has a variety of local and national content varying from live radio shows to original podcasts. While podcasting has incontrovertibly made its assimilation into sports radio, Zederman believes the two aural mediums can effectively coexist despite marketplace saturation because of each one's innate components that appeal to audio's consumption base.
"There are times when it is more convenient to listen to a podcast, and that's obviously why we make our shows available on podcasts, [and] why we have original content podcasts," Zederman explained. "…I also think there's an aspect to live radio that will never go away. The day after a Bears game when they lose ugly to the Packers and Aaron Rodgers says 'I own you,' there's nothing like live radio with these hosts pissed off pounding the table and the callers from all over the Chicagoland area calling in to vent their frustration."
Every source of content distribution seeks to differentiate themselves from others through what materials they release to consumers, yet that also comes with attracting and retaining the most optimal talent. As a director of content, Zederman knows that what the station is able to do is guided by the characteristics of the talent, making the managerial tasks of recruitment and retention essential for future development.
"The number one most important thing in what I do is the fan," said Zederman. "The fan's the most important thing because they're consuming the product. The next most important thing is the talent. You have good talent; you have talent that can tell a story. Talent can make any content interesting."
Talent are also now able to keep in touch with their listeners for more than just their allotted time slot on the air, truly affording radio personalities the chance to better know their consumers and understand their needs and wants. The intimate relationship long-heralded as the crux of the argument for live radio's perpetuity and eminence indeed extends outside of the reach of the AM/FM frequency.
"Social media is a great way for the talent to become brands and to get a following," Zederman said, "and hopefully that following tune into the show the next day… Social media is a great way for the talent to engage with the fan, and I think we just have to continue to go that way and embrace it. It's a great tool for what we do."
Sports media is unequivocally different than it was when it initially launched, yet the guiding principle of the industry – that is, to serve the fan – remains the same. Just how effectively the fan is being served is representative of the independent variable, and determines the concurrent ratings and revenue, or dependent variable.
"I think the important thing is to just keep giving people content on multiple different platforms," said Zederman. "We don't know what's next, [but] whatever the next platform is, we're going to be there."
For aspiring professionals looking to work in radio management, along with those currently holding management roles at radio stations, Zederman knows that being versatile in one's ability to understand and perform various roles at the station makes you more relatable to colleagues and able to adapt to sudden changes. But there is one truly unspoken rule of being in management that has been imperative in keeping Zederman in Chicago. It's a piece of advice that does not require power to be supplied to a microphone in a studio. In fact, it does not require any electricity.
"You need to be a good listener to be in radio," expressed Zederman. "It's not always about talking – a lot of radio has to do with listening; listening to what's going on with the fans; listening to what's going on with the talent."
As Zederman continues to work in his first year as director of content for Good Karma Brands' ESPN 1000 WMVP Chicago, he seeks to continue the station's ongoing innovation and work to create compelling, informative and entertaining sports content. His thinking centers around satisfying three groups of people he is cognizant of every day on the job, imperative to the present standing and rise to an acclivity where the station seeks to soar.
"I want to serve our fans; I want to serve our partners; and I want to serve our teammates," Zederman said, "and if every day we are doing those three things, then it's successful."
ESPN's Daily Wager Has Found Its Sweet Spot
Rather than catering to a specific audience, it targets the broad sports fan in general who may be an absolute novice, a knowledgeable bettor, and all those in-between.
When it debuted in March of 2019, ESPN's betting show Daily Wager was a vast improvement on a similar product Fox Sports provided. Despite fewer than ten states having legalized sports wagering at that time, it provided the network with an early foothold in the sports gambling media space. Since then, legalized markets have nearly quadrupled. The industry has taken off and is now filled with podcasts, television shows, and radio shows.
Airing every weekday at 6pm ET on ESPN2, the one-hour show is aimed at the casual gambler. There are multiple segments in which the crew breaks down upcoming sporting events, discusses the betting lines for them, and analyzes news and statistical trends from a betting standpoint. The sidebar displays line information for games that night. The bottom section often gives information such as future wagers for the major sports. The show also features discussions pertaining to games and events from the day or weekend before, including line movements. For example, last Friday they broke down the see-saw movement of lines for who would be taken first overall in the previous night's NBA Draft. 
Doug Kezirian hosts the show, which went on hiatus for part of 2020 at the height of the pandemic. He is based out of Las Vegas and is joined every day by a rotating cast of analysts and contributors. ESPN's top betting expert, Kezirian studied economics at Brown and possesses a strong knowledge of data. He does a good job of breaking down information while being entertaining. In addition, Kezirian hosts a short companion podcast that builds on the show discussions, and provides some additional betting picks from the crew.
Joining Kezirian are some familiar names to long-time fans of the network. "Stanford Steve" Coughlin, who made his breakthrough with Scott Van Pelt on his daily radio show way back in the day, is a regular guest. Chris "The Bear" Fallica. Fallica, who co-hosts a podcast with Coughlin, rose to prominence with his segments on College Gameday long before sports wagering was readily available. Additional contributors to the show include Erin Dolan, Joe Fortenbaugh, and Tyler Fulghum.
As an experienced gambler who looks very hard at in-depth analytics and is familiar with modeling, the show is a bit underwhelming to me. I've spoken with multiple individuals who offer gambling advice services, and not one of them views it as a valuable product. That's due to the lack of statistical breakdown beyond basic averages, rankings, and recent trends.
From what I've watched of the show, there are no deep dives into anything dealing with regressions. There is no discussion of value versus odds, or matchup metrics. Furthermore, the time slot for the show prevents any real ability to advise bettors on line mistakes, or the ability to beat the closing line on most games. It also doesn't allow for news of weekend events, especially NFL games where player availability might not become finalized until Sunday morning.
And you know what? That's perfectly ok.
Daily Wager is not designed to target me, or professional bettors. It's not designed to be a tool for people to become so adept at winning that they can quit their jobs and live the dream life. The program is targeted for the casual gamer, the man or woman who comes home from work, relaxes on the couch, and wants to bet a shekel or two on a sporting event that night. The show helps give them insight on information they didn't have time to dig through while they were working in the office. It gives them some plays they can tail or allows them to formulate a wager of their own.
Rather than catering to a specific audience, it targets the broad sports fan in general who may be an absolute novice. It grabs a knowledgeable bettor too and all those in-between. They cover a wide variety of sports. They bounce between the most popular events down to more niche sports like tennis. Sometimes they move a bit too fast due to time constraints and wanting to keep the content fresh in a manner that doesn't overwhelm their audience.
While it's a bit too driven by base statistics and trends for someone like myself, it doesn't come across to the more casual player as an overly-pretentious product dripping with hardcore analytic data that could induce a glaze-eyed effect on a tired viewer. While the production holds little value for fans with zero gambling interest, it's an alternative in its time slot to SportsCenter for those who want more news about the games and fewer highlights.
Additionally, the chemistry between the talent on the show is evident with just one viewing, and the rotating cast prevents the voices from becoming too stale to their regular audience. Kezirian and company have done a solid job of carving out their own niche, although I'm not sure there's a way to really expand it given their time slot being perfect for their intended audience. 
But maybe they don't need to. In a space that is becoming flooded with nerdy discussions–which I love–and lots of voices giving in-depth breakdowns, Daily Wager provides a solid, entertaining product for the more casual viewer. As more states open to sports betting, especially with the NFL season right around the corner, ESPN and Kezirian may have found the perfect recipe for success.