Clay Travis & Buck Sexton Are Finding Their Rhythm and Enjoying Success
"Nobody can fill Rush's shoes, but Clay took one shoe, and I took the other."
Rush Limbaugh was diagnosed with advanced lung cancer in February 2020, but it wasn't until the broadcasting giant died a year later that Premiere Networks had to finally act on the immeasurable void in the industry and, specifically, its midday slot.
Rush's program continued on with "Best of" shows, but behind-the-scenes plans were taking hold for Limbaugh's successor.
In May, Premiere announced Clay Travis and Buck Sexton would join forces to co-host the 12p-3p ET slot. Their program debuted on Monday June 21st.
"Nobody can fill Rush's shoes," Sexton told BNM. "But Clay took one shoe, and I took the other."
"You're stepping into the role of a legend," added Travis during a separate interview with BNM. "Simultaneously, you can't be held hostage by the past."
Sexton was already entrenched in conservative media, filling in for Limbaugh many times during the last decade. Travis, though, was hosting morning drive on Fox Sports Radio, and growing his presence with OutKick, and FS1.
"It hasn't been that hard for me because so much of sports became political," Travis said. "There was a decent amount of political analysis over the past several years. The storylines [and] the issues have not changed."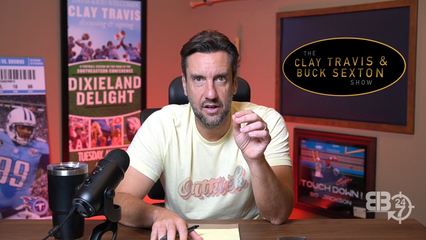 Having a built-in audience helped, but Clay and Buck exceeded their own expectations, tops in several markets including Houston, Phoenix, San Diego, Salt Lake City, Memphis and Sacramento (Limbaugh's former flagship KFBK).
"To be number one is pretty wild," Travis admitted. "We set a new podcast record [and] one of the two or three biggest in all of iHeart."
Although the hosts are bringing new blood to the show–Travis is 42, Sexton is 39–they have a strong work ethic and fresh approach to keeping the three-hour block entertaining and informative for listeners.
"I think it speaks to how important the issues that [Limbaugh] talked about were and how committed the audience is to Rush's world view," Travis said.
"In some level the pressure's off, at least in our minds, because Rush was so widely renowned, not just the most talented in the format, but someone who really built the format in many ways," Sexton added.
Despite being a Limbaugh relief host on numerous occasions, Sexton acknowledged he never met or spoke to Rush. The Limbaugh influence on Sexton came as millions of others listened to the radio titan.
No Training Wheels
While "Clay and Buck" may have their own take on the issues important to the majority of the audience, the Limbaugh lineage is present with his former staff staying behind to forge a future with Travis and Sexton.
"It's an incredible honor to his legacy," shared Travis.
It was Julie Talbott, president of Premiere Networks, who had the foresight to team Sexton and Travis on the 400+ stations.
"We had our own solo shows, so there were probably thousands of hours of us out there. Julie managed us and was both of our bosses," Travis said. "There were no training wheels here."
"Clay is a great talent, a true professional [and] a super smart guy," Sexton said of his co-host. "We're both sort of put in this position…We're both going to make it happen."
Both hosts are proud of the show's performance over the opening six months.
"I think we're doing one of the best radio shows that exists anywhere in the country," Travis said.
While it was direct ascent to the coveted show for Sexton, Travis had to switch formats to make it work. However, regardless of the format or topic, once you are consciously aware of what you are trying to be, "I think that filters into your own authenticity," said Travis.
The OutKick founder places Limbaugh and Howard Stern as the greatest of the generation, who "consistently educate and entertain their audience in a way that's better than almost anybody out there.
While Sexton and Travis may have come from different avenues, each enjoying success as solo performers, it's their connection as a team that's made the difference.
"It certainly takes a bit of a change of pace," said Sexton. "You have to get used to the rhythms of having a co-host."
Since Sexton and Travis have found their best way to format the lunchtime show, listeners will be without the dramatics. There's no fist-pounding or screaming for controversies.
"We're both providing different insights, but also a more conversational and relaxed feel," shared Sexton. "We really want everyone listening to the show to feel like they're the third person sitting at the table."
The tandem also has other projects keeping them busy. Travis remains heavily involved with OutKick, the brand he founded, which produces a mixture of sports, news, gambling, and pop culture content. Sexton meanwhile remains connected to television, hosting a daily one-hour show on The First, a conservative digital network.
"It's good to keep those TV skills sharp and have that opportunity to reach additional audiences beyond the radio show," Sexton said.
The duo has not shied away from topics that hit nerves and resonate with most, especially the pandemic and mask mandates. Sexton, a former CIA analyst who spent time as a consultant for CNN, was quick to criticize his former employer and its recent decision to fire Chris Cuomo.
"I do not believe CNN is running a journalistic enterprise. I think CNN is running a propaganda enterprise under the guise of journalism. That means that their ethics, such as they are, are highly dependent on situations that benefit them," explained Sexton. "So they're very ethically flexible, I think we could say. The fact that CNN didn't take action against Cuomo earlier on isn't surprising to me at all. Eventually, it just became too embarrassing for them."
Some have suggested, given the sexual harassment allegations that, in part, led to Cuomo's demise, the cable outlet should hire a woman for that prime-time hour.
"It's not that they need a woman in that time slot; their problem is: What is CNN?" Sexton contends. "Is this an objective news network? Jake Tapper presents himself as an objective journalist. To anyone who knows his work and certainly how he also operates behind the scenes—that's fraudulent. That's just dishonest."
Great Relationship
To make the most effective radio, the hosts drill down on the issues together to find the most pressing area for focus. Sexton's CIA background has provided great training for navigating the broadcasting business.
"Taking in a tremendous amount of information and figuring out what makes sense, what makes a difference, what matters, that in many ways is the quintessential prep skill for a radio host" said Sexton.
Travis on the other hand started practicing law, after graduating from Vanderbilt University. He then ventured into writing, and local radio before arriving on the national circuit.
Though they go out of their way to bring facts to the forefront and see many things in a similar light, Clay and Buck do share a few differences.
"We don't agree on everything," Sexton cautioned. "Clay is a converted Conservative. I'm a Conservative since I was probably 15 years old."
Whether they agree on taking calls or not is a different issue. The show hasn't done a lot of it, although they are in constant communication with the audience thru social media and make it a point to share messages on the show.
"We want Liberals to listen. We want Democrats to listen, people that disagree with us strongly, we'd rather they hear our version of why Conservatism is correct on a certain issue or why maybe we're a little ambivalent or some things than what they might get elsewhere," Sexton said.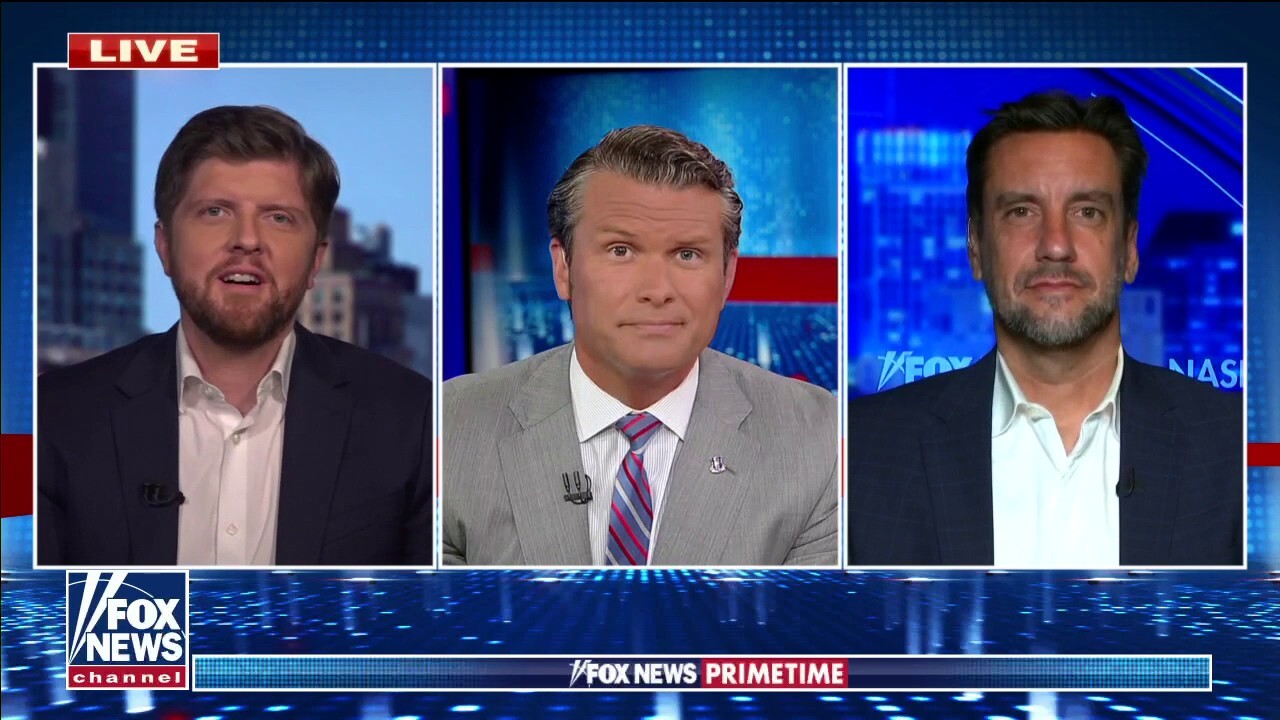 The show itself is put together remotely. Sexton is based in Manhattan, Travis is in Nashville. Though that could create challenges for some, both say it hasn't interfered with the on-air product.
"The technology is such that I don't think anybody out there listening can even tell," Travis added, although they are upfront with the audience about it. "Frankly, it's basically the same, to me, seamlessness, whether we're in the same studio [or not]. It doesn't really seem to impact the flow of the show."
"I think it actually adds to the show and creates a really interesting dynamic," Sexton said. "I can see Clay in real time very clearly. We're staring at each other's faces on pretty large screens."
Wherever they crack the mic, the duo in short order has built a good working relationship.
"I don't know exactly what the phrase would be, but we talk for three hours every day, and the vast majority of it is public," said Travis. "We're constantly texting and sharing stories, interacting, basically all day, so, we have a great relationship."
Sexton echoed a similar sentiment, pointing out that the two hosts share a strong work ethic.
"I will do the absolute maximum workload that I can to create the most successful shows and put out the best content I can," Sexton said. "Clay Travis is an absolute machine as well. I've found that [he's] one of the only people in the entire media industry that I've come across who puts in the hours, the effort and energy that I do."
Jerry Barmash has been a fixture in New York radio for decades with anchor stints on WABC Radio and Bloomberg News. Jerry was also heard on WINS, WCBS and Wall Street Journal Radio. As a media writer, Jerry's pieces were featured in Broadcasting & Cable, NY Daily News and Watercooler HQ. Jerry also hosts the interview podcast Here Now the News. He's on Twitter @JerryBarmash and can be reached at jerrybarmash1@gmail.com.
Chris Cuomo Interview Gives NewsNation Ratings Uptick
NewsNation hopes the upward ratings momentum continues as Cuomo joins their prime time lineup later this fall.
In his first interview since his CNN firing, Chris Cuomo appeared on the July 26th edition of Dan Abrams Live on nascent outlet NewsNation. Cuomo's departure from CNN stemmed from an investigation which determined how he had advised his brother, former New York Gov. Andrew Cuomo, amid sexual harassment allegations.
Abrams pressed Cuomo on several matters concerning CNN, as well as on what he's been doing since he left.
Cuomo stated he's neither a victim nor guilty of many of the things that led to his ouster. Nor did he claim to be a victim of "cancel culture", as he commented, "I don't think I've ever been a victim of anything ever in my life…I don't feel sorry for myself."
Dan Abrams Live featuring Chris Cuomo drew 187,000 total viewers, according to Nielsen Media Research. While that pales in comparison to what the three major cable news networks deliver throughout the day, the figure marked a giant boost from the program's normal levels — it more than tripled it; for July 18-22, the original 9 p.m. telecast of Abrams averaged 56,000 viewers per weeknight.
Time-slot wise, Abrams was able to best Newsmax's competing Prime News (115,000 viewers). But on that evening, Newsmax's Eric Bolling: The Balance (188,000) and Greg Kelly Reports (194,000) still managed to top all NewsNation fare.
NewsNation hopes the upward ratings momentum continues as Cuomo joins their prime time lineup later this fall. His former nightly show Cuomo Prime Time — although rated behind FNC's Hannity and MSNBC's Rachel Maddow Show in the 9 p.m. slot — had been CNN's No. 1 program during its brief run.
Cable news averages for July 25-31, 2022:
Total Day (July 25-31 @ 6 a.m.-5:59 a.m.)
Fox News Channel: 1.378 million viewers; 182,000 adults 25-54
MSNBC: 0.688 million viewers; 71,000 adults 25-54
CNN: 0.485 million viewers; 95,000 adults 25-54
HLN: 0.190 million viewers; 55,000 adults 25-54
CNBC: 0.147 million viewers; 38,000 adults 25-54
Fox Business Network: 0.122 million viewers; 10,000 adults 25-54
Newsmax: 0.110 million viewers; 13,000 adults 25-54
The Weather Channel: 0.106 million viewers; 22,000 adults 25-54
Prime Time (July 25-30 @ 8-11 p.m.; July 31 @ 7-11 p.m.)
Fox News Channel: 2.139 million viewers; 277,000 adults 25-54
MSNBC: 1.138 million viewers; 101,000 adults 25-54
CNN: 0.620 million viewers; 129,000 adults 25-54
HLN: 0.227 million viewers; 68,000 adults 25-54
CNBC: 0.205 million viewers; 55,000 adults 25-54
The Weather Channel: 0.138 million viewers; 24,000 adults 25-54
Newsmax: 0.137 million viewers; 14,000 adults 25-54
NewsNation: 0.057 million viewers; 6,000 adults 25-54
Fox Business Network: 0.055 million viewers; 6,000 adults 25-54
Top 10 most-watched cable news programs (and the top programs of other outlets with their respective associated ranks) in total viewers:
1. The Five (FOXNC, Mon. 7/25/2022 5:00 PM, 60 min.) 3.482 million viewers
2. Tucker Carlson Tonight (FOXNC, Mon. 7/25/2022 8:00 PM, 60 min.) 3.286 million viewers
3. The Five (FOXNC, Wed. 7/27/2022 5:00 PM, 60 min.) 3.281 million viewers
4. The Five (FOXNC, Tue. 7/26/2022 5:00 PM, 60 min.) 3.204 million viewers
5. The Five (FOXNC, Thu. 7/28/2022 5:00 PM, 60 min.) 3.128 million viewers
6. Tucker Carlson Tonight (FOXNC, Thu. 7/28/2022 8:00 PM, 60 min.) 3.090 million viewers
7. Tucker Carlson Tonight (FOXNC, Wed. 7/27/2022 8:00 PM, 60 min.) 3.028 million viewers
8. The Five (FOXNC, Fri. 7/29/2022 5:00 PM, 60 min.) 2.951 million viewers
9. Tucker Carlson Tonight (FOXNC, Tue. 7/26/2022 8:00 PM, 60 min.) 2.855 million viewers
10. Hannity (FOXNC, Wed. 7/27/2022 9:00 PM, 60 min.) 2.706 million viewers
20. Rachel Maddow Show (MSNBC, Mon. 7/25/2022 9:00 PM, 60 min.) 2.354 million viewers
171. Anderson Cooper 360 (CNN, Mon. 7/25/2022 8:00 PM, 60 min.) 0.780 million viewers
220. Real Time With Bill Maher "Episode 606" (HBO, Fri. 7/29/2022 10:01 PM, 59 min.) 0.656 million viewers
337. Last Week Tonight (HBO, Sun. 7/31/2022 11:00 PM, 34 min.) 0.458 million viewers
344. The Daily Show (CMDY, Tue. 7/26/2022 11:00 PM, 31 min.) 0.448 million viewers
351. Forensic Files II "Unraveled" (HLN, Sun. 7/31/2022 10:30 PM, 30 min.) 0.432 million viewers
376. Varney & Company (FBN, Fri. 7/29/2022 11:00 AM, 60 min.) 0.386 million viewers
408. Full Frontal with Samantha Bee "Episode 7215" (TBS, Thu. 7/28/2022 10:00 PM, 30 min.) 0.346 million viewers
442. Shark Tank "Shark Tank 805" (CNBC, Sun. 7/31/2022 11:00 PM, 60 min.) 0.311 million viewers
694. Deep Water Salvage "(209) Salvage 911" (TWC, Sun. 7/31/2022 9:00 PM, 60 min.) 0.191 million viewers
705. Dan Abrams Live "Chris Cuomo Interview 7/26/22" (NWSN, Tue. 7/26/2022 9:00 PM, 60 min.) 0.187 million viewers
Top 10 cable news programs (and the top programs of other outlets with their respective associated ranks) among adults 25-54
1. Tucker Carlson Tonight (FOXNC, Mon. 7/25/2022 8:00 PM, 60 min.) 0.501 million adults 25-54
2. Tucker Carlson Tonight (FOXNC, Wed. 7/27/2022 8:00 PM, 60 min.) 0.494 million adults 25-54
3. The Five (FOXNC, Wed. 7/27/2022 5:00 PM, 60 min.) 0.415 million adults 25-54
4. Tucker Carlson Tonight (FOXNC, Thu. 7/28/2022 8:00 PM, 60 min.) 0.413 million adults 25-54
5. Tucker Carlson Tonight (FOXNC, Tue. 7/26/2022 8:00 PM, 60 min.) 0.403 million adults 25-54
6. The Five (FOXNC, Mon. 7/25/2022 5:00 PM, 60 min.) 0.397 million adults 25-54
7. Jesse Watters Primetime (FOXNC, Wed. 7/27/2022 7:00 PM, 60 min.) 0.385 million adults 25-54
8. Hannity (FOXNC, Wed. 7/27/2022 9:00 PM, 60 min.) 0.383 million adults 25-54
9. The Five (FOXNC, Thu. 7/28/2022 5:00 PM, 60 min.) 0.380 million adults 25-54
10. The Five (FOXNC, Fri. 7/29/2022 5:00 PM, 60 min.) 0.366 million adults 25-54
52. Rachel Maddow Show (MSNBC, Mon. 7/25/2022 9:00 PM, 60 min.) 0.212 million adults 25-54
67. Forensic Files "Trail Of A Killer" (HLN, Thu. 7/28/2022 12:00 AM, 30 min.) 0.182 million adults 25-54
82. The Daily Show (CMDY, Tue. 7/26/2022 11:00 PM, 31 min.) 0.171 million adults 25-54
90. Don Lemon Tonight (CNN, Wed. 7/27/2022 10:00 PM, 60 min.) 0.165 million adults 25-54
114. Full Frontal with Samantha Bee "Episode 7215" (TBS, Thu. 7/28/2022 10:00 PM, 30 min.) 0.148 million adults 25-54
156. Last Week Tonight (HBO, Sun. 7/31/2022 11:00 PM, 34 min.) 0.134 million adults 25-54
166. Shark Tank "Shark Tank 614" (CNBC, Sun. 7/31/2022 12:00 AM, 60 min.) 0.128 million adults 25-54
318. Real Time With Bill Maher "Episode 606" (HBO, Fri. 7/29/2022 10:01 PM, 59 min.) 0.093 million adults 25-54
496. America's Morning Headquarters (TWC, Fri. 7/29/2022 9:00 AM, 60 min.) 0.064 million adults 25-54
733. Newsnation: Rush Hour (NWSN, Thu. 7/28/2022 5:00 PM, 60 min.) 0.038 million adults 25-54
745. Kudlow (FBN, Wed. 7/27/2022 4:00 PM, 60 min.) 0.037 million adults 25-54
Source: Live+Same Day data, Nielsen Media Research
Douglas Pucci is a Bronx native and NYU graduate analyzing news television ratings for Barrett News Media. He did an internship at VH1's "Pop Up Video" in 1997. After college, Pucci went on to design, build and maintain websites for various non-profit organizations in his hometown of New York City. He has worked alongside media industry observer Marc Berman for over a decade reporting on all things television, first at Cross MediaWorks from 2011-15 then at Programming Insider since 2016. Pucci also contributed to the sports website Awful Announcing. Read more: https://programminginsider.com/author/douglas/
Katie Pavlich Has Experienced Success at an Early Age
Pavlich is a journalist, editor, and freak of nature regarding achievement and success. 
She's done more in her 34 years than my high school class combined. Katie Pavlich is a journalist, editor, and freak of nature regarding achievement and success.
As a reporter, she has covered presidential and congressional elections, the White House, the Department of Justice, the Second Amendment, and border issues.
Her story gets better/more humbling, depending on where you stand. When she was 26, Pavlich was named Woman of the Year by the Clare Boothe Luce Policy Institute. Most 26-year-olds are consumed with growing out their man-bun or increasing their number of Tik-Tok followers.
Did I mention she is just 34 years old?
"I guess I was born older," Pavlich said. "I'm kind of a grumpy millennial. I call myself an old soul that doesn't really fit in with my generation. I was the youngest kid in camp when I was young."
She wrote a letter to Bill Clinton about taxes when she was eight years old.
"My mom took me to Disneyland, and I broke down and cried because I was missing homework."
Walt Disney's frozen head must be sobbing.
Pavlich grew up in the mountains of northern Arizona, rafting the Colorado River through the Grand Canyon and hunting big game with her father in the forests and deserts.
She was an athlete growing up through high school but not a runner. But, as you might expect from the last few paragraphs, that didn't deter her. In 2019, Pavlich ran the Marine Corps Marathon in Washington, D.C.
"I should have trained more than I did," she explained. "It was one of those things I needed to do for myself. There were people from so many demographics running alongside me. It was special because I was running alongside people who were injured during their service to our country overseas. I was getting passed by runners with prosthetic legs."
She still finds time to run with friends in D.C.
"It's fantastic to run past the monuments and all the history. I'm not sure if I'll run another marathon. I probably don't have the time to train for one. I'll probably still run some ten miles." Pavlich said there's a sobering mile in D.C. while running past monuments dedicated to soldiers killed in action.
Pavlich can do more than name all 50 states; she's been to 45 of them.
"I haven't made it to North Dakota, South Dakota, Mississippi, or Alabama," Pavlich said. "It's easier to remember the states I haven't been to. I heard pheasant hunting in South Dakota is great."
Pavlich has family in Westfield, Wisconsin, outside of Madison. It's on her mother's side of the family—a dairy farm with 800 cows. We celebrated my grandmother's 80th birthday there. I haven't been there in far too long."
She was born in Flagstaff, Arizona, a place Pavlich says is a lot like Colorado.
"We lived on five acres in a house built in the woods. We had beautiful views of peaks and valleys. Surrounded by elk, deer. We had a lot of snow days from school. My father was a big hunter. It's a way of life for our family. Dad gave me my first rifle on my 10th birthday."
For my 10th birthday, I got a baseball mitt.
The family is steeped in respect for the land, and Pavlich's grandfather was a park ranger in Yellowstone. She said he removed a lot of problem bears from campgrounds.
Instead of hanging out at the mall, Pavlich rode horses in the wilderness and camped. "Even in late June, it still snowed. We were a family that lived the outdoor life."
Cable TV was not a thing in her home until she was in high school. They couldn't run cables out to their house.
"We only had three channels, so I was watching a lot of local news, Hercules and Xena. I wasn't allowed to watch MTV. I was mostly outside anyway."
In addition to being a fan of legendary heroes, Pavlich was always fascinated with debate and politics. "I was always in tune to what was going on. When we finally got Fox News on cable, I knew I wanted to be debating on the channel."
After graduating from college, she drove from Tucson to D.C., hungry to pursue different avenues.
"It was a pretty big culture shock going from Arizona to D.C.," Pavlich said. "I remember thinking to myself, 'what have I done? Both places have a lot to offer, and it makes no sense to compare them. Virginia is beautiful and has a large black bear population. Fall is beautiful here. I've told myself I never want to take for granted the opportunity I've had to be here."
Pavlich said she knows D.C. is known for a lot of corruption, but it's an amazing place to see all the monuments and the National Mall.
"This is the greatest country in the history of the earth, and so many people come here from all over to experience it. The day I can't appreciate all of that is the day I should move somewhere else."
After arriving in D.C., Pavlich became a contributing editor at Townhall.com, promoted to editor five years ago. "I started out low on the totem pole, but I dove in head-first. I manage a team with great writers and reporters. I've got some amazing columnists that submit every day. Producing new pieces by the hour. It's exciting to see how they've grown in their careers. It has been very rewarding."
Pavlich likes to give her writers and reporters a lot of freedom to pursue stories they are interested in, giving them some creative freedom.
Keeping abreast of national news, Pavlich watched the video that recently emerged of a store owner in Narco, California. A man was protecting his store from a heavily armed, snot-nosed, wannabe robber. Before he could get close to the counter, the owner blasted the kid before he knew what hit him.
"I loved it," Pavlich said. "You never like to see an innocent person in a position where they have to defend themselves, but it's great to see it when they do. It's harrowing. The store owner had a heart attack afterward, but he's doing okay.
I have very little tolerance for those who want to do innocent people harm. It's our right to defend ourselves when a gun is pointed at us."
Pavlich said the basic crux of the gun argument is that bad people will find a way to do bad things. She explained in her experience that people have a standard answer when they are asked why they choose to buy a gun.
"The most common answer is self-defense. Surprisingly, involvement cuts across gender lines. The stats from the past few years show more women and minorities involved. As a white woman, I'm the minority there. Some of it is skeet shooting. Shooting alligators."
Alligators? By the way, do you know what type of gun is preferred when you prepare to shoot an alligator? An AR-15, of course.
"You shoot them right behind the jaw," Pavlich said. "An accurate shot there will kill them."
When shooting alligators gets a little boring, Pavlich is busy with her new Fox Nation show, "Luxury Hunting Lodges of America." The show consists of four episodes where Pavlich and her crew visited Honey Break in Louisiana, Highland Hills in Oregon, Three Forks Ranch in Wyoming, and Gray Cliffs Ranch in Montana.
"What I love about our Fox Nation show is how we show people are more comfortable in a hunting setting. They can come back day in and day out. They can go fly fishing, ride horses."
Shooting an elk and returning to the cabin for a glass of red wine might take away some of the ruggedness we've associated with hunting. But that's not necessarily a bad thing.
"I've had a lot of experience with the rugged outdoors and hunting," Pavlich said. "I know what it's like to pitch a tent and cook over a fire. It's not for everybody, but that goes both ways. What we convey on the show is the experience can be a lot like glamping but certainly a step up from tenting. (Glamping is when stunning nature meets modern luxury accommodations.)
"I'm excited we can show these hunting lodges. Every single experience was completely different. When we show the lodges, we also talk about the architecture, the history of the land. How people are using private conversation dollars, restoring properties."
A lot of what they shot was predicated on weather, and what was available at that time.
"I was actually surprised I caught fish when I was out there," Pavlich said. "I caught a brown trout and a rainbow trout."
Alligators must have breathed a collective sigh of relief.
Jim Cryns writes features for Barrett News Media. He has spent time in radio as a reporter for WTMJ, and has also served as an author and former writer for the Milwaukee Brewers. To touch base or pick up a copy of his book: On Story Parkway: Remembering Milwaukee County Stadium, available on Amazon, email jimcryns3_zhd@indeedemail.com.
Will Cain Calls Out the Inflation Shell Game
Will Cain has fully hit his stride and shown the versatility network executives knew they were getting when they brought him to the network roughly two years ago.
If anyone doubted the ability of Will Cain to jump from sports media back into news, the past two years have laid those questions aside. 
The Fox News host has fully hit his stride and shown the versatility network executives knew they were getting when they brought him to the network roughly two years ago.
Cain filled in for Tucker Carlson on Friday evening's Tucker Carlson Tonight, and, as is his style, he wasted exactly zero minutes making his opinions known.
"If you want to know what is in a bill in Congress and what it's actually going to do, take a good look at the name of the bill. Whatever it is, you can be sure the legislation will do the exact opposite," Cain began. "The American Recovery and Reinvestment Act of 2009, for example. It led to the worst economic recovery this country had seen since World War 2."
Cain referred to the "Marketplace Fairness Act," which he said is nothing more than an internet sales tax that helps more prominent players "price out smaller competitors."
"So we should all be very nervous. Very, very concerned that Congress just passed something called the 'Inflation Reduction Act.' It mandates hundreds of millions of new dollars in spending that will increase the money supply in this country," Cain told his viewers. "That will, in turn, devalue the currency. And that, in turn, will cause more inflation. That's basic supply and demand."
Relying on the basics, Cain believes the real-world results matter far more than any fancy title, a talking point, or political spin. More money printing equals more inflation. Two-quarters of negative GDP equals a recession. Higher gas prices equal less money left over in Americans' pockets.
"Life is already so expensive in this country that we literally have bread lines in major cities," he said, cutting to a segment where Camden, New Jersey, residents said they couldn't even afford rice and beans. "That's America. And that's happening all across America, and you have to wonder, why then is the Biden Administration devaluing money when we have bread lines?"
True enough, political leaders of both parties have fired up the money printer to go Brrrrrrr for decades, and there is plenty of blame to be shared by any politician unwilling to make the necessary but tough choices. In this instance, however, many feel it is ridiculous to cite global warming as the impetus for heaping more economic pain on middle and lower-income Americans.
"Well, their justification for the bill is that it will stop the climate from changing. That's why the bill includes 50 billion dollars in subsidies for electric vehicle purchases, which by the way, will lead manufacturers to jack up the price of electric vehicles. We've learned that lesson from healthcare subsidies and subsidies for college tuition," Cain pointed out. "There's also billions of dollars for the postal service to buy new mail trucks that don't pollute as much. And of course, there's 100 billion dollars for the so-called renewable industry."
Cain then explained how China, while at the forefront of the "renewables" industry, continues to see annual carbon dioxide emissions increase. At the same time, the United States has experienced a steady decline in such emissions over the past couple decades. In his opinion, "China wants the rest of the world to run on so-called renewables but China doesn't want renewables for themselves." He pointed out the financial and strategic benefits to China when Western countries "sabotage their own energy supply in the name of protecting the climate."
"Like any good dealer, they don't get high on their own supply, and most Americans recognize that," Cain said, referring then to a recent poll by Rasmussen. "People in this country care about, of course, things like inflation, the economy, crime, immigration. By contrast, most Americans recognize the media is far more interested in pushing false narratives about climate change."
Cain asks, where is the media drumbeat against China or India for their world-leading levels of emissions?
"Instead, the media blames Americans," Cain said, leading into footage of cable media hosts and analysts downplaying the pain caused by higher prices and monetary inflation.
Cain briefly highlighted the 80 billion dollars in the bill designated to grow the IRS, and wondered aloud "why do we need to make the IRS even more powerful, exactly?" He noted that the bill keeps the carried interest loophole, benefiting "wealthy individuals and institutions, in particular," along with "hedge fund managers, who are some of the Democratic party's biggest donors."
Will Cain believes inflation is real, and it is painful for most everyday Americans.
He also seems to believe the media, and their Democrat partners in Washington, don't seem to care or have any interest in leveling with citizens.
"What do Americans get out of the deal?" Cain asked. "Probably a lot more inflation, and a lot more audits."
Rick Schultz is a former Sports Director for WFUV Radio at Fordham University. He has coached and mentored hundreds of Sports Broadcasting students at the Connecticut School of Broadcasting, Marist College and privately. His media career experiences include working for the Hudson Valley Renegades, Army Sports at West Point, The Norwich Navigators, 1340/1390 ESPN Radio in Poughkeepsie, NY, Time Warner Cable TV, Scorephone NY, Metro Networks, NBC Sports, ABC Sports, Cumulus Media, Pamal Broadcasting and WATR. He has also authored a number of books including "A Renegade Championship Summer" and "Untold Tales From The Bush Leagues". To get in touch, find him on Twitter @RickSchultzNY.