Listeners Don't Care If You're Right
"It's fun to be right, but if you're really good at picking winners, you should spend more time at the Bellagio and less on the radio."
We used to be so much better about asking for someone in the industry, not regularly associated with the site, to share an opinion with our readers. It is something I am trying to do a better job with as we head towards 2022.
Today, Aaron Goldhammer of ESPN Cleveland has volunteered to share an observation with all of you. He used to fret over predictions gone wrong. Now, he could care less.
Somewhere along the way, a host that used to worry that his picks were spot on turned into the guy that would do anything for a laugh or to stay top of mind.
What changed? Why? He explains in this exclusive piece he wrote for BSM. Enjoy!
---
"With the 22nd pick in the 2014 NFL Draft, the Cleveland Browns select…"
Those words, from NFL commissioner Rodger Goodell, had a profound impact on the next few years of my career. I'd spent the previous nine months campaigning for the Browns to shed their perception as NFL Siberia, finally take a chance on a bona fide star, and draft Johnny Manziel. LeBron was long gone to Miami. All the SportsCenter producers had lost my phone number. Both Cleveland and I craved the spotlight. 
I realized the gaping hole in my logic sometime before Johnny donned a disguise and headed for Vegas while he was supposed to be preparing for the season finale. The Manziel Mafia disbanded. Fans wanted their pound of flesh: GM Ray Farmer, the homeless guy who legendarily told owner Jimmy Haslam to pull the trigger on the pick (true story), and that annoying radio host from Denver (me).
I was wrong.
Spectacularly.
At first, my bruised ego didn't want to admit that I went out on such a flimsy limb, but it became obvious and embarrassing. Farmer got fired. Did I deserve the same? Did I ruin my credibility? Would fans trust my quarterback acumen? What's more important: being right or being memorable?
As I was navigating Browns coverage in the post-Manziel era, I vividly remember a key conversation with my radio partner and mentor, Tony Rizzo.
"There's no giant scoreboard in the sky keeping track of your opinions," Rizz said. "You don't have to apologize for being yourself and saying what you think. Your takes are your takes."
It's fun to be right, but if you're really good at picking winners, you should spend more time at the Bellagio and less on the radio. Rizz made me realize that I never watched or listened to a show because the host made solid evaluations or accurate predictions. That's ridiculous.
I want to hear a host that can bare their soul as a fan. I'm interested in the perspective they share and the way they interact with the audience. The color and detail they deploy in a story captivates. It's about energy and passion and authenticity.
I used to feel ashamed of my frigid cold take from the 2014 draft. Now, I wear it as a badge of honor. Fans still remember something I talked about seven years ago. Alas, I'd make a terrible NFL GM. But my support of Manziel stuck in the mind. It was entertaining, evocative, memorable, and terribly wrong.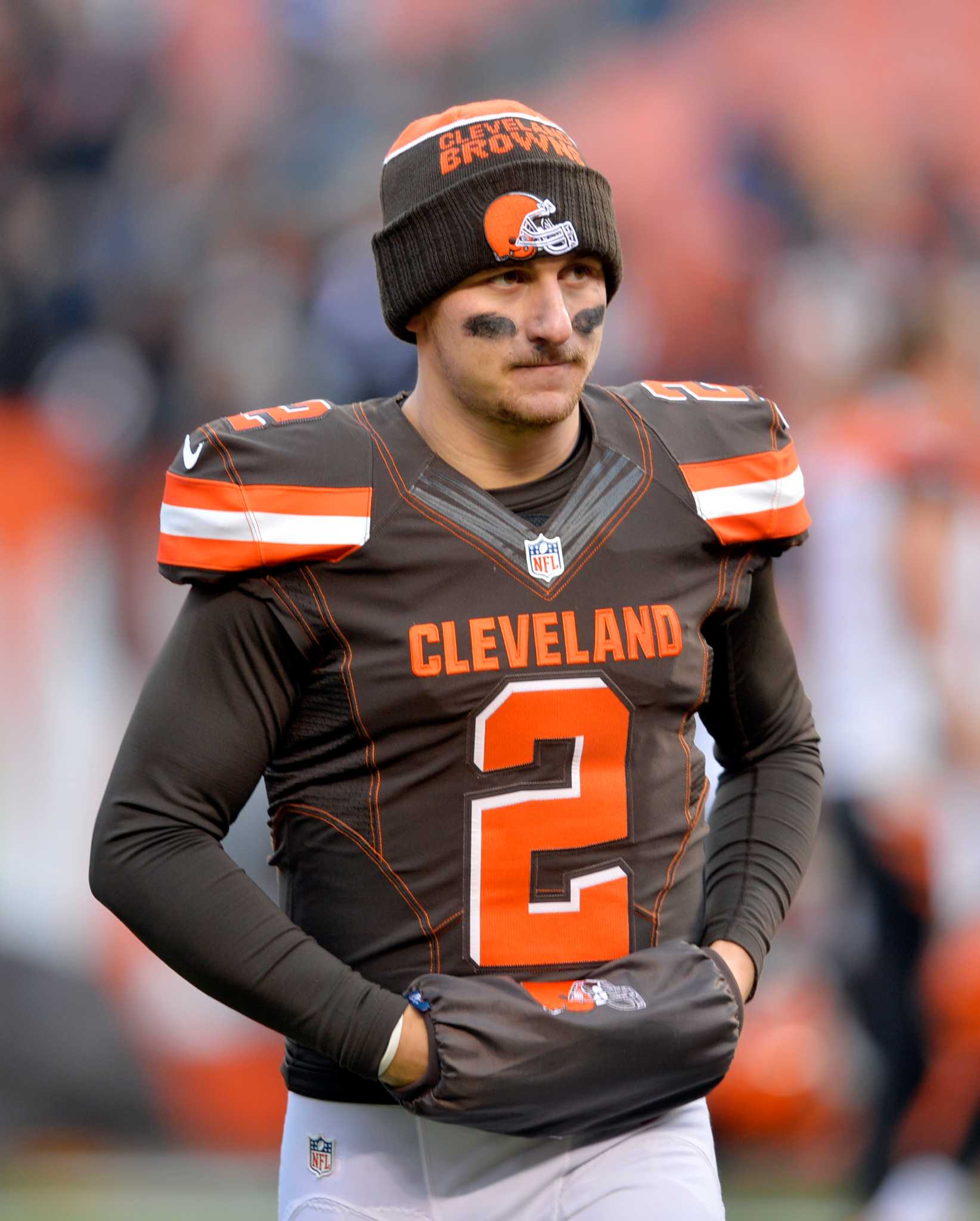 And that's okay.
Seven years later, I'm writing this piece in bed after an exhilarating day at work. The Browns won, keeping their playoff hopes alive against a division rival. Of course, I picked them to lose. Twitter let me have it. Tomorrow, Chris Oldach from our show will undoubtedly pull the sound and make fun of me. So be it. Chalk up another loss on that magic scoreboard in the sky. You know, the one no one pays attention to.
Nick Wilson: Deshaun Watson Press Conference 'Insulting' To Local Media
"You — neither Deshaun, his lawyers, or anybody involved in this — get to dictate what those reporters get to say, ask, or think."
Cleveland Browns quarterback Deshaun Watson met with the media for the first time yesterday since being reinstated by the NFL after the league ruled he was guilty of violating the Personal Conduct Policy due to improper sexual advances towards more than two dozen massage therapists. 92.3 The Fan afternoon host Nick Wilson called Watson's press conference "trash" and "insulting" to local media.
Watson told reporters he would only answer football related questions from the assembled media members, which Wilson took issue with.
"You can't bury this story simply by saying 'I won't talk about it'," Wilson said. "It is insulting to the media who covers this team. This is not about Nick Wilson, I promise. This is about the beat reporters who cover this team. It is insulting — intentionally or not — to say 'You know what, guys? I love y'all, but I'm going to dictate what you ask me'.
"You don't do that. You dictate when you speak, your opening statement, or how you respond. You — neither Deshaun, his lawyers, or anybody involved in this — get to dictate what those reporters — who work very hard day in, day out covering this organization, covering Deshaun Watson, covering this town — get to say, ask, or think. That was trash."
Co-host Dustin Fox added the whole job of the media is to bring information to fans, and Watson wouldn't allow reporters to do that Thursday, and may never do that.
Gregg Giannotti: Biggest Issue With Craig Carton, Jon Jastremski Feud Is "Mole" At WFAN
"The thing that bothers me the most about this is the leak from within the building. Someone here is sending this audio out to a former listener…to cause problems."
A feud has sprung up between WFAN afternoon host Craig Carton and former WFAN host John Jastremski. Boomer & Gio discussed the spat on Friday morning's show, with Gregg Giannotti being troubled by a revelation.
During his New York New York podcast, a voicemail left for Jastremski asked about Carton's comments, but the caller said a WFAN employee sent him the clip of Carton's criticism.
"So that means we have a mole," Boomer Esiason said.
"That right there is a problem," Gregg Giannotti added. "'We both have a mutual friend that still works over there' and that person shared a link of Craig talking about JJ (Jastremski). So, clearly, that person is on JJ's side and they're still working here. That's a mole! That's someone going against the team! And I think know who that is!"
Esiason then asked if he knew the person, to which Giannotti said he did. He then asked if he would be upset by who it was, which Giannotti affirmed as well.
The show then played the final portion of Jastremski's rant, which included him saying to Carton "I'm not listening to a crook. So you know what? Go take a f—ing hike."
"Jesus!" Esiason exclaimed. "Good for JJ, though. Standing up for himself."
"I like both of these guys. I do. I got respect for both of them," said Giannotti. "Everybody doesn't have to go to the jail, crook thing with Craig every single time. Do they? It's low-hanging fruit. Everybody goes there. There's no way he can defend himself in that way because everybody saying 'You went to jail' didn't go to jail, and it's not apples and oranges. But the business stuff is apples-to-apples.
"So when I hear that, I'm just like 'Ok, you went there. Be a little more creative than that'. As far as I listen to legend things, please, nobody has given me worse advice in my life than Mike Francesa did. Nobody. I would still be out in the newsroom cutting Islander highlights if I listened to that guy. And the only reason why Mike liked JJ was because he didn't feel he was a threat. The only people Mike likes is the people he feels non-threatened by. And that's where that comes from."
After concluding Jastremski's rant was a "little over the top", Giannotti then turned his attention to the "mole" inside the station.
"The thing that bothers me the most about this is the leak from within the building. Someone here is sending this audio out to a former listener…to cause problems. That — to me — is an issue. The guy on the voicemail said 'We may or may not have a mutual friend that still works at the radio station' and this guy just slammed the radio station. And he's friends with the guy who slammed the radio station and then slammed Craig and this guy's on their side?! And this guy that works here is on their side?! That to me is a major, major problem."
Dan Dakich: Craig Carton is 'The Way Talk Radio Should Be'
"If you're being critical because you want to be the guy that's always critical I don't think you can do that either. I think you gotta be honest. And criticism comes with it."
Craig Carton has prided himself on being one of those hosts who tells it like it is, especially when talking about New York's pro sports teams.
That willingness to call a spade a spade and levy criticism on teams like the Jets and Giants, especially when things are not going well on the field, is something Dan Dakich has always seen as a recipe for success in the industry.
Interviewing Carton on Thursday on his Outkick show Don't @ Me, Dakich praised the WFAN afternoon host for essentially creating a blueprint for how sports talk should be done.
"In Indianapolis I'm the bad guy right, because I say look the Colts stink, this regime is 46-49-1 – why are you telling me the GM is the best in the country – why are you telling me Frank Reich can really coach?" Dakich said. "New York's different, though, right? I mean, New York they expect you to say look if you ain't any good then you ain't any good. Yu don't sugarcoat nothing, and I think that's the way talk radio should be."
Carton noted that what's key in how you critique a team or a front office, executive or owner is finding a balance. He said you can't as a host be the ultimate homer and blow smoke up everyone's behind.
"You have to be able to be critical when it's warranted," Carton said. "If you're being critical because you want to be the guy that's always critical I don't think you can do that either. I think you gotta be honest. And criticism comes with it."
Carton pointed out that the fan bases in both New York and in Indianapolis are ultimately the same, because at the end of the day it's all about making sure you have competent people calling the right shots. He added that the organizations are the same too because of how sensitive they can be to criticism, which he said if they don't like it, "too bad."
Jordan Bondurant is a features reporter for Barrett Sports Media. He works full-time as a multimedia specialist at the Virginia State Corporation Commission, while also putting in part-time work for News Radio WRVA and 910 The Fan in Richmond. Additionally, you can find Jordan contributing coverage of the Washington Capitals for the blog NoVa Caps. His prior media experiences include working for the Richmond Times-Dispatch, the Danville Register & Bee, Virginia Lawyers Weekly and ABC 8News. He can be reached by email at jordan.e.bondurant@gmail.com or follow him on Twitter @J__Bondurant.