Notre Dame Has NBC, Why Can't Jackson State Have Barstool?
"Change is what keeps the Earth spinning. College football is not so precious that it has been spared from that. Change can sometimes be uncomfortable, but resisting it is a fool's errand."
Deion Sanders pulled off an absolute coup on Wednesday. On the early National Signing Day, Travis Hunter, a defensive back from Suwanee, Georgia, chose Jackson State University over Florida State, where he had been verbally committed for over a year.
The news sent shockwaves through the college football media. This kid was ranked #1 amongst all high school seniors on 247Sports, #2 on the ESPN300, and #1 on Rivals. If a kid with that pedigree flips from an earlier commitment, usually it is to go to a national power like Bama or Georgia. It isn't to go to an underfunded HBCU in Mississippi.
That is the changing world of college football and the power of celebrity. It's not just that Deion Sanders is an icon to these kids. It's that he has created Jackson State's own media machine through his relationship with Barstool Sports. It is a problem for some that cover the sport. To me, it is evolution. How is Barstool's relationship with Jackson State any different than NBC's with Notre Dame?
Set aside for a moment however you feel about Barstool as a brand. Just look at this objectively. It is a media company that is an offshoot of a bigger business throwing all of its weight behind a college football program that it values. NBC wants gold helmets. Barstool wants Coach Prime.
Travis Hunter will reportedly have a million dollar NIL deal with Barstool and parent company Penn National. NIL deals and reality shows may be different from what we are used to in terms of media support for college football, but it is where we are in 2021. Don't be mad at Barstool for doing all it can to boost the college football brand it has associated itself with. Question why Notre Dame hasn't demanded the same from NBC and parent company Comcast.
I don't fall into the "Dave Portnoy and Erika Nardini are business geniuses" camp. Their willingness to take risks isn't impressive, it is how a business should operate. It makes it all the more frustrating that companies with more money don't think the same way.
NBC is a perfect example. Everything about the network's coverage of Notre Dame is built on "hey weren't the 80s great?". It's generic and has been for a long time. NBC is selling gold helmets and Touchdown Jesus.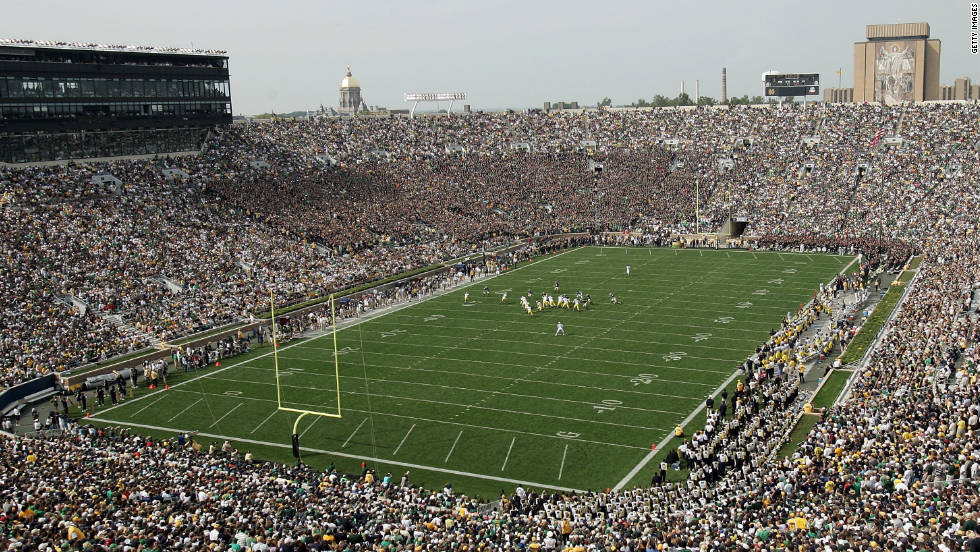 Barstool is selling stars. This relationship with Deion Sanders and Jackson State is different and new and the attitude is "if this doesn't work, no big deal. We'll just stop doing it." Old college football fans and the media members that feel like it is their job to get the NCAA's message out there are never going to like it. They're also never going to admit that it is the networks not adapting to the times that are the problem.
This summer, the NCAA did absolutely the bare minimum it could for players, allowing them to profit off their name, image, and likeness. That was a major seachange in college sports. Players and coaches were expected to adapt. Compliance departments had to learn what the new rules were. Why would we not expect that the other stakeholders in the sport would have to do the same?
Does this mean ESPN needs to come up with a way to take care of Alabama, Clemson, and the top teams in other conferences the network has deals with? Not exactly, but Disney is a big company. If it wants its investment in the SEC and ACC to be worth every penny it paid, I could see an ad campaign for a college student discount on Disney+ being built around a prized quarterback headed to Alabama or around a top-shelf point guard that is committed to Duke.
Now, do I like it? I mean, I'm not in love with the thought that it could be how the sport operates, but I also know that enticements for kids to attend a certain school is nothing new. Steven Godfrey's 2014 story "Meet the Bag Man" should be required reading for every college football fan.
Change is what keeps the Earth spinning. College football is not so precious that it has been spared from that. Change can sometimes be uncomfortable, but resisting it is a fool's errand.
You don't like the fact that Barstool has an intimate relationship with Deion Sanders and a financial interest in him and Jackson State succeeding? That is fine, but ask yourself is you discomfort that that kind of relationship exists or that it exists for a school like Jackson State?
We cheer when a local barbecue restaurant sponsors the entire Arkansas offensive line. We laugh when a local MMA gym offers NIL deals to every Miami Hurricane. They play on the biggest level. They are supposed to be treated like that.
Jackson State is supposed to be an afterthought. They are supposed to stay in their corner, in a lower tier, playing games that don't matter to most fans. It isn't about the racial makeup of the school's student population. It is about the way the college football media sets you up to follow the sport.
The NCAA and its member conferences want to sell coaches and helmets as the stars and that is it. That means USC matters. Ohio State matters. Michigan matters.
Jackson State doesn't matter. That means they have to do this a different way. The old ways left that school and others like it behind. Barstool's relationship with Deion Sanders gives his team resources. Resources give them the chance to turn National Signing Day on its ear and make headlines.
NBC could have done the same for Notre Dame and chose not to. If you're a Notre Dame fan, don't be mad at Barstool and Jackson State for changing the game. Be mad at NBC for refusing to play.
Demetri Ravanos is the Assistant Content Director for Barrett Sports Media. He hosts the Chewing Clock and Media Noise podcasts. He occasionally fills in on stations across the Carolinas. Previous stops include WAVH and WZEW in Mobile, AL, WBPT in Birmingham, AL and WBBB, WPTK and WDNC in Raleigh, NC. You can find him on Twitter @DemetriRavanos and reach him by email at DemetriTheGreek@gmail.com.
Chase McCabe Named Director of Operations & Sports Programming at Cromwell
"Our owner, Bud Walters, opened the door for me almost 12 years ago as an intern and I'm honored to continue to be a key member of the Nashville leadership team."
Congratulations are in order for Chase McCabe. He is adding a new title to his already full plate at Cromwell Media in Nashville. He has been promoted to Director of Operations & Sports Programming at the company.
"I'm very fortunate to have been to be able to grow into this opportunity under one roof," McCabe said in a press release. "Our owner, Bud Walters, opened the door for me almost 12 years ago as an intern and I'm honored to continue to be a key member of the Nashville leadership team. I am forever grateful, but none of this could have happened without the great group of people we have here at Cromwell Media."
McCabe has spent his whole career with 102.5 The Game and its sister station, now called 94.9 The Fan. He was named Program Director and Brand Manager of the stations in January of last year. He has maintained an on-air presence as well. He hosts Chase & Michelle weekdays at 9 AM on The Game.
In his new role, Chase McCabe becomes the number two man in Cromwell's Nashville building. Shawn Fort was recently named the cluster's general manager.
"Chase and I have developed a great working relationship in the two and half years since I've joined Cromwell Media," Fort said. "We share similar visions on how to create compelling sports programming all while driving revenue growth. I'm excited to have Chase as my right-hand man as we move forward together with this new chapter of leadership at Cromwell Media Nashville."
Mark Schlereth: People Outside of Denver Aren't Paying Attention to NBA Finals
"There was not one group of people – they're all in there together – that was paying attention to the NBA Finals."
The Denver Nuggets took to the National Basketball Association's largest stage on Thursday night as they defeated the Miami Heat for the organization's first-ever NBA Finals victory. Early reports reveal that the game had a 2.21 demographic rating between people ages 18-49, attracting a total of 7.62 million viewers on ABC. The figure is considerably lower than the audience for Game 1 between the Boston Celtics and Golden State Warriors last year – which averaged 11.9 million figures across ABC and ESPN2. Ratings for the alternate NBA in Stephen A's World broadcast Thursday night on ESPN2 have not yet been released by Nielsen Media Research.
Sports fans in the Denver market have felt as if the play of the Nuggets was largely being neglected by the national media throughout these playoffs. Now that the team is the last one standing in the Western Conference, there is no one else to focus on and their play is beginning to be realized by basketball fans throughout the country. It is a narrative that Denver Sports 104.3 The Fan's Mark Schlereth and Mike Evans felt was especially obvious by watching the press conferences after the game. The duo was able to deduce as such through the questions posed to Nuggets players and head coach Michael Malone by members of the media cohort.
"The national media – it's like, 'Oh, wow. We're just kind of becoming aware of how these guys play,' and they keep asking the Nuggets about their unselfishness and how everybody is willing to share the ball," Evans said. "Nikola Jokić [is] being asked about not taking a lot of shots, and they're all just kind of shrugging their shoulders like, 'Yeah, this is who we are. We've been doing this for a long time.'
Schlereth was curious to find out the ratings from the game last night because he watched the game from a sports bar in Chicago. He is away from Denver, Colo. to help his son's family move there for the summer and surmises there were about 50 people in the bar with him. What he noticed was that their interest was fixated elsewhere.
"I'm the only person that was watching the Nuggets," Schlereth said. "There was not one group of people – they're all in there together – that was paying attention to the NBA Finals."
"Their loss," Evans pithily replied.
Denver ranks 19th on Nielsen Media Research's metropolitan market size list, but the Nuggets have been a contending team for the last five seasons. Most media analysts expect diminished ratings for the NBA Finals this year because of the lack of a storied franchise, even with the Miami Heat as the team's opponent.
Nielsen Releases List of Markets Where Most People Use AM Radio
"In a recent survey, Nielsen Media Research found that AM radio still reaches over 82.3 million Americans on a monthly basis"
Amid concerns regarding the future of AM radio, Nielsen Media Research has unveiled a list of 141 markets where at least 20% of consumers regularly listen to programming on the medium. The list is reflective of the percentage of monthly total radio listening being funneled to AM as opposed to total radio listening as a whole. The top three markets are all in the Great Lakes region, and Westwood One has found large proportions of these listeners are derived from the upper Midwest. 
Buffalo-Niagara Falls leads the list with 56% of its audience tuning into AM radio in a month. It is a figure that makes sense based on the variety of AM stations, including leading news talk outlet WBEN and leading sports outlet WGR. The city of Chicago is ranked second, complete with 670 The Score, WGN and WLS. Nearby Milwaukee, Wis. ranks third on the list, another city with various AM stations such as WTMJ and WISN.
In a recent survey, Nielsen Media Research found that AM radio still reaches over 82.3 million Americans on a monthly basis – a measurement that equates to one-third of AM/FM radio listeners as a whole. Fifty-seven percent of the audience listens to stations in the news and/or talk format, utilizing the public service the outlets provide to learn of breaking news and other concerns.
There is a wide variety in market size represented throughout the list, but a trend of markets with undulating topographies tends to have larger shares of AM listeners because of the challenges the landscape presents to FM signals.
The full list compiled by Nielsen Media Research can be found below:
| Metro market rank | Market name | Percentage of radio audience that listens to AM radio |
| --- | --- | --- |
| 59 | Buffalo-Niagara Falls, NY | 56% |
| 3 | Chicago, IL [PPM] | 48% |
| 43 | Milwaukee-Racine, WI [PPM] | 48% |
| 245 | Sheboygan, WI | 45% |
| 253 | Grand Forks, ND-MN | 45% |
| 241 | Bismarck, ND | 44% |
| 39 | San Jose, CA [PPM] | 43% |
| 33 | Cincinnati, OH [PPM] | 42% |
| 11 | Seattle-Tacoma, WA [PPM] | 42% |
| 192 | Fargo-Moorhead, ND-MN | 41% |
| 187 | St. Cloud, MN | 41% |
| 160 | Lincoln, NE | 40% |
| 130 | Macon, GA | 40% |
| 196 | Danbury, CT | 39% |
| 75 | Omaha-Council Bluffs, NE-IA | 39% |
| 4 | San Francisco, CA [PPM] | 39% |
| 137 | Youngstown-Warren, OH | 38% |
| 244 | Sioux City, IA | 38% |
| 83 | Boise, ID | 38% |
| 25 | San Antonio, TX [PPM] | 38% |
| 7 | Atlanta, GA [PPM] | 38% |
| 60 | Rochester, NY | 37% |
| 186 | Columbus, GA | 36% |
| 65 | Dayton, OH | 36% |
| 176 | Wausau-Stevens Pt (Centrl WI), WI | 36% |
| 114 | Johnson City-Kingspt-Brstl, TN-VA | 36% |
| 62 | Tucson, AZ | 36% |
| 159 | Rockford, IL | 36% |
| 55 | Louisville, KY | 36% |
| 27 | Salt Lake City-Ogden-Provo [PPM] | 36% |
| 202 | Cedar Rapids, IA | 35% |
| 34 | Kansas City, KS-MO [PPM] | 35% |
| 70 | Albuquerque, NM | 35% |
| 88 | Spokane, WA | 35% |
| 16 | Puerto Rico | 35% |
| 67 | Albany-Schenectady-Troy, NY | 34% |
| 124 | Morristown, NJ | 34% |
| 204 | Duluth-Superior, MN-WI | 34% |
| 71 | Des Moines, IA | 34% |
| 53 | Richmond, VA | 33% |
| 145 | Eugene-Springfield, OR | 33% |
| 252 | Jackson, TN | 33% |
| 149 | Shreveport, LA | 33% |
| 52 | Monmouth-Ocean, NJ | 33% |
| 73 | Metro Fairfield County, CT | 33% |
| 231 | Waterloo-Cedar Falls, IA | 32% |
| 13 | Phoenix, AZ [PPM] | 32% |
| 12 | Miami-Ft Lauderdale-Hollywood [PPM] | 32% |
| 9 | Philadelphia, PA [PPM] | 32% |
| 96 | Reno, NV | 32% |
| 28 | Sacramento, CA [PPM] | 32% |
| 209 | Rochester, MN | 32% |
| 15 | Minneapolis-St. Paul, MN [PPM] | 31% |
| 178 | Anchorage, AK | 31% |
| 199 | Salina-Manhattan, KS | 31% |
| 2 | Los Angeles, CA [PPM] | 31% |
| 89 | Madison, WI | 31% |
| 5 | Dallas-Ft. Worth, TX [PPM] | 31% |
| 68 | Grand Rapids, MI | 31% |
| 223 | Eau Claire, WI | 30% |
| 74 | Allentown-Bethlehem, PA | 30% |
| 86 | Harrisburg-Lebanon-Carlisle, PA | 30% |
| 20 | Nassau-Suffolk (Long Island) [PPM] | 30% |
| 249 | Brunswick, GA | 30% |
| 139 | Appleton-Oshkosh, WI | 29% |
| 14 | Detroit, MI [PPM] | 29% |
| 239 | Harrisonburg, VA | 29% |
| 30 | Orlando, FL [PPM] | 29% |
| 10 | Boston, MA [PPM] | 29% |
| 189 | Bryan-College Station, TX | 29% |
| 106 | Lexington-Fayette, KY | 28% |
| 154 | Montgomery, AL | 28% |
| 136 | Reading, PA | 28% |
| 18 | Denver-Boulder, CO [PPM] | 28% |
| 188 | Kalamazoo, MI | 28% |
| 41 | Hudson Valley, NY | 28% |
| 17 | Tampa-St Petersburg-Clearwater [PPM] | 28% |
| 228 | Pueblo, CO | 27% |
| 230 | Monroe, LA | 27% |
| 116 | Ft. Wayne, IN | 27% |
| 35 | Cleveland, OH [PPM] | 27% |
| 22 | Portland, OR [PPM] | 27% |
| 183 | Green Bay, WI | 27% |
| 227 | Bloomington, IL | 26% |
| 190 | Waco, TX | 26% |
| 6 | Houston-Galveston, TX [PPM] | 26% |
| 193 | Binghamton, NY | 26% |
| 201 | Topeka, KS | 26% |
| 81 | Stockton, CA | 26% |
| 54 | Hartford-New Britain-Middletown [PPM] | 26% |
| 200 | Tuscaloosa, AL | 26% |
| 175 | Sioux Falls, SD | 25% |
| 100 | Syracuse, NY | 25% |
| 44 | Providence-Warwick-Pawtucket [PPM] | 25% |
| 195 | Manchester, NH | 25% |
| 180 | Lima-Van Wert, OH | 25% |
| 1 | New York, NY [PPM] | 25% |
| 119 | Corpus Christi, TX | 25% |
| 237 | Grand Island-Kearney-Hastngs, NE | 25% |
| 51 | Memphis, TN [PPM] | 25% |
| 142 | Canton, OH | 25% |
| 151 | Ann Arbor, MI | 24% |
| 90 | Columbia, SC | 24% |
| 208 | Las Cruces-Deming, NM | 24% |
| 178 | Traverse City-Petoskey, MI | 24% |
| 111 | York, PA | 24% |
| 87 | Colorado Springs, CO | 24% |
| 218 | Columbia, MO | 24% |
| 140 | Savannah, GA | 23% |
| 163 | Evansville, IN | 23% |
| 121 | Portsmouth-Dover-Rochester, NH | 23% |
| 247 | Williamsport, PA | 23% |
| 221 | Joplin, MO | 22% |
| 197 | Charleston, WV | 22% |
| 126 | New Haven, CT | 22% |
| 120 | Modesto, CA | 22% |
| 234 | Sussex, NJ | 22% |
| 69 | Sarasota-Bradenton, FL | 22% |
| 79 | Wilkes Barre-Scranton, PA | 22% |
| 29 | Austin, TX [PPM] | 22% |
| 24 | St. Louis, MO [PPM] | 22% |
| 23 | Baltimore, MD [PPM] | 22% |
| 127 | Jackson, MS | 22% |
| 77 | Baton Rouge, LA | 21% |
| 66 | Fresno, CA | 21% |
| 206 | Chico, CA | 21% |
| 104 | Huntsville, AL | 21% |
| 205 | Santa Barbara, CA | 21% |
| 166 | Poughkeepsie, NY | 21% |
| 157 | Peoria, IL | 21% |
| 224 | Muskegon, MI | 20% |
| 63 | Honolulu, HI | 20% |
| 50 | New Orleans, LA | 20% |
| 19 | San Diego, CA [PPM] | 20% |
| 236 | Parkersburg-Marietta, WV-OH | 20% |
| 32 | Las Vegas, NV [PPM] | 20% |
| 37 | Raleigh-Durham, NC [PPM] | 20% |
| 115 | Worcester, MA | 20% |
| 207 | Laurel-Hattiesburg, MS | 20% |
| 95 | Akron, OH | 20% |
| 117 | Lancaster, PA | 20% |
Source: Nielsen Nationwide Fall 2022 Metro, P12+, Monday – Sunday 12m-12m